+ 5 - 8 | § ¶
Artists Invited to Submit Qualifications for Public Art at New Fire Station 12
Press release. The City of Raleigh is seeking qualifications from experienced artists or artist teams to provide site-specific public art for Raleigh's [new] Fire Station 12. The artists or artist teams must have primary residence in North Carolina or the neighboring states of Georgia, South Carolina, Kentucky, Tennessee or Virginia.
The project budget for the selected public art commission is $41,625 inclusive of all expenses including but not limited to design, fabrication, installation, travel, taxes and fees. Each finalist will receive a $650 travel budget for second-round interviews.
Qualifications must be submitted by 5 p.m. on Friday, May 2. There is no fee to submit qualifications.
Construction of Fire Station 12 is anticipated to begin this fall at Poole Road and Bus Way, near the City's Transit Operations Facility. The existing Fire Station 12 at 3409 Poole Road is aging, landlocked and too small. The new fire station will address these issues and enhance the Fire Department's ability to meet its public safety mission. In March 2013, the architectural firm of Stewart-Cooper-Newell Architects, P.A., was hired by the City Council to design Fire Station 12.
Under goals established by the City of Raleigh's Public Art and Design Board, public art for Fire Station 12 should celebrate the 100th anniversary of the Raleigh Fire Department and honor public servants who protect those who cannot protect themselves. There are multiple opportunities for public art at the site.
Read entire press release
.
+ 3 - 9 | § ¶
Raleigh Fire Department Expands Office Space
Earlier this month, the Raleigh Fire Department expanded its office space at the Dillon Building on West Martin Street. The Operations Division and part of the IT team moved into a newly renovated space on the building's mezzanine level. Relocated from the second floor offices were the Assistant of Chief of Operations, his aide, the Division Chiefs, their aides, the Payroll Specialist, and two IT team members. There's also a small kitchen, and some flexible working areas. The space can also be used as an emergency operations center. See photos from a couple weeks ago. And here's a picture from Friday.


+ 3 - 6 | § ¶
Raleigh's Proposed North-South Freeway, 1972
For your Sunday reading, here's a bit of hidden Raleigh history. In 1972, the Society for the Preservation of Historic Oakwood was created, to combat a proposed north-south freeway that would've connected Downtown Boulevard and Louisburg Road to the north, with Highway 70 and Old Stage Road to the south. The purpose of said expressway was to improve transit for state workers traveling to and from downtown. This was part of a larger transit plan, that included a proposed east-west freeway extending from Wade Avenue to Milburnie Road. The planners also envisioned a possible mass transit system, with routes both north-south and east-west through the city, possibly operating by the year 2000.
The transit plan was part of a larger proposal from 1965 to reorganize the state government buildings into park-like settings. Notes this page on the society's web site, the designers "envisioned Modernist offices in a sylvan campus replacing the street grid between the old Capitol Building and Peace Street with small lakes, serpentine walkways, and underground parking accessed via a new North-South Freeway."
The roadway never happened, and the tipping point came but one month after the society's formation. In October 1972, nearly 130 residents gathered in a church with a goal of "no road." In November 1972, the City Council decided to move forward with its downtown planning, but without the freeway. (Within a few more years, they helped get the neighborhood established as Raleigh's first historic district.)
What happened to the state government project? Unsure, need to research. Guessing some but not nearly all of the proposed campus came to fruition.
And everyone lived happily ever after... or did they? Wonder what the alternate version of Raleigh in 2014 looks like, if the freeway had been built and the entire campus was completed? Would we have seen a bounty of development that would've offset (as much such things can) the loss of the city's original historic neighborhood? Maybe. Might've even seen a new Fire Station 3, moved from it's freeway-side site on East Street just south of New Bern.
Read the full proposal for the state government campus (10MB) (PDF)
Read related stories:
Click to enlarge:
Couple more images, see the PDF document above for larger versions:
+ 8 - 8 | § ¶
New Engine 19 in Service
The Raleigh Fire Department placed a new Engine 19 in service yesterday. The 2014 Pierce Arrow XT 1500/500/20 pumper, job number 27076, was delivered on February 17. It replaces a 2000 Quality/Spartan MetroStar that will be moved to the reserve fleet. The three other new trucks, two 2014 Pierce Arrow XT rescue engines for Squad 14 and Squad 15, and a 2014 Pierce Arrow XT aerial platform for Ladder 1, haven't been placed in service yet. See more photos from Lee Wilson, or click to enlarge:


+ 8 - 9 | § ¶
Raleigh Ladder 1 > Ladder 111
Apparatus update. Ladder 1 has been relettered as Ladder 111, for reserve duty. The 2001 Quality/Spartan Gladiator 1500/300/75-foot has an interesting history. It's the "quint' that's served as engine, from January 2001 to April 2004. It might be one of the most renamed pieces of equipment on the roster: E23, T24, T23, L23, L4, L1, L111. First-place probably goes to the snorkel: L210, L6, L24, L210, L110, T110, T26, T22, T15, T1. Read histories of both trucks in my apparatus register.

+ 8 - 11 | § ¶
Three Old Photos of Wake County EMS
For your Thursday enjoyment, these three old photos of Wake County EMS were added this morning to the History of Wake County EMS Facebook page. (Also see my research project related to that topic: www.legeros.com/history/ems.) They were scanned by David Raynor, and show Station 1 in either 1987 or 1988, a Suburban and EMS 8 at a fire scene, and a unit arriving at Sullivan Hall at NCSU. Click to enlarge:



Wait, you say, what's that old building in the first photo? The one that looks like an ancient gas station with ambulances parked outside? That's the original EMS Station 1 at 201 W. Martin Street. Built in 1925, it served as the headquarters for Wake County EMS (both as ambulance station and administrative offices) from 1976 to 1991. Some notes, from my history documents from the above link:
First housed EMS 1 and EMS 4, plus supervisor's vehicle (EMS 101), plus director's vehicle.
Third ambulance added in 1986 or 1987, and parked on six-inch concrete platform, added to support the vehicle's weight.
Contained a sleeping area with four or five beds, an office area, two bathrooms, and a living area shared with two ambulances, a hydraulic lift, a stove, a refrigerator, a dining table, a few chairs, and a cabinet.
Basement housed supplies in a caged area accessed by a freight elevator.
Basement also housed hospital beds from the Cancer Society, and a coal-powered boiler.
See more photos of the building today.

+ 9 - 4 | § ¶
Dramatic Photo From Houston Rescue
This has been a heady week for following major fires around the country. Yesterday, we watched in real-time as a Beacon Street fire in Boston escalated to nine alarms, with reported maydays and firefighter injuries. (FireNews.net on Twitter is a particularly good place to start for such updates.) We soon learned that Lieutenant Edward J. Walsh and Firefighter Michael R. Kennedy had been killed. Here's a Boston Globe story and a Statter911 posting, to start your reading if you haven't been following.
On Tuesday, all eyes were on Houston, as a five-alarm fire was consuming a block-sized apartment building. Local news reports were quickly augmented by citizen images and video of the incident, including the holy-cow-and-then-some rescue of a construction worker from a balcony. This FireCritic posting is just one of the many fire blog and news sites showing that footage.
Dave Statter yesterday posted a follow-up on the rescue, which was performed by personnel from Station 18. His posting which cites a KPRC-TV story includes this dramatic photo, with a wide aerial view of the showing the fully-extended ladder just seconds after the rescue was performed, and as the upper floors of the building were beginning to collapse. Amazing.


+ 3 - 6 | § ¶
Vintage Raleigh Fire Department Recruitment Video (1999)
For your Wednesday enjoyment, here's a vintage Raleigh Fire Department recruitment video from late 1999 or early 2000. The almost 22-minute video was converted from VHS, after being found in the archives of the Training Division. They made the digital copy available to the Raleigh Fire Museum, which has posted on their YouTube page.
The video is a collection of clips including an introduction from Fire Chief Earl Fowler, a historical retrospective from retired Capt. B. T. Fowler (father of Earl), testimonials from members of all ranks, action footage from the 1999 recruit academy, and a splendid dramatization of a "911" call reporting a structure fire and the subsequent dispatch of companies from Station 1. (One Ms. Boone reporting said emergency!)
See the embedded video below, or click here to watch the thing.
Credits for the production, as noted as the end:
Producer Lt. Reggie Hocutt.
Videographer/Editor Melissa Swanson
Co-Editor David Wolk.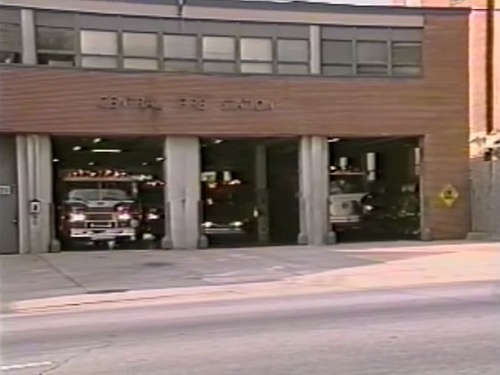 + 3 - 2 | § ¶
Wake County Job Posting - Fire Training Specialist
Job posting. Fire Training Specialist with Wake County. Full-time position. Minimum/maximum salary: $20.34 to $27.52 per hour. Minimum requirement: Associate's degree in related fields, four years experience in public safety programs, state fire/haz-mat certifications, and valid driver's license. Work schedule: Monday through Friday, with some nights and weekends plus on-call rotation.
Closes April 8.
+ 3 - 5 | § ¶
Last Night's Apartment Fire in Raleigh
Two alarms of EMS resources were requested at last night's apartment fire in Raleigh, which was dispatched shortly after 11:30 p.m. Callers reported people trapped and children being dropped from windows at 611 Peyton Street. That's a two-story with full basement, garden-style, brick-construction apartment building with 9.936 square-feet. Built 1969. (Say tax records.) Heavy fire was showing from the top-floor windows. (Was that the second floor or third floor? Debate as desired.)
Though the fire was quickly controlled, in about twenty minutes cites WRAL, the number of injured and displaced residents saw a second alarm for EMS. Medical resources included Evac 1, the medical evacuation bus, to help keep the residents warm. Red Cross was also called to the scene, to assist the displaced residents.
Eight people jumped out of windows, reports WRAL. Seven residents were transported to the WakeMed and Duke hospitals, five as "trauma" patients, reports Carolinas Fire Page. (Meaning, either traumatic injuries or traumatic mechanism of injury.) Thirteen were initially transported, cites fire photographer Jason Thompson. That number increased slightly as the incident extended into the early morning. (Seventeen were injured, cites WRAL.)
Stories told to WRAL included one woman who jumped out a window with her three-year-old, and who witnessed another woman dropping an infant to the ground. Another resident who self-evacuated retrieved a ladder and helped others escape. The male was transported to WakeMed with smoke inhalation.
There were fifty-one occupants in the building, all of whom were displaced. Half the building's twenty-four apartments were damaged (e.g., fire, smoke, and/or water). The same building suffered a fire three years ago, notes WRAL. There's no sprinkler system, notes the News & Observer.
The fire was dispatched at 11:38 p.m. The cause is under investigation. Fire units on scene included E12, E7, E3, E10, L4, L8, Sq 14, R1, B2, B3, A1, C20, C420, C401. EMS units included EMS 1, EMS 11, D1, M92 (first-alarm dispatch), EMS 8, EMS 5, EMS 62, T1 (working fire dispatch), and EMS 2, EMS 7, EMS 19, M91, D4, Chief 101 (second alarm). Plus EVAC 1 (special called?).
Photos: Jason Thompson. Media: WRAL, WTVD, WNCN, News & Observer, FireNews.net.



WRAL photo

Jason Thompson photo
+ 4 - 6 | § ¶
Vintage Raleigh Training Tower Photo
Found this in my files of "to be scanned" historical photos. Undated, though the attire has the look of 1950s or 1960s. The tower in the photo was built in 1954, on the grounds of the current fire department training center. Back of photo reads "Tom Franklin's - Commercial Photographer - 210 W. 4th Street- Charlotte, N.C." Click to enlarge:


+ 8 - 2 | § ¶
IAFF Media Awards Content Closes Soon
The International Association of Fire Fighter's media awards for 2014 closes in another week. Entries must be received (or postmarked) by April 1, 2014, to be eligible for judging. Read more information.
This blog was honored with Honorable Mention in 2011. That year was a trifecta for Yours Truly, with second place for a news story, and honorable mention for news photo. [ Insert own joke. ] Here's what the certificate looked like that year:


Here's Mike's awards list from the IAFF:
Second Place - News story published on a web-based news site
Honorable Mention - Fire service photo on web site
Honorable Mention - Best blog
Honorable Mention - Fire service photo on web site
Honorable Mention - Best news story on web site.
+ 2 - 5 | § ¶
Chatham County 9/11 First Responder Memorial Groundbreaking, Friday, March 28
Press release. The Chatham County 9/11 First Responders Memorial Foundation Corporation is planning a groundbreaking event at the memorial site on Friday, March 28, 2014, at 1:00 p.m. (rain or shine).
The site is located on Highway 15/501 just south of the traffic circle in Pittsboro, near the Chatham County Justice Center and across from the Pittsboro Fire Department. Bring a shovel to be part of the event.
The memorial will use the donated steel beam from the World Trade Center tragedy as the centerpiece. It will honor all first responders who have given their lives to keep others safe.
The foundation is raising all of the funds for the project through grants and private donations from companies and individuals, who will receive recognition at the memorial site.
They greatly appreciate the design work provided by Corley Redfoot Architects. The design stands the beam on end, with a tilt 9 degrees and 11 minutes facing the direction of Ground Zero in New York City. Click to enlarge:


The foundation also thanks Foushee Grading of Pittsboro for clearing the site and removing trees. Phase one of site development will be completed in September 2014.
Challenge coins are being sold as a fundraiser for the project. They are $15.00. To purchase a coin, or learn more about the project, visit the foundation's Facebook page. Or contact foundation President Jody Allen at jody@goldstonfire.com.
Donations to the project are greatly appreciated. Send donations or money for challenge coins to
Chatham County 9/11 First Responders Memorial Foundation Corp.
PO Box 328
Pittsboro, NC 27312


+ 7 - 5 | § ¶
New Ambulances For Wake County EMS
Lee Wilson last week photographed six ambulances delivered to Wake County EMS. They are 2014 Chevrolet/American Emergency Vehicles Type III units, and built right here in North Carolina. (The company is located in Jefferson, NC.) See more photos from Lee. We'll look to readers to advise any particulars about the trucks, and their specs.



Lee Wilson photo


Next question, how many ambulances does Wake County EMS have, total? They have some twenty-nine active units, both 24- and 12-hour trucks. Here's a list from November 2013:
9 (GV)
10 (WF)
11
12
13
14 (FV)
15

16 (G)
17 (HS)
18 (G)
19 (G)
22
25
31

32 (HS)
33 (WF)
34
35
36
37 (G)
38
How many spares, or special assignment units are in the fleet? Don't know. How big is the entire Wake EMS fleet? Add three District Chief vehicles, five Medic vehicles, Truck 1, Evac 1, chief's cars, training and logistics vehicles, etc.
See this document (PDF) for a historical perspective on the Wake County EMS fleet, from this history project site.
+ 4 - 3 | § ¶
Big Tanker For Bailey
The Bailey Fire Department (see also their Facebook page) received this 2013 Freightliner/Rosenbauer 500/3000 tanker in February. It was placed in service on March 20. See more photos from Lee Wilson. And a question, are "combination" tankers the norm these days? Those also equipped with pumps? How many folks still purchase "straight" tankers?



Lee Wilson photo
+ 4 - 2 | § ¶
Public Information About Public Safety
Since this week is Sunshine Week, let's take a tour of local public information sources about local public safety agencies. With our friend Google, here's what surfaces around Raleigh and Wake County:
Fire station locations mapped
Fire incident data for prior month
EMS station locations mapped
Daily police incidents
Master police incident data set - All police incident data from January 2002 to September 2013
Police beats mapped
Police districts mapped
Fire response districts mapped
Raleigh Fire Department Report System
Fire inspection reports
Fire incident reports - Excludes EMS calls, it appears
Raleigh Police Department
Raleigh-Wake County Emergency Communications Center
Wake County Sheriff's Department
Police record event search
[Traffic accident] report search
Wake County Fire Commission
Wake County Real Estate Records
Property Search - Not necessarily public safety, but quite useful for things related!

What other local sites are worth mentioning? And, for tonight's discussion question, what does everyone think about this access and these reporting tools? Too hot, too cold, or just right?
+ 12 - 5 | § ¶
Seven Young People Killed in Wake County Car Crash - December 30, 1976
What was the worst traffic accident in Wake County's history? It's the type of morbidly curious question asked about in the day rooms of fire stations or rescue squads. Or discussed between generations of responders: paramedics, EMTs, firefighters, law officers, and dispatchers. What were the worst ones? Who remembers the big ones? And, of course, what happened?
In the annals of Wake County's emergency services history, the worst car crash was probably the seven fatalities and five injuries that occurred on a narrow dirt road in eastern Wake County on the night of December 29, 1976. The ages of the victims ranged from fourteen to twenty-one. They resided in Clayton, Knightdale, Garner, and Raleigh.
Two Cars Collide
The head-on collision happened on Bissette Road (SR2508), about a mile southeast of the Shotwell community, and near the Johnston County line. Two cars on the crest of a hill about 8:30 p.m.
Six people were riding in a 1971 Oldsmobile driven by William Harold Wheeler, a 16-year-old high school student from Clayton. The vehicle was traveling an estimated 60 to 70 miles per hour, and on the wrong side of the road, when it crashed into a 1973 Chevrolet traveling 25 to 35 miles per hour. The second vehicle was occupied five times.
The Chevrolet was pushed backwards 36 feet down the hill, State Troopers later determined, before coming to rest in a ditch. The car was crushed on the driver's side. The Oldsmobile continued eastward down the hill for 51 feet, before turning over several times, and landing upside down. The car was flattened.
Four passengers were thrown clear of the vehicles. The remaining eight occupants were pinned inside the two vehicles.
One of the surviving passengers in the Oldsmobile recalled there was little warning of the "impending wreck." Recounted Charles Randy Gurley in the Raleigh Times, "We were going along, and all of a sudden everyone said to watch out." He said in a telephone interview, "The next thing I remember, I was crawling out from under a car."
Dispatching The Call
The accident was reported by a female motorist, who passed the scene a few minute later. At the Wendell Police Station, police dispatcher and rescue squad member Roger Lane took the phone call on the emergency line (365-4444).
He remembers the caller saying "someone has come to the house and said they were in a wreck." When asked if anyone was hurt, they said "I'm not sure, but the person that walked to my house seems dazed and confused."
Lane dispatched the standard resources for a motor-vehicle accident: one ambulance (the squad had three) and the crash truck. The latter carried the squad's hydraulic Hurst tool, which they'd acquired two years earlier.
The driving distance from the two-year-old Wendell Rescue Squad building to the accident scene was about six miles. The location was about equal distance between the towns of Wendell and Knightdale. (A rescue squad in Knightdale was organized the following year. One of the founders, Bob Couick from Wendell Rescue Squad, would respond this night.)
READ MORE
+ 5 - 2 | § ¶
Historic and Former (and Almost Former) Firehouses of Durham
New collection of firehouse photos, taken over the last couple weeks. Historic and former (and almost former) firehouses of Durham. Plus one training tower that's nearly ninety years old. Read about their history, from this essay written a decade earlier as a FireNews.net feature.


Top to bottom, left to right:
Sta 1 - 139 E. Morgan Street - Built 1964
Sta 2 - 1001 Ninth Street - Built 1951
Sta 5 - 2212 Chapel Hill Road - Built 1960
Sta 9 - 2012 East Club Boulevard (replacement under construction) - Built 1977
Old Sta 1 - 212 N. Mangum Street - Built 1890
Old Sta 3 - 103 S. Driver Street - Built 1953
Old Sta 4 - 1801 Fayetteville Street - Built 1958
Old Sta 8 - 2725 Holloway Street Built 1980
Old Training Tower - 501 Washington Street - Built 1926.
See the photos on Mike's Flickr site. Or see the full collection of such galleries, from cities and towns across the state and farther.
+ 5 - 2 | § ¶
Big Tanker For Kenly
Lee Wilson last week photographed Kenly's new tanker. The 2013 Kenworth/Spartan was delivered in December. From this Spartan new delivery page, it's an elliptical tanker that carries 2,500 gallons of water. Plus a Hale pump with side panel, 1,250 GPM. The truck's ready, but not quite in service. The Kenly Fire Department is located in Johnston County. See more photos from Lee.



Lee Wilson photos
+ 5 - 2 | § ¶
Scenes From Raleigh's St. Patrick's Day Parade
More later. Click to enlarge:


+ 3 - 2 | § ¶
One Bad A-- Old Raleigh Police Cruiser
Reader Tim Henshaw saw this Saturday evening at the Piedmont Dragway in Julian, North Carolina. Love the bull horns, but needs a few lights... Click to enlarge:


+ 4 - 1 | § ¶
Raleigh Fire Department Makes Wish Happen For Young Cancer Survivor
A two-year-old cancer survivor spent the day today with the Raleigh Fire Department, his wish made reality with the help of firefighters and Make-A-Wish Eastern North Carolina. Connor Dunn received a helmet and his own gear, and rode in the front seat of Engine 13 in the St. Patrick's Day parade. He and his family were also given a tour of Station 1, and returned after the parade for a barbecue lunch. Here's a WNCN story about the event. And here a couple pictures from myself. More to be posted later, along with parade photos which included Fire Chief John McGrath as Grand Marshal. Click to enlarge:


+ 2 - 3 | § ¶
Wake County Fire Commission Meeting - Thursday, Mar. 20, 2014
The next meeting of the Wake County Fire Commission is Thursday, March 20, at 7:00 p.m. The location is the Wake County EMS Training Facility, in the lower level of the Wake County Commons Building, 4011 Carya Drive. The documents for the meeting are linked below.

Agenda
Call meeting to order

Invocation
Roll of Members Present

Items of Business

Approval of Agenda
Adoption of Minutes for November 21, 2013 Regular Meeting
Adoption of Minutes for January 16, 2014 Regular Meeting

Regular Agenda

Consider Election of Fire Commission Chair for Calendar Year 2014
Consider Election of Fire Commission Vice Chair for Calendar Year 2014
Consider Approval of Revisions to the Wake County Fire Commission Rules of Procedure

Information Agenda

Post Incident Review Program Update
Cost Share Study Update
Budget Committee Update
Fire Tax Financial Report/ Budget Update
Chair Report
Fire Services Director Report

Other Business
Public Comments

Comments from the public will be received at the time appointment by the Chairman of the Fire Commission for 30 minutes maximum time allotted, with a maximum of three minutes per person. A signup sheet for those who wish to speak during the public comments section of the meeting is located at the entrance of the meeting room.

Adjournment - Next Meeting May 15, 2014
Documents
+ 5 - 3 | § ¶
Yesterday's Haz-Mat Call on Capital Boulevard
An unusual haz-mat call unfolded yesterday morning at the corner of Thornton Road and Capital Boulevard, at the Sheetz gas station addressed 4801 Thornton Road. Recalling radio traffic, small containers with possible biological hazards had been found on the gas pumps. At least one of these was subsequently moved by an employee to a dumpster. The employee called 911 out of concern at 10:21 a.m. Engine 22 responded the scene, and subsequently requested a full haz-mat assignment.
Dispatched fire units about 11:05 a.m. were Haz-Mat 1 (staffed by Engine 2), Haz-Mat 2 (staffed by Engine 27), Haz-Mat 3 (recon unit staffed by Engine 8), Squad 15, Battalion 3 (haz-mat Battalion Chief), Battalion 5, Air 1, and Car 20. The medical response included EMS 15, EMS 33, EMS 10, District 4, District 3, Medic 93, and Truck 1.
Arriving units staged at both a church beside the gas station, and on Capital Boulevard. It was quickly determined that there were no patients, so the third ambulance was returned to service. District 3 established medical branch, with EMS 15 and EMS 33 for medical monitoring and rehab. District 1, Medic 93, and Truck 1 also stayed on scene until rehab was completed.
Upon his arrival, Car 20 assumed incident command, with Battalion 3 as previously established haz-mat branch. An isolation zone had been established, including the sheltering-in-place of customers and employees (thirty to thirty-five, from news reports) who were inside the store. Crews also prepared an area for decontamination on Thornton Road.
Wake County Fire Services (WC1) and Wake County Emergency Management were among the agencies that also responded. As this WRAL footage shows, haz-mat crews entered the hot zone wearing encapsulated suits. They removed the materials and determined they were not hazardous. They were unused medical supplies. The "all clear" was given about 1:20 p.m. Readers can augment this armchair summary as needed. Media links: WRAL, WTVD, News & Observer, Wake Forest News ("Biohazard at Sheetz. It's Not a Hot Dog"). No photos from Yours Truly, who was working.



WRAL photo

Chris Seward/News & Observer photo
+ 4 - 2 | § ¶
Planning For Indy
Will be visiting FDIC this year, for the first time. Among my plans are a day or two of finding and photographing historic and former firehouses of Indianapolis. Did my research two years ago, see that list. Here's my map, take one. Click to enlarge:


Here's some of the houses to found, from
this prior posting
:
+ 5 - 1 | § ¶
National EMS Memorial Service Honorees
Became curious about EMS and rescue squad line-of-duty deaths in the prior Goldsboro Rescue Squad fatal accident story. Here's a tablular listing of emergency medical services personnel who have (a.) died on duty and (b.) have been honored by the National EMS Memorial Service. The entries are listed alphabetically, and linked to their detail pages on the NEMSMS site. Additional details have been added, here and there, from Google searches. Two additional incidents are included after the table, of air ambulance crashes not (yet) recognized by the memorial service. (Don't know if other legacy EMS and rescue duty deaths are missing, either. This is a new area of research for Yours Truly!)


Name
Rank/Title
Agency
City
County
Age
Death Date
Cause of Death
Other Notes
Bridgett Nicole Autry
Firefighter/EMT?
Herring Vol Fire & Medic Dept
Clinton
Sampson
18
June 13, 2002
Died at Sampson Regional Medical Center of injuries sustained in a traffic accident while responding to a structure fire.
Anthony Barbee
Lead Pilot
AirCare, North Carolina Baptist Hospital
Winston-Salem
Forsyth
45
April 22, 1994
Air ambulance (helicopter) crashed into East River Mountain, seven miles from Mercer County Airport, WV, to pick up patient in Bluefield, WV. All four crew members killed.
Gentry R. Blevins
Medical Responder
Helton Volunteer Ambulance
Lansing
Ashe
46
March 29, 1999
Died of injuries sustained in a vehicle accident on Fees Branch Road, while responding to a chest pain call.
Paul I. Boyer III
Paramedic
Womack Army Medical Center Ambulance Services
Fort Bragg
Cumberland
54
October 22, 2009
Died of injuries sustained when the ambulance he was riding in, headed to the bases's Hoke County parachute zone, crashed into trees. He was riding in the front seat. The driver lost control of the vehicle and upon overcorrecting, struck nearby trees.
Michael T. Browne
Acme Delco Riegelwood Fire-Rescue
Riegelwood
Columbus
24
November 16, 2006
Died of injuries sustained when a tornado struck, as he was leaving his residence to respond to an emergency medical call.
He was an electrician by trade.
Karen L. Canada
Flight nurse
AirCare, North Carolina Baptist Hospital
Winston-Salem
Forsyth
38
April 22, 1994
Air ambulance (helicopter) crashed into East River Mountain, seven miles from Mercer County Airport, WV, to pick up patient in Bluefield, WV. All four crew members killed.
She was a full-time flight nurse for AirCare.
Terry W. Carroll
Medical First Responder or EMT
Coats-Grove Fire & Rescue
Coats
Harnett
51
January 7, 2003
Died at the hospital, four days after suffering a heart attack at the scene of a medical call. After assisting with loading the patient, he was found slumped over in the driver's seat. He was rushed to the hospital, revived, and moved to the cardiac care unit. He passed away on the fourth day.
Larry Doughton Crouse
Paramedic
Alleghany County EMS
Aurora
Alleghany
50
December 31, 2005
Died of a heart attack, while on duty at the station. He was found not breathing and without a pulse.
He was employed by ACEMS.
Kenneth L. Davis
EMT
Goldsboro Rescue & EMS
Goldsboro
Wayne
27
November 7, 1976
Died of injuries sustained in a vehicle collision, when his rescue vehicle was returning from a call and was struck by a car. Two occupants of the automobile were also killed. The two other squad members in the unit received injuries.
He worked for the city as a draftsman in the engineering department.
Claude "C.C." Duvall
Chief Pilot
Dare Medflight, Dare County EMS
Manteo
Dare
53
March 26, 1989
Air ambulance (helicopter) returning from a patient transport to Norfolk struck unlighted cellular telephone tower under construction directly in flight path. Both crew members killed.
Donna L. Eaton
Nurse
AirCare, North Carolina Baptist Hospital
Winston-Salem
Forsyth
33
April 22, 1994
Air ambulance (helicopter) crashed into East River Mountain, seven miles from Mercer County Airport, WV, to pick up patient in Bluefield, WV. All four crew members killed.
Joseph L. Griffin
Paramedic
First Health Carolinas EMS
Pittsboro
Chatham
34
February 2, 2004
Died of a heart attack at the station. He was found unresponsive by his partner at Base #2, after a medical call was received.
He was a full-time paramedic.
Carl E. "Buggs" Hensley
Captain
Piedmont Triad Ambulance & Rescue
High Point
Guilford
59
March 16, 1991
Died of a heart attack during a training session on mountain rescue.
He was retired from Western Electric, and an employee of Guilford EMS.
James M. Hickman
EMT
Goldsboro Rescue & EMS
Goldsboro
Wayne
35
March 28, 1976
Drowned while attempting to rescue three fisherman whose boat had capsized below Fish Ladder Dam on the Neuse River.
James G. Hinson
EMT
Mebane Fire & Rescue
Mebane
Alamance
34
August 27, 1995
Drowning while attempting to rescue a motorist trapped in floodwaters on Highway 119.
John A. Holland
Pilot
Duke Life Flight
Durham
Durham
October 16, 2000
Air ambulance (helicopter) crashed into a vacant lot in Burlington, while returning to base after department Alamance Regional Medical Center, where the patient to be picked-up had been sent ahead by ambulance. While at the hospital, he notified maintenance personnel of a warning light indicating low oil. He was the only occupant aboard the craft.
Michael R. Jackson
EMT
Mid-South Ambulance Service
Smithfield
Johnson
February 9, 1995
Died after being struck by two vehicles on Interstate 40 in Wake County. His unit traveling to Chapel Hill to pick up a patient. They stopped at a minor accident that had happened minutes earlier. Jackson was retrieving warning markers when a tractor-trailer rolled down an incline and struck the ambulance, pushing it forward. Jones was killed instantly, struck by both vehicles.
Employed in a training position as Special Deputy with the Johnston County Sherriff's Department.
Eddie Jones Jr.
Co-Captain
Harrells Rescue Squad
Harrells
Sampson
March 3, 1992
Died of heart failure after suffering a severe asthma attack, after answering a non-emergency call at a local nursing home. Jones and three attendants carried a patient through a sandy area to the rescue vehicle. Upon arriving at their destination, Jones was found unresponsive after moving the truck.
Employed as a service station owner.
Joe A. Jones
Pilot Mountain Rescue Squad and EMS
Pilot Mountain
Surry
72
February 12, 2007
Died of a heart attack while answering a call. Pronounced dead at an area hospital.
He was retired from R. J. Reynolds Tobacco Co.
Harvey J. Lamm
Paramedic
Mt. Pleasant Rescue Squad
Bailey
Nash
39
May 2, 1991
Died of a heart attack while on a search and rescue call that last several days and nights, involving a heavily wooded area, with vast fields, and ponds that required dragging.
Elaine P. Lyda
EMT
Clarkton Rescue Squad
Clarkton
Bladen
45
October 10, 1987
Died in a car accident, after she and her daughter were returning from a squad fundraising activity. She was killed instantly after a pick-up truck sped through a stop sign and struck her car.
Employed by Joint Municipal Housing Cooperative in Elizabethtown.
Bonnie S. McNeil
EMT
Union Rescue Squad
Willard
Pender
50
May 14, 2009
Died after becoming ill, while preparing to leave the scene of a medical call.
John L. Moore
Chief, EMT-D
Ellerbe Rescue Squad
Ellerbe
Richmond
42
August 19, 2002
Fatally injured at the scene of a single-car accident on US 220, when struck by a tractor-trailer truck that lost control and jack-knifed across the highway and struck him.
John G. Rhodes
Paramedic
Randolph County EMS
Asheboro
Randolph
40
May 8, 2001
Suffered a cardiac arrest at the EMS base in Archdale. Became ill during a shirt report and was found by his co-workers in full arrest. Pronounced dead at High Point Regional Hospital.
Full-time employee with RCEMS.
Wayne D. Rice
Paramedic
Dallas Rescue Squad
Dallas
Gaston
July 21, 1991.
Died of injuries sustained in vehicle accident on July 20, when he and his close friend were returning from taking a portion of the state EMT exam.
Rice owned a garage and radiator shop.
Stephen G. Richey
Paramedic/EMT IV
Forsyth Rescue Squad
Winston-Salem
Forsyth
33
September 25, 1984
Helicopter crashed during attempted rescue of construction worker trapped on top of a water tower. Both rescuer and pilot killed.
Michael Travison
Co-Pilot
AirCare, North Carolina Baptist Hospital
Winston-Salem
Forsyth
32
April 22, 1994
Air ambulance (helicopter) crashed into East River Mountain, seven miles from Mercer County Airport, WV, to pick up patient in Bluefield, WV. All four crew members killed.
Stephanie F. Willoughby
Advanced/
Intermediate EMT
Dare Medflight, Dare County EMS
Manteo
Dare
March 26, 1989
Air ambulance (helicopter) returning from a patient transport to Norfolk struck unlighted cellular telephone tower under construction directly in flight path. Both crew members killed.

Missing from the list:
September 23, 1986 - Flight nurses Barbara Burdette and Karen Simpson and Pilot Barry Day were killed when their AirCare, North Carolina Baptist Hospital, helicopter crashed en route to Galax VA.
January 8, 1987 - Flight nurses Mike McGinnis and Pam Demaree, Piulot Perry L. Reynolds, and a three-month year-old patient Xenia Lewis were killed when the EastCare helicopter from Pitt County Memorial Hospital in Greenville crashed in the Hoffman Forest near Pollocksville in Jones County.
+ 3 - 1 | § ¶
Charlotte Fire Department Promotional Film - Circa 1989
This one's making the rounds, a nearly eight-minute promotional film of the Charlotte Fire Department from 1989 or abouts. Lots of apparatus footage, plus a montage of action clips toward the end. Couple nice views of Central Fire Station, since demolished. Look around the five-minute mark and you'll see a Seagrave 70th Anniversary pumper operating. All that and Aaron Copland on the soundtrack.



+ 4 - 0 | § ¶
UPDATED: Cary's New Engine 4
Arriving this week at the Cary Fire Department is new Engine 4, a 2013 Pierce Velocity pumper, 1500/500. The truck sports a few new features, starting with a low hose bed. It's equipped in the rear with 1,200 feet of 5", 800 feet of 3", 250 foot 2.5" pre-connect, and two 200 foot 1 3/4" pre-connects. Plus two 1 3/4" speelays, one 1 3/4" crosslay, and a 150-foot 1 3/4" bumper load. The booster reels been moved to the top, instead of in a rear compartment.Also added are coffin compartments, a first for Cary engines. They've removed the on-board foam systems that were included with their last four engines. LED scene lighting on the sides of the truck are new. They've also returned to pressure governors versus traditional throttle/pressure relief values. The engine replaces a 1999 KME, which will be moved to the reserve fleet. The displaced reserve engine, a 1994? Pierce, will be sold as surplus.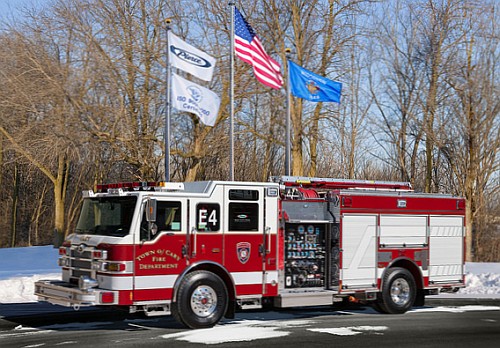 + 4 - 2 | § ¶
Durham Fire Station Under Construction
Here's a mobile phone photo of Durham Fire Station 9, under construction at 1602 Camden Avenue. The single-story, three-bay building will have 8,908 square-feet, and replace a station that's, what, one third it's size? Read more.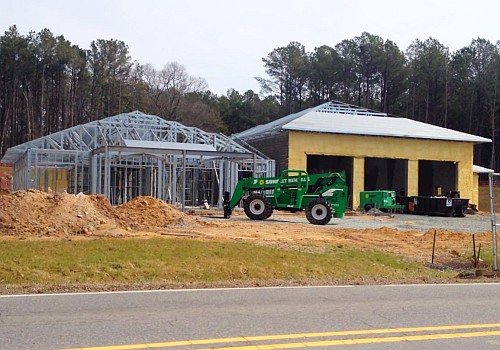 The current Station 9 is located at 2012 E. Club Boulevard and beside the department's administrative offices and training center. The single-story, single-bay facility was built in 1977, and as a public safety station. Meaning, with two bays and minimal living quarters. Enough for an apparatus driver (and officer?), with the remaining firefighters arriving as Public Safety Officers via their patrol cars. The public safety program started in 1970 and ended in 1985.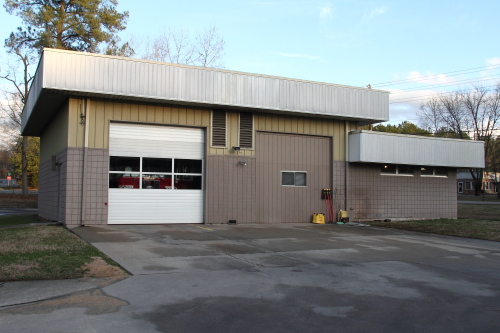 Another public safety station is old Station 8 at 2725 Holloway Street. Built in 1980, it was closed in 1998. Engine 8 was relocated to a new Station 3 at 822 N. Miami Boulevard, then to a new Station 8 at 225 Lick Creek Drive in 2005. Read more about
Durham's former and historic firehouses
. And watch for new photos of the buildings, to posted to
my Flickr collection
.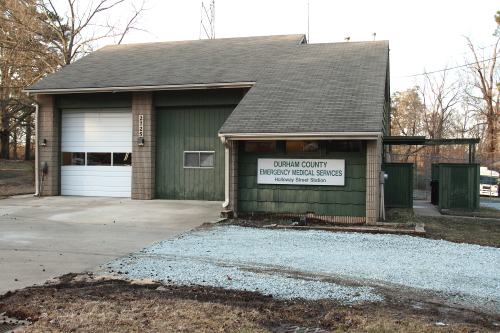 + 3 - 3 | § ¶
This Year's Web Visitors Compared with Last Year's
Google Analytics comparing February 7 to March 9 of this year versus last year, for the blog, the photo site, and Legeros.com. Hmmmmm.

Blog - www.legeros.com/blog

Photo Site - www.legeros.com/firepics
READ MORE
+ 4 - 2 | § ¶
Goldsboro Rescue Squad Member Killed when Car Runs into Rescue Vehicle - November 8, 1976
Found this while looking for things. As reported by the News & Observer on November 8, 1976, Goldsboro Rescue Squad member Kenneth Lee Davis was killed early Sunday morning, November 7, when his "rescue van" was struck by a passenger car. At 2:50 a.m., the automobile ran a stop sign at the intersection of New Hope Road and State Road 1709. The rescue squad vehicle, with three members, was returning from a call.
The squad unit was traveling west on New Hope Road and was struck in the driver's side door. The car reported ran the stop sign at a high rate of speed. The force of the impact caused the rescue unit to roll more than 65 feet. Both vehicles traveled into a yard and struck a parked car. Davis, 27, was driving the rescue truck. He was killed, along two teenaged male occupants of the automobile.
Two other squad members were injured: Bobby Braswell, 25, sustained leg, neck, and head injuries. He was listed in serious condition at Wake Medical Center in Raleigh. Kenneth Satterfield, 26, sustained chest injuries and was reported in satisfactory condition at Wayne Memorial Hospital. (Driving distance to the Raleigh hospital, using routes available at the time, is about 60 miles.)
Davis was the squad's second member to die on duty that year. James M. Hickman died on March 28, 1976, while attempting to rescue three fisherman after their boat capsized below the Fish Ladder Dam on the Neuse River. The details of Hickman's death is listed on this page of the National EMS Memorial Service. See all honorees, sorted by state.
The site notes about Davis that he worked for the city of Goldsboro as a draftsman in the engineering department. He was a volunteer EMT for Goldsboro Rescue Squad. His other volunteer duties with his rescue squad included rescue driver, Secretary, Sergeant, and Lieutenant, and a member of the North Carolina Rescue Association. He received posthumously the Medal of Valor.
Twenty-eight members of the emergency medical service from North Carolina have been honored by the National EMS Memorial Service. Most of the deaths involved transportation accidents, including ground vehicle collisions and impacts, as well as helicopter crashes. Haven't parsed the data to determine the number of ambulance or rescue truck crashes.
The Goldsboro Rescue Squad was chartered in January 1972. They changed their name to Goldsboro Rescue Squad and Emergency Medical Services in April 1989. The corporation is still listed as active, though it appears Wayne County EMS is the predominant provider in those parts. They were created in October 2001, and merged their EMS services with the Goldsboro Fire Department in October 2002.

Update: From this Goldsboro Daily News story dated April 23, 2013, the squad was organized twenty years prior to its state charter in October 1952. And it celebrated its 60th anniversary last year, in a celebration at the Wayne Shrine Club in Dudley.

+ 3 - 4 | § ¶
Did Raleigh Have Ford Model C Fire Apparatus?
Answer is yes, a pair of Ford C service trucks, on a 1963 (left) and 1980 (right) chassis. The ladder rack was from a 1922 (!) American LaFrance combination service truck. The chassis was replaced after a May 31, 1979, accident, after a collision at Raleigh Boulevard and Milburnie Road while Truck 7 and Engine 7 were answering a fire alarm. Photo credits News & Observer (black and white) and Jeff Harkey (color). Click to enlarge:


Fire apparatus using Ford C chassis were popular throughout North Carolina. Presumably due to the more economical cost versus custom fire apparatus? Some of the big city departments including Charlotte, Durham, and Greensboro. Who else? Click to enlarge:
+ 8 - 2 | § ¶
Rural Hall Engine 223 - 1974 International/Howe
Look at this beauty. Rural Hall Fire Department Engine 223, a 1974 International/Howe, 1000 GPM. That's Forsyth County folks. Photographed by Lee Wilson on February 10, 1991. That's his father's hometown. Lee's posted another round of vintage film scans. See that gallery, and look at the end for the latest.



Lee Wilson photo
For comparison, here's a factory photo of a 2010 (?) Pierce pumper found on the
company's Flickr site
. What's different "then" versus "now" when you compare the two rigs, and two eras of apparatus?
+ 3 - 1 | § ¶
Raleigh Fire Museum Open This Saturday, March 8
Looking for a fun activity on Saturday? Visit the Raleigh Fire Museum, which is located just a couple minutes south of downtown Raleigh. We're open this Saturday, January 11, from 10:00 a.m. to 2:00 p.m. That's our monthly opening, on the second Saturday of the month. You can even meet Mr. Blogger, who will be staffing same! (Please contain your appaluse.)
The museum is located in a modular classroom at the Keeter Training Center at 105 Keeter Center Drive. This Saturday, you'll also see firefighters and fire engines in action, as "high-rise drills" will be conducted throughout the day on the "drill pad."
Admission to the museum is free. Parking and restrooms are available. Here's a two-minute video tour. Learn more about the museum, and the non-profit organization that operates it, at www.raleighfiremuseum.org.
Please note that antique fire engines are located elsewhere. Though you'll see a hand-drawn hose reel at the museum, all antique horse- and motor-drawn apparatus is stored at at Fire Station 28 at 3500 Forestville Road. Visitors are welcome. Or schedule a tour at www.raleighfiremuseum.org/tours. Here's more information about both destinations:


+ 3 - 3 | § ¶
Wishing on a Web Site
Everybody has a new site these days. New design. New look. New feel. Except this one, of course. Sorry Charlie, no platform upgrades planned for the blog or other Legeros sites. [Insert Bronx cheer.] Why are so many sites getting facelifts and functional enhancements? Blame your phone and its bigger brother, the tablet.
In days of old, when knights were bold, and the smart phones were not ubiquitous, browsing the web on a phone or table kinda sorta sucked. Then came "mobile sites," which were special, second versions. These were simpler versions, usually stripped to a minimum or near absence of graphics and other bells and whistle.
Creating and maintaining two sites--one for desktop, one for mobile--was an obvious pain. And as "alternate devices" grew in variety, availability, and popularity, this approach simply wasn't scale-able. Tow or three or four (or more) versions of a site. Enter "mobile responsive" AKA "adaptive."
Now, a single web site has the necessary magic to render on a desktop or a laptop or a tablet or a phone or an Etch-a-Sketch. One site to rule them all. Glorious for content publishers, but a pain for the user. At least, for this cranky user. (Haven't had dinner yet, maybe it's low blood sugar.)
Looking across the various web sites that I visit daily or weekly, I'm seeing a lot of nice, full, airy, and space-filled (usually) sites. Lots of content, maybe as much as ever. Lots of pictures and labeled pictures and animated slideshows. Lots of thumbnail graphics. Lots of widgets. Little bits of this and that take extra seconds to load, or longer on a slower device or connection.
These redesigned home pages look good, look fresh, but... they're just so busy. My eye just doesn't know where to start. Can't you show me a simple list of links, or headlines, or "top content." Do you have present so many categories or buckets and all at once? (And Lord help me, so much still below the fold. And even on mobile phones, requiring scrolling and scrolling and scrolling!)
Then I think about Drudge. And Craiglist. And Google. Such simplicity in presentation, and absolutely unchanged after years (or decades). Then I think about Twitter.
Twitter rocks. It's so ingenious, and so simple. Just... lists of text messages, with wee icons. Just... lists of headlines (and some single photos), if you follow the feeds of content providers. Nothing more, nothing less.
Why can't everything be as simply presented as Twitter? Why can't the web be more like text. Why can't the new web... be more like the old web?
</RANT>
+ 3 - 2 | § ¶
Raleigh-Wake Emergency Communications Annual Report, 2013
Just published to their web site is the 2013 annual report from the Raleigh-Wake Emergency Communications Center. Nice cover photo by Yours Truly, plus a couple shots on the inside. Love annual reports, how 'bout one each from Raleigh fire1, Raleigh police, and Wake County EMS? Read the report (PDF).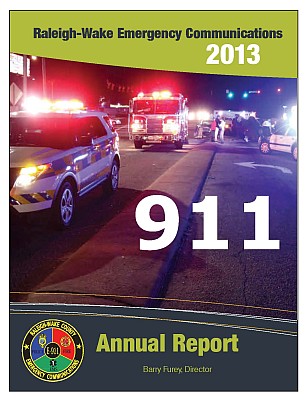 1The spring edition of the Raleigh Fire Department newsletter will contain a two-page summary of stats and more from last year. Not nearly as fun as a full-fledged document--well, get on it Legeros!--but should meet the needs of data geeks. Will be published around April 15.
+ 3 - 1 | § ¶
Mystery Locations in Warehouse District
How well do you know downtown Raleigh?


+ 6 - 2 | § ¶
Raleigh Fire Department Hiring Deputy Fire Marshal
The City of Raleigh has posted a job opening for Deputy Fire Marshal. The position is part of the Office of the Fire Marshal, which is located in the Dillon Building at 310 W. Martin Street. Minimum requirements include two years of relevant experience, a valid state driver's license, and North Carolina Fire Inspector Level II certification. Salary range is $45,921 to $75,682. Closing date is March 12, 2014. Here's the job posting. Good luck!
+ 5 - 2 | § ¶
Last Week's Haz-Mat Incident in Smithfield
On Wednesday, February 19, 2014, a hazardous materials incident occurred at 2233 WalPat Road in Smithfield, NC. Workers reported the medium-sized release of an unknown gas, yellow-green in color, from a 150 pound pressurized cylinder at a metal recycle plant.
Smithfield Fire Department and Johnston County EMS were among the initially dispatched agencies. Upon arrival, crews found that a heavy equipment operator had damaged a pressurized gas cylinder that was located among other scrap metal debris.
One worker experienced difficulty breathing and vomiting, and was transported by ambulance to WakeMed. Three other workers were transported to Johnston Health by private vehicles.
Johnson County Emergency Management also respond. They suspected the gas was chlorine, due to the color and smell. The county EM representatives contacted the state Emergency Management office to request a regional haz-mat team response from Raleigh.
A conference call was placed between NC EM, JC EM, Raleigh Fire Department Battalion 3 (the haz-mat Battalion Chief), and the Regional Response Team 4 Officer. They determined that a level three response was most appropriate, sending three RRT units with twelve haz-mat technicians to the scene.


Jason Thompson/JocoFire photo
Responding units from the Raleigh Fire Department were Haz-Mat 2 (from Station 27, staffed by Engine 27), Haz-Mat 3 (recon unit from Station 8, staffed by Engine 8), Haz-Mat 4 (decon unit from Station 22, staffed by Ladder 5), and Car 55 (team leader). Driving distance to the scene for units varied between 30 and 40 miles.
After the arrival of Haz-Mat 3 and Car 55, the Haz-Mat Branch of the operation was established. Smithfield Fire Department was the Incident Commander.
Crews made an initial entry for reconnaissance, to determine cylinder location, take pictures of the scene and monitor the atmosphere to determine the presence and amount of chlorine gas.
As entry was being prepared, Haz-Mat 4 arrived. A site safety plan was written and a pre-entry briefing was carried out. The resulting reconnaissance entry report confirmed that a 150-pound gas cylinder had been damaged and was leaking small amounts of gas.
Crews made a second entry using Level "B" personal protective equipment with self-contained breathing apparatus (SCBA). They successfully placed a dome cover over the cylinder's broken value, which contained the leak.


Jason Thompson/JocoFire photo
During each entry of each two-person entry team, a second two-person stood ready as back-up, in the event the entry team needed rescue.
After containing the leak, the area around the cylinder was taped off and an environmental clean-up company was contacted by the facility to pick up the damaged cylinder. All units were demobilized and a post-incident briefing was held by the RRT 4 office.
Incident release forms were signed and the scene was turned over to the business representative.
See more photos from Jason Thompson. Other links: JocoFire.com (scroll down page), WTVD, WBTV.