+ 17 - 12 | § ¶
Disco Inferno
From this morning's fire on Paula Street. As defined by Merriam-Webster: "incongruity between the actual result of a sequence of events and the normal or expected result." What is irony?


+ 16 - 7 | § ¶
This Morning's Major Fire / Paula Street
Two alarms at 2408 Paula Street. Engine 11 arriving at a one-story, metal commercial building with heavy fire showing through the roof in the rear. Building with 6,856 square-feet, built 1971. Used as entertainment facility. Declared major working fire on arrival. Dispatched 4:55 a.m. Controlled 5:44 a.m. Units on scene included E11, E9, E6, E7, E3, E13, E1, L2, L4, R2, R1, B2, B1, C10, C20, A1, EMS 11, EMS 1, D1, D5, T1. Preliminary photos posted by Legeros. More later, and photos from Lee also forthcoming. He arrived much earlier.


+ 12 - 11 | § ¶
After the Accident
Raleigh police officers clearing the scene of a train accident, north of the intersection of Hoke and Blount streets. Pedestrian struck and injured. Engine 1, Engine 3, Ladder 4, Rescue 2, EMS _, and District 1 (and others?) on scene, with a bunch of other units returned to service. Dispatched 4:53 p.m. Photos from Legeros (below) and Lee later. Or, read the WRAL story. Click to enlarge:


+ 16 - 11 | § ¶
American Tobacco Historic District
Speaking of factories and history, Saturday night saw Mr. and Mrs. Blogger exploring the American Tobacco Historic District in downtown Durham. The registered historic site was part of the America Tobacco Company, once the largest tobacco company in the world. The completely renovated commercial and entertainment campus dates to the early 20th century, with the first buildings built in the late 1870s. This incredibly detailed Endangered Durham posting tells and shows the story of the complex. The posting has maps and diagrams and both street-level and aerial photos. Two stunning photos show before and after the facade of the Old Bull building(s) was covered with pink metal in 1965. That hideousness was removed in recent years. Pay a visit, then read about the history. It's well worth your time.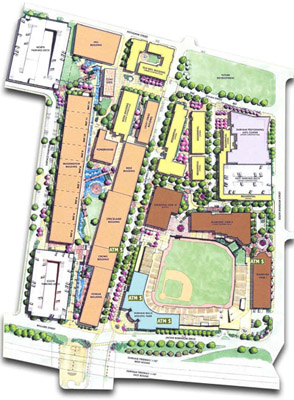 + 13 - 8 | § ¶
Friday's Furniture Factory Fire in Morganton
Seven fire departments fought a massive blaze at an old furniture plant in Morganton on East Fleming Drive and Hogan Street early Friday morning. The former Drexel Heritage plant was reported ablaze just after 3 a.m. Morganton, Valdese, Longview, Gamewell, Oak Hill, Glen Alpine, and Salem fire departments were on scene, reports this Morganton News Herald article. Due to the current condition of the building-- dilapidated walls and floors, three levels, etc.-- the operations were defensive only. A number of aerial streams were utilized. As flames shot dozens of feet into the air, all surrounding roads where closed. The fire was contained by Saturday morning, reports the paper, and most of the crews had cleared by noon. The building had been commercially vacant for years, though some of the structure was used for storage. That area was not burned.

Jennifer Frew/News Herald photo


When was the plant built? Tax records say 1901, which might be accurate. Sanborn Insurance Maps show the core section present in 1924, and somewhat larger in 1931. How big was the present plant? Maybe 500,000 square-feet? More? The tax record property card breaks the building into segments, but also includes free-standing structures. Must have been a nightmare to pre-plan. And our state's Piedmont region is absolutely full of such factories, both vacant and operational. Maybe out readers can share some experiences. Could be a good research project, as well, come to think of it. Largest factory fires in North Carolina history. That would be an interesting list to see.
Notable links:
+ 17 - 7 | § ¶
Durham Police Department Special Units
Speaking of haz-mat, these special units were seen this evening in Durham. First is the police department's Biological Chemical Emergency Response Team. The DPD web site tells about the BCERT teams, which number two and are on call 24 hours, seven days a week. Each BCERT team includes one lead criminal investigator and two hazardous materials investigators. The second unit, also seen parked at the police station, is no mystery vehicle. It's purpose is pretty obvious. Learn more about DPD vehicles. Click to enlarge:


+ 13 - 7 | § ¶
Last Week's Haz-Mat Challenge
Last week's South Atlantic Fire Rescue Expo concluded with a Haz-Mat Challenge on Saturday, an annual competition sponsored by the North Carolina Association of Hazardous Materials Responders. This was the fifth year for the contest, which is held in conjunction with the annual firefighter's convention. This year's challenge was conducted around the corner from the Raleigh Convention Center, in a parking lot on Lenoir Street. Eight teams from across the state competed in a series of timed evolutions, with penalties for incorrect techniques.


Lee Wilson Photo


The results, including times for the first three teams:
Fayetteville (4:56)
High Point (5:22)
Raleigh Team #1 (6:02)
Greensboro
Wilmington
Asheville
Raleigh Team #2
The evolutions:
Application of Chlorine C Kit on Railcar Protective Housing Simulator, provided by HEPACO, Inc.
Overpack of Drum
Placing Overpack and Drum on Dolly and Transporting 100 Feet
Sampling Using a Coliwasa Tube
Victim Removal Using Stokes Basket
READ MORE
+ 10 - 8 | § ¶
Mystery Building
Where is this building, and what is is used for? Hint: It's air-conditioned.


+ 12 - 7 | § ¶
Parasailing Accident Kills Two
Turn our attention to the coast, the Myrtle Beach Sun News has details on a fatal parasailing accident on Friday afternoon in Ocean Isle, NC. Two women died after the rope connecting them to the tow boat broke. The article offers a detailed and entirely harrowing account of both the parasail's crash, and the attempts of the tow boat to reach and rescue the victims. Upon the arrival of land-base rescuers, the women were extricated from the parasail and removed to shore. Neither was conscious. Read the entire account.
+ 18 - 10 | § ¶
Post Your Rosters!
Discussing Fayetteville's new rescue caused me to think, I wonder what their entire fleet looks like? Is anyone willing to post a full Fayetteville Fire Department apparatus roster? Ditto for the other larger departments around North Carolina? I'd love to see and compare apparatus and units from the state's top twenty municipalities (for starters): Asheville, Burlington, Cary, Chapel Hill, Charlotte, Concord, Durham, Fayetteville, Gastonia, Goldsboro, Greensboro, Greenville, Hickory, High Point, Jacksonville, Raleigh, Rocky Mount, Wilmington, Wilson, and Winston-Salem. Not sure how to post a list? Just mail it to Mike, and I'll post.
Here's Raleigh's full fleet...
READ MORE
+ 4 - 15 | § ¶
Which Department to Work For?
The blogger FireCritic has posted an interesting list of Top Ten Considerations on Which Department to Work For. He offers on comment on each, which are recruit school and training, salary, median age of employees, department history on layoffs, city paid benefits, staffing / stations / apparatus, contracts / union / arbitration, health insurance, disability retirement, and retirement pension. In the comments of the post, the blogger Joe Schmoe adds his two cents, with his own recommendations for prospective firefighters. Notably, he suggests taking the first job that you are offered. Then, identify three to five goal departments, based on criteria. And, if you never reach your goal department, you're still working in the fire service. Which is better than not, no? What would our readers add or subtract, for job seekers in the Carolinas? Read the FireCritic posting.
+ 13 - 9 | § ¶
Garner's New Rescue
The Garner Fire Department this afternoon took delivery of a new Rescue 1, a 2009 Pierce Velocity heavy rescue. Features include bumper reel and storage for hydraulic tools, a recessed light tower, a cascade system, and even an oil-dry dispenser. The truck will be stored at Station 3 while it's being equipped. Photos coming from Legeros (below) and Lee. Click to enlarge:


+ 9 - 7 | § ¶
Mystery Shirt
I guess the identity of this person is pretty easy to figure out. Happy Friday.
Extending the color range of the universe, one Hawaiian Shirt at a time...


+ 10 - 10 | § ¶
Back in the Day in Carthage
For your Friday enjoyment, here's a historic postcard image of firefighters in Carthage circa 1904 to 1918. The volunteer firefighters have emptied their hand reel, and their hose lines are operating with hydrant pressure. There's also a ladder wagon in the picture. With the introduction of water systems and fire hydrants in the late 19th and early 20th century, firefighting in North Carolina's cities and towns was "easy" as having a hand reel and hose. No hand or steam engine required. Just people and hose. Read more about the photo, which is by E. C. Eddy and from the Durwood Barbour Collection of North Carolina Postcards, North Carolina Collection Photographic Archives, Wilson Library, UNC-Chapel Hill. Click to enlarge:



E. C. Eddy photo, Durwood Barbour Collection of North Carolina
Postcards, North Carolina Collection Photographic Archives,
Wilson Library, UNC-Chapel Hill
+ 9 - 9 | § ¶
Fayetteville's New Rescue
Found on the Pierce New Deliveries page is this picture of Fayetteville's new rescue, a 2009 Pierce Impel heavy-rescue. It was delivered in June. Read more information, or see a larger version. Readers, please add additional information. Where is it stationed, what did it replace, etc.


+ 9 - 8 | § ¶
Halligan Hook
As referenced in these reader comments, here's what a Halligan Hook looks like. Developed by FDNY Deputy Chief Hugh Halligan, who also invented the more familiar Halligan Bar. Shown as mounted on Raleigh Ladder 1.


+ 9 - 5 | § ¶
Camera Phone
Is there anything more fun that taking a picture of someone taking a picture? For extra credit, who's that guy and what's he riding?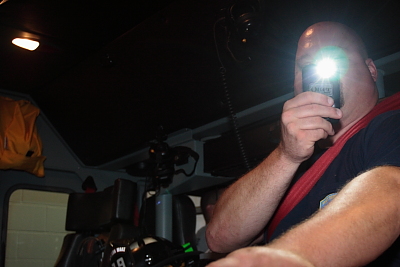 + 14 - 5 | § ¶
Foam
Vehicle fire on Interstate 40 with Engine 20, Engine 2, and Ladder 7.


+ 9 - 7 | § ¶
Report Released on Ocracoke Fireworks Explosion
As this Virginia-Pilot article reports, the federal Bureau of Alcohol, Tobacco, Firearms, and Explosives has identified the source of the fatal fireworks explosion on Ocracoke Island. The July 4 explosion killed four of five workers preparing for a fireworks show. The fifth member survived with burns to 20 percent of his body. The report says that the crew was inside of a truck filled with explosives, and they were inserting electric igniters into the fireworks when a small explosion occurred, and which led to a larger explosion. Why were they working inside the truck? The reason might have been that the ground was wet, having been sprayed by the fire department. However, notes one industry professional, the dangerous work of a fireworks team is typically done outdoors, for obvious safety reasons. Read the entire article.
+ 10 - 14 | § ¶
Fire Watch at Shearon Harris
Leading this New York Times article about high-tech fire detection at the nation's nuclear power plants is a curious factoid about Shearon Harris Nuclear Power Plant. They have three workers, around the clock, who perform fire watch. Really. As the article describes their job, they pace miles every day, "up and down stairs and through vast halls and narrow passages" and "visit crucial locations at least once an hour to make sure fire has not broken out." Who would have thought? One worker says "he covers 12 miles each day, including 60 flights of stairs." How many pairs of worn out sneakers does that equate to? Two or three a year. Read the entire article, which talks about movement in the industry and government to automate fire detection. Or learn more about the Harris plant.
+ 6 - 12 | § ¶
Personas
Mrs. Blogger found this site: http://personas.media.mit.edu. Called Personas. How does the Internet see you? Enter your name and data (ch)art is created. Pretty cool. Here's are the results for both of my names. Notice the strong fashion component! Personas was created by Aaron Zinman. Click to enlarge:


+ 7 - 9 | § ¶
Streets, Spellings, Address Locating
Also on the subject of dispatching, we missed this WTVD story last week about a fatal house fire in Durham on Monday night. Lebanon, Eno, Bahama, and Durham City responded to the fire at 118 Chanticliff Place. However, they were dispatched several extra minutes after the fire was first reported. The story includes audio of the caller spelling the street name. Units were initially sent to similar sounding, but different address. Is this a simple case of a cell phone caller, with no automatic address locating? Versus someone using a land line and which automatically displays the street name to dispatchers? Readers, please offer perspectives as desired. Read the story.
+ 12 - 6 | § ¶
Beep Beep?
What's the story on the beeps instead of street names on some Locution dispatches lately? Are those words or names not available in the system's vocabulary, for whatever reason? Or perhaps a concealment for certain call types, for privacy? Inquiring minds are curious.
+ 7 - 10 | § ¶
Fire Station Rainwater Harvesting Project
Several Raleigh fire stations, along with some Wake County facilities, are receiving (or have received?) rainwater harvesting systems and rain gardens. The city and the county are partnerning to sponsor twelve project locations to receive a network of cisterns, which will collect draining rainwater from rooftops. The collected water can be used for training or washing equipment, and reduces the demand on drink water supplies. Harvesting rainwater also decreases the volume of storm water runoff, which helps in other ways. Five project locations will also receive rain gardens. Those are mulched flower beds that further reduce storm water runoff.
Sites with cisterns and rain gardens:
Raleigh Fire Station 6
Raleigh Fire Station 22
Raleigh Fire Station 27
Raleigh Fire Station 28
Wake County EMS Station 8
Sites with cisterns only:
Raleigh Fire Station 8
Raleigh Fire Station 23
Raleigh Fire Station 24
Raleigh Fire Station 25
Raleigh Fire Station 26
Fuquay-Varina Fire Station 3
Wake County Animal Shelter
Read the entire press release.
+ 6 - 8 | § ¶
New Video Shows Ladder Truck Crash
As this WTVD story reports, the Raleigh Fire Department has released a video of the July 10 apparatus accident involving Ladder 4. While responding to a call, the 2004 Pierce Arrow XT tiller truck overturned at the intersection of Dawson and South streets. The accident occurred at 10:50 a.m. Footage was captured from two cameras, a red light camera on Dawson Street, and a city bus on South Street. Raleigh Fire Chief John McGrath cites the cause as "human error and speed." Four firefighters were aboard the truck, and three were transported. None received serious injuries. Chief McGrath notes that "the accident will be used in firefighter training." He also added that the $750,000 is "too badly damaged to repair," and the city is still evaluating if it can be replaced. Read the WTVD story and watch the footage. Or, view photos from the scene by Lee Wilson and Mike Legeros. Also read our posting from the day of the incident.
+ 9 - 4 | § ¶
Drivers Can't Trust School-Zone Signs
In the wake of last weeks' incident involving a six-year-old child struck and killed after exiting a school bus on North Hills Drive on Wednesday, news stories have been examining aspects of the accident. The age of the 83-year-old driver has been a frequently topic, and revived discussions of upper-age limits for driving. Another issue, the time of the accident, is featured in today's News & Observer. The paper reports on the Wake County School System's new early release policy, which requires that all students be sent home an hour early on Wednesdays. Additionally, they're kept another 10 minutes in most schools, the other four days of the week. Thus, all existing school zone signs list the wrong times, when motorists must slow down for students coming and going to school. In Cary, the changes are not a problem, as the town relies on signal lights instead of signs. They can be reprogrammed. In Raleigh, which has 109 of the county's 159 schools, the changes aren't as easily solved. The city is mulling its options. Read the article to learn more.

Ethan Hyman/News & Observer photo
+ 10 - 5 | § ¶
Reflections
There's nothing as shiny as freshly washed fire truck. That's Wilson's Mills first engine, a 1947 Mack pumper that was recently restored by inmates at the Piedmont Correctional Center in Salisbury. The truck was first purchased by the fire department in 1973, for $4,000. It was sold in 1981, then found in a field in Lumberton in 2002. The price this time was $600. The restoration was funded with firefighter and community donations totaling $18,000. The vintage engine appeared at Saturday's fire apparatus parade on Fayetteville Street. See those photos, the full series having just been posted. Now, back to the Mack. Here's an older WRAL story about the truck. Next question, where did it serve prior to 1973?


+ 3 - 7 | § ¶
Raleigh to Hire 14 Firefighters
Several readers have inquired about the number of firefighters being hired in Raleigh during the current recruitment period. This WRAL story reports the number is 14. Applications are being accepted through August 28. See our prior posting for more information, or visit the Raleigh Fire Department recruitment web site. Good luck!
+ 6 - 5 | § ¶
Discussions on Driving
In Austin, TX, the fire department has a new policy on driving. Responding apparatus must obey speed limits, and come to complete stops at intersections. Previous, they were allowed 10 MPH over the speed limit, and could not required to stop at intersections, provided other drivers were aware that they were coming through. The Austin firefighter's union doesn't agree with the new policy. The perspectives on both sides have made the news, such as in this Austin American-Stateman article.
Perhaps most interesting are reader comments, which offer frank perspectives from both firefighters and citizens. Over 150 have been posted so far. The comments cover all sorts of ground, from response times to firefighter safety to criticism of the Fire Chief. On Firehouse.com, Billy Goldfeder offers his opinion on the policy, as well as the larger issue of picking your battles against command decisions. Good reading, and even better as food for discussion.
Late Sunday update: our own paramedic blogger 9-ECHO-1 has also been posting about this subject. Read his first posting, then read his second posting. We know him as DJ, a frequent commenter on this blog. He's stayed on top of the issue, and has links to other Austin media that's covered the story. He also offers his own opinions, and pull no punches therein.
+ 5 - 7 | § ¶
Pipes Band
Let's call this the Parade Cam view. That's the Wake & District Public Safety Pipes and Drum band marching west on Davie Street, between Fayetteville and Salisbury streetrs. The spotlight of a 1926 American LaFrance pumper shines behind them. That's Raleigh's old Engine 4. Click to enlarge:


+ 12 - 9 | § ¶
Tactical Fire Fighting Truck
There's wow and there's WOW. This behemoth from Oshkosh/Pierce was part of this morning's fire apparatus parade, that ran the length of Fayetteville Street and concluded at the convention center. Called a Tactical Fire Fighting Truck and utilizing an Oshkosh HEMTT chassi, the eight-wheel wonder serves the National Air Guard facility at Raleigh-Durham International Airport. Some specs, from a brochure on the official site: 210-inch wheelbase, all-wheel drive, 445-HP engine, 400-mile cruising range, 48-inch fording clearance, six-person capacity, five with SCBA, 1,000-gallon tank, 2,000-feet of hose, 1,000-GPM bump, roof and bumper remote-controlled turrets, numerous compartments and many tools, including hydraulic rescue equipment. There's also a water-tender version, called the HEWATT, that carries 2,500 gallons of water. Read about that. There are two such trucks in the state, we're told. The second is in Salisbury, at an Air Guard facility there. Parade photos coming later. Click to enlarge:


+ 6 - 4 | § ¶
Garner Firefighters Rescue Children
Two children were rescued by Garner firefighters this morning. The 3-year-old boy and 1-year-old-girl were pulled from a duplex at 901-B Timber Drive. Both suffered burns, smoke inhalation, and heat exhaustion, reports this WRAL story. The boy was not breathing on arrival, and revived by EMS. They were transported to WakeMed, and then again to the burn center at UNC. The fire was dispatched at 1:35 a.m., with arriving crews finding heavy flames from the front porch and first-floor front windows. Two adults escaped without injury. Readers can add additional incident details as desired.
+ 12 - 12 | § ¶
Workshop Slides
Thanks to those who attended today's workshop on North Carolina Firefighting History at the South Atlantic Fire Rescue Expo. The material passed muster, some good questions were asked, and some neat new people were met. A version of the presentation slides has been posted on our history site. Also available is the presentation from the 2006 convention, on the subject of Researching Fire Department Histories. Below is History Boy in action. Thanks, Tim, for taking some pics! See everyone tomorrow.


+ 7 - 8 | § ¶
Found Fire Truck
This 1954 Ford/American pumper was found for sale in western Wake County, and snapped by Jeff Silver. It's lettered for the Olympia Fire Department, presumably the Pamlico County entity. For $3,500 or better offer and it's yours! Thanks for sending, Jeff. Click to enlarge.


+ 7 - 6 | § ¶
Polite Reminder
As seen at the convention center. Please be aware of your surroundings...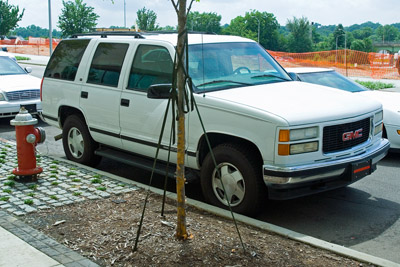 READ MORE
+ 9 - 7 | § ¶
Surry County Firefighters Struck By Lightning
Found on Dave Statter's site, two Surry County firefighters were struck by lightning in separate incidents Thursday night. The first strike was at a house fire on Boaz Lane, the firefighter working with the truck at a pond, when a bolt struck nearby. The strike was close enough for the firefighter to feel the effects. The second strike was at a house fire on Tanner Cove Road, where lighting struck about 100 feet from a second firefighter. Both are reportedly fine. The strikes occurred during a period of severe storm activity in the White Plains area. Departments responding to those fires included White Plains, Ararat, South Surry, Franklin, and Bannertown. Read more from the Mount Airy News.
+ 5 - 7 | § ¶
After the Dam Accident
This strong image appears in today's New York Times, in the article Decaying Soviet Infrastructure Shows Its Era, and in the context of the Sayano-Shushenskaya dam accident on Monday that killed 17 workers and left 58 missing. On a related note, an earlier Times article reports that a Russian blogger has been charged with libel, after making claims about the accident. The editor-in-chief of an online publication n had his computer sized, and was accused of "discrediting the honor and dignity, and undermining the business reputation, of the leaders of the republic and Sayano-Shushenskaya." The hydroelectric plant at the dam, the fifth-largest in the world, opened in 1978, and was partially reconstructed in 1987, says this Wikipedia entry.


Ilya Naymushin/Reuters Photo
+ 4 - 8 | § ¶
Mystery Apparatus
Here's a sneak peek of something shiny and red. Raise your hand if you can identify this one. Happy Friday.


+ 4 - 6 | § ¶
Video Taping the Saturday Parade?
Is anyone planning to videotape the Saturday parade of fire apparatus on Fayetteville Street? Though we're set for still photographers, who is bringing a video camera to the thing? Post or shoot a private message. Thanks.
+ 11 - 7 | § ¶
Ready to Roll
Slides are finished. They number 91 and include front matter and some appendixes. Lists of stuff, at the end. Tomorrow's workshop on the history of firefighter in North Carolina will cover a couple hundred years. We'll start in the 1770s, or abouts. Work our way to present day. Hand engines to steam engines to motor engines. Fire laws to fire companies to fire departments. Trucks and tools and people and places. Paid departments and rural departments. The whole ball of wax, minus whatever's missing. And there are holes. Always are.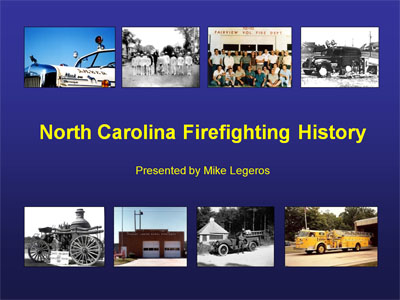 With laptop in tow, we'll pack a stack of business cards. Mine read "author, historian, photographer." Original, eh? Handouts, also, with web and e-mail addresses. Note cards, markers, sticky pads, and painter's tape. In case we want to jot and hang stuff. Bottle of water or two. Copy of each volume of Raleigh & Wake County Firefighting. Humorous props, perhaps, as well. One or two. Plus the presenter, who is his own amusing sight. Room 306C should be ready for visitors by 8:30 a.m. We'll be playing a slideshow of old photos from around the state. Come early and watch, or chat. Everything should be ready to roll.
+ 6 - 6 | § ¶
Paramedic
EMS 121 and Medic 95 on Duraleigh Road. Medical call, with Engine 17. Flashing lights attract photographers.


+ 12 - 4 | § ¶
Load In
Terminology used in event booking. Refers to the time that performers or exhibitors can start carrying their equipment into the venue. Pictured is Morrisville Engine 3 and another unit queued for entry into the lower level of the convention center. Apparatus with water are required to empty their tanks before entry. Support trucks and supply vans also use this entrance. And it was hot as hell outside.


+ 6 - 8 | § ¶
From Whence We Came
Lest we forget the glorious ungainliness of what came before the Raleigh Convention Center, here's a Terraserver aerial view of the Raleigh Civic Center and surrounding blocks, dated March 2002. It also shows Fayetteville Street still as a pedestrian mall. Downtown Raleigh's come a long way, baby! Wonder what Andy and Barney would say, if they could see it today?


+ 7 - 9 | § ¶
Histories of Firefighter Conventions
We've got a mess of history on our web site about firefighter conventions in the state. Alas, it's a bit scattered across three areas. Need to fix that. Start with the History of North Carolina Firefighter Associations. Go there first. Among the links therein is a page about North Carolina Firefighter Tournaments. Back in the day, contests were held during the annual conventions. The last NCSFA tournament was in 1941.

And for hardcore history buffs, there's yet another site about North Carolina Firefighter Excursions, Conventions, and Contents. This one includes newspaper clippings from 1868 to 1912, as well as a 37-page summary document. Guess we'll work on better integrating the above pages and sites. Note to self, do that.

How many times has the convention been held in Raleigh? The NCSFA (later bundled with the NCAFC) has met in the Capitol City in 1889 for two days, 1902 for three days, 1916 for four days, 1936 for four days (shown above), 1968 for four days, and 1973 for four days.

The NCCVFA has met in Raleigh in 1892 for two days, 1902 for three days, and perhaps other years after 1912. Haven't had much success finding convention dates for the North Carolina Colored Volunteer Fireman's Association. See more dates for both groups.
+ 8 - 7 | § ¶
Construction Nearly Finished on Apex Station 4
The Apex Fire Department web site has been posting construction photos of the town's new public safety station at 1615 E. Williams Street, and a set of shots from August show that the facility is nearly complete. From the photo captions, the facility includes seven dorm rooms, two laundry rooms, a workshop, and a nice covered patio. There's a kitchen, day room, offices, etc. The grounds also include a retention pond. Haven't seen one of those before at a fire station. The grand opening has been scheduled for September 15, notes the site.

Apex Fire Department photo
+ 7 - 5 | § ¶
Signs and Spaces
And here's a peek inside the Convention Center, at the signage and the spaces that will be filling with firefighters later this week. See more photos.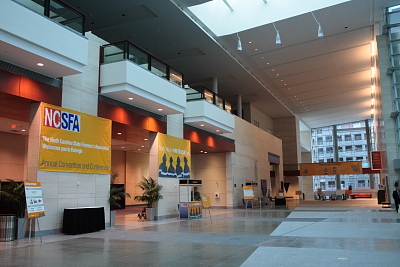 + 7 - 5 | § ¶
This Week's Expo Events
What's happening this week at the Fire Expo, when the North Carolina State Firemen's Association and the North Carolina Association of Fire Chief's convene under the name South Atlantic Fire Rescue Expo? Here's a quick review of the events. See this detailed schedule for more information, including rooms and times. All locations are at the Raleigh Convention Center, unless otherwise noted. And don't forget the Friday workshop on North Carolina Firefighting History by someone we know. It starts at 9:00 a.m.
Tuesday - August 18
Golf tournament, Eagle Ridge Country Club
Board meeting
Wednesday - August 19
Golf tournament, Eagle Ridge Country Club
Pre-conference workshops, Convention Center and Keeter Training Center
Assorted council and board meetings
Thursday - August 20
Breakfast (NCAFC)
Opening ceremony
Keynote address
Assorted meetings and sessions
North Carolina Fallen Firefighters Foundation memorial service
Grand opening reception and ribbon cutting ceremony
Friday - August 21
Breakfast (Past Presidents)
Exhibit hall open
Workshops
Assorted meetings and receptions
Dance social
Saturday - August 22
Breakfast (25 Year)
Motorcycle run registration
Election/voting
Exhibit hall open
Honor guard exhibition
Haz-mat challenge, McLaurin Parking Lot between South Wilmington and East Lenoir streets
Fire apparatus parade, Fayetteville Street and South Salisbury Street
Motorcycle run, highways, byways, cities, and towns
Banquet
Sunday - August 23
Board meeting
North Carolina Fallen Firefighters Foundation devotional
+ 6 - 7 | § ¶
Big Picture
Photo by Lee Wilson. Banner by FireSiteDesign.com. Looks better in sunshine and without someone walking by. Promoting this week's South Atlantic Fire Rescue Expo. What's pictured? Three alarms on Hammell Drive, Sep. 21, 2008. Engine 1, Engine 13, Ladder 1, and a bunch of other "B" shifters. Click to enlarge:


+ 8 - 11 | § ¶
Expo Week
Here are Mr. Blogger's posting and photo plans for the week. Today/tonight, I'll blog a quick list of all expo events, as drawn from the schedule posted on the expo web site. I'll also post a finished photo of the three-story banner that's been installed on the Salisbury Street side of the Convention Center. It's a stunner that includes a Lee Wilson image from last year's three-alarm fire on Hammell Drive. Later or late in the week, I'll work on shooting a "lay of the land," showing what visitors to center will be seeing. Probably Friday, I'll shoot the exhibit floor up and down. Might take till Saturday, though, to post those pictures. After Friday morning's history workshop, a version of the PowerPoint slides will be posted on my history page. Finally for Saturday, it's tripod time on Fayetteville Street for the "main street" apparatus parade. Plus whatever other Expo activities shot that day. On Sunday, it's rest. That's the plan for now. See you there.
+ 8 - 5 | § ¶
Hawaii Mars
For your Monday morning reading, here's a nifty post on the Report on Conditions blog, about the aerial tanker Hawaii Mars and its support vehicles from Coulson Flying Tankers. As blogger Capt. Joe Schmoe noted in the July posting, the mammoth craft is one of five Martin Mars flying boats delivered to the Navy near the end of World War II. Two have survived, and both are operated by Coulson. The pictured plane has been contracted by the US Forest Service for this fire season, and is based at Lake Elsinore, CA, until December 10. It can carry up to 7,200 gallons of a water/gel mixture. And it's a big plane. How big? It's wingspan is five feet longer than a 747, notes Capt. Schmoe. Good stuff, great photos. Read and see more.



Report on Conditions Photo
+ 8 - 10 | § ¶
American Fire Marks, A Good Story
Everyone knows the story of fire marks, those metal plates affixed to American buildings beginning in the 1700s, and that indicated which volunteer fire company would fight a fire there. And that they'd receive a reward if they responded. And if a different fire company arrived, they'd let the building burn. Etcetera, etcetera. Good stories, but are they true? Probably not, notes Robert M. Shea in this excellent article American Fire Marks - A Good Story, found at the website firemarkcircle.org.
The author includes ample footnotes for his research, and concludes that American fire marks served primarily as a sign that the property was insured. A form of advertising, which he calls "one of the longest and successful ad campaigns in America." Fire marks, he notes, were issued by American insurance companies for over 150 years! Read the article to learn the stories behind the stories.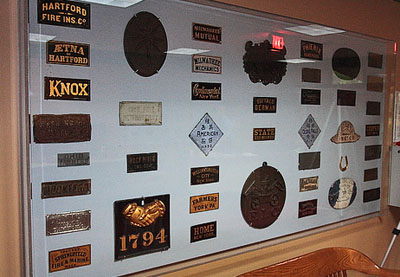 + 12 - 9 | § ¶
Mystery Station
Here's one closer to home, another local fire or EMS station, albeit in extreme close-up. No hints this time.


+ 6 - 8 | § ¶
Outline for Expo Workshop
Trying for transparency as we approach Friday's workshop on North Carolina firefighting history. The nearly finished outline is listed below. Format is lecture using PowerPoint slides, plus questions and discussions as they happen. The schedule includes dedicated time for Q&A and discussion. The audience is encouraged to add, expand, correct, or contradict the material. Both during and after the workshop. That's one of the goals, to improve the accuracy of the materials. The slides will also be available online, after the show. See you Friday at 9:00 a.m. in Room 306C. Come early, and watch old photos, or maybe even old movies.

READ MORE
+ 8 - 6 | § ¶
Driven to Distraction
In late July, the New York Times started an excellent series of articles on driving and distraction. They've published three stories so far, as well as interactive "texting while driving" game. There's also an editorial debate on cellphone use, and if it should be illegal. The first article in the Driven to Distraction series is an excellent primer on the issue, which is greater than simply texting. There's a big body of evidence that phone use, with or without a headset, is a considerable risk. And, as the lengthy article notes, wide awareness of the dangers does not necessarily translate into wide efforts to curb usage. We may recognize texting while driving as taboo-- or at least taboo for everyone else, since "it won't happen to me"-- but are we willing to regard phoning while driving as such? Probably not. Read the article series.
For discussion, there are many thoughts to have on this issue. Will we as humans become better adapted to operating motor vehicles while also using other devices? Or is there a "cognitive limit" to same? How will smarter cars affect this issue? Say, an automobile with a partial auto-pilot, that takes care of braking for hazards, drifting out of lanes, etc.? Driving is also dangerous, period. How do accident rates compare historically with the introduction of other distractions, such as clocks or radios or more fully-featured dashboards? And, finally, for public safety, are there implications for solo police officers and fire/ems chief officers? (Though they've been driving and using communication devices-- radios-- for decades.) Lots of food for discussion.
+ 6 - 8 | § ¶
Morning Plume
Did a double-take on the way to breakfast, seeing this big honkin' plume rising west from the Beltline at Lake Boone Trail. Picture doesn't do it justice. Guess it's steam from New Hill, from the nuclear power plant. Then the mind travels back, to memories of chasing smoke plumes in prior decades, before being tuned into Carolinas Fire page, or having mobile devices to check local headlines. Heck, it's a rare treat to be surprised by an engine company running hot, with a scanner in the car at all times!


+ 9 - 8 | § ¶
Tips on Using Our Photo Sites
This is version 1.0 of this post.


How to...
Mike's Photo Site
www.legeros.com/firepics
Lee's Photo Site
www.flickr.com/leewilson
Search for photos
Not available
Use search box at top of page.
View archives

Click Archives on bottom of page.
Look through list of incidents.
-or-
Click Edit > Find in your browser menu, to search text on the page.

Click Archives at top of page.
Click month shot or month posted.
Select date.

Or, use search box at top of page.

View larger version of photos
Not available
Click All Sizes icon above photo.
View a slideshow of photos

Navigate to individual photo page.
Click play (►) icon.
Slideshow begins.

Click Slideshow at top of page.
Slideshow begins.

Note: Slideshows are available on the main page only, and in photo sets only.

Add comments to photos
Not available

Navigate to individual photo page.
Add comments at bottom.

Note: Step #2 requires that you have a Flickr account and are logged in.

Save a photo as a favorite

Navigate to individual photo page.
Use your browser Bookmarks or Favorites features.

Navigate to individual photo page.
Use your browser Bookmarks or Favorites features.
-or-
Click Add to Faves icon above photo, if you have a Flickr account and are logged on.

Send a link to a photo to a friend via e-mail

Navigate to individual photo page.
Click either
File > Send Link... (FireFox)
or
File > Send > Link E-mail (Internet Explorer)
in the browser menu.

Navigate to individual photo page.
Click Send to a friend at the bottom of page.

Subscribe to an RSS feed
Not available
Click RSS icon on bottom of page.
See camera settings for a photo
Not available, but coming soon!
Click More Properties at bottom of page.
+ 6 - 9 | § ¶
Medical Flights to WakeMed Climbing Sharply
Just how busy has WakeMed's air ambulance been, since the service started in 2007? Today's New & Observer reports that flights to WakeMed facilities have risen sharply in the last couple years. In 2006, the paper reports, the number of flights totaled 99. That's both flying in and flying out. In 2008, the total has jumped to 1,477, a nearly 1500% increase! Nearly all of last year's flights have utilized the WakeMed helo, they note. The totals for this year? As of August 3, WakeMed has seen 832 flights into and out of the system. Read the entire article. Or learn more about WakeMed's mobile critical care services.

WakeMed/News & Observer photo
+ 4 - 8 | § ¶
Easy Addresses
Another easy address to a Legeros web site has been created. Use www.legeros.com/firepics as an easier way to reach www.legeros.com/ralwake/photos. Another easy address is www.legeros.com/blog, created earlier as an alias to www.legeros.com/ralwake/photos/weblog. Maybe later we can work some magic on the server side, so those become the actual addresses, but without breaking every existing link and bookmark in the rest of the world. Any Apache experts out there!?
+ 4 - 6 | § ¶
Caption This Photo
As shot last month in Baltimore. I'll go first. "Who's the joker in the Hawaiian shirt?"


+ 6 - 6 | § ¶
Billy Blue Hair on Fire Hydrant Colors
For your Friday enjoyment and found on Dave Statter's site, here's an entity called Billy Blue Hair explaining why fire hydrants are different colors. Cute video, but it begs the question: who the heck is Billy Blue Hair? Google finds all sorts of matches, including his official site. Might just have to order the fire truck DVD!
And, one question, related to this subject. While poking around what's left of the Millbrook Community last night with Mrs. Blogger, we noticed a yellow hydrant in the 4900 block of Craftsman Drive. Here's a Google Street View. Is that section of street outside the city, and thus not painted Raleigh red?


+ 4 - 7 | § ¶
NCHART in Action
Here's a great photo by photojournalist Ted Richardson of the state's Helicopter and Aquatic Rescue Team in action. It appears in this News & Observer article about the hurricane drill in Greenville this week. See our prior posting about the hurricane drill, or learn more about NCHART. To quote that web page, they are a "highly specialized team consisting of North Carolina National Guard assets matched with North Carolina Emergency Management and local emergency services personnel that form a mission ready package for helicopter based rescues using the UH-60 Blackhawk." Neat patch, too!



Ted Richardson/News & Observer photo
+ 7 - 6 | § ¶
Here Comes The Bus
Wake County EMS has taken delivery of a 2009 Intenational/Sartin mobile evacuation bus. Built by High Point-based Sartin Services, the patient evacuation/triage vehicle was conceived by Ed Sartin, President, after Hurricane Katrina. Read that story of how he envisioned a vehicle that could both treat and transport large numbers of vicitims. The newly delivered unit will be lettered and striped next week. Lee Wilson has posted photos, taken at the Wake County Emergency Management warehouse. Sartin buses are already in service in Charlotte and Brunswick County, with others in production for Guilford County, among other locales.



Lee Wilson photo


Lee also sneaked a peek at the new Wake County EMS logistics unit, a 2008 Dodge Sprinter. See more posted photos


Lee Wilson photo
+ 8 - 10 | § ¶
Raleigh Recruitment Update
The Raleigh Fire Department is still recruiting, with applications accepted through August 28. Still looking for more information? Visit the Raleigh Fire Department recruitment web site. Waiting to submit your application? Please send or deliver your application now, instead of waiting until August 28. Applications can be mailed or delivered to these locations:
Applications are also available at both of the above locations, as well as any Raleigh Fire Station. Good luck to all applicants!
+ 7 - 7 | § ¶
Mystery Stations
Have we said how much we love Bing Maps and their bird's eye views? Let's go statewide with our quiz. Where the heck are these? Hint #1: They're in North Carolina. Hint #2: They're not in Raleigh. For extra credit, phrase your answer in the form of a question.


+ 6 - 7 | § ¶
Man Dies Trying to Extinguish Smithfield House Fire
Never go back inside a burning building. That's the age-old lesson to be taught and retaught by fire educators, and which was tragically demonstrated early Wednesday in Smithfield. After a pot on a stove started a fire at 423 Martin Luther King Drive, four to five residents safely escaped. One man, who awoke everyone and also exited the structure, went back inside to extinguish the fire. He died inside the house. Coverage of the story includes this WRAL story, this NBC17 story, and this WMPM story. "Get out and stay out," a fire safety catchphrase to be taught alongside the familiar "stop, drop, and roll."



NBC17 photo
+ 7 - 6 | § ¶
Hurricane Rescue Simulation Gears Up in Greenville
As this Daily Reflector article from yesterday reports, search and rescue teams from across the state have gathered in Greenville to drill on disaster response. From a base camp at the Pitt County Fairgrounds, they practiced air, water, and rescue operations at sites on Mumford Road on Wednesday. That area was hit hard by flooding during Hurricane Floyd. The newspaper reports the rescues are practicing rescuing people "trapped in vehicles, buildings and trees by high winds and rising flood waters" caused by the fictitious Hurricane Amy. Training props include simulated multi-story homes, which were built for the drill. The victims inside those structures will be rescued by helicopter, by National Guard Helo Aquatic Rescue Technicans (NCHARTs).

Michael Abramowitz/The Daily Reflector photo


Participating agencies, as listed by the article include Asheville FD; Burke County EMS; Cary FD; Chapel Hill FD; Charlotte FD; Greenville, City of; Durham FD; Eastern Regional State Medical Assistance Team; Farmville EMS; Gaston County EMS; Greenville FD; NC Baptist Men.; NC DOT; NC Emergency Management; NC Highway Patrol; NC National Guard; New Bern FD; Pitt County Emergency Management; Pitt County EMS; Pitt County Sheriff; Raleigh FD; Roanoke Valley Rescue Squad; Rocky Mount FD; South Orange Rescue Squad; and Transylvania EMS. Now that's a crowd of folks! Read the entire article.
+ 6 - 8 | § ¶
Ladder 6 is Back From Shop
Raleigh's Ladder 6 is back from the shop, and received some chevrons while it was gone. Lee Wilson has posted photos of the 2005 Pierce Arrow XT ladder, which previously served as Ladder 22. It'll be moved to Station 24, where Ladder 6 is presently operating a 1988 Pierce snorkel. For extra credit, how many Raleigh rigs total are sportin' chevrons?



Lee Wilson photo
+ 5 - 10 | § ¶
Your Web Site Wish List?
Probably every reader of this blog also views our incident photos, posted on this Legeros.com page, or linked to Lee's Fickr site. Here's a typical series of photos, Wake Forest station opening by Lee, and Cary structure fire by Legeros. The pages and their buttons and controls should be pretty easy to use. But are they really? Are there aspects of using Legeros.com photo pages, or the Flickr galleries, that our readers find frustrating? Do you have a wish list of ways we could make our pages and site better? Please provide examples of other sites that you like, or that work better. Feel free to also opine on other fire and photo web sites. Now's a good time for griping! What is your wish list!?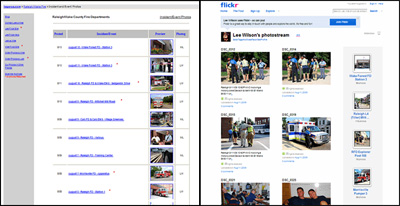 + 8 - 6 | § ¶
Old Engine 5
Here's a rare photo of old Engine 5, a 1973 Mack CF pumper, and one of four delivered to the city in October of that year. It carried 500 gallons and was equipped with a 1,000 GPM pump. It was placed in service as Engine 5 on July 22, 1974, and later served as Engine 10 and as a reserve unit. The postcard photo by Kinston Asst. Fire Chief Tony D. Kelly is from the Durwood Barbour Collection of North Carolina Postcards, North Carolina Collection Photographic Archives, Wilson Library, UNC-Chapel Hill. Click to enlarge, or view via the postcard collection site.



Tony D. Kelly photo, Durwood Barbour Collection of North Carolina
Postcards, North Carolina Collection Photographic Archives,
Wilson Library, UNC-Chapel Hill
+ 4 - 7 | § ¶
Portrait in Diamond Plate
Engine 3 and Brush 3 at Station 3 in Wake Forest.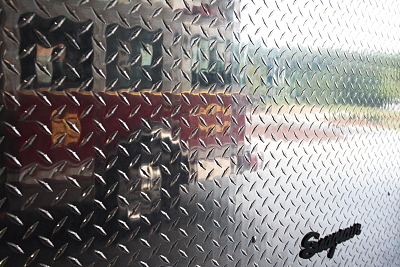 + 7 - 8 | § ¶
The Henry McShane Manufacturing Company
Here's a neat advertisement from 1898 that appeared in the back of An Official History of the Fire Department of the City of Baltimore by Clarence H. Forrest, which also happens to available for online reading and download from Google Books. How cool is that!? Among the companies listed in the ad is the McShane Bell Foundry, which cast numerous fire alarm bells delivered to our state. One such bell was recently returned to the Raleigh Fire Department, after spending several decades atop Withers Hall at NC State. The foundry still operates, and their above web site has a history. Click to enlarge:


+ 10 - 4 | § ¶
Fire Truck Rolls Into Home, Knocks Man Off Couch, Shifts Home's Foundation
Both FireNews and the Secret List have surfaced the story of a Mount Holly Fire Department engine that rolled into a home at 307 A. Lanier Ave. early Saturday evening. About 6:00 p.m., a sleeping resident was bounced off his couch and into a wall as the apparatus "plowed into living room." He received bruises and was transported as a precaution. No others were home. The apparatus had been dispatched to a medical call up the street. The truck rolled several hundred feet down a slight hill before striking the home. The Highway Patrol is investigating. Read the Gaston Gazette story.

Amanda Memrick/The Gazette photo
+ 9 - 5 | § ¶
After the Fire
Two-story apartment building at 1003 Village Greenway. Nothing showing on arrival of Engine 2. Upgraded after entering apartment. Quickly controlled. Alarm time about 12:39 p.m. Temperature 95 degrees, and heat index 97.5 degrees at 12:51 p.m. Photo by Legeros.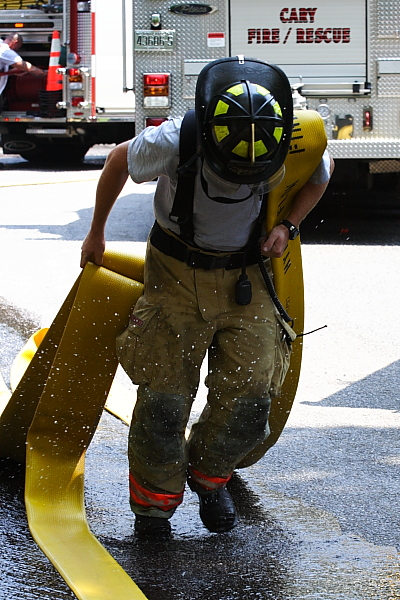 + 7 - 10 | § ¶
Demolished Baltimore Firehouses
We went a little nuts with our post-trip research on historic and former fire stations in Baltimore, and added a list of demolished engine and truck houses. They total a couple dozen and can be viewed on this web page, which is linked from the main Baltimore historic houses page. We've even added photos where possible. Interesting history, and one to be soon set aside. At least until next year at this time. Signed, Obsessively Yours.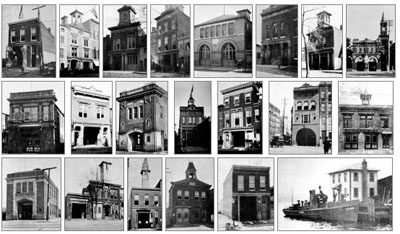 + 8 - 7 | § ¶
Banners Are Flying!
The first banners have been installed on Salisbury Street, announcing the coming South Atlantic Fire Rescue Expo, notes FireNews Editor Jeff Harkey in this blog posting. He also adds that you'll be seeing large-sized action photos at the show from Mike Legeros, Mike Porowski (Charlotte), Lee Wilson, and Mr. Harkey. The full installation starts Sunday, August 16. See you there!


FireNews photo
+ 10 - 7 | § ¶
Baltimore Rowhouse Burns, The Video
For your Sunday morning viewing, Dave Statter surfaces this YouTube video of a Baltimore rowhouse that burned about a month ago on East 22nd Street. There's two minutes of footage, showing heavy fire from the second story of an end unit, and filmed beginning about 45 seconds before the first apparatus arrive. Good ladder placement!
The well-shot clip also features some exceptionally colorful narration. As Dave notes, "you are warned that the words spoken on this clip may not be for children and those who are easily offended." You might not even get to eat your gosh-darned donut!
But seriously, it's a good example of the citizen's viewpoint, and how seconds feel like minutes when you're watching an emergency unfold. Watch the video and read about the fire. Or click over to the YouTube version, to read reader comments over there.


+ 17 - 8 | § ¶
Fire Station Slide
Would you believe a fire station inside a water tower, and with a two-story slide instead of a pole? That's what this Cincinnati Enquirer article from 2002 says, which was found by Mr. Blogger while searching for pictures of station slides. We've been talking about poles and slides in another thread. The below slide is in Dublin, Ohio, inside Station 95.
The slide was added instead of a pole due to the "abnormally tall vehicle storage bay." And why is bay so tall? Because the fire station is inside of a water tower (!), and with a mere million or two gallons of water above the heads of sleeping firefighters. Bet that visit children prefer that station to any other. That is, if they're allowed to ride the slide.
As for fire station slides in general, Google isn't finding any other photos. Readers, feel free to post your examples. In the other thread, a reader informs that Wilson stations 3 and 5 were built with slides. Are slides used elsewhere in North Carolina? Inquiring minds want to know.


Jester Jones Schifer Architects LTD photo
+ 7 - 8 | § ¶
Way Before Twitter
First, a disclaimer. Mr. Blogger doesn't use, nor has ever used Twitter. In fact, he's been known to mistate the Twitter as Tweeter. So far, though, he hasn't called Twitter Twizzler. Which are particularly good with a box of buttered popcorn and a pop at a movie theater. Long before the 140-character limit of Twitter was developed, the practice of extremely terse communication was practiced by telegraphers in the 19th Century.
A recent New York Times column by Ben Schott, author of his marvelous "miscellany" books, reprints an 1891 phrase guide from the third edition of "The Anglo-American Telegraphic Code." Learn how such phrases as "aland" meant "advertise liberally but economically," "hurst" meant "the hunting expedition will not set out," and "rooty" meant "I hereby offer my resgnation and request its acceptance." Read Mr. Schott's wonderful column.
Along those same lines, electric telegraph fire alarm systems utilized telegraph keys to transmit signals. Here's an 1887 list of alarm signals used in Raleigh. Inside each alarm box was a telegraph key, which allowed a fire department member to transmit special signals, such as "two blows, repeated twice," which signaled to the water plant to switch to increased "direct pressure" on the city water system. And finally, an anachronistic joke. Did you hear about the telegrapher who named his feline Morse the Cat?


+ 7 - 6 | § ¶
Wake Forest Fire Station 3 Grand Opening
The Wake Forest Fire Department announces a grand opening ceremony and open house at the new Fire Station 3, 1412 Forestville Road, on Monday, Aug. 10, from 3:00 to 5:00 p.m. The ribbon cutting ceremony at 4:00 p.m. will be followed by refreshments served courtesy of the fire department's Ladies Auxiliary. Everyone is invited to attend and tour the new facility.
The station site previously served as a temporary Station 3, for around two years. The property had a house, which was occupied during day hours by Engine 3. See photos by Lee Wilson from last August. Or read a prior post about temporary stations in Wake County. Construction of the new station started early this year, and the facility was placed in service on July 27. Read that prior posting.
+ 10 - 6 | § ¶
Post Your Poles!
Fire poles, invented 1878. First one wooden. Fixture in urban fire stations into the first half of the 20th century. Increasingly less common as the decades progressed. Saw plenty of them while buffing in the big city the other week. Ditto for St. Louis earlier this summer. Wake County has four stations with poles. Raleigh 1, 3, 6, and Apex 3. How many are present in the greater Triangle area, or the rest of the state?
New stations are nearly exclusively single-story around here. Poles must meet ADA requirements, as well as other code compliance issues. Here's an interesting Fire Chief magazine article on the subject of building two-story stations. There's presumably also the issue of injuries (real or perceived), insurance, etc.
What's your opinion of fire poles, what's your experience with fire poles, and what's your favorite story about fire poles? And pass along pictures, please. Here's a floor's eye view of Station 1: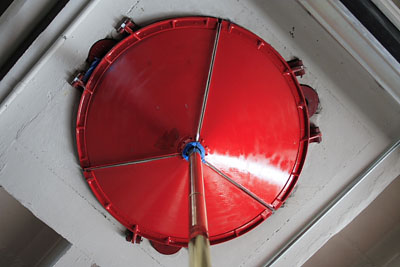 READ MORE
+ 5 - 9 | § ¶
New York in the Eighties
For your Friday enjoyment, let's hop into the wayback machine. Or, if you prefer, the cross-dimensional machine, since the world of FDNY is its own reality. These were found on the Firehouse forums, as well as from a reader. FDNYs Bravest, photography by Michael Dick. He's a professional photographer who dedicated seven years to shooting the FDNY, concentrating on Harlem and the South Bronx, and creating some 5,000 color slides in the process. Many were reproduced in black-and-white his book New York's Bravest, Their Lives on the Line, which was published in 1987. He's released some images on a new web site, and which appear for the first time in color. Wow is an appropriate reaction, and particularly from the perspective of the photographer. Talk about embedded! There's even a shot seemingly shot on an active roof! Great stuff, warts, victims, and all. Hope he posts more. Note the web site address contains an "s". FDNYsBRAVEST.


+ 6 - 10 | § ¶
History Help Still Wanted
Here are some increasingly last-minute questions and requests for readers. Any help is appreciated. Mail Mike at this address. We're two weeks away from painting the big picture of North Carolina firefighting.
READ MORE
+ 9 - 6 | § ¶
Mystery Apparatus
Let's see if this chump can stump his readers with another red truck. Hint #1: It's number "2". Hint #2: It's parked somewhere. For extra credit, please tell how you deduced the thing. In a moment there will be a knock at the door, heralding the start of this mystery. Answer it. My pants are caught on a nail.1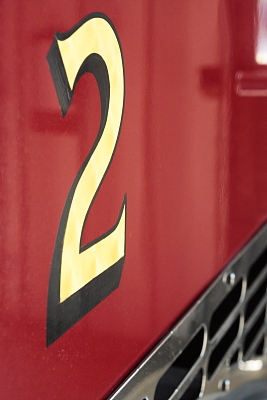 1
Daffy Duck to Porky Pig. "Deduce You Say," released Sep. 29, 1956. Charles Jones director, Michael Maltese story.
+ 8 - 3 | § ¶
Falls Fire Department Cookbook Available For Advance Ordering
The Falls Fire Department has produced a cookbook that's available for pre-ordering. Compiled by the Ladies Auxiliary and their families, the softcover, spiral-bound volume features 350 recipes, and includes recipes that appeared in the original Ladies Auxiliary cookbook in the late 1970s/early 1980s. With colored tabs separating the categories, it also includes a history of the department, information about the ladies auxiliary, and other bits. Plus a few pages of local business ads. The price is $10 for advance orders, or $15 when the books arrive in October. Here's the stunning cover, created as a collaboration of artist Diane Henry and photographer Gregory Wiggs. (He's also a veteran fire scene photog.) Great job by both.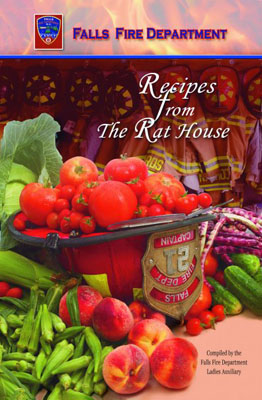 READ MORE
+ 4 - 8 | § ¶
Modern Apparatus Needed For Parade on North Carolina's Main Street
With just a couple weeks left to the state firefighter's convention, e.g. the South Atlantic Fire Rescue Expo, the planners of that Saturday's apparatus parade need your help. They're looking for more modern apparatus from around the state to participate. The first-annual North Carolina's Main Street Fire Parade starts at 11:00 a.m. on Saturday, Aug. 22. The rigs'll roll down on the recently reopened Fayetteville Street, starting at the State Capitol. Read this FireNews article about the parade need.
And for those attending the conference, you can hear about the history of fire apparatus in North Carolina, as part of Mr. Blogger's history presentation on Friday, Aug. 21. Raleigh Fire Department Historian Mike Legeros presents a workshop on North Carolina Firefighting History from 9:00 to 10:30 a.m. in Room 306C of the Raleigh Convention Center. We'll cover a couple centuries of the state's fire service history. Just don't be alarmed if the presenter is wearing something other than a Hawaiian shirt. You're still in the right room.
+ 8 - 5 | § ¶
Mayor Proclaims August As Firefighter Appreciation Month
Raleigh Mayor Charles Meeker has proclaimed August as Firefighter Appreciation Month to kick off the Capital City's firefighters Fill the Boot efforts to raise money for the Muscular Dystrophy Association. Last year, the Raleigh Fire Department raised more than $45,00 on three Saturdays at 23 locations, an amount that was easily the largest collected by any fire department in the state. This year, firefighters will invite area shoppers to Fill the Boot at several locations from 10:00 a.m. to 6:00 p.m. on Aug. 8, Aug. 22, and Sep. 5. Read the entire press release. And read more about firefighters supporting the MDA. Below are members of Engine 9-B accepting donations at North Hills shopping center last year.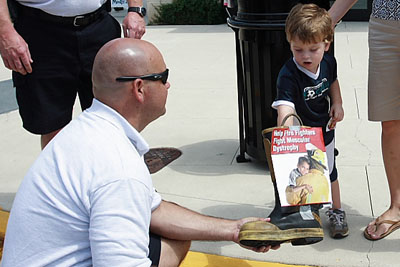 + 8 - 5 | § ¶
Mayor Proclaims August As Firefighter Appreciation Month
Raleigh Mayor Charles Meeker has proclaimed August as Firefighter Appreciation Month to kick off the Capital City's firefighters Fill the Boot efforts to raise money for the Muscular Dystrophy Association. Last year, the Raleigh Fire Department raised more than $45,00 on three Saturdays at 23 locations, an amount that was easily the largest collected by any fire department in the state. This year, firefighters will invite area shoppers to Fill the Boot at several locations from 10:00 a.m. to 6:00 p.m. on Aug. 8, Aug. 22, and Sep. 5. Read the entire press release. And read more about firefighters supporting the MDA. Below are members of Engine 9-B accepting donations at North Hills shopping center last year.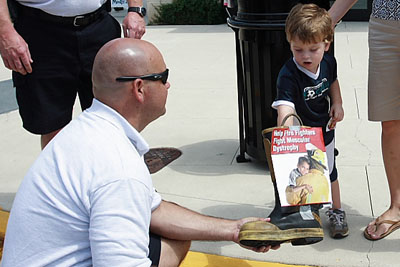 + 8 - 7 | § ¶
After the Fire
One-story residential structure at 210 Pinecroft Drive. Heavy smoke showing on arrival of Engine 9. Alarm time 3:52 p.m. Photo by Legeros.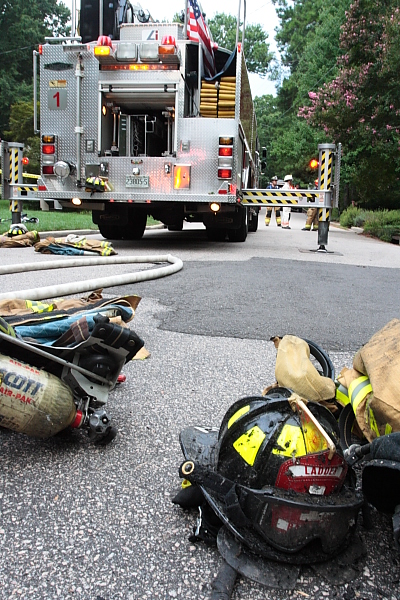 + 10 - 4 | § ¶
Strange Dispatch
It's been a while since we've blogged about CAD curiosities. Imagine the double-take upon hearing a motor-vehicle accident at Sunnybrook and Rock Quarry roads dispatched for Raleigh Engine 26, Eastern Wake Rescue 11, and... Swift Creek Engine 3. How long's that run? Google Maps says 7.5 miles. Raleigh and Eastern Wake responded, and Swift Creek was instructed to disregard.
+ 8 - 8 | § ¶
Thursday's Apparatus Accident in Charlotte
Charlotte Engine 25 was struck by a car on Thursday night at the intersection of Pleasant Grove Road and Hutchinson Lane. The engine was responding to a call, with lights and siren. The two occupants of the colliding vehicle were transported with non-life threatening injuries. No firefighters were hurt. The incident occurred at 8:58 p.m. WBTV has a short video report. Details were also posted by CFD on Twitter. Didn't see any coverage of the incident on Thursday, but some digging days later found the TV and twitter content.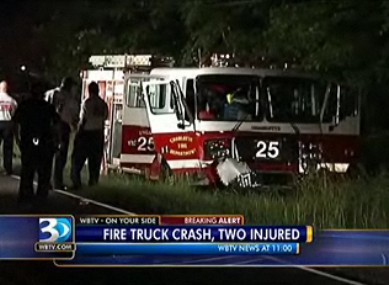 + 8 - 7 | § ¶
Fire Hooks
One of the earliest tools for firefighting was the hook, which dates to at least the 1600s. Ditto the bucket, ladder, and pick axe. Hooks, or "fire hooks," were iron implements used to pull down roofing materials, roofs, or entire buildings. They were iron hooks attached to chains and then to ropes. They're also the origin of the word "hook and ladder." These hooks are easy enough to imagine, but how about a real picture? Here's one from the Maryland Fire Museum, photographed four years ago. This hook was carried on a hand- or horse-drawn service-ladder truck. Click to enlarge:


+ 6 - 10 | § ¶
Instructional Videos
In the wake of the Gates arrest, links to How to Talk to the Police videos are making the rounds. These are longer or really long instructional videos that are available on YouTube. Such as the The Citizen's Guide to Surviving Police Encounters. Most or maybe all were created by the Flex Your Rights Foundation, a citizen's advocacy group. The content is certainly interesting, and compels the immediate question of "what does law enforcement think?" Maybe our readers in blue can share their perspective. Does citizen awareness help or hinder your efforts? (And what would police-produced instruction videos look like? Same? Different? Vastly different?)
Watching these also makes me think about applications for fire and EMS. Have fire departments produced and promoted role-playing videos on YouTube, about, say, "what to do if you discover a fire in your house?" With actors and sets and special effects, demonstrating the "right" way to react? Ditto for demonstrating emergency medical situations. "When to call for an ambulance." "How to react in a car accident." "What to do if you feel chest pain." Etcetera. Such content is probably coming. Video production and promotion gets easier every year.
+ 9 - 7 | § ¶
Mobile Nourishment Unit
Nothing gets your attention quite like an all-red truck. This one was seen in Durham last night. Business might have been slow, but it sure smelled good! Click to enlarge:


+ 8 - 11 | § ¶
Digital Forsyth
Have you explored Digital Forsyth lately, an online collection of historical photographs of Forsyth County, NC? Since my last visit, probably many months ago, the grand-funded, multi-year digitalization project has seemingly added dozens of fire department photos. Most/many show the Winston-Salem Fire Department. Below is a fire department parade in 1955. Love that Seagrave tiller! Though the site only shows low-resolution versions, you can request TIFF copies for $2.00 a piece. Mr. Blogger will be ordering some, that's a given!


+ 9 - 8 | § ¶
The American Fire Station
The evolution of the American fire station is documented in now-posted photos of Baltimore historic firehouses. Two sets of shots, active stations and retired stations. Taken last week. Ambitious project, there! But the Fruit Loops helped. We start in the 1850s, with a trio of former firehouses on Ann, Gay, and Montgomery streets. These were built for Baltimore's volunteer fire companies that served prior to the paid department. (The latter starting on Feb. 15, 1859.) The apparatus at these three stations were probably large hand engines, and accompanying hose reels or wagons. Were they horse-drawn yet? Don't know. Steamers were coming soon, as Baltimore's first steam engine was purchased in 1858. It was horse-drawn. A fourth early station on Eutaw Street was built in 1859 and opened as Engine 7 in 1860. That was a steamer, as were all the paid engine companies. The Eutaw Street station had a steeple and a bell that was removed in 1905.
The apparatus space for a hand-engine company was minimal. Room was needed for the engine and a host cart and little else. Then the horses came, and bays became bigger. That is, if the horses were housed at the station, which is likely or certainly the case in Baltimore. Horse stalls were added to apparatus floors, and hay lofts added elsewhere in the building. (The hooks extended from the roofs at the stations on 24th Street and on Fort Avenue were presumably for the purpose of raising bales.) As steam engines replaced hand engines, they also required more room. The houses built in the 1870s, 1880s, and 1890s are considerably larger than those from a couple decades earlier. (See this web site for dates and other info about historic Baltimore fire stations.)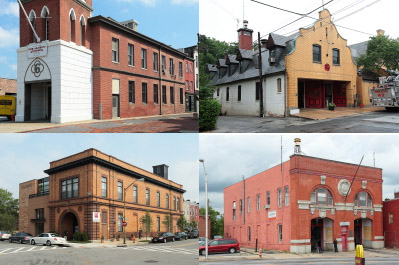 Motor apparatus replaced the city's fire horses in the 1910s, including tractors for the steamers. This change released more space in apparatus bays. Triple-combination pumpers, for example, were shorter than horse-drawn steamers. Even motor service ladder trucks were likely shorter than their horse-drawn counterparts. Thus, fire stations could be constructed smaller in size. Or utilize smaller spaces, as Engine 40 did in the rear of a community building on Liberty Heights Avenue beginning in 1919. Some of the stations built during the late 1910s and early 1920s were designed to resemble residential homes. See Engine 53 on Swann Avenue, Engine 40's second location on Liberty Heights Avenue, and old Engine 54 on White Avenue. (In other cities, such as Raleigh, bungalow-style stations appeared. These were single-story buildings with an oversized garage.)
Other trends are exemplified in these historic houses. Limited real estate required tall, thin facilities for many fire companies. The volunteer Watchmen house on Montgomery Street was three stories tall. Hose towers are common. Engine 14 on Hollins Street was originally adorned with steeples. Those were removed when the 1888 structure was renovated in 1902. One combination watch and bell tower still stands, at old Engine 6 on Gay Street. That building is probably the most recognizable former firehouse in the city.
Readers are encourage to add their own perspectives or historical knowledge, including Baltimore fire history, hand 'n' horse apparatus, and station design and architecture. The most notable source for the above information is Bill Murray's The Unheralded Heroes of Baltimore's Big Blazes. It's an invaluable source that was reprinted in 1995 for Murray's grandsons. They still sell copies each year at the Fire Expo flea market. Also recommended reading is Rebecca Zurier's The Firehouse, An Architectural and Social History. That hardcover was published in 1991.

This is version 1.0 of this posting.