+ 16 - 16 | § ¶
Blue Ridge Parkway Plane Crash
Earlier today, a light plane crashed near mile marker 371 on the Blue Ridge Parkway. Reems Creek responded, along with a number mutual aid departments, including Asheville Rescue 1. It went for manpower and high-level rescue. How far did R1 travel? By rough estimate, I-40 west to the Parkway, that's about 20 miles. Not counting elevation changes.
+ 14 - 18 | § ¶
Drawings
Random historical bit. Before photographs were available to news photographers, drawings were used to represent major events, such as the destruction of the Seaboard Air Line Railroad shops in 1896. The pictures, top to bottom, left to right, are titled "Ruins After the Fire," "Saving the Oil House," and "Where the Fire Originated."


+ 15 - 16 | § ¶
Station 7
Cary's (and Morrisville's) new station is just about ready...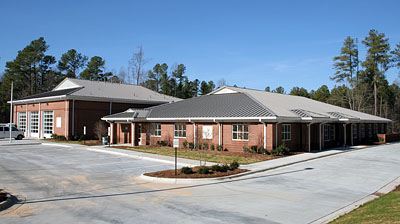 + 21 - 14 | § ¶
More Patches
Readers submitted these new or improved patches. The revised Apex patch replaced the words "volunteer" with "established." Here's what the old patch looked like. The year 1939 reflects the year AFD was re-formed. The first town fire department was organized in 1927. The Durham Highway patch, recently added, was drawn by a Rescue Company company. An Engine 4 patch should appear next month.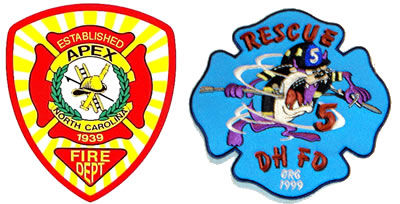 + 15 - 19 | § ¶
Cisterns
Historical trivia. In 1851, a fire destroyed more than 17 structures on Fayetteville, Hargett, and Wilmington Streets. The blaze, controlled by means including dynamite, inspired improvements in fire protection including the installation of underground water cisterns. Their locations included the northeast and southwest corners of the Capitol Building, along Fayetteville Street, and on Hargett Street near Wilmington Street. They had capacities between 4,000 and 6,000 gallons, which was fine for the hand-powered pumps of the time. The cisterns were filled with rainwater, piped from the gutters of adjoining buildings. READ MORE
+ 20 - 16 | § ¶
Station 28
As of this morning...


+ 16 - 11 | § ¶
Firehouse Fires?
Random question. What firehouses have caught fire around here? In Raleigh, the Victor Company engine house was "partially consumed" on April 7, 1897. It was a single-story wooden structure at the City Lot. Two horses were killed and the apparatus, a horse-drawn reel, was damaged. READ MORE
+ 18 - 15 | § ¶
Vintage Film Footage on DVD
Calling all history buffs! Mike Legeros has created a DVD collecting color film footage of the Raleigh Fire Department from around 1950. The footage, which runs 30 minutes, includes drills, activity at old Station 1, and a dorm fire at St. Aug. college. You'll also see a bunch of old apparatus, from a 1926 ALF to a 1950 FWD. Santa delivered copies to the stations last week. Contact Mike for information on obtaining copies. Also see http://www.legeros.com/film for scene-by-scene notations and additional information about the film footage. Enjoy!


+ 15 - 17 | § ¶
Reader Question / County Apparatus Purchasing
Reader question: "Having moved from the area and state I have been wondering about the reason behind Wake County's purchasing of fire apparatus for the county departments. Has the tax system changed in WC? Is this for just standardization of responding equipment? Or is the County thinking ahead so annexed fire equipment can be easily assimilated into the city's fleets?" READ MORE
+ 16 - 20 | § ¶
Big City Patches
How does Raleigh's or Cary's patch compare to the other "big city" fire departments in NC? From the FireNews patch gallery, here are the patches from the ten largest municipalities in the state. Click to enlarge. And one question, is the Wilmington patch current?


+ 11 - 13 | § ¶
Patch Gallery
Here's a gallery of all FD patches in Wake County. Mail Mike if any are missing or need updating. Why are the Raleigh and Stony Hill patches identical? Both were derived from Burlington's patch. Raleigh's patch was implimented by Chief Pickard, who had worked in Burlington. Stony Hill's patch was created after Raleigh's. The duplication wasn't caught, however, until after uniforms had been ordered. Or so the story goes.
+ 18 - 14 | § ¶
New Patch
The Cary Fire Department has a neat new patch. Three designs were presented to members, we're told, and this was the winner. They've switched over all Class A jackets and Class B shirts. The new Truck 7 will also have the new patch. Other vehicles will be updated as needed or as money allows.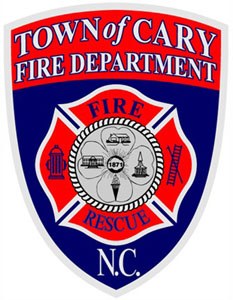 + 12 - 16 | § ¶
They Came From a Far
Everyone knows the three wise men joke, and how they came from a far (fire). Here are some more jokes for your holiday amusement, cribbed from Mike's old Playing with Fire web column. READ MORE
+ 15 - 18 | § ¶
Happy Holidays!
Peace on Earth, good will toward man, and a quiet day for everyone...


+ 15 - 13 | § ¶
June 6, 1957
A reader passes along this photograph and information of the June 6, 1957 wreck in Cumberland County that killed 21 people. Click to enlarge. At the time it was the state's worst roadway accident.


+ 14 - 20 | § ¶
Turnout Gear?
Random question, what type (and color) of turnout gear does everyone wear? Raleigh uses a couple different types, what are they? What else is used around Wake County?
+ 9 - 19 | § ¶
Google News Archive
Google's new News Archive Search is a super research aid, and a source for the "most fatal" entries.
+ 13 - 15 | § ¶
Most Fatal Rescue Events?
By reader request, what have been the most fatal rescue events in the state? MVAs, plane crashes, train crashes, weather events, etc.? READ MORE
+ 15 - 17 | § ¶
Hospital Vehicles?
Speaking of EMS vehicles, just how many hospital-operated units are there around Raleigh? Seems like there's a ton. WakeMed has a bunch, such as this Special Ops Support Unit. As was noted in an earlier blog posting, it carries a array of different equipment such as decon tents/showers, heaters, back boards, coveralls, etc.


+ 14 - 12 | § ¶
Spell Checking / Disappearing Posts
As aptly noted by a reader, this a blog, not a thesis. Don't worry about being perfect. If it's that important to Mike, he'll correct your posts after posting. If your posts are disappearing, as readers occasionally observe or question, it's almost exclusively because the posts are (a.) anonymous and (b.) talking trash about a specific person or entity. Discuss the issues, not the people. That's also why some names are discretely changed on the admin end. For these seeking non-moderated forums, both the Watch Desk and FireNews have a local discussion board. Alas, traffic is light on both. For those seeking their own platform, try blogger.com. It's easier than you think to start your own blog. Feel free to drop notes noting notable WD or FN threads, or any new blogs. We'll read 'em.
+ 12 - 12 | § ¶
EMS Major Ops Vehicle
Another vehicle update, this time some pics from Hackney. Here's the Major Operations Support vehicle for Wake EMS that's scheduled for a mid-January delivery:


+ 14 - 14 | § ¶
Speaking of Knightdale...
...they've received their new Pierce as well. Here's a factory shot:


+ 15 - 13 | § ¶
Eastern Wake News
We're told that Eastern Wake's new Pierce pumper-tanker has been delivered and is in service. Also, station renovations are 99.9% complete. Station 1 added two new bathrooms and remodeled the other two, added remote controls to the bay doors, and are now housing an Eastern Wake EMS unit (12 hour crew, 24 hour truck). Station 2 in town, the original Knightdale Station 1, was totally remodelled inside with new floors, walls, ceilings, lights, new larger bathrooms, new kitchen and appliances, new bay doors with remotes, new pad poured, refinished parking lot, and a new sign with landscape. We'll try to get some pics.
+ 17 - 13 | § ¶
Wanted in Six States
These three mugs were seen at yesterday's major fire. From left to right that's FireNews Editor Jeff Harkey (CFP-700), Mike Legeros (CFP-7474), and Lee Wilson (CFP-702):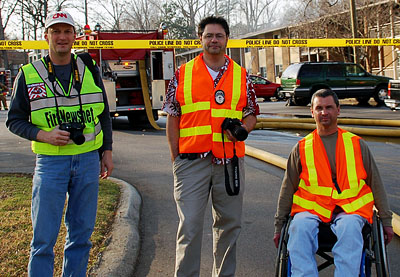 + 12 - 16 | § ¶
Dix Hill Fire Department
Happened across this 1895 newspaper article today: "At the North Carolina Insane Asylum, two new houses are being built for the hose reels that belong to the Asylum fire department. One is in [the] rear of each wing of the building, for immediate use in case of fire. The buildings are ten feet by fifteen feet, two stories high. Some of the employees of the institution will sleep in these houses at night, so that they may be ready for service as soon as the alarm is given." What are the odds that either hose house is still standing? Probably slim.
+ 12 - 11 | § ¶
Art and Scene Photography
Or maybe call it crime photography. Here's an excellent New York Times exhibit review. Plus a gallery of some of the artist's work. And since you were wondering, here's what one of Mike's pics from yesterday looks like to artsy effect. Cropped with higher brightness and contrast. Click to enlarge.


+ 17 - 12 | § ¶
Best Christmas Lights
Which stations around town, or around the Triangle, have the best/biggest/brightest Christmas lights this year? Also, watch for Mike's mobile display, a glowing plastic Santa strapped in the back of a burgandy Accord. Ho ho ho.
+ 12 - 17 | § ¶
Major Fire / Camera Update
Pics quickly coming from this afternoon's major working fire on Wesvill Court. Both Lee and Mike were on scene. Regarding Mike's new adventures in DSLR, this incident marks the switch from shooting in RAW to JPEG. The files were just too big. Post-processing, for now, will include auto-leveling, which wasn't done with RAW due to different software. The pics may look a bit different. We'll see what happens.


+ 16 - 7 | § ¶
State Fireman's Convention, 1895
Here's a neat announcement of the state fireman's convention and tournament from 1895. Click to enlarge. Participating departments included companies from Fayetteville, Goldsboro, Greensboro, New Bern, Salem, Wilmington, and Winston.


+ 17 - 14 | § ¶
Mike's Research Tips
For those planning or proceeding with historical projects, this PowerPoint presentation from August may be useful. It's newly linked from Mike's history site. Research... it's fun!
+ 18 - 11 | § ¶
RFD Air Truck Moving
As noted as a comment in another thread, Raleigh's air truck is reportedly moving. SR 5 is relocating to Station 8 effective January 1. The unit will be renamed Air Unit 8. READ MORE
+ 15 - 20 | § ¶
Old Station 1 Drawing
Found today in an 1895 issue of the News & Observer, an architect's drawing of old Station 1 on West Morgan Street. Click to enlarge. Opened in the spring of 1896, the two-story brick building housed a horse-drawn hose company, a horse-drawn service ladder company, a reserve horse-drawn chemical engine, and the chief's horse-drawn buggy. The tower was later extended, as this drawing by Mike demonstrates.


+ 13 - 16 | § ¶
RFD Family Names
Speaking of names, here's a quick list of every family name of every paid and volunteer member (both uniformed and civilian) that served the city from 1867 to 1990. READ MORE
+ 14 - 16 | § ¶
Raleigh's Original Volunteers
Who were Raleigh's original volunteer firefighters? Below is a very rough list of both white and black personnel that served between 1867 and 1912. READ MORE
+ 14 - 16 | § ¶
Night Photography on the Beltline
Shooting into the light and a camera setting of 1600 ISO turns an average grass fire into a not-bad night photo:


+ 15 - 14 | § ¶
Most Fatal Fires?
Another random question, what have been the fires with the greatest numbers of fatalies in these parts? In Raleigh, Durham, Chapel Hill, Wake, Johnston, etc.? Raleigh's most fatal fire was the Carolina Country Club that burned in a snowstorm on February 1, 1948, killing five sleeping occupants. Chapel Hill's fraternity fire on May 12, 1996 also comes to mind, which killed five people. In Zebulon, a grandmother and five children died in a house fire on the Sunday before January 18, 1968. Others?
+ 14 - 13 | § ¶
Raleigh Police Departments?
Random question, how many police departments are located in Raleigh? READ MORE
+ 16 - 13 | § ¶
More Yearly Stats, Part 2
Lee's photo site premiered in July and he's since posted 2,535 photos. Mostly fires and wrecks and a few hundred archive apparatus photos from around North Carolina of non-red rigs. READ MORE
+ 13 - 18 | § ¶
Officers, 1884
One-hundred and twenty-two years ago, the officers in Raleigh's volunteer fire companies were numerous, such these position elected by the Victor Company (hand engine) in 1884: Foreman, Asst. Foreman, Chaplain, Treasurer, Secretary, First Sergeant, Second Sergeant, Hose , Director, Asst. Hose Director, Engineer, Pipeman, Asst. Pipeman, and Doorkeeper.
+ 14 - 15 | § ¶
Vintage EMS Pics, Part 2
Again, contact Travis (Loy00003@mc.duke.edu) for more information about these pics and the people pictured therein. From top to bottom: Clayton Rescue, Clayton Rescue, Forsyth Rescue.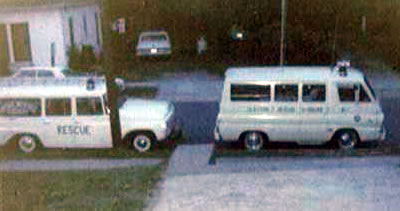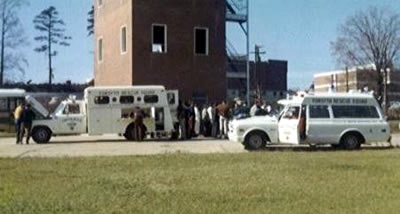 + 14 - 16 | § ¶
Vintage EMS Pics, Part 1
Travis Loy, son of Beacon Ambulance Service part own Fred Loy Jr., sent some vintage EMS pictures to share. Contact Travis (Loy00003@mc.duke.edu), who lives in Elon College, for more information about these pics and the people pictured therein.

From top to botton, the Beacon Fleet (click to enlarge), a Wake EMS unit, and the Wake EMS breakroom. Dig those hairstyles, man!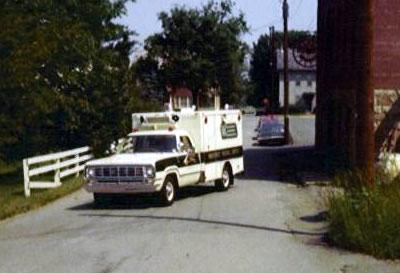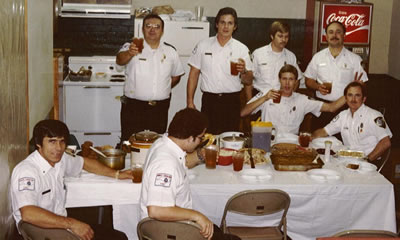 + 14 - 13 | § ¶
More Yearly Stats, Part 1
This year, 197 incidents or events were posted to Mike's photo site. The split was 108 shot by Mike and 89 shot by Lee. The numbers do not include links to Lee's photo site, which started in September, a couple months after his photo site premiered. READ MORE
+ 12 - 18 | § ¶
Yesterday's Major Fire
Lee has posted pics of yesterday's major working fire at 4732 Courtney Lane. The first picture of the series has a summary and list of companies. One FF was transported to WakeMed with a shoulder injury, reported the N&O.


+ 9 - 17 | § ¶
So Far So Good
We're approaching the one year anniversary of this blog, which was started on December 27, 2005. What have we learned about ourselves and others? . READ MORE
+ 20 - 12 | § ¶
Garner Graduations and Promotions
The Garner Fire Department today promoted three Captains, four Lieutenants, and three graduating Firefighters. The latter graduated from the department first fire academy, conducted by GFD over two and a half months. The honorees: Captains B. Penny, S. Godwin, D. Lindsey; Lieutenants J. Deitch, D. Denning, S. Young, T. Rooks, and Firefighters D. Ward, G. Hodges, R. Coreia. Photos forthcoming.


+ 15 - 17 | § ¶
Station 28
Construction continues at 3500 Forestville Road. More pictures, including views of the rest of the intersection, appearing momentarily on Mike's photo site.


+ 12 - 18 | § ¶
Another Free e-Book
Mike has created another free electronic book for download. Raleigh Fire Department Newspaper Articles, Volume 2 presents another collection of historical newspaper clippings. These are from 1880 to 1889. More fires, more parades, and now fireman's tournaments. The e-book is PDF format, 118 pages long, and 17 megs large. Give it a few minutes to download.

+ 7 - 20 | § ¶
Would You Believe an Earthquake?
Another historical bit. At 9:50 p.m. on August 31, 1886, an earthquake measuring between 6.6. and 7.3 on the Richter Scale struck Charleston, SC. It damaged 2,000 buildings and killed between 60 and 110 people. The quake was felt in Raleigh, though structural damage was confined to fallen chimneys. Doorbells rang in many places, and at least one church bell tolled. Bottles broke at a drug store. Floors and ceilings made scary sounds. No fires were reported, however, though a resident on Hillsboro Street found a fallen lamp that broken but extinguished itself. The quake was felt as far away as Boston, Chicago, Milwaukee, New Orleans, Cuba, and Bermuda.
+ 14 - 13 | § ¶
Raleigh Centennial Parade / 1892
On Tuesday, October 18, 1892, an enormous parade celebrating Raleigh's one-hundreth birthday proceeded down Fayetteville Street. The fireman's display attracted the most attention, or so said the newspaper, with two divisions representing the "old department" and "modern department." READ MORE
+ 12 - 20 | § ¶
Sweet Sounds
Saturday night in Ridgeloch and Engine 16 and Ladder 16 are rolling to a gas leak. Diesels chugging, sirens wailing, and the neighborhood dogs howling in harmony. They're going east on Millbrook, so the claxon chorus repeats itself. It's almost heavenly.
+ 15 - 11 | § ¶
Fire Alarm By Goat
From the May 20, 1892 edition of the News & Observer: "The alarm of fire last night was caused by a festive William goat. The goat had been allowed to deport himself in the house of a man, and espying his ugly image in a looking glass he aimed a well-directed butt at the glass, smashing it to flinders and also demolishing a lamp. Great consternation was caused, resulting in a fire alarm from Box 34, at the corner of Lenoir and McDowell. No damage was done. The goat when last seen was voraciously devouring the fragments of glass."
+ 8 - 14 | § ¶
Garner FD / Watch Desk
There's an interesting discussion evolving on the Watch Desk forums. The subject is the Garner Fire Department and assorted rumors and facts therein.
+ 15 - 11 | § ¶
Tower Construction Montage
Speaking of training, this montage of tower photos has been added to Mike's Raleigh Fire Department Virtual Museum, along with montages of old Station 1 buildings, old Station 2 buildings, and RFD aerial ladders. Click to enlarge:


+ 10 - 12 | § ¶
Night Training
For those monitoring the RFD Batt channels, the fake streets dispatched during night training have been particularly amusing lately. Junebug Lane, Freddy Lynn Lane, etc.
+ 17 - 12 | § ¶
No More PDFs
With useability in mind, all but one of the PDF format documents on Mike's RFD history site have been removed and replaced with HTML documents. The new pages now loader faster and easier.
+ 18 - 12 | § ¶
Raleigh Fire Department Books
How many books have been published about or relating to the Raleigh Fire Department? This newly updated page tells all about them, including the books by Mike and Lee. There's also an electronic book available for download on that page, of old newspaper articles compiled by Mike.



+ 14 - 15 | § ¶
Fifth Tap of the Gong / Sound Effects
From an 1890 newspaper account: "At the alarm of fire on yesterday the Rescue horse Henry was hitched and driven out on the fifth tap of the gong on the first round. That is to say, that the wagon was driven out before the last six taps were sounded of the first round of the box." That would have been box number 4-6. Here's a recording made in my kitchen of a smaller Gamewell gong, connected to a later era Gamewell box. It's tapping the box number 3-1-4-4. Neither box nor gong served locally. Raleigh box numbers were two or three digits.
+ 15 - 14 | § ¶
Oral History Project
Historian Mike Legeros has started an oral history project, recording retiring or retired Raleigh Fire Department members. The format is an interview, with Mike asking some questions but mostly listening. The interviews last about an hour, and Mike hopes to conduct at least one interview a week.

The purpose of this project is preservation, and preserving the personal heritage of the Raleigh Fire Department. The digital recordings will be archived and, at a later time, transcribed. The content will also be edited as necessary before any public presentation.

Mike will announce this project to the retired community this week at their Christmas party, and next week at their monthly breakfast. Feel free to share this announcement as desired. Any retiring or retired Raleigh Fire Department members interested in participating in this project can contact Mike either via e-mail or by telephone. He's listed in the book. He'll also be initiating contact with individual retiring and retired members.
+ 16 - 14 | § ¶
Twenty-Five Cents
Another historical gem, this one from 1890: "An alarm of fire was turned in from Box 31 yesterday evening. The fire department was there in a quarter of a minute, and only three shingles burned. The house is at the corner of Davie and Dawson streets, occupied by J. C. Pennington. The damage officially recorded was twenty-five cents."
+ 15 - 16 | § ¶
Great Old Rigs
Some of the great old rigs that we have been talking about. Left to right, top to bottom: Apex (4), Bay Leaf (2), Cary (7), Durham Highway (4), Fairview (4), Falls, Fairgrounds (2), Fuquay-Varina (3), Garner (8), Harris Plant, Hopkins (2), Holly Springs (2), Knightdale (3), Morrisville (2), New Hope (2), Raleigh-Durham Airport (5), Rolesville (2), Swift Creek (2), Six Forks (2), Stony Hill, Western Boulevard, Wendell (4), Wake Forest (2), Yrac (6) Zebulon (4).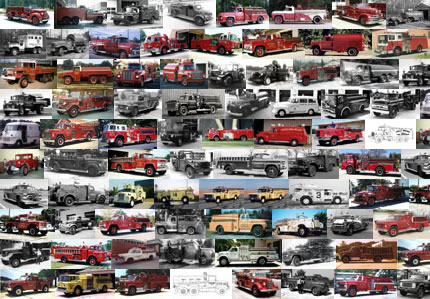 + 10 - 14 | § ¶
Radio Updates
Some updates we've heard on the radio system... RPD has been awarded an 800 MHz grant. No additional information there. RDU will be on the system in January, as well as WakeMed. Rebanding of the radios begins in September 2007, as the system is transitioned to the new frequencies. What is rebanding, you alarmingly ask? Here's more information that starts to answer the question of whether or not our expensive digital trunking scanners will still work.
+ 15 - 13 | § ¶
Cary Updates
Some updates we've heard from Cary... Station 7 won't be occupied before mid-January, as the sewer project is behind schedule. The replacement for Truck 7 has been spec'ed and revised to be more of a heavy rescue than simply a service truck. It should be going to bid any day now, if it hasn't already. Cary is currently hiring for Academy 15, which should number 10 to 15 people and start in February-ish.
+ 14 - 17 | § ¶
Are Pranks Necessary?
For today's topical discussion, the following question is posed: Are pranks necessary in the fire service? Before answering, consider this logic. 1. Pranks are a traditional component of the fire service. 2. Pranks also serve one or more purposes in the fire service. 3. Pranks are commonly cited as serving the purpose of stress relief, and helping fire service members release or perhaps adapt to the stressors associated with the fire service. 4. Pranks could also be cited as serving to build or sustain a sense of community within the fire service. READ MORE
+ 10 - 17 | § ¶
LAFD Blog
Something interesting here, a Los Angeles Fire Department blog. It's from their Media & Public Relations office. Neat official avenue of discourse. They also allow comments, and anonymous comments, as evident by responses to the chief's posting on his decision to step down. Are blogs effective alternatives to traditional Press Releases or What's New web pages? Perhaps. One chief advantage is that web content can be posted without necessarily involving the web team. Maybe we'll see more official FD blogs in the future. Maybe.
+ 18 - 12 | § ¶
Also in 1889
These were the discussion topics at that year's second annual State Fireman's Convention in Raleigh. 1. Should not a special tax be levied on insurance companies for the benefit of firemen, and should not the State make an appropriation? 2. What is the danger from electric wires, and how best remedy the trouble? 3. What class of men are best suited to make good firemen? READ MORE
+ 16 - 9 | § ¶
We've Come a Long Way
From a News & Observer article in August 1889, following the State Fireman's Association convention and tournament in Raleigh, the estimated population of cities and towns in North Carolina with organized fire departments was 135,808. The apparatus in the state consisted of 18 steamers, 13 other engines, 16 hook and ladder trucks, 51 hose carriages and wagons, 1,468 active members, 30 horses, 39,700 feet of serviceable hose, 23 non-electric alarm systems, 3 electric alarm systems, and 50 alarm boxes. READ MORE
+ 12 - 17 | § ¶
Submerged
Here's an unusual sight around here, a nearly fully submerged auto on Old Milburnie Road. The driver departed the vehicle under their own power:


+ 21 - 13 | § ¶
Retirements
Some 152 years of firefighting experience passed this way this morning, as five members of the Raleigh Fire Department retired effective today. Though this blog has endeavored to largely steer clear of personal identification, it seems entirely appropriate to mention those-- city or county, paid or volunteer-- who depart with decades of service. Godspeed to Battalion Chief Weathersby, Captain Franks, Captain Jones, Lieutenant Pearce, and Lieutenant Smith. We wish you all well.