+ 7 - 2 | § ¶
Video Clips From Sunday's House Fire in Raleigh
Found via FireNews.net on Twitter, here are pair of very short video clips of Sunday morning's house fire in Raleigh on Casland Drive. They're from YouTube user and apparent neighbor Will Pearce. They're embedded below this picture from Mike Legeros. See more of his photos. Incident summary:
House fire at 5001 Casland Drive. Upgraded to working fire while units were en route, due to multiple calls. Engine 21 arriving at a two-story, wood-frame, single-family dwelling with 2,450 square-feet. Built 2002. Heavy fire and smoke found from second floor and through roof. Transitional attack, with crews attempting to make entry. Quickly changed to defensive mode with all occupants accounted for, and collapse conditions observed. Ladder 2 with aerial operations, plus portable monitor in rear, and hand lines. Dispatched 8:32 a.m. Controlled 9:15 a.m. Cause determined as accidental, child playing with cigarette lighter. Included E21, E27, E11, E12, L2, L8, R1, B1, B2, A1, C20, C401, EMS 5, EMS 36, EMS 7, EMS 2, D1, T1. "B" platoon.

View on YouTube


View on YouTube
+ 6 - 2 | § ¶
Holy Cow! Wednesday's House Fire in Wake Forest
WRAL posted this dramatic photo on Thursday, from Wednesday night's house fire in Wake Forest. House under renovation at 427 N. Main Street. Two-story, wood-frame, single-famiy dwelling with 3,590 square-feet. Built 1909. Dispatched around 11:30 p.m. Engine 1 and Ladder 1 arrived within four-minutes of dispatch and found the house "engulfed in flames." Engines 1, 2, 3, and Ladder 1 deployed hose lines and master streams, battling the blaze and protecting the exposures on all four sides.
Engine 5 and units from Rolesville and Stony Hill assisted with water supply and fire attack. One firefighter was injured and transported to the hospital. They were released early Thursday morning. The house was unoccupied at the time of the blaze. The cause remains under investigation, notes the summary on the Wake Forest Fire Department web site. See that page for more photos and a couple video clips. Perhaps readers can add the complete run card and suppression specifics.



Wake Forest Fire Department/WRAL photo
+ 11 - 5 | § ¶
Historical Perspective of Norfolk Fire Stations in 1975
How about a sampling of past 'n' present firehouses from Norfolk, VA? These pictures scanned and compiled from History of the Norfolk Fire Department published in 1975 by the Norfolk Firemen's Relief Association and Norfolk Firefighters' Association. (Bought a copy on eBay this week.) What are the addresses and service dates for all these? To be determined! Maybe readers can help. A couple of the historic ones are still in service (see list of stations on their official site), and a couple closed ones are still sanding. View the graphic in full size (PDF, 11 MB).


+ 7 - 5 | § ¶
Scaffold Collapse on Fayettevile Street
The local news ably covered Monday's fatal scaffold collapse on Fayetteville Street, with such stories that day as from WRAL and WTVD and the News & Observer. And their coverage has continued, with stories about the three workers who were killed, the companies involved in the incident, and the beginnings of the investigation. The Associated Press also carried the story, which surfaced on such sites as Firehouse.com and Fire Engineering.
The first call was dispatched at 10:58 a.m. to 501 Fayetteville Street as an injured person for Engine 1. That's an eleven-story office building with 243,000 square-feet under construction at northeast corner of Fayetteville and Lenoir streets. Additional units were added as additional callers reported collapsed scaffolding with people trapped. Engine 2, Ladder 4, Squad 7, Rescue 1, Battalion 3, Battalion 5, and USAR 801 were added to the call.
Arriving units found collapsed sections of a mast climber scaffold, with the platform in street, and three deceased people and one person with serious injuries. The patient was transported and collapse area was evacuated. Construction workers were also evacuated from the building site. Most fire companies were returned to service, while Ladder 4 remained on scene. Rescue 1 was also requested back to the scene.
Command post and staging were located on South Street in front of the auditorium. Car 1 was incident commander. Fire and EMS personnel remained on scene into late afternoon, assisting with evaluating and securing the remaining sections of scaffolding, investigating the accident site and assist other investigators, and removing the bodies of the deceased workers.
Fire units included E1, E2, L4, Sq7, R1, B3, B5, USAR 801, HM2, C20, C420, C401, C1, C2, C51, C55. EMS units included EMS 11, EMS 19, EMS 35, EMS 41, EMS 51, EMS 55, D1, D2, M93, M93, MD1, MD20, Chief 103, Chief 203, Evac 1.
Mr. Blogger arrived at scene an hour into the incident. He's posted his pictures of the command post, the general perimeter, and people and vehicles therein. See photos by Mike Legeros.


+ 7 - 2 | § ¶
Raleigh Fire Prevention Footage From 1990
The Raleigh Fire Museum has started digitizing old video tapes from the fire department. They're posting the best of the best on their YouTube channel. Here's a pair of clips from 1990. Top is a fire prevention display in August 1990, with Engine 8 and Truck 8 at the K-Mart on Western Boulevard. (How many of those then-young folks do you recognize?) Bottom is a performance by the fire department's puppet show, circa 1990. (Careful or that opening song will get stuck in your head!) Visit the museum's Videos and Movies site for more.


View on YouTube


View on YouTube
+ 6 - 4 | § ¶
Brush Truck and Foam Trailer Added at Airport
Learned of a couple new pieces of airport fire equipment yesterday, while attending the tri-annual Sky Drill at the airport. Raleigh-Durham International Airport Emergency Services department added a brush truck and a foam trailer last year. (Mr. Blogger clearly being behind the times.)
CFR 12 is a 2015 Ford F-350 with a UPF Defender skid unit, 300 gallon water tank and 10 gallon foam cell. Don't know pump capacity. No roof lights or lettering. The truck is also used as a service truck, for utility purposes, and pulls the foam trailer. It's added on calls as needed, and can answer parking deck calls when CFR 1 is unavailable.
The trailer was built by Combat Support Products, which located right here in Wake County. Just down the road in Fuquay-Varina, in fact. That's their FoamChariot III model. Equipped with three foam totes and a high-capacity water/foam deluge gun. The trailer can be used as a simple resupply unit, for the crash trucks on or off airport property. It can also respond as mutual aid for offsite incidents. We'll see if we can get exact specs.
Note that both Apex and Raleigh have purchased similar trailers in recent years. See prior postings about Apex and Raleigh's foam trailers.
The full roster of airport apparatus currently includes:
CFR 1 - 2005 Ford/4 Guys mini-pumper, ?/300/15
CFR 2 - 2000 Oshkosh T-1500 4x4 crash truck, 1500/1500/210/450 pounds dry chem
CFR 3 - 2000 Oshkosh T-1500 4x4 crash truck, 1500/1500/210/450#
CFR 4 - 2000 Oshkosh T-3000 6x6 crash truck, 1800?/3000/420/450#
CFR 10 - 2001 Ford Excursion command vehicle
CFR 12 - 2015 Ford F-350 brush truck, ?/300/10
Foam trailer
Click to enlarge:
+ 9 - 2 | § ¶
Suburban Fire Protection in Raleigh - Poster Concept
Poster concept, created for the Raleigh Fire Museum. Planned size is 16 by 20 inches. The purpose is to introduce the concept of "suburban fire protection" around Raleigh, in the context of the volunteer fire departments that were created beginning in 1956. We're trying to get the amount of information "just right." Thus the eight and only eight fire departments shown in the poster. As well as the map, the timeframe, and the contextual textual section. Thoughts?


+ 9 - 4 | § ¶
Columbus County Apparatus Accident on Tuesday
As reported in this WECT story, two Columbus County firefighters were injured on Tuesday afternoon when their engine overturned while responding to a grass fire. Old Dock Cypruss Creek Fire Department Engine 8 was responding to a grass fire when the accident occurred on Dock Road about three miles east of Highway 130. The accident occurred about 5:15 p.m. on a curve. The apparatus left the roadway and overturned. Notes this Fayetteville Observer story, other firefighters removed the two men from the truck before ambulances arrived. Neither suffered serious injuries and were reportedly conscious and alert when transported to a hospital in Whiteville.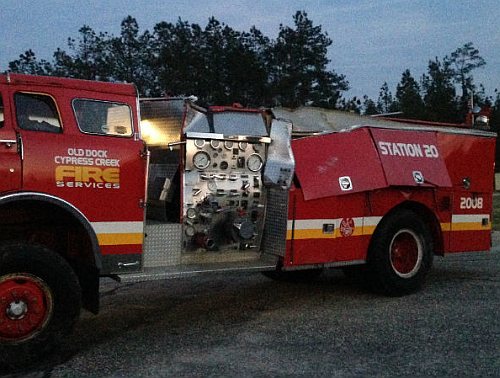 WECT images / Google Maps image
Map location is approximate!

+ 9 - 5 | § ¶
Vintage Photo of Durham's 1978 Ford/Sutphen Pumper
Found for sale on eBay is this 35mm slide scan of a 1978 Ford C/Sutphen pumper (1000/500) in Durham. No date or photographer credit. The Durham Fire Department had two of these, as Engine 4 and Engine 5. Other early Sutphens included a 1976 Sutphen 85-foot aerial platform (1500/200) as Ladder 2 and a 1978 Sutphen 85-foot platform (1500/200) as Ladder 3. Source is this delivery list by Dave Organ. Two decades passed before the department others, beginning with a series of platforms and ladders delivered in 1997, 2000, 2003, 2004, and 2005. See this posting for more historical fleet information from Durham. Click to enlarge:


+ 7 - 3 | § ¶
Vintage Pamphlet - Fire Fighting for Householders
Bought this on eBay, a vintage pamphlet published by the Federal Civil Defense Administration. Fire Fighting for Householders, created around 1951, last revised in 1958, and reprinted (this copy) in 1963. There was a short film also created about this subject, as this Atomic Theater page notes. It was one of nine films, created to "dispel the myths surrounding atomic weaponry" and with each film "addressing a different danger posed by an enemy attack." Adds the page, "by the end of the decade, more emphasis was placed on protection from fallout radiation" versus fires. The film's information was declared obsolete, advised the FCDA, citing "advances in warfare and change methods of protection." Oddly, the pamphlet was nonethless reprinted some years later.
Recall that civilian fire protection during wartime was emphasized in Raleigh with the creation of the city's auxiliary firefighter program shortly after the United States entered World War II in December 1941. This replicated programs conducted both statewide and nationally. Volunteer members received training related to wartime firefighting and rescue operations. Government-issued training materials of the time listed auxiliary firefighter training topics as fire streams, ladder work, forcible entry, ventilation, pump operation, salvage and overhaul practices, blackouts, bomb identification, and decontamination. Read some of that history.
Read the entire Fire Fighting for Householders pamphlet (PDF).


+ 7 - 2 | § ¶
Wake County Fire Commission Meeting Canceled for March 19, 2015
The Wake County Fire Commission meeting originally scheduled for Thursday, March 19, has been canceled. The next scheduled meeting is Thursday, May 21.
+ 6 - 2 | § ¶
Building a Fire Station - Station 29 Nearly Complete
The city's newest fire station is nearly complete at 12117 Leesville Road. Fire Station 29 is expected in about a month. Here's a montage of construction photos from August 2 to March 15. See the full series. Here's an earlier thread about the station and with discussions therein. Click to enlarge:


+ 7 - 3 | § ¶
Former Fire Stations of Fort Bragg
April 2020
For the latest, greatest version of this content, see Mike's page of Fort Bragg fire history at https://www.legeros.com/history/military/fort-bragg/.
March 2015
In our prior posting
, we explored the active fire stations and fire department facilities at Fort Bragg (including Pope, Simmons, and Mackall airfields). What about the former fire stations? Here's a listing of the earlier engine houses, along with a trio of maps and a couple photos. For expanded historical information on Fort Bragg and the airfield fire departments, see
www.legeros.com/history/military
.
| | | | | | |
| --- | --- | --- | --- | --- | --- |
| Station | Address | Built | Opened | Closed | Notes |
| Sta 1 | Present site of main parade grounds | | 1919 | By 1975 | First fire station building. Two-bay single-story. |
| Sta _ | Normandy and Sicily roads, NW corner | WWII | WWII | By 1975 | Wooden structure. AAFES Shoppette later housed in building before demolition. |
| Sta _ | Woodruff Street, south side between Reilly and Jackson, about one-third of the block east of Reilly | WWII | WWII | By 1975 | Wooden structure. Building was adjacent to "Mule barns." Army TMDE Calibration Lab later housed in building before demolition. |
| Sta _ | Honeycutt Road and Black Jack Street, NE corner | WWII | WWII | By 1975 | Wooden structure. Later part of Motor Pool. Building demolished as live burn for training. |
| Sta 3 | Butner Road and Durham Street | 1941 | 1941 | 2004 | Wooden structure. Three-bay, single-story. Demolished after new Station 3 opened in 2004. |
| Camp MacKall | Glider Road and unnamed road, SE corner | WWII | WWII | | Wooden structure. Foundation still survives. Map coordinates: 35.037140, -79.475330 |
| Pope Army Airfield | Maynard and Reilly | 1934 | 1934 | 1979, c. | Expanded circa 1956. Became Medical Supply building. By 2015, used as Fort Bragg EMS substation. Listed on National Register of Historic Places as part of Pope AFB historic district. |
Let's put everything on a map, including a couple planned fire stations. Station 9 is planned as additional structural station to be located at Camp Mackall. To be located adjacent to the Rowe Camp. Station 10 is planned for 108 ADA complex built at old Ammo Supply Point on Chicken Road. Click to enlarge:


+ 11 - 3 | § ¶
Durham County Taking Over Parkwood Fire Department
As reported in these stories from the Durham Herald and News & Observer this week, Durham County is preparing to take over operations of the Parkwood Fire Department. On Monday, County Commissioners approved the transfer of fifteen full-time employees from PFD to DCFD. The move may happen next week, with the full operational transfer (equipment, part-time and volunteer members, and tax district) happening later in the spring.
Here's the county budget ordinance in its entirety, which was passed with unanimous vote:
The Board is requested to approve Budget Ordinance Amendment No. 15BCC000045 for the creation of 15 full-time Durham County fire suppression positions, to transition 15 full-time employees currently employed by Parkwood Volunteer Fire Department, as of March 16, 2015. An estimated cost of $268,000 for salary and benefits will be transferred from the Parkwood Fire District Fund to fund these salaries.
In a letter dated October 29, 2014, the President of the Board of Directors at Parkwood Volunteer Fire Department requested the County of Durham absorb Parkwood's employees, assets of the corporation, and all fire operations for the Parkwood Service District by June 30, 2015. If authorized by the Board of County Commissioners the public will see no change in service on July 1, 2015, as a result of this change.
TheThe Board is requested to approve the creation of 2 Assistant Chief positions, 6 Fire Captain positions, 6 Fire Driver positions, and 1 Firefighter position, to transition 15 full-time employees currently employed by Parkwood Volunteer Fire Department, as of March 16, 2015, and the transfer of $268,000 from the Parkwood Fire District Fund to the County General Funds for salary and benefits of the 15 full-time employees.
Organizational History
Parkwood Volunteer Fire Department was organized in 1968. Their first fire station was located across the street from their current Station 1 at 1409 Seaton Road. Their first apparatus was delivered on May 14, 1969, a new 1969 Ward LaFrance 1000 GPM pumper, numbered Engine 966. The department was placed in service on May 16, 1969. The three-mile Parkwood Fire District was approved on January 15, 1970. The following year, a four-mile district was approved.
In March 1972, the department placed their first ambulance/rescue unit in service, a 1964 Ford Econoline van that they converted. In 1976, the department moved into new quarters, the present Seaton Road location. In 1983, the Parkwood West Fire District was created and a second station was opened the following year at 4200 Farrington Road. In 1986, a third fire station was opened on Old Page Road.
In 1990s, they became a combination department, adding paid members to their volunteer staff. In 1997, they entered into a cooperative venture with Durham County Emergency Management and began staffing North Carolina Haz-Mat Regional Response Team 4. They operated same until 2004, when RRT4 moved to Raleigh. In 1998, the department upgraded its EMS service level to Paramedic. Read more history.
County Fire Department
Durham County Fire and Rescue began operations on July 1, 2013. They assumed the operations and assets of the Bethesda Volunteer Fire Company. Read prior blog posting. (That year, the county also contracted a consultant to evaluate the county's fire services. Read blog posting about the recommendations therein.)
Also, BFD was solely a fire department by that time. They had ceased EMS operations on December 31, 2012, along with Bahama and Redwood fire departments. Parkwood FD ceased EMS operations on July 1, 2013. (Durham County EMS is the provider for those districts.)
As of July 1, 2014, they had thirty-one full-time employees and twenty-five volunteer employees. In 2013, they answered 1,452 fire and EMS (first responder) calls. The department is part of the Durham County Fire Marshal's office, under the Division of Fire Suppression.
July 1, 2015, is the target date for the county assuming Parkwood's operations. One pending action is public approval of merging the Parkwood tax district with the Bethesda tax district.
Once completed, Durham County Fire & Rescue will have five fire stations and become the second largest fire department in the county. Here's the station list, from this Carolinas Fire Page list of fire stations:
Company 410 - Bethesda Sta 1 - 1724 S Miami Boulevard
Company 420 - Bethesda Sta 2 - 7305 Leesville Road
Company 610 - Parkwood Sta 1 - 1409 Seaton Road
Company 620 - Parkwood Sta 2 - 4300 Farrington Road
Company 630 - Parkwood Sta 3 - 4716 Old Page Road
See these mapped via FDmaps.com.
+ 9 - 3 | § ¶
Old Fire Station at Pope Army Airfield
April 2020
For the latest, greatest version of this content, see Mike's page of Fort Bragg (and Pope airfield) fire history at https://www.legeros.com/history/military/fort-bragg/.
March 12, 2015
Here's a nifty vintage photo that was posted a couple years back to the Air Force Firefighters / Fire Dogs group on Facebook. Courtesy of Robert Anderson. (Visit that page and search on "Pope" for many more great vintage images.) Click to enlarge:


March 10
Found this building on base on Sunday, while visiting Fort Bragg. It's a former fire station at Pope Army Airfield, which is formerly Pope Air Force Based, which was originally Pope Field. It's also listed on the National Register of Historic Places and is part of the Pope Air Force Base Historic District.
Building 300 is located at the corner of Maynard and Reilly Roads. Built in 1934, it was expanded circa 1956, the same year the nearby airside fire station was constructed. The fire station became Station #2 and served as the structural fire station for the base. Was closed circa 1979 and the building was converted to a medical supply and maintenance building. (The building still bears a sign reading "Medical Supply.") Click to enlarge:


Mike Legeros, Bing Maps, National Register of Historic Places photos

We've been discussing the building in this Fire Trucks at War thread on Facebook, as well as this Air Force Firefighters / Fire Dogs thread. Some of what we've learned from there and other sources:
During World War II, apparatus at the station included a 1944 Brockway/American LaFrance Class 155 crash truck.
In later decades, structural apparatus at Station #2 included first-run Class 750A and Class 530B pumpers.
Extended room in the back of the building was used by Tech Services and doubled as a bunk room for Shift A/C.
On the left side of the building to the back of the building was a "truck and hose wash rack."

By 1975, the station housed two structural pumpers, one of which was used for rotational maintenance. One fire company of four cross-training firefighters and one extra man to monitor the phone was stationed there.
That year the fleet's structural apparatus consisted of a P-8 pumper, a P-12 pumper (750), a Class 530-B pumper, and two Class 750A pumpers in storage.
Circa 1979, when closed, the structural equipment was moved to the airside fire station. That's presently Fort Bragg Fire Station 7. The base was absorbed by Fort Bragg on March 1, 2011.

Army plans to replace the 1956 station in 2018. Was previously planned for replacement along with the new Air Traffic Control Tower. Though the tower was replaced, the fire station project was cancelled when the Air Force learned of the planned base closure.
The fire department also utilizes Building 182 at the airfield, where tech services (inspections) were located. Fire inspections occupies one side of the building, and fire logistics uses the other half.
READ MORE
+ 7 - 5 | § ¶
Exploring Fort Bragg's Fire Stations
April 2020
For the latest, greatest version of this content, see Mike's page of Fort Bragg fire history at https://www.legeros.com/history/military/fort-bragg/.
March 2015
Let's take a virtual tour of Fort Bragg's fire stations, courtesy of Bing Maps and official photos posted to the post's web site. But, wait, Batman! What's that last structure shown? That's Ranger Station 2 on the far west side of the military reservation. Historic structure that was built in 1937. Has been repurposed as Fire Station 8 for a four-person engine company. Engine 7, Tanker 81, and Crash 83 will be housed at the location.
The one-story building has been refurbished as living quarters. Two apparatus buildings have been added, a two-bay metal building beside the ranger station for the engine and tanker and a second metal building across the road for the crash truck. The Air Force added the latter. None of those are shown in the aerial view included in the images below, however. Unsure if the station's in service just yet. Click to enlarge:


| | | | | | |
| --- | --- | --- | --- | --- | --- |
| Station | Building | Address | Built | Opened | Notes |
| Sta 1 | 6-9572 | 1556 Knox Street | 1954 | 1954 | |
| Sta 2 / Simmons Army Airfield | P-2539 | 1003 Parham Blvd. | 1957 | 1957 | |
| Sta 3 | B-700 | Longstreet Rd at Manhay Rd | 2004 | 2004 | |
| Sta 4 / Mackall AAF | T-276 | Glider St | 1983 | 1983 | |
| Sta 5 | E-367 | 1309 Canopy Lane Bldg | 1989 | 1989 | |
| Sta 6 / Linden Oaks | L-3602 | Camel Road, west of Linden Oaks Parkway | 2011 | 2011 | |
| Sta 7 / Pope Army Airfield | R-025 | 265 Boxcar Street | 1956 | 1956 | Former Pope AFB fire station. |
| Sta 8 | O-9007 | King, Manchester, and Morganton roads, SE corner | 1937 | 2015 | Old Ranger Station 2, sole remaining ranger station at Fort Bragg. |
| Headquarters | 2-5935 | Butner Road | | | Department of Emergency Services headquarters. |
| Inspections / Logistics | 182 | Boxcar Street, Pope Field | | | |
| Training Facility | | 1459 Hurst Drive | | | |
But what about former Fort Bragg fire stations? Where were they located?
To be continued...
+ 11 - 4 | § ¶
UPDATED - The Curious Case of Spring Lake's American LaFrance Aerial Ladder
March 6
Mystery solved, thanks to readers of the SPAAMFAA group on Facebook and this thread in particular. The ladder originally served Grand Rapids, Michigan. Model 7-100-AEO, registration number 9038, shipped August 28, 1947. The frame was damaged after they loaded a gas axe plus fuel tanks in the back. The fix was an additional axle and compartment space added by the fire department shops. Here are pictures of the before and after. Click to enlarge:


February 25
Here's the strangest thing you'll see this week, a 1949 American LaFrance 700 (or 800?) Series 100-foot aerial ladder with a tag axle added. Served Spring Lake Fire Department by the late 1980s and early 1990s. Top picture by Jeff Harkey is circa 1990. Bottom photos by Lee Wilson is dated July 12, 1991. (By that time, the truck was out of service and had been replaced with a 1968 Young Crusader Snorkel that formerly served Henrietta, NY.)
The tag axle and rear body work are aftermarket and probably done during a refurbishing. Might've been added to help with braking. Might've been added to help with weight restrictions. Maybe readers know more! Also a mystery is the truck's origin. Most likely served another city (or even two) before arriving at Spring Lake. Click to enlarge:

READ MORE
+ 7 - 5 | § ¶
UPDATE #3: Raleigh's New Air Truck in Production
March 6
And what's probably the final set of photos. Truck's been lettered for Air 2, which aligns with the word on the street. Two air trucks covering the city, one on north side and one south side. Thanks Rescue Ranger for that info. See more shots on the trucks in production page. Sharp-looking truck. Note the additional compartment space and both side and rear retractable awnings. Click to enlarge:


READ MORE
+ 10 - 2 | § ¶
New Wake EMS Video - District Chief Does The Physical Ability Test, Sort Of...
For your Friday enjoyment, here's a new video from Wake County EMS, demonstrating in grand comic fashion that every employee is required to successfully complete a physical ability test (PAT) on an annual basis. Excellent example of internal (and external-facing) education that's orientated from a positive and outright playful perspective. Carrot not stick:


View on YouTube
+ 10 - 2 | § ¶
New Wake EMS Video - District Chief Does The Physical Ability Test, Sort Of...
For your Friday enjoyment, here's a new video from Wake County EMS, demonstrating in grand comic fashion that every employee is required to successfully complete a physical ability test (PAT) on an annual basis. Excellent example of internal (and external-facing) education that's orientated from a positive and outright playful perspective. Carrot not stick:


View on YouTube
+ 8 - 2 | § ¶
Historical Henderson Fire Department Photos
Here's a quartet of historical Henderson Fire Department photos, dating perhaps from the late 1910s through the 1940s. The pictured station was built in 1908 and is the oldest operating engine house in the state. It's located at 205 N. Garnett Street and originally housed horse-drawn apparatus. The pictured engines are American LaFrance rigs. From John Peckham's registry, the department's fleet included:
1916 American LaFrance Type 45 triple combination - #1021 - Shipped 1/27/16
1920 American LaFrance Type 75 triple combination - #3049 - Shipped 4/23/20
1940 American LaFrance 575 Quadruple Combination (service truck with pump) - #L-1215 - Shipped 2/29/40
1945 American LaFrance B-675 pumper - #2109 - Shipped 5/25/45
1950 American LaFrance 710 pumper - #9377 - Shipped 11/19/54.
These are mobile phone photos of physical prints. Thanks Chris and John. (Have historical prints in your possession of North Carolina fire departments? Shoot me a nice photo and we might feature them here!) Click to enlarge:


+ 14 - 3 | § ¶
Vintage Photo of Fort Bragg Fire Department, 1921
Here's a neat picture of Fort Bragg Fire Station 1 in April 1921. Comes courtesy of John Porter, nephew of Oscar Porter, who was the driver of the Ahrens Fox pumper on the left. (He's pictured on the far left.) The Fort Bragg Fire Department operated a pair of Ahrens-Fox K-4 pumpers during World War I. On the right is a 1918 Seagrave pumper. Read more about FBFD history. Click to enlarge:


+ 13 - 5 | § ¶
Durham County Pumper Accident, 1957
From the History of Durham group on Facebook comes this photo of Durham County's first pumper, which was wrecked in 1957. The accident occured at the corner of Trinity Avenue and North Mangum Street, at Dodson's Esso service station. Click to enlarge:



The apparatus was a 1948 Mack pumper, bought by the county and housed at Durham Station 1. Was staffed by Durham firefighters and probably cross-staffed from the other city companies. The truck carried 600 gallons of water. Don't know the pump capacity. Was called a "booster truck" in the city's 1955 report by the National Board of Fire Underwriters.
My notes say same was later used as a tanker, which seems to indicate the truck was repaired after the accident. Here's a picture from the Durham Fire Department history page on Facebook. Click to enlarge:


+ 9 - 5 | § ¶
Cornelius-Lemley Orders Seagrave Tiller
From this Seagrave Carolina Facebook posting comes these preliminary drawings of a Seagrave Marauder II 100-foot tractor-drawn aerial ladder that's been ordered by the Cornelius-Lemley Fire Department in Mecklenburg County. The department currently operates a 1989 Seagrave tiller that formerly served the Richmond and Bedford fire departments in Virginia. It was acquired in 2008 and operates as Hook and Ladder 44. The apparatus is but one of a handful of tillers operating in North or South Carolina. Click to enlarge:


+ 9 - 4 | § ¶
Vintage Photo of Fayetteville's 1960 Ford/Howe Pumper
From the SPAAMFAA group on Facebook comes this vintage photo from the collection of Scott Mattson. Fayetteville's 1960 Ford C/Howe pumper, 750 GPM. Served as Engine 4. Undated image. Love the wooden chock block. See original posting by Scott. Or read more about Fayetteville's apparatus over the years, in these fleet histories. Click to enlarge:


+ 6 - 4 | § ¶
February's Working Fires
The month of February saw quite a few working fires in the Capital City. By my tally, they were:


Date
Address
Structure
First Arriving
Notes
1
Feb. 3
717 Merrywood Drive
Duplex
Engine 3
2
Feb. 5
3200 Verdugo Drive
House
Engine 10
3
Feb. 6
1018 Early Rise Street
House
Engine 10
See photos.
4
Feb. 6
3105 Julian Drive
House
Engine 11
See photos.
5
Feb. 7
109 Pineland Circle
House
Squad 14
See photos.
6
Feb. 16
5933 Carmel Lane
House
Engine 15
Originally as fire alarm.
7
Feb. 17
5105 Country Trail
Leesville Community Library
Engine 23
Originally as fire alarm.
8
Feb. 19
7650 Pangea Lane
Apartments
Engine 22
9
Feb. 20
3856 Cane Garden Drive
House
Engine 26
10
Feb. 21
3312 Atlantic Avenue
Duplex
Engine 11
11
Feb. 21
2320 Clark Avenue
Apartments
Engine 5
12
Feb. 22
1201 S. East Street
Apartments
Engine 3
13
Feb. 22
701 Gannet Street
Former nursery, now dwelling
Engine 8
Originally as smoke investigation.
See photos.
14
Feb. 26
119 Lord Ashley Road
House
Squad 7
Originally as fire alarm.
See photos.
15
Feb. 26
6204 Dresden Lane
House
Engine 16
16
Feb. 27
8249 Marshall Brae Drive
Dwelling
Engine 28
January was busy also, with thirteen working fires by my count. December was fewer, as were prior months. Don't have counts, alas.
March has started strong, with two today (so far).