+ 18 - 13 | § ¶
History Week
For travel during the holidays, Mr. Blogger has been visiting libraries and local history rooms therein. So far he's travelled to Burlington, Durham, Fayetteville, Greensboro, and Winston-Salem. (Plus Wilson Library's North Carolina Collection at UNC.)
Unlike Raleigh, however, which has its local history collection in a small branch library, the others are at main libraries. Which are smack downtown, and which has made for some interesting people watching. Bus terminals, train stations, and public libraries. The true cross-section of America.
There was even some guy walking around in a short-sleeved Hawaiian shirt!
What is Mike researching? General fire history for North Carolina, plus any new bits about both city and county departments. Sure, it's more scratching the surface than anything, but it's a heck of a fun diversion. Some of what was found, and what'll largely be shared over time, includes:
Black firefighter histories in Durham and Fayetteville
By-Laws of the Greensboro Volunteer Fire Department (1909)
Charlotte Observer history of fire horses in North Carolina (1966)
Civil Defense in North Carolina (Planning Guide, 1956)
Constitution and By-Laws of West End Hose Company of Greensboro
Durham Public Safety Department: A Comprehensive Analysis (1985)
Durham County Volunteer Firefighter's Association booklet, with histories and photos (1988)
Fayetteville Observer anniversary account of 1831 conflagration (1966)
Fire Ordinance and Building Law for the City of Greensboro (1900)
Forsyth County Volunteer Firemen's Association booklets, with histories and photos (1985, 1990)
The Gamewell Fire alarm Telegraph System: An Untold Story by Paul B. Calhoun in Greensboro
Greensboro Fire Department Training Center Open House Program (1956)
Hose & Nozzle articles (1950s-1970s)
National Board of Fire Underwriters Reports for Durham, Fayetteville, Greensboro, and Winston-Salem (1940s-1950s)
Nash County architecture book, with old Nashville and old Rocky Mount Station 2 photos and information.
Newspaper clippings a-plenty
News & Observer anniversary account of Great New Bern Fire (1930)
North Carolina Fire Chief's Association History (1951)
North Carolina Department of Insurance publications (1910s)
Phone book listings for fire departments in Fayetteville, Greensboro (1950s)
Report of Fire-Police Cooperation, Winston-Salem (1958)
Thirty Years of Firefighting in Catawba County (1988)
Winston-Salem Fire Department Annual Report, 1962
+ 15 - 9 | § ¶
Vests Are Good
Saw this during our holiday travels. That's a patrol car stopping traffic on a four-lane highway, with two officers in dark uniforms (and flashlights) clearing debris from the roadway. The night was, the traffic was light. Drivers were attentive and had pulled to the right and stopped. Call this a safety alert, if you like, with location and agency concealed. Mostly it was surprising. Seeing just a single vehicle blocking traffic and with neither cones nor vests in, um, sight.


+ 18 - 10 | § ¶
Tank Farm Fires?
Random historical question. What tank farm fires have occurred in North Carolina? Lightning started one on Radio Island in Carteret County in the early 1980s, if memory serves. Have there been others? Heck, how many tank farms are present in North Carolina?
+ 15 - 13 | § ¶
Belmont Firefighter Dies at Station
FireNews reported yesterday that Belmont Fire Department Firefighter Richard Adam Miller collapsed and died on duty on Tuesday. The 24 year-old career firefighter was participating in physical fitness training at the department's headquarters, Gaston County Station 43. He was reportedly on a treadmill at the time he collapsed. He was transported to Gaston Memorial Hospital where he later died.
Miller, a career member since August 2009, was also a Lieutenant with Millers Creek Fire Department in Wilkes County. He is survived by his mother, father, and one brother. Preliminary arrangements have also been posted. The wake will be Friday night, January 1. The memorial service will be 11:00 a.m., Saturday, January 2. All services will be held in the Miller Creek area. Read the FireNews article. Miller's passing is also reported by the Gaston Gazette.

Gaston Gazette Photo
+ 15 - 11 | § ¶
Former Wendell Fire Chief Featured
From a reader, former Wendell Fire Chief Dover Hinton is featured in this week's Eastern Wake News. Hinton, who came to town in 1936 as a young man looking for work, began his career as a grocer. After serving in World War II, he owned and operated a cleaners for nearly 38 years. He served in the fire department-- joining in the day when car and truck-drawn hose reels were still used1-- and later became the department's third chief. He also served on the town's Board of Commissioners. He is 97 years old. Read the nice article.


Wendell Fire Department Photo

1The Wendell Fire Department was one of the county's early "town" fire departments, along with Apex, Cary, Fuquay Springs, Wake Forest, and Zebulon. They also had one of only three electric telegraph fire alarm systems in the county, along with Raleigh and Wake Forest. Read some history that Mr. Blogger compiled some years back.
+ 14 - 11 | § ¶
Ambulance and Fire Engine
EMS 15 and Engine 12 on Trawick Road just north of New Bern Avenue, and prior to the arrival of the second EMS unit. Three people transported.


+ 11 - 7 | § ¶
Vanished Raleigh
Here's a really special treat. The Elizabeth Reid Murray Collection at the Olivia Raney Local History Library includes a collection of slides that Ms. Murray photographed, predominently in the 1960s and 1970s. They number some 4,500 images, most of which are structures and places around Raleigh and Wake County.
The slides have been digitized, but you have to both (a.) visit the library and (b.) bring a laptop to view individual images. There's also a paper index of thumbnails that you can browse at the branch. The library is working to improve access to the digitized images, however.
Yours Truly has copied a couple dozen images, and created a web site for them called Vanished Raleigh. The images are all copyrighted and courtesy of the collection and the library. Do you like the site, and the images therein? Maybe I can add a few more of my favorites. Click any image below to access:

+ 13 - 8 | § ¶
Mystery Apparatus
What do sheep say to shepherds at Christmas time? Season's Bleatings! How do sheep say Merry Christmas in Mexico? Fleece Navidad! What's red, white, and blue at Christmas? A sad candy cane!


+ 12 - 10 | § ¶
Mobile Command Center
Saw this mobile command center at the Cape Fear Valley EMS fleet maintenance (?) center in downtown Fayetteville. Was in a hurry and didn't take other pics of the various transport units, and a couple support vehicles that were also there.


+ 13 - 6 | § ¶
Visitor Parking
Found while passing through Fayetteville yesterday, the old training tower is presently serving as visitor parking for the next-door Cape Fear Botanical Gardens. And also a disposal site for Christmas trees. Readers, can you advise the history of the tower, as well as the current training center?


+ 10 - 9 | § ¶
Sunday's House Fire in Raleigh
WTVD has posted a number of strong shots from Sunday morning's house fire in very north Raleigh. The reader-submitted photos show conditions right after Engine 28 arrived at 3713 Blue Blossom Drive. They were originally dispatched with Ladder 5 as a fire alarm about 1:45 a.m. The incident was upgraded shortly after the fire alarm dispatch. Arriving units found the garage fully involved at a two-story, wood-frame dwelling with 1,956 square feet. Ladder 5 was deployed, and helped extinguished the fire that had spread into the attic space. The fire was controlled at 2:34 a.m. Three people were displaced. Units on scene included E28, E22, E27 for relief, L5, L2, R1, B1, C10, C20, A1, New Hope E8, E3, R14, Tanker 10, EMS 64, EMS 5, D3. See more photos by Gary Mazzeo. Good shots!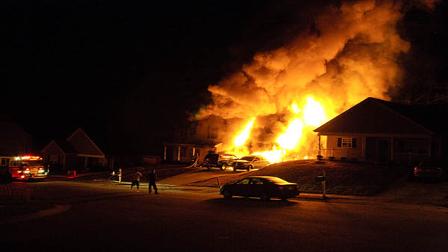 Gary Mazzeo/WTVD photo
+ 13 - 7 | § ¶
Raleigh's Biggest Fires?
For years, Mr. Blogger has been creating and expanding an extensive history of the Raleigh Fire Department. That is, a web site with everything you wanted to know about RFD. That is, except for a list of fires. Though there are essays on the Yarborough House and early mutual aid calls, there are no special features about the city's biggest fires. No simple list. No annotated map. (However, the site has decade-by-decade timelines, and with extensive per-major fire information. It's just not compiled.)
The question of "what have been Raleigh's biggest fires" has been haunting History Boy for some years now. Sure, historical examples are easy enough to cite. In fact, he's added a decade-by-decade presentation on the topic to his History of the Raleigh Fire Department talk. That's the one delivered to new recruits, and at sundry historical appearances.
Why is a list of "big ones" so daunting? For starters, the big basket of information contains more than just apples. What's the criteria for a major fire? Metrics can include property loss, personnel on scene, apparatus on scene, hours on scene, and alarm levels. For fires in the last couple decades, alarm levels is a good starting point. Two alarms or higher is a good indication that the fire was probably a "big one." Such as:
2007 - Pine Knoll Townes - 6 alarms [ Updated from 5 alarms ]
1990 - Wake County Courthouse - 4 alarms
1993 - 2654 S. Saunders Street - Shelton's Furniture Co. - 4
1993 - 3114 Kings Court - Gorman Crossings Apartments - 4
1988 - Fairview Road - Piggly Wiggly - 3 alarms
1988 - Fairview Road - Hayes Barton Cleaners - 3
1991 - 3939 Colby Drive - Montecito Apartments - 3
1992 - 6205 Waterside Lane - 3
1992 - 600 S. Bloodworth Street - Institute for Cosmetology Building - 3
1992 - 206 Loft Lane - Apartments - 3
1992 - 718 N. Person Street - IGA Grocery Store - 3
1993 - 3911 Beryl Road - Martin Architectural Building Products - 3
1993 - 1300 Kirkland Road - Business - 3
1993 - Daniels Street - Bryan Building - 3
1994 - Crown Court - Crown Court Apartments - 3
1994 - 1600 S. Saunders Street - Caraleigh Furniture Warehouse - 3
1996 - 4004 Twickenham Court - Village of Pickwick Apartments - 3
1998 - Falls of Neuse Road - Quail Corners Shopping Center - 3
1999 - 601 Creekside Drive - 3
2000 - Wycliff Road - Meredith Village Apartments - 3
2002 - 115 Salem Circle - North Hills Terrace Apartments - 3
2003 - 2815 Capital Boulevard - Old Holiday Inn - 3
2003 - 201 Penmarc Drive - 3
2004 - 3101 Kings Court - 3
2004 - 214 E. Martin Street - Greenshields Pub - 3
2004 - 1400 Diggs Drive - 3
2006 - 2200 Banks Hill Row - 3
2006 – 544 Rose Lane - 3
2007 - 3833 Bonneville Court - 3
2007 - 1201 Trillium Circle - 3
2007 - 6904 River Run - 3
2008 - 1022 Hammel Drive - 3
2009 - 1316 S. Blount Street - 3
But go back farther, or perhaps further, and alarm levels then don't equal alarm levels now. In the 1960s and 1970s, structure fires might bring as little as two engines and a ladder on the initial dispatch. Second alarms, as they might be called in news reports or even official records, might be just an extra engine, or another engine and ladder.
READ MORE
+ 9 - 8 | § ¶
Cistern Unearthed, 1976
In January 1976, work was underway on Fayetteville Street to realign a sewer pipe in preparation for construction of the pedestrian mall. At the intersection of Fayetteville and Davie streets, workers uncovered a 19th century cistern originally used for firefighting. The January 27 issue of the News & Observer reported that the "large brick cavity" measured "about 16 feet deep, eight to 10 feet wide and 24 feet long" and was "divided into four separate compartments connected to the bottom with archways." The construction of the cistern was brick, with granite cover material.
The cisterns contents-- sludge and water-- were pumped out, and the thing was filled with sand. Workers had found other surprises, such as trolley tracks under another section of Fayetteville Street. The city's trolleys operated from the 1880s until the 1930s. More recently, trolley tracks were uncovered under Hillsborough Street, as this Goodnight Raleigh blog entry notes.
Wake County historian Elizabeth Reid Murray-- who was named Elizabeth Davis at the time-- photographed the cistern. These scans of slides appear courtesy of the Elizabeth Reid Murray Collection at Olivia Raney Local History Library. She also wrote an article for the March 2, 1976, issue of the Raleigh Times, confirming the cistern presence and telling about its history. Click to enlarge:


Courtesy Elizabeth Reid Murray Collection,
Olivia Raney Local History Library, Raleigh
READ MORE
+ 11 - 6 | § ¶
Deluge Trailer / Air Trailer
Pair of photos from Hose & Nozzle magazine. Left is a deluge trailer from Greensboro, 1955. Right is a lighting and air trailer from Forsyth County, 1971. The latter was built on a military (?) surplus trailer and carried six air tanks and a lighting generator. It was available for major fires in both the city and county. What specality trailers have you seen in your day? Send pictures! Click to enlarge:


+ 11 - 6 | § ¶
Deluge Trailer / Air Trailer
Pair of photos from Hose & Nozzle magazine. Left is a deluge trailer from Greensboro, 1955. Right is a lighting and air trailer from Forsyth County, 1971. The latter was built on a military (?) surplus trailer and carried six air tanks and a lighting generator. It was available for major fires in both the city and county. What specality trailers have you seen in your day? Send pictures! Click to enlarge:


+ 14 - 4 | § ¶
Yesterday's Ambulance Accident in Johnston County
WTSB radio has posted details and pictures of yesterday's ambulance accident involving a 50-210 Fire Department unit. The ambulance was struck by an automobile and then hit a sport utility vehicle about 3:30 p.m. at the intersection of Highway 210 and Old Fairground Road. The EMS unit was responding to a vehicle accident on Old Fairgrounds Road. The three EMS workers were transported to WakeMed in Raleigh. Three others were also transported, including one extricated by 50-210 firefighters. None of the injuries were believed life-threatening. FireNews also has posted a photo, along with the WRAL story.

WTSB photo
+ 10 - 9 | § ¶
More Mystery History
Here's another memory of older Raleigh. Who remembers this structure? Tell about it. The picture appears courtesy of the Elizabeth Reid Murray Collection at Olivia Raney Local History library. More about that collection still later.


Correct, that's one of the old gas tanks on Cabarrus. Here's a Sanborn map image from 1950. Click to enlarge:
+ 9 - 5 | § ¶
Mystery History (Updated)
Ready the wayback machine! What and where was this Raleigh structure? Photo circa 1971. This image appears courtesy of the Elizabeth Reid Murray Collection at Olivia Raney Local History library. More about that fantastic collection, and images therein, later.



Here's the answer:


+ 13 - 10 | § ¶
History Bits
Random fire department facts, found in recent research and notably those handy Hose & Nozzle back issues.
American LaFrance-Foamite Corporation advertised having a representative in Asheville in the Hose & Nozzle issues in 1952. Ads for Howe and Oren ("The south's only fire truck manufacturer") were also placed.

Burgaw Volunteer Fire Department changed its name to Pender Central Fire Department by June 1971. They either reverted back, or formed a second department, as BFD appears to exist today.

East Spencer moved into a new station by April 1968, relocating from their Henderson Street station to the town garage on Spencer Street. They answered 27 (!) alarms in 1967. Read some early history of ESFD and their black firefighters.

Eureka Fire Hose advertised in September 1952. Located in Charlotte, their manager was Sherwood Brockwell Jr. Son of the state's longtime fire marshal.

Motorola Communications & Electronics Inc. announced its moving in May 1953 from the Capital Club Building in Raleigh to East Trinity Avenue Extension in Durham.

Mt. Airy was building a new fire station in September 1952. Cement block building, 40 by 50 feet, built with community labor and donations. And to be used for recreation and community activities.
READ MORE
+ 12 - 5 | § ¶
Christmas Day in the Morning
Happy holidays from ours to yours. Thanks for your gift of service. Thanks for my gift, your support of my service. What's happening at your station on Christmas Day? Feel free to post.
At Blog Central, we're settled in with pajamas and presents. And probably more blogging. The morning excursion found Waffle House hopping on Capital. Standing room only as the Chipmunks crooned on the juke.
Here's Engine 11 arriving at a car fire on Hodges Street a couple hours ago. Hopefully there won't many be blue Christmases today.

+ 12 - 5 | § ¶
Christmas Day in the Morning
Happy holidays from ours to yours. Thanks for your gift of service. Thanks for my gift, your support of my service. What's happening at your station on Christmas Day? Feel free to post.
At Blog Central, we're settled in with pajamas and presents. And probably more blogging. The morning excursion found Waffle House hopping on Capital. Standing room only as the Chipmunks crooned on the juke.
Here's Engine 11 arriving at a car fire on Hodges Street a couple hours ago. Hopefully there won't many be blue Christmases today.

+ 14 - 7 | § ¶
Description of New Greensboro Engine, 1955
Speaking of pumps, pumpers, and specifications, here's a description of Greensboro's newly delivered 1955 Oren that the fire department provided to The Hose & Nozzle, and which was printed in the June issue. The Greensboro Fire Department was profiled in that issue. This might be the most detailed description that we've found in our research, for engines delivered either locally or around the state. Click to enlarge pics:


We would be very happy to have a photograph and caption run in the Hose and Nozzle of our new Oren pumper. It is the most powerful pumper in the South and there is only one more powerful in the country, located in Minneapolis, Minnesota.
It is powered by a 300 horsepower Continental Engine that provides rapid acceleration, and top road speeds far in excess of normal requirements are possible. Forty degree double cam and lever steering permits easy handling in modern traffic conditions.
READ MORE
+ 14 - 7 | § ¶
Chapel Hill Fire Department at the Chapel Hill Museum
Returning from Greensboro, Mr. Blogger paid a visit to the Chapel Hill Museum at 523 East Franklin Street and its fine fire department display1.The centerpiece is a 1914 Ford Model T hose car, the town's first fire engine. The museum's had that truck for some time, and added a permanent exhibit on the history of the fire department in August 2007.
The multimedia exhibit includes a documentary film featuring interviews with retired firefighters, a timeline of the department's history, and numerous artifacts. As this press release on FireNews reported
, the exhibit was designed and curated as a collaboration between CHFD First Sergeant Chris Bradley and museum director Traci Davenport. Alas, the museum was closing as these pictures were taken. Good excuse for a return visit!



1Note the effectiveness of the display within a relatively small space. Thinking about a historical display for your fire department? Lots can be done with minimal space. Here's what Fayetteville's history room looks like. Er, what it did look like, a couple years ago.
+ 8 - 9 | § ¶
Nuclear Nightmares
The Independent Weekly wraps the year with a story on stories. Project Censored: The Top Ten Stories Not Brought To You by Mainstream News Media in 2009, which appeared in yesterday's issue. The Project Censored group has spent 13 years spotlighting the most significant new stories that the mainstream press has largely ignored or misrepresented.
One such story is about the radioactive-waste storage pools at the Harris plant and the hidden fire risks therein. The Independent Weekly's source is Project Censored, whose source is a CounterPunch article from 2008.
Radiation plus fire. That gets anyone's attention, or at least the guys and gals responding to the thing. How's the science behind the doomsday scenario? Don't know. There's a lot of politics and passion involved in perspectives on nuclear power. Even a discussion of the subject begs a question.
Can we talk about such scenarios and still be socially responsible? What happens when fire service person publicly opine on such topics? Seems like of all possible sensitive topics, this might be the granddaddy.
+ 13 - 12 | § ¶
Special Operations
Parked behind Greensboro Fire Station 5 at 1401 Westover Terrace, which houses Engine 5, Rescue 5, and a tractor-drawn USAR unit. The Greensboro Fire Department operates NC USAR Task Force 6. There might be other goodies parked in the rear, as well. And there's still snow on the ground, as well! Click to enlarge:


+ 13 - 10 | § ¶
Bessemer Fire Department
We're still trying to crack the nut of the Bessemer Fire Department in Guilford County, likely the county's first rural department, and one of the state's first. Today's trip to the Greensboro Public Library added a few more facts. Here's what's known. They protected the unincorporated community of Bessemer, on the east side of the city.
They operated from around 1945 to around 1958. Their one-story, concrete-block station at 610 Elwell Avenue was operational by 1950. That year, say Sanborn Maps, the volunteer department had a Chief, Asst. Chief, Captain, 31 men, a "station man" on duty at all times, alarms sounded by telephone, and a 1942 Chevrolet/American 500/200 pumper as apparatus. The building was built in 1940, say tax records.
What happened after about 1958? Don't know, but nearby District 14 Fire Department had formed in 1954. They were located-- or later located-- at 820 Franklin Boulevard, merely 1.6 miles away. Perhap the older department became part of the newer department? District 14 FD merged with Greensboro FD in 2005. Their old station is now GFD Station 56.
Here's the old Bessemer fire station, now a barber shop and beauty salon. The identity of the pictured patron is not known.

+ 10 - 9 | § ¶
Round and Round
Raleigh's first roundabout on a major road opened yesterday, reports today's News & Observer. The big circle is part of a $9.9 million project that's the first phase of a Hillsborough Street renovation. A second roundabout just north on Oberlin Road opened a few weeks ago. Only one lane is open on the Hillsborough Street circle, but the whole thing should be completed by the summer. And they're ahead of schedule! Ted Richardson took this nifty photo at dusk:



Ted Richardson/News & Observer photo
+ 9 - 5 | § ¶
Usability
Everything can be improved. This electronic card was purchased on December 11, during a library visit. Mr. Blogger read the expiration date of 12/13 and thought, okay, it's a two-day card. Inconvenient, but not a problem. He made a couple back-and-forth trips to the machine, adding more money as he made more copies. Didn't want leftover cash expiring in two days.
On Sunday, he went back to the library. He bought another card, because the last one had expired, right? But the new card showed the same date. Okay, 12/13 means the card expires in four years. That's better, but still not the best. Ideally, the thing should read "Expires 12/2013" or even "Expires Dec 2013." Everything can be improved.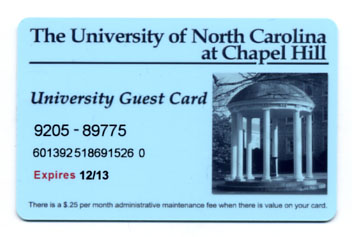 + 8 - 7 | § ¶
More About Cary's New Engines
Two 2009 Pierce Velocity pumpers, each with 1,500 GPM Waterous, single-stage pump; 500-gallon water tank; Husky 12 foam system with 30-gallon Class A and 25-gallon Class B foam cells; Detroit Series 60, 515 HP engine; Allison 6 speed transmission; TAK-4 suspension; front and side air bags; seat-belt monitoring system; Harrison 8 KW hydraulic generator; Whelen light package; LED compartment lighting; backboard compartment on hose bed cover; lights on hose bed cover; through-tank ladder storage; speedlays, the first for Cary pumpers. Expected in service in late January. See more photos by Legeros.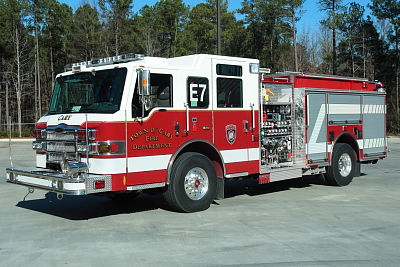 + 12 - 2 | § ¶
Surplus Equipment, 1970
Contact your local Civil Defense director. From Hose & Nozzle magazine, January-February 1970. Click to enlarge:


+ 9 - 4 | § ¶
Feasibility of Police-Fire Consolidation in Gastonia, 1976
'Tis indeed the season for history here at Blog Central. From the North Carolina Collection at Wilson Library at the University of North Carolina comes this Report to the Manager: Feasibility of Police-Fire Consolidation in the City of Gastonia. Dated June 1976, the document presents perspectives on new programs to "maximize the manpower of both the police and fire departments" and thus increase their service levels.
The 35-page report is a nifty snapshot into public safety programs, which had their heyday in the 1970s. Some 125 municipalities around the country were using them by 1976. The report lists different types of public safety programs. There's also an fascinating "fact sheet" based on Durham's experiences with the program, as well as case studies of both Peoria, IL, and Boulder, CO.
From then to now, cities and towns that have utilized public safety officers-- personnel performing both police and fire duties-- have included Butner (still active), Chapel Hill, Durham, Knightdale (still active), Morganton (still active), Washington, and Winston-Salem. Who else?
Did Gastonia adopt the program? Don't know.
Read the document
(PDF, 2.9M)
+ 8 - 8 | § ¶
Firefighters Struck on Interstate in Buncombe County
FireNews reports that the Asheville Citizen-Times reports that two Enka-Candler firefighters were injured on Interstate 40 last night. They were working at an accident scene at mile marker 46, near the junction of I-240, when they were struck by another car. The firefighters were hospitalized, but the extent of their injuries had not yet been reported.
+ 9 - 5 | § ¶
Raleigh City Council Faces Vote on Public Safety Center
Today's News & Observer talks about the January 5 meeting of the Raleigh City Council, where they're decide to proceed with construction of the Clarence E. Lightner Public Safety Center. The price tag of $205 million, making the building the city's most expensive, means a likely property tax increase for funding. Giving the green light means good and bad. Construction costs and interest rates are down. As is the economy, which presumably won't be helped by higher taxes1.
The 17-story, 300,000 square-foot building will place the city's fire, police, emergency communications, traffic operations, and IT departments under one roof. The city has already spent over $20.8 million on associated costs, including design work and purchasing two buildings to temporarily relocate police operations. The new building will be located on the site of the present police station at the corner of Hargett and McDowell streets. Read the entire article.


News & Observer/Klingstubbins image


1This blogger is neither an economist nor plays one on television. Is that an accurate statement of mine about the impact of higher taxes?
+ 7 - 8 | § ¶
Hillsborough Fire Department History?
Closer to home, let's ponder the history of the Hillsborough Fire Department. They were originally named Hillsboro FD, and appear in NCSFA rosters as early as 1930. There was no fire department in 1924, as Sanborn Maps indicate. The town name was also shorter.
By 1943, says Sanborn, the volunteer department had a chief, asst. chief, and 18 men. Their apparatus was a 1937 Chevrolet/Barton 500/100. The fire alarm was electric siren. The fire station was located on or near the northwest corner of King and Churton streets.
HFD appears in NCSFA rosters through at least 1995. Then what happened? The town today is protected by Orange Rural Fire Department, which was organized in 19681. They moved into an old car dealership on South Churton Street in 1976, which the town purchased for their use. ORFD added paid personnel in 1996 and started providing 24/7 paid coverage one year later. Read their history.
What happened then to the Hillsborough Fire Department? Readers, please expand accordingly.
1The March-April 1968 issue of Hose & Nozzle magazine further muddies this history. That year, leading citizens launched plans to create a volunteer fire department to replace the "present 17-year old system." The proposed coverage area extended several miles from town. And the current Hillsborough Rural Fire Department would continue to respond to outside calls.
+ 11 - 6 | § ¶
Spray Fire Department, 1955
Speaking of what were once called the Tri-Cities in Rockingham County, Hose & Nozzle magazine featured the Spray Fire Department their October 1955 issue. They were formed in 1950 as a community effort to promote fire protection. In 1951 the town was incorporated, and the private corporation fire department turned over its apparatus and equipment.
By 1955, they had two stations sitting next to each other. Both were built by firemen, one funded by public subscription, and the other using town-furnished materials. Though the article doesn't say so, these were probably serving separate town and rural districts.
Apparatus consisted of a 1954 American LaFrance pumper, 750/150, with 1,250 feet of 2 1/2-inch hose, 300 feet of 1 1/2-inch hose, 150 feet of booster hose; and a 1947 Ford pumper with a second Chrysler engine powering a 500 GPM pump and equipped with a 1,000 gallon water tank. Other equipment included two air packs, and two-way radios on each truck.
READ MORE
+ 12 - 6 | § ¶
Draper Chemical Car, 1955
The October 1955 issue of Hose & Nozzle magazine featured this picture of a 1919 Ford Model "T" / American LaFrance chemical car that appears to be the first fire truck of the Draper Fire Department. They were organized in 1948 as a private corporation, the magazine notes, protecting a community of approximately 4,000 people. Draper was incorporated as a town in 1949, and the fire department turned over its assets to the town in 1953, but still retained some influence.
In 1955, the department had 27 men, including two paid personnel, and a 1948 Chevrolet / Oren pumper as the primary engine. Another photos shows a utility panel van in the fleet. Draper Fire Department merged with Leaksville and Spray fire departments to form Eden FD, after the communities merged in 1967. Click to enlarge:


+ 7 - 9 | § ¶
Cary's New Engines
Two Pierce Velocity 1500/500/30 pumpers were delivered to the Cary Fire Department today. Below is the factory pic. Better shots and specs forthcoming.


+ 11 - 8 | § ¶
Dog Plays Smoke Detector, Saves Family in Zebulon
Death didn't collect four clients in Zebulon this morning, after the family dog alerted the father of three children that their house was on fire. As this WRAL story reports, the residence at 515 Derby Place did not have working smoke detectors. The family of four was asleep around 3:45 a.m. when the fire started. The father was awakened by the dog, Maggie, as the house was filling with smoke. The four escaped without injury, but their home was rendered unlivable. Read the story, then get cracking on checking your smoke detectors.
+ 8 - 6 | § ¶
How To Organize a Volunteer Fire Department, 1970
From the March-April 1970 edition of Hose & Nozzle magazine, and as prepared by the North Carolina Fire Insurance Rating Bureau.
1. Have a meeting of interested persons.

2. Elect a steering committee.

3. Decide whether to form a tax district (G.S. 69-25) or public subscription district (G.S. 153.9 (39)). Consult county attorney.

4. Decide best location for fire station.

5. Measure on automobile speedometer 3 miles distance on each road from fire station location.
READ MORE
+ 10 - 4 | § ¶
Westarea Station 10 to Close in Cumberland County
FireNews has surfaced a Fayetteville Observer article on the planned closure of a Cumberland County fire station. Westarea Fire Department Station 10 at 4820 Rosehill Road will close on December 31. The department's board has determined that maintaining the station is not feasible, reports the Observer. Once the station closes, the area will be protected by county contract with the Fayetteville Fire Department. The closure leaves WFD with two other stations. Read the article, which includes a number of interesting reader comments.
+ 10 - 7 | § ¶
Describe This Smoke
Surrounded by scanners at home, at work, and in the car, Mr. Blogger listens to a lot of fires. Or at least as many workers as happen in Raleigh and Wake County. And with each working fire comes at least one description of smoke conditions. Might be arriving units. Might be command. The most popular adjectives are probably "heavy" and "thick." Below is a random smoke shot. How would you describe it? And how does your description differentiate from other types of smoke conditions? Share your vocabulary. Have a vowel movement.


+ 12 - 10 | § ¶
Sanford Station 2, 1955
From the October 1955 issue of Hose & Nozzle magazine comes this 1950 Mack pumper pictured at Sanford Station 2 at 1300 S. Horner Boulevard. An accompanying articles says SFD had four paid and 29 volunteer members. Station 1 housed a 1945 American LaFrance quad and a 1925 ALF pumper. Station 2 housed the Mack and an ALF reserve unit. The city had 88 street boxes, and locations were announced by air horn. The full-time drivers proceeded to the scene, and were met by the arriving firemen. Click to enlarge:


Station 2 was built in 1948 and relocated in 1977 to 2220 Woodland Avenue. The old station presently serves as an antique store. Here's what it looked like a couple years ago:

+ 11 - 9 | § ¶
Apparatus Deliveries, 1971
Here's another historical treat, from the November-December 1971 issue of Hose & Nozzle magazine. Darley and Bean apparatus deliveries from around North Carolina. Wonder who the dealer was? Our own Wake-New Hope FD is pictured. And two of the departments are since defunct: Western Carolina University and Yadkin Road. Click once or twice to enlarge:


+ 9 - 9 | § ¶
Mystery Building
We're overdue for mystery photos. Recognize this building in Raleigh?



Here's a second image, to help things along...

+ 11 - 7 | § ¶
Firematic Flea Market in Review
Last month, the first firematic flea market in our area was attempted as part of an anniversary celebration at Western Wake Fire Rescue. The event was scheduled from 10 a.m. to 2 p.m., with the ceremony at high noon. The flea market lasted a solid four hours. How did it go? It was a wee success.
There were a handful of vendors, including Mr. Blogger. One seller brought a trailer-based apparel booth. Two sellers brought a bunch of antique and old equipment, including signs, extinguishers, light bars, and even a vintage stretcher!
One charter member of the Western Boulevard Fire Department brought a spotlight from the original WBFD engine! How cool is that?
Traffic was mild, maybe two or three dozen people browsing and buying. Some attended specifically for that portion of the day's events.
Who's ready for the next one? With a little more hype and a few more sellers, this could be a fun and perhaps regularly occurring feature in or around Wake County.
What's needed? First, a venue. Second, a sponsor. Third, some people. Well, and smart scheduling. Seasonable weather, no competing events, etc.
Any takers?
+ 12 - 10 | § ¶
Caption This Photo
Taken with Lee's camera at the Explorer banquet a couple weeks ago:

+ 9 - 8 | § ¶
1972 Mack For Sale
From a reader, here's a 1972 Mack CF pumper for sale in Charlotte. Pretty cheap, it seems. Six-cylinder turbo diesel. Bright yellow paint scheme. You know you want one. Read the listing.


+ 13 - 6 | § ¶
Wilmington Fire Boat, 1956
The cover of Hose & Nozzle magazine, July 1956, featured this photo of Wilmington's fire boat Atlantic. The magazine also included a feature on the Wilmington Fire Department, which tells that the boat was built in Brownsville, Texas, in 1943, for "government patrol duty." The city acquired same in 1949, and the craft was "literally stripped" in conversion to a fireboat.
The specs: 65-foot wood hull. 230 HP Superior diesel engine. 44-inch propeller with 36-inch pitch. Two Mack 150 HP gasoline marine engines driving two 1,000 GPM two-stage Hale pumps. Capacity in excess of 2,500 GPM. Pump delivered through headers to eight 2 1/2-inch outlets, plus two tower-mounted deluge guns. The tower nozzles had "full transverse and elevation controls."
At one time, the boat answered within a district, as any engine company did. By 1956, it was special-called. The pilot was kept on duty at the dock station house. When he received an alarm, he "warm[ed] the engines, [took] aboard two men from a land company to serve as deckhand and engineer, and report[ed] to the scene of the fire."
Wilmington's first fire boat, the original Atlantic, was placed in service in 1907. It consisted of the boiler and pump from a steam fire engine in a wooden craft and propelled by a two-cylinder Globe gasoline engine. Speed of 8 miles per hour. Atlantic II was placed in service in 1914. The below boat was thus named Atlantic III. Click to enlarge:


+ 12 - 5 | § ¶
Newport Fire Department, 1956
From Hose & Nozzle magazine, April 1956. Caption reads "Newport, N.C. firemen demonstrate their 1,200 gallon tanker, reworked from an Army-surplus gas truck." And to which the editor adds that other departments are in the process of rebuilding the same types of surplus equipment. Indeed, we saw nearly identical trucks in Wake County, on the rosters of the Cary and Sixk Forks Road fire departments. 'Twas the first rural fire apparatus for many departments at the time. Click to enlarge:


+ 8 - 5 | § ¶
History and Skeletons
Found a couple photos of apparatus accidents from the 1950s and 1960s. They're from departments in North Carolina, and depict atypical accidents. Ladder truck tipped over. Bridge broken by another ladder truck. Neither resulted in fatalities, nor serious injuries. The photographs are compelling, and for a couple reasons. Historical perspective. Uniqueness of incident. But Mr. Blogger has stayed his hand.
His sympathetic side sees that even forty and fifty years out, these are still skeletons. At their time, the accidents were probably well known. Today, they're likely forgotten, except in the lore of the local department(s).
What's the value in presenting them today? Don't know. If we were, say, compiling a book on the history of firefighting in the state, such pictures would be part of the mosaic. As incidental (ha) blog postings-- even in a season of heavy historical research-- they're far more out of context.
What's the statute of limitations on skeletons? And how useful is the occasional opening of closets containing same? It's a good question.
+ 9 - 6 | § ¶
Help Available For Charlotte, 1930
From the North Carolina Fire Prevention Bulletin, January 1930:
Help Available 15 Towns if Fire Hits Charlotte

Charlotte, in the event that the city fire department is rendered helpless by a conflagration such as might easily have resulted from the spectacular gasoline fire here during the past week, can call on 15 neighboring towns within an hour and half, which, coupled with Charlotte equipment, can shoot 60 streams of hose carrying 25,200,000 gallons of water on a fire a day.

Trucks from Mount Holly, Monroe, Concord, Gastonia, Rock Hill, Mooresville, Belmont, and Lincolnton can arrive within an hour, while it only takes a half-hour longer for the Wadesboro, Chester, Salisbury, Statesville, Hickory, Shelby, and Albemarle trucks, he said.
READ MORE
+ 5 - 6 | § ¶
Black Mountain Fire Aid, 1930
From the North Carolina Fire Prevention Bulletin, April 1930:
Fire Aid to Black Mountain Township

The Black Mountain Fire Department will be able to respond to alarms from almost any point in Black Mountain township if residents of the township cooperate with the department in putting into effect a plan worked out by the firemen during the past few weeks. The plan involves the purchase of a fast, light truck designed to operate over all roads in any weather, and equipped with a chemical outfit and emergency water pump particularly suited to conditions in the outlying country where water mains and hard surface roads are not available.
READ MORE
+ 11 - 2 | § ¶
Shoes
Footware from EMS 15 on Capital Boulevard at this morning's working fire at the Guitar Center. Engine 11 with heavy smoke showing from one-story metal commercial building with 15,641 square-feet. Built 1971. Fire found in the "recording room," as this WRAL story reports. The fire was contained to the room, but the rest of the building suffered significant smoke damage. That story also inaccurately reports that "thirteen fire engines" were on scene, and which have resulted in some colorful reader responses. Units on scene: E11, E19, E7, E9, L2, R1, B1, C10, C20, A1, EMS 15, EMS 16, D1, T1. Pics from Legeros coming.


+ 10 - 5 | § ¶
North Carolina Fire Prevention Bulletin, April 1931
For your Friday enjoyment, here's the April 1931 issue of the North Carolina Fire Prevention Bulletin. Same was a publication of the state Fire Prevention Bureau, part of the Department of Insurance. This copy was made at Wilson Library at the University of North Carolina, home of the North Carolina Collection. Click once or twice to enlarge:


+ 13 - 8 | § ¶
Med Sled Assists with Hospital Evacuations
Here's an interesting story from WRAL on the Med Sled, used at WakeMed as an emergency evacuation device. Ten of them are placed around the hospital. They are "rolled up like sleeping bags" and can be quickly deployed to slide patients down stairwells. They were obtained after evacuation drills conducted two years ago found that hospital beds wouldn't fit down stairwells. Read the story. Or learn more about the product on the Med Sled site.



WRAL photo
+ 11 - 8 | § ¶
Highland Hospital Fires
Firenews found this Citizen-Times story of a fire on the historic grounds of Highland Hospital in Asheville. Arriving units at the old hospice building Tuesday night found flames coming from the roof. The blaze was quickly extinguished with water cans, and contained to one corner of the roof. The building and the grounds were owned by Duke University until the 1980s, and presently serves as office and shopping space.


John Coutlakis/Citizen-Times Photo
Highland Hospital was named in 1912, having moved from a downtown location in 1909. The hospital was also the scene of a fatal fire that killed nine patients in 1948. That incident is one of three in the state's history that killed nine people, as happened in Charlotte (1940) and Maxton (1989). Only the Imperial Food Products fire in Hamlet (1991) has exceeded that number of fatalities, killing 25. Below is a quick summary of the 1948 fire in Asheville.


Courtesy University of North Carolina
On March 10, 1948 at 1:00 a.m., a fire alarm was received from the Highland Hospital campus on Zillicoa Street. Arriving units found the main hospital building heavily involved with fire. The four-story, wood-frame and stone structure was a sanatorium that treated patients with mental disorders. The windows were covered with bars, and the doors fortified with steel slabs. The arriving crews began both pulling lines, and attempting to rescue patients and staff.
READ MORE
+ 7 - 6 | § ¶
Close Call For Erwin Firefighters Caught in Flashover
Statter911 has surfaced several strong photos from a firefighter close call Monday morning at a house fire at 1105 Denim Drive in Erwin. Brian Haney snapped the shots and wrote the article for the Dunn Daily Record. Erwin firefighters Will Gregory and Michael Bradley were inside the 1,282 square-foot structure when they were caught in a flashover. They "tumbled out the front door, rolling on the porch," Haney writes. They were also on fire, as Haney's photos captured. Neither was injured, though their thermal imager's exterior was mostly melted. Dunn Emergency Services and Coats-Grove Fire Department were also on scene. Six family members were displaced by the blaze, which extensively damaged the structure. The house was built in 1920, say county real estate records. Read the Daily Record account. And see more photos on Statter911.

+ 12 - 7 | § ¶
AutoStitch
Found a good and insanely easy application for photo stitching the other day. AutoStitch, which has a free demo version available for Windows. Below is a panorama created from several shots from two days after the Pine Knoll Townes fire of February 2007. Needs a little sharpening, though. See an earlier version created using PhotoShop Elements. Click once or twice to enlage.


Updated with a second and more upbeat image. Here's a dam nice view from somewhere in western North Carolina. Can you name the place? Click once or twice to enlarge:


+ 9 - 5 | § ¶
Charlotte as Finalist for Social Media Responder of 2009
The Charlotte Fire Department is one of six finalists for Social Media Responder of 2009, an award sponsored by PIO Social Media Training. The other finalists are Bellevue PD, Chronicles of EMS, Eric Neitzel (Show Low, AZ), Los Angeles Fire, and Montgomery County Fire Rescue.
The Charlotte Fire Department has been actively engaged in social computing for some time, using numerous applications to communicate with the public, news media, fire service news media, and other emergency responders. They've set a high bar both regionally and nationally.
The CFD Office of Public Affairs is operated by Captain Rob Brisley and Captain Mark Basnight. Vote for them online at the awards site. You can vote once every 24 hours. The polls close at midnight on December 29.
Follow the Charlotte Fire Department on Twitter at http://www.twitter.com/CharlotteFD, or read their News and Information Blog at http://www.charlottefiredept.blogspot.com.
The Carolinas Fire Page mailing list passed along this information, which is reprinted nearly verbatim. Thanks to the original author.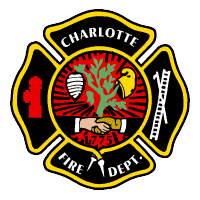 + 14 - 8 | § ¶
High Pressure Fog Fire Truck For Sale, 1955
Here's another Hose & Nozzle magazine excerpt, this time an advertisement for a "high pressure fog fire truck" circa 1955. Advertised as an airport crash truck with a heavy-duty piston-type pump and a 400 gallon tank, same is likely a military surplus unit. Probably or certainly 1940s. We can probably identify same at the excellent Fire Trucks at War web site. Raleigh-Durham Airport's first crash truck was one of those. Here are a couple pics. Click once or twice to enlarge:


+ 10 - 5 | § ¶
Kissinger Funeral Arrangements (Updated)
Updated with burial and parking information. Arrangements for Lt. Harry P. "Flip" Kissinger VI:
Visitation
Tuesday, December 15
6:00 to 10:00 p.m.
Richland Creek Community Church
3229 Burlington Mills Road, Wake Forest

Funeral
Wednesday, December 16
1:00 p.m.
Richland Creek Community Church

Burial
Following funeral
Pine Forest Cemetery
770 Stadium Drive, Wake Forest

Parking
No special parking for firefighter's personal vehicles. Prepare to be directed to general parking.
Regarding the procession, the Raleigh Fire Department is planning a modest tribute with Flip's engine company as the only participating apparatus.

Finally, a reminder that donations to the Kissinger family can be made at First Citizens Bank branch. Ask for the Kissinger Family Care Fund. The family is the sole beneficiary of all donations.
+ 10 - 8 | § ¶
Forsyth/Guilford County - Former Departments & Former/Historic Stations
Third of several postings in preparation for Christmas vacation wanderings. Corrections and additions encouraged!
Forsyth County - Former Fire Departments
Forest Hill FD - Organized 1953 - Moved 2007 to Stokes County - Disbanded by 2008.
Forsyth County FD - Appears in NCSFA rosters and DOI directories in 1980 - Was there a county-run FD?
Hanes Mill FD - Appears in NCSFA rosters from 1949 to 1956 - No other info.
Mt. Tabor FD - Incorporated 1952 - Merged in 1990s with Vienna FD - No other info.
Sedge Garden FD - Organized 1949 - Reorganized 1953 as Triangle FD.
South Fork FD - Organized 1951 - Merged 1990 with Clemmons FD.
Triangle FD - Organized 1953 - Disbanded 2004 after years of annexations.
READ MORE
+ 9 - 4 | § ¶
Rats Do Start Fires, 1914
From North Carolina Department of Insurance News Bulletin No. 4, circa 1914:
Rats Do Start Fires-Caught in the Act

From the New York Times

Rats do sometimes steal matches and start fires. Proof for skeptics:

For an hour yesterday afternoon from nobody knew where sifted smoke through the six story tenement house at 134 Cannon Street, on the East Side. Persistent sniffing traced it to the kitchen of Solomon Lichblaum on the third floor. It was curling through a crack under the sink.

Solomon called the firemen. They tore up the floor and fond a rat's nest made of rags. The rags were smoldering. In another hour the rat family would have had no home.

"All my life people have been telling me that rats are responsible for some tenements fires, but I never believed it until now," said Battalion Chief Helm.
+ 11 - 8 | § ¶
Hamlet Aerial Ladder, 1956
Here's an interesting piece of apparatus, a Dodge/Maxim 65-foot aerial ladder at the Hamlet Fire Department and as pictured in the June 1956 issue of Hose & Nozzle Magazine. Mounted on a Dodge chassis, the apparatus was owned by Gibbons Fire Apparatus Company. The town was storing same, and could use the apparatus as needed. Company owner Phil Gibbons was an active member of the department. HFD had two stations that year, with three engines, a pumper-tanker, a rescue truck, and a chief's car. Next question, is that old station shown still standing? Click to enlarge:


+ 9 - 5 | § ¶
Dumpster Fire
Engine 11 in the rear of apartments on Navahoe Drive. The lighting in the parking lot seemed sufficient, until we started taking pictures. ISO at 1600, program shift mode, camera held steady. No problem for a stationary burning dumpster. Not so good for people in motion, pulling trash lines, grabbing pike poles, etc. Adding the scene lights into the frame helped immensely. Maybe it's time for a new body, one with ISO of 3200 or 6400.


+ 13 - 5 | § ¶
Broughton Hospital Poultry Barn Burns, 1972
On Wednesday, December 20, 1972, a large poultry barn was destroyed at Broughton Hospital in Morganton. The damage was estimated at $45,000, including the loss of 5,200 young hens. The fire was so intense that apparatus was watered down to prevent damage.
A night watchman spotted the fire shortly after 9 p.m. The Morganton Fire Department was notified at 9:09 p.m. Arriving units found the building "on fire from one end to the other." Four pieces of apparatus and 42 firefighters from Morganton, Morganton's Carbon City station, and Salem Fire Department battled the blaze for three hours.
In addition to the intense fire, water pressure was a problem. The hydrants at the scene were fed from a six-inch water main that was gravity-fed from a nearby water tower. Fire Chief Carroll M. Sullivan later commented that the pressure was barely enough to supply a single two-and-a-inch hose.
READ MORE
+ 9 - 9 | § ¶
Charlotte Fire Apparatus, 1955
The May 1955 issue of Hose & Nozzle magazine featured this promotional page about Charlotte fire apparatus. The context was the state fire school being held in the city. American LaFrance, Mack, Oren, Seagrave. Now that's a classic line-up! Don't know if the photos were all taken that year, or if they were "stock" from earlier years. Click once or twice to enlarge:


+ 8 - 7 | § ¶
Lenoir Tanker, 1956
From the September 1956 issue of Hose & Nozzle magazine is this Lenoir Fire Department Ford tanker of unknown model year and capacity. The photo may also be older than 1956. Says the caption, it was built to the department's specifications, and has been "examined and copied by many." Click to enlarge:


+ 16 - 6 | § ¶
Firefighters Raise over $7,000 for Kissinger Family
The Durham Highway Fire Department yesterday sponsored a fundraiser for the family of "Flip" Kissinger at the Harris Teeter grocery store at Strickland and Leesville Roads. He passed away Friday, and is survived by a wife and two children. Durham Highway firefighters and family members were assisted by Raleigh firefighters from Station 18, Station 23, and Station 24. The all-day event raised $7,302, which was delivered to the Raleigh Fire Department.

Says Durham Highway member Michael Greenham, who helped organize the fundraiser, "We know this money will not fill the hole that's been left in the hearts of his family, but we hope they'll accept this gift with the love and respect we have for Flip." NBC 17 also reported on the event. See photos from Lee Wilson.
The Durham Highway Fire Department thanks everyone who contributed, and to all who helped man the boots.


Lee Wilson photo
+ 10 - 5 | § ¶
Four Ingredients
Commonly found at local incidents: light, tape, bystanders, photographer. Three transported from Creedmoor Road north of Milbrook Road this afternoon. More later.


+ 12 - 9 | § ¶
Greenville West End Station
Also from a 1956 issue of Hose & Nozzle magazine is this image of Greenville's West End Station at 1710 Chestnut Street. This was their second station, built in 1930 (?). The station was relocated in 1977 to 2407 Memorial Drive, and again in 2000 to 2490 Hemby Lane. The 5,200 square-foot building was photographed a couple years ago.
The tower behind the building was added in 1943 (?). It was closed in 2005, when a training center opened at 3375 E. 10th Street. Though Greenville's great Central Station was demolished some years ago, the city has three other old stations still standing. They're listed in our database. Click to enlarge:


+ 11 - 9 | § ¶
Fayetteville Station 3
From the August 1956 issue of Hose & Nozzle magazine comes this photo of Fayetteville Station 3 at 1314 Hillsboro Street. It opened in 1948 with an engine company operating a 1923 American LaFrance engine. In the 1970s, a medical unit was added. In 1975, the station was relocated to 3225 Rosehill Road. The 2,483 square-foot structure was photographed a couple years ago, and was used as a storage facility for the city parks department. Learn more about old firehouses in Fayetteville. Click to enlarge:


+ 8 - 8 | § ¶
Here Comes History
Though this blog is already history-minded, expect a bit of inundation in the coming days and weeks. The holidays mean free time, and free time means research. We'll be the North Carolina Fire History Blog from time to time. Do not attempt to adjust your browser.
+ 9 - 7 | § ¶
The Passing of a Friend
Husband, father, son, friend, firefighter Lt. Harry P. "Flip" Kissinger IV passed away today at WakeMed. The Raleigh Fire Department announced the news, the awful news, early this afternoon. Flip was 35. He was hospitalized one week ago, critically injured while heading home from Station 6. In the seven days since the accident, those touched by Flip and his family have joined in heart and soul, and body and mind. They stood en masse at the hospital; they prayed together; they hoped. Thousand have expressed their sympathy and support online. The brotherhood. The family. The community. Flip is survived by a wife and two daughters and so many others. Arrangements are pending. Read the press release. See coverage from WRAL, WTVD, NBC 17, and the News & Observer.

Lee Wilson photo
+ 15 - 6 | § ¶
Fundraisers For Flip
This is an open thread for posting information about fundraisers for the Kissinger Family. Here are two coming events. Feel free to add others.
Fill the Boot For Flip
Durham Highway Fire Department
Harris Teeter Parking Lot, 9810 Leesville Road, Raleigh
Saturday, December 12, 9:00 a.m. to 5:00 p.m.

Friends for Flip
Live Music with Triple Threat Band
The Sports Page, 835 N. Smithfield Road, Knightdale
Saturday, December 26, 9:30 p.m. until...
http://friendsforflip.com/
+ 14 - 11 | § ¶
Onslow County Firefighter Dies On Duty
FireNews has posted details of a firefighter fatality this morning in Onslow County. White Oak Volunteer Fire Department firefighter Fire Chief Jimmy Davis Sr. suffered a medical emergency while responding to a call. He was found by a family member near his truck, after leaving his house to respond, but returning before leaving again. Further details and funeral arrangements for Chief Davis are forthcoming. Read the FireNews story.


+ 13 - 6 | § ¶
Cumberland County - Former Departments & Former/Historic Stations
Second of several postings in preparation for Christmas vacation wanderings. Corrections and additions encouraged!
Cumberland County - Former Fire Departments

Bonnie Doone FD - Formed 1956 - Disbanded [1998] - Assets to Fayetteville FD.
Falcon-Godwin FD - Presently Godwin-Falcon FD?
Fayetteville Airport - Formed ? - Merged ? with Fayetteville FD - No other info.
Lafayette Village FD - Formed 1956 - Merged 2004 with Fayetteville FD.
Lake Rim FD - Formed 1974 - Merged 2004 with Fayetteville FD.
Lake Upchurch FD - Formed 1980 - Disbanded 1988 - Assets to Stoney Point FD.
Lakeview FD - Formed 1963 - Renamed 1968 as Manchester FD.
Manchester FD - Formed 1968 - Disbanded 1998 - Assets to Spring Lake FD.
Raeford Road FD - Formed 1956 - Disbanded 1997 after annexation.
Yadkin Road FD - Name of second Bonnie Doone FD station. Also appears as FD name in DOI directories and other records.
University Park FD - Appears 1982 in DOI directory, in town of Moyock. No other info.
READ MORE
+ 11 - 3 | § ¶
You'll Shoot Your Eye Out!
Firehouse.com reports via KPTV that Vancouver, WA, firefighters helped rescue a boy's tongue stuck to a flag pole Wednesday morning. The unidentified lad reportedly received a "triple-dog dare" prior to his winter physics lesson. Extrication at the middle school involved warm water, with subsequent patient treatment including hot chocolate and cookies. No further medical attention was required. Everyone went home and perhaps watched A Christmas Story another time. Ho. Ho. Ho.


+ 12 - 6 | § ¶
Cherry Point Telesqurt
In a footnote to our posting of Havelock news, we wondered what aerial apparatus has served the town through the military base. Here's Lee Wilson's photo of Squad 2, a 1987/88 Pierce Arrow with a 1000 GPM Waterous pump, a 500 gallon tank, a 100 gallon foam tank, and a 50-foot Telesqurt. Twenty-eight such rigs were placed in service in 1987 and 1988, as part of the Marine Corps single largest acquisition in their history. It was part of an aggressive replacement plan that the USMC embarked upon in 1987, writes Tom Shand in an article on U.S. Marine Corps Structural Firefighting Apparatus in the March-April 1997 issue of Fire Apparatus Journal. Camp Lejeune also received one. Click to enlarge:


+ 11 - 12 | § ¶
Wilmington High-Rise Fire, 1983
On Tuesday, February 15, 1983, a high-rise apartment fire in Wilmington killed three elderly residents, and displaced more than 160. The fire was reported around 10:40 p.m. on the top floor of the Harry M. Solomon Towers at 15 Castle Street. Built in 1971, Solomon Towers was operated by the Wilmington Housing Authority, and served as housing for low-income citizens ages 40 to 70. The building did not have sprinklers, but was equipped with standpipe stations on each floor.
When the first companies arrived about about 10:46 p.m., flames were showing in the upper southwest corner of the building. Second and third alarms were issued, which summoned all available manpower and equipment. Some off-duty personnel were also recalled, and several others reported to the scene on their own.


Bing Maps photo
Command posts were established for both firefighting and rescue (medical) operations. While evacuation procedures were being underway, other personnel began attacking the fire using the building's standpipe hose. Two fatalities were discovered on the 11th floor, where the fire originated in room 1003. The heat was intense enough to melt the plastic name tags on fire helmets. Thick smoke filled the 11th floor, and parts of the 10th floor.
Six people were rescued by passer-bys, including one woman in a wheelchair who was carried down six flights of stairs. Another was found in her room on the 11th floor, unconscious. She was revived. Seventeen others were transported and treated for smoke inhalation. Fourteen were released, and three remained in the hospital the following day. Some 80 residents were treated at the Rescue Command Post, and were transported by bus to a Red Cross shelter established at Hoggard High School.


Wilmington Fire Department photo
Evacuation of the building was completed in 40 minutes, with the assistance of police and bystanders. The fire was controlled in under an hour. The quick evacuation and low death rate were attributed to the pre-planning and regular fire escape drills conducted by the Wilmington Fire Department.
Two died of smoke inhalation, females aged 49 and 68. The former was a disabled resident, who lived in the apartment where the fire was believed to have started. She was found just outside her apartment, in the hall. The latter was found in her apartment. The third victim, a male aged 72, died later of an apparent heart attack.
Notes:
How big was the Wilmington Fire Department in 1980? At least six stations? And thus six engines? One tiller, and maybe another ladder. Midi-pumper/QRV. Ambulance(s), too? Fireboat, also.
Readers near and far, please add perspectives and remembrances.
Sources:
+ 7 - 9 | § ¶
Wild Weather Wednesday
Thunder today means snow in ten tomorrows? Since winter doesn't start still December 21, we probably can't count on a white Christmas. (Wonder how many white Christmases we've had in the last, say, hundred years.) Still, our forecast for fluctuating temperatures and strong winds is a world better than a blizzard. That's what they're getting up north, with that monster weather system. That's one of the reasons this Minnesota boy likes living in North Carolina. It's Hawaiian shirt weather nearly every day!
+ 13 - 4 | § ¶
Kissinger Family Care Fund Established
Raleigh Public Affairs announced today that a special account has been established with First Citizens Bank to accept donations for the family of Lt. Harry "Flip" Kissinger, the Raleigh firefighter critically injured in a motor-vehicle accident on Friday. Donations can be made at any First Citizens Bank branch. Just ask to donate to the Kissinger Family Care Fund account. The family will be the sole beneficiary of all proceeds. Read the press release.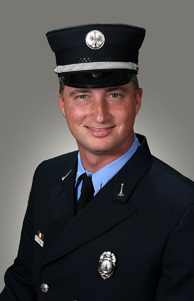 + 9 - 13 | § ¶
Train Versus School Bus in Onslow County, 1983
On the afternoon of Friday, January 14, 1980 1983, at a rural rail crossing some 11 miles north of Jacksonville, N.C., a home-bound school bus was struck by a Seaboard Coast Line freight train. The bus was carrying 55 students, and was struck in its middle. The bus was travelling between 0 and 5 MPH, while the train was moving at an estimated 20 MPH. The impact dragged the bus 218 feet along the tracks, and bowing the frame from the collision.
Forty-two students were injured, with the most serious transported to Onslow Memorial Hospital with a crushed pelvis. Another 11 were admitted for broken bones and other injuries. The rest were treated and released after examination in the emergency room. None of the six crew members on the train were injured, no did any of the 10 cars derail. No fire occurred, either.
Said a Highway Patrol officer, the rail crossing was in a wooded area, where vehicles had to stop close to see down the tracks. The train engineer said the bus had stopped at the tracks when the train was 3,000 feet away. And it was still stopped when the train was 200 to 300 feet away.
The engineer blew the whistle. When the train was about 100 feet away, he saw the bus jerk and jump in front of the train. The engineer pulled the emergency break, but it was too late.
The driver, a teenager, had thought she was too close to the tracks, and attempted to get go backwards. But she had the bus in forward gear instead of reverse, and the bus jumped into the path of the train. Source: News & Observer, January 15, 1980 1983.
+ 13 - 9 | § ¶
Blocking the Interstate in Charlotte
Firenews has details and images of an motor-vehicle accident on Interstate 77 on Charlote on Monday. Engine 20, Engine 16, Engine 30, Ladder 4, Rescue 10, Haz-Mat 1, and Battalion 5. Plus Medic units. Accompanying traffic camera images show apparatus blocking in action:


+ 14 - 10 | § ¶
New Hanover/Pender/Brunswick County - Former Departments & Stations
This is the first of several postings in preparation for Christmas vacation wanderings. Corrections and additions are encouraged. Help me get my information straight!
Brunswick County - Former Firehouses
Old Oak Island FD - 101 E. Oak Island Drive - Built 1958 - Moved ?
Old Ocean Isle FD - 3 W. Third Street - Built 1995 - Moved ? - Presently police station.
Old Shallote FD - 113 Wall Street - Built 1953 - Moved 2007.
Others?
New Hanover County - Former Firehouses
Old Federal Point FD - 9 S. Dow Road - Built 1970 - Moved ? - Presently Carolina Beach station.
Old Myrtle Grove FD - 5544 Carolina Beach Road - Built 1945 - Moved ?
Old Ogden FD - 6102 Market Street - Built ? - Moved?
Old Seagate FD - 6102 Oleander Drive - Built 1956 - Closed 2005 - Presently Wilmington Station 9.
Old Wilmington Station 2 - 602 S. 5th Avenue - Built 1915 - Moved 1956.
Old Wilmington Station 3 - 602 N. 4th Street - Built 1907 - Moved 1975.
Old Wilmington Station 5 - 1702 Wrightsville Avenue - Built 1931 - Moved 1966.
Old Wilmington Station 6 - 302 Willard Street - Built 1942 - Moved 1976.
Old Winter Park FD - 4601 Park Avenue - Built 1983? - Closed 2005.
Old Wrightsville Beach Station 2 - 5 Live Oak Drive - Built 1972 - Closed 1984.
Others?
READ MORE
+ 11 - 12 | § ¶
Rain
Apartment fire with Ladder 2, Engine 11, and Battalion 1 on Wake Forest Road on Monday night. Plus one slightly soggy photographer. Click to enlarge:


+ 15 - 6 | § ¶
Helicopters
Two helicopters were parked at WakeMed today. Wonder how often they're double-parked like that? That's Omniflight on the right. Click to enlarge:


+ 15 - 6 | § ¶
Helicopters
Two helicopters were parked at WakeMed today. Wonder how often they're double-parked like that? That's Omniflight on the right. Click to enlarge:


+ 16 - 10 | § ¶
Kannapolis Fire Department Historical Photos
And here are some photos to accompany the prior posting. Captions forthcoming. Also pictured are the old Kannapolis Sanitary District Fire Department stations, and the old Royal Oaks Sanitary District Fire Department station. Click to enlarge:


READ MORE
+ 17 - 9 | § ¶
Kannapolis Fire Department History
While passing through Cabarrus County in October, the Blogger Family stopped in Kannapolis to do a little research. See, the Kannapolis Fire Department is a particularly interesting animal, as it started as a plant-sponsored entity that protected a mill and the mill village. Decades later, a pair of sanitary districts were formed and which added services including fire protection to the areas outside the mill. Finally in the 1980s, a municipal department was born that merged the sanitary district departments, brought the village department members aboard as volunteers, and hired the first full-time member, a Fire Chief.
Below are the fruits of the research, which include details subsequently found in Sanborn Maps and correspondence with retired Kannapolis Fire Chief Larry Phillips. He was there from the beginning, as the department's first chief. The below text has been copied and expanded from the history page of the KFD web site. Further additions and corrections are welcome.
READ MORE
+ 10 - 14 | § ¶
Second Beltline Fence is Planned
Today's News & Observer has details on a second fence now planned on the Beltline bridge over Crabtree Creek, where a bystander died on Friday night, after falling through the gap between the bridges. He along with others had stopped to assist at a series of car accidents. A second person also fell through the gap, but only suffered minor injuries. The death was similar to one in 2005, when a bystander fell between the four-foot gap after stopped at a early morning crash.
Since the time fo the first fatality, a high metal fence was erected the inner-loop side of the bridge. Transportation officials at the time concluded that the single fence was sufficient, and today's article even traces an e-mail discussion on the matter! The article also and perhaps bizarrely includes information about the most recent victim's criminal history. Not sure the relevance there. Yesterday, the DOT announced that a second fence will be erected, and will be completed by February 1. Read the article.
The below photo was taken atop the bridge on Friday by Legeros, and show the split median and inner-lane fence. Officials closed all lanes of the outer loop as the vehicle and pedestrian accidents were investigated.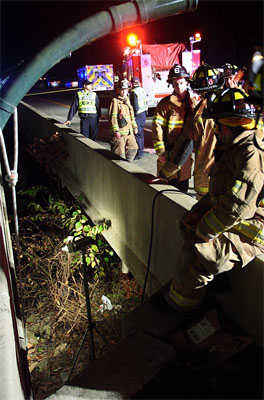 + 18 - 15 | § ¶
Now This is a Central Station!
Newly dedicated Orlando Fire Department Station 1 at 87 W. Central Boulevard. Also houses administration offices. Three-story structure with 60,000 square-feet. More than three times the size of the old Station 1 at 439 S. Magnolia Avenue, built 1969. Houses three shifts of 25 firefighters, plus 50-member administrative staff. Plus speciality units, including haz-mat, dive rescue, arson team, and bomb squad. Price tag? Merely $21 million. Read the Orlando Sentinel article.


Red Huber / Orlando Sentinel Photo
+ 10 - 12 | § ¶
New Bern Firemen's Museum Unveils Exhibit Plans
FireNews also finds this New Bern Sun Journal story on the unveiling of exhibit plans at the New Bern Firemen's Museum. On the anniversary of the Great Fire of 1922, the museum presented plans on Tuesday for an interactive exhibit about the fire. It'll be housed next door in the soon-to-be-restored Central Fire Station at 420 Broad Street. The 1928 structure was closed in 2000, after Station 1 was relocated to 1401 Neuse Boulevard. (Learn more about New Bern's former firehouses.)
The planned exhibit will include a four-foot-wide model of what New Bern looked like in 1922. Also planned for the firehouse building is a second-story children's museum that focuses on teaching fire safety. The projected budget for the project is $483,000, and $220,000 has been raised so far. The firehouse building is scheduled to open by next year. Read the entire article.

+ 5 - 12 | § ¶
Havelock Fire Department Update
Below is the Havelock Fire Department's West End Fire Station that's being completed on Highway 70 at Tucker Creek. As this FireNews article reports, completion is due in March. The $3.5 million, three-bay station will house the department's first ladder truck1, an E-One quint that's due for delivery about the same time. HFD has also taken delivery of a 2009 Ford E-450/Wheeled Coach ambulance. Medic 234 is one of four paramedic ambulances operated by the city. And it's the first such red rig. The others are white. The $110,000 vehicle included an additional $50,000 of equipment, including an AutoPulse unit that can perform chest compressions. Like the E-One in production, the new Medic unit will also be stationed at the new station.



Mike Legeros photo

FireNews/Havelock Fire Department photo


1What aerial apparatus has the fire department at the Cherry Point Marine Corps Air Station operated over the years and decades? As their web site indicates, they currently have three stations, with apparatus including two pumpers, a telesquirt, a heavy rescue, and a light rescue/brush truck. Then there's the Crash Fire Rescue department, which has its own station and equipment, correct?
+ 8 - 20 | § ¶
Yesterday's Fire in Wake Forest
WRAL has details and footage of yesterday evening's fire at The Home Depot at 11915 Retail Drive in Wake Forest. Agents with ATF and SBI will be at the store this morning, working to determine what cause bags of charcoal to ignite in a storage area. They quickly set of alarms and sprinklers in the 150,000 square-foot building. The fire also filled the store with a heavy amount of smoke. Units were dispatched at 6:35 p.m., including Wake Forest E1, E2, L1, R1, B1, Falls P212, EMS 12, EMS 64, D3. Readers can add additional details about the incident as desired. Read more about the fire.


WRAL photo
+ 9 - 8 | § ¶
Salisbury Purchases Fire Engine, 1817
Our friends at the Salisbury Fire Department send this scan of a photo of a nearly 200 year-old county record of the first fire engine purchase, when 32 citizens contributed $175 dollars to "procure an engine and other apparatus." The action was recorded by the Rowan County Register of Deeds on December 8, 1817. What was bought? According to this SFD history page, they obtained a single hand pumper (both hand-powered and likely hand-pulled), leather hose, and leather buckets. However, the first formal fire company was still a few decades away, with the formation of the Salisbury Vigilant Fire Company in 1855. Salisbury was also only one of some 20 cities and towns in the state that operated a steam engine in its day. Read more SFD history. Click once or twice to enlarge:


+ 9 - 11 | § ¶
New York City Police Badges
Here's a fascinating article from Monday's New York Times about fake badges in the New York City Police Department. Seems unauthorized replicas are common in the department, with officers keeping the originals safely stowed at home. Why wear a dupe instead the real McCoy? 'Cause loosing one means "paperwork and a heavy penalty, as much as 10 days' pay." Some say the practice is waning; others say its still going strong. But as one person notes, it's just as problematic if you lose a fake badge, and someone returns the thing to headquarters. Then they really have to account for themselves. Very interesting reading.
+ 11 - 7 | § ¶
Lightner Public Safety Center Update
This News & Observer article reports that the Raleigh City Council yesterday approved $2.9 million for design and pre-construction costs for the Clarence E. Lightner Public Safety Center. The 17-story structure will replace the current police department headquarters on the northwest corner of Hargett and McDowell Streets, and house the police, fire, emergency communications, and information technology departments. Search the City of Raleigh web site for more information about the project. The below image is from WRAL:


+ 13 - 10 | § ¶
Atlantic Beach Rescue 34
Photographed early Friday morning at a Morehead City gas station, this is Atlantic Beach Fire Department's Rescue 34, a 2006 Mack/Hackney heavy rescue with a Mack MRU612 tilt cab and a Hackney DF0973R body with recessed roof storage. Read more about the apparatus. ABFD operates from a single station and includes EMS services. Their fire apparatus also includes a 2004 E-One 75-foot quint, and a 1991 KME 55-foot quint. More pics from down east forthcoming.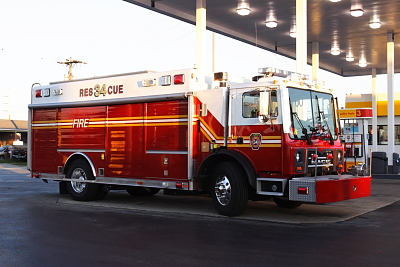 + 12 - 8 | § ¶
Remove Those License Plate Frames
As this Fayetteville Observer article reports, among the new North Carolina laws that take effect today-- including one that bans reading or sending text messages while driving, though exempts emergency responders-- is legislation that prohibits license plate frames that obscure the state name or expiration date sticker. For the first year of the law, violators will be warned only. Beginning December 1, 2010, the penalty is a $100 fine plus $130 in court costs. Don't get framed!