+ 10 - 3 | § ¶
NC HART Training in Rocky Mount
From a reader, here's a slideshow from a couple weeks ago, showing members of the North Carolina Helicopter and Aquatic Rescue Team (HART) training with the Rocky Mount Fire Department. The NC HART team includes members of the Raleigh Fire Department, and some of whom participating in the pictured training. The Rocky Mount Telegram photos are by Bob Bartosz. See the photos.



Bob Bartosz/Rocky Mount Telegram photo
+ 9 - 4 | § ¶
Big Dave's Family Seafood Burns in Forest City
The Digital Courier out of Forest City has posted this photo of yesterday's commercial structure fire at Big Dave's Family Seafood. Alas, the site requires a subscription, so no additional details or even photo credit can be gleaned. Perhaps our readers in Rutherford County (do they exist?) can add details. Or you can use the below image to extrapolate all manner of information or presumptions about the incident, the structure, the tactics, and the outcome. (Never done that before, right?)
Thus it appears that (a.) the fire occurred during daylight, (b.) the structure was at least one-story in height, (c.) at least two firefighters were on scene, (d.) at least two different departments were on scene, or at least what looks like two styles of turnout gear, (e.) at least one chief officer was on scene, as that appears to be a white helmet, (f.) the fire vented through the roof at some point, and (g.) vertical ventilation was ordered at some point, as that appears to be a chainsaw.



Digital Courier photo
+ 9 - 5 | § ¶
Firefighter Memorial Stair Climb in Morrisville
Numerous firefighter memorial stair climbs are planned around the country on September 11, 2011, to honor the firefighters who perished on September 11, 2001. The National Fallen Firefighters Foundation has information about the events. Three are currently scheduled in North Carolina, one of which will take place at the Concourse Building in Morrisville. Fire Chief Todd Wright pass along this event announcement:
June 28, 2011

The Morrisville Fire Department will be hosting a firefighter's memorial stair climb on Sunday September 11th, 2011, at 1 Copley Drive in Morrisville, NC. This event is to commemorate the tragic loss of 343 FDNY firefighters during the events of 9/11. The event will be open to firefighter's to participate and family and friends are welcomed to come and support their firefighters. We are also looking for volunteers to assist with different tasks during the event. Check-in for the event will begin at 7:00 am until 8:30 am on Sunday, 9/11. We will conduct a memorial ceremony at 9 a.m., with the event starting right afterward.
READ MORE
+ 5 - 3 | § ¶
Eastern Wake Firefighter Albert Best Retires After 23 years
For your morning reading, this week's Eastern Wake News has profiled Firefighter Albert Best, the first full-time member of Eastern Wake Fire & Rescue to retire. He was honored last week at a party at Station 1. Best began as a volunteer firefighter, and was hired as one of four full-time members of the then-named Knightdale Fire Department in 1994. The department was renamed in 2003, the same year Best was promoted to Engineer. Eastern Wake has also retired the 57 year-old member's number, 11. Read the story.



Paul A. Specht/Eastern Wake News photo
+ 7 - 3 | § ¶
Detailed Report of Fire
Random historical artifact. Raleigh Fire Department fire reporting form. Likely used between the mid-1950s (when radios were added) and the mid-1970s (when alarm boxes were removed). Probably originated in an earlier decade, as there's a field for recording the gallons of chemicals used. Though that might apply to hand extinguishers, as well. Designed as a tri-fold document, for ease of filing, it seems. Respectfully submitted. Click to view as PDF document:


+ 7 - 4 | § ¶
City Limits and Interstate 40
Yesterday's bus accident on I-40 was inside the Raleigh city limits. Looking at the latest official maps, dated January 1, 2011, the interstate is now entirely inside the city until about halfway between Wade Avenue and Harrison Avenue. Wonder if that's a recent change?1
In the case of yesterday's incident, the initial dispatch was based on the original reported location of I-40 and Gorman Street. The correct location of I-40 and Chapel Hill Road was established as units were en route.
Widening was recently completed on that roadway, from Harrison Avenue to Highway 1. Based on personal observations, the afternoon congestion seems lighter for traffic headed eastbound leaving Harrison Avenue. How's that translated to the seemingly regular afternoon vehicle accidents along that stretch that Morrisville, Cary, Western Wake, and Raleigh have responded to a seemingly daily basis in the recent past?


1
The maps also show that some southern sections of the road, where it intersects I-440, remain outside the city limits. That's where a tanker overturned and burned a couple years ago. Garner was dispatched on that one, along with Raleigh.
+ 9 - 3 | § ¶
Blocking at Bus Accident
Engine 8 and Engine 20, foreground and background respectively, are shown on scene at this afternoon's bus accident on Interstate 40 at Chapel Hill Road. One reported fatality, the driver. No other passengers believed on bus. Units on scene included Engine 8, Engine 20, Ladder 7, Rescue 2, Battalion 3, District 5 (first on scene), District 1, and EMS 8. There's news coverage a-plenty, check your local news sites. Photos from Legeros (shown below) and Lee later.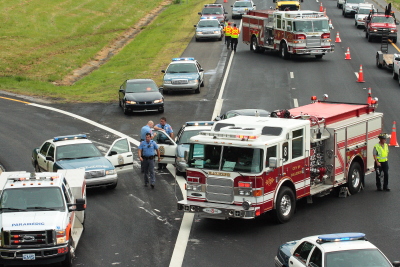 + 12 - 4 | § ¶
More Vintage Skyland Apparatus
More 35mm slides for sale on eBay, this time with two more Skyland trucks. Top is a 1981 Peterbilt/House pumpwer-tanker, 1250 GPM. Bottom is a 1978 White/Hose pumper, 1250 GPM. See prior posting for a picture of their 1976 Oshkosh/Howe/LTI aerial ladder. Photo credit unknown. Click to enlarge:


+ 3 - 2 | § ¶
Today's Big Burn
Here's the fully-involved photo from earlier this afternoon. Stony Hill, Creedmoor, Bay Leaf, and others were training on Old Weaver Trail at Creedmoor Road. Traffic was halted at this point. The radiant heat was a bit much. Watch for the full series from Lee Wilson. Yours Truly arrived at the time of this photo, and left maybe twenty minutes later. Wham, bam, thank you sirs.



+ 11 - 2 | § ¶
Meet The Embers
Photographer close call? Source of sudden stinging sensation at Stony Hill's live burn this afternoon. Extinguished with bottled water.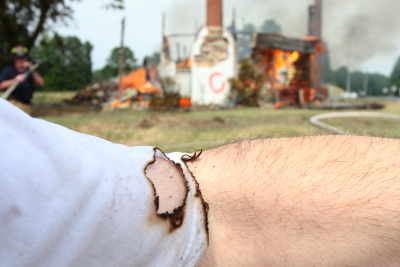 + 6 - 9 | § ¶
Old Winston-Salem Telesquirt For Sale
Who wants to buy an old fire engine? Well, everyone, of course. But if a triple-axle telesquirt's on your radar, this sun-bleached beauty awaits your inspection outside Knightdale. Same is sitting outside Pooles Well Drilling. The thing is a 1984-85 Kenworth/Grumman with a 75-foot aerial. Readers can perhaps add additional specs. We've blogged about this baby before. The thing's now for sale. You know you want one, and at least to see the reaction of your wife when you drive the thing home. See more photos.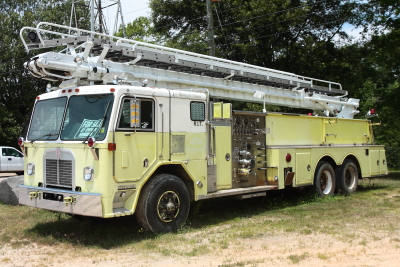 + 5 - 5 | § ¶
Video of Partial Roof Collapse
A reader has suggested this close-call video as a topic for discussion. As shot by Carl Kern and posted to Firehouse.com, it captures the partial roof collapse during ventilation at a residential structure fire on June 11 in Washington Township, PA. Watch the video. Discuss as desired.


+ 7 - 6 | § ¶
Aerial Photos of Nevada Amtrak Accident
The Reno Gazette-Journal has posted aerial photos of Friday's railroad accident where a tractor-drawn gravel truck struck a moving passenger train some 70 miles east of Reno. The collision caused a fire that killed a number of people (the count is still undetermined) and injured about 20 others. From photos, it looks like two of the coach cars were heavily damaged by fire. Observe the airport apparatus also on scene. Or are those Air Force rigs? Probably a long run, either way. Middle of nowhere, it looks like.



Marilyn Newton/Reno Gazette-Journal photo
+ 6 - 5 | § ¶
Another Big Burn
Though my favorite burn-down photo might be this one, taken at a New Hope training event last year. See part 1 and part 2 of those photos. The lighting's a little different. That was in March and taken about 4:00 p.m. and with a spring sun that was probably pretty low in the sky. If memory serves, this shot was digitally retouched to remove barrel distortion. That's what happens with a wide lens, and causes, say, the straight lines of a building to seem curved. The red against the older-looking white wood is a visual winner here as well. Click to enlarge:


+ 7 - 5 | § ¶
She's Rolling
Here's your live burn photo of the day from a Rolesville Fire Department training event on Forestsville Road at Royal Coachman Drive. Two-story, wood-frame structure with a basement. Drills concluded after lunchtime. The big burn happened about 2:15 p.m. Here's one of Mr. Blogger's hotter pictures. Could benefit from a little retouching to correct a bit of barrel distortion. More later, plus a bevy of shots from Lee Wilson. Click to enlarge:


+ 5 - 3 | § ¶
Mystery Road
Where's this unused section of roadway? Some of you might pass the thing daily. That's a hint.


+ 8 - 2 | § ¶
Deer Versus Church
Bet there were some interesting thought balloons on June 13, when two deer took a stroll inside the occupied Colonial Baptist Church in Cary. Oh dear! They entered through a plate-glass window and exiting through a second window (the first) and an open door (the second). And thus becoming deer-ly department. The News & Observer has that story. Hey, did you see that? Yeah, it ran pastor! Continue punning as desired...



News & Observer photo
+ 12 - 2 | § ¶
See You in Baltimore
We're a month away from the annual Firehouse Expo in Baltimore, which is Maryland in case you're hopelessly geographically challenged. Great city to visit, great part of the country to explore. Three days of exhibit floor wandering are planned. Watch for the guy in the Hawaiian shirt that looks like me. He'll hanging around the fire bloggers booth, or at least until he wears out his welcome. Or they wear out theirs!
Will be catching this conference session: Social Media: An Opportunity, a Curse, or Both? and with a panel including Dave Statter. He's the man. Maybe a couple others as well. Knowledge is good. Below are my travel plans. Might have time to photograph historic firehouses in York and Reading on that first day. We'll see how the drive time plays out.
Wed - Jul 20 - Arrive Reading, PA, for opening night of Rob Zombie/Slayer tour.
Thu - Jul 21 - Arrive Baltimore, for Expo.
Sat - Jul 23 - Leave town by way of Hanover, MD, for two-stepping at the great Cancun Cantana.
Sun - Jul 24 - Day in or around DC.
Mon - Jul 25 - Leave DC for home.
+ 4 - 3 | § ¶
June Episode of FireWatch
The June 2011 episode of the Raleigh Fire Department's cable television series FireWatch has been made available online. In the latest episode, they attend the grand opening of the Raleigh Fire Department Museum, talk about fire pit and grill safety, and learn a little more about fireworks. For the occasion of the museum opening, they interview several attendees, including current and retired personnel. The City Manager also appears on camera and interviewed by Mr. Blogger, no less! How some digital improvements for Yours Truly? Need to talk to the video producer about that one. FireWatch airs on the RTN-11 cable television channel on Monday (12:30 p.m.) Friday (11:00 a.m.), Saturday (11:30 a.m., 6:30 p.m.) and Sunday (2:30 p.m., 8:30 a.m.).

+ 6 - 4 | § ¶
Durham Shootings
Just how many shootings have occurred in the Bull City lately? Here's a list as found via Google News. Omitting the drive-by shooting on I-540 (Raleigh) and the multiple fatality shooting on Highway 54 (RTP). Should be interesting to see how public perception and reaction develops. There's also no historical context to this information. Is this number of shootings unusual for comparable periods at other times of the year? And for that matter, how does a comparison look against such incidents in, say, Raleigh?

June 23 - Two shot in parking lot near Mt. Moriah Road and McFarland Rive. One killed, one injured.
June 23 - Multiple shots between two vehicles in shopping center pariing lot on Highway 54 and Fayetteville Road. No injuries.
June 20 - Vehicle shot on Durham Freeway between Briggs Avenue and Ellis Road. No injuries.
June 18 - Vehicle shot and crashed on Durham Freeway near Fayetteville Street. One killed.
June 13 - Crash on Angier Avenue transporting shooting victim from Driver Street. Two injured.
June 12 - One shot in parking lot on Juniper Street. One killed.
+ 4 - 1 | § ¶
Flowing Water Fast
Dave Statter found this compelling pre-arrival video from Las Vegas. Commentary and quarterbacking courtesy of his readers. Statter911 is about the best place for such discussions. Line pulled and charged in about 25 seconds. How fast does your company do it?


Las Vegas House Fire from Steve Reyes on Vimeo.
+ 6 - 1 | § ¶
Boat on the Road
That's Rescue 3 in the background, boat trailer in tow, and clearing the scene of an apartment fire this afternoon on Fort Sumter Road. They spent the morning at a search and recovery operation at Lake Wheeler, along with Engine 20, Battalion 2, and numerous other agencies include Fairview and Apex fire departments. Crews were searching for a missing fisherman, and who was later discovered drowned. By way of tragic coincidence, the incident repeated the events of Saturday's search and recovery at the lake. See that prior blog posting. News reporting from today includes WRAL and the News & Observer.


+ 6 - 2 | § ¶
Growing Cities and Shrinking Districts
How has municipal expansion in North Carolina impacted rural (or other small) fire departments in recent decades? We can perhaps draw some conclusions from my database of former fire departments. Below are same in or around the largest of the state's cities. Couple disclaimers. There might be some apples to oranges in the mix, such as South Fork in Winston-Salem Were they impacted by the city coming south, or Clemmons coming north? Or neither?
This list also does not include industrial or institutional fire departments, such as Oteen Veteran's Hospital in Asheville, Camp Greene in Charlotte, and St Augustine's School (!) in Raleigh. Also omitted is Kannapolis, which has its own unique history. Each municipality is also listed by population rank as found in this Wikipedia article.
Asheville (#11 in population in 2009)
Listed by Name
Listed By End Date

Biltmore Village - 1910-1929 (assets to Asheville FD)
Biltmore Forest - 1923-1995
Kenilworth - 1920s-1930s
Haw Creek - 1962-2009 (merged with Asheville FD)
West Asheville - 1914-1917 (merged with Asheville FD)

West Asheville - 1917
Biltmore Village - 1929
Kenilworth - 1930s
Biltmore Forest - 1995
Haw Creek - 2009
Note: There are other examples around the state of early 20th Century municipal expansion and absorption of fire districts. The Chestnut Hill Fire Department outside Salisbury ceased operation in the early 1910s, and was perhaps merged with the Salisbury Fire Department.
Cary (#7)
Yrac FD - 1961-1998 (formed Western Wake FD)
Note: The town of Cary for a time had a municipal and rural department, which was the case throughout Wake County. Probably throughout the state. In many cases, those two departments end up merging and functioning as a single municipal fire department. In Cary's case, they remained splintered, and the rural department renamed itself Yrac.
READ MORE
+ 8 - 5 | § ¶
Jackson Park Fire Department in Cabarrus County Closing
FireNews finds this Independent Tribute article about the closing of the Jackson Park Fire Department in Cabarrus County. They close this month, having lost their contract with the county. The commissioners earlier this year decided to ask the Concord Fire Department to take over the Jackson Park fire district beginning July 1. The department is 57 years old. Read the story on the Tribute site.
What fire departments in Cabarrus County have previously come and gone? Quite a few, in fact, including the department's that formed the Kannapolis municipal fire department in 1987. That research required a visit to that town's library! And inspired a couple posts about their history and some old photos. From my database:
Fieldcrest-Cannon FD - Formed 1984 from the Kannapolis village FD, protected the industrial plant. Renamed Pillowtex-Cannon FD in 1997.
Kannapolis Sanitary District FD - Formed 1963. Merged 1987 with new Kannapolis municipal FD.
Kannapolis village FD - Formed by 1920, protected Cannon Mills and the village surrounding. Renamed Fieldcrest-Cannon FD in 1987.
Pillowtex-Cannon FD - Formed 1997, see above. Closed 2003, when the plant closed.
Pitts FD - Formed 1971, closed 1991. Assets merged with Concord FD.
Poplar Tent FD - Formed 1962, closed 2003.
Royal Oaks FD - Formed 1957, merged 1987 with new Kannapolis municipal FD.
Winecoff - Formed 1955, merged 1999 with Kannapolis FD.
+ 5 - 7 | § ¶
Constitution and By-Laws of the Fire Fighters Association No. 548 of Raleigh, N.C., 1938
And a random artifact for your Monday enjoyment. This is the constitution and by-laws of the original incarnation
of the Raleigh Professional Fire Fighters Association (web site). Same is scanned from a photocopy of the original booklet. The organization was chartered in 1938, as Chapter 548 of the International Association of Fire Fighters (IAFF). The original application was dated February 4 and listed 21 charter members. The Temporary President was K. J. Smith and the Temporary Secretary was R. G. Davis.
The association was re-chartered in 1969, with an application dated June 10 of that year. The Temporary President was Ned Perry, the Temporary Vice-President was B. T. Fowler, and the Temporary Secretary and Treasurer was Maylon Frazier. The application included the names of 173 charter members. They re-chartered a second time in 1986. The March 23 application listed Temporary President James Driver and Temporary Secretary and Treasurer Donnie Perry.
Yours Truly needs more research and documentation in this area, on the history of professional organizations in the Raleigh Fire Department. Memo to self: work on that some time. Meanwhile, click the cover to view the PDF document:

+ 7 - 4 | § ¶
Toughest Firefighters Alive, 1997
Random historical picture found during Sunday cleaning. Taken in front of City Hall, perhaps for a newspaper or maybe the city Public Affairs office. These were the winners of a Toughest Firefighter Alive competition in Charlotte in September 1997. The event was part of that year's North Carolina Fire and Police Olympics. Raleigh Team 1 took first place, and Raleigh Team 2 took second place. They'd continue to Las Vegas two months later, to compete in the World Fire Combat Challenge.
The News & Observer of September 25, 1997, provided details of the five-timed tasks: wearing full gear, climb five flights of stairs while carrying two 50-foot sections of hose; hoisting a 45-pound hose load up a five-story tower; driving a 165-pound metal beam five feet using a nine-pound shot mallet; carrying a full hose and nozzle 75-feet; and carrying a 175-pound dummy 100-feet while walking backward.
Pictured left to right in back are Clay Hicks, Shawn Moore, Leroy McCrae, Stephen Page, Mike Hayes. Left to right in front are Mickey Nixon, Andy Lane, Fire Chief Jonny Sandy, Kevin Coppage, Duffy Deyo, and Capt. Jimmy Parker. That's a handsome crew! What sort of combat challenges are held these days around the state? Click to enlarge:


+ 7 - 6 | § ¶
Is Somebody Burning Something?
Do you like the smell of wood smoke, Timmy? There was haze and then some Triangle-wide today. Three fires from around the state. Pender County, Dare County, and Fort Bragg. Maybe more have been added to that list, since we last checked the news. Let's hear about some of the calls, either to the comms centers or actual dispatches. And what's the best smoke photo of the day? Below is a skyline shot by the News & Observer's Takaai Iwabu. Maybe we need a rousing rendition of "Smoke Gets in Your Eyes." Let's get that Blog Boys Choir together, what do you say?



Takaai Iwabu/News & Observer photo
+ 5 - 5 | § ¶
Caption This Photo / Boy and Grill, 1989
Here's a young lad, fresh out of the fire academy and passing the time at the then-slow Station 19 on Spring Forest Road. That was about the 24 year-old version of myself and mugging for the camera. The shoot was staged for a Firehouse magazine submission. They had a photo feature back then, where they'd invite readers to caption curious photos. Might've been on the back page? Mine was selected and was published in a later issue. As for actual firefighting, six months passed and I didn't get my first worker until transferred to another station! Click to enlarge:


+ 6 - 3 | § ¶
This Morning's Two Alarms / Groveland Avenue
Two alarms at 211 Groveland Avenue, a two-story, wood-frame, residential structure with 3,910 square-feet. Built 1917, say tax records. Built 1912, says the NBC 17 story. See also this WRAL story. Operated as a bed and breakfast called the Cameron Park Inn. Both guests evacuated safely. Cause determined as lightning. Fire damage to third floor, which was destroyed. First and second floors with smoke and water damage. Dispatched 1:45 a.m. First unit arriving three minutes later. Second alarm requested at 2:17 a.m. Controlled at 3:16 a.m. Units on scene: E5, E6, E13, L7, R3, B3, EMS 1 (first alarm), E1, A1, C10, C20, C40, EMS 8, EMS 2, D1, (working fire), E3, E8, E20, L2, R2, B2, EMS 7, M91, T1 (second alarm). We'll see if other details or photos present themselves.



WRAL photo
+ 8 - 7 | § ¶
Bridges of Falls of Neuse
One of the most exciting roadway projects in a while is near completion on Falls of Neuse Road in very north Raleigh. Work is finishing on a four-lane, two-span bridge over the Neuse River and which will connect Falls of Neuse Road with New Falls of Neuse Road. The bridge and road connection will also allow closure of the current bridge below Falls Lake Dam. That one was built in 1938 and is at the end of it's life, um, span. (The bridge predates the dam and lake by decades. Those were completed in 1981.) Believe the plans are to replace the older bridge as well. Or maybe also.
Pictures of both bridges are below. There's quite a bit of bike traffic under the new one, which has what looks like the makings of a greenway passing under the thing. As for the excitement factor, once the bridge and roadways open, Engine 25 coming south and Engine 22 / Ladder 5 going north will have considerably faster run times. Ditto for the Falls Fire Department. Looks like a solid mile is shaved going into Wakefield the new way, versus via Falls of Neuse Road to Wakefield Pines Drive. Click to enlarge:


+ 9 - 4 | § ¶
Boat in the Water
Raleigh Fire Department Rescue 3 launching their boat, as part of the start of search and recovery efforts at Lake Wheeler yesterday afternoon. The multi-agency incident included Raleigh, Fairview, Apex, and Holly Springs fire departments. Wake County EMS provided rehab. Numerous law enforcement agencies were also on scene. See more photos by Lee Wilson.



Lee Wilson photo
+ 9 - 8 | § ¶
Cisco Network Emergency Response Vehicle (NERV)
One of the many specialized emergency response vehicles on display at StormFest in downtown Raleigh today was Cisco's Network Emergency Response Vehicle (NERV). The company, with an office in the RTP, has two of these babies, one of each coast. As this PDF web document describes, the vehicle is a self-deployable command communications resource for first responders, critical infrastructure, and other organzations affected by catastrophe and requiring mission-critical networking services.
The unit and its staff can continuously operate for up to 72 hours. Once on scene, they can be fully operational within 15 minutes. Shut down for redeployment also within 15 minutes. The unit is self-powered by generator, or can use shore-power. It's equipped with a 1.8-meter satellite antenna that provides up to 5 Mbps of bandwidth for voice, video, and data. Said the team today, it can serve some 200 users simultaneously. Pretty cool, but needs a black helicopter to go with it. More photos later.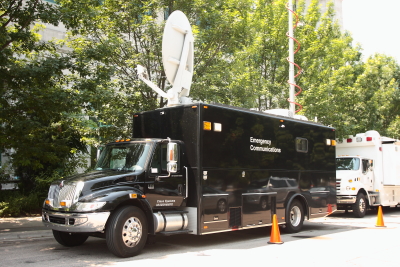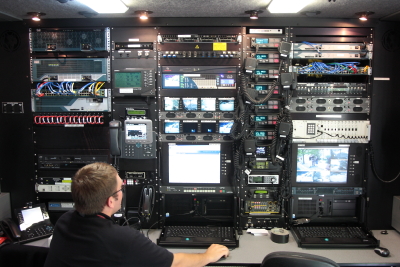 + 8 - 3 | § ¶
Eleven Ninety
Crews are back behind Lazy River Drive again today, working to extinguish a stubborn woods fire first reported on Thursday. See prior posting. Raleigh and New Hope fire departments have returned, along with the North Carolina Forest Service. They've added foam to their operations today, as well as a deluge gun to saturate some of the burned areas. Wake County EMS and Eastern Wake EMS responded with rehab supplies, including big ol' Truck 1. Lee Wilson and Mike Legeros were both on scene, the latter taking this picture.


+ 7 - 10 | § ¶
Oshkosh Stryker + Rogers Lowboy
Speaking of myself, here's a bit of Saturday scale-model madness. These are recent additions to the man cave collection. That's a 1:50 scale, die-cast metal replica of an Oshkosh Striker 3000 airport crash truck lettered for Minneapolis-St. Paul International Airport. Made by TWH Collectibles in a small quantity for the airport fire department's union. They took orders late last year.
The transport is a Kenworth T800W four-axle day-cab tractor pulling a Rogers lowboy with flip axle. That one's distributed by Sword Models, which is also made by TWH. Lots of features on both. Click to enlarge. Apologies for poor deep focus on top shot. Looks like that third axle needs lowering, as well! Boys and their toys...


+ 8 - 6 | § ¶
Facelift For Home Page
Speaking of web sites, the home page of Legeros.com received a redesign last week. Simple facelift, with links moved around and reorganized. And social media channels added, to connect with Mike via blog (here), Facebook, Flickr, and Twitter. Why is the web page still so bland, you ask? Partly it's a simple failure of imagination. More importantly, it's a failure of priority. Time's better spent in other areas. Plus, Yours Truly has no necessary need for complicated or flashy. Not with regard to web sites, that is. Tropical attire on one's person is another matter! Is the thing at least minimally stylish or even vaguely cool-looking? You be the judge on that one.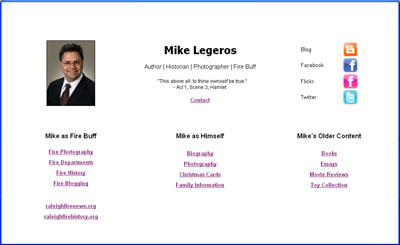 + 9 - 4 | § ¶
Ready with the Rakes
Raleigh firefighter removes tools from Mini 2 on Thursday night, scene of a woods fire on Lazy River Drive off the southern section of Southhall Drive. Same burned for a number of hours. Both Raleigh and New Hope units were on scene. By about 9:00 p.m., the roll call included Raleigh Engine 21, Engine 12, Mini 1, Mini 2, Battalion 2, New Hope Engine 1, Tanker 9, Brush 7, and Car 1. Couple acres had burned behind homes and along a golf course. See photos from Lee, early. This is a later photo from Mike. That land's near the Neuse River, and old Raleigh Beach. Isn't that also old plantation land, or is that farther east?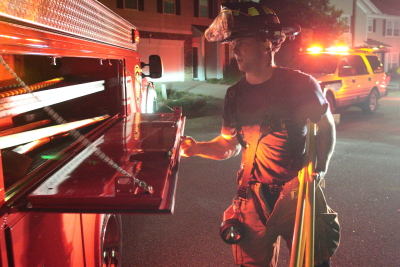 + 5 - 2 | § ¶
Links to Lee's Photos
You may have noticed a new format for linking to the photos of Lee Wilson's as featured on our incident photo site. The reason is the result of a change to the Flickr photo site, where Lee posts his photos. See, these photos are posted in two places.
Those by myself physically reside nearly always on legeros.com/firepics. Those by Lee always reside on flickr.com/leewilson. (And occasionally, Mike's photos get moved or archived on flickr.com/legeros.)
Yeah, you don't notice the difference. Plenty of people see Lee's photos on Flickr and think they're mine. Or vice-versa. The web page just seem too alike. Or maybe it's just that they remember the task (view photos) and not surroundings (web page).
Lee's or any person's posted to Flickr can be accessed a number of ways, including:
Now, to add a link to Lee's photos to www.legeros.com/firepics, a unique web address (or URL) is required. http://something.something. About a week ago, Flickr changed some of it's behind-the-scenes stuff. Archive pages are now much longer. They used to have, say, 16 photos per page. Now they have dozens.
Linking to Lee's archived photos was previously easier, because you could create a link to the URL of one of those shorter archive pages. That is no longer possible, and which is why we're seeming to "combine links" on the photo site. Like this: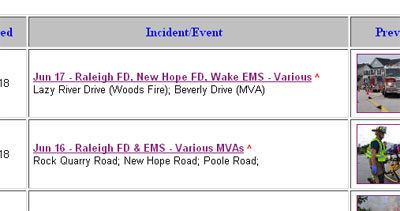 If that doesn't make sense, don't worry about. Just know that there are technical reasons for the change. If you can figure out a workaround, and a way for Mr. Blogger to derive unique URLs for those "combined links," then please share your information! For everyone else, this is how your sausage gets made. Hope it doesn't make you queasy.
+ 3 - 4 | § ¶
They Came From a Far
Few jokes are as good as old jokes. Here's a reprint of a 2006 blog posting, which itself reprinted a column written for the Code 3 Collectibles web site. Presenting the world's worst firefighting jokes, as written by Yours Truly.
Q: Why did the fire apparatus operator have his blood drawn?
A: For a pump panel.

Q: Where does a nozzle sleep?
A: On a hose bed.

Q: What did the Dalmatian say at the airport fire station?
A: ARFF.

Q: What is the material inside a firefighter's parka?
A: Hoser down.

Q: What do you call a group of PIOs standing by at a fire scene?
A: Writ team.

Q: What do you a call a fire-resistant gangster?
A: Nomex® hood.

Q: How do firefighting elephants communicate?
A: Trunked radios

READ MORE
+ 5 - 5 | § ¶
Old Photos of Station 6
Let's hope in our time machine and head to the early 1970s, for a series of color (!) photos of Fire Station 6, from a then-youth named Matt White. He was a fixture at the station in those years, and took these photos that he recently posted to Facebook. He has kindly shared with Yours Truly, and already identified a number of the people shown. They were taken with his dad's Nikkormat camera and using Ektachrome slide film. We'll see about naming the rest of the crowd. That's the 1950 Mack pumper as Engine 6, and the 1964 GMC service truck as Truck 6. Way back in the day. What a treat. View the photos.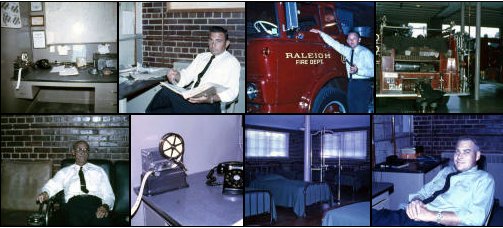 + 3 - 4 | § ¶
Radio Changes
Let's see if we can summarize the recent radio changes you have been or will be hearing on city and county fire channels. There are two pieces to the puzzle: Emergency Fire Dispatch, started on June 8 for all city and county fire calls. And new radio procedures for the Raleigh Fire Department, started June 15.
Emergency Fire Dispatch (EFD) is an extension of Emergency Medical Dispatch, used for over a decade in the Wake County EMS system. Results in more information about each call, and more accurate assignment of priorities to calls. Wider range of call types, too, some of which have been helpfully descriptive, like "extinguished residential structure fire." And there's more post-dispatch information being related, as well.
There are also numeric codes for each call type, such as "67-Delta-2." Those are now being broadcast by Locution. There's a list of the codes on this Radio Reference Wiki. (The site seems to be having bandwidth problems, however. The page is unavailable at present and gets that way from time to time.) Read earlier blog post about EFD, and discussion there. Remember, it's new and being learned.
Raleigh's new radio procedures involve three pieces. First, the elimination of "major working fire" as a description during size-up. Until today, the big MWF resulted in the automatic dispatch of a second alarm. Now, second alarms will be requested as second alarms. Additional alarms will be requested in sequence. No change to the number of units dispatched. (Remember, there's an expanded number of units dispatched for high-rise structure fires.)
Also part of the new radio procedures six-point scene size-ups, and new radio designations for riding positions. Companies have been trying these for a few months already, so you've probably heard some of those changes already. With regard to riding positions, the old ones were numeric. Engine 19-01 as the Captain of Engine 19, for example. The new ones are descriptive:
Engine Captain - Engine __ Officer
Engine Lieutenant - Engine __ Driver
Engine Firefighter - Engine __ Nozzle
Engine Firefighter - Engine __ Irons
Ladder Captain - Ladder __ Officer
Ladder Lieutenant - Ladder __ Driver
Ladder Firefighter - Ladder __ Irons
Ladder Firefighter - Ladder __ Outside Vent
Ladder Firefighter - Ladder __ Hook (when fifth person is present)
Rescue Lieutenant - Rescue __ Officer
Rescue Firefighter - Rescue __ Irons
Last month, the Raleigh Fire Department started new water supply procedures, so there's that new terminology as well. "Laying in wet" versus "laying in dry," for example.
See that blog post
, if you missed it. Otherwise, happy listening. This concludes today's radio update. Tune in next week for further adventures of the Man with Too Much Free Time.
+ 7 - 6 | § ¶
Raleigh Fire Department Historical Society Postcard
Postcards of a sort were distributed at Tuesday's grand opening of the Raleigh Fire Department Museum as presented by the Raleigh Fire Department Historical Society. The picture was made at Fire Station 28 earlier this year. That's where the city's collection of antique fire apparatus is stored. Shown left to right is a 1905 American LaFrance steamer, a 1926 American LaFrance pumper, a 1950 Mack pumper, and a 1982 Mack pumper. Read about that shoot, which includes links to photos by Legeros and Lee. Or even watch a video shot by Jeff Harkey, Editor-in-Chief of FireNews. And while we're here, consider an online donation. Click to see a larger of version:


+ 5 - 2 | § ¶
Origin of Code 2, Condition Red?
Old-timers or those in the know, what's the origin of the phrase "code 2, condition red" as formerly (and occasionally still) used by fire departments in these parts? Did it start with the Raleigh Fire Department? Was it imported from elsewhere? What's the earliest usage that people remember?
+ 8 - 7 | § ¶
Grand Opening of Raleigh Fire Museum
Yesterday was the big day. The Raleigh Fire Department Museum held its grand opening at 10:00 a.m. at the Keeter Training Center. That's the location of the museum, which is housed in a classroom trailer. There are about 200 items on display, ranging from photographs (of course) to hand equipment to very old log books to a very, very old alarm bell. The giant 1870 bell that once hung inside Metropolitan Hall is the oldest item on display.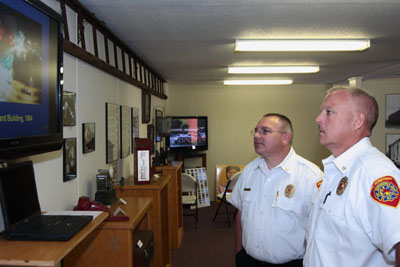 The museum is presented by the Raleigh Fire Department Historical Society, a non-profit organization (and to which donations are tax-deductible. Make a donation online.) that has been working for a few years to preserve and present the department's past. There's 150 years of history on display, both of the career department (organized in 1912) and the volunteer department that preceded same. More commentary and observations to follow. Museum hours are initially limited. We'll be open on the second Saturday of each month, from 10:00 a.m. to 2:00 p.m.


Lee Wilson photo
Stories and photos of the event (and the museum) are below, at least as published so far. Lee's left early, for a working fire farther south. Mike also set his camera down, for his remarks during the opening, and the many times he was answering questions and showing visitors around. Thanks for everyone's participation and support.
+ 6 - 5 | § ¶
This Morning's House Fire / Slippery Elm Drive
Photographer Lee Wilson arrived early at this morning's major house fire on Slippery Elm Drive. He was already in south Raleigh for the occasion of the Raleigh Fire Department Museum opening. More later about that event.
Engine 10 was first on scene at 3037 Slippery Elm Drive. One-story, split-level, wood-frame house with 1,522 square-feet. Built 1998. Heavy fire showing in the rear of the residence, with fire venting through the roof.
Interior attack, until crews pulled out about 20 minutes into the incident. Defensive operations started, heavy fire in the structure, and aerial operations soon started. Two engines and an additional ladder requested. Dispatched 10:31 a.m. Controlled 11:15 a.m. Three people displaced, no injuries. Cause under investigation.
Units on scene included E10, E26, E2, L8, R3, B2, E12, A1, C10, C20, E3, E7, L4, B3. Watch for more incident details from Mr. Wilson, when he posts his pictures. Here are two preview photos, click to enlarge:


+ 5 - 8 | § ¶
Quick Poll: Who Wears Shorts?
By reader request, here's a quick poll. Which Wake County fire departments wear shorts during the summer? Raleigh and Western Wake come readily to mind. Who else?
Thanks for participating.
+ 7 - 2 | § ¶
Firefighter Fatality Reports
Firefighter Close Calls yesterday passed along a pair of firefighter fatality reports. They're from the NFPA and USFA, and provide details and statistics about the on-duty firefighter deaths in 2010. Each agency also has differing criteria for classifying a firefighter fatality as on-duty, thus the difference between the totals. The NFPA lists 72, the USFA lists 85. As Chief Goldfeder notes in his latest posting to the Secret List, both of their processes for analysis are relatively close to each other.
Read the NPFA report
Read the USFA Report
| Related Database
+ 7 - 4 | § ¶
Weekend House Fires
Two houses and one mobile home, actually. Rock View Drive in Raleigh on Saturday, June 11, with Durham Highway, Raleigh, Western Wake, Morrisville, and Bay Leaf fire departments. See those photos. Timber Lane in Apex/Cary on Sunday, June 12, with Swift Creek and Fairview fire departments. See photos from Lee Wilson. Vesta Drive in Garner also on Sunday, June 12, with Garner and Raleigh fire departments. See photos from Lee Wilson.



Rock View Drive / Mike Legeros photo


Timber Lane / Lee Wilson photo


Vesta Drive / Lee Wilson photo
+ 8 - 3 | § ¶
Raleigh Fire Department Museum Opens June 14
Here's a press release from the city of Raleigh, further announcing the grand opening of the Raleigh Fire Department Museum on Tuesday, June 14. The event starts at 10:00 a.m. The public is invited to attend, along with active and retired fire department personnel. The museum is located at the Keeter Training Center at 105 Keeter Center Drive.
The museum houses a collection of artifacts and images representing more than 150 years of firefighting in the Capital City. Items on display range from the 1870 alarm bell originally housed in Metropolitan Hall, to a collection of vintage nozzles and hose appliances, to a photo history of Raleigh's fire and rescue apparatus.
Yours Truly will be attending and there to help talk about both the history of the department and the mission of the Raleigh Fire Department Historical Society. See you there!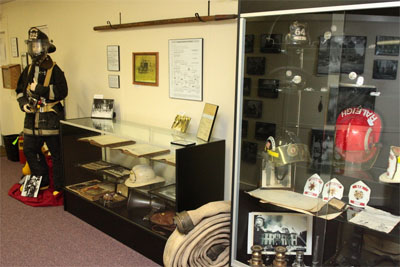 + 8 - 7 | § ¶
Tunnels to Towers 5K Race in Wake Forest - Request For Participation
The Wake Forest Fire Department is requesting participation in this year's Tunnel to Towers 5K race, an event to honors firefighters on the tenth anniversary of the events of September 11, 2001. Below is a message from Lt. David Collins about the event and how your fire department can participate:
To: All North Carolina Fire Departments

Re: The Tunnel to Towers 5K race: The run to honor us as firefighters in honor of the 10th anniversary of 9-11-

The Tunnel to Towers Story: The Tunnel to Towers is a 3.1 mile run to honor the legacy of Stephen Siller, FDNY, who laid down his life on 9/11, by "doing good" in his name. The mission of the run is to follow Stephen's footsteps.
On September 11th, firefighter Stephen Siller had just gotten off the late shift at Squad 1, Park Slope, Brooklyn. He was on his way to play golf with his brothers on that bright clear day when his scanner told of the first plane hitting the Twin Towers. When he heard the news, he called his wife Sally to tell her he would be late because he had to help those in need.

He returned to Squad 1 to get his gear, then took his final heroic steps to the World Trade Center. When Stephen drove his truck to the Brooklyn Battery Tunnel, it was already closed to traffic. With sixty pounds of gear strapped to his back, he ran through the Tunnel, hoping to meet up with his own company, Squad 1. 

Stephen's life and his heroic death serve as reminder to us all to live life to the fullest and to spend our time hear on earth doing good - this is his legacy.
READ MORE
+ 7 - 3 | § ¶
Mystery Spurs
Exploration from last weekend. That's your clue. And a piece of advice: You can't tell which way the train went by looking at its tracks. Click to enlarge:


+ 5 - 4 | § ¶
Caption This Photo / Your Historical Society in Action
These members of the Raleigh Fire Department Historical Society were caught on camera last week, at their monthly meeting slash work session at the museum trailer at the Keeter Training Center. They were putting the finishing touches on the museum, in preparation for this past Saturday's preview opening, and this coming Tuesday's grand opening. Read more about that.
Who's who? Left to right are Battalion Chief Alan Walters, Capt. David Barefoot, Lt. Tim Wall (retired), Capt. Jan Chamblee, Deputy Fire Marshal and Fire Protection Engineer Tim Hensaw, and department Historian (and long-ago former member) Mike Legeros. They're even almost color-coordinated! Click to enlarge:


+ 10 - 3 | § ¶
Kernersville Fatal Apparatus Accident
WGHP is reporting that Kernersville Engine 41 was involved in a fatal vehicle accident early this afternoon. The engine was responding to a call with lights and sirens activated when an automobile reportedly pulled out from a parking lot and into the path of the apparatus. The 80-year-old driver was killed, and a passenger in the car was transported to Wake Forest Baptist Medical Center with non-life threatening injuries. The firefighters were also injured, and treated for minor injuries at Kernersville Medical Center. WGHP has also posted several photos from the scene, taken as the apparatus was being prepared for towing. Other coverage: Greensboro News-Record, WFMY.



WGHP photo


WFMY photo
+ 8 - 4 | § ¶
Long Lay on Rock View
That's Durham Highway Engine 1 in the foreground and halfway down Rock View Drive, where Engine 23 is parked before an unoccupied single-family dwelling that caught fire earlier this morning. Bay Leaf, Morrisville, and Western Wake fire units were also on scene, which was located off Ebenezer Church Road. Just how far is the location from the respective department's stations? Google maps says driving distances were Raleigh Station 23 (2.6 miles), Durham Highway (4.5 miles), Western Wake (6.4 miles), Morrisville Station 2 (9.3 miles), and Bay Leaf Station 3 (10.3 miles).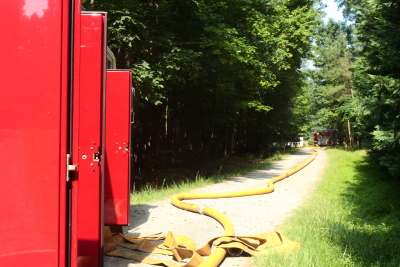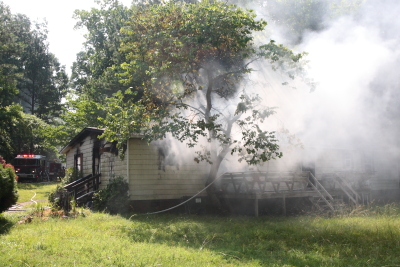 + 6 - 3 | § ¶
Yongnuo LED Photo Light
Trying a new camera light. Bought on eBay, paid about $25 including shipping. Shipped from Japan. Made in Japan, by a company called Yongnuo Digital. The product is named LED SYD-0808 and/or LED Photo Light. The thing has an array of 64 LED lights, which can be switched into "low" mode with just 32 LED lights lighting.
Mounts on a camera's flash shoe, or using a screw-attached bracket . There's no electronic connection, however. The thing is manually activated. The power switch is a push-button, which is problematic. Seems like it could easily be activated if carried in a pocket, or even in a camera bag. For now, mine'll be stored with one of the four AA batteries removed as a precaution.

Test drove the light last night on Poole Road, at the scene of a motor-vehicle accident. See those photos, which include comments about the lighting and other technical details. The results? As expected, the light lit all the reflect surfaces. Vests and gear glowed as if radioactive. Ditto for the lettering on the trucks. Hopefully it'll work better at a fire scene, and when there's a very dark building with very bright fire. We'll see. Below are a couple examples from last night. Click to enlarge:
+ 8 - 3 | § ¶
Warren County Junior Firefighter Competition, June 11 | Updated
Warren County Fire Explorer Post 672 passes along this flyer announcing the First Annual Junior Firefighter Competition on Saturday, June 11, from 12:00 p.m. to 5:00 p.m. at the Warrenton Lion's Den, 429 W. Ridgeway Street, Warrenton. Teams of junior firefighters from across the state will be attending and competing. Hope to see you there! Click to view the PDF flyer:


June 12 update. Four Wake County fire department explorer posts participated in yesterday's games: Fairview (two teams), Knightdale, Raleigh, and Stony Hill. The latter brought back a mess of trophies. There were also photos taken by Mr. Lee Wilson. More information forthcoming, as we've requested a run-down of everyone who participated and the results therein. Congratulations to all.
+ 6 - 5 | § ¶
Mallard Creek and Newell Fire Departments Closing in Meck County
Found by way of Facebook, pointing to a Firehouse.com story, is this WSOC story on two Mecklenburg County fire departments closing at the end of the month. The story cites shrinking territories as one of the reasons.
Mallard Creek Fire Department, incorporated in 1953, has a station at 10702 Mallard Creek Road. They'll donate their assets to the Huntersville Fire Department, including two engines, a tanker, a brush truck, and a small medical vehicle.
Newell Fire Department, chartered in 1949, has a station at 9007 Newell Baptist Church Road. They'll donate its four pieces of apparatus to a local department, and are accepting applications from local departments to help make that decision. This Charlotte Observer story from November talks about NFD and their closure plans. Declining revenue, higher costs, and annexations cutting into their territory were cited as reasons for planned closure.
Rural departments in Mecklenburg County have been long-affected by municipal expansion. Here's a short history of the former departments, from my database of former fire departments. There was also a fire department at the Charlotte Quartermaster Depot in the 1940s, which we'll omit from this list. Apples to oranges:
Carmel FD - Renamed from Sharon FD around 1980, merged with Carolina FD in 1994 or 1995.
Derita FD - Formed 1950, continued as rescue squad in 1994 or 1995, disbanded 1997.
Hickory Grove FD - Formed 1953, renamed Robinson FD 1988.
Moores Chapel FD - Formed 1954, merged into West Mecklenburg FD in 1984.
Mallard Creek FD - Formed 1953, disbanded 2011.
Newell FD - Formed 1949, disbanded 2011.
Oakhurst FD - Formed 1952, reorganized as Idlewild FD in 1974.
Pinoca FD - Formed 1949, merged with West Mecklenburg FD in 1994 or 1995.
Route No. 10 FD - Operated between at least 1955 to 1957.
Sharon FD - Formed 1959, renamed Carmel FD around 1980.
Statesville Road FD - Formed 1957, disbanded 1989.
Wilkinson Boulevard FD - Formed 1943, merged into West Mecklenburg FD in 1984.
Woodlawn FD - Formed by 1950, disbanded 1974.
+ 8 - 3 | § ¶
Top Ten Links For Raleigh Fire History
In honor of the opening of the Raleigh Fire Department Museum, which has a preview date today from 10:00 a.m. to 2:00 p.m., here are ten of my favorite links about the history of the fire department. Man, somebody's been a busy beaver, building all this web content!
+ 5 - 2 | § ¶
Tweeting The Night Away
Mr. Blogger has commenced a-tweeting. His hashtag is #legeros. His tweets are the same stuff of this blog. Local, regional, and even national firefighting. How does this relate to Twitter, that social media service that's been in the national news lately? You know, something about a hot dog vendor sending pictures of his product? Tweets are the messages sent using Twitter. Tweets equals Twitter.
Why have we meaning me started tweeting? Aren't there enough of my pontifications and creepy third-person style of writing already being posted onto the Big Bad Internet? Simply, it seems like a good idea. Learning about micro-blogging through doing micro-blogging. And it's a popular digital channel. Good skill set to learn. Anyway, here's a sample of recent Tweets:
Moline! Rochester! Raleigh! Volunteer auxiliaries, present and past. Those who help firefighters do their jobs. http://tinyurl.com/3kv75hb
Fabulous Firehouse Homes, what I am reading, Yahoo story sent by reader. How cool is that? http://tinyurl.com/3odc2ny
My what a big lens you have, action photo of Mike as taken by Lee. That clear plastic thing is a tip jar. http://tinyurl.com/3zmrlel
Adventures in white balance and correction therein, subtitle of my graduation photos from yesterday, http://tinyurl.com/3v5pv3s
Wake County EMS Recruit Graduation photos from Mike and Lee posted to http://www.legeros.com/firepics
Outside Fire, blog post about Emergency Fire Dispatch, now being used in city and county fire call dispatches, http://tinyurl.com/4yhon7z
Vintage Kill Devil Hills and Skyland Apparatus, blog post from 35mm slides for sale on eBay, http://tinyurl.com/3b5zvrf
What nine alarms looks like, browsing morning news, AP photo via Firehouse.com, wow, http://tinyurl.com/3nuhkju
Emergency Fire Dispatch (EFD), day two in Raleigh and Wake County. New call types being heard. Call codes should be coming soon.
Dave Statter and readers discuss firefighter images problems, and the nature of service calls, what I am reading, http://tinyurl.com/42stoqt
John Peckham's American LaFrance Database, blog post about this great data on the SPAAFAA web site, http://tinyurl.com/3rg57mu
Raleigh Fire Department Museum Opening Flier, blog post with PDF format flier, grand opening next Tuesday, http://tinyurl.com/3dpajpf
Emergency Fire Dispatch (EFD) starts today at 0800. Gentlemen, start your listening. More later.
Task Force 8's pCom unit, found via Google Alerts in a blog post by Raleighite Mark Turner, http://tinyurl.com/63qnx5f
Brooklyn apartment building burns quickly, what I am watching this morning via Statter911, http://tinyurl.com/3rrzhqo
Apex USAR 1, blog post about the rig and Task Force 4, and a couple photos from Saturday's trench rescue: http://tinyurl.com/3zcxyrh
RV rolls and starts grass fire in Selma. Driver departs. Officials scratch heads. N&O article I am reading, http://tinyurl.com/62c58dx
Caption This Photo / Sewage Truck Overturns, blog post from WRAL photo. Doo doo occurs. http://tinyurl.com/6anonvp
Rolesville's extended extrication last night, WRAL has photo of vehicle involved, what I am reading this morning, http://tinyurl.com/3qcuhg6
+ 9 - 3 | § ¶
Moline Second Alarmers / Rochester Fire Protectives / Volunteer Auxiliaries
Let's take a trip to the Midwest, where Mr. Blogger attended a family wedding in May. This beautiful engine house in Moline, IL, served as Station 4 from 1910 to 1989. The building is presently a training facility and also home to the Moline Second Alarmers. They're a volunteer auxiliary to the Moline Fire Department, formed in 1952 with a purpose of "assisting the Fire Chief in any manner by promoting, creating, and maintaining the best interests of [the department]." Notably, this included helping at any second-alarm fire. Not fighting fire, but as runners for tools, picking up and rolling hose, helping with traffic control, and washing and hanging hose back at the station.


As their history notes, their membership began to wane in the 1970s, as the numbers of multi-alarm fires began dropping. About that time, they acquired their first vehicle for use as a mobile air unit. That was a Chevy Suburban. With their fourth generation unit, they currently provide fire scene services including breathing air support, scene lighting, and refreshments and rehab. Interestingly, they also have an ex-Quad Cities rig, a 1955 American LaFrance 700 Series pumper that served Rock Island, IL. It's used for promotions and parades.


Moline Second Alarmers Photo


Speaking of auxiliaries, a reader recently passed along the web site for the Rochester Protectives, a volunteer group that assists the Rochester Fire Department in New York. They date to the 1858, formed as a salvage company during a fire department reorganization that year, and are the oldest volunteer fire department to serve the city. With a command structure including a Chief, Deputy Chief, Captain, and five lieutenants, they perform salvage duties at fire scenes along with smoke-ejection and scene lighting. Their other activities include pumping water from flooded buildings and securing broken windows and doors.

What volunteer auxiliaries are serving around our state? There are a wealth of ladies auxiliaries, of course. And Explorer Posts provide services on scene including helping collecting equipment and rolling hose. Locally, there's Barry's Cafe, that provides food service to firefighters and responders. Are any salvage corps still operating in these parts, or in the south in general? Here in the Capitol City, volunteer groups have assisted the Raleigh Fire Department for decades. Read this history of modern volunteers.
+ 12 - 3 | § ¶
Outside Fire | Emergency Fire Dispatch Debuts
If you've been listening to city or county fire dispatch for the last 36 hours, you've probably heard a couple new call types. Such as Outside Fire. Or what Raleigh units were dispatched to this afternoon, Extinguished Structure Fire. Starting yesterday, the Raleigh/Wake County Communication Center began dispatching fire calls using a new protocol called Emergency Fire Dispatch (EFD).
The system works like Emergency Medical Dispatch (EMD), which the Wake County EMS System has been using for 13 years now. Call takers ask more questions and more targeted questions, and classify calls with a wider and thus more accurate range of call types. And more accurate priorities therein. (Sound good as a layman's description? Here's a Google-found document that tells about this trademarked system of priority dispatch.)
Anyway, what we'll be hearing on the radio are some new call types, and accompanying numeric descriptors. Such as 69 delta 9, which is a structure fire involving a mobile home, house trailer, or portable office. Here's an example of EFD codes as used in Guiford County. Watch for the codes for Raleigh and Wake County, as soon as your favorite scanner nuts and fire buffs (myself included) get their data together.
Readers and radio users can and certainly will expand this information and discussion as needed. And then in another week, get ready for radio changes on city fire channels. No more major working fire. More information on those changes in a later posting.
+ 12 - 8 | § ¶
Vintage Kill Devil Hills and Skyland Apparatus
Found for sale on eBay, still more 35mm scans of vintage apparatus from both sides of the state. Photo credit not known. Top to bottom is a 1969 American LaFrance pumper (1000/500) and a 1980 American LaFrance telesquirt (1500/500/50') from Kill Devil Hills, and a beautiful low-profile 1976 Oshkosh/Howe/LTI aerial ladder (1250/85') from Skyland. How many of those served in the Carolinas? That's also the type of ladder truck that Matchbox once made as a die-cast model. Remember that one?


+ 9 - 4 | § ¶
John Peckham's American LaFrance Database
The database of American LaFrance apparatus compiled by the late great John Peckham is available on the SPAAMFAA web site. Click the Resources link to get started. There are presently 17,800+ records of what looks like motorized apparatus only, with shipping dates from 1910 to 1959. Plus a couple from 1960.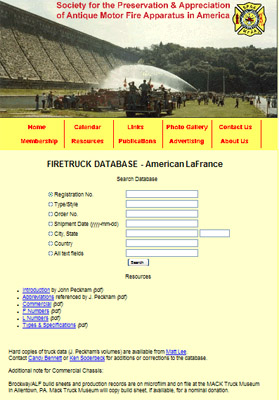 Don't know much about Mr. Peckham. He was an author and apparatus buff, and his name has been long-associated with American LaFrance research. In his introduction to the data, he cites his diverse sources and those that helped him. Talk about a labor of love, both from Peckham and those who have augmented, assisted with, and continued his research.
The database is still being maintained, and the site welcomes additions or corrections to the database. How many other apparatus databases are out there, on the Internet? Next question, how many LaFrances were recorded as serving in North Carolina? Below is a simple count based on city names, with such local data as Cary (1), Chapel Hill (3), Durham (4), Raleigh (17), Wake Forest (1), Zebulon (1):
Aberdeen - 2
Ahoskie - 1
Albemarle - 1
Albermarle - 2
Andrews - 2
Asheboro - 2
Asheville - 9
Ashville - 1
Ayden - 2
Azalea - 1
Beaufort - 1
Belhaven - 1
Belmont - 3
Bessemer City - 1
Biltmore Forest - 1
Black Mountain - 1
Blowing Rock - 2
Boone - 1
Brevard - 4
Bryson City - 2
Burgaw - 1
Burlington - 6
Burnsville - 1
Butner - 1
READ MORE
+ 5 - 6 | § ¶
Raleigh Fire Department Museum Opening Flier
Here's a flier further promoting this month's opening of the Raleigh Fire Department Museum at the Keeter Training Center. The grand opening is next Tuesday, June 14. The museum will also open on the second Saturday of each month, beginning this month. More to tell, show, and share later. Click to view the PDF format flier:


+ 8 - 8 | § ¶
Apex USAR 1
Did you know that the Apex Fire Department is a member of North Carolina USAR Task Force 4, based out of Troutman in Iredell County? The task force is comprised of Apex, Mooresville, Morrisville (also here in Wake County), and Troutman fire departments. See a map of all USAR teams statewide.
Task Force 4 has a complete compliment of equipment and tractor-drawn rigs, including this one operated by AFD. Designated USAR 1, it's a 1995 Freightliner tractor pulling an extended trailer. 'Twas a former racing transporter.
The cab seats five and has a rear seat that can be used for sleeping. The unit is housed at Station 3 and was placed in service some months ago. The rig cost about $42,000, which was donated by the Apex Community Auxiliary, a group that supports Apex EMS. Here are a couple photos as taken at the trench rescue on Saturday. Click to enlarge:


+ 12 - 3 | § ¶
Caption This Photo / Sewage Truck Overturns
As posted by WRAL, as happened on Highway 64 just before noon. The driver wasn't injured. The amount of sewage spilled was minimal. Unknown if the accident caused skid marks.



WRAL photo
+ 6 - 3 | § ¶
Station 3 in 1943
Random Raleigh Fire Department historical photo from 1943. Fire Station 3 in its original location at 135 E. Hargett Street. Left to right are William J. "Bill" Lindsey (1933 to ?), Lawson H. "Foots" Glenn (1926 to ?), Capt. W. Leonard Choplin (1914 to 1949) , James A. "Jimmy" Poole (1926 to 1967), Bernard C. "B.C." Dowd (1933 to 1945), Dempsie D. Collins (1929 to 1964), and William "Bill" Kelly (1943? to ?). The shape in the lower-left corner looks to be a dog that declined to stand still during what was likely a longer camera exposure. The photo comes courtesy of Poole's daughter, Betty Poole Brinkley. Click to enlarge:

+ 7 - 7 | § ¶
Walnut Terrace Demolished
Three views from South Wilmington Street. That's the Keeter Training Center smokehouse in the distance in the third shot. See pre-demolition explorations of the 300-unit public housing facility, which was built in 1959. Click to enlarge:


+ 10 - 5 | § ¶
Western Wake's Chevrons
As photographed yesterday by Lee Wilson, and recently added to apparatus. Left to right are Engine 191, Rescue 295, Pumper 196, and Brush 299. See more rear-view photos from Lee.



Lee Wilson photo
+ 10 - 5 | § ¶
Today's Trench Rescue in Apex, Updated
Let's see if we craft a quick narrative here. Apex Fire & EMS, Cary Fire, and Wake County EMS treated and removed a construction worker injured at a construction site earlier this afternoon. Apex Ladder 3 and EMS 41 were the first units on scene, dispatched as a medical call about 11:20 a.m. Patient found approximately a quarter-mile off the road, at the Highway 540 construction site off Old Holly Springs Apex Road.
Personnel transported to accident site by four-wheel vehicles on site. Found male patient in 20-foot metal trench box, pinned under a large rock. Additional units responded/requested, including Apex Battalion 1 (Incident Command on roadway), Car 1 (Operations Command at accident site), Rescue 4, and USAR 1 (tractor-drawn).
Patient subsequently self-extricated from underneath rock, but still required treatment and removal. Second alarm for manpower requested from Cary Fire Department. They responded with Engine 4, Rescue 4, Engine 6, Battalion 1, and their tractor-drawn collapse rescue unit. Additional EMS resources for rehab requested, with Truck 1 dispatched. Other EMS units on scene included EMS 1, EMS _, and District 5.
Patient treated and packaged in trench box. Tracked excavator used as rigging tripod for raising patient using stokes basket. Removed from trench about 1:15 p.m. Transported by EMS 1 to nearby air ambulance, WakeMed Air Mobile 1. Landing zone was dirt access road just off the paved off. Maybe a few more details forthcoming. Good job all around. Now time to clean those camera sensors of mine! See photos by Mike Legeros. Click to enlarge:

+ 7 - 3 | § ¶
TinyURL Generator For Firefox Browser
TinyURL is the exceptionally useful web site that turns long web site addresses into short web site address. The shorter addresses (or URLs) are great for pasting into Facebook or Twitter postings. Such as this: http://tinyurl.com/yf8pvco instead of this: http://www.legeros.com/ralwake/photos/weblog/index.php. There's a TinyURL Generator add-on for the Firefox web browser that reduces the number of steps to generate a TinyURL. Try it out!
Old way:
Copy long URL onto clipboard.
Visit TinyURL web site.
Paste long URL into web site form field.
Click button to generate short URL.
Copy short URL onto clipboard, for pasting elsewhere.
New way:
Right-click on page or link and select option for generating TinyURL.
Short URL both generated and copied onto clipboard, for pasting elsewhere.
+ 8 - 5 | § ¶
Hello Twitter
Mr. Blogger is now tweeting. Meaning what, birds in a nest on his flowered shirts? Try Twitter, the social media and microblogging service at twitter.com. Follow Mike Legeros at twitter.com/legeros. Links to blog posts, links to posted fire photos, and some exclusive content, such as links to news stories of interest.


+ 10 - 2 | § ¶
Stony Hill Wet-Down, Sunday, June 5
Stony Hill Pumper 392 will be placed in service on Sunday, June 5, after a wet-down ceremony at 2:00 p.m. The location is Stony Hill Station 2 at 15633 New Light Road, Wake Forest. The traditional ceremony consists of neighboring fire departments spraying water on the new truck, to anoint its entry into service. The new apparatus, a 2011 Pierce Saber pumper, was delivered on March 25. Below is a photo from Lee Wilson of the engine, taken the day after delivery.



Lee Wilson photo
+ 6 - 5 | § ¶
Franklinton at Falls
Coverage at the Falls Fire Department during today's house fire. See prior post. Driving distance between fire stations is 15.3 miles, says Google Maps. Click to enlarge:


+ 8 - 4 | § ¶
Today's House Fire in Wake Forest
Or rather, outside Wake Forest. Dispatched as a fire alarm to 6808 Moresham Way. Arriving units found fire already venting from a one-story, wood-frame dwelling with 2,314 square-feet. Built 1994. Falls Pumper 212 was the first engine on scene. Supply line down long driveway to Bay Leaf Stony Hill Pumper 261. Drop-tank at street, with water point at Wakefield Baptist Church. Interior attack until crews pulled out, say, 15 minutes later. Evacuation order also rebroadcast by Central. Command located in driveway, and rehab located beside driveway.
Dispatched about 5:25 p.m. Fire contained by time of Mr. Blogger's arrival at 6:40 p.m. Extended overhaul, with crews still on scene. Departments and units included Bay Leaf (P258, P252, P361, P121, P122, Air 12), Durham Highway (E1), Falls (P212, P211), Franklinton (Falls coverage), New Hope (E1, Tanker 10, C1), Rolesville (Tanker 158, C3), Stony Hill (P261, Tanker 268), Wake Forest (E1, E2, E3, C1), Youngsville (Tanker 44), and Wake County EMS (EMS 12, EMS 15, EMS 33, D3, M93, T1). Readers can add additional details and corrections therein. See preliminary photos by Mike Legeros. Click to enlarge:

+ 5 - 4 | § ¶
Vintage Greenville Aerial Platform
Found for sale on eBay, here's a 35mm slide scan of a 1970 Ward LaFrance Hi-Ranger. The 85-foot platform was equipped with a 1250 GPM pump. Click to slightly enlarge:


+ 7 - 5 | § ¶
Today's House Fire in Morrisville
There was a heck of a house fire in Morrisville this morning, and one that continued well into the afternoon. Reported about 9:20 a.m. at 414 Church Street. That's a one-story, wood-frame structure with 1,890 square-feet, say tax records. Built in 1910! Crews took two lines inside to start, but evacuated about 20 minutes later, due to heavy smoke conditions and difficulty with ventilation. That's around the time that Mr. Blogger was listening.
Defensive operations commenced. Later extensive and extended overhaul. Numerous relief companies also requested. High heat and humidity today, temperatures topping 97 degrees. NBC17 reports two Cary firefighters were transported to WakeMed for heat exhaustion. Here's a short NBC17 aerial clip.
Fire departments included Morrisville, Western Wake, Apex, Cary, Parkwood, Durham, and Swift Creek, plus Bay Leaf and Durham Highway for coverage. Wake EMS (EMS 4, EMS 33, D3, T1) and Cary EMS. What other departments and units were on scene? Run card, anyone? Readers are welcome to add details. Stay cool.



NBC 17 photo

WTVD photo