+ 13 - 17 | § ¶
Shortage of EMS Workers
Today's News & Observer features an interesting article on Triangle EMS agencies and their recruitment and retention challenges. There's also a related graphic on vacancy rates.
+ 18 - 13 | § ¶
Tap Bell
As photographed at the Fire Museum of Maryland, this is a tap bell. It is a smaller version of the station gongs that were connected to electric telegraph fire alarm systems. After Raleigh's system was installed in 1887, tap bells were installed within a couple years in the homes of the Chief and Assistant Chief, select fire company foremen, and individual members at their own expense. They could also rely on the city bell, which tolled the box numbers and other alarm signals.


+ 18 - 12 | § ¶
Show Report
Baltimore, city of sirens. And expensive parking. And hideous traffic. Tenth or so year at the Expo for this tourist, and the second sans spouse. Always bundled with area sightseeing, it still feels more than ever like a business trip. Fewer attendees this year, perhaps. None of the specialty vendors of interest-- die-cast collectibles-- due to a drop in that industry. The show floor is best sampled in spurts, say 60 or 90 minutes at a pop.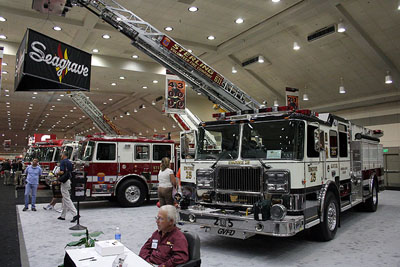 First, the big toys, the flashy, feature-packing pieces from Pierce, Seagrave, E-One, et al.
READ MORE
+ 18 - 12 | § ¶
Friday's Fire
...the first one, that is. 3405 Birk Bluff Court, off Penny Road, west of Holly Springs Road. 7,785 square-feet, 1.5 story with full basement, brick home, says real estate records. As reported by WRAL, water was shuttled, and more than 200,000 gallons of same. Penny Road closed during tanker ops. Two (or three?) water points. Alarm time about 8:00 p.m. Defensive operations, with at least one aerial in operation. Units/agencies on scene: Fairview E1 E8 R1 Tanker 7 Tanker 6, Swift Creek E3 Tanker 6 Tanker 2, Holly Springs, Western Wake E297, Garner Tanker 12, Cary EMS 1471. Interesting and amusing reader comments, on the subject of water and hydrants, at the above link.
+ 10 - 17 | § ¶
Starting Your Own Thread
Friendly reminder. Users who seek to start their own threads are recommended to utilize the Watch Desk. Or, drop a line with your suggested topics. One has already been suggested, a "job line" which would presumably post employment opportunities. We'll mull that.
+ 15 - 21 | § ¶
The I-40 Incident / Cell Phone Usage
Was this afternoon's incident on I-40 the first fiery, multi-vehicle accident in these parts? Or at least in a while? Units/agencies on scene/dispatched included: BFD, CFD E1 R4, CEMS 571 574 580, DFD E13, DHFD, MFD E1 E2, PFD, RDU CFR3, RFD E14 R14 E24, WEMS T1 + others, WWFD. Slideshows available at WRAL, WTVD, and the News & Observer. Also, the WRAL story notes "authorities urged motorists to avoid the area and to refrain from using cellular phones to keep cellular lines signals available for emergency personnel." What? Never heard that one before. Can someone elaborate?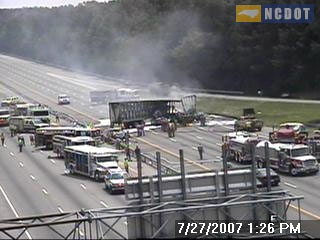 + 14 - 14 | § ¶
Share Your Decor
For some Friday fun, who has firefighter decor in their home (or station) that they are willing to share? Rec rooms, kid's rooms, day rooms, etc. Send your pics to Mike and he'll compile and post.
+ 12 - 18 | § ¶
Baltimore's Big House
Every year it seems another piece of apparatus is added at Station 23, at the corner of Eutaw and Lombard Streets, and two blocks from the Convention Center. The building faces both streets, with five bays facing Eutaw, and six bays facing Lombard. One of the latter also exits the rear of the building. It's an easy station to find, as it straddles the Emerson Bromo-Seltzer Tower.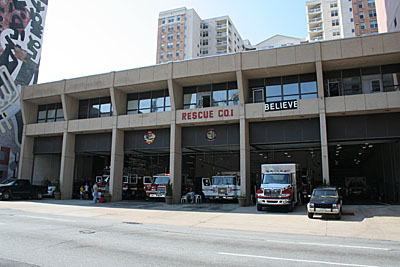 Inside are...
READ MORE
+ 18 - 16 | § ¶
National Fire Academy / National Fallen Firefighters Memorial
Wandered to Emmitsburg, MD, yesterday, curious what the National Fire Academy grounds look like. The exceptionally quaint town is located about 70 minutes northwest of Baltimore. It's also a stone's throw from Gettysburg, another tiny town. There are mountains nearby, including Raven Rock Mountain, where a nearby underground complex commonly called "Site R" is one of the "undisclosed locations" that the Vice President occasionally visits.


The campus of the National Fire Academy is called the
National Emergency Training Center
.
READ MORE
+ 8 - 24 | § ¶
More Shop Sights
New Crown Victoria as Car 3, and one of the old rescues as a soon-to-be shop vehicle. Note the amber lights. See Lee's photos for more, including shots of the new ladder and pumper.


+ 12 - 17 | § ¶
Weight and Spreading Weight
Many moons ago, an old girlfriend observed of the firefighters attending the Baltimore Expo "they're all fat!" No, not really. Not all of them. But, there certainly were (and typically are) a considerable number of considerably sized individuals at the event. Just as fat boy with the shaved head will be departing for there this morning. (Look for the guy in the XL tropical shirt on the exhibit floor.) Why do firefighters get "big?" That's it's own topic for weighty discussion. But what about "social factors?" This morning's New York Times article cites an interesting study on that subject. The Big O as socially contagious. Seems plausible.
+ 22 - 10 | § ¶
Raleigh's New Engine and Ladder
...were delivered today. Pierce Arrow XT aerial ladder (105') and Pierce Enforcer pumper, going to Ladder 16 and probably Engine 16.


+ 15 - 20 | § ¶
Chatham County Covert Military Site
Found while browsing cold war infrastructure ahead of this week's road trip, one of five nuclear-hardened secure communication stations built in the mid-1960s in the mid-Atlantic region. Called Big Hole, and covered by the Independent in 2000. Wonder what the fire and EMS response protocol is into that facility? Here's a Google aerial photo of the place.


+ 13 - 17 | § ¶
Obey Orders
In the years after the Civil War, when the city's firefighters were volunteers and its citizens were often compelled or called to assist at fires, the Daily Standard offered this suggestion in the context of a Christmas morning fire in 1868: "All persons not members of the Fire Department [...] should refrain from giving orders while a fire is raging, and obey orders given by men who have been selected for that purpose. By recognizing the officers of the fire companies, and by concert of action, much valuable property might be saved which would otherwise be damaged or destroyed."
+ 23 - 8 | § ¶
Talking About Talking
Playing in a bigger pond, and asking questions about the Firehouse forums and why so few are discussing the Charleston Post & Courier coverage. Talking about talking. Possible outcomes include (a.) posits are confirmed, (b.) posits are rebuked, (c.) rationale discourse happens, (d.) heated discussion happens, (e.) posting person is discussed, (f.) something else is discussed, (g.) thread is ignored, (h.) thread is removed. Let's see what happens.
+ 20 - 11 | § ¶
Friday Morning's Fire
Abandoned house in the 5100 block of Faison Ridge Lane. Eastern Wake, New Hope, and Wendell. Lee posted pics this morning. Wake County real estate records tell some more of the story. Addressed 5120 Old Faison Road. Built 1917. Single-story with 3,114 square-feet. Probably occupied until the bypass was built. Here's a picture of the building. Here's a Google aerial photo.


+ 17 - 20 | § ¶
Unusual Dispatch
Heard on scanner just now for a fire, nature unknown, on Ebenezer Church Road at Richland Drive: Western Wake Engine 191, Engine 196, Tanker 198, Tanker 295, Bay Leaf Engine 122, and Raleigh Engine 14. That's a combination that you don't hear every day. Bonfire, it turned out.
+ 14 - 11 | § ¶
New Look
Not really, it's just been five or six years since the last shearing. Wife is horrified. Will work for ball caps. Coif to return at average rate of 0.5 inches per month.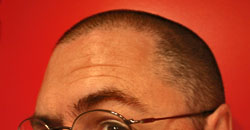 + 20 - 8 | § ¶
Write Articles, Not Blog Postings
Here's an intriguing article from usability expert Jakob Nielsen on the subject of blog postings. It's not light reading, and is probably apples to oranges when applied here. His audience is business people, and those earning income from web sites or web services. Nor is this blog author the #1 expert among 1,000 other people. Ha ha. Still soaking it in, but it does provide a good contextual comparison of blog postings versus other regularly published web content.


+ 18 - 14 | § ¶
Fire Commission Meeting
The following issues were covered in the first two-and-a-quarter hours of tonight's Wake County Fire Commission meeting:

Regarding Wake Forest's request for a fully county-funded, rural area-serving, 3,000 gallon pumper-tanker, the WCFC voted to (a.) deny the request, (b.) to rescind a prior offer of replacing an older WFFD pumper-tanker with a 2,000 gallon tanker, and (c.) that this matter not be bought before the Board again until next year.

Regarding closing Western Wake Station #2, now planned for July 1 of next year instead of this year, the WCFC unanimously voted yes. Cary will be contracted for coverage, and a new Cary Suburban Fire District will be created from some (but not all) of Station #2's territory.

Regarding a new fire station on the east side of the county, the commission voted to proceed with planning for a fire station in the Raynor Road-Highway 70 area. The station would be operated by the Garner Fire Department.

Regarding CIP funding for both Bay Leaf Station #1 reconstruction and the aforementioned east-of-Garner fire station, the commission addressed questions from the Board of Commissioners. Though funding was approved at the last WCFC meeting, the BOC expressed concerns along the lines of (a.) have all options for Bay Leaf #1 been exhausted, (b.) are there ways to reduce the cost of Bay Leaf #1, (c.) should Bay Leaf #1 be funded before the east-of-Garner station, which would serve a presently unprotected area, and (d.) what is the Fire Commissionís priorities for tax dollars in general? Stations? Staffing? Etc.?

This issue was seemingly nearing resolution when Mike had to leave, with momentum building toward the need for "the big picture" to be painted, and perhaps before CIP funding approval would proceed. We'll update with the outcome as it is learned.

Disclaimer: The above are very general accounts, and do not reflect the totality of discussions, debates, and decision-making. Nor do they note the various subcommittees that worked on the above issues, and presented them this evening. This is just a quick recap. Corrections and clarifications are welcome. For the clearest picture of what's happening, however, in-person attendance is the best-est.
+ 14 - 11 | § ¶
Blog Sticker
Humor. If we made stickers for blog users, what would they look like? How about... READ MORE
+ 10 - 17 | § ¶
This Month's Firehouse Magazine
The July issue of Firehouse features an article titled Carolina Burning by our ECC Director Barry Furey and featuring photos by Lee Wilson. The article, subtitled Tar Heel Firefighters Face a Busy 24 Hours, recounts the events of February 22, notably the Big Fire on Oneonta Avenue. Good work, by both. The four pics from Lee are shown below. They and other photos from that day are archived at the bottom of the photo site.


+ 18 - 11 | § ¶
Today's Action Photo
Steam geyser in New York City. One dead, here's the story. Yesterday's action photo was the plane crash in San Paulo, Brazil or the train wreck near Lviv, Ukraine.


+ 19 - 13 | § ¶
Charleston and Other Blogs
Here are some interesting firefighting blogs, found among coverage of the Charleston tragedy: Firegeezer, billed as the "hottest fire blog on the web." Firefighter Hourly, authored by Jay Lowry. STATter911, covering news about the fire service. Friction Loss on Charleston, a new blog and the least politically correct of the lot. Or downright ugly, it could be argued. What other regional or national blogs have caught readers attention of late?
+ 13 - 19 | § ¶
This Evening's Fires
Amid fast, strong storms, Raleigh had a pair of working fires, Meredith Anne Court earlier and Lash Avenue later (pictured). Swift Creek also had a working fire later in the evening, on Dover Farm Road. Lightning strikes also reported around the county. The Lash Avenue fire is still going, with additional companies being called for manpower. Mike snapped some pictures until driven away by heavy rain + leaky umbrella. Used the faster lens, so at least some of the pictures should be good.


+ 23 - 12 | § ¶
Big Tankers
Some big tankers were seen at yesterday's fire in Durham County. Ceffo, Moriah, and Parkwood were rolling rigs that looked like the 3,000 gallon variety. What are or were the largest tankers in Wake County? Cary took the cake in 1954 with a tractor-drawn tanker that hauled 4,500 gallons. Stony Hill started with a 1950 Autocar ex-military fuel tanker that carried 3,000 gallons. Fairgrounds had a 1959 International Harvester that toted 2,700 gallons. And three 2,500 gallon tankers were operated by Cary (1956 ex-military), Fairgrounds/Western Wake (1985 Kenworth/Grumman), and Swift Creek (1980s? Chevy). What others are or were heavy haulers, e.g. over 2,000 gallons?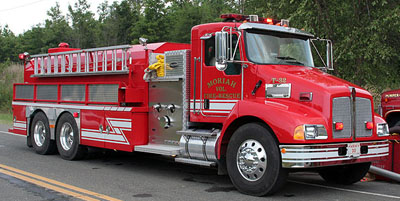 + 14 - 12 | § ¶
Charleston and Booster Lines
Sunday's Post and Courier featured an interesting article on booster lines and interior attacks. Seems fair-minded. The reader comments are also interesting, though heated in spots. Hope they're doing as well as possible down there, with such scrutiny from all sides.
+ 17 - 11 | § ¶
Sock Puppets
On the subject of blogging and online discourse, this morning's New York Times article describes the consequences of something called "sock-puppeting." Or, as precisely defined in the article, "the act of creating a fake online identity to praise, defend or create the illusion of support for oneís self, allies or company."
+ 17 - 12 | § ¶
Redwood's Fire
Third time's the charm-- or is it the fourth time?-- for the old motel on Redwood Road at I-85. Twin tanker shuttles supplied a pair of aerial streams. Surround, drown, and staying safe. Durham, Orange, Wake, and Person county fire departments included Redwood, Bethesda, Durham, Lebanon, Bahama, Parkwood, Creedmoor, Ceffo, Hillsborough, Moriah, and Durham Highway. Three lenses used for wide, close, and closer. The last set of shots use a 70-200mm Tamron.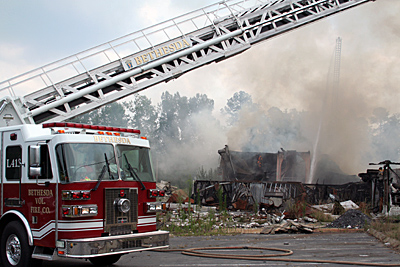 + 16 - 12 | § ¶
IAFF EMS Conference Coverage
There are some interesting speaker/session summaries on the IAFF site, from coverage of the 9th Biennial Dominick F. Barbera EMS Conference in June. The conference explored all aspects of fire-based EMS services. The summaries are pretty short, alas. Mass casualty disaster expert Colonel David Barillo's cites some scary stats on major burn disasters. Most produce 25-50 patients, with fatalities occurring on scene within 12-24 hours. He's identified 73 such disasters in the past, in the US. That would be an interesting list to review.
+ 18 - 13 | § ¶
Baltimore & Beethoven
Fire Expo attendees favoring a musical diversion can hear Beethoven's Ninth Symphony performed on Friday, July 27. Tickets are a reasonable $35, including service charge and parking permit. The symphony hall is less than a mile from the Convention Center. Plenty of seats are available, including Grand Tier Center, where at least one concert goer will be wearing a tropical shirt. For those new to the Ninth, it's about a 75-minute piece, with vocal and choral accompaniment in the famous fourth movement. They sing in German. Freude!
+ 17 - 10 | § ¶
Small Plane Crashes / Interesting Statistic
In the context of this week's fatal Florida accident, how often are people on the ground killed in small-plane crashes? Very rarely, it seems. This USA Today article cites a review of NTSB records that put the percentage at fewer than half of 1% of the nearly 11,800 people killed in small-plane accidents in the county since 1987. By way of comparison, about 13% of the people who die each year in automobile accidents are not passengers in the vehicles.


+ 17 - 10 | § ¶
Small Plane Crashes / Interesting Statistic
In the context of this week's fatal Florida accident, how often are people on the ground killed in small-plane crashes? Very rarely, it seems. This USA Today article cites a review of NTSB records that put the percentage at fewer than half of 1% of the nearly 11,800 people killed in small-plane accidents in the county since 1987. By way of comparison, about 13% of the people who die each year in automobile accidents are not passengers in the vehicles.


+ 10 - 20 | § ¶
High-Rise Training
That's high-rise training you're hearing on the BATT channel, starting today. Five engines, two ladders, and one rescue, plus chiefs, at the Tri-Towers at NCSU. Bowen, Metcalf, and Carroll. They're drilling over the next couple weeks on new high-rise procedures. Pics forthcoming.



+ 15 - 14 | § ¶
Rescue 14
...was placed in service this afternoon with their new truck. If counting correctly, that's the thirtieth Pierce for Raleigh. The first was delivered in 1988, the Arrow platform. The city has operated 12 rescues since 1953, including the two Pierces but not counting USAR equipment. There have also been five service ladder trucks since 1922, including one rebuild; 16 pieces of aerial apparatus since 1916, including two replacement cabs (1939 and 1979); and 74 engines since 1913, including two chemical and hose cars (1913), one used pumper (1942), and a pair of rebuilds with changed chassis's (1990 and 1992). Source: RFD apparatus registery.
+ 23 - 13 | § ¶
Lee's Photo Site / Navigating Flickr
Here's some instruction on navigating Flickr, which the photo site used exclusively by Lee. Below are a series of screen captures with text instructions. READ MORE
+ 17 - 13 | § ¶
Worcester and Memphis
Today's Charleston Post and Courier has articles on Worcester and Memphis, and how those cities dealt with, and are still dealing with fatal fires from 1999 and 2003. Sidebars include department profiles and lessons learned.


+ 12 - 18 | § ¶
Blazin' Wheels Ride, Fayetteville, July 21
The annual fund-raising event for the North Carolina Fallen Firefighters Foundation takes place in Fayetteville on July 21. The parade route starts at the Cumberland County Emergency Services Memorial at Fayetteville Technical Community College. The event is being hosted by Cape Fear Harley Davidson. See http://www.blazinwheelsride.com/ for more information.
+ 22 - 7 | § ¶
Random Notes
Raleigh's new Rescue 14 was still not in service as of Friday. The new Pierce engine and ladder are due around July 23, give or take a few days. The ladder is going to 16... The city has also received some new admin and support vehicles, including new wheels for Car 2. Old Car 2 (Tahoe) is going to Battalion 4. Old Car 5 (Excursion) went to Battalion 2... Speaking of Assistant Chiefs, the change of command took place this week. Best to each in their new roles... We've noticed Apex sending their ladder truck to Morrisville over the last two weeks. Is the latter's ladder out of service..?

Some details on the Charleston memorial service. The procession featured 252 vehicles. It was 7.5 miles long. CFD members were all off-duty for a number of days. The South Carolina Firefighter Mobilization group filled the stations with personnel (and equipment?) from around the state... Speaking of mobilization groups, saw something similar in Minneapolis. Four pieces of new-looking apparatus at a deactivated MFD station. Tractor-drawn rescue, medium rescue, pumper, and chief's car. Might have been a ladder there, too. Was told the task force was part of a state-wide system of resources...

The first annual Fallen Firefighters Foundation Golf Tournament the other week raised approximately $17,000k. Over 140 players participated in the all-day event. Next year's tourney is scheduled for June 12, 2008... Blog's been quiet, but there's been a bit of recent activity on the Watch Desk, discussing media coverage in the context of the recent rescues by Halifax County firefighters... Finally, from a reader, the rear of an ALF ladder from Valley Cottage, NY. The gap to the right is the LDH chute. Chevrons.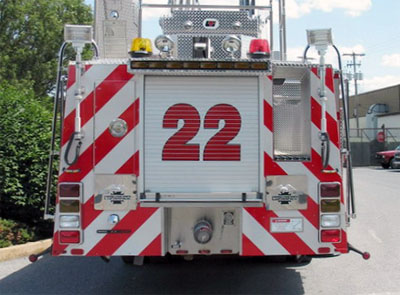 + 21 - 12 | § ¶
Bloody Hot
Everywhere.


+ 9 - 19 | § ¶
Who Has the "Best" Radio Traffic?
For your Friday night musing, which area or regional fire departments have the "best" radio traffic?

Read the rest and respond on the Watch Desk.
+ 21 - 12 | § ¶
How Popular is Your Site?
Here's a neat new site that rates the top 500,000 sites in the country. Legeros.com is ranked 245,518. Thewatchdesk.com is ranked 173,622. Firenews.net is ranked 115,978. Raleigh-nc.org is rated 41,842. Wakegov.com is rated 21,697. Firehouse.com is rated 10,992. Wral.com is rated 6,388. Flickr.com is rated 85. Google.com is rated 2.
+ 13 - 16 | § ¶
Photo Permissions
From time to time, we're asked if our photos can be used for this project or that purpose. We almost always agree, as we seek to serve those that we photograph. That's why we're here. Passing around personal copies are fine, as are public-facing projects such as presentations or web pages. Commercial use is a little trickier, but often okay. READ MORE
+ 18 - 12 | § ¶
Fire Museums
Let's tour. Here's the Minneapolis Fire Museum that Mike visited last week, as well as the new North Charleston and ALF Fire Museum. FireNews Editor Jeff Harkey photographed Philly's Fireman's Hall recently. Also in Pennsylvania is the Harrisburg Fire Museum, that Mike has visited. And here are older and lamer pics of the Baltimore Fire Museum as well as some newer shots from Baltimore. Next question, how can we start something like this here? We'd need a building. And stuff to fill the building. And people to staff the building. And money to pay for whatever wasn't donated. And, over it all, some sort of organization. Maybe a buff's club. Maybe a historical society. Maybe a municipal sponsor. Don't know. Need to think on that.


+ 14 - 11 | § ¶
Happy Incendiaries and Explosives Day
Here's hoping for zero injuries and property loss today. Hmmmmm. Maybe fire departments should start handing out Pepsi and Mentos on the Fourth. That's a considerably safer chemical reaction for everyone to play with. Here's Mike's wife demonstrating same.


+ 19 - 14 | § ¶
Rescue 19
...was placed in service with their new Pierce around 6 p.m. today. Rescue 14 should be in service with theirs later this week.
+ 8 - 22 | § ¶
Yowza
This Daily Mail article about the Glasgow Airport attack shows spectators standing and watching that colliding Jeep burn. Here's a little math to help them out. Vehicle + flames + attempted entry into airport terminal + attempted car bombing one day earlier = travel as fast as possible in opposite direction, lest something ignite or explode that hasn't already.


+ 9 - 17 | § ¶
Dalmatians
Seen at an Evanston bookstore, The Firefighter's Best Friend: Lives and Legends of Chicago Firehouse Dogs. Neat. Haven't researched much about animals around Raleigh engine houses. There was a monkey at Station 1 in the 1910s that made the news. Need to ask around about recent decades and document accordingly.
+ 12 - 16 | § ¶
Inside or Outside? / Psychology and Duty Deaths / Cached Pages on Google
Interesting article from the Charleston Post and Courier on interior versus exterior firefighting, and the city's tradition toward the former. The newspaper's continued coverage of CFD and their tragedy includes numerous articles and photo galleries. Also, the cited Fire Chief magazine article by Brian Crawford is available at firechief.com. A cached version can also be found using Google. Search "duty to die syndrome" as keywords and click the Cached version of the top search results. More information about cached pages.