+ 13 - 20 | § ¶
Central Stations
This beautiful building served several decades as the Central Fire Station in Bloomington, Illinois. Built in 1902, it's presently a restaurant. What buildings of similar size and somewhat-similar age are still standing in the Carolinas? Asheville's is still active, a three-bay public safety center (1924). Henderson's is also active, now named Station 2 (1908). New Bern's is empty and awaiting use by the fire museum (1928). Greensboro's was re-purposed as part of a hotel (1926). Durham's, smaller in size, is presently an office building (1890). Gone are the big, old houses from Burlington, Charlotte (1925), Fayetteville (1908, 1949), Raleigh (1896), Rocky Mount (1907), and Wilmington (1907, 1956), among others.


+ 10 - 11 | § ¶
Thursday's Haz-Mat Incident
Some notes on Thursday's haz-mat incident, compiled from media and incident reports. Tyco Healthcare / Mallinckrodt, 8801 Capital Boulevard. Approximately 15,000 gallons of sulfuric acid released at about 7:30 a.m. Spill contained primarily to concrete containment area. Cause of release under investigation, with equipment failure suspected. Due to potential for rain, which could cause vapor cloud if introduced into spill, approximate half-mile evacuation was implemented. Closures included Durant Elementary and Middle Schools and Neuse Baptist School. Residents of nearby apartment complex were advised to stay indoors. Clean-up effort lasted about 11 hours. Units on scene included Raleigh Engine 28, Engine 22, Engine 16, Engine 8, Truck 22, Air 8, Car 5, Haz-Mat 2, Haz-Mat 15, Decon 1, New Hope Engine 1, Tanker 10, Tanker 11, Wake EMS Truck 1, Wake EMS 33. Others can add to or complete the list. We've also been sent some pictures and will post if possible.
+ 14 - 7 | § ¶
Disaster Tourists
Good article from the San Francisco Chronicle on the subject of spectators and the Lake Tahoe fire.
+ 12 - 11 | § ¶
Unique Graphics
Seen outside Des Moines, Iowa, a Spartan/Welch pumper-tanker in the service of the Johnston Fire Department. Click to enlarge:


+ 15 - 11 | § ¶
Inspectors: Oxygen Canisters Fanned EQ Fire
That's the WRAL headline on the additional EQ fire findings announced today. There are also reader comments to puruse. Here's a similar N&O article. Unspent oxygen canisters, they say. Those were the things that brought down ValuJet Flight 592. Talk about pure terror.
+ 18 - 13 | § ¶
Rear Views
Chevrons are the thing in Minneapolis. Their 2003 Pierce Enforcer mobile command post makes the boldest statement. Ran into the thing twice, once walking and once driving. Photo explorations are also forthcoming of the aforementioned Big Red, Bill & Bonnie Daniels Firefighters Hall & Museum, and about twenty historic and former MFD stations.



+ 14 - 16 | § ¶
Big Red
This is a 1958 Walter crash truck that the Minneapolis Fire Department placed in service in 1976 as Foam-Hose 1. The ex-Army rig was rebuilt with a 1500 GPM pump pulled from another old rig, and outfitted with a pair of Stang monitors in the rear. It served for a few years, and presently resides at an aviation museum north of the Twin Cities. One of Raleigh-Durham Airport's earliest vehicles was a 1959 Walter crash truck. It served for a couple decades, and was moved to the Durham Museum of Life & Science. Its present disposition is unknown. Detail pics of Big Red forthcoming.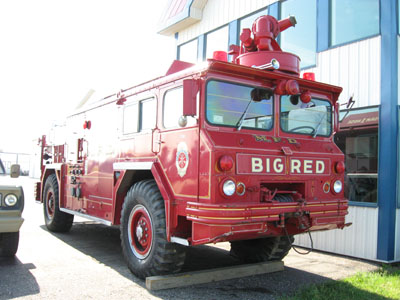 + 14 - 14 | § ¶
WRAL Forum Comments
If you haven't already found them, the forums on the WRAL site are quite lively at times. There's no single page for the Forums, at least that we've found. Rather, comments are logged on a per-story basis. Poke around and be amused.
+ 13 - 16 | § ¶
Memorial Parade Photos
Found these memorial service parade photos by Alejandro Torres. We will post others as they become available, such as this one on the Post and Courier site. Ditto the roster of the participants, if made available.


+ 15 - 10 | § ¶
Memorial Service
The Post and Courier site (charleston.net) notes that live streaming video of today's memorial service will be available. There will likely be others, on print and TV news sites. Feel free to post them as they are known or found. The planned program for the service, as posted on the above site, includes:

Processional – Charleston Symphony Orchestra
Presentation of the Colors – Charleston Fire Department Honor Guard
FDNY Emerald Society Pipes and Drums
The National Anthem – The Voices of IFD, Indianapolis, Indiana
Invocation – Chaplain Rob Dewey, Coastal Crisis Chaplaincy
Remarks – The Honorable Joseph P. Riley Jr. - Mayor, City of Charleston
Remarks - The Honorable Marshall C. Sanford - Governor, State of South Carolina
Music – "Angels Among Us"
Firefighter James Smith, Wilson, North Carolina Fire Rescue
Remarks – Chief Russell B. Thomas Jr, Charleston Fire Department
Music – "How Great Thou Art" performed by Seacoast Church Choir
Scripture Reading – The Reverend Gabriel J. Smith
Homily – Monsignor Joseph Roth
Ringing of the Memorial Bell – Engineer Lance Williams, Charleston Fire Department
Music – "Taps"
Music – "Amazing Grace"
FDNY Emerald Society Pipes and Drums
Benediction – The Reverend Jimmy S. Gallant III
Recessional – FDNY Emerald Society Pipes and Drums
+ 13 - 15 | § ¶
Morrisville Station 3
MFD has moved into Cary Station 7. It's been at least a week now. 'Tis a sad sight, in a way, to behold a vacant station.
+ 20 - 6 | § ¶
Helping Your Firefighters
And like that terrible time 69 months ago, the nation's attention has again turned to the fire service. Editorials are appearing. Features are being written. Video clips are being recorded. Meet the firemen and firewomen. Learn about their equipment, their lives, and what it feels like inside a burning building. They've been here all along, of course. Firefighters are silent heroes, and their presence is easily under-appreciated. There's the neighborhood fire station, always there, always ready. That's the sound of a siren, you hear it every day. Pause, notice, and resume your activities. The kids are more aware. They're drawn to these soldiers like moths to... flames. There's also that week in October. It's a comfortable routine, except at times like this. This punch to the gut is painful. You wince, you weep, and you think. The guys and gals on the line have their hands full. Dealing, coping, learning, adapting. The community can support them, and the service welcomes their support. How will you, citizen reader, support your fire service? Ask them what they want. Chances are they'll talk about such things as staffing, stations, and equipment. (They will also talk about sprinklers, building codes, and life safety. But that's another story.) This is budget time, or at least the tail end of same. Consider expressing your support for the fire service to your elected officials. Then do it again in January. Then do it again in June. You get the idea. Firefighters do what they do, because it's what they do. They don't ask for much. The resources to do their jobs. The safest preexisting conditions possible. And that's about it. Help them help you.
+ 10 - 9 | § ¶
Tragedy
What is the appropriate response to tragedy? Don't know. Maybe can't know. People, personalities, and emotions are just too different. Sure, we probably-- hopefully-- know what is considered GROSSLY inappropriate. For the more regular range of responses, though, there are probably opinions on which is proper versus improper. READ MORE
+ 11 - 14 | § ¶
Charleston Firefighters Killed
Nine firefighters died in a furniture store fire yesterday. SConFire has the story. There is also extensive information on Firehouse.com. The forums contain a link to a pre-fire picture. WCBD-TV has raw video footage. Pics below from Live Maps Search, WCBD-TV, and Post Courier.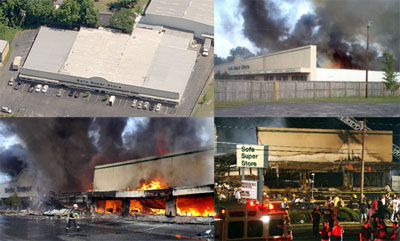 + 15 - 10 | § ¶
Feuerwehr
Two additions to the bookshelf, 1000 Feuerwehrautos and Feuerwehren - Spezialfahrzeuge aus aller Welt. Thick, heavy, hardcover, photo-intensive volumes that were ordered from Amazon Germany. Very easy to order. Delivered in a couple weeks. The first is a compendium of apparatus from around the world. Mostly modern, and mostly in color. Two Raleigh rigs are included (!), one of the 1989 Pierce Lance pumpers and the 1991 Simon/E-One haz-mat truck. The second book covers specialized apparatus. Full color, with everything from industrial rigs to robots to boats to planes. Even in a different language, there's nothing quite like a big book of fire engine photos.


+ 13 - 12 | § ¶
RAPS Kart Race Today
News Release. Wake County Sheriff Donnie Harrison will lead a pack of racing public safety workers through some twisting turns and long straights Monday evening at 6:00 pm. But this is no pre-planned police chase. Sheriff Harrison will be driving a pace car to start the field at the Raleigh Area Public Safety Karting Race at RushHour Karting in Garner, NC.

The 90 minute endurance kart race will feature teams from state, county and local law enforcement, EMS and fire services. READ MORE
+ 19 - 8 | § ¶
Heard on Scanner
"Harris Teeter S-u-p-e-r-m-a-r-k-e-t-s." Locution can spell!
+ 13 - 15 | § ¶
RFD Antique Apparatus Histories
For your reading enjoyment, PDF-format histories of Raleigh's antiques
originally created as signs for the Station 28 opening. They're linked from Mike's RFD history site.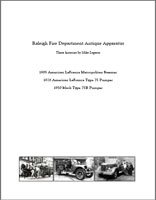 + 12 - 13 | § ¶
New Airport Getting Closer
Also in the morning news, the latest on the newest airport planned for the area. The skies will be alive before long, with general aviation to the east and air ambulances at WakeMed.
+ 16 - 9 | § ¶
Writing History
Engaging article this morning about a book about the governors of the state, and what happened when the editors asked the sitting governor to review. Some times it's better to wait until the big man has left office.
+ 12 - 12 | § ¶
National Fallen Firefighters Foundation Golf Tournament
'Twas a good day for a golf tournament. Temperature just right. Occasional sun. Little light rain. And a bunch of firefighters and friends having eighteen holes of fun, and for a great cause. Pics forthcoming. See everyone next year.


+ 16 - 11 | § ¶
Raleigh's New Rescues
FireNews editor Jeff Harkey strolled by Services and snapped this picture, one of two 2007 Pierce Enforcer non-walk in rescues delivered this morning. They'll replace Rescue 14 and Rescue 19, and thus end the era of ambulance-body rescues. It's been 53 years. Click to enlarge:


+ 15 - 11 | § ¶
Pierce Quantum Golf Cart?
If they made one, that is. Seen on Gorman Street this morning.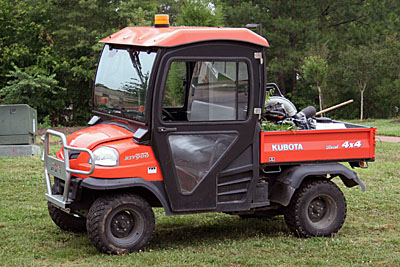 + 19 - 8 | § ¶
Chevrons
From a reader, here's a neat picture of four nearly identical pieces of apparatus. One has chevrons and really stands out. Click to slightly enlarge:


+ 13 - 13 | § ¶
Charting Madness
Do a little research, find another fact. Find another fact, update the chart. Update the chart, think of another question. Think of another question, do a little research. Rinse and repeat, over and over and over and over and over. Version 2 or maybe Version 3 or maybe Version 4 of Mike's RFD history chart has been completed. Here's the prior version. Here's the newest version. It's good for at least one day, maybe less.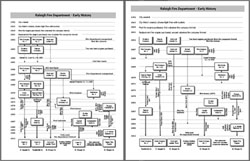 + 11 - 17 | § ¶
Early Towns
Wake County had a number of towns around the turn of the last century that no longer exist. Had their histories turned out differently, we might have seen such entities as a Forestville Fire Department or a Wakefield Fire Department. READ MORE
+ 18 - 11 | § ¶
This Morning's Fire
Reported by passing motorists at 5609 Ashbury Cove Drive, near Delta Lake Road. Engine 17 first on scene with fire showing on second floor in Sector B/C corner.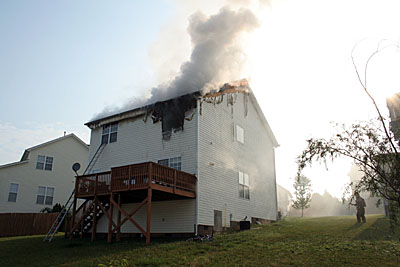 + 11 - 12 | § ¶
Zebulon Fire Truck For Sale
Get your very own mini-pumper! Impress your neighbors! Add diamond plate to the body and watch the value triple! LOL.


+ 16 - 15 | § ¶
City Ordinance, 1852
The origins of the Raleigh Fire Department are reflected in this newspaper clipping from 1852, posting notice of a new city ordinance that authorized the organization of three fire companies, two engines and a hook and ladder. This was the hand-operated era, still a couple decades from either steam engines or fire horses. Only 155 years ago. Click to enlarge:


+ 13 - 10 | § ¶
Ten Telecommunicators Coming
Raleigh's budget, adopted today, includes ten additional telecommunicator positions, notes this news story. Police received 20 new positions, says the city press release. Fire had four proposed positions. The adopted budget documents are pending.
+ 9 - 17 | § ¶
Car vs. Charlotte Engine
Charlotte fire photographer Mike Porowski snapped this pic of Engine 22, struck last night at an MVA on I-85 by a passenger vehicle travelling at a high rate of speed. The driver of the car later died. Two FFs were transported for observation. The picture is from FireNews.net. Who else votes for EMS-style reflective chevrons on the back of every piece of fire apparatus, period?


+ 17 - 12 | § ¶
Links List
The right-side list o' links has been updated. Contents: Forum, Watch Desk, Local; Forums, FireNews; Forums, Firehouse; Forum, ATEV; NC Fire Dept Histories; NC Fire Dept Links (FN); NC Fire Dept Station Lists (CFP); News, FireNews; News, Firehouse; Photos, Incident, Lee & Mike; Photo Site, Lee's; Photo Site, Mike's #2; Raleigh Fire Dept; Raleigh Fire Info, Mike's; Wake County Fire Info, Mike's; Wake County Fire Links.
+ 15 - 9 | § ¶
Snap
Here's the action shot of a lifetime, a plane crashing onto a Florida beach. Local resident took the picture. Occupants walked away.


+ 15 - 16 | § ¶
Newshounds
Today's News & Observer profiles a pair of freelance news photographers, Carter Rabil and Julian Harrison. They're familiar fixtures. How is what they do different from what Lee and Mike do? Two things immediately come to mind. We neither sell what we shoot, nor provide what we shoot to news outlets. And only one of us sleeps with the scanner on.
+ 19 - 15 | § ¶
Raleigh Rescue Company Histories
Who can help with specific or general dates, for the histories of Raleigh's rescue companies? READ MORE
+ 15 - 11 | § ¶
Stats
Here are a few stats after eighteen months of blogging. READ MORE
+ 15 - 13 | § ¶
Fuquay's Fire
Here's yesterday's fire on Kennebec Road. Fuquay-Varina, Fairview, Holly Springs, Angier, and Northwest Harnett, plus Wake, Garner, and Holly Springs EMS. Lee has posted pictures.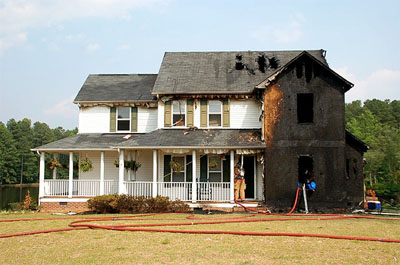 + 12 - 16 | § ¶
Rules of the Road?
Well, gang, we've been blogging for 18 months now. Some 920+ postings and 3,100+ comments so far. We've shouted and goaded and whispered and questioned. There've been corrections, retractions, deletions, and apologies. The topics have varied, and so have the comments. READ MORE
+ 16 - 15 | § ¶
New Stations?
What's the latest on new fire stations around the county? READ MORE
+ 9 - 16 | § ¶
Staffing
This news article has a quote on the subject of Raleigh police staffing, noting the opinion that "another couple hundred officers are needed" in the system. For those that follow the fire department, the quote compels a similar question. READ MORE
+ 14 - 11 | § ¶
Old Movies Added
Nine video clips have been added to Mike's Raleigh Fire Department history site. The silent, color film footage is circa 1950. The clips are WMV format and vary in size and length. The clips were created using a two-step process. First, the clips were read from DVD and exported as MPEG files using DVD 123 Converter. Next, the MPEG files were pulled into Windows Movie Maker. Title screens were added and the files were exported as WMV. See the video clips.


+ 12 - 13 | § ¶
Charlotte Ambulance Crash
This MEDIC unit rolled several times today. No serious injuries. Here's the news story.


+ 16 - 11 | § ¶
Merged Fire Departments Might Save Millions
Proposal to merge six Miami-Dade County departments. Could it happen here?
+ 10 - 13 | § ¶
CAD Change Today
As noted on another thread and incorrectly posted about yesterday, there was a CAD change this morning. County units are now being dispatched into the city as automatic aid. As explained to us, it's a "closest station" response. If a county department has a station that is closer to city property than a Raleigh fire station, one unit from the county station will be dispatched along with Raleigh. By way of example, Bay Leaf 123 was dispatched today to North Hills Drive off of Lynn Road. This change was initiated at the request of the city, we're told. And county fire-rescue officials only learned of the change last week. Ergo the seemingly incomplete communication. Let the questions begin...
+ 14 - 5 | § ¶
Public Hearings on County Budget Today
Today's News & Observer notes that the county Board of Commissioners are holding two public hearings on the proposed budget. The first is at 2 p.m. at the Wake County Courthouse Board Room, Room 700. The second is at 7 p.m. in the Commons Building, Wake County Office Park, 4011 Carya Drive. Now is the time to stand up and be counted regarding staffing, spending, and anything else you like or don't like about the proposed budget.
+ 13 - 14 | § ¶
Free e-Book #4
Mike has created a fourth free electronic book for download. Raleigh Fire Department Newspaper Articles, Volume 4
presents a fourth collection of historical newspaper clippings. These are from 1900 to 1909. More fires, more infrastructure upgrades, and still more fireman's tournaments. The e-book is PDF format, 120 pages long, and 23 megs large. There will be a Volume 5 at some point. More information about these e-books. Also, copies of the prior e-books have been printed and cataloged by the Wake County Library System.
+ 13 - 13 | § ¶
Old Movies (Test)
Testing the delivery of vintage Raleigh Fire Department film footage. Here's the sample movie file, WMV format, 40 seconds, 2.2 megabytes. More info.


+ 14 - 8 | § ¶
CAD Change Coming Monday (Retracted)
This posting contained inaccurate information and has been removed. Today's CAD changes are even simpler than described. Corrected information coming later.
+ 15 - 9 | § ¶
ECC Survey
Called 911 lately? The ECC is conducted a customer survey, linked from the front door of the city's web site. Interesting.
+ 10 - 11 | § ¶
Hair-Raising Quote / Busy Saturday
Carload of teenagers crashed into a tank truck full of gas Saturday morning, says this morning's News & Observer. There's a pucker factor for you. No injuries. About 5 a.m. Hopkins assisted Rolesville if memory serves, with fires at both the passenger vehicle (big) and the gas tanker (small). Other happenings that we noticed around the area: live burn in Zebulon (Lee there), working fire on Boyer Street (ditto), derailment in Smithfield, fatal wreck on I-95 at Four Oaks, and a metal fabrication plant fire in Wilson.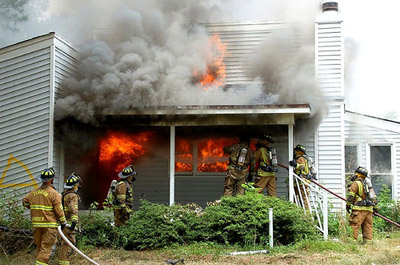 + 14 - 7 | § ¶
Raleigh Fire Department History Site Updated
Mike has updated his RFD history site, notably reordering some links and positioning them higher on the page.


+ 15 - 14 | § ¶
Holly Springs New Ambulance
...as seen at this week's trench rescue. It's named EMS 1471.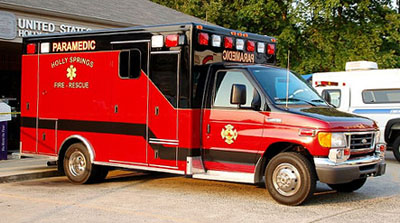 + 10 - 13 | § ¶
Thirteen Seconds
Okay, 12.666667 seconds to be exact. That's the number of pictures taken at yesterday's fire (360) divided by the number of seconds spent processing and posting them (4560 or 76 minutes). Thus, every snap of the shutter meant 13 more seconds of time to be spent on the back end. Why the early morning math? READ MORE
+ 14 - 15 | § ¶
Cutting Grass and Other Extra Duties
Could be worse, you could be cutting grass in public parks as is happening in East Cleveland, Ohio. They say there are two sides to every story, but that's a tough one to believe as reasonable. The news story also has reader comments that are expectedly passionate. What really extra duties have happened around here? Cary firefighters operated a town sign shop during the 1970s and 1980s. RDU firefighters also served as ramp personnel during the 1970s and probably earlier. And Durham firefighters were also police officers during the infamous public safety period.


+ 10 - 12 | § ¶
This Afternoon's Fire
Command just cleared from Redford Place Drive, where two single-family dwellings plus a patch of woods burned late this afternoon. Rolesville, Wake Forest, Hopkins, New Hope, Wendell, and Eastern Wake fire departments, plus Rolesville EMS and Wake EMS and that big, honkin' (literally!) Special Ops truck, and a bunch of other folks. Mike battled the traffic and took 350+ pictures after finally arriving. They'll be posted soon.