+ 16 - 20 | § ¶
Goldsboro Explosion / Montcure Derailment / Serendipity
Earlier this month, a former USAF member contacted the Goldsboro Fire Department for information on a tanker explosion that occurred on November 11, 1959. He was one of the Seymour-Johnson personnel who responded to the fatal car-truck collision, and was seeking historical information about the incident. GFD referred this person to Mike, who looked up the News & Observer and Raleigh Times accounts at the library. Three days after the tanker crash, Mike discovered, was when 65 freight cars jumped the tracks in Chatham County. Now, he'd heard of this incident while researching his books. The Apex Fire Department responded, the old timers remember, and poured water for a number of days to prevent yellow phosphorous from igniting. No date was remembered, nor were any old articles found. But now he knows. November 14, 1959. Click to enlarge:


+ 18 - 22 | § ¶
Interesting Firehouse Forums Thread
Raleigh versus Charlotte versus Durham versus Greenville, on the subject of hiring and with perspectives on working at those departments.
+ 16 - 21 | § ¶
Heard on Scanner
Weird tone on Headquarters, approximately 10:10 p.m. Wait, that's Station 28. That's why it sounds new. Thus the life of a fire geek, sitting around and listening for unfamiliar radio tones...
+ 18 - 17 | § ¶
EMS Major Operations Support Unit
The Wake County EMS major ops vehicle is featured on the Hackney web site. Cool pics and good article.


+ 23 - 18 | § ¶
Japanese Apparatus
As blogged on an earlier posting, here are some links to galleries of Japanese fire apparatus: Tokyo Fire Department (four galleries), Morita (manufacturer), Nagano (manufacturer), Nikki (manufacturer), a buff's gallery and another buff's gallery.


+ 12 - 21 | § ¶
Amazon Japan / Books / Refunds
For a few years now, Mike has occasionally ordered Japanese fire apparatus books from Amazon Japan. The site is same as Amazon US, just with Kanji characters. So with trial and error, and the help of a translation site, it was reasonably easy to order books. Searching for books was trickier, until Mike figured out he could paste characters as keywords from Japanese fire apparatus site. (He neither reads nor speaks Japanese, but just finds their fire apparatus to be cool.) Shipping was a bit expensive, but the books were breathtaking and with some of sharpest image reproduction seen in print. Some of his faves include this one, this one, and this one. Last May, Mike moved. In November, he ordered some books but they were sent to his old address. The parcel never surfaced, despite the delivery confirmation at the old address. Mike re-ordered the books and forgot about the whole thing. This weekend, a refund arrived. Six months later, the original parcel had unexpectedly found its way back to Japan. Total refunded: 4,981 yen ($40.95).


+ 18 - 15 | § ¶
Outer Banks Former Firehouses
Day trip due east found four former firehouses near the shore, or on the way there. Left to right, top to bottom: Kitty Hawk (built 1953, former wine store), Kitty Hawk (built by 1967, public works), Manteo (built 1941, private owned), and Plymouth (built 1970, town storage).


+ 14 - 16 | § ¶
How to Photograph Fire Apparatus
For those wanting to learn how to photograph or better photograph fire apparatus, FireNews created this guide to apparatus photography last year. It includes Truck Placement, Do's and Don'ts, Technical Stuff, Examples, and a Photographer's Checklist. The Do's and Don'ts page has some particularly good examples of common mistakes.
+ 16 - 20 | § ¶
Apparatus Pictures
Lee has posted pics of new apparatus from Zebulon, Fuquay, and Falls. Includes one of those popular new brush trucks. LOL.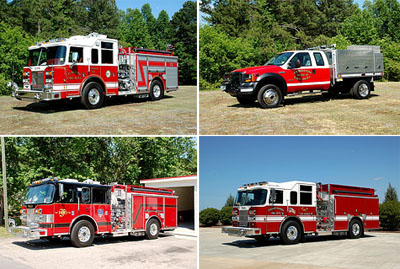 + 9 - 19 | § ¶
Birth of a Fire Department
For your holiday reading enjoyment, here's a new history piece on the development of the Raleigh Fire Department in the early 1910s
. During this period the first full-time fire chief was appointed, the first fully-paid firefighters were hired, and the first motor apparatus was purchased. The narrative is drawn primarily from newspaper accounts and city minutes, and consists nearly entirely of paraphrasing or direct quotations. And though its has been proofed some dozen times, there's probably a typo or two to be found. Feel free to red pen accordingly.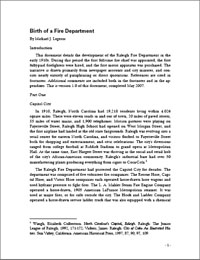 + 16 - 17 | § ¶
First Relay Pumping
Found while answering to a reader question regarding the location of the original structure, this the News & Observer article from June 3, 1937, suggests the first relay pumping in Raleigh occured when the home of George W. Mordecai on Wake Forest Road burned: "From an oil plant 300 yards away, firemen ran one two-inch hose to take advantage of the meager water supply available there. They found it necessary to employ booster pumps at both ends of the line-- the first time this had been attempted here, Chief Holland said. One pumper was parked at the oil plant to boost the water up grade to the burning house. Another pumper was stationed there to increase the line pressure."
+ 15 - 17 | § ¶
Monitoring the Wake County Trunked Radio System
Answering a reader question, WCPS published a PDF-format guide to monitoring the radio system
back when they were moving to the 800 system. If you have never seen same, or have been looking for it lately, a copy is linked from RadioReference.com's VIPER page.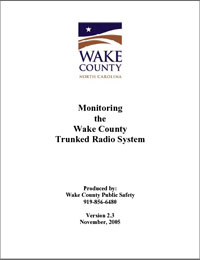 + 13 - 17 | § ¶
Station 28 Opening Ceremony
The opening ceremony for Station 28 is scheduled for Tuesday, June 4, at 2:00 p.m., we're told. The event, open to the public, will include a housing ceremony for the engine. This traditional activity involves pushing the engine by hand into the station.
+ 15 - 14 | § ¶
Like a Mississippi Bullfrog Sittin' on a Hollow Stump
Which hat shall we wear today? Photographer? Researcher? Historian? Blogger? There are so many flavors of buffing to choose from, and they all compete for the same span of free time. It's a daily battle of choice, and one that probably won't be made easier after retirement (in a couple decades) or winning the lottery (in our dreams). READ MORE
+ 16 - 16 | § ¶
Virtual Museums
Something interesting from the National Emergency Medical Services Museum Foundation, the grand opening of a virtual museum. Super neat, though with challenging navigation in places. Usability testing will fix that. Looks like a lot of content throughout. Very cool. Virtual museums are easy to create, or at least to name as such. Witness this far-simpler Raleigh Fire Department Virtual Museum.
+ 15 - 18 | § ¶
Garner Road
Here's a strong picture of the abandoned building on Garner Road that burned on Monday night, from this series by Lee. Capturing all the light from a fully-involved structure is trickier than you think. Another abandoned building on Garner Road burned the next night.


+ 15 - 12 | § ¶
Fire Truck vs. Stone Wall
Seen in this Firehouse web site article, an apparatus accident in Upper Darby Township, PA. Yowza. Seven FFs injured, including one requiring extrication expected to be released from the hospital today. More info.


+ 16 - 20 | § ¶
Random Thoughts
Heard on scanner, subject has something stuck in her throat and her mouth is wired shut. Crazy... Eyes tired after two hours of working on footnotes, for an upcoming RFD history piece. Separating the quotations from the paraphrasing is the hardest part.. Nobody at the blog dinner, except for Yours Truly. Ate a hamburger and read the paper... Structure fire earlier, with Headquarters asking command if they wanted to upgrade to a working fire. Yes, upgrade. One second later, the tones start. Five seconds later, command continues on the other channel, but hold off on notifications. They are quick on the draw at dispatch... READ MORE
+ 16 - 20 | § ¶
Random Thoughts
Heard on scanner, subject has something stuck in her throat and her mouth is wired shut. Crazy... Eyes tired after two hours of working on footnotes, for an upcoming RFD history piece. Separating the quotations from the paraphrasing is the hardest part.. Nobody at the blog dinner, except for Yours Truly. Ate a hamburger and read the paper... Structure fire earlier, with Headquarters asking command if they wanted to upgrade to a working fire. Yes, upgrade. One second later, the tones start. Five seconds later, command continues on the other channel, but hold off on notifications. They are quick on the draw at dispatch... READ MORE
+ 13 - 16 | § ¶
Blaze in a Hen Coop Draws Crowd
From the Raleigh Times on May 29, 1912: "An alarm from box 27, this morning at 9:30, called the fire department to 311 East Cabarrus street, where a small blaze was discovered in the hen house of Mr. Bob Conrad. Somebody said that Bob had been feeding his chickens red pepper and the warm weather caused a spontaneous combustion. Anyway it wasn't much of a conflagration, as a brave fire laddie kicked over the drinking pan and the fire was no more. The usual parade of spectators was held."
+ 17 - 16 | § ¶
This Evening's Fire
And on some days the stars are aligned, and a working fire is right around the corner, and there's an unobtrusive vantage point, and the ISO and other settings are working as they should at night. Still feels like it takes forever to get out of the house, even with the car backed into the garage. Maybe the next step is trip lights and a rip 'n' run. The wife would love that.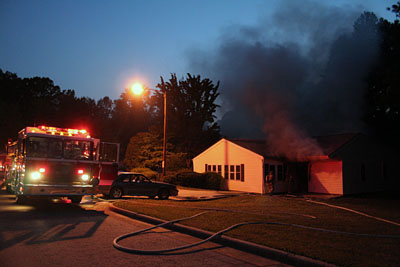 + 16 - 5 | § ¶
Proposed County Budget, EMS
From the Wake County budget document web page, EMS expenditures are listed in the Public Safety chapter
. Performance measures and major accomplishments are also listed. READ MORE
+ 9 - 16 | § ¶
Proposed County Budget, Fire
The proposed FY08 budget for Wake County was released yesterday. The budget document web page is divided into chapters, with each chapter as a PDF document. Unlike a municipal budget, this one requires a bit of decoding. READ MORE
+ 14 - 15 | § ¶
Affecting Change
At tonight's ceremony honoring Wake EMS paramedics and Raleigh firefighters involved in cardiac arrest resuscitations, Wake EMS Chief Skip Kirkwood reminded the audience of the economic challenges facing Wake County. As the population grows-- 98 people per day-- so do demands on emergency services. And more delivery means more funding. Advocates of the school system have got it right, with their printed t-shirts that they wear when attending county meetings. What then do WE need to do, ourselves, to boost city and county fire, rescue, and EMS services? Or, more appropriately, what are we WILLING to do? Brainstorming is easy-- see this Watch Desk entry-- but actions make it happen.
+ 20 - 12 | § ¶
Leaving the Station
This is what Ladder 1 looks like leaving the station on a run. Mike's lens was just wide enough. Admit it, there are few things more fun that steering the rear of a tiller truck.


+ 13 - 18 | § ¶
Blog Dinner Wednesday Night
Fat Daddy's on Glenwood Avenue, Wednesday, May 23, at 7:00 p.m. RSVP not required. In-service units welcome.
+ 15 - 13 | § ¶
Former and Historic North Carolina Firehouses
Mike has uploaded a new collection of photos of former and historic NC firehouses to his Flickr site. The 162 photographs were taken over the last three years. Quite a few were "Photoshopped" to correct converging verticals. You know, where straight lines in a photograph appear tilted? Photoshop Elements 5.0 has a Correct Camera Distortion filter that works wonders for that. Next up is learning how to prevent or minimize same when shooting.


+ 15 - 11 | § ¶
Raleigh Fire Department History Quiz
Take the quiz! This was created for yesterday's event. You can also download a PDF-version version as desired. READ MORE
+ 10 - 17 | § ¶
Media and Retiree Day
There was love to spare Saturday at the first-ever Raleigh Fire Department Media and Retiree Day. Dozens of former FFs (and widows of former FFs) and their family members arrived at the Keeter Training Center, shuttled from an off-site parking location. They were treated to lunch and fellowship, and given photo ID cards created on the spot. Apparatus and equipment was displayed on both the upper drill pad and the lower parking lot. The drill tower was open, as was the new Field Comm unit. Haz-mat and USAR were also present. EMS was there and showing the new Major Operations Unit. There were wandering bagpipers, a patrolling bike team, and the wafting wonderful smell of BBQ. Inside was a history room with posters, slideshows, and even some old color movies. Lee took pictures all day and Mike helped create the history room. Here are PDF versions of the history stuff. 'Twas a half-day event, not open to the public. Four hours of heaven and perfect weather, too. Pictures forthcoming.


+ 16 - 15 | § ¶
RFD Apparatus Update
The two Pierce rescues should be ready in June, we're told. The new Pierce engine and ladder, however, are still due in August. The four trucks were originally expected in May.
+ 16 - 17 | § ¶
Lightner Public Safety Center Location Chosen
The corner of Hargett and McDowell streets was approved this week as the future location of the Clarence E. Lightner Public Safety Center. The long-planned project will comprise an estimated 146,000 net square feet and be headquarters for fire and police. It will also house the Emergency Communications Center, Emergency Operations, and Traffic Signal Control, as well as general office space as part of a proposed 260,000 gross square foot office tower. At one time there was talk of also including a fire station in the facility, though that was since dropped from the project we're told. The fire department's administrative offices are presently located at 310 West Martin Street and at Station 1. Here's the related press release.
+ 11 - 17 | § ¶
Raleigh Promotions
Congratulations to Raleigh's newest Captains and Lieutenants. They were honored at a ceremony on Tuesday at the City Council Chambers. The new Captains: D .M. Davidson, T. N. Duke, L. C. Johnson, M. S. Porter, R. M. Siebel, A. D. Tant, J. L. Ward, C. W. Wilson: The new Lieutenants: T. D. Aspend, B. J. Averette, B. A. Batten, R. E. Byrd, L. F. Hufham, J. C. Ford, M. T. Furr, B. J. Kilmer, H. P. Kissenger, J. R. Patterson, M. A. Stone. Here's the city's press release.
+ 17 - 17 | § ¶
New Buggy
Raleigh's Division Chief has a new ride, a 2007 Chevy Tahoe that replaces a 2005 Ford Expedition. Check out the pin-striped lettering. Now that's bling!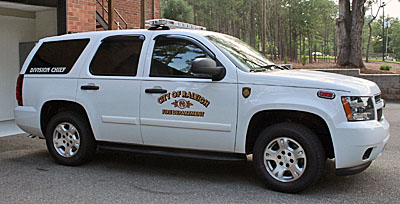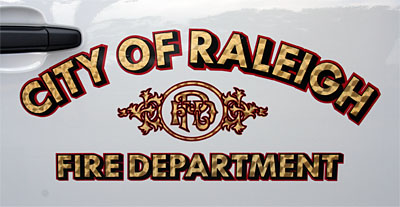 + 17 - 14 | § ¶
Raleigh Call Volume
From the public safety section
of the city's proposed budget, two graphs illustrate fire and EMS calls answered by RFD. Wonder what the call types looked like over time, on both the fire and EMS side? Love looking at data... Click to enlarge:


+ 17 - 13 | § ¶
Browser Compatability
How many people use Firefox or another non-Microsoft web browser? Keep those hands raised. On legeros.com this week, using web analytics software provided by the service provider, about 40% of users use Internet Explorer. Another 39% percent use a Mozilla Compatible Agent, such as Netscape Navigator. Less than 7% use Firefox. Okay, translate that into something we can all see. On the Wake County Emergency Information page, the main page, there is a left-side navigation menu that takes you to Fire or EMS or elsewhere. UNLESS, that is, you are using version 2.0.0.1 of Firefox. Then there's nothing. Nada. Just the text and image in the main part of the page. How many users in that situation would know to try another browser? So, for site admins reading this, is YOUR site compatible with multiple browsers? Check and see. You may be surprised. Click to enlarge:


+ 10 - 14 | § ¶
Wake County Proposed Budget
...does not appear to be available on the Wake County budget site. What's up with that? Past budgets are not available, either. The lone budget document, for FY07, is but a single document. No separated chapters or smaller documents. Curiouser and curiouser. Using the site-wide search, however, older budget information is surfaced. Somebody in the Budget department could do worse than to request greater and easier transparency for the presentation of current and prior budgets, both adopted and proposed, on the web.
+ 17 - 13 | § ¶
Wake Celebrates EMS Week May 20-26
From this press release also available on the county site, there's an EMS day on Sunday, May 20, from 12:00-4:00 p.m. at the Kroger supermarket, 1610 Martin Luther King Jr. Boulevard. Their cool new Major Operations Support Unit will be on display. There will also be a ceremony to honor Wake EMS paramedics and Raleigh firefighters involved in cardiac arrest resuscitations on Monday, May 21, at 7:00 p.m. at the Fletcher Opera Theater in Raleigh. And there will be a baseball game for EMS responders and their families (and the general public) at Five County Stadium on Thursday, May 24, at 7:15 p.m. Unknown if EMS personnel or officials will be singing the national anthem. Play ball!
+ 15 - 18 | § ¶
EMS, Ambulances, Response Times, Pittsburgh
Here's an interesting article about Pittsburgh EMS, with a television station turning their eye that EMS system after a lower-priority (e.g. non-life threatening injury) patient waited 26 minutes for an ambulance to arrive. Is that ultimately what's required for better funding, media or public reaction or outrage? Nobody typically cares until something affects them. Witness the school system business. Or does it take more direct involvement, such as an elected official who is the one experiencing the service? The article also cites "national standards" that call for paramedics to arrive at life-threatening emergencies within eight minutes 90% of the time. Couldn't easily find (via Google) references to national standards. What are Wake County's average response times? Last year's budget document
cites 11:59 minutes as the FY07 target for both Wake EMS and the Wake EMS system, for "emergency responses" for an ambulance. Unknown if "emergency responses" equal "life-threatening emergencies," so comparisons could be unfair.
+ 16 - 18 | § ¶
Charleston Former Firehouses
Random information compilation, a dozen or so historic fire service structures in the great walled city. This is a placeholder page, where Mike will add details from time to time. And better pictures, whenever he can get back to Charleston. Watch for a web or print article someday.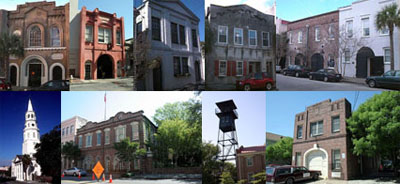 + 13 - 13 | § ¶
Other Proposed Budgets
For the rest of Wake County's municipalities, here are more proposed budgets. READ MORE
+ 12 - 17 | § ¶
Cary's Proposed Budget
Looking at the town of Cary's proposed budget, the fire department section reviews accomplishments and a host of performance measures and workload indicators. In the CIP section, these capital expenses are listed: thermal imaging camera replacement, SCBA upgrade and replacement, service truck replacement, and site acquisition for Station #8 in southwest Cary. The ten-year CIP plan is also available. Nice that the town's site offers both PDF and HTML views of these documents, as well, and in very small sections.
+ 16 - 10 | § ¶
Raleigh's Proposed Budget
The city's proposed annual budget
has been released. Highlights from the public safety section
, of proposed FD expenses: replace one engine, add three full-time fire investigators, add five mobile data terminals for chief officers, continue offering Capital Leadership training program to personnel, and replace a gas chemical identifier. The list of accomplishments from the prior budget year is notably robust and provides a detailed look into the department's workings and beyond the usual stations / apparatus / personnel perspective. Other budget items: the ECC is getting the city Radio Shop, and adding ten telecommunicator positions; PD is moving to the 800 mhz radio system. READ MORE
+ 17 - 16 | § ¶
Long Runs
That short spell of storms saw some interesting runs on the north side. Western Wake sent an engine to the working fire on Springdale Drive, 8.94 miles. Wake Forest also sent their ladder, a mere 18.84 miles. Now that's a run! Raleigh, Durham Highway, Bay Leaf, and Falls also.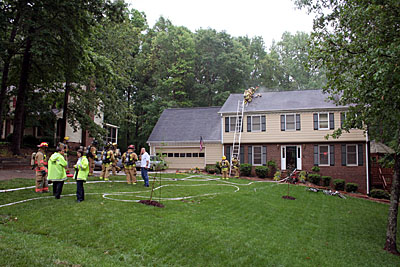 + 15 - 14 | § ¶
Seen on Beltline
Silver Crown Vic with license tag NOTACOP! Unknown if driver looked the part.
+ 17 - 14 | § ¶
Storage
From a reader, how do we store our digital images for the long term? Mike has a quartet of external hard drives. Two are huge and two are small. One a good day, everything on the two small drives is also on one of the large drives. The second of the large drives is stored off-site and will hopefully never be used for disaster recovery. Mike names all individual image files as they're seen on his web site: YYYY-MM-DD-agency-street-mjl. Example: 2007-05-12-rfd-snelling-rd-mjl. Those are stored in folders named: YYYY-MM-DD-agency-street. Works pretty well. For fast renaming of files, Mike uses the application Flash Renamer.
+ 15 - 13 | § ¶
Alarm Clocks and Umbrellas
Sleep stops. Did a dream end or a siren sound? Seconds later, Engine 16 or Ladder 16 is warbling at the end of the block. Better check the pager. Structure fire on Snelling Road, just around the corner. 'Tis a great way to wake up. The only thing better might be a vollie-style siren. Don't think the wife would like that, though. Now, for shooting in the rain, just use a big umbrella. Hold camera in other hand. Tilt in direction of wind as needed. Prep camera before leaving vehicle, e.g. camera settings. Pick and stick with one lens. And don your all-weather gear BEFORE you leave instead of after you arrive. Works every time.


+ 9 - 20 | § ¶
First Fire Engine
At long last, a delivery photo of Raleigh's first fire engine. This was one of two American LaFrance Type 5 combination chemical hose cars delivered in early 1913. They were powered by 48 HP four-cylinder engines and equipped with 40-gallon chemical tanks and 1,000 feet of hose plus other equipment. The photo source is the new American LaFrance apparatus registry. Click to enlarge:


+ 15 - 19 | § ¶
Fire Commission Meeting
Tonight's meeting was a hoot and a half. Three big issues took the bulk of the evening: next year's budget ($1.8M fewer uncommitted funds, no new staffing), Wake Forest's request for a 3,000-gallon pumper-tanker (sent back to committee), and approval for the long-planned renovation/rebuild of Bay Leaf Station #1 ($4.79 million) bundled with funding for an east-side-of-Wake-County station for FY2010 (another $2 mil, both approved). The discussions were quite colorful, though hard to hear this time. (The EMS classroom is configured in a way, it was explained, that you can either amplify speakers or show presentations but not both.) The high point? Chief Swift's superbly detailed presentation on why his department wants what it wants. The low point? As noted by at least one member, the persistent lack of unifying vision that ties staffing, facility, budget, and other subcommittee efforts together. Curious occasional confusion, as well, on the part of members during discussion and even voting. 'Twas a long, loquacious night. Contact the county fire-rescue office for an audio recording of this public meeting, but set aside some time for listening. Tonight took three hours.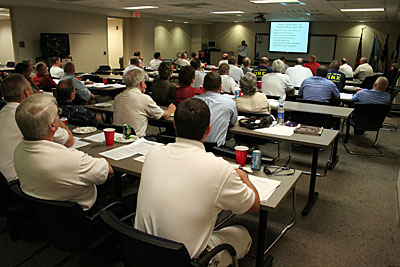 + 17 - 16 | § ¶
Next Stop Whackerville?
The Mike Mobile has a new tag. Can't believe it wasn't already taken. The color matches many of the driver's shirts. Bonus.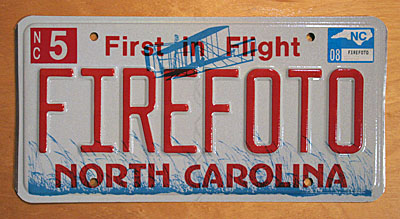 + 17 - 14 | § ¶
Angier & Black River Fire Department Line of Duty Death
The Angier & Black River Fire Department regrets to announce the passing of volunteer firefighter Ottis Earl Stephenson. Mr. Stephenson was a 21-year veteran of the Angier & Black River Fire Department. He is survived by his two sisters, Mrs. Ann Moore and Mrs. Molly Phillips. Visitation will be at Bryan Lee Funeral Home, 300 East Mciver Street, Angier on Saturday, May 12, from 6:00 to 8:00 p.m. The funeral will be at Angier Baptist Church, 155 South Hickory Street, Angier, Sunday, May 13 at 2:00 p.m. Burial will follow at Lakeside Memorial Gardens in Angier.
+ 12 - 18 | § ¶
Blogging, Comments, and Consequences
What happens when you blog (and your blog is actually read)? Well, for starters, the words "off the record" start appearing in conversation. Or the phrase "don't put this on the blog." It's a bit disheartening at times, but entirely expected. Does being a blogger reduce the flow of incoming information? Yes. Though Mike has (or thinks he has) reasonably strict criteria for what he kisses and tells about, he's also the ONLY one who knows that criteria. READ MORE
+ 12 - 17 | § ¶
Weegee
Arthur Fellig turned tragedy into art in his black-and-white renderings of New York City crime scenes and car wrecks among other subjects. Weegee was his pseudonym, explains the Wikipedia entry, "a phonetic rendering of Ouija, due to his frequent arrival at scenes only minutes after crimes, fires or other emergencies were reported to authorities." Was his era a more sensational one than the present? Was the Big Apple more tolerant of photographers and flashbulbs? Today it's tough to shoot sorrow. Few are comfortable when a camera captures death or extreme injury. It may be legal, but it's rarely popular. Weegee later worked in Hollywood and even had a hand in Stanley Kubrick's great film Dr. Strangelove or: How I Learned to Stop Worrying and Love the Bomb. Click to enlarge or go here to see more:


+ 11 - 14 | § ¶
Brock
Here's some more on Sherwood Brockwell and his exploits with the FDNY. This appeared in the Raleigh Times on October 9, 1912, reprinted from a New York newspaper. The drawing is likely a woodcut, common among news illustrations of the time. Click to enlarge:

+ 18 - 12 | § ¶
Three-Dimensonal Printing
Imagine the fun at the firehouse when these things become commonplace. Give it a decade or two. Also interesting in Sunday's New York Times is the subject of genetics and obesity. Imagine a future where, say, genetic testing for obesity markers (or heart disease or...) is part of the hiring process. Finally, for us geeks, there's this great quote from a book review by Dave Barry: "I do almost all of my communicating by e-mail. Iíve been known to e-mail people who were literally standing next to me, which I know sounds crazy, because at that distance I could easily call them on my cellphone. But I prefer e-mail, because itís such an effective way of getting information to somebody without running the risk of becoming involved in human conversation." Who needs Nextel when you can e-mail someone on the other side of the station? Ha ha.
+ 9 - 13 | § ¶
Wake County Fire Commission Meeting, 5/10 - Corrected Date
Corrected date. The next Wake County Fire Commission meeting is scheduled for Thursday, May 10, at 7:00 PM, at the Wake EMS Training Facility, located in the lower level of the Wake County Commons Building on Carya Drive near I-440 and Poole Road. Agenda forthcoming.
+ 15 - 16 | § ¶
Heard on Scanner
Ca-lee-bray Chase. That's Locution's pronunciation of Calibre Chase, location of Engine 9's working fire.
+ 14 - 15 | § ¶
Baltimore
May means the start of summer and summer means the Baltimore Fire Expo. This'll be the seventh year for Mike, and the second without the spouse. Staying again in Columbia, about fifteen minutes from the Inner Harbor, but near Famous Daves. Same itinerary as always. Race there on Friday and make a quick sweep of the exhibit floor that afternoon. Spend Saturday at a more leisurely pace, wandering the floor and connecting with the modelers upstairs. Sunday is the morning flea market and parade, the latter skipped for the former. They park the parade rigs inside afterward, though, so everyone can spend some quality time with the apparatus. Return to the real world on Monday afternoon. That's the plan for now.
+ 13 - 18 | § ¶
This Afternoon's Fire
Wake Forest and company fought a good fight this afternoon, from the sound of it. WFFD plus Rolesville, Falls, New Hope, Stony Hill, and Raleigh Engine 28. The WRAL story has some aerial footage and an amusing forum comment from a reader on the subject of the word "company."
+ 15 - 12 | § ¶
Heap Big Fire Department
Near the end of 1912, Raleigh Fire Chief Sherwood Brockwell attended a school of instruction with the New York City Fire Department. His adventures were chronicled in New York World Magazine. The News & Observer reprinted the article some time later. The headline read BROCKWELL AND HEAP BIG FIRE DEPARTMENT. READ MORE
+ 12 - 12 | § ¶
Station 28
...has been lettered and looks like this: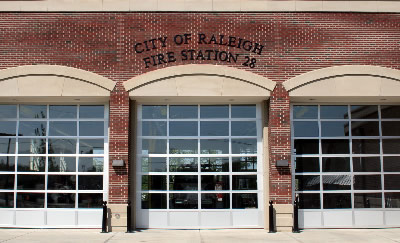 + 13 - 18 | § ¶
Character Over Performance
Does the better firefighter have higher performance or higher character? Found on another blog, Wharton Business School has published an article summarizing a panel on Leadership Lessons Learned from Sports. The panel asked "What are the qualities that make someone a sports leader, especially on the playing field, and can the successful qualities of a winner in athletics be applied to the world of business?" The answer they agreed was "Start with a foundation of players with personal character and a winning attitude, then hire coaches with the right kind of intelligence and the motivational skills to get the most out of them." Reflect and/or discuss.
+ 17 - 18 | § ¶
Tornado Footage
What does a tornado look like up close? Here's some pucker-inducing footage from YouTube. Oklahoma, which is why it's so clear. Twisters around here usually (almost always?) concealed in thunderstorms. Good driving in reverse, too.
+ 16 - 16 | § ¶
The Longest Wait
Thump in the distance, a couple cars ahead. North on McDowell, approaching Lane. Brake lights and scattering cars. Roll to a halt and there's a motorcycle against a dented minivan. Inch forward and see a single person on the pavement. Three block south is a square full of first responders. Irony. Pull over and hop out. Somebody's already talking to 911. Kneel behind the victim. He's conscious, still and speaking. And cracking jokes. No blood, no signs of shock. Don't move. Keep your head still. There'll be an ambulance here in a second. Many seconds, of course. That's the longest wait, though there's no hysterics here. It's people screaming that really slows time. The other driver is crying but not wailing. EMS arrives within minutes, ambo and bike team. Engine 3 a couple minutes later. Back away, retrieve vest, circle scene once with camera, and continue on. Just another day in the city.
+ 15 - 15 | § ¶
National Fallen Firefighters Foundation Golf Tournament
Announcement. For the past three years, the National Fallen Firefighters Foundation has sponsored a golf tournament to raise funds. This event has historically been held near the National Fire Academy in Emmitsburg, Maryland. It has been such a success that this year the tournament has been expanded to eleven regional sites.

The Raleigh Fire Department has been honored with the opportunity to host the event for this region. READ MORE
+ 17 - 17 | § ¶
You're Very Welcome
At last night''s annual Wake County EMS System banquet, which included good food, great company, and the legendary "Tramp" Dunn telling stories, Lee and Mike received recognition for their photography contributions. We appreciate the honor and all the support. It remains our pleasure and privilege to serve both the EMS community and other responders, and we thank you for the opportunity to direct our interest and enthusiasm in the service of those who serve. Click to enlarge:


+ 16 - 14 | § ¶
Blog Dinner, Wednesday, May 23
Let's try another blog dinner, this time at Fat Daddy's on Glenwood Avenue on the west side of town. Wednesday, May 23, at 7:00 p.m. Mike will be there some minutes early. RSVP not required, nor are excuses if not attending. In-service units welcome. Look for the guy in the tropical print shirt.
+ 13 - 16 | § ¶
Parkwood
Contracts, coverage, and annexation are the familiar issues in this News & Observer article this morning.
+ 12 - 19 | § ¶
Rolesville Ambulance Update
From this morning's newspaper article, Rolesville might be able to keep its second ambulance but with some restrictions.
+ 17 - 10 | § ¶
American LaFrance 400 Series
Walt McCall has a new book out. American LaFrance 400 Series Photo Archive was published the other week by Iconografix. Paperback, 128 pages, with crisp, clear photos of one of the most stylish fire engines ever. Raleigh had one, too, though no photo appears in the book.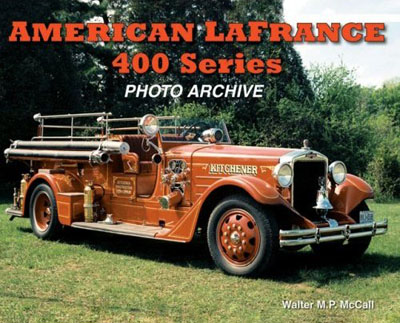 + 10 - 19 | § ¶
Brush Trucks
Several if not all of this year's brush trucks have been delivered to their respective Wake County fire departments. Ford chassis with Seagrave body. Here's Zebulon's, courtesy of ZFD:


+ 13 - 10 | § ¶
YouTube Videos?
Who or what departments around here have videos on YouTube? Searching the words "Durham Highway" and "Falls Fire" yields a couple. Who else has 'em out there?