+ 12 - 15 | § ¶
Wake County Fireman's Association, 1958
Here's a random historical list. Forty-eight years ago, the Wake County Fireman's Association membership was as follows: READ MORE
+ 13 - 13 | § ¶
Cary Station 7...
...is just about ready. They get the permit December 13th, we're told. Might be a couple more weeks before they move in, however. Here's the construction company's project site with pics:


+ 9 - 17 | § ¶
Station 28
Expected opening April 2007, we've heard. Here's what the job site looked liked yesterday:


+ 14 - 10 | § ¶
Mutual Aid From Goldsboro, 1886
On November 30, 1886, a large cotton fire compelled Raleigh officials to contact the Goldsboro Fire Department. The telegram requested that they "hold themselves in readiness" in the event aid was needed. In Goldsboro, a special train was ordered ready and within twenty minutes, a telegram was received in Raleigh stating that the fire engines were aboard the train and ready to roll. Their assistance was ultimately not needed. Some 1,000 bales burned that afternoon, worth about $50,000. Some of the cotton was still burning after two weeks.
+ 11 - 14 | § ¶
Raleigh and Wake Apparatus - Where Did They End Up?
Where have Raleigh and Wake apparatus ended up over the years and decades, after leaving here? To start this thread...



Cary's 1988 Pierce platform went to Buies Creek FD.

Durham Highway's first fire engine, an old "deuce and a half", subsequently served as one of Falls first units, then went to Brassfield FD in Granville County.

Garner's first fire engine, a 1940s mini-pumper from Durham, went to Harrells FD in Sampson County.

Garner's second squad, a 1967 Chevy van, went to 50-210 FD in Johnston County.

Garner's 1961 Chevy tanker was one of Hopkins first units.

Holly Springs 1990s bucket truck conversion, from CP&L, went to Swepsonville FD.

Knightdale's first pumper, a 1942 GMC, went to Bear Pond FD in Vance County.

Knightdale's first ladder, a 1991 E-One, went to Selma.

Raleigh's first rescue, a 1954 GMC panel, went to Zebulon Rescue, then Hopkins FD.

Raleigh's 1957 FWD pumper was bought by Knightdale Tractor, then loaned to Hopkins FD as their first pumper.

Raleigh's 1975 Chevy rescue went to RPD. One of Raleigh's two 1991 Chevy rescues also went to RPD.

Raleigh's 1979 Mack / 1958 American LaFrance tiller went to Wendell, and was recently sold to a department near Wilmington.

Raleigh's Mack CF pumpers have been scattered far and wide, including one in service in Knightdale, and one recently sold to Four Oaks FD.

Six Forks' first pumper, a 1950s front-mount, went to Falls FD as their first pumper.

Six Forks' 1961 International pumper went to the NC Zoo as their first fire engine.

+ 10 - 12 | § ¶
Hand Engine Proficency
How quickly could hand engines be put to work, back in the day? From an 1883 newspaper account: "The Victor with twelve men at the engine made a run of 470 yards [ a quarter mile ], laid 300 feet of hose and had a stream of water on the imaginary fire in five minutes. The engine started from the intersection of West Martin and South Salisbury streets at 7:34:30 p.m. At 7:36:30 the hose reel reached the cistern at the intersection of West Lenoir and South Salisbury streets; at 7:37:00, 300 feet of hose had been laid and the nozzle attached; at 7:38:00 the engine arrived, and at 7:39:30 had a stream of water upon the fire."


+ 7 - 9 | § ¶
Wake County in 2016?
What will the county and the fire protection therein look like in, say, twenty years? Looking at these county fire service maps, a couple predictions come to mind. First, municipal expansion will continue (duh), and from both inside and outside Wake County. Such as Durham creeping eastward. Will every square-inch of land be annexed by someone or someone else within 20 years? Doubt that. Thus, rural districts will remain, and probably in the greatest number from the northeast to the southwest. Second, donut holes will probably still be a problem. So let's throw that into our prognostication engine. READ MORE
+ 14 - 14 | § ¶
How Not To Deep Fry a Turkey
From the News & Observer site, here's a stunning video of the Cary Fire Department demonstrating the wrong way to deep fry a turkey. Cited mistakes include (a.) overfilling the pot, (b.) heating the oil too quickly, (c.) turkey left partially frozen, and (d.) the turkey is wet.


+ 12 - 18 | § ¶
Funeral Procession For Raleigh Mayor, 1882
After an illness of three weeks, Raleigh Mayor Basil C. Manly died on May 15, 1882. His funeral procession started at the south gate of the Capitol Square. The procession moved down Morgan Street to Wilmington Street, up Wilmington Street to Lane Street, down Lane Street to Blount Street, down Blount Street to Edenton Street, up Edenton Street to Christ Church, and from Christ Church up New Bern Avenue and Blount Street to the cemetery. READ MORE
+ 11 - 11 | § ¶
All Wake County Fire Departments, Past and Present
Here's a list, hopefully complete, of all fire departments that have ever operated in Wake County. Note that it EXCLUDES early fire companies in Raleigh and commercial or institutional fire brigades (State College, St. Augustine's School, some of the railroads, Harris Plant, etc.). READ MORE
+ 7 - 14 | § ¶
Northern Wake Fire Department?
Speaking of insurance districts and station closings, will we ever see a Northern Wake Fire Department? Say, consolidating two or more of the northern departments (Bay Leaf, Durham Highway, Falls, Stony Hill)? Though a tempting speculation, there's a difference. When Yrac and Fairgrounds merged to form Western Wake, those original names were not community names. Same for Eastern Wake, which was the Knightdale Fire Department with municipal coverage subtracted. Bay Leaf, Falls, and Stony Hall are community names, and thus the corresponding department might be reluctant to rename themselves. There was a Northern Wake Rescue years ago, however.
+ 12 - 10 | § ¶
Camera Update
How's the new camera working out? Two things are particularly confounding these days. First, remembering to set the ISO. Too many day shots are accidentally shot at 800 or 1600 ISO. Just need a sticker on the back of the camera for that. Second and more problematic are too many slightly tilted shots. User error? Misaligned sensor? Haven't fully investigated that one just yet. READ MORE
+ 15 - 9 | § ¶
Spam
How's the Spam Factor (SF), you ask, for someone whose had his name and e-mail address plastered across the internet for years? When "mike at legeros dot com" debuted in the late 1990s, spam was rare or maybe unheard of. Mike's address was direct linked from his web pages, all of them. It also accompanied all of his USENET postings, primarily thrice-a-week movie reviews, his major pastime for several years. READ MORE
+ 12 - 16 | § ¶
Many Colors
Lee continues to populate his photo site with archive photos of non-red rigs. Some of the more interesting examples, left to right, top to bottom: Pope AFB, Fort Bragg, Morehead City, Spivy's Corner, Middlesex, Elizabethtown, Foscoe, Bailey, and Bahama.


+ 14 - 11 | § ¶
One Sweet Ride
This 1974 Caddy appeared in today's traditional pre-Thanksgiving Christmas parade as part of the Wake EMS procession. The former Raleigh Ambulance Service unit is a gem both inside and out, as a certain photographer can attest. (Mike hitched a ride to the staging area.) First served at a funeral home in Wake Forest, correct? Going in style, indeed.


+ 9 - 17 | § ¶
Chasing Cary
Followed Cary Ladder 1 early this afternoon to a structure fire on Redgate Drive. Small fire, engine and truck remained on scene. Thank goodness for the Western Wake auto aid, as Cary seemingly doesn't include map book numbers any more. Couldn't tell the street name from the human voice. Wrengate? Westgate? Retgate? Locution wasn't much help on pronunction, either, but the map number was magic.
+ 13 - 12 | § ¶
Fire Commission Meeting / Western Wake Station Closing
One of the agenda items at last night's Wake County Fire Commission meeting was "Report on Evaluation and Application of Fire Commission's Closure Criteria - Western Wake Fire Station 2." The report, however, was NOT presented. Officials returning from Western Wake, where the presentation was also made that evening to their Board of Directors, related that the Board (a.) had quite a few questions about the data contained in the report and (b.) requested that the report not be presented to the Fire Commission until those data questions had been addressed. READ MORE
+ 14 - 10 | § ¶
Chapel Hill's New Platform
From a reader, here's Chapel Hill's new platform from KME. Should be picked up next week.


+ 11 - 6 | § ¶
Old Photos From Western NC
The local copy of Then & Now #2 has been updated with a few new old pictures of the Asheville Fire Department and the newly added State Hospital Fire Department, now named Broughton Hospital, in Morganton.
+ 10 - 11 | § ¶
Knightdale's Live Burn
Knightdale Public Safety burned a building at 1408 Hodge Road yesterday. Pics from Lee posted. Also, their Pierce pumper is due in December. It'll be Engine 134.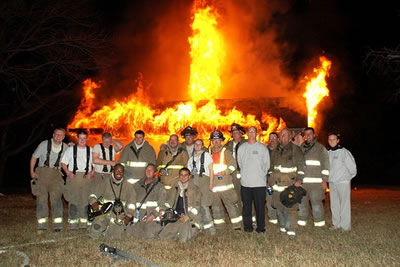 + 16 - 12 | § ¶
Watch Desk Thread / Western Wake Station Closing
Interesting thread at the Watch Desk on the subject of closing Western Wake Station 2. We have no information to report at this time, though tomorrow night's Fire Commission meeting should present some public information. Watch this space.
+ 13 - 12 | § ¶
City Limits Over Time
Here's a PDF document showing the evolution of Raleigh's city limits, and the fire stations therein, from 1900 to 2003. These are also available from the RFD history timelines.


+ 14 - 9 | § ¶
WTVD Story
For those who haven't seen same, here's yesterday's WTVD story on fire departments, fire insurance rates, and (gasp!) the relationship therein. You can also discuss on their forums.
+ 15 - 6 | § ¶
Mutual Aid, 1885
From the News & Observer on March 26, 1885, quoting the Henderson Gold Leaf account of their largest fire since 1870: "Our task in connection with detailing the events at the fire would not be complete without alluding to the very commendable action of Maj. John C. Winder, general manager of the Raleigh & Gaston Railroad, and the fire department of Raleigh. READ MORE
+ 13 - 10 | § ¶
Asheville Former Firehouses
Mike's recent tour of old Asheville engine houses has been posted to FireNews.
+ 11 - 8 | § ¶
Fire Alarm, 1884
From the News & Observer on July 13, 1884, in their typically punchy tone of the time: "An alarm of fire at 8:15 yesterday evening gave every boy in town an opportunity to scream fire, and these opportunities were eagerly grasped and diligently improved without exception. A slight fire in a kitchen back of the Prairie building on Wilmington street was the occasion of the racket. This was put out by the neighbors, however, so quickly that the 'musheens' did not have a chance to damage anything with their water, though they were ready for action more promptly even than usual. The damage by fire was inconsiderable."
+ 16 - 13 | § ¶
This Morning's Fire
There was a CAD curiosity with this morning's fire on Fonville Road off Falls of Neuse Road, just about opposite the Falls fire station. Though the regular Raleigh assignment was dispatched, FFD was not. They self-dispatched and subsequently spotted the fully-involved fire (residence being renovated) from their fire station. Alarm time around 6:30 a.m. Engine 25 first-due. Defensive attack.
+ 13 - 10 | § ¶
Watch That First Step, Doc!
Lee has posted his photos of yesterday's high-level rescue training. And here's the N&O story about same.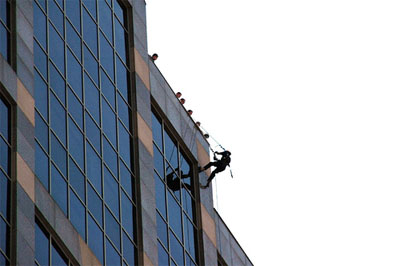 + 17 - 13 | § ¶
Station 28
The new station is under construction. Located at 3500 Forestville Road, the three-bay facility will house a single engine company when it opens in mid-2007. Watch for photo updates, as we'll try to wander that way on a regular basis.


+ 10 - 10 | § ¶
Heard on Scanner
"Engine 11, your hydrant's going to be in front of Doralene's house." Now that is knowing your territory!
+ 16 - 11 | § ¶
Driver Training in London
Stumbled across this interesting thing. Driver training (though obviously not pump training) in the London Fire Brigade begins with box vans, before actual fire apparatus!


+ 14 - 4 | § ¶
New Hope is Fifty
The Wake New Hope Volunteer Fire Department turned fifty this fall. They were chartered on September 11, 1956. Their first pumper was a GMC / ________ purchased after two years of fundraising. Their first fire station was part of a building at the northeast corner of Louisburg and (then) New Hope Road, directly across the street from the lot where their new station was soon constructed. They were the second rural department of the 1950s created "outside" of a municipality, after Six Forks but ahead of Western Boulevard and Stony Hill.


+ 8 - 12 | § ¶
This Morning's Fire
Six units burned this morning. Here's the WRAL story. Engine 20 first due, about 2:30 a.m. Two alarms, and including the new Field Comm unit.


+ 18 - 9 | § ¶
Harris Plant Getting New Sirens
Speaking of sirens, most of the Shearon Harris nuclear power plant warning sirens are getting replaced, says this News & Observer story. There are 81 (!) of the things.
+ 12 - 13 | § ¶
High Angle Rescue Training on Saturday
Cast your eyes upward on Saturday. From the city's web site: "The City of Raleigh Fire Department ís tactical rescue team will be conducting high-angle rescue training on Saturday, Nov. 11 at 1 p.m. at the First Union Tower at 150 Fayetteville Street in downtown."
+ 11 - 11 | § ¶
Bean Town
Mike is presently in Boston for business. By convenient coincidence, his hotel is directly across the street from BFD headquarters. Engine, Ladder, Rescue, Tech Rescue, and a Chief's car. Life is good.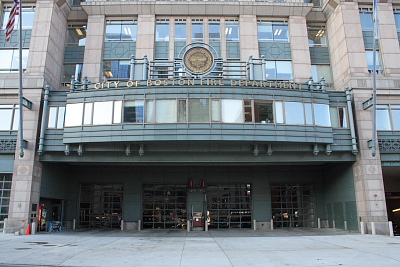 + 12 - 16 | § ¶
Barry's Cafe Rehab Unit
Barry's Cafe has placed a rehab unit in service. Pics of the unit and yesterday's dedication ceremony are on Lee's photo site.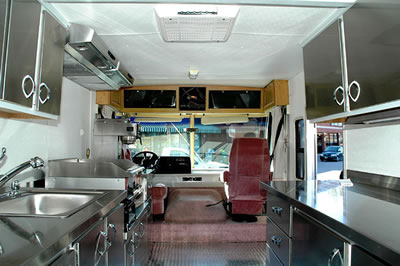 + 7 - 12 | § ¶
Durham Station 16
As noted on FireNews, Durham Station 16 at 6303 Farrington Road opened on October 25. It's designated a USAR station. Engine 16 is now first-due at Southpointe.


+ 12 - 13 | § ¶
Lee Goes West
Lee was also vacationing in western NC last week. He, Mike, and Mrs. Legeros poked around a railroad tunnel near Altapass, after meeting on Sunday at The Orchard. Check his photo album for apparatus from Spruce Pine, Swannanoa (below), and other places: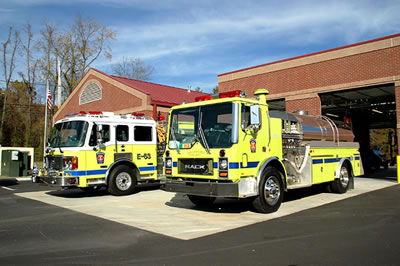 + 14 - 12 | § ¶
Cary EMS Unit Number Changes
As heard on scanner, Cary Medic units are now EMS 570 units. This corresponds to Cary EMS switching to Wake ECC for dispatching.
+ 13 - 10 | § ¶
Greensboro School Fire Photo Gallery
The Greensboro News & Record has posted an excellent Flash-based gallery of photos from yesterday's high school fire in Gibsonville. Here's the latest news story, as well.


+ 14 - 7 | § ¶
Clown Mobile
While he was honeymooning last week, Mike had the pleasure of spending an afternoon with Asheville's FD historian. Their transportation was the "clown mobile," a vehicle otherwise utilized for hydrant-painting by rookies. The thing was quite colorful both inside and out, as well as well-perfumed with Eau de Thinner.


+ 13 - 7 | § ¶
Apex Chemical Fire 911 Call
A reader passed along this treat from the WRAL site, the originating 911 call from the Apex chemical fire.
+ 14 - 8 | § ¶
FireNews Forums Expand
FireNews has added a series of "metro regional" forums to their bulletin board, along with a couple topics to seed the thing. Register (if you haven't) and post away!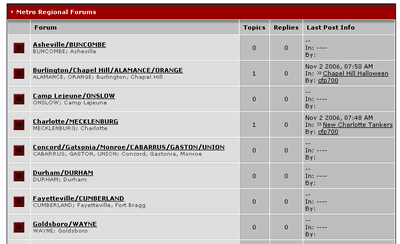 + 10 - 10 | § ¶
Big Noise at Old Fort
While passing through Old Fort on Sunday, Mike and the Mrs. stopped at the fire station. Mike took pictures of the old station across the street, while his better half continued her immersion in a book about the Blue Ridge Parkway. After photo-taking, Mike wandered over to the present station to see if anyone was home. The front door was locked, so he went around back. And just then a very loud noise commenced. And continued commencing for several minutes. Expectedly, Mike had a very large time observing FD members arrive, dress, and depart to an MVA. The Missus, however, had quite the fright. But... she's used to it.



+ 7 - 16 | § ¶
Western NC Former and Historic Firehouses, Part 1
Left to right: Asheville Old Station 3 (built 1922), Asheville Old Station 4 (built 1927), Old Biltmore Village (opened 1920s) / Asheville Old Station 5 (opened 1929), Asheville Station 1 (built 1926), Old Biltmore Forest, Old Black Mountain (built 1921), Hickory Old Station 1 (built 1922), Hickory Old Station 3. Click to enlarge:


+ 10 - 16 | § ¶
State Hospital Fire Station
Mike has returned from his belated honeymoon to Asheville and Banner Elk with a few things to share. First is this, the former fire station at Broughton Hospital in Morganton. The structure is circa 1950s. The fire department, which dates to the turn of the century, was dissolved in the 1970s. The fire station occupied at least two prior buildings. Early apparatus included a 1920s American LaFrance triple combination back in the day. There are a couple great old photos and artifacts in the Administration Building lobby.