+ 6 - 2 | § ¶
Fayetteville Fire Department History
How about a little Fayetteville fire history? Here's a collection of chronological and historical errata, drawn initially from signs displayed at the Fayetteville Area Transportation and Local History Museum annex. That's where the 1885 Silsby steam engine is displayed, along with other firefighting memorabilia. Important note, the annex is NOT open on Saturday, unlike the rest of the museum. See photos of Fayetteville's 1882 Silsby steamer at the museum.
Part I - The Department, The Steamer, The Firemen, The Fire Chief
These are a combination of quoted text from transportation museum [TM] signage and notes by Mike Legeros [ML]. Plus information from Sanborn Maps [SM].
Fayetteville Fire Department - Early History
"The Fayetteville Fire Department is one of the oldest in the state, tracing its history back to 1791, when it was charted by the North Carolina Legislature. The newly created Fayetteville Fire Company had a "pumping engine" and was authorized to blow-up structures in the path of fires. A year after its creation[,] a fire occurred in Fayetteville that resulted in the loss of 40 structures and at least one life. Fayetteville's Fire Company received praise for their valiant efforts. Throughout the years Town Commissioners would enact ordinances aimed at fire prevention measures or organizational improvements. The Magistrate of Police (Mayor) and Commissioners had the authority to appoint a Chief Fire Warden (Fire Chief) and Assistant Fire Wardens. Engine Companies appointed their own officers and established their own rules and regulations, provided they were governed at all fires by the Fire Warden." [TM]
"The Fayetteville Fire Department was comprised of an all volunteer force, and membership was considered an honor. Fayetteville was served by African American fire companies which also shared a long and distinguished history, dating prior to the Civil War. On a windy, dry day in May 1831, a fire originated at the northwest corner of Market Square, which spread rapidly in all directions, raging with unabated fury for about 6 hours. Firefighters blew-up houses and buildings in the path of the fire and eventual deprived the fire of food for its raging appetite. Over 600 structures were lost, and [it] remains Fayetteville's worst fire. However, over the years many other disastrous fires have occurred and each were fought with courage and determination." [TM]
he first water works, including fire hydrants, was installed in 1820. After the 1831 fire, a hand engine from Boston was acquired. Named the Yankee, it was delivered by boat in 1832. Following the Civil War, two hand engine companies protected the town along with a hook and ladder company and bucket brigade. [ML]
"The source of water for fighting fires came from Fountain Head spring, which pumped water through pine logs from the foot of Haymount Hill to the town below. Several cisterns, used to [by] pump[s] for fire fighter were kept full of water and were located along the main streets. The early fire companies were equipped with lever, hand-operated fire engines and used leather hoses which were copper riveted and glued together. During the post Civil War years, Fayetteville's Fire Companies wore a uniform that consisted of red shirts. The fire department was again reorganized in the 1880s, under the leadership of James Dobbin McNeill, who served as Fire Chief for about 40 years. In 1893 the Fayetteville waterworks was completed and a hydrant system installed." [TM]
In 1882, Capt. James D. McNeill was elected as the first Fire Chief. In 1883, African-Americans established and staffed two engine companies. In 1884, the department was reorganized. The Silsby steamer and 1,500 feet of new hose was placed in service. It was operated by the Chicora Steam Fire Engine Company. Sanborn Maps dated March 1885 list the fire apparatus as consisting of two hand engines and a one-story engine house at 500 Gillespie Street. [ML]
In January 1891, the department was "partly paid" with about 60 men, one new Silsby No. 5 steam fire engine, one hand engine, two hose carts, and about 1,500 feet of hose in good condition. [SM]
In 1893, a new water system was installed with hydrants capable of supplying hose streams. Two hose wagon companies were placed in service. [ML]
In January 1896, the fire department was located in a two-story building at 502 Green Street. There were 30 men including the Chief. They were paid a dollar for each alarm answered. Apparatus was the Silsby steamer and three hand reels. Their equipment 1500 feet of 2 1/2-inch hose in "good order", 400 feet of 2 1/2-inch hose in reserve, "shut off" nozzles and Siamese couplings. There were 51 fire hydrants. The fire alarm was by bell. [SM]
READ MORE
+ 4 - 1 | § ¶
Fayetteville Fleet Listing - Help Wanted
Can you help me build a list of past 'n' present Fayetteville fire apparatus? Here's what I have so far. Cooking some FFD history for the blog, and this will help.
[ This historical fleet listing has been moved to
www.legeros.com/history/fleets
]
+ 5 - 4 | § ¶
Garner is Hiring
Garner Fire Rescue is hiring for full-time firefighters. Salary is $30,400. Applicants must be 21 and possess certifications for NC Firefighter Level II, NC EMT, NIMS levels, and NC Haz-Mat Ops, plus TR and VMR completed within twelve months of employment. See the application packet for more information. Application period closes at noon on Friday, July 18. Both the job announcement and application packet are available on the Employment page of the department's web site. Good luck!


+ 3 - 3 | § ¶
Fire Expo is One Month Away
We're one month away from the South Atlantic Fire Rescue Expo in Raleigh. The show floor's open Friday, July 25, and Saturday, 26. Plus other conference activities and special events all week long.
Your checklist should include...
Plus the many other activities, including the Keynote by Chief John Salka on Thursday, the Memorial and Candlelight services on Thursday, and the annual banquet on Saturday night.
And conference sessions, including Friday's workshop on The World Is Watching Your Department. Who Will Tell Your Story, You or Them? by Jeff Hammerstein and Mike Legeros. That's from 3:15 p.m. to 4:45 p.m. Should be highly educational, or at least highly entertaining.
And, and, the Raleigh Fire Museum will have a booth on the mezzanine level, and we'll be featuring fire museums from across North Carolina, as well as neighboring states. We'll have rack cards and fliers, a digital slideshow or two, and other surprises.
See you there!
+ 3 - 3 | § ¶
National Board of Fire Underwriters Reports
Here's something neat, reports from the National Board of Fire Underwriters on a number of North Carolina cities. These are highly detailed reports that examine all aspects of a city's fire protection capability, and with detailed analysis of the fire departments. Apparatus, equipment, working hours, command structure, mutual aid, you name it. The reports also include information on the fire alarm system and water supply (though my copies largely omit the latter, sorry).
For my historian readers, do you have a report that I don't have? Please share!
Durham - 1955
Fayetteville - 1953
Greensboro - 1951
Raleigh - 1924, 1931
Winston-Salem - 1959
View the reports, which are PDF.


+ 7 - 2 | § ¶
UPDATED: Wake County Fire Academy Graduation - Thursday, June 26
Updated with class photo.
The graduation ceremony for Wake County Fire Academy Recruit Class 6 will be held Thursday, June 26, 2014, at 7:00 p.m. at the Wake County Commons Building, 4011 Carya Drive, Raleigh. Everyone is invited, so please come out and support your recruits.
Graduating are:
Lynwood D. Carroll - Fuquay-Varina FD
James L. Davis - Garner FD
Jonathan H. Gomez - Bay Leaf FD
Jonathan S. Hall - Rolesville FD
Spencer C. Hill - Wake Forest FD
Jeffrey M. Putnam - Wake Forest FD
Justin T. Schwenk - Stony Hill FD
They've attended/perform/completed:
25 weeks
122 days
976 contact hours
3,660 miles traveled
12,500 push-ups.
Congratulations to all. Click to enlarge:

+ 6 - 3 | § ¶
Yesterday's Gas Leak in Clayton
Though cited as Garner in my tweets, which was the fire district, as the incident occurred just inside Wake County. That's a plume of highly pressured natural gas rising some twenty feet into the air from a pipeline facility in the 4700 block of Guy Road yesterday. Neighbors reported an explosion about 8 p.m. What they heard was an eight-inch wide relief valve opening at an above-ground regulator station. The sound was enormous, as radio transmissions from the scene attested. Sounded like a jet engine in the background as Garner Engine 4 arrived and reported their findings.
Crews commenced establishing a wide perimeter, with residents within a mile evacuated from their homes, and roads into the area closed.
That included Highway 70 in both directions at Guy Road. The command post was established at a service station at that corner, along with staging and rehab. Garner and Clayton fire units were on scene, along with Raleigh haz-mat units, which were special called. The leak was stopped about 8:50 p.m. The haz-mat crews commenced air monitoring, using an ATV to take atmospheric readings at various locations around the site. News reported that Highway 70 was reopened about two hours later.
Units on scene included Garner E4, E5, L1, R1, Tanker 12, B1, C1; Eastern Wake P1, Tanker 3; Clayton E4, B2, C1; Raleigh HM1, HM3, HM4, B3; Wake County EMS 7, D1, D6, T1; WC 1; Wake EM. See preliminary photos from Legeros. And what details are missing or outright wrong? Might submit this to Firehouse.com.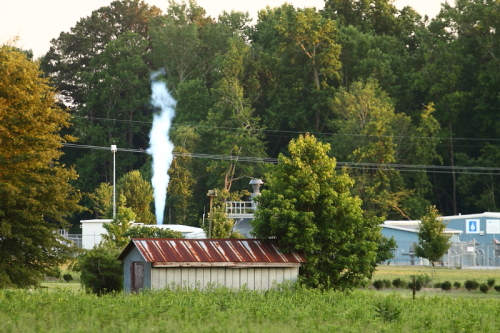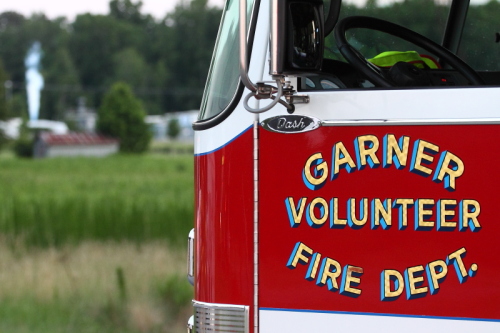 + 5 - 3 | § ¶
The Mystery of the Plaque on Old Station 4
Have you ever noticed that the plaque on old Station 4 on Jefferson Street reads 1924? Yet your trusty historian has always cited 1926 as the year built? Who's right, who's wrong, and what happened?
My source for construction year are City Council minutes, researched in the early- and mid-2000s. The lot was purchased on October 26, 1925, from Hubert D. Arnold and his wife for $1,700. The construction bid was awarded on February 19, 1926--previously and elsewhere incorrectly cited as February 18--to John F. Danielson for $8,754.00.
The station opened on June 15, 1926. The log book recorded that date and information including their first call (Box 432) and the first crew assigned (Capt. C. F. Gaston; Lt. J. G. Harrison Hose man; J. A. Allen, Driver; B. A. Edwards, Hydrant man; K. J. Smith, Hose man; E. D. King, Driver; H. L. Riverbark, Hose man; E. B. Schineder, Hydrant man. Click to enlarge:



When was the plaque made for the building? Probably around November 19, 1996, which was the effective date of a ordnance designating the building as a Raleigh Historic Landmark. The application was made by the Wake County Historic Preservation Committee, if reading the papers correctly. And the report on the building was made by the Raleigh Historic Districts Commission.
The report's historical background cites "circa 1925" as the construction year. Their sources included oral histories, county real estate records, fire department histories by B. T. Fowler and Elizabeth Davis Reid, and Raleigh City Directories. The latter appears their primary source for the circa 1925. Notes the report:
"Station Number Four first appears in Raleigh City Directories in 1925 under the Raleigh Fire Department heading with C. F. Gaston shown as captain that year. Oddly, the station is not listed under the Jefferson Street [index] entry until 1927, although the 1926 listing of people shows Charles F. Gaston, Captain, Raleigh Fire Department, living at 505 Jefferson."
Thus a reasonable inferrence in lieu of exact information, which Yours Truly uncovered a decade later. This via City Council minutes on microfilm, at Olivia Raney Local History Library. Mystery solved! And maybe someday a corrected plaque will be added to the building. You never know.
Read a history of Station 4, and its varied locations. View the bid document (PDF) from 1926. See photos of the historic building on Jefferson Street, in my album of Historic Firehouses of Raleigh.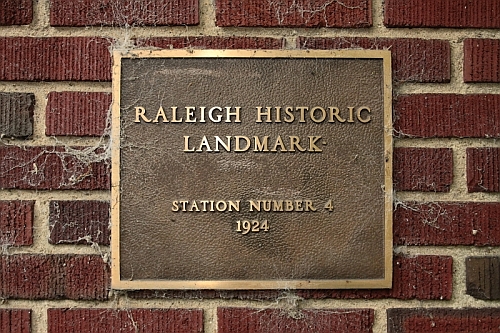 + 4 - 3 | § ¶
Blowing Rock's New Rescue
Fire Apparatus & Emergency Equipment Magazine has published a nifty story by Alan M. Petrillo on Blowing Rock's new rescue truck, which you might've seen on the floor (or in photos of the floor) at FDIC in Indianapolis. This little monster is a 2014 Kenworth/Hackney walkaround rescue that was designed for the unique challenges of Blowing Rock's district. Such as steep inclines, narrow roads, and tight switchbacks. The specs are 33 feet long, ten feet, six inches high, and a 224-inch wheelbase. Has a 40,000-pound gross vehicle weight. Powered by 400 HP Cummins engine, driven with an Allison automatic transmission.
Equipped includes a 35kw PTO generator and Command light tower, plus LED scene lights (four) and LED tripod lights (two), plus electric cord reels (two). Extended front bumper has a 16,500-pound winch, with side and rear receivers for a 9,000-pound winch. Coffin compartments on the roof carry ladders. Cascade air station on board, as well. Read the article, which has more photos. Next question, was this the first rescue truck for Blowing Rock? Can't readily recall what I've seen at their station(s) in the past.



Blowing Rock FD photos
+ 4 - 2 | § ¶
Carolina Brotherhood Fundraiser in Wake Forest - Sunday, June 22
The Carolina Brotherhood is having a fundraiser at the Texas Roadhouse restaurant in Wake Forest on Sunday, June 22. They're honoring fallen firefighters Chief Jeffrey Fields of Youngsville and Firefighter Jon Schondelmayer of Swift Creek. The event is from 11:00 a.m. to 10:00 p.m., with tee-shirts also for sale starting around 1:00 p.m. Ten percent of all food purchases will be donated to Carolina Brotherhood, which is an annual cycling event where firefighters and police officers from the Carolinas ride in the name of fallen brothers and sisters. This year's ride is August 5 to August 9.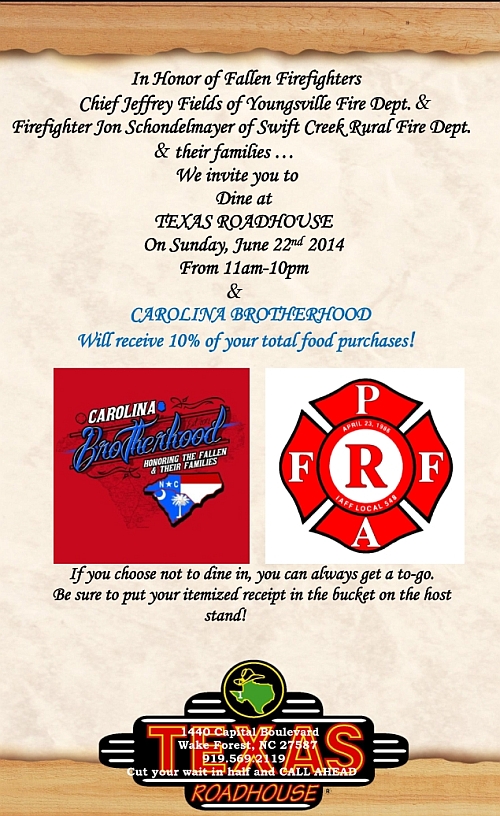 + 4 - 2 | § ¶
Vintage Wilmington Engine and Rescue
Found for sale on eBay, here are 35mm slide scans (complete with water marks) of a 1966 American LaFrance pumper (Engine 8) and a 1975 Chevrolet ambulance (Rescue 2). Click to enlarge:


+ 5 - 3 | § ¶
North Chatham's New Engines
North Chatham Fire Department took delivery Wednesday of two new 2014 Rosenbauer Commander engines. They're expected to be in service by June 30. See more photos from Lee Wilson, along with pictures of their new Station 18 and Station 19, and other vehicles and apparatus. (Readers from there are welcome to provide details on the trucks, as well as the new stations.)



Lee Wilson photos
+ 5 - 4 | § ¶
Durham Highway Fire Department 50th Anniversary - Saturday, June 28
The Durham Highway Fire Department is celebrating fifty years of service to the community on Saturday, June 28, at Durham Highway Station 1, 11905 Norwood Road. The event is scheduled from 10:00 a.m. to 2:00 p.m., with a program starting at 12:00 p.m. Plans for the day include children's games, a deejay and music, a pipe and drums band, local and state dignitaries, and a lunch. See you there!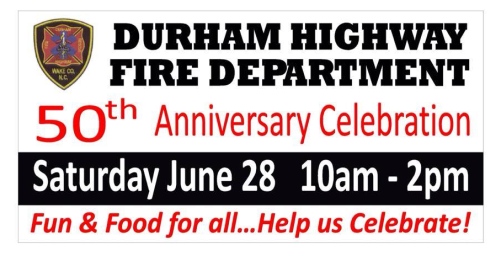 + 3 - 0 | § ¶
Harnett County's New Armored Response Vehicle
The Harnett County Sheriff's Department posted this picture on their Facebook page yesterday, of what appears to be a military surplus International MaxxPro MRAP that's been repurposed for local law enforcement. They describe its purpose as "for high risk warrants, tactical rescue, barricade suspects, [and] hostage situations." Looks pretty sharp. Google searches find references (such as this) to the Department of Homeland Security (through the United States Army Forces Command) having recently retrofitted 2,717 such MRAP vehicles for use in the states. Wonder who else around here has received one? Memo to self, try to snap a picture for my gallery of special police vehicles on Flickr.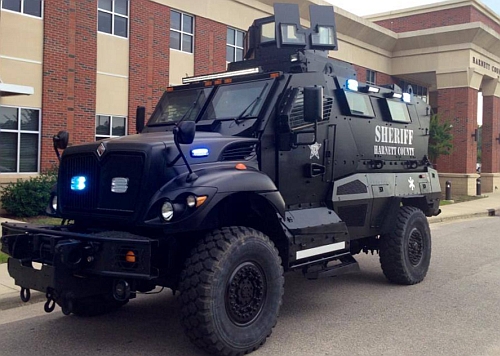 + 5 - 2 | § ¶
Morrisville's New Ladder 1
The Morrisville Fire Department has a received a 2014 Spartan/Smeal 105-foot aerial, 1500/500/20. Delivered on June 4, the very red truck has been making the convention circuit. It was seen at the Harrisburg Fire Expo in May and the South Carolina Fire Expo last week. The truck is expected in service in July, and will be named Ladder 1. (The sharp-looking truck is also featured on the home page of the Smeal web site.)
This is the town's second aerial apparatus, after a 2008 KME Predator Aerial Cat 102-foot rear-mount platform (1500/300) that operates as Ladder 2. The new ladder is also the department's next stage in the implementation of a quint concept, which has been planned for a number of years. The multi-year plan will place a quint and a rescue unit at each of the three fire stations. See this thread from last year, when Rescue 1 was deliverd.
Also see this thread from April 2010, where we last saw some discussion. (Four years ago! Where does the time go.) We'll also touch base our friends in Morrisville for an update on plans. Watch this space.
Lee Wilson's snapped these great shots on Sunday. See those photos.


Lee Wilson photos
+ 6 - 3 | § ¶
Vintage Rescue Boats at Station 28
You're probably familiar with Raleigh's antique fire engines, which are seen in parades and appear at South Atlantic Fire Rescue Expo. They're shown on the Raleigh Fire Museum's rack cards and are well-known in the Capital City. There's a steamer (1905 American LaFrance), an early "triple combination" (1926 American LaFrance), and two Mack pumpers (1950 and 1982). Plus a new addition in recent years, though owned by the museum. That's a 1961 American LaFrance pumper.
But do you also know about the old rescue boats? These are a pair of wooden boats from 1953, mounted on a home-built boat trailer and originally operated by the Raleigh Emergency Rescue Squad. That was city and county's first rescue squad, organized in tandem with the fire department and civilian volunteers that year. They were heavy and required six people to load and unload, and ten people to carry into hard-to-reach areas.1
The boats were replaced in April 1975, when Jeffries Auto Marina Service donated pair of fourteen-foot lightweight aluminum boats and trailers. The wooden boats remained on the roster at least a couple more years, referred in documents as "old rescue boats." They ended up stored at a city facility for decades until returned to the fire department in September 2008. See blog posting about same.
Here are pictures of the boats at Station 28, as well as the other apparatus stored there. The station's located at 3500 Forestville Road. Great place to visit.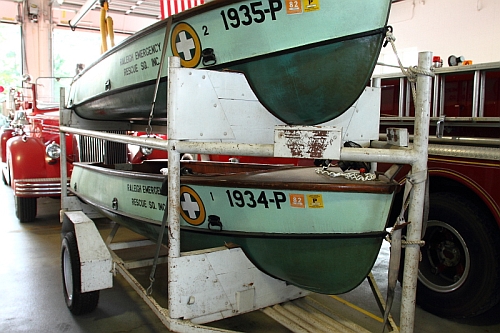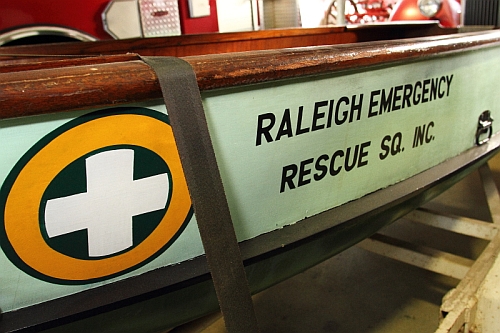 1Body recovery was one of the reasons the squad was formed, after the city received criticism after a Neuse River drowning victim wasn't recovered for a week. The rescue squad would perform numerous body recoveries over the years and decades, and often with the civilian squad members participating. For other "regular" rescue runs, such as emergency calls in the city, the squad was typically staffed by a dedicated Rescue Driver and a firefighter pulled from Station 1.
+ 4 - 1 | § ¶
David Dillon Named American Legion's NC Firefighter of Year
Apex Fire Department Deputy Fire Marshal David Dillon was honored this week by the American Legion Department of North Carolina. In a ceremony in Raleigh at their annual convention on Friday, he received the 2014 North Carolina Firefighter of the Year Award.
There are over 300 American Legion posts in North Carolina, and Dillon was selected to receive the award by the Legion's Law and Order Committee. He was nominated by Post 124 of Apex.
The ceremony was attended by Dillon's family and friends, the City manager, two Council Members, and fire, police, and EMS chiefs from the town.
They spoke about his twenty-five years of service, including his current positions of Deputy Fire Marshal in Apex, Assistant Fire Chief at Durham Highway Fire Department, and Chair of the Safe Kids Coalition.
Dillon also addressed the nearly 1,000 legionnaires to thank them for the award. He's pictured below with State Commander Patricia Harris, and with his wife Jackie.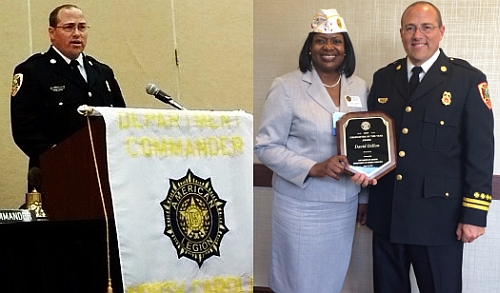 David Dillon has worked for the Apex Fire Department for eight years, as the town's first Deputy Fire Marshal. He's previous worked as a Fire Inspector in Smithfield and Cary.
He's been a member of Durham Highway Fire Department for nineteen years, first starting in 1990. He presently holds the rank of Assistant Chief.
Dillon comes from a family of coal miners and was raised in Pittsburgh, PA. He graduated from Broughton High School in Raleigh, attended North Carolina State University, and has studied at the National Fire Academy. He holds numerous certifications including Advanced North Carolina Firefighter, Level III Fire Inspector, Certified Fire Investigator and Associate Emergency Manager.
He's married to Jackie Foldes of Garner and has a young son Ashton.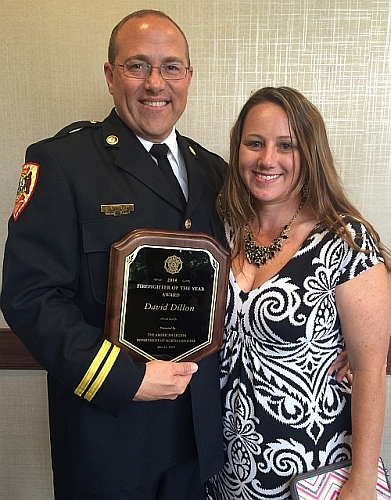 + 7 - 9 | § ¶
Fire Service Developments in Durham County
At least, as reported by the Durham Herald-Sun. This week, they reported on reactions to some aspects of the county manager's proposed budget for FY15, notably the funding source for a new Division Chief and new Data Analyst position in the Fire Marshal's office. The "rural" fire departments are raising objections to the monies used and if that's a double-taxation issue. There's even questions of legality, based on contract wording and state law. Read the story.
The newspaper also notes that the proposed budget increases staffing for the Bahama, Lebanon, and Redwood fire departments. And to fund these positions, fire tax increases are recommended for each district. Bahama raised by 0.5 cents per $100, Lebanon by 0.7 cents per $100, and Redwood by $2.75 cents.
Here's the web page with the budget document. The Division of Fire Suppression has thirty-one full-time employees and twenty-five volunteer employees. (Those are the members who staff the former Bethesda Fire Department, correct?) There are also eleven full-time county employees at Lebanon Fire Department. The Fire Marshal's office, meanwhile, has six full-time employees, with a recommended to add one and a half positions.
Here's the web page with information about viewing live and archived Board of Commissioners meetings. There's a search box, which returns matches on "fire" from prior meetings, and the agenda items that were covered at those meetings.
We've blogged before about recent developments in Durham County, notably the results of a fire study received latelast year. Read that posting.
We've also tweeted some of the Herald-Sun reporting about fire service news in Durham County, such as:
June 12 (today!) - Durham Herald-Sun, County strategy for fire district taxes criticized,

http://

tinyurl.com/pj2cvoy

April 2 -

Durham Herald-Sun, City likely to end subsidies of Parkwood Fire Dept,

http://

tinyurl.com/nlxkobp

April 2 -

Durham Herald-Sun, Parkwood fire chief ousted; downsizing in works,

http://

tinyurl.com/lc5p58g

Feb 15 -

Herald Sun, Durham County Slows Work on Some Fire-Service Changes, not all study recommendations to be made,

http://

tinyurl.com/kmm59bj

Jan 17 -

Herald-Sun, Parkwood Fire in Durham County ends EMS July 1, also trustee to manage finances,

http://

tinyurl.com/pmgoxot
Finally, an open question for readers. Are there other news sources that are reporting on these issues? Or other web sites (or even Facebook pages/groups) worth noting, that provide perspectives on these issues and what's happening in Durham County?
+ 4 - 1 | § ¶
Pumper-Tanker Overturns in Wilkes County
From the Wilkes-Journal Patriot, a Moravian Falls Fire Department pumper-tanker overturned on West Meadows Road on Tuesday evening. The truck was being driven for a training exercise when it left the roadway between NC 16 South and Brocktown Road. There were no serious injuries. The apparatus sustained "substantial damage."
The cause is still being determined, but officials found that the right side of the unpaved road--an embankment weakened by recent heavy rain--had collapsed beneath the weight of the truck. Moravian Falls FD responded, along with Boomer FD, Wilkes Rescue Squad, and Wilkes EMS. Notes the story, there was a delayed response, as responders attempted to locate the specific section of West Meadows Road. Read the article.



Jule Hubbard/Wilkes Journal-Patriot photo
+ 6 - 4 | § ¶
Emerald Isle's New Rescue Pumper
As photographed by Lee Wilson last week, the Emerald Isle Fire Department recently received this 2014 Spartan Metro Star/Toyne rescue pumper. Hale pump, 1000 gallon tank. Looks the same on both sides. Pump panel is behind compartment door. Helps protect against corrosion. See factory information. See more photos from Lee, in his album of beach trip photos. (You know how this works. Lee takes a trip and Legeros gets a couple blog posts out of the deal.) Next question, how many other departments around the Carolinas have Toyne apparatus?



Lee Wilson photo
+ 5 - 1 | § ¶
Jacksonville's Main Fire Station - Past 'n' Present
Construction is nearly finished in Jacksonville of a new public safety center. The $30 million project will house the police and fire department administrative offices, along with a new Fire Station 1. Located on the east end of the building, the station will have two stories and four bays that face Marine Boulevard. Housed at Station 1 are Engine 1, Rescue 1, and Battalion 1.
The 95,000 square-foot facility will also house the city's 911 call center, the city's emergency operations center, and its Intelligent Transportation Center. The building will front a new extension of Court Street at the intersection of Marine Boulevard. It was designed by Gantt Huberman Architect. (Why are we blogged about Jacksonville, you ask? That's easy. Lee Wilson's been at the beach this week and has been transmitting photos from there and parts in-between.)


Current Fire Station 1
The complex replaces the current public safety center that's located next door, which will be demolished and used as a parking area for the new center. The block-long building was constructed in 1957 and also originally housed City Hall. The fire station is located on the south end, and is a two-story structure with four bays. This was the city's sole fire station (correct?) until they opened Station 2 six years later at 820 Barn Street, and a third station at 190 Huff Drive in 1985. Today, the Jacksonville Fire Department has five fire stations.

Google Maps photo
Bing Maps photo
READ MORE
+ 5 - 1 | § ¶
Jacksonville's New Rescue
Turning our attention to Onslow County, the Jacksonville Fire Department recently received a new rescue truck. Picture from factory photos is a 2014 (?) Kenworth T370/Hackney medium-duty rescue. Features included removable bumper-mounted winch, 50KW PTO generator, NightScan light tower with six 900-watt flood lamps, two additional 900-watt floods on each side, breathing air compressor, two hydraulic hose reels, rescue tool couplers in front bumper, and storage for two ladders (24-foot, 14-foot). Read and see more on the Hackney site. Next question, what did the truck replace?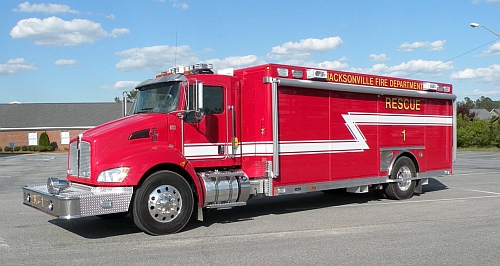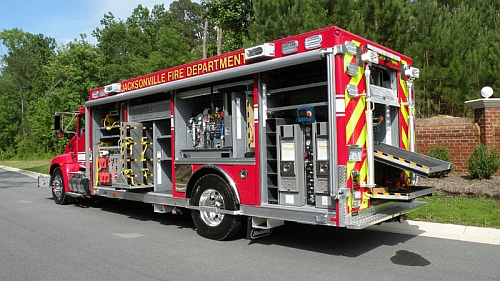 + 5 - 2 | § ¶
Dash-Cam Captures Collision with Gaston County Ambulance
Saw this on Statter911 this week, dash-cam footage from ambulance, after the driver of a passenger car crossed the center line and struck the emergency vehicle about 3:45 p.m. on Tuesday. Local coverage includes WSCO-TV, WCNC, and the Gaston Gazette. The head-on collision occurred in the 400 block of Stanley Spencer Mountain road in Gastonia. Five people were transported, including the two EMTs aboard the ambulance. Four were transported to CaroMont Regional Medical Center and one was airlifted to Carolinas Medical Center in Charlotte.
The ambulance was answering an emergency call and had its warning devices activated. They were wearing seat belts. There were three people in the automobile, only one of whom was wearing seat belts. The driver, not belted, has been charged with DWI. He could face more charges. The EMTs were released from the hospital that afternoon.
The stories are a bit confusing regarding the ambulance agency. The EMTs are both members of Stanley Civil Defense Rescue Squad, but also full-time Gaston County EMS employees. Sounds like the ambulance is based at the Stanley Fire Department, and is cited in one story as a SFD ambulance. We'll let readers sort this one out.



WSCO-TV photo

Mike Hensdill/Gaston Gazette photo
+ 3 - 1 | § ¶
Elizabeth City's Quick Step Hook and Ladder Company
This 1917 Brockway combination service truck that originally served Elizabeth City was photographed Sunday at the North Carolina Transportation Museum. The occasion was the Streamliners in Spencer special event. Stored in the "Back Shop" is the museum's collection of motor apparatus also includes Lexington's 1922 American LaFrance Type 75 pumper, Spencer's 1950s (?) Mack Model "B" pumper, and High Point's 1955 American LaFrance 700 Series aerial ladder.
The Brockway was operated by the Quick Step Hook and Ladder Company, an all-black fire company that served Elizabeth City from nearly ninety years! They were organized in 1891 and a good decade before the town had a municipal water supply. They specialized in rescue and ventilation, and were also capable of demolishing structures using the famous "hooks."
They worked alongside the white firemen, who staffed the steam engines and hose company. They were all volunteers, and shared the same firehouse and alarm system. Their horse-drawn hook and ladder truck was replaced about 1921 with the Brockway. The "city service ladder truck" was equipped with a 35-gallon chemical tank and carried 250 feet of ladders and other equipment. It remained the town's front-line ladder truck until replaced with an aerial ladder in 1950.1
In 1977, the ladder company merged with Elizabeth City's other fire companies and the fire department became integrated. Read more about the Quick Steps in this annotated history of Early Black Firefighters of North Carolina. Read earlier blog post about ECFD history, which links to a couple earlier postings. See more photos on Mike's Flickr site.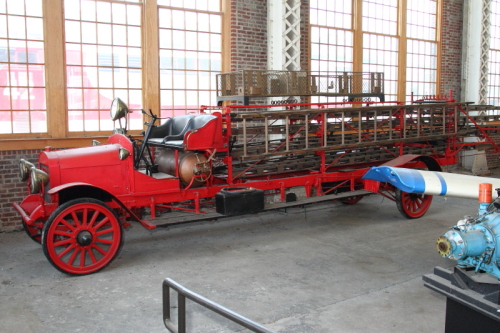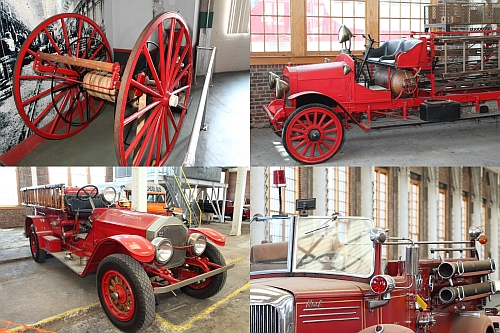 1Perhaps 1955 instead of 1950? John Peckham's American LaFrance database lists an aerial ladder for Elizabeth City, shipped in November 1955.
+ 3 - 3 | § ¶
Volunteers Wanted for South Atlantic Fire Rescue Expo
The Wake County Firefighters Association is again providing volunteers to assist with the South Atlantic Fire Rescue Expo, which will be held in Raleigh in late July. This year's schedule is bigger and better than ever, with events and attractions including:
Antique Fire Apparatus
BBQ throwdown and Corn Hole Tournment
Brotherhood Bash at Napper Tandy's
Brotherhood Pipes and Drums
Fire Truck Parade
Firefighter Competitions
Golf Tournment
Haz-Mat Challenge
Raleigh's Finest 5k
Unified Color Guard.
There are numerous volunteer opportunities during these and other events. Volunteers will receive free admission to the Expo show floor on Friday and Saturday, July 24 and July 25. It's a great opportunity to meet and network with other firefighters from around the area and the state.
For more information, contact:
Lee Price, President
Wake County Firefighters Association
919-427-4757 (Cell)
leeprice@wakenewhopefire.com

+ 5 - 0 | § ¶
North Carolina Army National Guard Fire Apparatus
Posted these this weekend to the Fire Trucks at War Facebook group. North Carolina Army National Guard Oshkosh/Pierce tactical fire apparatus, as photographed in parades in Raleigh.
The TFFT pumper/tanker (top) was shot in August 2009. The HEWATT water tender (bottom) was shot in June 2012. Both are based at the Armory at the airport. (And housed in a relatively new fire station building, if memory serves. Maybe readers can advise and/or get me hooked up to pay a photo visit one day.)
Two identical trucks are based in Salisbury, with the NCNG UH60 Blackhawk unit. They're operated by the 430th (Salisbury) and 677th (Morrisville) Engineering Firefighter Teams. Here's an HPfirefighter.com story about the teams and their trucks. Click to enlarge: