+ 14 - 11 | § ¶
Learning Your Ladders
Still learning the new numbers for the city's ladders and rescues? Here are some memory aids to assist in that endeavor:

Ladder 1 - The number ONE points upward, as if pointing north. Ladder 1 is north-side.
Ladder 2 - Housed at Station 11. One plus one equals TWO.
Ladder 3 - The number THREE points left, or west. Ladder 3 is west-side.
Ladder 4 - Housed at Station 1, which has two engines, one ladder, and one field communications unit. Total apparatus equals FOUR.
Ladder 5 - Housed at Station 22. Two plus two equals four. Add the number one, which looks like an arrow pointing north, since this ladder is also north-side. Two plus two plus one equals FIVE.
Ladder 6 - Housed at Station 24. Two plus four equals SIX.
Ladder 7 - Housed at Station 20, which opened in 1989. The last digit of that year is nine. Nine minus two minus zero equals SEVEN.
Ladder 8 - Housed at Station 26. Two plus six equals EIGHT.
Rescue 1 - Housed at Station 19, which is located east of Capital Boulevard, which is also called Highway ONE.
Rescue 2 - Housed at Station 7, a building that has, unusually, TWO front doors.
Rescue 3 - Housed at Station 14. Four minus one equals THREE.
+ 15 - 12 | § ¶
Chief Clack Clicks Off
As covered by Firegeezer last week, Baltimore's Fire Chief Jim Clack posted his last posting on the Watch Desk. He'd been a participant for about a year, reading and posting some 500 times (!) to the Baltimore City forum. He started posting about the same time he started as Fire Chief, and on a discussion board both busier and tougher than the North Carolina forums. (Our Raleigh-Durham forum is a comparative field of friendly crickets. And the issues facing our fire departments are nothing like those up there.)
Why did he leave? Chief Clack cites anonymous posters, and their ability to "rude, obnoxious, defamatory and even openly racist." And the resulting impressions upon readers of the Baltimore Fire Department. (He posted his note on the same day that Dave Statter co-presented an expo session on the subject of social media and fire department reputations. More on that later, hopefully.)
Chief Clack notes that as an alternate, he'll be posting on the IAFF Local 964 forum. That one's moderated and has a code of conduct. Stepping back, what conclusions can/should we draw about discussion boards and anonymous postings? Regionally, or nationally. Can proverbial kitchens get too hot, even for veteran fire chiefs? Or do they take downward and irrevocable spirals when things get (anonymously) ugly? Firefighters play rough, and it should be no surprise that their digital selves are equally or even rougher. Do we need thicker skins online? Better manners? What do readers think?
+ 16 - 10 | § ¶
FireCritic Gets Critical
Here's something we haven't seen before, or least haven't noticed before: fire bloggers critiquing fire sites. The assessment is performed by FireCritic, in this review of the FireEngineering.com. His capsule review includes comments on "below the fold" content, a definite no-no in the School of Usability. Kudos to the FireCritic for his friendly advice. He states his web site critiques may become an ongoing feature. Hope so. There's certainly plenty of material out there, and plenty of fire sites that could improve their user experiences. And probably starting with our own! Read his web site critique.
+ 17 - 11 | § ¶
Mystery Stations
For your Friday enjoyment and courtesy of those nifty Bird's Eye Views by Bing, can you identify these four facilities? Hint #1: They're within driving distance of each other. Hint #2: They have street addresses.


+ 13 - 17 | § ¶
History of Forest Fire Prevention Outdoor Advertising
Here's an interesting flier recently received from M.T. Publishing, the company that produced the recently released Raleigh Fire Department yearbook. This one is a full-color pictorial history of forest fire prevention outdoor advertising. The author is Harry McClellan, a 32-year veteran of the USDA Forest Service. The flier, which is soliciting advance orders, indicates that the hardcover book will contain over 200 pages, with "over 600 full-color photographs, posters, announcements, brochures, etc." Neat concept that should translate to a neat book. Click below to view the flier:


+ 7 - 11 | § ¶
This Afternoon's MVAs / Interstate 40
Westbound I-40 was closed at Miami Boulevard this afternoon, after 30+ cars and trucks collided in multiple accidents. As this WRAL story reports, the first occurred about 5:00 p.m. just west of Miami Boulevard. It involved 15 cars. The second occurred near Davis Drive, and involved 18 vehicles, including two big rigs. Several patients were reportedly transported. This WTVD story includes aerial photos. You can spot Parkwood FD and what looks like Durham FD on scene. Readers, please add details as desired.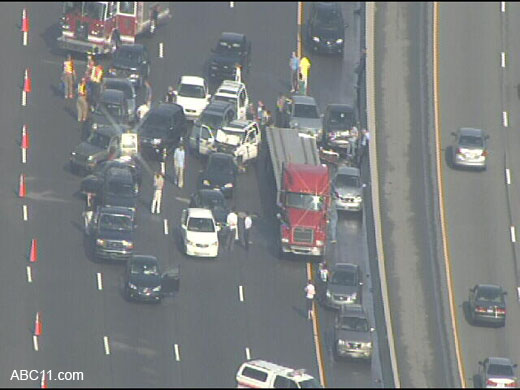 WTVD Photo
+ 15 - 9 | § ¶
Bird's Eye Views by Bing
Have you tried the bird's eye views from Microsoft's Bing Maps? These "angled" perspectives beat the heck out of traditional "flat" aerial views. Below is the Keeter Training Center, from one of four sides. Thanks to our readers for showing the Bing way.


+ 11 - 12 | § ¶
How I Spent My Summer Vacation
We're working through the photos from last week. Four sets have been posted so far: Baltimore Fire Expo, Baltimore Fire Museum, Charlottesville Rescue Squad, and Richmond historic and former firehouses. More Baltimore coming, such as the below dockside shot. DC coming too. Stats from the trip? Drove just under 1,300 miles. Photographed some 77 stations. Stayed six nights in two towns. Paid tolls on roads eight times, including six tunnel trips. Dined in Little Italy three times. Bought two lottery tickets. Visited two fire museums, one zoo, and a IKEA1. Listened to 1.25 audio books, Erik Larson's "Thunderstruck" and Bill Bryson's "Shakespeare, The World as Stage." They're about the history of wireless telegraph and the Bard, respectively.



1Other attractions included Union Station in DC, downtown Alexandria, VA, and Cancun Cantina in Hanover, MD. Best country bar ever, that's also smoke-free by law. Two-stepped for hours.
+ 7 - 16 | § ¶
Wake Forest Fire Station 3 in Service
Wake Forest's third fire station was placed in service on Monday, July 27, at about 3:00 p.m. Located at 1412 Forestville Road, the facility houses Engine 3 and Brush 3. The engine company was previously responding from Station 2 on Ligon Mill Road. Before that, they were stayed at Station 1 on E. Elm Avenue. Before then, they were utilizing a construction trailer. Lee Wilson has posted photographs, from a visit yesterday. Also, Engine 3 is no longer named Pumper 3. Wake Forest Fire Department has renamed Pumper 1, Pumper 2, and Pumper 3 as Engine 1, Engine 2, and Engine 3. WFFD last renamed all of their units about a year ago, which we blogged about.


Lee Wilson photo
+ 7 - 12 | § ¶
Carrboro Starts Work on New Fire Station
Construction has started on Carrboro Station 2 at 1411 Homestead Road, reports today's News & Observer. The combination fire, police, and EMS facility will be staffed with an engine company and four firefighters. It'll primarily serve the northern area of CFD's district, including Rogers Road, Winmore, Claremont, Wexford, and Lake Hogan Farms areas. This will also be a "green" fire station in its design and construction, including, as this MyNC.com article notes, "recycled building materials, maximum use of natural light, waterless urinals, high-efficiency lighting, a gray-water retention and filtering system and a solar-powered water heater."
As the architect's project site adds, "layout of the station was designed in such a way as to minimize harsh southern sun exposure as well create a functional fluid layout that allows for an efficient heating and cooling system." The fire statiion will have two drive-through bays, with adajcent decon, shop, and storage areas. Living areas will include a watch room, triage room, day room, kitchen, dining/training room, and exercise room. The general contractor is Central Builders of Mebane. The architect is Stewart-Cooper-Newell. More about the Carrboro Fire Department.


+ 11 - 10 | § ¶
Fruits of Labors
With 54 plus 9 plus 14 historic and former fire stations1 photographed last week in Baltimore2, DC3, and Richmond, the next steps go something like this. Review the shots and select the keepers. Review the keepers and do another round or two of deletions. Resist the urge to hoard. Next, rename everything. Format includes the street name. Next, perform post-processing. Sharpness, contrast, color, etc. Plus rotation and perspective correction, which adds PhotoShop Elements into the workflow.
Next, export everything as lower resolution JPG. Next, create the slideshows for our fire photos site. During that step, order the photos. Maybe delete some. Next, upload the slideshows. Finally, update said site with thumbnails and links. Phew! Then there's part two, which involves adding links to my history page, and making Flickr versions of each of the three sets. And, meanwhile, occasionally blog about the whole thing. Click to enlarge:

1Houses were photographed if either (a.) active and older than 50 years of age, or (b.) retired and of any age.
2And doesn't include a half-dozen shot last year, and two buildings inaccessible at the Dundalk Marine Terminal.
3Retired houses only. Another dozen-and-a-half active DCFD houses are 50 years of age or older.
+ 11 - 12 | § ¶
Wall with Door
Retroactively reporting from the road-- Mr. Blogger returned this afternoon-- here's a noise barrier in Baltimore, on a section of toll road. The door is a portal for fire apparatus, presumably to improve response times. That section of roadway only has a handful of entrance ramps. There's also an electronic sign board overhead and, some yards prior, a familiar yellow "firehouse ahead" sign. Yup, we're easily amused. Just call me Rube.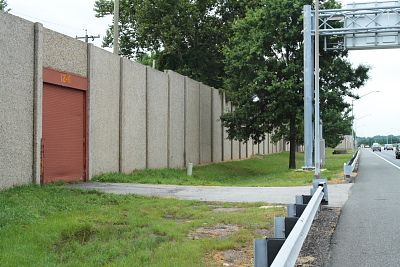 + 6 - 8 | § ¶
Mystery Street
What is this street, and what is its history? Hint #1: It was photographed this afternoon. Hint #2: The street is short.


+ 8 - 13 | § ¶
Broad Street Fire Station
Here's Richmond's old "ten house," the former quarters of Engine 10 and Truck 3 at 1609 W. Broad Street. Opened in 1905, the two-story structure served until 1993. That year, Engine 10 was moved to Hermitage Road, and Truck 3 was disbanded to become Task Force 10. The building has served as a playhouse since that time. More pictures coming, of all historic active and retired Richmond firehouses. Learn more.

+ 15 - 11 | § ¶
Former Firehouses of Washington, DC
Saturday was spent in the nation's capitol, with station hunting in the morning. Nine former houses of DCFD were found and photographed. They date from 1870 to 1908. Below is the old "ten house" at 1341 Maryland Avenue, which opened in 1895. Look closely and you'll see a person apparently asleep on the apron. Nothing like local color. And remind me to tell about driving in DC. How many one-way streets does one city need?
We'll have the photos processed and posted in a number of days. Baltimore and Richmond are queued ahead in the line. Station hunting in Richmond resumes Monday, for that matter. Research on the DCFD historic and former houses was conducted using this Watch Desk thread. Thanks so much to those who responded. Expect a return visit, maybe next year. There are also some 17 active stations of an older age to shoot.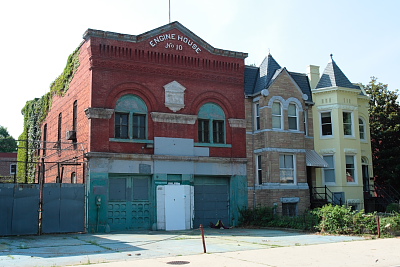 + 10 - 14 | § ¶
Funny Billboard
Moving from music to painting, Leonardo da Vinci's famous lady is repurposed in this amusing billboard seen across the street from the Box 414 Fire Museum at old Station 6. What does the 16th Century masterpiece have to do with paternity testing? Who knows. It's famous, and it's public domain. Yes, we are easily amused. Happy Friday.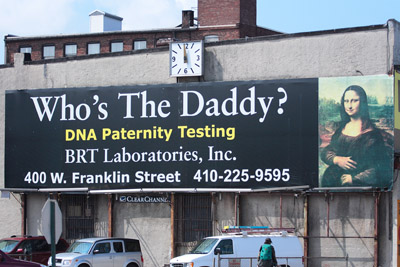 + 10 - 14 | § ¶
Funny Billboard
Moving from music to painting, Leonardo da Vinci's famous lady is repurposed in this amusing billboard seen across the street from the Box 414 Fire Museum at old Station 6. What does the 16th Century masterpiece have to do with paternity testing? Who knows. It's famous, and it's public domain. Yes, we are easily amused. Happy Friday.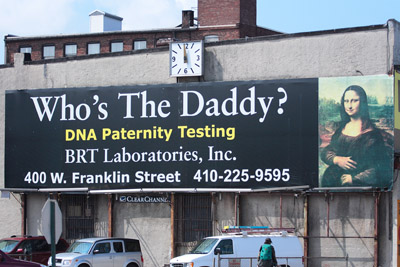 + 13 - 8 | § ¶
From Raleigh to Arab
North Carolina to Alabama, that is. Here's Western Wake's old super tanker, now serving the Four C Fire Department in Arab, AL. Engine 196 was a 1985 Kenworth/Grumman, 1250/2500, that first served the Fairgrounds Fire Department. Thanks to a reader for providing the photo. Click to enlarge:


+ 7 - 12 | § ¶
Hollins Street Fire Station
So far so good on the Great Historic House Hunt. Some 63 stations shot, including three retakes due to rain or, say, tour busses blocking the view. The latter at the Great Blacks in Wax museum, housed in an old North Avenue fire station1. Had a couple surprises, such as finding one on Liberty Heights Avenue (west side) that I couldn't find on North Liberty Street (downtown). Chance find, that one, though spying the three-story hose tower over the treetops helped. Less than a half-dozen remain to shoot, or reshoot. The city has about 72 active or retired engine houses over 50 years in age, and that includes salvage corps, volunteer stations, and an old airport station. Here's the list, which now needs updating.

This aggressive schedule hasn't allowed much time for inside tours. I've done exactly one, at 1908 Hollins Street. The quarters of Engine 14 and Medic 21 is one of the oldest in the city. Built in 1888, it was remodeled in 1902. The two stories are separated by a single, wrought-iron, spiral staircase. Plus four poles, all original. In the back, above the kitchen, is the old hayloft. Another set of stairs leads to the half-basement, and its original 1888 brick floor. Over the apparatus bay is an ornate tin roof. Upstairs, a hanging ceiling covers another tin roof. Four beds in an open dormitory; fifth bed in the engine company office. Plus a gong that still works, and that is still hand-wound. Learn more about the house at the Fort Hollins web site. Includes great old photos. Thanks to the station crew for the friendly tour.
1What are the old stations used for? BCFD storage. Private residences. BCFD fire museum. Churches. Community theater. Coffee shop. Union hall. Charity. Commercial. Great Blacks in Wax. Etcetera.
+ 10 - 6 | § ¶
Fire Expo Exhibit Hall Report
Boats. Ladders. Dash lights. Artwork. Burn centers. Architects. Scheduling software. Laptops. Lime yellow Seagrave pumper. Flooring. Hydraulic rescue tools. Tee shirts. Jewelry. Patches, my God, the patches. Boots. Shoes. Hoods 'n' gloves. Rescue saws. Rescue vacuums (!). Fire Apparatus Journal, the great. Yellow-orange Pierce pumper. Nozzles. Books. Radio head sets. Magazines. Deluge guns. Insurance. Marketing. Ropes. Fire department management software. Irons. Gauges. Animatronics. Hand lights. Die-cast models. Helmets. CO poisoning detection systems.
Chevrons everywhere. Watertight cases. Pocket CPR coaches. Alert devices for hearing impaired. Light bars. More tee shirts. Some Firegeezers with a blog. Gas detectors. Stretchers. FEMA. GIS systems. Vertical rescue systems. Exhaust removal systems. Manifolds. Military universities. Industrial strength sponges. Fundraising services. Radio straps. Hose carts. Jump bags. Training buildings. Mobile data terminals. Turnout gear. Pages. Foot massage. Jump seats. FireNews, some web site from North Carolina. Cardiac monitors. Fire simulation software. Accountability systems. Forcible entry training. Handheld computers.
Ornaments. Helmet lights. Traffic safety equipment. Thermal imagers. One beautiful 1970 Miller Meteor Cadillac ambulance. Defibrillators. Big, lime, Spartan rescue. Sport-utility vehicle cabinets. Light ropes. National Fallen Firefighters Foundation. Race cars. Racing fuel. Mobile phone networks. Mobile command centers. Vests. Professional associations. SCBA emergency filters. Low-frequency acu-therapy. Vehicle-mounted forklifts. Brush trucks. Light towers. Smoke fans. Big, red KME aerial tower. Mobile command centers. Tillers, ladders, and platforms, oh my. Decon tents. Gear racks. Sirens. Air bags. Portable road signs.
Baltimore Fire Department, the host agency. Fire videos. Mobile video solutions. Haz-mat software. Reels for electric cords. Presentation axes. Arson investigation tools. Religious firefighter associations. Flags. Miracle absorbent clothes. Consultants. Propane safety. Two-wheeled upright personal transportation vehicles. Quite a few, um, booth babes. Fire station alert systems and a big honkin' tractor-trailer demo area. Fabrics. Streaming technology. Antique fire apparatus associations. Rescue tape. Fitness equipment. Cancer support networks. Foam. Sculpture. Lots of really big guys. Pumps. Billing software.
Alternators. Furniture. Lock boxes. Still more tee shirts. Text books. Harnesses and escape belts. Lockers. Hose. Revenue management software. Air bottles. Hose testing. Ladder testing. Magnetic door chocks. RIT bags. Air-inflated costumes. Vacations. Uniforms. Leather goods. Disaster management systems. Computer-based learning. Cascade systems. Eye protection. Fire suppression systems. Advertising. Plaques. Decals. Custom stickers. One mean-looking Snozzle. Rafts. Air masks. Rescue coats. Intercom systems. Hose racks. Publishers. Great accents overheard. Trophies. Inventory software. Reflective tape. Web sites. Accountability software. Colleges. Gutter protectors. Apparatus backing aids. Builders. Brewing companies. Fire education aids. Radiological and nuclear testing sites. Materials testing. Helmet shields. Fire safety trailers. Jacks. Jesus statues. Rappelling demo areas. And a whole lotta chrome.
+ 9 - 12 | § ¶
Cherry Point Crash Truck
Found for sale on eBay, here's a 1979 postcard photo of an MB-1 crash truck from the Marine Corps Air Station at Cherry Point. The truck was made by Walter, a brand known well in Raleigh-Durham. The airport operated four Walter crash trucks, beginning with a Class 1500 in 1959. See some pictures, though Walter is incorrectly listed as Walters. Need to fix that.

+ 12 - 11 | § ¶
Making the Right Impression on Your Fire Station Visit
Here's a useful article from Firehouse.com, for those interested in fire service careers. It's a list of recommendations for fire station visits, beginning with the benefits therein. Why visit? To network, to learn about the job, to meet those doing the job, and meet those newly hired in the job. Writer Steve Przibrowoski gives tips on scheduling, such as calling ahead and even how to find station addresses. He talks about etiquette and how to conduct yourself, and even recommendations for attire. Tank tops and flip-flops are not good. He has suggestions on how to extend interactions, such as mock interviews or asking about other stations to visit. It's a very good article, and with plenty of proactive advice. Read the article. And for any applicants reading here, post questions if you have 'em. Or send as private mail, and we'll repost and ask readers for answers.
+ 9 - 10 | § ¶
Tailboards for Baby Strollers!?!
Finally, there this. Tailboards for baby strollers. Saw one in action today. Should have taken a photograph, but this catalog image works fine. Do you suppose they come in diamond-plate? And if they don't, how long until an enterprising firefighter makes (and sells) one? Apologies if this is old news in the baby world. We're out of the loop, as we have an adult child at our house. His name is Mike.

+ 10 - 9 | § ¶
Historian in Action / Raleigh Fire Department Youth Academy
With significant risk of a broken lens, photographer Lee Wilson captured historian Mike Legeros in action on Monday. Cleverly disguised in non-tropical attire-- though easily identifed by his wild hair-- Mr. Blogger was talking to the Raleigh Fire Department Youth Academy at the Kiwanis Park Community Center. The annual camp is a week-long event for 24 youths ages 11 to 14. They learn about the fire department and firefighting. They visit fire stations, the training center, and other facilities. They also have classroom and physical challenge acitivites that include first aid, fire behavior, fire inspections and code enforcement, fire prevention, fire investigations, and thermal imaging camera demonstrations. See more of Lee's photos, from both Monday and Tuesday. Or learn more about city of Raleigh summer camps. Is there a similiar program for adults? Kinda, sorta. The city's Neighborhood College program includes a class on the fire department. See some pics of a college class at the training center.


Lee Wilson photo
+ 7 - 12 | § ¶
Basic Understanding of the Fire Service for Public and Elected Officials
This conference session on the Thursday schedule caught my eye. Educating public and elected officials on "what makes a fire department tick." The intended audience includes "policy makers, procurement officers, commissioners, city managers, district managers, city council aides, and congressional aides." They're even admitted free of charge, if accompanied by a Fire Chief or department rep with a conference pass. It's a great idea that could be cascaded across the country. Maybe it already is. The description speaks for itself:
READ MORE
+ 8 - 13 | § ¶
Card Reader Woes
Ever wondered what happens to your external memory card reader, when the CF cards pins get bent? First, it stops working. Next, the user starts cursing. Third, ingenuity appears. Crack open the case and identify the problem pins. With tweezers from your trusty Swiss Army knife, carefully bend the pins back. They'll be further straightened when you insert a card. Did it work? Yes and no. One pin was snapped in half, and only one brand of my cards would work. Presumably the other needs the longer pin. Guess a replacement purchase is the plan for the evening. Thank goodness card readers are pretty cheap.


+ 10 - 8 | § ¶
Ann Street Fire Station
Among the many retired engine houses in Baltimore are a handful of former volunteer stations, such as this two-story brick building at the intersection of 5th Street and Pontiac Avenue. Built in 1911, it first housed the Brooklyn Volunteer Fire Company of Anne Arundel County. The 100-foot deep lot cost $3,250, and the building $5,990. On March 29, 1919, after the area was annexed, it opened as Baltimore Fire Department Engine 35, which was reorganized and placed in service with a 1912 Mack AB combination hose wagon. It also later housed Truck 21. The station was closed in 1961.


+ 13 - 9 | § ¶
Holabird Avenue Fire Station
Explore the area of the Dundalk Marine Terminal in southeast Baltimore and you'll soon discover an old engine house sitting directly underneath Interstate 95. Engine 50 occupied the station at 4700 Holabird Avenue from 1930 to 1978/79. It was closed, notes this Monument City web site, because the facility's fuel tanks were too close to the overhead highway. Engine 50 relocated a new/newer station at 1601 Broening Highway. The building appears vacant, but Google matches the address to a sign shop. Good excuse for a return visit! Below is a early evening photo from yesterday. Or explore via Google Street View. Read more about historic houses in Baltimore. Only a few dozen more to shoot!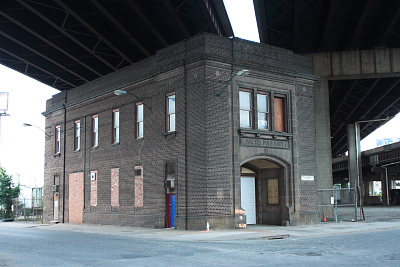 + 13 - 12 | § ¶
New Deliveries at National Guard
Trucks on trucks greeting morning motorists on Edwards Mill Road today. Destination North Carolina National Guard on Reedy Creek Road. One was hauling a HEMTT, the rest were cargo (?) trucks and trailers. Click to enlarge:


+ 11 - 11 | § ¶
Fire Commission Meeting Highlights, July 16 (Updated)
July 20 update. Two documents added, copies of the closure presentation and the Facilities Committee report.
What happened at tonight's Wake County Fire Commission Meeting? Here's the previously posted agenda. Regarding the Report on Evaluation and Application of Fire Commission's Fire Station Closure Criteria, the Wake County Fire Marshall provided a summary of his work evaluating and applying closure criteria to four Wake County fire stations:
His presentation included information on the background and methodology of the evaluation. The process included a GIS analysis, completed, and a criteria evaluation, completed except for data on Raleigh Fire Department contract cost. That information is expected soon. A copy of the presentation handout has been requested and will be posted on the blog when received.
READ MORE
+ 5 - 13 | § ¶
Historic Engine Houses in Washington DC?
For those passing through the nation's Capitol this week, DCFD.com has photos of all active stations. Quite a few are older structures, and some quite stunning. The unofficial web site, subtitled the Real Deal, has a bount of other riches. Dig that "rescue crane" that's on the roster, in the apparatus section. Maybe that's a project for next year's Expo trip. Catalog all former and historic DCFD houses. For now, watch this Watch Desk thread, where I've posted a query. Butcher, baker, obsessive list maker. See you in Baltimore.


DCFD photo
+ 14 - 13 | § ¶
Raleigh Fire Department History, 1880-1899
Here's another sundry document for Sunday reading. Raleigh Fire Department, 1880-1899
. The document's been a work in progress for a few years. 'Twas time to release the thing. The decades of the 1880s and 1890s saw the introduction of hydrants and alarm boxes, the formation of new fire companies, and construction of new fire stations. Plus a few big fires. The PDF document numbers 37 pages. There's no quiz afterward, however. Learn more about the history of RFD.
+ 9 - 12 | § ¶
Wayne County House Fire
This reader photo was posted by WRAL, in their story about a house fire in Princeton this morning. The headline reads "large fire," which this photo indeed confirms. The 2,900 square-foot home caught fire around 7:00 a.m.


WRAL Photo
+ 9 - 10 | § ¶
Mystery Station
This one's pretty easy. Hint #1: It's open on Sunday. Hint #2: It's open all other days, as well.


+ 14 - 7 | § ¶
Short Course in Using Your Digital Camera
Great site on using digital cameras by Dennis P. Curtin. There's also an accompanying book. The site has seven chapters: controls/creativity, sharpness, exposure, light/color, lenses, flash/lighting, special features. There are also animations in some sections that demonstrate the concepts. Good stuff. Capturing motion was this morning's study copy. Need to get better at shooting people moving fast.
+ 10 - 8 | § ¶
Big City Radio
For your Saturday evening enjoyment and found on this Firehouse forums thread, here's some very busy radio traffic from FDNY on Wednesday night, including a high-rise fire in the Bronx. Listen to clip 1, then clip 2, then clip 3. They're mp3 files. That's one busy dispatcher! Here are some FDNY ten codes to help. You're on your own, however, with the accents.
+ 13 - 14 | § ¶
Report Issued in Texas Firefighter Aerial Platform Deaths
As this Firehouse.com article notes, the NIOSH report has been released on the January 25 aerial platform accident that killed two firefighters in Kilgore, TX. The report cites several key contributing factors, including unfamiliarity with the new apparatus, high-risk training prior to familiarity, fall restraints not utilized, and platform design issues. Ladder company operations are a frequent topic of discussion on this blog, and the comprehensively documented findings should be of interest of many. That is, if they haven't read it already. Read the NIOSH report. It's sobering stuff.
+ 13 - 12 | § ¶
State College Clobbered
Speaking of schoolin', yesterday afternoon's thunderstorms also did some serious damage at North Carolina State University. Whatever blew through took down trees and limbs in the vicinity of Pullen Road. Campus crews are clearing debris already, but a couple of the bigger monsters will wait until Monday, when the really big saws arrive. Right around the bell tower, and where the roundabout is being built. See more posted photos.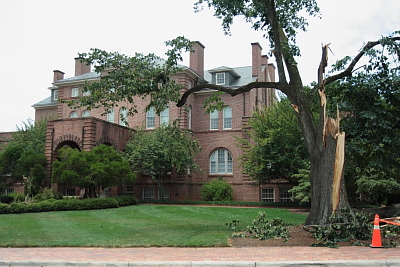 + 8 - 10 | § ¶
Photography Tip #315
When chasing calls in high-humidity conditions, such as yesterday afternoon's thunderstorms, maximize the distance between camera and air-conditioning vents. Otherwise, when you arrive on scene, your lens will simulate atmospheric conditions not actually present. If you also wear glasses, you may experience an added bonus of foggy eye wear when stepping out of your vehicle.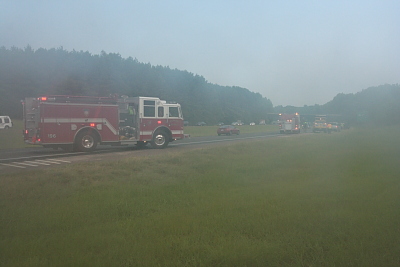 + 8 - 11 | § ¶
Producing a Fire Department Yearbook
Since the production of the Raleigh Fire Department's latest yearbook in 2007, others have asked for information on "how we did it." Where to start, who to contact, etc. To help everyone, I've created a page on Producing a Fire Department Yearbook. It covers everything from creating committees to soliciting content to fulfilling orders. There are also some sample pages from our book, which is still available for ordering. The documentation is version 1.0. Expect corrections and perhaps additions. Hope it's useful, and please drop a note if and when your book is published! Mr. Blogger wants to buy one!

+ 12 - 9 | § ¶
Cornelius-Lemley To Purchase Fire Boat
Found on FireNews, here's an interesting WSCO-TV story about the planned purchase of a 33-foot fire boat for the Cornelius-Lemley Fire Department in Mecklenburg County. The $400,000 watercraft will be used on Lake Norman (largest manmade body of water entirely within the state, incidentally) and will help protect their dozens of miles of shoreline, which include many large homes and condos. CLFD presently utilizes a 23-foot rigid-hull inflatable boat that's equipped with a 500 GPM pump. The new boat will pump 3,000 GPM, have an enclosed cabin, and be able to transport multiple victims from water rescues. (See also their Float the Boat page.) Funding is half town-funded, and half from grants and department fundraisers. The boat should be in the water by early next year. Read and watch the story.


+ 12 - 9 | § ¶
First Honor Guards, Haz-Mat Teams?
Help me with my research for history talk in August! When were the first honor guards and haz-mat teams formed in North Carolina? My information so far:

Honor Guards

- Charlotte, mid-1970s
- Winston-Salem, 1983
- Raleigh, 1984
- Durham, 1992

Haz-Mat Teams

- Charlotte, 1982
- Durham, 1985?
- Greensboro, 1982
- Winston-Salem, 1990

And when were the first state regional response teams formed? Thanks for any help!
+ 13 - 9 | § ¶
Raleigh vs. Richmond
In response to the question asked on this prior posting about Richmond, here's a comparison of the two departments.

Raleigh:

27 stations
28 engines
8 ladders
3 rescues
4 battalions
34,863 calls (2009)
385,507 (2009)
115.6 square miles
one engine per 13,768 people
one engine per 4.2 square miles
Richmond:

20 stations
20 quints

3 rescues
3 battalions
30,000+ calls per year
200,123 (2007)
60 square miles (2000)
one quint per 10,006 people
one quint per 3 square miles
+ 13 - 9 | § ¶
Special Response 2
This is a picture of SR 3, previously known as SR 22, a 2005 Ford F-550 Super Duty towing unit and cargo trailer for North Carolina Hazardous Materials Regional Response Team 4. It's parked at Station 22 and staffed by Ladder 5. The other recently renumbered Special Response units are SR 1, a 1991 Simon Duplex/E-One haz-mat support unit at Station 2, and SR 2, a 2008 Ford F-350 Super Duty haz-mat recon unit and support trailer for RRT-4.


+ 9 - 12 | § ¶
Cameras and Colors
Earlier this week, Lee Wilson and Mike Legeros posted their photos from Friday's apparatus accident in downtown Raleigh. They shot the scene soup-to-nuts, from all sides, from every angle, and for the duration of the incident. Lee arrived shortly after Ladder 4 overturned and stayed on scene until the tractor and its trailer was towed away. Mike was present for a portion of the recovery, starting about 90 minutes into the incident.
See Lee's photos and see Mike's photos, if you haven't already. Now, notice anything interesting? The colors are a bit different between the two sets. Lee's photos have more saturation or perhaps more punch; Mike's photos have a more muted palette. Open both sets side-by-side and the differences are easily spotted. Heck, longtime fans have probably already noticed this in earlier photos.

Lee Wilson / Mike Legeros photos
What's happening? It's probably, simply, a Nikon versus Canon thing. Lee shoots with a Nikon D60 (primary) and a Nikon D50 (secondary), both digital SLR cameras. Mike has a pair of Canon Rebel XT cameras, also digital SLR. Lee shoots in JPEG, since you asked. Mike shoots in RAW.
Searching the forums of the great Digital Photography Review site finds ample discussion on the subject of Nikon versus Canon colors. And more than a few users have noticed similar differences in colors or color saturation. And most of them add "it doesn't matter" as digital photos can be colored any way you want. That's why we perform post-processing.
So, what were the true colors that day? That's a whole 'nother discussion of what the eye see versus the camera sensor captures, including the varied lighting that day, the white balance settings on the camera, and some other stuff.
+ 9 - 7 | § ¶
Vintage Fire Helmet
Here's a neat artifact for sale on eBay, a vintage Bullard helmet from the Troutman Fire Departmenti in Iredell County. Looks like circa 1950s?


+ 8 - 9 | § ¶
Historic and Former Firehouses of Richmond
Also in preparation for next week's trip to Baltimore, Mr. Blogger has been researching historic and former firehouses in Richmond.They total 15, with six still active. The earliest were opened in 1862 (Engine 5) and 1884 (Truck 2); the latest started service 1968 (Engine 3/Truck 3) and 1970 (Engine 23). The last one's also a former vollie house, the old Chesterfield Station on Blakemore Road, built in 1953 and opened as a city station in 1970. See the below map.
Stops are planned both going there and coming back, to photograph the buildings. We've already built a web page, with photos from Google Street View and historical information from a retired Captain. The present schedule has Yours Truly passing through town next Tuesday and the following Monday. Wave at the guy wearing a tropical shirt. Read about historic and former firehouses of Richmond. Or learn about the Richmond Fire Department. See you in Baltimore!


+ 12 - 12 | § ¶
Wake County Fire Commission Meeting, Thursday, July 16 (Updated)
The Wake County Fire Commission holds its next meeting on Thursday, July 16, at 7:00 p.m., at the Wake County EMS training facility, located in the lower level of the Wake County Commons Building at 4011 Carya Drive. The agenda has been posted below. See other associated documents.

Call meeting to order

Invocation
Roll of Members Present
Approval of Agenda

Minutes

Adoption of Minutes for May 21st, 2009, Regular Meeting
Adoption of Minutes for June 8th, 2009, Special Called Meeting

Regular Agenda

Report on Evaluation and Application of Fire Commission's Fire Station Closure Criteria
Fairview Fire Department Staffing Plan

Information Agenda

Fire Tax Financial Report

FY 2009 Report
FY 2010 Report
Update on House Bill 852 – An Act to Defer a Portion of the Property Tax Due on Real Property Held for Sale by a Builder

Update on Retirement Funding Implementation
Facility Committee Report
Chair Report
Fire/Rescue Services Director Report

Other Business
Public Comments

30 minutes maximum time allotted, Maximum 3 minutes per person

Adjournment - Next Meeting September, 17th, 2009
+ 9 - 11 | § ¶
Hazing
The Big H has been called on the Big H. The headlines are easy enough to find. Video Shows Apparent Hazing Inside Fire Stations, etc. Be they pranks or regular firehouse fun, if (a.) recorded on camera and (b.) viewed by the public, the behaviors are likely to be labeled hazing. What do you think? Join the discussion that's commenced around the 'net and blogosphere. Dave Statter's talking about it. FireCritic's weighed in. There's a thread on the Firehouse forums. We've even started discussing same on the Raleigh-Durham Watch Desk.
+ 10 - 8 | § ¶
Mystery Person
Places, things, and now people. Who is this unmasked man or woman who works for a local public safety agency? Hint #1: They have brown eyes, at least in this photo. Hint #2: They're a good sport.


+ 12 - 8 | § ¶
Station 9 / Engine 9
Those funny flags on the roof of Station 9? That's construction of a green roof at the North Hills fire station. Other sustainability projects at Raleigh fire stations include solar-powered water heating systems and cisterns for harvesting rainwater. The city recently received federal stimulus funding to install addition more rain systems, as this Raleigh Public Record article notes. Also, Engine 9 recently received their old new pumper. The 2008 Pierce Enforcer was damaged in an accident on December 17, 2008. It was returned to service on June 27, 2009. More about Raleigh engines.


+ 10 - 9 | § ¶
Havelock Fire News
Found on FireNews, a new fire station is rising in Havelock in Craven County, reports this Havelock News article. The $3.1 million "west end" station is located on Highway 70, and the entrance to the Tucker Creek subdivision. Ground was broken in March, and construction should take a year.
The article also informs that the town has received loans and grants totalling $900,000 for an ambulance, and the fire department's first ladder truck. HFD has accepted a bid from E-One, and the quint will be housed at the new station. The ambulance will replace an existing EMS unit.
Learn more about the Havelock Fire Department, including their history. They were organized in 1967, so the community was no longer dependent on either Cherry Point or Newport fire departments. There's also a page about the new station, which includes ongoing construction photos.


Drew C. Wilson/Havelock News photo
+ 10 - 13 | § ¶
Parade Registration Opens Friday for Raleigh Fire Expo in August
Registration opens Friday for a fire service parade to be held in conjunction with the South Atlantic Fire Rescue Expo at the Raleigh Convention Center on August 22, 2009. Registration opens this Friday, July 17, 2009, at 8:00 a.m. No registrations will be accepted before that date and time. The parade is Saturday, August 22, 2009, and starts at 11:00 a.m. There are spaces for the following slots which will be filled on a first-come, first-registered basis:
Modern Apparatus (50)
Antique Apparatus(10)
Pipe and Drum Bands (3)
Honor Guards (10)
Full details are available on this web page, including Rules and Regulations of the Parade. All participants are required to register online for a slot. Trophies will be awarded in seven categories. Please direct questions to parade@southatlanticfirerescueexpo.com. See you at the parade!


+ 6 - 12 | § ¶
Cleveland Station 2 Dedication, Saturday, July 18
The Cleveland Fire Department in Johnston County dedicates their new Station 2 at 13279 Cleveland Road on Saturday, July 18. The ceremony starts at 9:00 a.m., with the raising of a flag that was flown over the United States Capitol. Refreshments will be served, and tours will be given. They'll also be selling CFD t-shirts. The new station was built by Dixie General and measures about 16,000 square-feet. It's capable of operating as a full-time, full-staff station with all amenities. It's presently staffed during daytime hours with two full-time employees and one part-time person. From 6:00 p.m. to 6:00 p.m.a.m., the station is staffed with two volunteers. The Cleveland Fire Department has been serving the Cleveland community since 1961, and their Station 1 is located at 9039 Cleveland Road. Click to enlarge:



Cleveland Fire Department Photo
+ 9 - 11 | § ¶
Rescue 1
This is a picture of Rescue 1, a 2007 Pierce Enforcer previously known as Rescue 19. It's the Raleigh Fire Department's first Rescue 1 since the mid-1970s. The history of Rescue 1 begins with a 1954 GMC panel truck, the original unit of the two-piece Raleigh Emergency Rescue Squad. The all-white vehicle was placed in service by July 16, 1954. The second Rescue 1 was a 1966 Chevy panel truck, also all-white. It was purchased from Sir Walter Chevrolet on August 18, 1966, and presumably placed in service soon thereafter. The third Rescue 1 was a 1975 Chevy/Murphy ambulance, placed in service in October 1974. This red-over-white unit was moved to Station 3 by November 10, 1976. Read more rescue unit history.


+ 7 - 10 | § ¶
Raleigh Fire Department Recruitment Starting
As many have heard, the Raleigh Fire Department is again recruiting. The application period is July 17 to August 28. Employment applications and recruitment flyers will be available at all Raleigh fire stations prior to July 17. Open houses will be held for prospective candidates at all fire stations on two dates: Saturday, July 25, and Saturday, August 15, from 10 a.m. to 2 p.m. on both dates. See the links below for more information, and good luck to all applicants!
+ 6 - 12 | § ¶
Video of New Hanover County Chimney Collapse
Found on Statter911, here's a short video of a chimney collapse house fire in Wilmington on Tuesday, after what's labeled a backdraft or smoke explosion. The Wilmington Star reports that four departments responded to the morning fire at 2602 Middle Sound Loop Road. Reported about 9:40 a.m., arriving units found heavy smoke and fire in the upper part of the structure. New Hanover County, Ogden, Wrightsboro, and Castle Hayne were on scene. The video description notes that one Lieutenant was slightly injured in the explosion, but has returned to work. Tax records say the two-story, wood-frame structure had 2,852 square-feet and was built in 1979. Click to watch:


+ 11 - 8 | § ¶
Motivational Seminar, Saturday, August 1
Durham Highway Fire Department is sponsoring an motivational seminar on Saturday, August 1, from 8:00 a.m. to 4:00 p.m. at Providence Baptist Church, 6339 Glenwood Avenue. Titled "Pride and Ownership: Ignite Your Love For The Job," the all-day program is led by Lewisville (TX) Fire Chief Rick Lasky. Program features and Chief Lasky's background are detailed in this brochure
. Or see his web site for more. There is a $20.00 ticket fee, though Durham Highway Fire Department is making tickets available at no cost any North Carolina firefighter unable to pay. To purchase tickets or for specific event information, see www.dhfd.org/pride. The site includes an FAQ, which notes among other things that food is not provided at the seminar, and that friends and spouses of firefighters can absolutely attend.
+ 7 - 9 | § ¶
This Morning's Apparatus Accident / South Dawson Street
Three firefighters were injured this morning when Ladder 4 overturned at the intersection of South Dawson and South streets, while responding to a house fire at 1020 Mark Street. The 2004 Pierce Arrow XT tiller overturned at 10:50 a.m., while turning east on South Street from southbound South Dawson Street. Units were dispatched to the accident at 10:52 a.m., including Engine 13, Ladder 8, Rescue 3, EMS 11, EMS 81, EMS 16, Medic 95, and District 1.
Four firefighters were aboard the truck, and three were transported to WakeMed. Two of the three firefighters received serious, but not life threatening injuries. Capt. Stephen R. Page, Lt. Jason R. Lane, and Firefighter Kelly Lamotta were listed in good condition this afternoon, and were expected to be released this afternoon. Lt. Roy McGee, also aboard, was not injured.
Other units on scene included Engine 1, Rescue 2, SR 2, Car 10, Car 4, Car 3, Car 2, and EMS 1. Fleet Services personnel responded and provided assistance to the towing company, and assisted with removing equipment from Ladder 4. Dawson Street was closed for over an hour, and South Street for over four hours, while the accident was investigated and the damaged apparatus removed.
Sources/coverage: WRAL (includes colorful/regrettable reader comments), WTVD (includes aerial photos), and the News & Observer. The city of Raleigh also released a press release. National coverage included Firegeezer, Statter911, and Firefighter Close Calls. FireNews posted their photos and story on Saturday afternoon.



WTVD photo
+ 5 - 13 | § ¶
What Web Sites Do You Read Daily?
Open question. What news or fire-related web sites do you read daily, notably newspapers, news sites, media sites, discussion boards, or blogs? Here's my daily routine, in no particular order:
Less regular visits are paid to the
Watch Desk local forum
,
FireCritic
(new blog),
9-Echo-1
(local EMS blog),
Firehouse Firefighters forums
,
Firehouse
, and assorted local newspapers, and local municipality news and meeting minutes sites.
+ 11 - 6 | § ¶
Early Paid Fire Departments
Who were the first fully paid fire departments in America? Here's an interesting list, compiled by a retired Richmond firefighter and obtained while researching historic firehouses in that city. More on that later. I've added Minneapolis, Charlotte, and Wilmington. What about other, bigger NC departments? They formed after the turn of the last century. Asheville, 1924; Durham, 1909; Fayetteville, 1947; Greensboro, 1926; Raleigh, 1912; Rocky Mount, 1938; Winston-Salem, 1923. As for big cities nationally, here's a Wiki page listing cities by population.


| | | |
| --- | --- | --- |
| Cincinnati, OH | | 4/1/1853 |
| Providence, RI | | 3/1/1854 |
| St. Louis, MO | | 9/14/1857 |
| Louisville, KY | | 6/1/1858 |
| Chicago, IL | | 8/2/1858 |
| Richmond, VA | | 10/25/1858 |
| Boston, MA | | 1859 |
| Memphis, TN | | 1859 |
| Indianapolis, IN | | 10/1859 |
| Baltimore, MD | | 12/1859 |
| Detroit, MI | | 1860 |
| Nashville, TN | | 7/24/1860 |
| Dayton, OH | | 1864 |
| District of Columbia | | 5/19/1864 |
| Covington, KY | | 7/7/1864 |
| New York, NY | | 6/24/1865 |
| San Francisco, CA | | 4/3/1866 |
| Philadelphia, PA | | 12/1870 |
| Norfolk, VA | | 12/15/1871 |
| Minneapolis, MN | | 7/1879 |
| Denver, CO | | 12/1880 |
| Tacoma, WA | | 1880 |
| Charleston, SC | | 1/1/1882 |
| Atlanta, GA | | 1882 |
| Spokane, WA | | 1884 |
| Los Angeles, VA | | 1/12/1886 |
| Jacksonville, FL | | 7/15/1886 |
| Charlotte, NC | | 1887 |
| Evansville, IN | | 1888 |
| San Diego, CA | | 8/15/1889 |
| New Orleans, LA | | 12/15/1891 |
| Salem, OR | | 1893 |
| Seattle, WA | | 1894 |
| Houston, TX | | 1895 |
| Tampa, FL | | 5/10/1895 |
| Wilmington, NC | | 1897 |
+ 9 - 8 | § ¶
Mystery History Photo
For your Friday enjoyment, identify this locally operated emergency vehicle. Hint #1: It's red. Hint #2: It was photographed using film.


+ 8 - 13 | § ¶
Memories of the Great Fire of New Bern
Referenced in my response to this posting about mutual aid by train, Google finds an online copy of an oral history program transcription
presented at the New Bern-Craven County Public Library in 1992. The PDF document numbers 54 pages, and transcribes records made in a prior year (or decade?) of people still living who remembered the Great Fire of New Bern on December 1, 1922.
What was probably the largest urban fire in the state's history leveled 40 blocks, destroyed over 1,000 buildings and homes, and left 3,200 people homeless. Burning a quarter of the city, the fire caused an estimated $2.5 million in damage. We've also blogged about the fire, for the occasion of its 85th anniversary. We also previous found the above PDF document, and had forgotten that fact. Welcome to the world of research. Repeatedly finding the same facts or resources, then discovering the repetition once your files are consulted.


+ 14 - 9 | § ¶
See You in Baltimore
We're two weeks away from the Baltimore Fire Expo. For this year's trip, the agenda includes exploring the exhibit floor (as usual), hanging out at favorite booths (such as Firegeezer and, this year, FireNews), and attending a round table on media relations and "maintaining your reputation." (Loaded topic there!) And, for sightseeing, finding and photographing more historic fire stations. They number about 50, both active and retired. They include a couple old Baltimore County buildings, and even some Salvage Corps quarters.
The project was started last year, and maybe seven or eight old stations were shot. After some research and finding more images, this Historic and Former Baltimore Firehouses site was created. So far, so good. With great expectations for great explorations, shooting starts on Wednesday afternoon, July 22 Tuesday afternoon, July 23. Wave at the guy with the camera. He's the one that looks like a tourist. He'll also be shooting "regular" buildings, and with an eye toward some more artsy black-and-white versions. Click to enlarge, circles are retired houses, triangles are active:

+ 14 - 12 | § ¶
Fireworks Survivor at Burn Center
Today's News & Observer reports on the recovery of the Ocracoke fireworks explosion survivor. Four others were killed, one instantly, two at Pitt County Memorial Hospital, and one at the UNC Hospital burn center. The article talks about the survivor's injuries, third-degree burns to arms and hands, along with treatment and therapy. The dangers of lung damage are also referenced, as the center is treating victims from the industrial explosions at ConAgra in Garner and the chicken plant in Robeson County. Both groups are battling lung damage. The center, which is it operating at capacity, also admitted two children over the weekend with severe burns from fireworks. Read the News & Observer article, or learn more about the North Carolina Jaycee Burn Center.
+ 13 - 10 | § ¶
Gastonia Fire Engine Struck by Explosive
Found on Dave Statter's blog, a Gastonia fire engine was struck Sunday morning by a small explosive device. The truck was struck near the intersection of Dundeen and Belfast drives, while responding to a reported fire. As this Gaston Gazette reports, "the device exploded with a loud boom" and sprayed the truck with flames and sparks. The crew wasn't injured, though the firefighters complained of ears ringing. The 2007 Spartan received about $150 in damage, with reflective stickers damaged and gunpowder residue on the doors. Read the Gaston Gazette story.
+ 7 - 8 | § ¶
Early Fire Brigades in Raleigh
Your historian has been finishing some unfinished essays these days. Here's the next one, a short summary of early industrial and institutional fire brigades
in the Capitol City. This is information recorded by the Sanborn Map company between 1888 and 1914. From factories to schools to hospitals, using pails and extinguishers and even private water systems. Fascinating peek at fire protection systems 100 years ago. Corrections and additional information is welcome. The five-page document is PDF format and even includes a couple diagrams. Learn more about the history of RFD.
+ 8 - 11 | § ¶
Raleigh Ladder Histories
Today is Ladder Day, when the city's ladder companies (and other units) are renumbered in sequential fashion. Ladder 1 through Ladder 8. Here's the historical perspective on the changes. Note that ladder companies were called truck companies until August 21, 2006. See these company histories
for more information. Corrections welcome.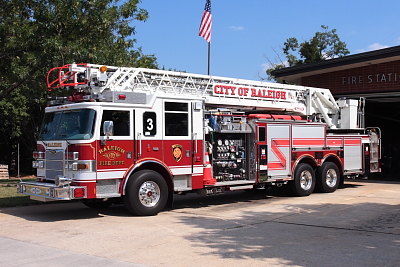 READ MORE
+ 6 - 12 | § ¶
Fire in Downtown Sanford, 1945
On Saturday, December 22, 1945, three buildings burned in Sanford's business district. The blaze began about 4:00 p.m., and was controlled about 8:30 p.m. The Sanford Fire Department was assisted by firefighters from Raleigh, Fort Bragg, and Southern Pines. The destroyed businesses were a grocery store, a plumbing and heating company, two barber shops, an ice cream bar, a cafe, the National Bank, several apartments, the Lee County draft board offices, and several law offices. Early Sunday morning, one of the walls of the National Bank building collapsed. A few firemen were on scene all night. Crews returned to the scene at 6:00 a.m., when the ruins rekindled. Damage was expected to reach $200,000. Source: News & Observer, December 24, 1945. The distance to Sanford in present day, from Raleigh (42.9 miles), from Fort Bragg (30.4 miles), from Southern Pines (28 miles).
+ 13 - 10 | § ¶
The Biggest Hillbilly Broadcast in Dixie, 1945
From our Department of Eccentric Artifacts, here's an amusing News & Observer advertisement from December, 1945. It's promoting a Grand Ole Opry-style stage show at the State Theater. Four big shows every Saturday, and two of them broadcast on WPTF radio. How about that line-up? Smiling Eddie Hall! Little Cliff Beckwith! Looney Luke and Delphine! Okay, okay, the names are corny, but the acts were real. Google finds a few them of them, such as these memories of the Lone Star Quartet. Searching the great AllMusic site, however, finds far fewer. Wonder how many were regional versus local acts? Maybe our readers can provide some cultural or musical context. Wonder what kind of dancing was done, as well? This blogger's favorite is the two-step, has been around since the turn of the last century. Quick, somebody hand me my boots! Click once or twice to enlarge:


+ 8 - 15 | § ¶
Ocracoke Fireworks Explosion Ruled Accidental
As media reports such as this PilotOnline story and this WRAL story say, Saturday's fatal fireworks explosion on Ocracoke Island has been ruled accidental. The investigation is reportedly closed, and investigators have declined to reveal the cause. And readers everywhere are left with questions. Do trucks carrying fireworks just explode? Or are such explosions a factor of human interaction? e.g., during handling, such as loading and unloading? Are trucks carrying fireworks identified as such? With placards and all that? Or are unmarked box trucks the norm? And in particular for island residents, what's the ferry factor? Could this accident have occurred on the ferry? Should island residents become wary or even alarmed on the subject?
This blogger freely admits his ignorance with regard to the North Carolina ferry system and the transportation of dangerous goods therein. A quick check on the NCDOT ferry site doesn't find anything about commercial vehicles or cargo restrictions. Might be part of the ferry reservation system, which is presently out of service. Nor does a quick Google search find an answer. Perhaps our coastal readers can share their knowledge on this aspect of transportation safety. And we'll probably see these very questions asked in public, as news outlets continue covering the story. Watch the web.
+ 8 - 9 | § ¶
That Firefighting Video From France
First found on Firegeezer, this video of French firefighters is making the rounds in the blogosphere. The nearly 10-minute clip, though not continuous, is narrated in English with some commentary by the videographer on the length of time the firefighters take in their methodical size-up and attack. Very interesting footage, and a very different approach than what's done around here. Great fodder for discussion, and you can read perspectives and viewer comments from Firegeezer, Firecritic (neat new blog), and FirefighterNation. Cool seeing those hose reels in action, too. Notice the reel covers have warning stripes. Or click twice on the embedded video to view on YouTube, with its own comments and in a larger format:


+ 15 - 9 | § ¶
Update on History Workshop, August 21
We're seven weeks away from the South Atlantic Fire Rescue Expo, where we'll present a workshop on the history of firefighting in North Carolina. The date is Friday, August 21. The time is 9:00 a.m. to 10:30 a.m. The location is the Raleigh Convention Center. The specific location is to be determined. The dress is probably casual, and the presenter may be disguised in non-tropical attire.
What will we talk about? Expect a solid hour tracing the history of firefighting, fire apparatus, and fire departments from, say, the 1770s to present day. We'll talk about early fire dangers, the first fire companies, hand and steam engines, the horse-drawn era, the arrival of motor trucks, segregated fire companies, technology over the centuries, the impact of World War II, rural fire departments, labor changes over the years, and more.
For the remaining 30 minutes, we'll answer questions and field discussions, and/or present additional history as time permits. The thing'll be based on PowerPoint slides, with lots of pictures. Lots of pictures. Plus some corny jokes and/or bad puns. See the show site for a full list of conference programs. And don't be (too) alarmed if you see Mr. Blogger driving and talking to himself. He's just rehearsing his talk. And hopefully not with his hands.
+ 8 - 8 | § ¶
Raleigh Fire Department Mutual Aid by Train
For your Sunday reading, here's a short history
of "mutual aid by train," when the Raleigh Fire Department assisted cities and towns while apparatus and personnel transported by rail. Corrections and additional information is welcome. The three-page document is PDF format.1 Learn more about the history of RFD.
1Yeah, yeah, the inconsistency of document and page formats is a bit annoying. There are also style differences on the history site. Fonts in Goudy, Tahoma, or Arial. Footnotes here, but not always there. Etcetera. Work in progress.
+ 8 - 8 | § ¶
Morrisville New Engine Get Wetted Down
Today's News & Observer reports on yesterday's wetdown at Morrisville Station 2. Some 200 people attended the afternoon baptism of the town's newest piece of fire apparatus, a 2009 Pierce Contender pumper-tanker. The $465,000 engine, funded both the town and the county, is 11-feet high, 34-feet long, and weighs 49,000 pounds. It'll serve as Pumper 3 at Station 3 on Carpenter Fire Station Road. Photographer Lee Wilson was also present, and has posted pictures of the event. Durham and Parkwood fire departments, and Cary and Garner EMS also participated.



Lee Wilson photo
+ 11 - 10 | § ¶
Durham's Old Station 1
Durham's original Central Fire Station, located at 212 N. Mangum Street, is undergoing renovation. Built in 1890, the structure was extensively remodeled in 1922. From old photos on the excellent Endangered Durham site1, everything above ground appears to have been replaced. (The site offers a wealth of information, including informative reader comments. The roof, for example, stradles the Cape Fear and Neuse River basins.) The engine house operated until 1965, when a new Station 1 opened at 139 E. Morgan Street. Read more about Durham former firehouses. Old Station 1 served as office space for decades, and is presently being repurposed as a restaurant. Click to enlarge:


Other engine houses on the Endangered Durham site: Old Station 2 (West Main Street), Old Station 3 (East Main Street), Old Station 4 (McMannen Street), Old Station 4 (Fayetteville Street), Station 5 (Chapel Hill Road), and the Old Drill Tower.
+ 17 - 9 | § ¶
Ocracoke Ferry Terminal Explosion
WRAL has posted the first reader photos of this morning's fatal explosion of a fireworks truck at near the ferry terminal on Oracoke island. They are reporting one fatality and four critical injuries, with three air ambulances from Greenville and Dare County transporting victims. Ferry service to the island was temporarily halted, and Highway 12 has reopened, they report. The truck was reportedly parked and being unloaded when the explosion occurred. WRAL reader Joseph Chestnut took the below photo at 9 a.m., while working an amusement ride.



Joseph Chestnut/WRAL photo

Additional details have been reported, and additional photos posted, of the explosion. The Virginia-Pilot has posted quite a bit of information, including a half-dozen photos from later in the day. They include a list of responding agencies, including Ocracoke Fire, Hatteras Fire, Frisco Fire, Buxton Fire, Hatteras Island Rescue, Dare EMS, and Hyde EMS.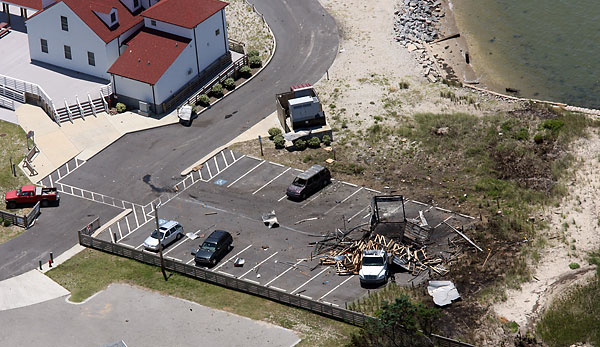 Steve Earley/Virginian-Pilot photo
+ 13 - 7 | § ¶
Ladder 22 / Ladder 5
One of the city's two new Pierce platforms was placed in service as Ladder 22 on Thursday, July 2, at 5:30 p.m. The 2009 Pierce Arrow XT 100-foot aerial platform, 1500/400, will be designated Ladder 5 effective July 7. Old Ladder 22, a 2005 Pierce Arrow XT 100-foot aerial ladder, 1500/300, will be assigned to Ladder 6 (Ladder 24) in the near future, replacing a 1988 Pierce Arrow 85-foot articulating platform. Engine 22 recently received a new pumper, a 2004 American LaFrance Eagle, 1500/400500, that previously served as Engine 1. See more photos from Lee Wilson.



Lee Wilson photo
+ 11 - 14 | § ¶
Mystery Station
What fire, rescue, or EMS facility is pictured below? Hint #1: It's located on a street. Hint #2: It has emergency vehicles parked inside.


+ 9 - 10 | § ¶
Cheat Sheets for Renumbered Raleigh Units
Here are a pair of cheat sheets for downloading, listing the old numbers, new numbers, and station locations for the Raleigh fire units renumbered effective July 7. The document was created by myself. For more information on the change, read our prior posting.
+ 14 - 8 | § ¶
1972 Fire Engine Meets 1972 Train Engine
From a reader, here's a neat photo of a 1972 American LaFrance 1000 Series pumper and a 1972 Detroit Edison U30C locomotion. The fire engine formerly served Forest Hill, TX, and is privately owned by a collector. The train engine, located in Grandview, MO, was cosmetically restored earlier this year. The photo was taken the night before the latter was scrapped. Read about the restoration. Photo credit to LaFrance owner Anthony Motta in Greenwood, MO. Great shot, they both look like toys. And, really, isn't that where it can start, for both kinds of firemen? Click to enlarge:

+ 7 - 11 | § ¶
Middle School Burns in Fayetteville
The Fayetteville Observer has posted photos of last night's major fire at Douglas Byrd Middle School at 1616 Ireland Drive. The blaze started about 10:00 p.m. and destroyed the gymnasium. Read the Fayetteville Observer story, and view the slideshow of photos by Octavio Jones.


Fayetteville Observer/Octavio Jones photos
+ 8 - 7 | § ¶
Wake County Scanner Archives Have Returned
We have good news and bad news regarding the ScanAmerica site and the Wake County scanner archives. (See this previous posting, if we're speaking Greek.) The good news is that the archives have returned. The bad news is that they are practically impossible to find. (Even Mr. Blogger had to ask for directions.) To assist in this endeavor, we have created a page of instructions on accessing the Wake County scanner archives. It's linked from our photo site, and tells and shows exactly what you need to do. The steps are fairly simply, and should result in the archive feeds playing on your computer. Good luck and happy listening. Thanks as always to ScanAmerica, and the friendly souls who are providing the scanner feeds for listening!


+ 16 - 11 | § ¶
River Rescue in Des Moines
There are stunning photos, and there are stunning photos. Des Moines Register photographer Andrea Meledez took this award-winner yesterday, as a construction worker hanging from a crane rescued a woman from the Des Moines River. Fire department rescue teams had already tried, but couldn't get close enough. The woman's male companion drowned, and was found further downstream. Read the story and see additional photos.



Des Moines Register/Andrea Melendez Photo
+ 10 - 6 | § ¶
Pallet Plant Burns in Rutherfordton
The Daily Courier has posted an entirely spectacular photo from this afternoon's big blaze in that destroyed a pallet plant in Rutherfordton. Fed by strong winds and piles of pallets, Carpenter Design at 217 Bell Street was destroyed. Every fire department in Rutherford County was on scene. Several firefighters were treated for heat exhauston, and one employee received serious burns. He was airlifted from Rutherford Hospital to a medical center in Winston-Salem. Read the web site story, which requires registration.



Daily Courier/Garrett Byers Photo
+ 5 - 12 | § ¶
Charlotte Flight Diverts After Passenger Dons Birthday Suit
On the subject of things that happen when airborne, WRAL reports the cheeky story of a U.S. Airways flight from Charlotte that was diverted today after a passenger disrobed and dangled about the cabin. The reason for the clothes expulsion is not known. Adverse reaction to airline food? Peculiar protest to rising ticket prices? Misguided attempt to join the Mile High Club? After the in-flight exposure-- was he sitting in the tail section?-- the coach-class nudist was physically restrained. Cuffed in the buff, if you will. After landing in Albuquerque, Mr. Natural was arrested and taken in custody by the FBI. Unknown if he was issued a blanket, jacket, or fig leaf. No longer facing the moon, the flight continued onto Los Angeles, with remaining passengers presumably clothed, and bloggers everywhere cracking themselves up. The end.

WRAL Photo
+ 4 - 9 | § ¶
How Do People Survive Airline Crashes?
Also from our morning review of the daily new, CNN inquires about how people survive airline crashes, such as a single child surviving from Tuesday's crash in the Indian Ocean. Since 1970 and not counting that incident, notes an expert, 12 airliner crashes were survived by a single person. The article also discusses the mechanics of how crashes are survived. Read the article. And if you're traveling today, then, well, happy flying!
+ 2 - 14 | § ¶
Turf War at the Hot Dog Cart
For your mid-week reading, today's New York Times reports on turf wars between street food vendors. In this corner are upscale food trucks, new to the city and operated by "culinary entrepreneurs." In the other corner are older vendors, who've operated their food carts1 for years or decades, and often at the same spot. There conflict covers the unwritten rules of street vending, as well as the black market for food vending permits. Fascinating story, and ready-made for a longer treatment. Book? Documentary? Mr. and Mrs. Blogger certainly can't wait to see and try these food trucks on their next visit (below photo from 2005 trip). Maybe there's a matzo ball bus up there. Read the article.


1
On the subject of food carts, mentioned must be made of
Lucky Dog hot dogs
, sold on the streets of New Orleans, and famously and hilarious chronicled in John Kennedy Toole's
A Confederacy of Dunces
. What, you've never read the story of Ignatius J. Reilly, and his contempt for all things that pass his gaze? Read it immediately, and then read it again. You'll laugh out loud. Here's what
Mike wrote about it
, years ago.