+ 11 - 8 | § ¶
Fire Service Personnel Development
Spring cleaning here at Blog Central. Might have shared this before, an undated chart used by Raleigh fire administration in an earlier decade. Maybe 1960s or 1970s? Unknown if the thing was created here, or obtained elsewhere. Click once or twice to enlarge.


+ 7 - 10 | § ¶
Raleigh Fire Prevention Courses, 1957
In early December 1957, several Girl Scout troop members became the first teens in Raleigh to graduate from a new "batty sitting course" created by Raleigh Fire Chief Jack Keeter, and sponsored by civic organizations. Award certificates were presented by Mrs. Tobias Goodman of Wake-Raleigh Civil Defense. Among the topics in the course included a police detective lecture on how to cope with burglars. Source: Raleigh Times, December 4, 1957.
This early announcement was posted in print: "Home Fire Fighting & Prevent Course are being taught by the Bureau of Fire Prevention, Raleigh Fire Department. The Wake County Home Demonstration Office, the Wake County Chapter of the Red Cross, the Raleigh Rescue Squad, the Detective Bureau of the City Police Department, and the Fire Prevention Bureau are cooperating in a Training Course for Baby Sitters.
"This course is cosponsored by the Raleigh Fire Department and the Raleigh-Wake Woman's Civil Defense Council. Clubs and other groups interested in either the Fire Fighting Course or the course for Baby Sitters should call Captain John W. Holmes, Chief of the Fire Prevention Bureau, TE 2-7735."
+ 12 - 5 | § ¶
Truck Versus Pop
Here's your Memorial Day safety tip. Beware fully-loaded pop cans. This piece of metal traveled several feet across a Wade Avenue exit ramp this morning, after it's container was crushed by a slow-moving semi. Pop went pop, and loudly at that! Unknown if diet or regular. Happy holiday, and travel safe. Oh, and for extra credit, name the mystery firefighter.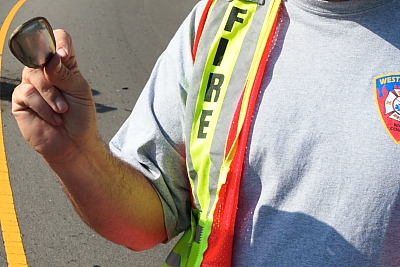 + 8 - 9 | § ¶
Origin of Term "Service Ladder Truck"
Four years ago on the Firehouse forums, I posted a query asking the origin of "service ladder truck." No historical answer presented itself at the time. The question has continued to pop in and out of my head. (There are lots of holes in that thing!) Last night, I might have found the answer and while reading Matthew "Matt" Lee's A Pictorial History of Seagrave Fire Apparatus. The 2006 version, that is, updated from an earlier version. The hardcover volume is self-published and has almost 400 pages of gloriously reproduced apparatus pictures. It was released for the occasion of Seagrave's 125th anniversary.
Let's go back in time to the days of hand-drawn ladder trucks. Seagrave made them, and as a means to transport their ladders. (Frederic Seagrave made ladders at the beginning.) Lee notes on page 15 that "plain, unsprung ladder trucks" were "referred to as village ladder trucks." And "as the weight and size of the trucks grew," they became "city service ladder trucks." The trucks grew in size, we can infer, because they added features desirable for larger towns, taller buildings, and heavier usage. e.g., longer ladders, more equipment, wheel springs, rear tillers assemblies, etc.
Ergo, these ladder trucks were designed for service in a city. Or city service. And thus became known as city service ladder trucks1. And which became shortened over time to service ladder trucks, or even service trucks. What do you think? Sounds plausible to me.



Jeff Harkey photo of Raleigh Truck 12
1(City) service (ladder) trucks have been long-defined as ladder trucks that carry ground ladders but are not equipped with aerial apparatus. There's also a related ISO definition called a "service company," which is an apparatus equipped with a minimum complement of specific ground ladders.
+ 4 - 7 | § ¶
Now That's a Muster!
YouTube yields a mess of Japanese fire apparatus videos, including this clip from 2009, a showing a few dozen pumpers playing for a crowd in Shizuoka City. Beware the 25 second mark, when they all start their sirens. It's loud! Another nifty video along the same lines is this one, from Hitachinaka City. That's a lot of red trucks!



+ 4 - 7 | § ¶
Now That's a Muster!
YouTube yields a mess of Japanese fire apparatus videos, including this clip from 2009, a showing a few dozen pumpers playing for a crowd in Shizuoka City. Beware the 25 second mark, when they all start their sirens. It's loud! Another nifty video along the same lines is this one, from Hitachinaka City. That's a lot of red trucks!



+ 9 - 6 | § ¶
Wake County Fire Commission Meeting Highlights
Here are belated highlights from the May 13 meeting of the Wake County Fire Commission. These are derived from listening to an audio recording, and as provided by the Wake County Fire Marshal's office. The notes represent both "big things" and "interesting things" that caught my ear. Additions and corrections are welcome. Yours Truly is not a professional paraphraser! Read the agenda and related documents for this meeting.
The recommend FY11 fire tax budget includes the following items:
New Staffing - Nine positions, not allocated to a specific departments. That task will be performed by the Staffing Committee, which was the method previously used for allocating new positions. Funding begins no earlier than November 1.
Garner Station 4 - Another seven positions are included in the operating expenses for Garner Station 4. These are cost-shared with the town, and begin in July, to coincide with start of the (county?) training academy.
One-time merit increase for personnel, which mirrors the county's proposal. The increase is not intended to be recurring.
Apparatus - Replacements for five engines, two rescues, and six small vehicles. Two of the engines are debt-financed, as they are for departments fully financed by the county. The rest of the engines are cash transactions, involving municipal cost-sharing.
Other budget items:
The county had been paying for utilities at Fuquay-Varina Station 3, but it was not a budgeted item. This has been corrected in FY11.
Pager and radio maintenance has been added as budget item. The county thought that departments were paying for same, but it was coming out of system-wide expenses. (Hope that's paraphrased correctly!)
Expansion requests numbered 27, and there were small capital requests above and beyond what was budgeted for small capital.
Three facility related requests were approved for the budget: kitchen renovations at Bay Leaf Station 3, HVAC repairs at Durham Highway, and siding/painting repair at Hopkins.
READ MORE
+ 7 - 12 | § ¶
Detroit Fire Department Historical Record
Taylor Publishing reprinted in 2005 a nifty historical compilation originally published in 1977. Detroit Fire Department Historical Record is a hardcover omnibus of essays, photographs, and other information. Pages number 245. Nearly entirely black-and-white. Neat format, and an alternative to traditional yearbook format. You'll probably see something like this for Raleigh, authored by myself, in a future decade. The contents:
Names of all duty deaths
Photo montages
Organizational chart
Division head portraits
Union officer photos
Advisory and trustee board member photos
Brief history of firefighting
Colonial firefighting history in Detroit
READ MORE
+ 9 - 9 | § ¶
Spruce Pine Tanker
Photographer Lee Wilson is spending his holiday weekend in the North Carolina mountains, and is taking pictures of apparatus in those parts. He's posted photos of a tanker recently received by the Spruce Pine Fire Department. The very red 1995 International carries 2,300 gallons and is equipped with a 750 GPM pump. Designated Tanker 11, it was purchased from Calgary in Alberta, Canada. Love the lettering! See more photos, or click to enlarge:


+ 9 - 10 | § ¶
HoodLoupe
Another neat accessory that we've read about-- but not tried, just yet-- for viewing your DSLR display panel in sunlight. Wear around neck, and you'll even look either (a.) more professional or (b.) more like a geek. Is there such a thing as "whacker" in photography?? Read more.


+ 12 - 5 | § ¶
Acratech Viewing Angle Gauge
Neat accessory found in a photography magazine. Ensures you're viewing your laptop screen at a right angle, which is paramount to correct brightness and contrast when processing photos. You know how that works. Have your screen tilted slight less or more, and your images are a little more or less bright. Then you print or view the things elsewhere, and they seemed whacked. Read more.


[ missing photo ]
+ 6 - 5 | § ¶
Last Night's House Fire / Aspenwald Drive
Two alarms at 11921 Aspenwald Drive, with Bay Leaf units finding heavy smoke on arrival at a two-story, wood-frame dwelling, with 3,128 square-feet. Built 1995. Second alarm requested on arrival for engines (manpower) and tankers. Dispatched 10:39 p.m. Units on scene included Bay Leaf P251, P258, L25, Falls P212, Falls tanker, Durham Highway pumper, EMS 4, EMS 122, D4, T1. 'Twas during a period a severe thunderstorm. This NBC17 story says a lightning strike is suspected as the cause.


[ Missing photo ]
NBC17 photo
+ 9 - 10 | § ¶
Bear Necessities
And an animal story from Asheville, where Wednesday a black bear wandered into town about lunchtime. Police officers stayed close, as did numerous onlookers, as Yogi wandered from Beaumont Street to Biltmore Avenue to Ashton Street and South Lexington Avenue.
The creature spent some time at the First Presbyterian Church, this Citizen-Times article notes, where it "contentedly munched on berries." Unknown if grace was said before eating. The newspaper also posted some nifty and lengthy video footage with the story.
Now when you pick a pawpaw, or a prickly pear; and you prick a raw paw, next time beware. Don't pick the prickly pear by the paw; when you pick a pear, try to use the claw. Sound advice from songwriters Richard M. Sherman and Robert B. Sherman.



Bill Sanders/Citizen-Times photo
+ 9 - 5 | § ¶
Filling the Boat Pool
Log book entry, August 14, 1957.
Engine Co. 1 went to Pullen Park @ 1:00/pm to 2:00/pm to fill boat pool.
Enjoy your weekend.
+ 9 - 7 | § ¶
Older and Newer
Parked for the occasion of a retirement party at Station 18 yesterday is a 1982 Mack CF pumper, the last of 15 closed-cab beauties that were first delivered in 1970. Has it really been 40 years since? The other engine is a 2000 Quality/Spartan MetroStar, one of eight delivered between 1999 and 2002. Or should that be listed as Spartan/Quality? See more photos from yesterday, and congrats Capt. Bailey. See you on the other side! Click to enlarge:


+ 14 - 11 | § ¶
Charlotte Fire Station 40 Opens
Forty, count 'em, forty fire stations! As their Facebook posting announced this week, Charlotte Fire Station 40 opened on Monday. The nearly 12,000 square-foot facility is located in northeast Charlotte at 9720 Harrisburg Road. The station was added to address service level needs due to annexations. Engine 40 was placed in service in July 2009, and was temporarily housed at Station 34. It has responded to 1,198 calls since then. Beginning July 3, Ladder 40 will be placed in service. Information on a public open house and dedication ceremony is forthcoming.



Charlotte Fire Department photo
+ 12 - 6 | § ¶
Opinions on Traffic Deaths
Today's New York Times has a nifty discussion titled Do We Tolerate Too Many Traffic Deaths? Nine experts offer opinions and perspectives on the subject. Some of the interesting factoids include... It's the leading cause of death for people aged 1 to 34 in the United States... We're the leader in traffic fatalities in Western nations... Driving under the influence is the leading cause of traffic deaths... Speeding is a factor in a third of deaths... One person killed in this country every 13 minutes is the historical average. The columnists discuss strategies ranging from regulation to technology. End of the day, however, we are a nation of cars. Driving is a right, right? And, as author Tom Vanderbilt posits, we as a society are are willing "to tolerate huge numbers road deaths every year." Discuss a desired.
+ 9 - 6 | § ¶
1949 or 1950?
Sometimes you get confused. The first modern pumper delivered in Raleigh after World War II was an FWD F-75-T. But was the model year 1949 or 1950? Lately the latter's been what I've been citing. Looking at my Raleigh apparatus register, which is my "master data," the entry for the engine reads 1950.


This morning at the training academy, giving a history talk to the recruits, a slide of mine said 1949. Oops. Does the slide need updating, or the web page? Time to consult paper records, and see which year is the right year. And then blog about it-- which we're doing now-- to better commit the answer to memory. (Little secret, that's the reason for a lot of blog postings.) Let's see what this says:



So 1950 is the answer, right? Maybe not. The above lists 1915 as the model year for the American LaFrance aerial ladder, which was a 1916 model. The company has verified that date. Can the FWD model year be trusted? Maybe. The other years are right. Guess we'll keep looking. Or maybe someday stumble upon the original truck. History (and historians) never sleep.
+ 13 - 9 | § ¶
Motor Vehicle Accident with Injuries
Durham Highway Pumper 4 and Rescue 5, Raleigh Engine 23 and Ladder 6, Six Forks EMS 123 and District 4, and Wake County EMS Medic 95 on westbound Interstate 540, west of Leesville Road. Dispatched about 4:54 p.m. Canon Digital Rebel XT in manual mode, no tripod, stitched using AutoStitch v2.2. Click once or twice to enlarge, depending if your browser automatically resizes oversized images to window width:


+ 10 - 7 | § ¶
Mail, Web, Privacy, Spam
Pursing the morning headlines. Facebook announces simpler privacy controls. Guess we believe them. But they're in a business to make money, and means to ends may erode their efforts over time. Makes me think about mail, and mailing lists, and spam. Raise your hand if you've ever clicked "click here to unsubscribe" from a commercial mailing list mailing, and then received more mail from the business in subsequent weeks or months. Gee, the whole room has their hands raised.
Should we be surprised that businesses opt to opt uses back into their lists, even after the users opt out? Guess not. At the end of the day, when all decisions are weighed, the bottom line apparently comes first. Sure, the customer is always right. But for so many companies using the online channel and e-mail marketing, the answer appears otherwise. Ditto for creating user accounts that ask or require e-mail addresses. You uncheck all the options for notifications. Yet you are still sent notes that you didn't ask to receive.
Maybe it's just too tempting. Marketers can't help themselves, with a big, long, fat list of customer mail addresses. Or maybe the math works out in their favor. Despite complaints and people not liking the electronic bullying, the solicitations work. They bring in the bucks. That's what I have always heard about those annoying subscription cards in magazines. Everyone hates them-- magazine editors even acknowledge that fact-- but they work. They produce a percentage of subscriptions.
Lucikly, we have the power to filter our mail. Or create second and third and fourth addresses, just for online ordering. Heck, if you have a blog, you stand on a podium and rant. Maybe I should start naming names. Might do that some time.
READ MORE
+ 11 - 5 | § ¶
Ride Along a Runway
Here's something fun from Google Maps street view. Enter Industrial Drive, North Wilkesboro. That road is the runway of the original Wilkes County Airport, which built about 1962 or 1963. It was depicted in aeronautical charts as having a 3,600-foot, hard-surface runway, which was later lengthened to 4,250 feet. The airport was closed between 1987 and 1990, and replaced by a newer, larger county airport to the northeast. The runway remains intact, along with what looks like at least one hangar building. It's used a road to access Rivers Edge Park. Source: Abandoned Little-Known Airfields: North Carolina: Charlotte area.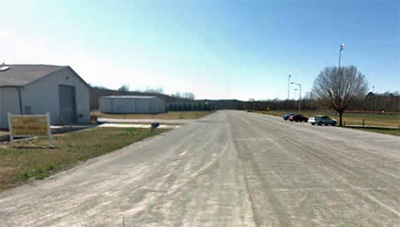 + 13 - 11 | § ¶
Falls Fire Department Public Safety Day, Saturday, June 5
Time for another Public Safety Day at Wakefield High School on Saturday, June 5. Sponsored by the Falls Fire Department, the event is scheduled from 10:00 a.m. to 2:00 p.m. Food, drinks, games, prizes, fire extinguisher demos, the whole nine yards. Plus more emergency vehicles than you can shake a stick at. See you there!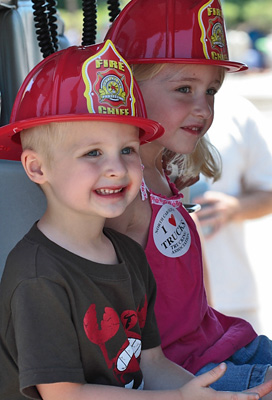 + 8 - 4 | § ¶
Caption This Photo
Main attraction on Garner Road this morning, as reported by WRAL.



John Cox/WRAL photo
+ 6 - 10 | § ¶
Blues 'n' Benny
Speaking of the movie The Blues Brothers, and its famous closing chase scene, here's a bit of silliness as found on YouTube. The music is the instrumental Yakety Sax, written by James Q. "Spider" Rich, and which was the theme song to the The Benny Hill Show, the longtime British comedy television show that used fast motion-- also called undercranking-- in chase scenes accompanied by said music. Cute homage.


+ 11 - 9 | § ¶
Falls Lake Training Exercise Photos
Firefighter Mark Peterson shares photos he posted from the May 8 training exercise at Falls Lake, where Falls, Bay Leaf, and Stony Hill fire departments responded to a simulated collision of two boats on the lake, location not clear, with six people injured, and one ejection. Good shots, Mark. Thanks for sharing. How many lake incidents do area departments respond to, do you suppose? Anyone have stats?



Mark Peterson photo
+ 7 - 6 | § ¶
Hillsborough Street, 1961
This expertly composed photograph appeared on the front page of the September 16, 1961, issue of the The Raleigh Times. Staff photographer Ken Cooke took the picture that morning at the historic Hillsboro Apartments building, located at 323 Hillsboro Street. One resident was killed, and twenty others were displaced by the pre-dawn fire. It was reported by telephone at 2:18 a.m., and was brought under control about 6:30 a.m. The blaze apparently started in the basement of the three-story, fourteen-unit, wood-and-concrete structure. It was built in 1880.
More than 100 firefighters responded. They rescued three residents, one of whom was transported and released. The deceased resident was found in a basement apartment. Over a half-dozen ambulances staged at Hillsboro and Morgan streets. One firefighter was injured, struck on the shoulder by a hose. The Firemen's Auxiliary Coffee Committee, comprised of firefighter wives, also responded and provided food and drink. The loss was estimated at $70,000. Click to enlarge:


+ 7 - 10 | § ¶
Raleigh Fire Department Company Histories
Calling all data geeks. Here's a newly updated historical list of companies and special units of the Raleigh Fire Department
. The prior version was dated summer 2008. One more pass is needed, with dates for new apparatus to Engines 4, 11, 28. Working on that. Comments and corrections welcome. Ditto for improvements. There are always better and different ways to record and present this data. Thanks in advance. Learn more about RFD.
+ 16 - 16 | § ¶
Funny or Unusual Fire Department Names
Fun Firehouse.com forums topic, asking for funny or unusual fire departments. Here are some, from the thread. Many more, including hilarious Canadian and New Zealand names, are on the discuss board. Credits to everyone posting on the thread.
3-G FD, NY
Accident Volunteer Fire Co., MD
Alligator Fire District, SC
Always There Hook & Ladder, Waynesboro, PA
Arab Fire & Rescue, Arab, AL
Back Creek Valley VFD, WV
Bald Knob VFD, Bald Knob, AR
Ball VFD, LA
Beaver FD, Beaver, UT
Ben Hur, VA
Ben Venue, VA
Bent Creek, VA
Bent Mountain, VA
Big Island, VA
Big Otter VFD, WV
Bird Nest, VA
Bird-In-Hand Fire Co., PA
READ MORE
+ 13 - 7 | § ¶
Reporting Accident Rates
For our Sunday media studies, let's look at this WTVD story about accident rates in the Highway Patrol. The story was posted on Thursday, and stayed on the home page about a day. That is, if memory serves. Don't know about broadcast versions, as Mr. Blogger rarely watches television. The story was not picked up by any other outlets, nor did it generate many user comments. (That is, seemingly many user comments. They total eight at present, and that might be the norm for stories on the WTVD web site. They seem to have a far smaller community of posting users than the WRAL web site.)
The story is about accident rates. WTVD obtained state records showing that troopers were involved in an average of seven vehicle accidents a week in 2009. Or about one a day. They cite the increase in that rate from the prior year. They also quote a Highway Patrol official, who provides perspective and context. Number of hours that troopers drive each day, the millions of miles they drove last year, etc.
Seems like a reasonably balanced article, at least on the surface. There's some reporting on dollar amounts, for payments to people involved in accidents caused by troopers. They use the language "taxpayer dollars," which is a bit provocative for wording. And you can guess how the thing probably reads to John Q. Public. Our take, however, is that additional information would be nice.
Is the accident rate increasing or decreasing over time, over the span of several years? How does that rate compare with the rates of other state highway patrol agencies? Same for other law enforcement agencies? And if we start comparisons, what are the apples to apples comparisons? The per-mile or per-trooper rates? And what other factors might be impacting accident rates? Changes in numbers of drivers on roadways over time? Changes in routes, road conditions, or total miles driven? And so on. What say readers on this article, and the reporting therein?
+ 8 - 9 | § ¶
Joliet Prison
Most recognize this facility from the movie The Blues Brothers1, from the beginning of the film, where John Belushi as "Joliet" Jake Blues is released from prison. You know those scenes by heart. Overhead shot of Jake being escorted through the courtyard. Camera following Belushi as his character is escorted through a cell block. Director and actor Frank Oz returning "one hat, black." The slow sliding of the prison gate, with Belushi backed by bright white light. The character's brother, Elwood, waiting by the car. Etcetera. Great scenes, great movie.
The prison opened in 1858, just outside the city limits of Joliet, Illinois. The buildings-- built of limestone-- were designed by William W. Boyington, the architect whose work also include the Chicago Water Tower and the Illinois State Capitol building. Convict labor was used, and the stone was quarried on the site. (Raleigh's Central Prison, built in the same period, was also constructed with convict labor.) The thing cost $75,000 to build and had space for 761 inmates. It was the largest prison in the United States, and served as a model for others.
[ Missing photos - See this gallery instead ]
READ MORE
+ 5 - 7 | § ¶
Roadside America
Barbecue joint in Benton Harbor, Michigan. The city's a couple hours from Detroit, and was a lodging stop on the return trip, to allow more free time around Gary and Chicago before the afternoon flight. See photos from those explorations. The joint wasn't open yet, so I cannot report if their ribs are indeed heavenly. Can I get an Amen?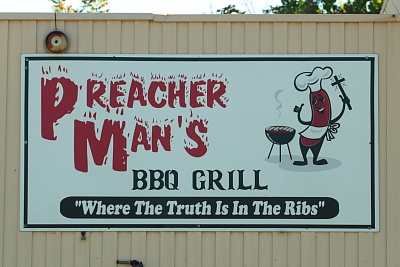 + 7 - 6 | § ¶
Engine 1792
Anyone passing through town has seen Engine 1792 sitting above Capital Boulevard at the state railroad yard. The locomotive and two coach cars were involved in last week's collision and derailment in Mebane. These views are from outside the yard gate. Damage looks less severe than was suggested. And perhaps serves as a graphic demonstration of road versus rail. The train always wins. Click to enlarge:


+ 11 - 4 | § ¶
Carolina Mudcats Local Heroes Night, Friday, June 18
The Carolina Mudcats are holding a Local Heroes Night for responders and their families on Friday, June 18. They play the Mississippi Braves, with gates opening at 6:15 p.m., and game time at 7:15 p.m. The $5.00 box seats must be purchased in advance, as discounts are not available at the gate. Tickets are available for the first 600 local heroes. Read this flyer

, or click below for more information, and an order form.


+ 8 - 5 | § ¶
Why Facebook Privacy is Confusing
Guilbert Gates created this informative chart for the New York Times, that clearly shows the confusion behind Facebook privacy settings. Social media should be easy. Facebook requires 50 settings with over 170 options, to manage privacy. That's messed up. For the benefit of our general audience readers, we also omitted the word "damn" from this headline. Facebook privacy is damn confusing. Click the graphic to view the chart. Thanks to Mrs. Blogger for finding.


+ 7 - 2 | § ¶
Cypress Pointe Fire Department Forms in Moore County
Effective July 1, the Circle V Fire Department (two stations) and Cameron Fire Department (one station) of Moore County are merging, along with the Vass Rescue Squad. The three entities are joining to become the Cypress Point Fire and Rescue Department. A merger of their three service districts was approved this week. Prior to the meeting, a public hearing was held, and no opposition was voiced. The consolidation will yield several service benefits, including reducing overall operating costs, adding specialized rescue equipment, and redistributing resources throughout the district. Sources: Press Release, FireNews, CFP Station List. Optional discussion topic. Fire department versus fire and rescue department versus fire-rescue department. Preferences in naming?
+ 9 - 7 | § ¶
National Fallen Firefighters Golf Tournament, Thursday, June 17
The Raleigh Fire Department is hosting the fourth annual National Fallen Firefighters Golf Tournament on Thursday, June 17, 2010. The location is Eagle Ridge Golf Club at 565 Competition Road in Raleigh. That's off Old Stage Road, south of 401 and southwest of Garner.
Tee time is 10:00 a.m., but arrive early for complementary breakfast and range balls. Plus the popular putting contest. Entry fee for a single golfer is $80. That also buys a full meal immediately following the tournament, and where door prizes and trophies are awarded.
See this web site and also read this flyer
for more information. It's a fun event, even for photographers. Maybe you can even identify the mystery golfers pictured below. Fore!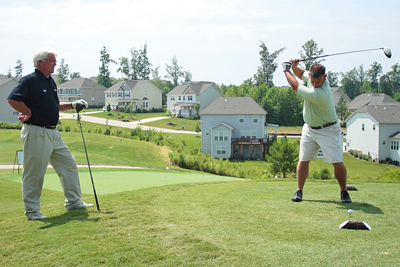 + 11 - 4 | § ¶
Michigan Beauties
For your Friday enjoyment, here are handful of classic rigs as photographed at the Michigan Firehouse Museum in Ypsilanti. The full tour is forthcoming, with more hand, horse, and motor vehicles. Plus an excursion to their off-site storage and apparatus therein. Great museum, from collection to presentation to subject matter.
Left to to right: 1900 Rumsey and Company hand engine, 1900 H. D. Edwards Co. hand reel, 1908 Ahrens steam engine, 1918 Waterous gas engine, 1919 American LaFrance Type 40 pumper, 1931 Ahrens-Fox pumper. Click to enlarge:

Let's add a couple more, shall we? Don't have makes and model years for most of these, at present. That's a hand-cranked engine, a single-tank chemical cart, and double-tank chemical cart, another hand-pulled hose reel, a hand-pulled ladder truck, and a Chief Engineer's car. More motor rigs forthcoming. Click to enlarge:

+ 6 - 4 | § ¶
Ends of the Road
First and foremost, let's praise our highways around Raleigh. It's an absolute breeze getting from here to there, at least compared to crisscrossing suburban Detroit and suburban Chicago. No problemo! Now onto our exclusive report...
Your Five-O Witness blog team took a trip to Knightdale this evening and discovered three, count 'em three, roadways that end at Interstate 540! No wonder distracted drivers might find themselves unexpectedly off-road.
The most obviously marked ending is southbound I-540, approaching Highway 64. Lots of signage and markers there. But coming from Highway 64 onto Interstate 540, both eastbound and westbound ramps also have short sections that go nowhere. One wrong veer and it's smash time. Click to enlarge, but keep your eye on the road!


+ 7 - 8 | § ¶
Wake County EMS Doubles Cardiac Arrest Survival Rate
NBC17 posted a story this week, which is National EMS Week, about cardiac arrest survival rate of Wake County EMS, which has doubled in the last five years. Nationally, 6.7 percent of people treated in cardiac arrest are released from the hospital with good neurological function. In Wake County, it's 13.8 percent. The story also profiles a cardiac survivor, himself a veteran Wake County paramedic.
On Monday night, responders as well as survivors were recognized at an annual ceremony at Fletcher Opera Theater downtown. The event recognizes all personnel in the emergency medical system chain: telecommunicators, first responders, emergency medical technicians, and paramedics. Lee Wilson attended, and posted his photos.
+ 9 - 3 | § ¶
Raleigh's Proposed Budget
The Raleigh City Manager this week announced the proposed budget for FY11. As this press release notes, the total is 11.1 percent less than the current budget. It eliminates 24 vacant positions, shares health-care costs with employees, and shrinks compensation increase. Other positions have been added, and a number of cost-saving measures highlighted. Five budget documents have been posted on the city's web site, including the proposed operating and capital budgets.
In the Operating Budget document, the Public Safety section starts on page 135, and the fire department in page 138. The proposed total expenditures are $50,115,068, which is a 0.7 percent increase from the current amount. The number of positions stays the same at 28 civilian and 540 sworn positions.
The highlight budget changes for the coming fiscal year include delayed replacement of two engines with high repair costs and excessive mileage, delayed uniform replacement in all divisions, delayed replacement of one and purchase of three additional thermal imaging cameras, removed funding for the Capital Leadership training program, removed funding for the child seat installation training program, and reduced funding for public fire education materials.
Also listed are anticipated accomplishments for the coming fiscal year, and a review of accomplishments from the past fiscal year. Plus performance indicators.
In the Capital Improvements document, fire department facility plans consist of Fire Station 12 relocation (FY13-FY14), Fire Station 3 replacement (FY13-FY15), Fire Station 30 (FY15), driver training facility (FY14-FY15), and fire training facility expansion (FY15-). Other items include roof replacements, backup generators, and 800 MHz radios.
Read the budget documents, or read the budget press release.
+ 10 - 6 | § ¶
Detroit Former Firehouses
Here's what's likely the remaining old engine houses still standing in Detroit. They include a couple buildings otherwise active: headquarters and the training academy. The last three are Highland Park houses, a community nearly entirely surrounded by Detroit. The first is a former village hall, subsequently a DFD house.
Shown in the order photographed. Utilized a combination of Google Maps, Microsoft Streets & Trips, and Garmin GPS to create and follow a logical route. Took two days, with rain. More views later, perhaps with perspective corrections. Those angles are a bugger. Plus, labels for everything. Plus, many other sights around town. No photographer was harmed during the making of these pictures.
[ Missing photos- See this gallery instead ]
+ 11 - 10 | § ¶
Land of Many Axles
Speaking of big rigs, the trucks in Michigan are often equipped with additional axles. Pup trailers-- and with equally many axles-- are also used extensively. What's the deal? Must be for weight distribution, and keeping the roads as best-maintained as possible. Read somewhere that the state does not receive federal highway funds, as well. Anyone know more? The fuel tankers in particular look huge. Begs a related question. Wonder how heavier apparatus-- ladder trucks-- affect road conditions in cities? And what costs more over time, fixing the roads or operating lighter ladders? That's what happens on vacation, endless musings.


+ 10 - 8 | § ¶
Fourth Time
WRAL reported yesterday that yet another vehicle drove off the unfinished section of I-540 in Knightdale, this time a tractor-trailer that crashed into trees at the bottom of an embankment. The driver was not seriously injured. That's the fourth time in the past year for such an accident. Today's News & Observer says the DOT is considering such safety improvements as "blinking flashers, more road signs and rumble strips on the pavement." What about physical barriers, although they'll only stop smaller vehicle. Big rigs would probably plow right through.


John Cox/WRAL photo
+ 12 - 7 | § ¶
No Parking - Fire Route
Engine 18 and Ladder 10 at 3812 Mt. Elliott, built 1893. Fire route replaces fire lane as wording on signs around here.

+ 10 - 9 | § ¶
Detroit Postcards
Raining this morning. Michigan Fire Museum might be the ticket, until the skies hopefully clear after noon. Here are some postcards, including a couple municipal buildings from Highland Park, a city nearly entirely surrounded by Detroit. Three former fire stations there. Been shooting those, plus Detroit stations either closed or older than about 1900. And how about those industrial bay doors on the active house below! Many more later. Click to enlarge:
[ Missing photos- See this gallery and this gallery instead ]
+ 10 - 7 | § ¶
Discussing Detroit
Reporting from the road, and during a short stay in Motor City. Wow, what an urban landscape! While we meaning me works on collecting and posting photos-- both firehouses and other structures-- here's some nifty video and discussion therein from Dave Statter. (Sorry, too busy to write own blog content!) He's posted a pair of YouTube videos of initial operations at a pair of house fires. Resulting reader comments offer opposing takes on "down and dirty" urban firefighting. See what you think. The rain's stopped here, so back to the streets for more photos. Maybe even a worker, if stumbled across.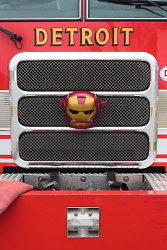 + 9 - 6 | § ¶
Before The Crash
As found on Statter911, in a slideshow from FOX8, here's a viewer photo of the truck that was struck by the passenger train in Mebane. That low-boy load was about the worst obstruction possible. Credit Fox Community Member JFair.


+ 11 - 6 | § ¶
Normal Paramedic
Insert own caption. That's a paramedic ambulance of the Normal Fire Department, in Mrs. Blogger's hometown of Normal, IL. Which is next door to Bloomington, IL. Reporting from the road this week.


+ 8 - 8 | § ¶
Eleventh Hour Deal Saves Historic Fire Station
The Charlotte Observer reports that the old Fire Station 2 has been saved. With heavy equipment ready to start demolition yesterday afternoon, developer Marcel Start held a last-minute news conference and announced that a private "finance package and structure" had been secured to preserve the structure. Read the entire story. Credit Laura-Chase McGehee with this excellent Charlotte Observer photo.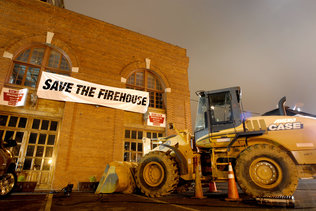 + 10 - 6 | § ¶
Cary's Proposed Budget
The town of Cary has released their proposed budget for FY11. General Fund expenditures for the fire department are described in this document
, with the only significant budget or service level change listed being a Training & Safety Captain upgraded to Battalion Chief. The document also lists performance measures, and activity summaries. The latter includes call volume, number of inspections, public education contacts, annual fire loss, and total training hours.
Capital expenditures are described in this document
, starting on Page 19. The "big stuff" for FY11 includes replacement of aerial ladder truck #1446 ($1.1M), the replacement (and upgrade to heavy-rescue apparatus) of rescue truck #1770 ($840K), and water and road improvements to the Fire Station #8 site ($748K) at 408 Mills Park Drive.
+ 7 - 5 | § ¶
Train Versus Truck in Mebane
WRAL has posted aerial photos of this morning railroad accident in downtown Mebane, where a passenger train struck a tractor-trailer truck carrying construction equipment. News reports are still scarce, but it looks like the engine derailed and caught fire. NBC17 has also posted a user photo showing the smoke plume from the fire. Credit L.D. Baldwin, via Twitter.


WRAL photo

WRAL Viewer Photo
+ 9 - 5 | § ¶
No One Was Injured, But a Tanning Bed Was Crushed
Sport-utility vehicle versus tanning salon at Brier Creek last night, as reported by WTVD.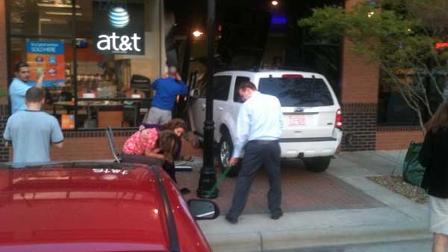 WTVD photo
+ 6 - 6 | § ¶
Raleigh Police Headquarters Open House, Monday, May 24
Speaking of our friends in blue, the Raleigh Police Department has invited the public to an open house of their interim headquarters at 6716 Six Forks Road, on Monday, May 24, at 9:30 a.m. The announcement is posted on the home page of the city web site. The office building was purchased by the city in late 2008, and intended as a temporary headquarters during construction of the Clarence E. Lightner Public Safety Center. Though the latter project is in a bit of limbo, the police department proceeded with their relocation.
As this WRAL story notes, the building houses the office of the police chief, records, recruiting, internal affairs, and administrative staff. Other offices were moved elsewhere. Evidence and found property is now housed at the new Downtown District Stationhouse and Evidence Facility at 218 W. Cabarrus Street. And most of the detective division was moved to 4501 Atlantic Avenue.
+ 10 - 12 | § ¶
Wake County Law Enforcement Officer Memorial Ceremony
Nineteen fallen Wake County law enforcement officers were remembered in a ceremony in downtown Raleigh on Monday. This was the second year for the event, which was held outside the Progress Energy Performing Arts Center, and in conjunction with National Law Enforcement Memorial Week, which is this week. Nineteen officers from the Morrisville Police Department, North Carolina Highway Patrol, Raleigh Police Department, Wake Forest Police Department, and Wake County Sheriff's Office have died on duty since 1922. See that list, posted last year by WRAL. Media coverage this year appears more scarce. Lee Wilson attended, and posted an extensive set of pictures from the ceremony. Readers, please add additional details about the ceremony, or related events during this memorial week.


Lee Wilson photo
+ 8 - 3 | § ¶
New Hanover Fire Departments Could Consolidate
FireNews finds this WWAY article about a proposed restructuring of fire departments in New Hanover County. That is, presumably the rural or non-municipal departments. The Star-News is also reporting on same. The plan would consolidate the county's volunteer fire departments, and place them under control of New Hanover County Fire Services. It would also consolidate the fire districts from five to two.
Volunteer opportunities would remain, as either a firefighter or a member of a Fire Corps. Essentially, notes the Star-News article, the change would follow what happened with Ogden Fire Department last year. OFD retained its non-profit status, but moved its financial and administrative operations to the county. Their volunteers became volunteers of New Hanover County FD.
Looking at this list of fire stations, it appears such a consolidation would consist of Castle Hayne, Federal Point, Kure Beach, Myrtle Grove, New Hanover County, Ogden, and Wrightsboro fire departments. Is that right?
County officials says the change will mean more consistent service levels, more training opportunities for volunteer firefighters, and a better insurance rating for residents. On the downside, say volunteers, they could be moved from their current stations, and no longer be able to serve their communities. They also not meet the physical and service-hour requirements set by the county. Next Monday, the recommendation will be made to county commissioners.
The obvious discussion topic for the day is Wake County. Could such a consolidation work here? Would it even be desirable? There are some obvious apples and oranges, such as the absence of a county-operated suppression force already in existence. As well as municipal departments that protect rural districts. What might the fiscal benefits look like? How would service levels be impacted? What sort of operational and command structure would result? Discuss or debate as desired.
+ 5 - 5 | § ¶
Spreadsheet of Detroit Firehouses
Getting close to travel time. With research from both web sites and a recent reprint of Detroit Fire Department Historical Record: 1825-1977, here's a spreadsheet of Detroit firehouses past and present. That is, those that Yours Truly could compile. Looks like the fire department's occupied some 95-plus structures since their formation as a paid department in 1860. Quite a few are still standing from the turn of century. Watch for photographs, though only of the oldest or those now closed. View the spreadsheet.
+ 8 - 10 | § ¶
Shop Trucks
While we're visiting with old rigs of the Raleigh Fire Department, here are a couple shop trucks from back in the day. They're pictured behind the old shop building, behind Station 2 on Pecan Street.
Left is a 1975 Dodge fuel truck that was based there for many years. It was moved to Station 16 toward the end of its life, and perhaps around the time that its replacement was purchased, a 1998 Ford F Series tanker. What's the model of that Dodge truck, by the way?
Right is a shop-built wrecker named Big Red. The chassis was a Mack COE circa 1954-56. Need to research when the thing was built, and its operational years. Believe it ceased being used in the early Eighties. Click to enlarge:


+ 11 - 5 | § ¶
Wake County Firefighter's Association Quarterly Supper and Meeting, Tuesday, May 11 (Updated)
Next week, the spring supper and meeting of the Wake County Firefighter's Association will be held at 6:30 p.m. on Tuesday, May 9, at the Zebulon Fire Department at 113 E. Vance Street. The day is a C shift day. We'll see if we can get an agenda posted. The meal will be a barbecue sponsored by 5.11 and MES. The previous announced speaker, historian Mike Legeros, has been moved to the November meeting.
Update on Sunday. Here's the agenda for the meeting:
Return Thanks
Meal
Call Meeting to Order
Roll Call
Attendance Award
Financial Report
Minutes of Last Meeting
Old Business
Agency Reports
Committee Reports
Committee Volunteers
New Business
Guest Speakers
+ 15 - 7 | § ¶
Talking Back to the City of Charlotte
From a reader, here's an interesting Charlotte Observer article about the city of Charlotte and social media. If we read the thing correctly, the city is planning a city-sponsored Facebook page and Twitter feed. But a recently adopted policy will prevent citizens from posting comments on them. Or, maybe it'll prevent people from reading comments that others post. Can't quite tell.
Why wouldn't city officials encourage comments and discussions? I mean, that's the very raison d'etre for social media! They fear legal challenges, the article reports, if they start deleting "the kind of natsy comments commonly hurled in online forums." Unlike a private business, the article adds, the city could be sued for violating free-speech rights.
Interesting approach, and perhaps entirely understandable. It can be very, very, very difficult to read "not nice" comments that are directed in the direction of yourself or your organization. People can get downright nasty in postings, and with more vitriol than they would in person. Or in person and behind a mask, which I guess is comparable to anonymous commenting. (How does that apply to professional mask-wearers? Does Batman post anonymously??)
It can be equally challenging to read respectful but dissenting views. Open the digital barn door, and naysayers and not-likers will cheerfully churn away. And some people don't want to hear other sides. Wonder what industry experts would cite as the ratio between compliments and complaints, in typical social media interactions between consumers and service providers?
The article also mentions the Charlotte Fire Department, which is already using social media platforms. They've served as a test-case for the city, and other departments are now ready to get on board. But carefully. Read the entire article.
+ 7 - 9 | § ¶
Experiments in White Balance
For your Sunday lesson in digital photo post-processing, as shot last night at a stabbing on the south side. Examples of pre- and post- white balance setting. We've also posted prior examples. Click to view:


+ 7 - 5 | § ¶
Firehouse Expo Family Fun & Flea Market
This year's Firehouse Expo in Baltimore has a Family Fun & Flea Market event scheduled for Saturday, July 24. This appears to replace the traditional Sunday morning apparatus parade, as well as Sunday morning flea market. That's good stuff, the flea market, though the number of vendors had been seemingly dropping in recent years. Mr. Blogger could stand to rent a table, and sell some of the dozens of fire engine models that he has boxed up in his man cave. Maybe one of these years. Read about the family day.
+ 8 - 3 | § ¶
Fire Commission Meeting Agenda, May 13
Here's the agenda and related documents for the Wake County Fire Commission Meeting on Thursday, March 13, 2010, at 7:00 p.m., at Wake County EMS Training Facility, at the lower level of the Commons Building, 4011 Carya Drive. Or read more information about the Fire Commission.
Call meeting to order

Invocation
Roll of Members Present
Approval of Agenda

Minutes

Adoption of Minutes for March 18th, 2010, Regular Meeting

Regular Agenda

Fire Budget Committee

Recommended FY 11 Fire Tax Budget

Consider Recommendation to Appropriate Funds for Radio Preventative Maintenance
Consider Recommended Fire Protection Agreement

Information Agenda

Fire Tax Financial Report
Chair Report
Fire/Rescue Services Director Report

Other Business
Public Comments

30 minutes maximum time allotted, Maximum 3 minutes per person

Adjournment - Next Meeting July 15th, 2010.
+ 7 - 3 | § ¶
Mystery Car
With grayscale obfuscation to make it interesting.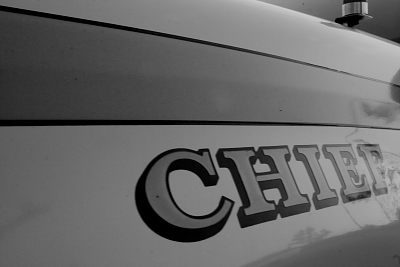 + 6 - 4 | § ¶
Warning: Do Not Stop in Roundabout
And WRAL yesterday reported that the newly installed roundabouts on Hillsborough Street and Oberlin Road are causing some confusion. What's supposed to happen? Cars enter the circle and keep moving. What's not supposed to happen? Cars enter the circle and stop. What's happening then? Crunch and crash. Key quote from a city engineer: "When people stop and you're not expecting it, that's when the issues occur." Issues indeed! Guess you can blame it on (a.) city planners, (b.) aggressive drivers, (c.) them northerners (including me!), or (d.) the Civil War.


+ 6 - 5 | § ¶
Warning: Interstate 540 Not Completed
This morning's News & Observer reports that a Raleigh man drove off the finished section of I-540 in Knightdale, down an embankment, and into the woods. The driver was ejected, and pinned under the vehicle that landed on top of him. He was transported to WakeMed in critical condition. We've heard that this has happened at least a few times before. Maybe some barricades are in order, if they're not already there.



Bing Maps photo
+ 8 - 4 | § ¶
Another Oldie
What's the emblem on the door of the 1950 Mack pumper pictured in the prior posting? Same is a city seal, which also adorned this 1950 FWD F-75-T pumper. Chassis #785261, serial #115282, with 750 GPM pump and 150 gallon tank. This is old Engine 4, placed in service on March 3, 1950. Then as Engine 2 on January 7, 1956. Then sold as surplus on December 20, 1976. Bid price was $13,023. Just don't confuse with the 1957 FWD F-722 pumper that subsequently served Hopkins FD.
This was the first modern pumper for the Raleigh Fire Department, which was impacted by war-time restrictions in the 1940s. The last new pumper purchased was a 1936 American LaFrance Series 400. One used engine was purchased prior to Station 6 opening in 1943, and that was a 1919 American LaFrance Type 75 bought from Farmville on July 13, 1942. Click to enlarge:


Courtesy North Carolina State Archives
+ 10 - 2 | § ¶
Mack Pumping
For your Friday enjoyment, here's an undated photo of Raleigh's first bulldog, a 1950 Mack Type 85 pumper delivered in March of that year. Chassis number 85LS1441, and equipped with a 750 GPM pump. The bid price was $13,000. It served as Engine 6 from 1950 to 1975, when it entered the reserve pool as Reserve A. Pictured left to right is department's mechanic M.T. "Ace" Parker (wearing cap), two "factory men," civilian (?) Pat Murphy, and Fire Chief Alvin B. Lloyd. Click to enlarge:


+ 9 - 7 | § ¶
Fire Tower Fights Fire Tower Fire
Would you believe a fire tower catching fire? That's what happened near New Bern today. The 120-foot structure in Tuscarora, unmanned for at least eight years, caught fire this morning after Craven County workers were preparing to install some radio equipment. Advised the Fire Marshal, after the electricity was cut on, smoke started a-billowing. Township 7 Fire Department responded, and requested New Bern's 100-foot platform to assist. Though it couldn't reach the top, it was high enough to spray into the building through the broken windows. Crews cleared in a couple hours. Everybody had a high time. Sources: Sun Journal, WITN.



WITN photos
+ 8 - 7 | § ¶
Fun with Sanborn Maps
Raleigh Fire Department buildings in 1884 and 1888. Blissfully free of context. Read more about the buildings. More on another day. Click to enlarge:

+ 11 - 6 | § ¶
Flat Pack SCBA
Very short video from FDIC showing the flat pack SCBA that's under development. Talk about new and improved! Available for commercial application next year, says the speaker in the video. What's that's translate to, for acceptance and deployment in local fire departments? Couple years? Many years? Click to watch:


+ 10 - 8 | § ¶
Durham Fire Department Wants More Women
That's the headline from WRAL, on a story about a female fire captain who has received national recognition, as well as the city's plans at recruiting more women and minorities. Captain Angelica Greene, a 13 year veteran in the Bull City, is being recognized nationally by Firehouse Subs, for a fire safety program that she developed for elderly and disabled citizens.
She's also only one of 10 women in a department of 280 people. As the story notes, the city has approved a recruitment program planned for September. That's when they'll launch a major hiring effort. Read and watch the story.
Could be a good discussion topic. Here's good seed material on the topic of diversity on the fire service, as we blogged about before. Panel at FDIC. We'll cheat and include this photo of Captain Greene taken in town, at a brush fire in Cary/Morrisville a couple weeks ago.

[ Missing photo ]
Mike Legeros photo
+ 6 - 10 | § ¶
Video of Garage Fire Explosion
Here's another nifty video as surfaced by Dave Statter, a garage fire in Washington with an explosion. Can't go wrong blogging about bloggers! Dave's posting has both the explosion-only and a longer sequence of video. Plus comments, which are equally compelling. The discussions on his site are a study unto themselves. Watch the firefighter in the foreground. He doesn't even flinch. That's Snohomish County, WA, which is a couple hours from gorgeous Snoqualmie Falls.



+ 8 - 5 | § ¶
Rescue on the Trail
Injured person on a trail at William B. Umstead State Park yesterday afternoon, with Raleigh police, Raleigh fire, Western Wake fire, Cary EMS, and Park Rangers working together to get responders to the patient, and the patient to the hospital. And just how many vehicle entrances to the park-- public and private-- are there, anyway? Here's a map of the park

. Never noticed the "airport overlook" before. What sort of view does that afford?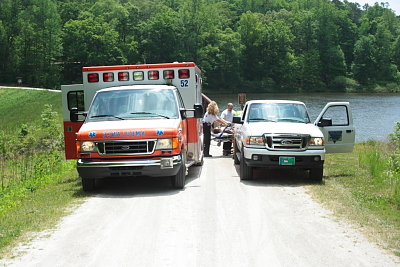 + 10 - 6 | § ¶
Fire Commission Meeting Notice, May 13
The Wake County Fire Commission holds its next meeting in another week. This is the back-up date, instead of the May 6 date previous indicated. The agenda for the meeting includes a presentation of the FY11 recommended budget:
Thursday, March 13, 2010
7:00 p.m.
Wake County EMS Training Facility
Commons Building, Lower Level, 4011 Carya Drive.
+ 4 - 5 | § ¶
Raleigh Fire Department History : 1792-1912
This asset was previously titled Raleigh Fire Department Early History, and represents Mr. Blogger's best attempt to visually represent the people and equipment that became and comprised the volunteer Raleigh Fire Department. Pictures say so much more than words, don't they? We've shown same before, so this isn't exactly new news. The second page of the PDF document has been updated, however, with new numbers for the present-day department. How about a more modern chart, you say? In the works. Click to view:


+ 9 - 2 | § ¶
More Homes Burn in Clayton, Arson Again Suspected
WRAL reports this morning that two homes under construction in Clayton were destroyed early today, and in what police believe is the latest in a string of intentional fires. They make the six and seventh of such fires since October 2009. The fires were reported about 2:44 a.m, with crews finding the home at 151 Skygrove Drive fully involved on arrival. They also found a fire inside the adjacent structure at 137 Skygrove Drive. Clayton, Wilsons Mills, and Archer Lodge fire departments were on scene. Read the entire story.



WRAL photo
+ 8 - 4 | § ¶
Mystery Bike
One sweet ride as seen at Ray Price this morning. No idea make, model, or owner. Just looked cool in close-up. Might need to try that some time, taking a ride on a motorcycle.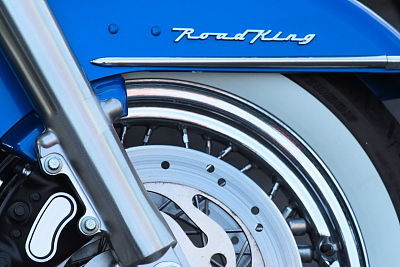 + 6 - 4 | § ¶
Whiskey Tango Foxtrot
Firegeezer found this incredible story of Indiana responders who handle leaking anhydrous ammonia gas cylinders using water, rifles, and perhaps crossed fingers. There has to be another side to this particular story.


[ Missing photo ]
Plain Dealer-Sun photo
+ 7 - 3 | § ¶
Great Old Video
Dave Statter found this classic clip from 1959 and showing the Laurel Springs Fire Department in New Jersey. Dig those rigs, including what looks like a war-time Army pumper, a Divco rescue van, and a megaphone-enabled "radio car."