+ 5 - 11 | § ¶
This Afternoon's House Fire in Stony Hill
Don't see any live video or aerial photos yet, but we can live blog about the thing. House fire at 12725 Powell Road, off Purnell Road, off Stony Hill Road. Arriving units reported fully involved structure, a two-story, wood-frame dwelling with 3,017 square-feet. Built 2006. Additional tankers immediately requested, along with other fire units. Interior and Exterior hand lines, with aerial operations into second floor just started with Bay Leaf Ladder 25.
Also a brush fire, from spreading embers. Water point off Purnell Road, just past Thompson Mall. Lake Fall (?) subdivision. Water shuttle operations in progress. Medical monitor and rehab across the street. What else are hearing from radio traffic? What errors are above?? Dispatched about 4:45 p.m.
Units on scene include Stony Hill P261, P262, P265, R26, Tanker 268; Falls E211, E212, Tanker 217; Wake Forest E1, L1, Air 1; Rolesville Tanker 157, Tanker 158; Durham Highway E1; Bay Leaf L25; New Hope Tanker 10; Brassfield (Granville) with engine and two tankers; Youngsville (Franklin) with two tankers; EMS 12, EMS 10, D3, T1. New Hope E2 to Falls, E3 to Stony Hill.



WTVD photo

WRAL photo
+ 6 - 12 | § ¶
Fallen Firefighters Motorcycle Run, Saturday, May 1
Also on Saturday, May 1, the Red Knights Motorcycle Club is participating in the World's Largest Poker Run 2010, a fundraising event for the Fallen Firefighter Survivors Foundation. They start at 10:00 a.m. at Ray Price Harley Davidson in Raleigh, rain or shine, and end about 3:00 p.m. and about 100 miles later at Crossroads Entertainment in Wake Forest. There there'll be food, live music, and, of course, prizes! The riders will be escorted by fire and police units. Registration fees are $25 per bike, and $15 per rider. Free t-shirt, too, while they last. The Guinness Book of World Records will be there, to see if riders can beat the record set last year for the largest motorcycle poker run taking place in multiple venues simultaneously. Read more about the event
.


+ 9 - 8 | § ¶
Fallen Firefighters Memorial Event Schedule
As posted on FireNews, here are all events involved or associated with weekend's North Carolina Fallen Firefighters Foundation Memorial Service:
Friday, April 30
5:30 p.m. - Shuttle to Station 1 for 2010 LODD family survivors ceremony.
6:30 p.m. - Meal at Station 1.
8:00 p.m. - Fallen Heroes Family Candlelight Ceremony, Nash Square.
also
7:00 p.m. - Fellowship night at Tir na NOg, 218 S. Blount Street, with Wake and District Pipe Band.

Saturday, May 1
10:00 a.m. - Memorial Service Parade, downtown Raleigh.
1:00 p.m. - Memorial Service, Nash Square.
+ 5 - 11 | § ¶
Crash Trucks and Bomb Squads
Couple interesting video clips from yesterday's diverted flight into Greensboro due to a bomb threat. This Fox8 video clip features the airport firefighters who were training at the time of the incident. The footage includes their new Oshkosh Stryker crash truck, which we'd heard they'd received. Did they get more than one? Speaking of Oshkosh, check out the new Striker designs. They look taller, and bit more rounded. A bit more Rosenbauer Panther-like, in fact. Meanwhile, this News14 video clip shows the bomb squad vehicles of the Greensboro Police Department. The one on the right is a device transport unit, if that's the right terminology. Couldn't find any information on the GPD web site, but perhaps readers can enlighten.


+ 6 - 14 | § ¶
Name Change For Lightner Public Safety Center?
What's happening these days with the Lightner Public Safety Center project? A member of the police department and city resident wants the building named after firefighter or police officer who died in the line of duty, versus former mayor Clarence E. Lightner. The one-time mayor is also the city's only black mayor to date.
Detective Kevin Rooker sent a letter to all council members requesting a considering of the name change, and also started a Facebook group on the topic. The group has some 280 members at present. The News & Observer has the story. Other reporting includes this story from from WTVD.
How many fire and police members have died in the line of duty in the Capital City? Three in the fire department (1956, 1965, 2008) and eight in the police department (1922, 1968, 1968, 1968, 1980, 1995, 1995, 2002). Read about the firefighters on Mike's history pages. Read about the police officers at the Raleigh Police Memorial Foundation, a group started last year by active and retired members.
+ 5 - 8 | § ¶
Dog Tax
How amusing is this? Found for sale on eBay. Vintage dog tag.


+ 6 - 12 | § ¶
Virtually Exploring Detroit
Talk about a place for urban exploration! Based on Google findings, the city is a magnificent ghost town in many places. And what sounds like the only city outside of Chicago or New York for notable pre-Depression architecture. Quite a few former firehouses, and many dating a century or more in age. Most of the active houses appear to be historic, and in the 100 year old range. Some links are below for your midweek enjoyment, for those inclined to virtually explore. Might have to alter my travel plans, to spend more than a passing day around town!
+ 7 - 7 | § ¶
Update on New Morrisville Fire Station
FireNews finds this Cary News article with the latest on Morrisville's plans to replace Station 1. The 55 year-old structure on Morrisville-Carpenter Road has been planned for replacement for years. The contract for the $3 million facility, to be located around the corner on Town Hall Drive, is expected to be awarded as early as today. The 13,000 square-foot station will be nearly twice the size of their current quarters. The building will take 10 months to building. New apparatus is also planned, as the Fire Chief mentions three quints that'll be spread across the town's three fire stations. That's two more aerials for MFD. More information as it is known. Read the article. For extra credit, see if you can date the below photo.


+ 7 - 2 | § ¶
Hazing Again, Shall We?
Two interesting items on the subject of hazing, which we successfully discussed and even conducted a poll about a few weeks ago. First item is this firehouse.com recap of an FDIC session. Firehouse Pranks or Professionalism? The L.A. Story, and the damaging effects of those incidents at LAFD. Relevant quote: "How much hazing is acceptable as opposed to zero tolerance? A little hazing can lead to a $1.4 million lawsuit over someone eating dog food because it was just a little bit of hazing." Would love to read a session summary of that one.
Second item is from Baltimore, from what looks like a government watchdog site. Constant Conflict - Did Poor Leadership Lead To Fight at Baltimore's Smokestack Hardy Firehouse? The story of a station crew, some behaviors therein, and emotions that escalated to a near knife fight. The Inspector General of the city reviewed the incident and cited a failure of leadership. Relevant quote: "The report also found the types of humiliating pranks and taunting that colleagues said later contributed to [the incident] were at least tacitly encouraged by supervisors, if not in some cases facilitated by them." Seems like a balanced article, though there are second sides to all stories. Maybe we'll see discussion on the Baltimore Watch Desk, or coverage and discussion from Dave Statter.
What does it all mean? Well, the firehouse is still a second home, and with all the challenges of living with others. That's as old as time. But the people are changing and perhaps faster than the traditions. Education levels. Work experience. Cultural diversity. Leadership expectations. The world they serve is all-new, too. The old ways aren't always appreciated. There might be methods to the madness—the rough and tumble play serves particularly purposes—but the line seems to be getting finer than ever.
+ 4 - 2 | § ¶
Preparing For Nuclear Disaster
How's that for the provocative headline of the day? Much more exciting than, say, Wake to Distribute Preparedness Potassium Iodide, which is the title of yesterday's press release, announcing that residents located with the ten-mile Emergency Planning Zone (EPZ) of the Harris Nuclear Power Plant will receive potassium iodide (KI) tablets on two dates in May. The distribution is part of joint preparedness planning by Chatham, Harnett, Lee, and Wake Counties. The KI tablets, if taken appropriately and within the appropriate time, reduce the risk of thyroid cancer but blocking absorption of radioactive iodine. Read the entire press release. And here's a nifty map of the EPZ

.
As prior posts attest, Mr. Blogger enjoys reading emergency preparedness materials from the Cold War-era, when the nation was building fallout shelters and school children were being taught to duck and cover. Such instructional material still exists and in present-day format, such as this helpful guide found via Google called What to Do If a Nuclear Disaster is Imminent! Check out the diagrams for easy lean-to-shelter construction in basements, which would be great, except that there aren't terribly many basements in these parts. The same site also sells "nuclear preparedness products," such as KI pills, personal radiation monitors and alarms, and Civil Defense Geiger counters and dosimeters. Go shopping.
+ 7 - 7 | § ¶
Last Night's Severe Weather
WRAL has posted a handful of viewer photos from last night's severe weather in eastern Wake County, including this compelling image taken on Riley Hill ROad in Zebulon. The storm then moved into Nash County. The News & Observer has some information about the storm's effect in Zebulon, including damage to a tree in front of the town hall. No injuries or building damage were reported to ZPD.



WRAL photo
+ 2 - 4 | § ¶
Garner Fire Department is Hiring
The Garner Fire Department is hiring for full-time firefighter positions, as they're planning for the opening of Station 4 later this year. Starting salary is $30,400. Read this announcement letter
, which includes qualifications. Applications can be downloaded from www.garnerfire.com, or obtained at Garner Station 1 during business hours. Deadline for applications is Friday, May 14, at high noon. And here's a friendly tip, don't wait until the last minute. Time is your friend, and you should use it. Good luck to all applicants!
+ 6 - 7 | § ¶
FDIC Panel Debates Issue of Fire Service Diversity
Firehouse.com reports on what sounds like a fascinating panel discussion conducted this week at the Fire Department Instructors Conference (FDIC) in Indianapolis. They subject was diversity in the fire service; the panel included "an African-American lieutenant, a Caucasian lieutenant who recently won a reverse discrimination lawsuit, a female chief and a retired Caucasian chief who is also a lawyer." The discussion lasted over 90 minutes, as the panelists offered perspectives on the "thorny" topic, and also took questions from the audience. The article has a nice recap, and perhaps can serve as a useful springboard for local conversations. (Though the topic might too tricky for discussion online.) Kudos to the participants for facilitating such bold and likely needed conversation. Maybe a recording or a transcription will surface of same. Read the article.
+ 8 - 5 | § ¶
Firefighter As Most Stressful Job
Mrs. Blogger found an interesting article from Career Cast, listing their rankings for the top ten most stressful occupations in 2010. Firefighter is tops, and beats Corporate Executive, Surgeon, Police Officer, Highway Patrol Officer, and even Commerical Pilot. Their description of Firefighter stress: "Firefighters frequently work irregular or unusual hours, or remain on call throughout the night. They risk heat exhaustion, smoke inhalation, and serious injury while on the job, and even the state of anticipation preceding a major threat can be highly stressful in itself. Firefighters are also sometimes required to spend long hours outdoors in bad weather." Read the article.
+ 5 - 4 | § ¶
Rural Water Supply History?
Discussion topic for the day. What's the history of rural water supply in our state? Here's what I have been told, in research for my state fire history talks. The concept of water shuttles was originated by an Iowa famer in the late 1960s. He shared same at a conference, maybe FDIC. Some North Carolina firemen brought the idea back home, and implemented it in Cumberland, Duplin, and Wayne counties. Converted tankers were used to start, and the concept was recognized by ISO. Nahunta FD in Wayne County was the first to receive a lower ISO rating, due to their new capability to shuttle water. That's the gist. Readers and old-timers, please elaborate!


+ 8 - 5 | § ¶
Wake EMS Featured for Improved Cardiac Arrest Survival Rates
Wake County Emergency Medical Services (EMS) will be featured in an upcoming issue of the medical journal Annals of Emergency Medicine, highlighting the County's 200 percent improvement in outcomes for victims of out-of-hospital cardiac arrest in Wake County. The article is available for download now
. Cardiac arrest is an immediately life-threatening condition in which a person's heartbeat and breathing stop. The review, which observed 1,365 victims of cardiac arrest between January 2004 and October 2007, tracked significant increases in survival rates as treatment protocols were enhanced. The improved treatment measures saved an additional 25 lives per year in Wake County during that time. Read entire press release.
+ 7 - 1 | § ¶
This Morning's Police Car and Ambulance Accident
WRAL reports this morning that a Raleigh police car and Wake County EMS ambulance collided this morning at Creech Road and Slippery Elm Drive, while en route to a shooting. The original incident on Brasswood Avenue was reported just before 1 a.m. The accident occurred a couple blocks from the scene. There were no major injuries, with the responders reportedly complaining of soreness after the collision. No particulars are cited, such as additional units dispatched, if anyone was transported, or the cause of the accident. Read the story.
+ 5 - 4 | § ¶
Diagram of Mangel Fire, 1981
Piles and piles here at Blog Central. Over here, long-unfinished narrative on the city's last great fire in 1851. Over there, boxes of slides to further review and scan. On the computer, notes and charts and even diagrams, such as this one of the Mangel Building fire from July 7, 1981. We know, Before Your Time. It's part of a larger project, documenting what happened that day. We'll finish it some day. Barring early death. Click once or twice to enlarge:

+ 5 - 4 | § ¶
Divide Scanned Photos
Long on my short list of historical things to do has been the compilation of Raleigh retiree photos. Once saw a fire department web site with a history section, and that listed and displayed portraits of all former members. Maybe New Haven? Somewhere up north and east. Recently, in preparation for a retiree event, Yours Truly had the occasion to produce this very thing. A web gallery of retiree portraits, which you've since seen posted.
Did it take forever? Scanning seemingly hundreds of head shots? Negative. The magic was PhotoShop-- and/or, PhotoShop Elements-- and an option to Divide Scanned Photos. Simply, if you scan several photos at once, you can select this option, and the program automatically crops and rotates the pictures. Then you simply save each one. This project was made easier by the fact that yearbooks were scanned, instead of physical prints.
Since they're smaller, a magnification of around 150% or 175% was used. A Descreen option was also selected at the time of scanning. Without using descreening, the resulting image will show lots of little dots. The same way that a scanned newspaper photo usually looks like sh&t when enlarged or printed on photo paper. Once a folder full of image was produced, the option to Process Multiple Files was used, to create copies of uniform height. Each 500 pixels high.
Everything was plopped in the photo gallery template, and the results were published. A reasonably but not entirely complete photo history of Raleigh Fire Department retirees (and deceased members), dating back to the beginning (meaning 1949, when the city retirement system was created). See the results.
+ 2 - 4 | § ¶
Lee County Defense Rescue Unit
For your Friday enjoyment, here's a nifty photo of a civil defense rescue squad from Sanford circa 1962 or 1963. The truck is labelled Lee County Defense Rescue Unit, and saw service in an American Legion Post-sponsored rescue squad agency, it appears. The photo was found in an unlabelled scrapbook of the North Carolina Civil Defense Administration and by historian Frank Blazich. We've blogged about him before, and his blog about state civil defense history.
The picture appears in his 2008 thesis from North Carolina State University titled Alert Today, Alive Tomorrow: The North Carolina Civil Defense Agency and Fallout Shelters, 1961-1963. Click to view the NCSU library holding record, as well as the 208-page document itself. The document's chapter on the Cuban Missle Crisis was subsequently published in an issue of the North Carolina Historial Review.
(Last year, Yours Truly consider submitting my monograph Birth of a Fire Department

to the journal, but ultimately declined. They assume copyright ownership of the piece, which wasn't wanted. That's probably the only historical piece of mine that's publication-worthy, with the requisite citations and editorial style and such.)
What's the history of the Lee County rescue squad? Perhaps readers can add details. Civil Defense rescue squad units were common across the country in the 1950s and 1960s. Heck, the Raleigh Fire Department operated one for many years. Next step, start thinking about the future of my research. Maybe graduate studies are in my future. Sure looks like a fun challenge, researching and writing a thesis on local or state fire department history. Maybe in my fifties. Click to enlarge this neat photo:


+ 4 - 3 | § ¶
This Morning's Major Fire / W. Millbrook Road
Two alarms at 221 W. Millbrook Road. Engine 9 arriving at a two-story, wood-frame commercial structure with 2,226 square-feet. Built 1978, dentist office. Heavy smoke from front of structure. Interior attack, with fire found in attic. Battalion 1 assumed command on arrival, and called for a second alarm within a couple minutes. Ladder 1 backed into parking lot, and deployed in front of building. Utilized for roof operations, with crews ventilating.
Staging on both Millbrook Road, and in parking lot across street. Medical monitoring and rehab also located in parking lot across street. Dispatched 7:13 a.m. Controlled 7:49 a.m. And another hour or abouts for extinguishment. No injuries. Cause determined as accidental. Outgoing "A" shift personnel relieved by incoming "B" shift personnel. Units on scene included E9, E16, E17, E4, E15, E11, E6, L1, L4, L_, R1, R3, B1, B2, B4, C10, C20, A1, C1, C2, EMS 3, EMS 16, D1, D4, M9_, T1, WC1. See photos by Mike Legeros.


+ 3 - 4 | § ¶
Firefighter Bachelor Auctions For Charity This Weekend
Two firefighter bachelor auctions for charity are being held this weekend at the Southern Women's Show at the North Carolina State Fairgrounds. The Saturday and Sunday auctions benefit the Burned Children's Fund of Wake County. Details are below, reprinted from the web site. Don't know which hunks will be available for bidding. Perhaps they are reading and will post a teaser or two. Better yet, ladies, go visit legeros.com/firepics for your pre-show warm-up. More studs than you shake a stick at. Just don't droll on your keyboard.
Saturday, April 24 - 3:00 pm
It's Getting Hot in Here: Firefighter Fashion Show
Hosted by: Diane Ramsey, MIX 101.5
Benefits: The Burned Children's Fund of Wake County
Fashions by: Belk, Triangle Town Center

Sunday, April 25 - 3:00 pm
Bachelor Auction to Benefit the Burned Children's Fund of Wake County
Bid on a date with a local area firefighter and support a great cause.
Hosted by: Lynda Loveland, Mix 101.5
+ 9 - 10 | § ¶
Garner EMS Requests Merger with Wake County, Starting May 31
That's the headline from the Garner Citizen, reporting on the press release issued yesterday by Garner EMS & Rescue Squad Inc. They have a short article about the announcement, as well as the entire text of the statement:
Over the last couple of months, the Garner EMS & Rescue Squad, Inc. Board of Directors has met to discuss the financial standing and future operations of the agency as it exists today. After several Board meetings and deliberations with Wake County, the GEMS Board of Directors requested that the Garner EMS operations transition to Wake County EMS effective May 31, 2010. Wake County staff is open to the transition but is awaiting an official letter of request from the Board of Directors. That letter is expected to be delivered by the end of the week.

This was a difficult decision because the GEMS Board, staff and the public at large wanted the Garner Emergency Medical Service division to maintain its identity. However; in today's economic climate, the EMS division, which depends entirely on billings for revenue, is not in a position to ensure that cash flow will be maintained to make payroll and pay off debt over the long run. Operating an agency from week to week and not knowing the financial condition is a very stressful way to run a business---and especially not the best situation for an emergency services provider.
READ MORE
+ 1 - 9 | § ¶
Travel Plans
Where can you expect Mr. Camera to appear this summer? We're making plans for our first NASCAR race in May, for starters. We hear it's an impressive cultural experience. Are there fire and emergency crews within civilian view at Charlotte Motor Speedway? And so I can pad pictures of them with a few dozen spectator shots? Should be primo people watching!
Additional summer destinations are listed below. Feel free to post or send sightseeing tips, notably historic or former firehouses, impressive active stations, fire museums, other museums, abandoned or old airfields, former military facilities, interesting industrial areas, or interestingly decayed urban areas. Where we or me is expecting to roam:
Baltimore (Fire Expo, as usual)
Chicago
Detroit
Milwaukee
New York City (been many times)
Pella, IA
Washington, DC
+ 5 - 3 | § ¶
Hot Spots
Another photo from this morning, while we await the uploading of some 160 pictures. Timing is everything, and Yours Truly was ready to leave a little earlier than usual today. The reason? He had... a dentist appointment. One point seven miles, from house to scene, says Google Maps. Click to enlarge:


+ 2 - 6 | § ¶
Roof Action
Scenes from a structure fire. More later from this morning on Millbrook Road. The gods of photography sometimes smile on Mr. Blogger. Click to enlarge:


+ 3 - 6 | § ¶
Holt Lake Barbecue, From The Top
Reader Banks Wallace created this overhead view of Sunday's fire in Smithfield at Holt Lake Barbecue. He says he wasn't there, but "based on my knowledge of the building and the photos I have scene, I have added the information that I could gather." Those in know, please add or correct as desired. Who says we only obsessively follow incidents in Wake County? Thanks Banks! Click once or twice to enlarge:


+ 3 - 3 | § ¶
Patient Shifting Starts in Louisville
Firegeezer yesterday blogged about patient shifting, a program that's starting in Louisville. Only Richmond has also fully implemented past the pilot program phase, at least in terms of cities in the United States. The protocol of transferring a small number of lowest-priority EMS calls to a nurse, instead of immediately dispatching an ambulance, is widely used in the United Kingdom and Australia. Sounds sensible to me. Let the nurse direct complaints of headache or stomach ache, for example, to the most appropriate avenue, and which may exclude a trip to the emergency room. Perhaps our paramedical readers can offer perspectives. Or even our paranormal readers, for that matter. Read more from Firegeezer.
+ 8 - 5 | § ¶
Capital Hose House To Be Sold
Did you catch the item in today's News & Observer that the county has approved a new headquarters for the American Institute of Architects? They'll sell their current quarters, called "a historic waterworks building." Indeed it is. The structure at 112 W. Morgan Street was erected in 1887, and first housed a hose company of the volunteer Raleigh Fire Department. The city's contracted waterworks company also had an office in the building, which adjoined the base of a water tower.
We've blogged about the building before, which is listed on the National Register of Historic Places. The structure served as a fire station for just a couple years. But it's still the oldest fire department building in the city. How much might the thing sell for? County tax records list the value as a mere $361,623. At least it's protected, so the structure we'll still be around regardless of the buyer. Could make one nifty residence, if you didn't mind the traffic!


+ 6 - 9 | § ¶
Generational Change?
Discussion topic for the day, expanding from that thought balloon from DJ that escaped onto his keyboard and into a blog comment. What happens when younger workers replace older workers in emergency services? What's gained, what's lost? What's effected administratively, operationally? How do things look from the Big Chief's chair, down to the dinner table on shift? And, what sort of knowledge transfer can be done, to preserve what the veterans know?
On that last point, I have done a bit musing. Many know that I record oral histories of retired and retiring Raleigh firefighters. Is that a format that's valid for retaining long-gained knowledge? Perhaps. Or is something more technological a better idea? What about an internal Wiki for an agency? A peer-created and peer-edited online encyclopedia, which seems perfect for such a purpose. What say you?
+ 5 - 8 | § ¶
Barbecue Burns in Smithfield
That's Holt Lake Bar-B-Que & Seafood on 3506 South Brightleaf Boulevard in Smithfield as photographed by WTSB radio. The popular restaurant was reported aflame about 6:55 p.m. this evening, when a deputy spotted smoke and flames. Units from Selma and Four Oaks fire departments also responded. Two ladder trucks were on scene. The restaurant was closed at the time of the fire. The news report notes that the place was previously destroyed by fire on July 8, 1981. That was the day after the Mangel Building fire in downtown Raleigh, come to think of it. No injures were reported tonight, and no damage estimate has been given. Read more and see more photos.



WTSB photo
+ 6 - 8 | § ¶
White Roof
Would you believe a fire station with a white roof? That's the new top on Station 16 on Lead Mile Road, and a block from Blog Central. The roof was replaced some weeks ago. Why is the thing white? Presumably, as a cost-saver for summer utility bills, as well as am environmentally friendly move. Don't know if or how many other Raleigh fire stations have been similarly equipped. This New York Times article tells more about white roofs. As for the photo below, the two shadows are a power pole (left) and a camera on a tripod (right) being held over the head of Yours Truly. Good thing he was wearing a t-shirt. Would have looked just too weird had he been Hawaiian-clad.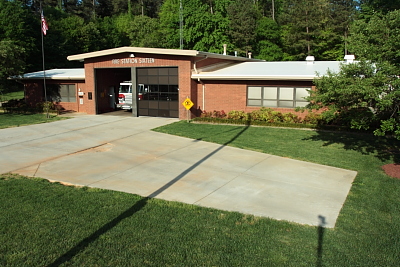 + 5 - 4 | § ¶
South Wilmington Street
Let's go for a fourth posting based on Bledsoe Avenue this morning. While walking the perimeter, we meaning me noticed a second section of Wilmington Street, at street level, versus the elevated section that's over the railroad tracks. From this earlier posting about the southside streets back in the day, we've excerpted a pair of maps from 1945 and 1961. Interesting to see the before and after! Click to enlarge:


+ 2 - 3 | § ¶
Framing
Changing the background of your picture by simply moving the camera, as photographed at today's gas leak on Bledsoe Avenue. Noticed this neat example while working on the preliminary pictures. Click to enlarge:


+ 3 - 5 | § ¶
Beer Belly
Speaking of abdominal storage areas, heard of this one? Called the Beer Belly. The photo is pretty self-explanatory, though the male model is a bit more toned that we might imagine the average beer belly user. There's even a product for women called, you guessed it, the Wine Rack. I am told that some people really love adult beverages. Never developed a taste for them, myself.


+ 5 - 2 | § ¶
What Happens to Burned Buildings?
Question for those in the know. It's been over six months since the two-alarm fire at 1005 E. Millbrook Road, shown below, that killed a resident on September 15, 2009. The structure is still standing, and in seemingly the same condition as after the fire. Are property owners required to demolish (or perhaps rebuild or repair) structures after such incidents? If yes, does the process take many months, if perhaps insurance and other legalities must be squared? Credit to Mrs. Blogger for this question. We passed same this evening on date night.


+ 5 - 10 | § ¶
Patiently Waiting
Scenes from this morning's gas leak on Bledsoe Avenue, part two. Looking north on South Blount Street, with Engine 3 at intersection with Bledsoe Avenue. They were second on scene, special called after Engine 1 arrived.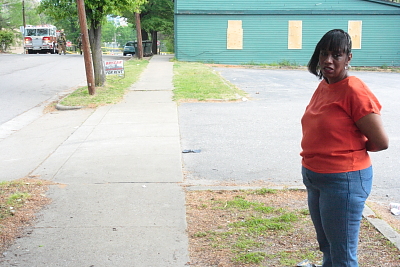 + 4 - 7 | § ¶
Harris Barber College
Scenes from this morning's gas leak on Bledsoe Avenue, part one. Haz-Mat 1 and District 1 pictured in background, on South Blount Street just south of Martin Luther King Jr. Parkway. Harris Barber College was started by Samuel Harris in 1930, in the back of a barbershop at 124 E. Hargett Street, reads this history page of their web site. The school moved to its present location at 803 S. Blount Street in 1942.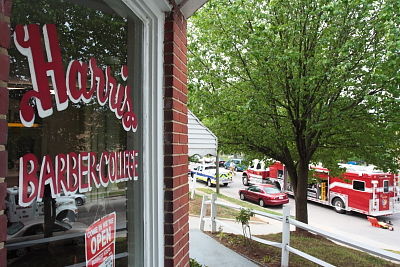 + 7 - 5 | § ¶
Garner Station 4
Lee Wilson also recently snapped a shot of Garner Fire Station 4, quickly rising at 125 Spaceway Court. The three-bay facility will be a joint fire and EMS facility. Opens in November.



Lee Wilson photo
+ 5 - 6 | § ¶
Fuquay-Varina Station 1
Lee Wilson recently photographed Fuquay-Varina Fire Station 1, where additions and renovations were recently completed. Added to the building on the left side was space including a lobby, kitchen, classroom, administrative offices, and storage space. Renovated on the right side of the building were sleeping quarters for both Fuquay-Varina firefighters and Wake County EMS personnel. See more photos.



Lee Wilson photo
+ 5 - 3 | § ¶
Resident and Pet
One resident and a pet. Self-evacuated from an apartment building. Nice reminder of the reason for being. Preserving life and property. End of sermon.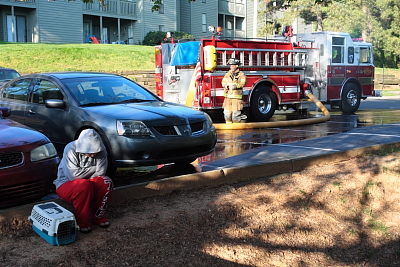 + 10 - 4 | § ¶
Wilmington's Empie Park Fire Station To Be Replaced
Earlier this week, FireNews found this StarNews article about Wilmington's Empie Park fire station, also known as Station 2. The two-bay station at 3403 Park Avenue was built in 1965, and has been outgrown by the Wilmington Fire Department. There isn't enough bay space, so an EMS unit is parked outside. There are no separate dorms, the article notes, so women firefighters can't work there past 10:00 p.m. (!) The facility also has had mechanical problems in recent years, from sewer problems to termites to mold. Last week, the city took the first step toward replacing the station, and awarded a design contract for a new, three-bay facility. The replacement will be built on the same lot. Read the entire article.



Ken Blevins/Star-News photo
+ 6 - 7 | § ¶
Ladders by Lee
Lee Wilson recently posted a pair of nicely-posed ladder truck photos, if you haven't seen them. Below is Wake Forest Ladder 1 and Raleigh Ladder 5. The former is a 2006 Pierce Dash platform, 95-feet. The latter is a 2009 Pierce Arrow XT platform, 105100-feet. Click to enlarge both. He is the master of such shots.


+ 8 - 5 | § ¶
Wake County Eyes Deep Budget Cuts
WTVD reported yesterday on possible cuts being faced by Wake County and each department therein. They posted a copy of a document listing "department reduction options" for the coming fiscal year. For fire and emergency management, the possible cuts include eliminating two positions, a Chief Deputy Fire Marshal and a Fire Captain at Stony Hill. For EMS, the options are numerous for reducing or eliminating ambulance service, and two or four positions each each.
The article talks about tougher choices this year than last, though the "long list of cuts" are those that "may" be made next year. And that's about it. Not much additional context, or information about county officials (and staff?) will make those choices. Nor is there context for the document listing "department reduction options." Are those line items exclusive of each other? Are some dependent on each other? Are some weighed more heavily than others? Etcetera. A bit of a vacuum on this one, though perhaps the reporting will raise useful awareness. Read the entire article.
+ 7 - 4 | § ¶
Along with Neighbor Kali Burns, Who was Dressed as a Gorilla
Best caption ever, as found in a New Hampshire fire story, as found on a Facebook posting. "Firefighters wrap up at the scene of a fire at 15 M. St. in Hampton this morning, where a home was gutted by two fires this morning. Right, Wayne McGowen, who was sleeping in the basement of the house when it caught fire, watches firefighters at the scene along with neighbor Kali Burns, who was dressed as a gorilla." Double-you tee eff, indeed. Great reader comments, too.



Jason Schreiber, Union Leader photo
+ 8 - 4 | § ¶
Stirring The Pot
Sign your name to stir the pot. Or stay anonymous and your comments may be deleted. What's the criteria? Can I give some examples?? Maybe later. For now, step up and sign your name. Pretend it's Facebook. Questions, comments, disagreements? Send private mail. I'll even help you say what you want to say.
+ 3 - 5 | § ¶
Volunteers
Bay Leaf Fire Department at house fire at 2105 Millpine Drive. Car 1 arriving at a two-story, wood-frame dwelling with 2,369 square-feet. Fire showing through roof. Pumper 251 first apparatus on scene. Interior attack into attic. Water point and drop tank prepared. Fire controlled prior to water shuttle ops. Units on scene included P251, P366, P122, L25, A12, C1, C12, EMS 122, EMS 12, D4. Preliminary photos by Legeros posted. More later from both Mike and Lee.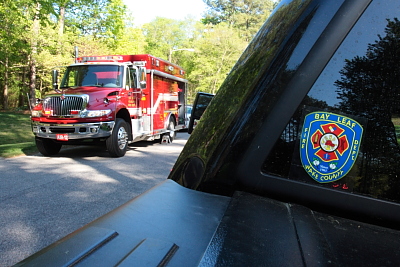 + 7 - 9 | § ¶
Yarborough Hotel
One of the city's biggest fires in the twentieth century was the Yarborough Hotel in the 300 block of Fayetteville Street. The four-story structure, built in 1852 and about 46,500 square-feet, burned on July 3, 1928. The building contained the regionally famous Yarborough Hotel, as well as numerous stores. The hotel also served as the Governor's Mansion at the end of That Recent Unpleasantness. After General Sherman occupied the Governor's Palace at the southern end of Fayetteville Street, the returning head of state refused to stay there.
The fire started in the basement of an elevator shaft, and quickly spread through the block-long building. The entire Raleigh Fire Department responded, along with Durham and Smithfield engines. Fifteen streams, 7,200 feet of hose, and 750,000 gallons of water were used. The 1:20 p.m. was transmitted from Box 314, No injuries, and but a single piece of equipment damaged, one ladder run over by an automobile. Here's a good picture of the scene. Several were taken that day. Still pending is a detailed narrative from Mr. Historian. Memo to self: do that some time.
Below is a Yarborough Hotel room key, bought on eBay a couple years ago. It reads: Yarborough House, Raleigh, N.C. - If carried away return unsealed by mail, postage 8 cents - [Room number] 21.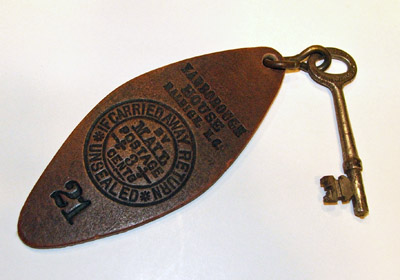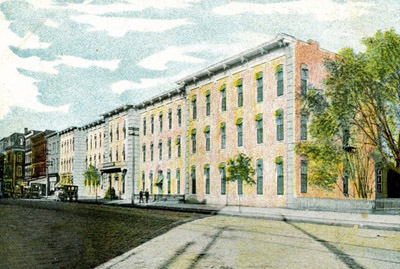 + 10 - 7 | § ¶
Fitness and Policies Therein
Living healthy is hard. Burning calories is barely a requirement of everyday living. Adding calories is almost as easy as breathing. The substances labeled "food" are more marketing than nutrition oriented. Sedentary activities are as enthralling as ever, especially if (a.) air-conditioning and (b.) Internet access are present. Everybody's getting bigger, except in the fictional world. Movies, magazines, television, etc. They're still showing thin people. Thin and beautiful people, for that matter.
Of course, fitness isn't exclusively about size. Big people can be healthy, and small people can be sickly. The calculus of which body goes which way includes those pesky genes. In first responder services, fitness is a job requirement. For firefighters, it mandatory. They are the human machinery of the fireground. Someone smarter than myself has equated firefighters to professional athletes. The analogy seems appropriate.
How then to promote and effect fitness in emergency services? That's the first discussion topic. What are better versus worse ways to compel firefighters, paramedics, and law enforcement officers in healthy directions? Ditto plus-size bloggers, for that matter!
Yesterday News & Observer reported on a fitness policy at Raleigh-Durham International Airport for their police and fire-rescue workers. They've been tested for fitness since 1996. Three years ago, their merit raises were tied to the test. They could be declined a raise if they failed. In 2008, their actual employment became a condition of the test. They could be fired if they failed.
In March, a veteran police officer was terminated for a poor fitness testing score. Two others resigned, and before they could be fired. There are 48 police and fire-rescue workers who must pass four tests each year. Three employees are exempt, two chiefs and one assistant chief. Their employer, the Airport Authority, also provides pathways to maintain and improve the fitness that the tests are measuring. The article cites the availability of "workout rooms, dietary and wellness experts and personal trainers."
The story includes details on the tests, perspectives on the policy, and personal reactions from those who are affected. There are also three dozen reader comments, so far. That's the second discussion topic. What's the public's perception on fitness of first responders? Both in the physical form of the people serving them, and the infrastructure to support healthier firefighters, medics, and officers?
Read the News & Observer story. Discuss as desired.
+ 5 - 5 | § ¶
Up, Up, and Away
Yesterday afternoon in Sanford, at a Wings of Carolina Flying Club event, North Carolina pilot Jonathan Trappe launched himself into the air in a specialized cluster-balloon chair. His accompanying equipment? Two-way radios, breathing oxygen, parachute, altitude encoder, GPS, and emergency locator beacon. As this WRAL story reports, by 9 p.m. he was floating over Pittsboro. By 6:15 a.m. this morning, he was northwest of Goldsboro. He reached 5,000 feet at one point. He's presently north of Freemont, north of Goldsboro. He's due to land, or perhaps has landed. Track his flight on this Google map. Or read more about him on ClusterBalloon.com. Or read the original WRAL story.



James Whitt/WRAL photo
+ 8 - 3 | § ¶
Blue Honda Accord
The Blogmobile has been upgraded with a 2010 Honda Accord EX sedan, colored royal blue pearl. Manual transmission, moon roof, and more. Replaced a well-used 2001 Honda Accord EX sedan, colored burgundy. Traded that one with 213,640 miles. It replaced a Ford Taurus (royal blue), which replaced a Ford Temp (burgundy), which replaced a Ford Mustang (royal blue). See a pattern here? Still working on the scanner install, but have mounted one antenna. Might even keep the thing clean this time. That's what Mrs. Blogger wants, at least. Coming soon to a station or scene near you.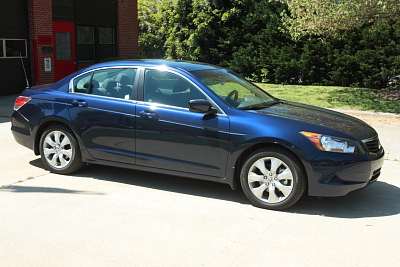 + 3 - 4 | § ¶
Durham Emergency Responders Use 3-D Image Technology
WRAL reports on technology now being used by the Durham Emergency Communications Center to create three-dimensional aerial images of a caller's exact location. The software is named Pictometry and offers a detailed map and as many as 12 different angles of any property, building, highway, or other feature in Durham County. For example, dispatchers can guide firefighters on the locations of electrical wires or other obstacles to scene access. The software was funded through the state chapter of the Emergency Number Association, which received a federal appropriate to implement same. The remaining cost of installation is being funded through a 911 surcharge added by the center. Read the story. Or the longer press release. Cool stuff, such the company's fire department application. Wonder if Durham's installation includes same?
+ 11 - 2 | § ¶
Drill at Pope Air Force Base, 1968
Here's another Hose & Nozzle magazine cover photo, from the March-April 1968 issue. The photo is courtesy of Pope Air Force Base, and shows a drill that was conducted for the Department of Community Colleges. The their A/V department also recorded the drill, the article reported, for possible use statewide as a training aid.
The exercise utilized a salvaged C-119 Flying Boxcar centered in a 5,000 square-foot pit, and with 1,500 gallons of contaminated JP-4 jet fuel expanded over the area. Eighteen firefighters and five pieces of apparatus practiced suppression and rescue of five simulated victims inside the wreckage.
Pictured on the right was the largest firefighting vehicle of the Air Force at the time, the Type P-2. Same was equipped with a 1,000 GPM roof turret, with an effective range of 175 feet, the article notes. With all discharge opens used, the trucks' entire 2,500 gallons of agent could be discharged in less than two minutes. Are any still in service in the Carolinas?
Names mentioned in the article include Pope AFB Fire Chief B. F. Barrow, State Supervisor of Fire Service Training Keith Phillippe, Chief of Audio Visual Branch Rowland Roy, and area consultant Calvin Beck. That's likely the same Beck who served as Cary's first paid fire chief. Click to enlarge:


+ 9 - 3 | § ¶
Winston-Salem Snorkel Tips Over, 1969
Digging through what's left of this winter's Hose & Nozzle research, here's another interesting item. This picture appeared on the cover of the September-October 1969 issue of the magazine. Photo credit unknown, and minimal accompanying details. The Winston-Salem Fire Department's 85-foot snorkel tipped over while being loaded with hose. One firefighter was injured with a broken leg, when he and others bailed out of the truck. They reported that the boom swung over, and the truck started tipping. The apparatus was returned to the factory for repairs. Click to enlarge:


+ 5 - 4 | § ¶
Five Killed in Valdese Bomb Shelter Explosion, 1972
On Tuesday evening, May 30, 1972, a backyard bomb shelter exploded in Valdese, NC. Five children playing on its steps were killed, and a sixth was injured in the blast. The cause was blamed on leaking gasoline vapors that were likely ignited from an electric spark, and perhaps triggered when one of the children flipped a light switch.
The shelter was built by a textile executive during the 1962 Cuban missile crisis. It measured 15-by-25 feet, was sunk into the side of a steep hill, and was located about 70 feet to the side of his $40,000 brick residence. The shelter was stocked a large amount of gasoline, for an electrical generator, and also included a 25-pound butane tank. The latter was found intact, and the cause thus shifted to the 550-gallon gasoline tank buried outside the shelter walls.
A member of the Valdese Rescue Squad said that he felt his trailer home shake three-quarters of a mile away. When he arrived, the smell of gasoline fumes was strong. Others found puddles of gasoline inside the shelter. Rescue operations started at approximately 7:45 p.m., and continued for hours in drizzling rain conditions. Valdese and Morganton fire departments responded, along with rescue squads from Valdese and Burke County.
Two backhoes were utilized to remove rock, dirt, and debris until each body was found. One of the victims was thrown approximately 300 feet, and was found by her mother. Most of the blast was directed downhill; the heavy roof of the shelter caved in, and buried the bodies of three victims. The deceased were aged 10, 10, 12, 12, and 13. They included the daughter of the shelter owner.
Officials said that the shelter was still being maintained, with family friends frequently changing the water and food stored inside. The Deputy Fire Marshal believed there were a good number of bomb shelters in the town.
Sources:
+ 5 - 6 | § ¶
Zebulon Station 2 on Drawing Boards
FireNews finds this Eastern Wake News article about the Zebulon Fire Department's plans for a second fire staton. Construction is scheduled for next year at a cost of $2.03 million. The location is Green Pace Road. The approximately 5,000 square-foot facility will have two bays, and include sleeping areas for 24-hour staffing. The town hopes to receive funding from the county and other sources to pay for the station. The station is needed for projected residential and commercial growth north of Highway 64/264, and to maintain the town's insurance rating. Read the entire article.
+ 4 - 4 | § ¶
This Morning's Accident on I-40 in Orange County
WTVD has posted some pictures of this morning's accident on I-40 near mile marker 268 in Orange County, involving a tandem tractor-trailer and another trailer. The resulting explosion and fire brought numerous fire units to the scene. More details as they're available.



WTVD photo
+ 3 - 9 | § ¶
Charlotte Fire Department Response to Plane Crash, 1974
Speaking of Charlotte, the state's second-deadliest plane crash occurred at Douglas Municipal Airport on the morning of September 11, 1974. The Eastern Air Lines Douglas DC-9-31 was carrying 78 passengers and 4 crew members. It crashed just short of the runway on instrument approach in dense fog. The fatalities totaled 71, including four who died later. Read the Wikipedia entry on the crash. The January-February 1975 issue of Hose & Nozzle magazine provided a summary of Charlotte Fire Department activities that day.
At 7:32 a.m, the plane suddenly disappeared from radar. FAA personnel in the control tower determined the craft had crashed, and notified the airport fire station that a plane was down about a mile off Runway 36. Three crash trucks were dispatched. Capt. D. B. Webb, the Airport Station Commander on Blaze 5, radioed that he was headed in the direction of a dense black smoke that could be seen above the crash site. He requested Engine 10 be moved to Station 17, and for police to assist gathering information on the exact crash location. However, he could not advise the type of plane.

Blaze 5 and other equipment traveled down Wilmount Road to Beam Road, and turned right. At Shopton Road, a member of the Airport Manager's office was there. He informed firefighters that the crash was not on Shopton Road. He also informed them that the plane was a DC-9. The information on plane type had not been available to them. Blaze 5 continued down Beam Road, and also notified Communications of the plane type. The crash site was spotted through the fog after Blaze 5 turned right on York Road. They reported on scene at 7:40 a.m.
Across the yard of a farmhouse, Blaze 5 found the aircraft split apart and with pieces scattered in woods among "broken trees, large gullies, honeysuckle thicket and burning with the exception of the tail section and cockpit." The Commander exited the apparatus, and began walking ahead, to ensure that the ground was level, and they were clear of bodies or debris. Further details are contained in a report of CFD activities reprinted in the article:
READ MORE
+ 5 - 5 | § ¶
North Carolina Fallen Firefighter Foundation Memorial Service, Saturday, May 1
The names of seven fallen firefighters will be added to the North Carolina Fallen Firefighters Memorial in a ceremony on Saturday, May 1. The memorial service at Nash Square in downtown Raleigh starts at 1:00 p.m. This is the fifth annual ceremony. The event is preceded by a 10:00 a.m. parade of fire apparatus from departments representing the fallen members. See this participant information, and the parade route.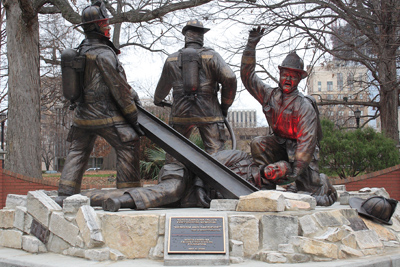 The memorial lists the names of 216 members of the state's fire service, and whose supreme sacrifices date to 1902. This year's honored:
James Melville Jones, North Carolina Forestry Service, 4/17/72
Levi Henry Faulkner, Farmville Fire Department, 5/29/75
Willis Henry Vandiford, Bell Arthur Fire Department, 3/21/78
William Gray Parsons, Millers Creek Fire Department, 2/1/09
Gregory Carroll Cooke, Salem District Fire Department, 3/21/09
Matthew Douglas Tramel, Pembroke Fire Department, 6/5/09
Jimmy Lee Davis Sr., White Oak Fire Department, 12/10/09
Visit the North Carolina Fallen Firefighters Foundation web site for more information.
Or read this related history of mine, from a few years back.
+ 6 - 4 | § ¶
Charlotte's New Rescues
The Charlotte Fire Department has taken delivery of two new rescues. Built by SVI on Spartan chassis. Not in service yet. They'll replace twin Spartan/Saulsbury units from 1998/1999, which replaced twin Pierce Lance units from 1988, which replaced Ford Econoline vans. The rescue companies are housed at Station 3 and Station 10. Thanks to Jeff Harkey for the info and passing along the photo. We'll surely see better and higher-res pictures soon enough, and even if our name isn't Shirley.


+ 7 - 9 | § ¶
Super Ambulance
The latest addition to Mike's die-cast collection is this Diapet replica of a Japanese Super Ambulance, such as the 2003 Fuso Mobile Casualty Treatment Vehicle serving the Tokyo Fire Department and shown below in small photo. Click to see more from ambulance-photos.com. The scale is 1/54. The working features including opening doors, extending body sections, and detachable rear steps/ramp. The model joins numerous replicas of Japanese fire and emergency vehicles on display at Blog Central, e.g. the Legeros Man Cave. They're crazy fun. Click to enlarge:


+ 3 - 12 | § ¶
How to Photograph a Ceremony in an Apparatus Bay
The March 27 ceremony at Station 16, honoring four firefighters with awards for heroism, presented an interesting set of photographic challenges. The setting: regular Raleigh apparatus bay, with projection screen, display board, and several chairs aligned perpendicular to bay doors. Strong ambient light from bay windows. Weaker florescent light from overhead. Composition challenged by power cord hanging from ceiling (for projector), and some less-attractive areas. Fitness equipment in one corner clutters some shots; the rear wall-- a metal extension of the building-- is rather dark and scary-looking.
Thus, the best direction for pointing the camera was back to front. With the display board in the foreground, left of frame. The patch graphic prominent. That added immediate identification and branding to the photo. Raleigh Fire Department. Bay windows in the background, and right of frame also added context. And they're easily recognized at lower resolutions. Between the patch and the windows, it's pretty easy to identify the setting as a fire station.
For filling the shadows and improving the lighting, an external flash with funky bounce attachment worked well. (That plastic cup is a Gary Fong Lightsphere. Or tip jar, if you prefer. Large bills only, please.) High ISO setting on the camera, of course. And lots of shots, to compensate for closed eyes or funny poses. The results were okay. The should've, could've list includes the medal presentations. Should've asked each recipient to hold that pose a little longer. Or perhaps restaged later. Need to remember for next time. But don't we all. Life as learning lesson. See the photos from the ceremony.

[ Missing photo ]
Mike Legeros photo
+ 2 - 5 | § ¶
Council Appoints Task Force To Study Lightner Safety Center Issues
Mayor Charles Meeker and three other Raleigh City Council members will serve on a special task force to study issues related to the proposed Clarence E. Lightner Public Center. The council voted 7-1 today to establish the task force, which is charged with developing a list of items for an independent consultant to study regarding the public safety center, such as possible sites, design, cost savings, and functionality and organization of the facility. Council members voted to establish the special task force after City Manager Russell Allen presented an alternate funding plan for the Clarence E. Lightner Public Safety Center at today's meeting. The proposal would not raise the City's property tax rate. Read entire press release.
+ 4 - 13 | § ¶
Yesterday's House Fire in Apex
Below is an aerial photo from WTVD of yesterday's major house fire at 314 Grassy Point Road in Apex. The two-story dwelling with 3,412 square-feet was well-involved on arrival, with extension to the homes on either side of the structure. Dispatched about 3:00 p.m. Units on scene included Apex L3, L4, E2, R1, B1, C5, C1; Holly Springs E3; Swift Creek E3; Fairview E3, E8; EMS 41, D1, T1.
Some responded as they cleared from a major woods fire on O'Kelly Chapel Road at Highway 55. Several Wake and Durham county units worked that one, which was reported after 1:00 p.m. The forestry service even sent a spotter plane, along with plow and brush units. Hot, dry, and nasty with all that pollen. Legeros took some photos of the aftermath.
And then this morning, Apex is still on the scene of another fire, at what sounds like a transformer an electrical substation. They've deployed their foam trailer, and have other companies on scene. We'll get more information on that one, later.



WTVD photo
+ 11 - 7 | § ¶
This Morning's Major Fire in Clayton
Commercial structure under construction in 3100 block of Vinson Road. Fully-involved on arrival, with roof already collapsed. Dispatched about 3:50 a.m. Clayton and Wilson Mills fire departments, Clayton and Johnston EMS, plus others? Building approximately 15,000 square-feet and about 60 days away from opening as a day care. Authorities say same is suspicious, and it's less than a mile from the three houses that burned less month. Also across the street from school recently set on fire. Clayton police and SBI investigating. Aerial photo from WTVD, and enhanced using auto-level mode of PhotoShop Elements. Sources: NBC17, WRAL, WTVD. Readers add additional details as desired.



WTVD photo
+ 7 - 4 | § ¶
Multipatient Medical Event Tests Wake County EMS
EMSResponder.com has posted an excellent article on the February 13 multipatient medical event at the Sheraton Capital Center Hotel in downtown Raleigh. Recall that the Saturday morning incident saw dozens of high school-aged students complaining of nausea, vomiting, and diarrhea.
The first call was reported at 9:26 a.m. Within a half-hour, three alarm level's worth of medical resources had been dispatched, and a triage area had been established in the hotel. By mid-afternoon, medics had evaulated some 140 patients, and treated 40 of them.
Authors Brent Myers, Skip Kirkwood, and Jon Olson (MD1, Chief 100, Chief 200, respectively) provide ample details on the original call, the operations that commenced, and the lessons learned afterward. Read the article. Or see the incident photos.



Mike Legeros photo
+ 4 - 7 | § ¶
State Run Fire Departments?
Discussion or perhaps trivia topic for the day. What fire departments or fire suppression agencies are operated by the state of North Carolina? Couple come to mind. Butner Public Safety. North Carolina Division of Forest Resources. Who else? Does the North Carolina Air National Guard staff their fire apparatus in Charlotte, Raleigh-Durham, Salisbury, etc?

We can expand our question to include state agencies with fire apparatus, though not necessarily staffed. Such as, say, the Highway Patrol training center on Tryon Road, which has a mini-pumper. Or, say, the skid-mounted units that rangers operate at Umstead Park and other facilities.



Lee Wilson / Mike Legeros photo


Looking back, there are former state-run fire departments to note. Broughton Hospital FD in Goldsboro Morganton (shown below in the 1920s, though they operated through the 1960s). Caledonia Prison Farm FD in Tillery. Cherry Hospital in Goldsboro. McCain Prison Hospital FD in Aberdeen.


Courtesy Broughton Hospital


Even the North Carolina Zoo had a pumper (and a department?), a 1961 International from Six Forks Road FD here in Wake County.


+ 4 - 7 | § ¶
Occupants Escape Vehicle Fire in Raleigh
Good dramatic headline on this vehicle fire story by WRAL, complete with a couple of viewer photos. Several people were inside same, then exited. Er, escaped. That is indeed one fully-involved vehicle fire.




Mike Hanna/WRAL photo
+ 7 - 3 | § ¶
When Pine Straw Burns
This week, WTVD took a camera crew to Chapel Hill for a fire department demonstration on pine straw versus hardwood mulch. Both were set alight, and the straw burned fast and furious. Within three minutes, a bale's worth of the popular landscaping material was completely engulfed. The much, meanwhile, was still a small, smoldering fire. Three years ago, Chapel Hill was the first in the area to impose restrictions on pine straw. Last week, the material was cited as a contributing factor to the fire that destroyed three homes and damaged four others in the Highland Creek subdivision. City officials are now seeking restrictions on pine straw within certain distances from combustable structures. Watch the video report.

+ 7 - 7 | § ¶
Fire Station For Sale
Here's a familiar building that's for sale. For decades same served the Yrac Fire Department, and most recently was operated as Western Wake Station 2. Comes with vast amount of concrete parking, an outside storage building, and a new roof. Plus more good memories than any place ought to have. Priced to move at $310,000. Next question... who gets the siren still up on the pole? View the sale listing.


+ 5 - 10 | § ¶
Scanning
The objective: three simultaneous audio streams. City fire dispatch (VHF), county fire dispatch (VHF), and trunked talkgroups both VIPER and Cary (800mhz). The equipment: two VHF scanners for city and county fire, and one digital trunking scanner for talkgroups. Same configuration for base and mobile, each with three radios. The question: can three simultaneous streams be accomplished short of three separate radios? Sure, you can use Priority on a scanning radio, but that just lets one channel override a second. What other options are there? And why hasn't someone invented a radio that plays multiple channels at once?
+ 3 - 9 | § ¶
Just Say No
FireNews Editor-in-Chief Jeff Harkey (and proud owner of a residential sprinkler system, he notes) has blogged about the anti-sprinkler billboard being seen in South Carolina, and news of which has been making the rounds. Read his blog posting to learn more about this strangeness.


[ Missing photo ]
FireNews photo
+ 6 - 5 | § ¶
Good Luck to Garner EMS
In their meeting on Monday, county commissioners will discuss and perhaps decide the future of the EMS division of Garner EMS & Rescue Squad. They're the private, non-profit corporation that provides EMS, rescue, and medical transport services in and around Garner. Organized in 1975 as the Garner-St. Mary's Rescue Squad, they're one of the four remaining "original squads" in Wake County, along with Apex EMS (okay, now merged with Apex Fire), Cary EMS, and Six Forks EMS.
This Garner Citizen article published yesterday has a good summary of their situation, and far better than this blogger is capable of providing. There's been some prior media coverage, here and there. The story hasn't really made many headlines. Guess that's par for the course, the machinery of emergency services isn't necessary newsworthy unless something really dramatic happens.
We haven't blogged about yet, either. When you (a.) know the people and parties involved, (b.) don't know the facts, and (c.) don't know what you don't know about the facts, the answer the seemingly easy. Stay your hand. Hold your tongue. (Seemingly easy. Even this short message is done with a heavy heart.)
Thus the best of wishes to our friends at Garner EMS.
The April 5 meeting of the Wake County Board of Commissioners is located in Room 700 on the 7th floor of the Wake County Courthouse. The meeting begins at 2:00 p.m. and is open to the public. The period for citizen comments to the board is from 3:00 p.m. to 3:30 p.m.
Share support as desired. But save dissection for somewhere else.
+ 5 - 2 | § ¶
Crash Trucks, Water Cannons, Mothballs
Midwest Airlines has returned to Raleigh-Durham International Airport. This morning's News & Observer has a photo by Takaaki Iwabu showing CFR 2 and CFR 3 spraying a salute the first returning flight. The airport fire department, named Raleigh-Durham International Airport Emergency Services, has three such trucks. They're Oshkosh T-3000 crash trucks, delivered in 2000. Two with two axles, and the big three-axle monster. They replaced older, refurbished Walter rigs that dated to 1970s.
The accompanying News & Observer article has the headline "At RDU, the Water Cannons Come Out of Mothballs." Lest anyone think that those crash trucks are remotedly underutilized, let's correct that perception. The airport rigs roll several times daily. Based on scanner traffic, it's a regular cycle of airport alerts, fire alarms, fuel spills, and other calls. Along with EMS responses, though those are handled-- if memory serves-- by their mini-pumper, a 2005 Ford/4 Guys. Readers, please expand as needed. The gang at the airport doesn't get nearly enough visibility compared to the other fire departments in the area.
And that's the best that we've got for your Friday morning. Playing language police to the News & Observer. What can we say, it's been a busy week at Blog Central.
[ Missing photo ]
Takaaki Iwabu / News & Observer photo
+ 8 - 8 | § ¶
April Fools
Discussion topic for the day. Today is April Fools Day. Though tempting to discuss pranks and amusements therein-- but not hazing, please not hazing!-- let's talk about levity. How have you used humor to break the ice, dispel the stress, and keep a barrier from the profession's harder and harsher aspects? Or, if you prefer, share appropriately funny stories. What say you?
+ 8 - 5 | § ¶
Raleigh Mayor Wants Tougher Restrictions on Pine Straw
WRAL reported yesterday that the Raleigh Fire Department recommended Wednesday that the city pass an ordinance "prohibiting the use of pine straw within 10 feet of any combustible structure" in the wake of last week's three-alarm fire that destroyed three homes on Armadale Lane. Investigators cited dry grass and landscape materials as a factor in the fast-spreading fire, that was fed by gusty winds. They also noted that the close proximity of the buildings as another factor in the rapid spread.
Fire Marshal Rusty Styons submitted a report on the matter on Wednesday, to the Fire Chief and command staff for review. The report cites similarities to the Pine Knoll Townes fire of 2007, that started and spread in Pine Straw. The report also surveys other local and statewide municipalities that have or do not have similar ordinances.
Mayor Charles Meeker expressed the opinion that recommendation should restrict pine straw 20 to 30 feet from buildings, and he'll ask city council for an ordinance. The city council will address the issue Tuesday. Read the Fire Marshal's report. Or read the accompanying story.
+ 3 - 5 | § ¶
Profile of Cary Fire Chief Allan Cain
The CaryCitizen, a news blog that's been publishing since July 2009, recently posted a profile of Cary Fire Chief Allan Cain. He hails from Cumberland County, where he first served in the Cumberland Road Fire Department in High School. He was a member of the Fayetteville Fire Department, worked for Cumberland County as Asst. Emergency Management Coordinator, and was hired as Dunn's first paid Fire Chief in 1989. He's served with the Cary Fire Department since 1994, where he started as Deputy Fire Chief. Great forced-perspective photo below by Hal Goodtree, as well! Read the article.



Hal Goodtree/ CaryCitizen photo
+ 6 - 3 | § ¶
Flatbed For USAR
North Carolina Task Force 8, the urban seach and rescue team comprised of Cary, Chapel Hill, Durham, and Raleigh fire departments, recently received a flatbed trailer. Its primary use will be transporting preloaded shoring materials for local or regional deployment. It'll also be available for obtaining large training materials, props, tanks, culverts, etc. The trailer is at the Keeter Training Center.
[ Missing photo ]