+ 6 - 9 | § ¶
Mystery Vehicle
Whose wheels are these?


+ 5 - 4 | § ¶
Caption This Photo / Pigged Out
From yesterday morning on Interstate 540 40, and as photographed by veteran Durham fire photographer Julian Harrison and posted by WTVD. Did you hear about the pig that opened a pawn shop? He named it Ham Hock.



Julian Harrison/WTVD photo
+ 11 - 5 | § ¶
Plane Versus House in High Point
Two people were killed yesterday when their twin-engine Hawker Beechcraft BE58 clipped a house and struck a second, while attempting a landing in bad weather at nearby Piedmont Triad International Airport. The occupants escaped the home safely. High Point, Greensboro, and Guilford County fire departments were on scene. Perhaps readers can add incident details.
Next question, wonder how many plane versus house incidents have occurred around Raleigh-Durham International Airport over the years and decades. Guess my (outdated) timeline of RDU CFR history would tell that quickly enough. The below image exemplifies the reported weather conditions at the time of the crash. Click to enlarge:



WGHP photo
Links to stories:
+ 7 - 7 | § ¶
This Afternoon's Two Alarms / Reunion Point
Two alarms at 5500 Reunion Point. Cedar Springs Apartments. Engine 19 ariving at a three-story, wood-frame, garden-style apartment building with 13,200 square feet. Built 1996. Heavy fire and smoke showing from the roof in the southwest corner of the structure. Interior operations with two-inch lines. Crews pulled ceilings in the third-floor apartments and found heavy fire in attic.
Emergency evacuation about ten minutes into operation, due to collapsing conditions. All personnel accounted for. Defensive operations commenced, with Ladder 2 on the west side of building on Reunion Point and Ladder 5 on south side / front of the building. Ground monitor also deployed. Majority of fire knocked down within 10 minutes. Aerial operations soon suspended and interior operations resumed.
Battalion 1, then Car 10 as command. Battalion 20 as staging officer. Hydrants used in front of building for Engine 19, and across Spring Forest Road at Reunion Point for Ladder 2. Where was staging as well as rehab? Ladder 5 later used as platform with hand line to extinguish hot spots. Twenty-five people displaced. Twelve apartments affected. Six units uninhabitable. No injuries. Cause not yet determined.
Dispatched at 1:24 p.m. Controlled at 2:31 p.m. Command terminated and scene released about 6:37 p.m. First alarm: E19, E11, E15, L5, R1, B1, EMS 2 Second alarm: E22, E4, E9, E27, E16, L2, R2, B2, B4, A1, C20, C21, C40, C2, EMS122, EMS124, EMS63, EMS8, D3, D4, M92, T1. Investigation assisted by WC1. Relief companies included E5, E18, E26. News coverage: NBC17. News & Observer. WRAL. WTVD.
See aftermath photos by Mike Legeros


Charles Murray/WRAL photo
Amar Ragoonanan/

NBC17 video
+ 7 - 5 | § ¶
Zero Traffic Deaths in Five Easy Steps
That's the headline from today's News & Observer story about a Greenville emergency room doctor who has co-authored an article for the North Carolina Medical Journal, with a five-point prescription for eliminating traffic deaths in North Carolina. He recommends:
Raise the minimum driving age to 17.
Create special courts for DWI cases.
Outlaw phone use while driving.
Build more bike lanes and sidewalks.
Make roundabouts standard at intersections, and rumble strips standard on shoulders and center lanes.
Sounds reasonable as described in the news story, though the legislators are probably unwilling to pass such phone laws, since it would apply to them as well. Cynical editorial opinion there. Ditto perhaps for anything that makes a bigger dent in drinking and driving prosecution. Alcohol consumption is a pretty popular on this planet.
The three-page journal article is available online, as part of the full issue that you can download from the NCMJ web site. The file is 16 megs in size. Be aware.
Wonder what a cost analysis would look like? Compare the operational and capital costs for the above steps against the costs for emergency services and medical treatment. Would the numbers pay off? Obviously, from a moral and ethical perspective, reduction of deaths is an entirely good thing!
Secondly, what would happen if the responder community put its weight behind such ideas? Didn't we read something from overseas, about fire departments re-purposing their missions to include injury reductions?
Or maybe that was a suggestion by one of the national fire bloggers, that fire departments could embrace initiatives to, say, reduce motor-vehicle deaths. You know, the way they've championed and effected change in fire deaths. You've got your "fire prevention" bureaus. How about "injury and death prevention" bureaus? What say you?
+ 2 - 7 | § ¶
Greensboro Budget Cuts May Lead To Eliminating Ladder Company
FireNews finds this News & Record story from Sunday about budget cuts in Greensboro. Their city council seeks $18 million worth of cuts during the coming budget year. The fire department has been asked to identify $900,000 to trim for City Manager Rashad Young. Their overall budget has increased by $1.3 million this year, much of which was associated with the opening of a new fire station.
The most "significant and aggressive" of those cuts offered by Fire Chief Greg Grayson is eliminating one of the city's ladder companies. That's a line item of $360,000. Greensboro has nine ladders, along with 23 engines and one rescue company. The ladder companies answered 8,654 of the 50,170 calls in the last 12 months, says the story citing the chief.
Last week, members of the Professional Fire Fighters of Greensboro (IAFF Local 947) attended a community budget meeting. They handed out fliers that ask residents to voice their support for the fire department. They've also posted a statement on their web site about such support, including opposition to the elimination of any fire companies.
What does the public think? Read some of the user comments at the bottom of the story for that perspective. Next question, what other North Carolina cities are facing company closures, or similar cost-cutting measures?
What's the historical perspective as well? How many company closures have been recorded in these parts, in past years and decades? In Raleigh, we lost a service truck company 1987. More on that story later.


+ 7 - 6 | § ¶
This Morning's House Fire in Apex
NBC 17 has posted a pair of morning-after photos of this morning's house fire in Apex. Located at 4809 Fairfield Road in New Hill, the house was reported ablaze about 5:30 a.m. The pictures depict an apparent total loss. Crews were still extinguishing hot spots this morning. Sounded like a big one, from the activities at shift change.
County tax records describe the structure as a one-story frame residence with 1,860 square-feet. Built 1986. County maps show the structure some 150 feet removed from the road. Can't tell where the water point was, however. No other details at present. Perhaps readers will relate more about the incident.



NBC17 photo
+ 6 - 6 | § ¶
Blog Maintenance Sunday Morning
Outage announcement. Sunday morning. Sometime between 7 a.m. and 9 a.m. Basically, whenever Yours Truly wakes up and gets started. Shouldn't be that long. Suggested offline activities during that period: read the newspaper, eat breakfast, clean-up after breakfast, wash one or more personal vehicles, compose short pieces of poetry, read aloud your short pieces of poetry. Mike will go first. There once was a guy with loud shirts...
+ 5 - 7 | § ¶
South Orange Technical Rescue Team
These South Orange Rescue Squad vehicles were parked at a Haw River river landing on Highway 64 outside Pittsboro this morning. The squad's technical rescue team was conducting swift water rescue training. Click to enlarge:


+ 2 - 6 | § ¶
Goldston Fire Department - Whatever it Takes
Cute drawing that adorns the rear of Goldston Fire Department unit 1118, one of the many pieces of apparatus that participated in today's 9/11 memorial ceremony and procession in Chatham County.


+ 4 - 6 | § ¶
Beam From World Trade Center Displayed in Chatham County Ceremonies Today
As this WRAL story reports, a piece of the World Trade Center wreckage will be displayed in ceremonies in Pittsboro, Goldston, and Siler City today. The ceremonies and the artifact are part of a plan to develop a Chatham County 9/11 memorial. The route and schedule, from the article, is below. See this press release for more information.
9:00 a.m. - Entering Chatham County at Orange County line on U.S. Highway 15-501 North, heading to Pittsboro
9:30 a.m. - Hosting a Tribute Ceremony at Lowe's Home Improvement parking lot in Pittsboro and remaining at this site until 10:30 a.m.
10:30 a.m. - Leaving Pittsboro following Business 64 to N.C. Highway 902 towards Bear Creek, but turning onto 1010 (Pittsboro-Goldston Road) toward Goldston.
11:00 a.m. - Hosting Tribute Ceremony in Downtown Goldston on Belleview Street and remaining at this site until noon.
12:00 p.m. - Heading north on U.S. Highway 421 to Siler City and exiting at U.S. 64 Business, heading east to the Walmart Shopping Center.
12:30 p.m. - Hosting a Tribute Ceremony at the Walmart Shopping Center in Siler City and remaining at this location until around 1:30 pm.
1:30 p.m. - Tribute Trail ends
Afternoon update. Here are a couple pictures from the tour's first stop, in the parking lot of Lowes in Pittsboro. See more photos, taken post-ceremony through post-departure.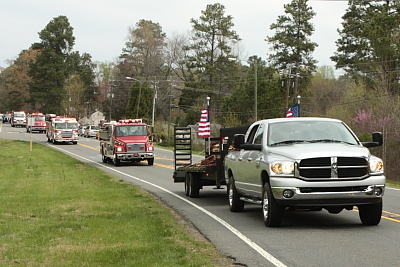 + 3 - 6 | § ¶
Raleigh's 1958 Tiller in Color
For your Friday enjoyment, here's a rare color view of Raleigh's 1958 American LaFrance tiller. The photo is from a slide, found and scanned by our friends at the Raleigh-Wake Emergency Communication Center. Yours Truly is working on getting copies of others in the series. Vintage color photos of the fire department have been surprisingly hard to find over the years. Thus these pics are pure gold.
We presented some of these maybe a year ago, in this posted set. The pictures are probably posed and feature police, fire, EMS, and emergency communications. Credit is probably to the city public affairs office. Or maybe the county Civil Defense office. Or were they called Emergency Management by that time? Watch this space for more. Click to slightly enlarge:

+ 0 - 6 | § ¶
Raleigh Professional Fire Fighters Association to Present Fundraising Concert
Press release. After an eight-year hiatus, the Raleigh Professional Fire Fighters Association (RPFFA) will produce two concerts annually to raise funds to support several local charities and community programs.
The first concert will be held Friday, November 18 at Dorton Arena, featuring Country music legend John Anderson with special guest Briana Dean. The RPFFA is a 501(c)(5) non-profit organization and is licensed with the North Carolina Secretary of State's office to raise funds. A representative of RPFFA will be calling area residents with an offer to purchase tickets to the benefit concert.
Activities supported by the RPFFA include:
Camp Celebrate, a weekend camp for children ages 7-15 who have survived burn injuries. Activities include swimming, canoeing, arts and crafts, along with an opportunity to meet other kids who too have been burned;
High blood pressure checking stations
Smoke detector program, to provide smoke detectors to families who cannot afford them;
Youth athletics to help keep kids off of the streets and to build character;
Battered women's shelters throughout Wake County;
Financial support for the Salvation Army, Helping Hands, and the Muscular Dystrophy Association;
Gift provisions for needy kids during the holidays;
Awareness of firefighter injuries, occupational illness, and the many hazards to which firefighters are exposed;
Efforts to improve benefits for firefighters injured during the performance of their duties;
Programs to create awareness for the safety of the public and firefighters; and,
Support for the Jaycee Burn Center at UNC Hospital.
+ 4 - 6 | § ¶
CERT Trains Raleigh Citizens to Respond to Disasters
Press release. If a major hurricane or tornado struck Raleigh, would you be able to provide medical assistance to family members or neighbors who are injured, or rescue those trapped under debris? What if terrorists attacked the Capital City -- how would you be able to help those in your neighborhood or workplace?
The City of Raleigh's Community Emergency Response Team (CERT) program helps educate people about disaster preparedness for hazards that may impact their communities. Participants are provided training in basic disaster response skills, such as fire safety, light search and rescue, team organization, and disaster medical operations.
Using the training they receive in classrooms and during exercises, CERT members in Raleigh and across the nation can assist neighbors or coworkers following a disaster when police officers, firefighters and other professional responders are not immediately available to help. They also are proactive in such areas as raising awareness about terrorism and identifying neighborhood hazards. Additionally, CERT members are encouraged to support emergency response agencies by taking a more active role in emergency preparedness projects in their neighborhood, and they help out with non-emergency events and projects to improve community safety.'
+ 7 - 1 | § ¶
Charlotte House Fire Video
Here's a short but effective video clip from the Charlotte Fire Department of a house fire on East 15th Street on March 16. It's been featured in blogs by both Statter911 and the Fire Critic. Both of those bloggers are presenting at Fire Department Instructors Conference (FDIC) this week, and in fact opposite of each other. Literally, their sessions were at the same time. Both are quick to praise the Charlotte Fire Department for their social media efforts.
Sounds like a good second posting here, a summary of CFD and their social media channels. And/or channels in general in use around our state. What works, what's being used, what's being ignored, etc. We'll work on that. Just got back in town. Not going to FDIC. In fact, have never been. Hafta take a plane to that one, unlike the easy road to Baltimore each summer. Though any excuse to visit a Midwestern city is certainly a good one. Maybe in a future year.
+ 12 - 4 | § ¶
Famous Set of Stairs
Here's another postcard from DC. These 97 stone steps were made famous in director William Friedkin's 1973 adaption of William Peter Blatty's 1971 novel The Exorcist. The three-story staircase is located on the campus of Georgetown University and descends from Prospect Street to M Street. Read about the stairs and their filming. The steps look considerably less menacing in daylight, thus the top photo's rendering in grayscale. The bottom photos were taken at night. Same shot, one with color, and one without.
Finally, for fans of both the book and the movie, allow a recommendation of Blatty's 1983 novel Legion. Written as an official sequel to The Exorcist, it stars the character of Lt. Kinderman, the rumpled detective played by Lee J. Cobb in the 1973 film. Blatty later directed a film version of Legion with George C. Scott as Kinderman. Alas, that film bore the regrettably titled Exorcist III. The film wasn't nearly as good as the book Legion, as my movie critic memory serves.

+ 8 - 4 | § ¶
Meet Louis Mahler, Circa 1900
Here's another Library of Congress find, from a News & Observer issue of, ahem, unknown date. Probably the year 1900, as the page is labeled "Twentieth Century State Edition." This one's a profile of the volunteer fire department, as well as Fire Chief Louis Mahler. Quite a bit of praise in the latter, and not exactly backed by examples. But that was the style back then. Interesting citation of 1889 as the year the department was organized. That instead refers to a reorganization. There were a couple of those conducted in the 19th Century.
DEEDS, NOT WORDS

That the Motto of Our Fire Department, The Best in North Carolina.

A Fine Body of Tried and True Men, A Large and Superb Equipment.

Four Companies, With a Membership of Ninety Men, Whose Constant Endeavor is to Save Life and Property from the Fire.

No city in the State can boast of a better fire department--this statement is not made as an idle boast, for deeds speek louder than words and deeds are what the Fire Department perform.

The city at large takes great pride in the department, it be composed of men who are ever ready to respond to the call of duty, whether it comes by day or night. That their work in the past has been efficient is amply evidenced by the record of the years gone by.

The department was organized in 1889, and as each year has become numbered with the past it has gradually perfected itself. They have a fine fire alarm system, namely the Gamewell system. The department is divided into four companies.
READ MORE
+ 4 - 7 | § ¶
Meet Charles Farmer, 1937
Here's another Library of Congress find, from The Statesville Record on July 30, 1937, a profile of Raleigh's second career Fire Chief and first person to lead the State Highway Patrol, Charles Farmer.
GET ACQUAINTED WITH STATE MEN

A Brief Biography Of The Head Of The State Patrol

By WALTER DUSTMAN - United Press Staff Correspondent.

Raleigh, N. C., July 29 (UPI) —Major Charles Farmer, burly head of the North Carolina highway patrol, theoretical chief of the Raleigh fire department as well, It was learned today.

Farmer, known familiarly to thousands as "captain", his title before the 1937 General Assembly conferred on him the rank of major, recounted today his 18 years experience as a Raleigh fireman, which included four years as head of the department.

"In 1918 I was given two weeks leave to try out the job of organizing the equipment division of the highway department," Farmer explained. "When I left I handed the city my resignation as chief of the city fire department, but they refused to accept it, and, although I remained to organize the equipment division, so far as I know my resignation has never been accepted."

The major, who began as a correspondence school gas fitter and became the organizer of the first state highway patrol in 1927, said the patrol is "comparable to any in the nation."
READ MORE
+ 3 - 4 | § ¶
Raleigh Fire Department Receives Iron Lung, 1946
Here's another Library of Congress find, from the newspaper New Journal and Guide out of Norfolk, from an article dated November 30, 1946. They reported that the Raleigh Fire Department put a recently acquired iron lung to use, for a two-year old girl at St. Agnes Hospital. The child was from Mount Gilead and suffered from infantile paralysis. Neither St. Agnes nor Duke Hospital in Durham was equipped to treat her, so the child was placed in the fire department's iron lung in the clinic building at St. Agnes. She was subsequently admitted to the State Orthopedic Hospital in Gastonia, and transported by ambulance from Raleigh. She remained in the lung, while in transit. Presumably the iron lung was returned to Raleigh? Don't know enough medical history to understand the context of the device, and how they were used back then. Nor has Your Truly encountered any other record of this device in the service of fire department. Need to ask some of the oldest retirees about this. Very interesting!
+ 6 - 5 | § ¶
Another Postcard From DC
Left to right, top to bottom: Engine 16 minding its own business in Chinatown, along with a DC police motorcycle with sidecar, also in Chinatown. Rare sight there! Next is a park police truck and trailer, at the mounted police training center on Rock Creek Parkway. How many police departments have been seen so far? Let's see... DC police. US Capitol police. Secret Service police. FBI police. US Park Service police. Pentagon police. Finally, a Oshkosh Striker crash truck at Reagan National Airport. New delivery, not in service yet. The airport has a single fire station with three crash trucks (including one reserve), two engines (include one reserve), paramedic ambulance, mini-pumper, Battalion Chief's vehicle, two haz-mat trucks, and the airport's mobile command post. Click to enlarge:

+ 3 - 6 | § ¶
Postcard From DC
Left to right, top to bottom. Two ambulances apparently permanently staged at the United States Capitol building. Placards on the dash read "House" in other and "Senate" in the other. Connected with shore lines for permanent starting power. Don't know if medical personnel are in the building at all times. Next a big, honkin' haz-mat unit operated by the USCP. Saw staged at two different locations over two different days. Engine running, but otherwise empty. Guess it's a stand-by unit. See more such units. Next is DCFD Rescue 1 responding to an elevator rescue at Ford's theater. Across the street from that famous building is, of course, Honest Abe's Souvenirs. Finally, a mobile cosmetic unit on the Mall, where Mr. and Mrs. Newt Gingrich were filming what looked like a television commercial. More photos of all forthcoming. Click to enlarge:

+ 8 - 4 | § ¶
When Old Buildings Look Like Old Firehouses
As a result of my research and photos of Baltimore (city) former firehouses a couple years ago, random questions occasionally appear in my inbox. The latest was from the owner of 18. S. Schroeder Street. They were curious about the history of the building, which their neighbors believed was a former engine house. The owner also couldn't find any information prior to 1936.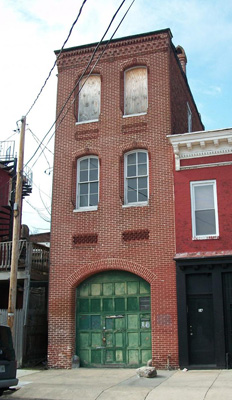 Not seeing any information in my own lists, I turned to the experts on the Baltimore City Watch Desk forum. They didn't have such an engine house on their lists, either. And one offered that the building looked like a carriage house. Since Yours Truly today happened to be at the Library of Congress, with access to Digital Sanborn Maps, a little research confirmed those observations. Here's the building from the 1914-15 fire insurance map, listed as occupied as a carriage house and also undertaker supplies (!).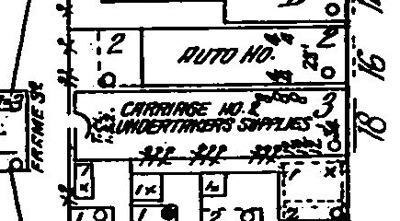 In the Capitol City (Raleigh), old buildings that look like old fire stations are few and far between. Head north and east-- or even south, to such places as Charleston-- and there are many such structures. And people probably think quite a few of them were former fire stations.
+ 4 - 5 | § ¶
Fire Chief Cancels College Basketball Game, 1947
Reporting from the road and specifically the Library of Congress, where a bit of database research is underway. The February 26, 1947, edition of the New York Times contained the short report of a basketball game at State College that was cancelled after Raleigh Fire Chief W. R. Butts ordered the Frank Thompson Gymnasium closed. He cited overcrowing, with students crowding aisles and blocking exits. All seats were filled by 6:30 p.m., an hour and a half before the scheduled start of the Southern Conference game between North Carolina and North Carolina State College universities. Students refused to clear the aisles, and the Chief thus ordered the gym closed. The article does not include any information on which team was favored to win.
+ 3 - 7 | § ¶
Weather Stations in Fire Stations
A reader shares this photo of a weather station in the Wyse Fork Fire Department in Jones County outside Kinston. What sort of weather monitoring equipment do you have? Heck, send pictures of your "base station." And for extra credit, can you identify the other equipment shown here? Click to enlarge:


+ 2 - 6 | § ¶
Reader Request For Elizabeth City Fire Department History
Reader Gary Fry in Bethesda, MD, is 64 years old and retired from the federal government. His grandparents were residents of Elizabeth City and he's been visiting Elizabeth City for, well, 64 years. His dad always took him to the local firehouse and it was a necessary ritual when he visited. One of the paid firefighters they saw them was a classmate of his mother, from Elizabeth City High School.
He remembers seeing the new fire station being built on Elizabeth Street in 1957 ($70,000) and the construction of the two substations on Halstead Boulevard and and Harney Street. He also remembers the closing of the Elizabeth Street station (also blogged about here). He can recall the old steam pumper Inez, the Virgina motorized pumper, the 1927 ALF, the 1940 Seagrave, and the Chevrolet pumper by Pasquotank County that served both the city and county.
Gary's witnessed many changes in Elizabeth City and has read about the volunteer companies Pasquotank and Camdem counites. He has very found memories of his visits, and he seeks any written history and photographs of the current fire companies. He's also seeking any current or past apparatus photos. Firefighter has been a lifelong interest and hobby, and he appreciates any response.
Gary Fry - firescaner "at" comcast.net
+ 5 - 4 | § ¶
Mobile Publicity Unit
Found this while looking for fire apparatus pictures in the Far East. This is a Mitsubishi Fuso mobile publicity unit of the Hong Kong Fire Services in Kowloon. Betcha the thing is the equivalent of a fire safety house, but on a bigger and way cooler chassis. What do you think? Could you increase internal interest in public education participation, if personnel operated something more apparatus-like? Wonder how much one of these baby's cost? Photograph by Daryl Chapman - Bauhinia photography, via flickr. See the photo or click to view:


+ 7 - 4 | § ¶
Fire and Police Apparatus in Japan
News coverage of Japan's nuclear reactor problems cite water cannons being used, including police units and military fire units. Google image searching finds precious few photos of apparatus either on scene or of the special type being used. This television image shows an 8x8 airport unit alongside a regular pumper. Note the size difference! Click to enlarge:



And this is a police water cannon unit, photographed at an earlier time. Fuso chassis with certainly a remote controlled deluge gun. Note the screens over the windows. This picture originates at japanese-trucks.com, original photographer unknown. Click to slightly enlarge:



And away from the nuclear plants, here's a contingent of heavy rescue trucks traveling through a destroyed area. Photo from earth-issues.com, original credit unknown. Click to enlarge:


+ 6 - 5 | § ¶
Another Car Versus House
As this WRAL story reports, the owner of a house on October Road yesterday heard an explosion and found a white Lexus sitting in his dining room. The driver attempted to leave the scene, but the homeowner assisted in keeping her at the scene. The structure was determined unsafe by the fire department.



Jaime McLain/WRAL photo
+ 4 - 6 | § ¶
What the Harris Plant Sirens Sound Like
The events in Japan inevitably turn thoughts to our own nuclear power plants and particularly the one right down the road in New Hill. The Shearon Harris Nuclear Generating Station, as this Wikipedia page notes, has a single pressurized-water nuclear reactor that began producing power in May 1987.
Four reactors were planned for the site, but three were canceled due to budget issues and weak demand. Applications have been filed to building two more reactors on the site, and they would not be operational before 2018. The current reactor is licensed to operate for sixty years, it's original forty-year license extended in 2008.
In the event of an emergency that required notification of the general public, 81 outdoor warning sirens in a 10-mile radius of the plant could be sounded. That's the plant's Emergency Planning Zone (EPZ). The sirens are located in Chatham, Harnett, Lee, and Wake counties. Picture below from this web page.
Who makes the sirens? Haven't found that information, though it's probably Federal Signal. They made the familiar Thunderbolt sirens that we've all seen. And probably heard, back when such sirens were tested. Or even used, as Mr. Blogger remembers from tornado warnings in Minnesota in his youth.
Read the Harris Plant media guide
.


+ 4 - 4 | § ¶
Run For Your Lives!
Fuel + tanker + fire = Oh sh_t!
Credit Firegeezer Mike Ward for finding this clip of a burning fuel tanker in Turkey. Believe I would be running also...


+ 2 - 4 | § ¶
Least-Educated Comment of the Day
From WRAL's coverage of this morning's apartment fire on Dansey Drive. This one's tough to top! Total comments are 16. Guess the conversation never got any legs.

why bother having a paid fire dept when all these fires happen and so much is still lost? do these depts ever save anything? especially since there was a paid fire dept 1/2 mile from this fire and still 16 are homeless...all that money that can be saved by having volunteers do the same work as the paid guys ...
-curiosinralnc

+ 7 - 3 | § ¶
This Morning's Two Alarms / Dansey Drive
Two alarms at 4724 Dansey Drive. Reported as New Hope Road between Capital and Louisburg roads. Engine 19 arriving at a two-story, wood-frame, multi-family apartment building with 10,356 square-feet. Built 1985. Heavy fire visible from both floors at the rear of the building. Interior attack utilizing a number of two-inch lines. Ladder 2 also deployed in rear of building.
Two hydrants used, on Dansey Drive (E19) and New Hope Road (L2). Command (B1) located on northeast corner of Dansey Drive and New Hope Road. Staging in parking lot of New Hope Baptist Church at corner of Louisburg and New Hope roads. Rehab and medical monitoring on New Hope Road at Dansey Drive. New Hope Road closed by police. Dispatched 2:49 a.m. Controlled 3:22 a.m. Eight units rendered uninhabitable, 19 people displaced.
Units included E19, E15, E11, E27, E21, E22, E28, L2, L5, R1, R2, B1, B2, C10, C20, C40, A1, C1, C2, C5, New Hope E1, B1, C1, WC1, EMS 5, EMS 2, EMS 121, EMS 18, EMS 7, EMS 15, D1, D4, T1. Special call for CAT bus for evacuated residents. E26 for relief about 5:15 a.m.
See sampling of photos from Legeros. More later, along with pics from Lee Wilson. Media coverage: NBC17 (broken link on their site), WRAL, WTVD. Blog coverage right here. Commence discussion, dissection, etc.


March 21 update. Here's a good morning-after photo from the
News & Observer's
subsequent article
:

Shawn Rocco/News & Observer photo
+ 5 - 0 | § ¶
Chief Engineer's Report of the Raleigh Fire Department, 1884
For your historical enjoyment, here's a scan of an 1884 annual report, excerpted from the Annual Report of the Mayor and Officers of the City of Raleigh, N.C. - Fiscal Year Ending April 30th, 1884. The document was printed by Edwards, Broughton & Co., using a steam-powered printing press. A bound version was photocopied at the North Carolina State Library and scanned at Blog Central.
There's an excerpt from the Mayor's personal report, a report from the committee of the Market House (where some apparatus was kept), and the report of the Chief Engineer of the Fire Department. The latter includes lists of equipment, fire calls, water sources, and expenditures. Read the PDF document
(3.6M), which will soon be linked from Mike's history pages.

+ 4 - 5 | § ¶
Raleigh Fire Department Antique Photo Shoot
Sunday morning saw some antique apparatus in action at Fire Station 28 at 3500 Forestville Road. That's where the city's four pieces of antique fire apparatus are stored. Plus a set of vintage rescue boats and a couple wheeled extinguishers, that is. From horse 'n' steam to gasoline to diesel. How many years of collective service are shown? And not counting the station personnel assisting! See photos from Mike Legeros and Lee Wilson. Read about the apparatus in this document
and on this site. Or click to enlarge:


Shown left to right:
1905 American LaFrance Metropolitan steamer, third-size. Served the volunteer Raleigh Fire Department as well as the career department.
1926 American LaFrance Type 75 triple combination pumper, 750 GPM pump, 40 gallon chemical tank. Served as Engine 4.
1950 Mack 85LS pumper, 750 GPM pump, and maybe a 150 gallon tank. Served as Engine 6.
1982 Mack CF pumper, 1000 GPM pump, 500 gallon tank. Old Engine 1, Engine 20, Engine 25.

The rigs were staged and shot as a project for the Raleigh Fire Department Historical Society. Special equipment included an air compressor, a pair of jumper cables, and a stepladder. Jokes included a number of references to Jed Clampett, particularly when the 1926 was in motion. FireNews Editor Jeff Harkey was also present, and filmed a bit of footage. Listen to those vintage motors talkin'.

+ 5 - 2 | § ¶
Knightdale Firefighters Need Your Help To Help Their Own
Members of Knightdale Public Safety are performing an "Extreme Makeover"-style renovation on the home of one of their members who is suffering severe hardships. Long-time volunteer firefighter Jeff Bouchelle and his family of four have been dealing with the daily struggles of a son suffering from pediatric glaucoma, which makes him legally blind. Forrest uses oxygen at night to ensure he doesn't develop pneumonia. Jeff's wife Kathy left her job to stay home with Forrest, thus cutting there income in half.
This situation has left Jeff and his family strapped for cash. And just as their little boy must be kept safe and in good health, their home must also be safe for them. Unfortunately, their house has numerous problems: a leaking roof, severely rotten siding, leaking windows in poor condition, and a furnace that hasn't worked in years. They heat their home with electric heaters. They're using one bathroom, due to an bathtub crack that's rendered another one inoperable. Their dishwasher hasn't worked in there years, their deck rotted and was removed, and there are many other issues.
As Firefighter Chris Miller notes "As a brother of our own, I feel like it is very much deserved, that we help him in a way that sees fit for their family to have a peace of mind and confidence in knowing that they don't have to worry about the burdens that have been weighing on them for so long now." Thus their plan for an "Extreme Makeover"-style renovation of the Bouchelle's home, just without the cameras and television hosts.
Knightdale Public Safety members Goley Boggs, Tim Guffey, Mike Miller, Chris Miller and others have been working to make this happen, but they need some help. They're asking for people to help with the labor, donations for some of the building supplies, and just some brotherly love. Though Mike and Goley have received almost everything needed as a donation, there are still some things to be purchased. The fire department has established a trust fund at the First Citizens Bank in Knightdale for donations. Please make checks payable to the Knightdale Public Safety Explorers Jeff Bouchelle Relief Fund.
READ MORE
+ 3 - 5 | § ¶
Backing Up
Cary Engine 5 leaving the scene of a motor-vehicle accident this afternoon at Green Level and Green Level School roads, auto-aid with Apex Fire Department. That intersection's about two miles south of the Cary Station 8 location. Talk about a ways out there! And such a developed area! Click to enlarge:


+ 4 - 5 | § ¶
Caption This Photo / Flapjack Fundraiser
That's Wake County Firefighter's Association President and Bus Boy Extraordinaire Lee Price in action at Applebee's in Knightdale, where a Flapjack Fundraiser raised about $800 through the sale of 180 plates of cakes 'n' links. Thanks for everyone that participated, both behind the scenes and before the fork. Good eating and good fellowship. And nobody broke the camera, though they made the joke a few times. But like a Hawaiian shirt at a fire scene, it never gets old. The association is planning future fundraisers at Applebee's in other regions, one per quarter. See photos from this morning.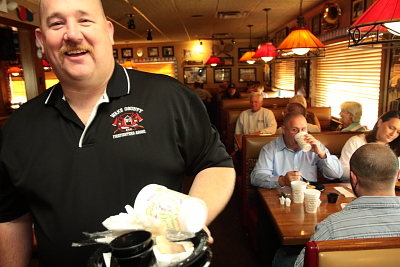 + 7 - 3 | § ¶
Orange County Ambulance Accident Today
WTVD reports that an Orange County EMS ambulance today overturned on Highway 86 about a half-mile north of New Hope Church Road. The accident happened just before noon. Three EMTs were injured, along with the patient being transported. The two EMTs riding in the front required extrication. All four were transported to UNC Hospital in Chapel Hill with non-life threatening injuries. The cause cited by the Highway Patrol was that the driver an off the right side of the road, over-corrected, left the road again, and overturned. The driver was cited for failing to maintain lane control. Read the story.
+ 3 - 3 | § ¶
Vests
Police, fire, and medical personnel in action at the intersection of Lynn and Lead Mine roads a bit ago. Took about two hundred photos. Many multiples of the same shot. Maybe three-dozen keepers. This picture is looking northwest if memory serves. Shadows are a bit harsh, but post-processing improves the image. Click to enlarge:


+ 1 - 3 | § ¶
Get Your Ambulances Right Here
Seen this week at the state property surplus warehouse on Highway 54. Always something or somethings interesting in that lot!


+ 4 - 5 | § ¶
Aerial Photos of Bronx Bus Accident
The ABC7 web site has posted aerial photos of this morning's multi-fatality tour bus accident on the New England Thruway in New York City. The pictures reveal the scope of the response, with both FDNY and NYPD Emergency Services units. Multiple engine, ladder, squad, and rescue companies, plus other units. It would be interesting to see the run card.


+ 3 - 3 | § ¶
Wake County Fire Academy #4 Accepting Applications
Wake County Fire/Rescue is now accepting applications for its fourth county-wide fire academy, which begins in August and graduates in February 2012. Applications must be received no later than ____?_____. Candidates who complete the program are certified as Firefighter II, Haz-Mat Operations Plus, EMT Basic, ICS, Firefighter Rescue, Firefighter Survival, Rescue Technician, and Fit Testing. See this PDF flyer

for application requirements, such as you must be affiliated with a fire department organization. The flyer also has contact information. Good luck!


+ 6 - 2 | § ¶
Raleigh-Wake County Emergency Communications Center 2010 Annual Report
The latest annual report from the Raleigh-Wake County Emergency Communications Center has been posted to their web page, on their Statistics and Annual Reports page. How do you find said page? Start by clicking the Public Safety link from the city's home page. That'll get you started in the right direction. 'Tis a challenging portal. Anyway, read the 2010 annual report
.


+ 3 - 4 | § ¶
NC Digital Collections / Inactive Haz-Mat Sites / Caraleigh Phosphate Fire 1892
North Carolina Digital Collections is a nifty collection of digitized and born-digital materials held by the state archives and the state library. Thanks to Mrs. Blogger for pointing out the text-recognition of capability. Click Advanced Search and search for the phrase "fire department." The resulting 165 items, as of this morning, including municipal and organization histories, public facility and municipal annexation plans, and even this inventory of inactive hazardous materials sites from 2009 and 2008. Total of 115 are listed for Wake County.


Looking down the list, the "CARALEIGH PHOSPHATE AND" at 1601 Lake Wheeler Road leaps out at Yours Truly. That's the site of the 1892 fire at the Caraleigh Phosphate and Fertilizer Warehouse, one of the city's biggest fires in the 1890s. The present owner of the property, say tax records, is Southern Roofing & Metals Company. There are 3.97 deeded acres. In this history document of mine titled Raleigh Fire Department 1880-1899
, the incident is described on page 19 as:
The Caraleigh Phosphate and Fertilizer Warehouse southwest of Raleigh was destroyed by fire on Aug 19, 1892. Discovered just after dark in the acid chambers, a "mammoth structure" measuring 250 feet long and 60 feet high, the blaze began in a burner room used for making sulfuric acid. Several fire department members responded and assisted, though they were unable to take their apparatus outside of the city limits. The company, located past the Insane Asylum on Asylum Road, had a $5,000 water system with seven hydrants and a pump. After the pump became disabled, the firefighters relied on gravity-fed pressure from the 10,000- gallon tank on top of the manufacturing mill. By 9:30 p.m., the entire structure was in ruins. The entire building and its contents were destroyed, with an estimated $25,000. 98

Over 4,000 tons of sulfuric acid spilled onto the ground during the fire and likely soaked into the water table. Seven years later, problems with the city water supply were reported. During a special meeting of the Board of Alderman on Mar. 10, 1899, the Committee of Physicians reported that water supplied by the Caraleigh Phosphate Mills was contaminated. They cited the cause as either the 1892 fire or the tipping over of a large vat in 1898. The physicians reported that the contaminated water was in their opinion "injurious to health, and unfit for domestic use" and while "causing disordered digestion and bowel disturbances" was not necessarily "dangerous life." They recommended that the city's water supply pipe running through that area be relocated a safe distance from the contaminated area.99
+ 7 - 3 | § ¶
Eastern Wake Chimney Fire
FireNews has posted some pictures from John Franks of a chimney fire on Meadow Run from a few Fridays ago. Appearing in the series of pictures are Eastern Wake, Wendell, and Wake-New Hope firefighters. Eastern Wake Pumper 2 was first on scene, notes the description. They found a working fire with heavy black smoke showing. Before suppression started, the fire ventilated itself through the first-story roof. Read and see more on FireNews. Then see the entire collection on this Flickr page.


John Franks/FireNews photo
+ 4 - 5 | § ¶
Cancelled - Fire Commission Meeting Notice, March 17
This meeting has been cancelled. The next schedule meeting is May 5, 2011.
The next meeting of the Wake County Fire Commission is Thursday, March 17. Agenda and handouts forthcoming as available.
Thursday, March 17, 2011
7:00 p.m.
Wake County EMS Training Facility
Commons Building, Lower Level, 4011 Carya Drive.
+ 6 - 5 | § ¶
What a Tsunami Looks Like
Entirely incredible images and footage found around the 'net this morning, in the wake of a tsunami that's hit the coast of northeast Japan. It followed an 8.9 magnitude earthquake about 80 miles offshore. Reportedly the fifth largest recorded earthquake since 1900. This picture appears in this New York Times story. How big is that wave we're seeing? Is it really almost as tall as the treetops? Might be a trick of perspective. Need to examine more closely.



Kyodo News, via Associated Press photo
+ 4 - 4 | § ¶
Why Are You Not Wearing Your Seat Belt?
Go ahead, give it your best shot. Why are you not wearing your seat belt while riding on the engine? Go ahead, please explain. There must be a good reason, right? Or is 100-percent compliance the norm in these parts, or wherever you are reading?
Where did this come from? Couple items browsed in recent days. First is Dave Statter's report about the San Antonio Fire Chief's suspension of two firefighters and their Captain following a November rollover, based on the speed of their rig and that seat belts were not being used.
But should suspension be the foremost reason for buckling up? How about safety, pure and simple? Get the message at this newly redesigned International Fist Responder Seatbeat Pledge site, from Everyone Goes Home and the National Fallen Firefighters Foundation. And watch the quick clip on same, titled "We've heard all of the excuses..."
Discuss as desired. Be honest in your response. Maybe we'll be change some behaviors and someday save some lives.
+ 4 - 4 | § ¶
Fire Chief Chas. D. Farmer, 1916
From Who's Who in Raleigh - A Collection of Personal Cartoons and Biographical Sketches of the Staunch "Trees" That Make the "Oak City" by A. O. Goodwin. Printed by Commercial Printing Company, Raleigh, 1916. Digital copy from the Library of Congress. See this web page for multiple viewing and download formats. See Mike's history pages, for a list of all Raleigh fire chiefs, paid and volunteer. Click once or twice to greatly enlarge:


+ 4 - 4 | § ¶
Interesting Historical Data - Part II
Deaths and their causes in the Capitol City, for the fiscal year ending February 28, 1900. They totaled 241 out of a population of 13,643. The top killers were Unknown (32), Consumption (Tuberculosis) (31), Pneumonia (16), Acute Euteritis (11), Heart Disease (11), and Entero Colitis (10). Click to enlarge:


See Part I - Arrests.
+ 3 - 4 | § ¶
Warning on Person Posing As Fire Marshal in Durham
Press release. The City of Raleigh Fire Department is warning the public of a man posing as a fire marshal in Durham.

The City of Durham Police Department and the Durham Fire Department are seeking the public's assistance in identifying and locating a individual that is posing as a Durham fire marshal. The person is described as a tall black male wearing khaki pants, white shirt, and vest and is clean shaven.

Anyone encountering an individual posing as a fire marshal without the proper identification or uniform is asked to call 911 immediately.

If a person identifying themselves as a fire marshal enters your business or comes to your residence, ask for identification. If they are unable to produce proper credentials, call 911 immediately. Please give the telecommunicator a description of the person and a vehicle description and direction traveled if possible.
+ 4 - 3 | § ¶
Smoke Investigation
The night was dark, the sky was blue, the smell of smoke was wafting through. Actually, it smelled like burning rubber. Reported at the intersection of Fairview Road and Whitaker Mill on Monday night. You could see it and you could smell it. Crews canvassed the area, including a back street. Nothing found. That's the big rig, Ladder 4 passing the place called NOFO. Eclectic gift items.


+ 6 - 3 | § ¶
Interesting Historical Data - Part I
Spent the late afternoon at the North Carolina State Library, copying pages from Raleigh annual reports from the 1880s and 1890s. And one from the fiscal year ending February 28, 1900. These are immensely entertaining documents and vivid snapshots of life long ago. Let's look at some of the data they presented. Here are the arrests that the Chief of Police reported. Next question and be honest. How many times have you sold spoilt meat or slept in a back lot and not been caught? It's okay to admit it. Click to enlarge:


See Part II - Deaths.
+ 6 - 2 | § ¶
Roof Work Up Close - Durham Helmet Cam
Ever wanted to see roof work up close? Check out this helmet cam clip from Durham as found by the Fire Critic. Single-story duplex fire on Washington Street with Ladder 1-B. Units responding were E1, E2, E9, L1, L2, Sq1, B1, B2. No audio, alas. Music on soundtrack instead. Video courtesy of YouTube user laddercaptain99.

+ 7 - 2 | § ¶
Applebee's Flapjack Fundraiser for Wake County Firefighters Association, Sunday, March 13
The Wake County Firefighters Association is holding its first Applebee's Flapjack Fundraiser at the Knightdale Applebee's on 6609 Knightdale Boulevard on Sunday, March 13, from 7:30 a.m. to 10:00 a.m. Tickets will be $7 per person and all proceeds will benefit the Wake County Firefighters Association. Tickets can be purchased at the door. Departments are encouraged to bring apparatus, for display in the parking lot of Applebee's. Here's a printable flyer, as well. Be there and bring an appetite!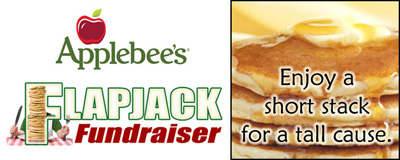 + 6 - 6 | § ¶
Raleigh's First Steamer...
...might have looked like this. Below is a drawing or perhaps woodcut featured on the membership certificate of Rescue Steam Fire Engine Company No. 1. The company was formed upon delivery of an 1870 second-size steam engine built by the R. J. Gould Company of Newark, N.J. Click to enlarge:


The above picture appears in Fighting Fire with Fire by John H. Peckham, published in 1972. Much better resolution than as scanned from the below document! The 1870 steamer was hand-drawn until 1879, though horses were provided for occasional parades. A hand-pulled hose reel accompanied the fire-breathing engine. Both were stored in the 300 block of Fayetteville Street, in a two-story engine house on the lot of the county courthouse. Click to enlarge:

The 1870 steamer rode the railroad to fight fires in Fayetteville (1885) and Durham (1897). (In the latter incident, the conflagration had been brought under control and the steam engine was not used.) The apparatus ran considerably fewer calls after a water system was installed in 1887. Hydrants and hydrant pressure proved sufficient for fighting most fires in the Capitol City. The 1870 steamer was a reserve unit by 1891, and replaced in 1905 by a newer model. Read the entire history of Raleigh's steamers.
+ 2 - 6 | § ¶
Call For Honor Guards and Pipe Bands For Fallen Firefighters Memorial Service in May
From this FireNews.net posting, the Sixth Annual North Carolina Fallen Firefighters Foundation Memorial services have been scheduled for May 6 and 7 in downtown Raleigh. The foundation asks that all honor guards and pipe bands interested in participating complete this registration form
.


+ 5 - 1 | § ¶
Caption This Photo / Trash Fire
Believe that's a sofa sitting on Stewart Drive off Lake Wheeler Road. Engine 20 in the background.


+ 3 - 6 | § ¶
Old Ambulance Owned by State Fan
Or at least we infer from the logo on the door. This one's parked on Lake Wheeler Road between the Beltline and Tryon Road.


+ 7 - 4 | § ¶
Weil's Department Store in Goldsboro, 1948 (Updated)
The News & Observer of February 10 and 11, 1948, tells more about this incident.The three-story building was the largest and oldest in Goldsboro. The fire started near a freight elevator on the second floor about 4:50 p.m. Employees and customers were safely evacuated. A "capacity crowd" at the presumably nearby Paramount Theater was evacuated within 10 minutes of the fire report.
"All available firefighting equipment" responded from Goldsboro, Wilson (26 miles), Kinston (27 miles), Mount Olive (15 miles), and Seymour Johnson Field (four miles). As a reader indicates, Faison (21 miles) also assisted. Distances from Google Maps. Also, observe the Mack quad in the picture, which was on the roster in Goldsboro in the 1920s.
The front wall of the building collapsed early in the evening. The intense heat broke 25 plate glass windows across Center Street, which was 250 feet wide. Crews worked to protect Goldsboro Book Store, which was located on the north side of Weil's store. The building was built in 1865, and considered a landmark in town.


Homer Ball / News & Observer photograph

The large amount of nitrate of soda stored in the store and the fear of explosion had police keeping spectators in a safe area. Not that you would notice from the above picture, that is. Water froze as it hit the building, with a stiff gale blowing out of the north threatening to spread the flames to other buildings. Four inches of snow had fallen when the fire broke out.
Mayor Scott Berkeley "took over the telephone" at the fire station (to dispatch?), so all firefighters could respond to the scene. The police chief ordered every officer to the scene, to assist the firemen, protect property, and keep the hundreds of spectators from "stepping on hot wires that were snapped by falling debris."
Fire damage was confined to Weil's and next-door Giddens Jewelry Store. Also damaged were Smith Hardware Store and Seymour Funeral Home, on a street in the rear of Weil's. Flames damaged the roof of the funeral home. Crews used sledgehammers to get to the flames in the roof of the hardware store, adjoining the funeral home.
READ MORE
+ 8 - 3 | § ¶
TURK / Tools with Wheels
Just add wheels. That's what DCFD Lt. Greg Turnell did with a RIT basket. As this Statter911 story and guest column reports, Lt. Turnell calls his invention TURK. This picture tells a thousand words. Then read the above story and the TURK product site to learn more.


Wheeled tools have been used for decades in Europe and Japan, from the famous wheeled escape ladders of the London Fire Brigade to the ubiquitous hose reels mounted on French apparatus. Wonder why such seeming labor-savers have never caught on in the American fire service? Maybe TURK will change that.


+ 4 - 3 | § ¶
Sunday Drive Times Two
Tooled down to Fuquay first thing this morning, for the aftermath of an abandoned building fire. Returned to Raleigh via 401. Bonus sight was a blue-light special some miles out of town. Five gentlemen with their hands behind their backs. Wonder what that was about. Left Bojangle's on South Wilmington Street as a second structure fire was banged out. That one was a tobacco barn around the corner from the first fire. Quickly extinguished. See the photos from the first fire.

Then this evening, rode the road to Rolesville. Reported tornado touchdown on North Main Street, plus a structure fire soon thereafter. Too dark for too many pictures by the time Yours Truly arrived. Should have left earlier, but was glued to the scanner. At least the scene lights were strong!
See those photos
, both from the fire and the unified command post at the fire station. Plus a couple shot of Rolesville's new ladder, but of course.
+ 3 - 4 | § ¶
Fire Protection Maps, 1970
For your hysterical historical enjoyment, here are a pair of maps from a fire protection report created by the city planning department in 1970. The first shows Raleigh's primary and secondary fire districts. The second shows the county fire districts of the time. Theh latter is an interesting contrast to the present-day districts! See the entire report, which has been re-scanned in color and using the source document instead of a prior photocopy. Click once or twice to enlarge:



Raleigh Primary and Secondary Fire Districts, 1970



Wake County Fire Districts, 1970
+ 6 - 4 | § ¶
Mystery Intersection / Hidden Stop Sign
I wonder how many people have blown through this stop sign, because their viewing angle resulted in the blending of these two red objects?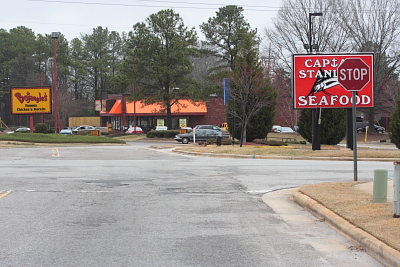 + 6 - 3 | § ¶
Fire Maps From IMaps
As noted in the discussion of Cary Fire Station 8, the Wake County iMaps application allows viewing of digital maps showing fire station and fire department response areas as added map layers. Below are two created this morning and with custom "greyed out" fire stations, to differentiate Raleigh/non-Raleigh and county/non-Raleigh/non-Cary. Click once or twice to enlarge:



Raleigh Fire Department Station Response Areas



Wake County Fire Response Areas + Fire Insurance Districts

Here's how we made them:
Opened the iMaps application.
Clicked Basic in the Street/Aerial/Blend dialog box at the top right of the screen.
Clicked Show Additional Layers on Map in right-side pane.
Selected the corresponding Public Safety options.
Magnified the map to 1" = 6400'.
Exported a JPEG view of each map section by clicking the Printer icon at the top of the screen.
Used PhotoShop Elements to stitch the images together, using Photomerge mode.
Used PhotoShop to create "greyed out" fire station icon to differentiate Raleigh/non-Raleigh and county/non-Raleigh/non-Cary.
+ 4 - 4 | § ¶
Yesterday's Gas Station Fire / Peace Street
Two alarms worth of apparatus responded to yesterday's gas station fire, after an automobile collided with a gas pump and occupied SUV parked at the pump, at the corner of St. Mary's and Peace streets. The vehicles caught fire, their passengers safely escaped, and both were fully-involved upon the arrival of the first units. The call was dispatched twice, first as a structure fire at Glenwood Avenue and Peace Street. The second structure fire was dispatched at the correct address.

Engine 5 reported smoke showing en route and was first on scene. Three hand lines used from Engine 5, with Engine 13 providing water supply. Foam was applied to extinguish the fire. Haz-mat units responded to contain the runoff of gasoline from the scene. Police closed Peace Street. Command was located across Peace Street, in a parking lot. Officials at nearby Broughton High School, on the opposite corner of the intersection, evacuated the school for a period time, presumably fearing an explosion due to the fire. (How many such ka-booms have readers seen their day?)
Dispatched at 2:22 p.m., the fire was controlled at 2:51 p.m. Crews remained on scene a couple hours. Dispatched to the first call: E5, E6, E9, L2, R2, B3. Dispatched to the second call: E1, E13, E3, L7 (cancelled), B2. Working fire: E7 (cancelled), A1, C10, C20, C40. Special called: HM1, SR1, SR2. Medical: EMS 1, EMS 4, EMS 7, D2, D1, T1, Chief 200. Corrections welcome on the units!
Lee Wilson was quickly on scene. Here's one of his shots, as we await his posting of photos. Click to enlarge:


Quite a bit of media coverage resulted, including news helicopters overhead early into the incident. See these stories and photos from the News & Observer, WTVD, and WRAL, for starters. Cause reported as determined as an object hanging from the first vehicle's rear-view mirror became tangled in the steering wheel, and the driver was unable to steer and subsequently collided with the gas pump and the unlucky second vehicle.


WTVD photo
+ 2 - 4 | § ¶
Raleigh Mayor's Report, 1910
Our police department is in excellent condition. The efficiency of our Chief of Police is recognized throughout the city, and his associates are rendering him excellent cooperation. I am glad to report that during the year the social evil has been reduced to a minimum in Raleigh; and the so-called "Red Light" district, which was a disgrace and a menace to our civilization, no longer exists, the laws having been rigorously enforced. The sale of intoxicating liquors has been greatly reduced, and slowly but surely the lawbreakers are being made to realize that Raleigh will not tolerate their operations. Regardless of differing views on the drink question, it becomes all law-abiding citizens to support the law and the officers who are called upon to enforce it.
Our fire department, always the pride of the city, was never more efficient.
Annual Report Mayors and Offices City of Raleigh, Fiscal Year Ending February 28th, 1910
+ 7 - 3 | § ¶
Stray Bullet Really Narrowly Missed Sleeping Firefighter
Check out this News & Observer photograph of the bullet hole in a cubicle at Station 2, which whizzed over the head of sleeping firefighter Will Smith. This picture puts the close call in true perspective.



Amy Dunn / News & Observer photo

Also quite a bit of coverage on this story. Among the outlets that have covered same:
+ 6 - 5 | § ¶
Morrisville's New Fire Station 1
Under construction in the 200 block of Town Hall Drive. Three bays with 13,000 square-feet, including space for housing EMS unit and crew. Project cost $3 million. Groundbreaking took place on September 2, 2010. Architect is Stewart Cooper Newell. Replaces Fire Station 1 located a couple blocks north. That building was built in 1955 and renovated and expanded several times, including pointing the bays north instead of east. Completion of the new station is expected in October. Read more about the building. Click to enlarge:


+ 5 - 4 | § ¶
Caption This Photo / Gas Station Fire
Picture taken by a Broughton High School student and posted on WRAL. From today's gas station and vehicle fire at St. Mary's and Peace streets.



WRAL photo
+ 4 - 7 | § ¶
Wake Forest Weekly Wake Forest Fire Department Photo
The front page of this week's The Wake Forest Weekly bears a banner photograph of Wake Forest Fire Department Ladder 1 and those folks attending this week's wet-down ceremony. The newspaper was previously named The Wake Weekly. Wonder when they changed their name? View the entire front page (this week only), or click to see slightly a larger version of this banner:


+ 6 - 1 | § ¶
Raleigh City Ordinances, 1838
For your further historical enjoyment, here's another Google Books find, Ordinances and By-Laws of The Board of Commissioners, for the Government of the City of Raleigh, Now in Force, From the Year 1803 to 1838. Local version, downloaded from Google Books. Nothing about the fire department, as that hadn't been formally organized yet. But there's colorful reading on General Regulations, The Sabbath, Market, Nuisances, Dogs, The Grave Yard, and The City Watch. Read the document
, or click to read:


+ 2 - 8 | § ¶
Carolina Country Club Fire, 1925
From The American City, Volume 25, as found by Google books:
A Water-Supply for Fire Protection.

Another fire demonstration that owners of any buildings located near lakes or rivers and where municipal fire protection may be available, should provide a solid location for fire engines, took place near Raleigh, N.C, April 12, 1921. The Carolina Country Club, located near that city, was completely destroyed by fire, the blaze probably starting from a defective kitchen flue. Golfers on the course of the club reached the fire when the roof was already falling in. A response of the Raleigh Fire Department might have been of great assistance, for the department had 1,200 feet of hose laid within six minutes after receiving the alarm, but it was impossible to place the pumping engine near the lake to draw water because of the muddy condition of the ground. As there was no other water-supply available, the firemen could only assist members of the club in carrying out some of the furniture. Inspection blanks for examination of structures of this kind should contain a question calling attention to the facilities for using whatever water-supply there may be available near-by.
-Fire Protection.
+ 2 - 4 | § ¶
Stray Bullet Narrowly Misses Sleeping Raleigh Firefighter
Evening update. WRAL now reports that said stray bullet struck the sleeping quarters at Station 2, pierced the base of a window, and missed sleeping firefighter Will Smith by six inches! The exact path of the bullet is described as "through the fire station window, over the bed where Smith was sleeping, through the wall next to his bed, then through an open door and down the hallway before richoeting off a concrete wall." Yikes!



WRAL photo


The perils of working the south side?
As this WRAL story reports
, a fight at a business in the 2600 block of South Saunders Street about 1 a.m. this morning resulted in a bullet striking nearby Fire Station 2. Or from the looks of this picture, it might have struck the old shop building, which now houses Haz-Mat 1.

WRAL photo
+ 3 - 4 | § ¶
Raleigh Annual Report, 1885
For your weekend enjoyment, here's a digitized copy of Raleigh's annual report from 1885 courtesy of Google Books. The fire department section starts on page 45, and is an annual report of the Chief Engineer of Fire Department. The report includes an inventory of each fire company's equipment as well as a list of the capacities and locations of the underground cisterns. Click the cover to access:


+ 5 - 4 | § ¶
Domination's The Name of The Game
For your Thursday enjoyment, a randomly found firefighting video on YouTube. Bladensburg Fire Department in... Maryland? Combination of video and still footage. Some aboard the apparatus. Hard rock soundtrack, of course. Credited as Droppin' Cotton Productions. That's funny.


+ 5 - 2 | § ¶
Turn Up The Lights at Ceremonial Events
Random reflection. Turn up the lights at ceremonial events. Graduations. Promotional ceremonies. Etcetera. While lower lighting looks great for ambiance, it can be hell for those using point-and-shoot cameras. Folks with big honkin' SLR cameras and external flashes will be fine. Or as fine as capabilities and skills with low-lighting permit. But for the majority of guests, e.g. most family members, their smaller and less-capable cameras will have a tough time taking good pictures. Do them a favor and consider raising the house lights. Take your own cameras and test the results. Strike a balance. Those attending will be grateful that they have good pictures to match good memories. Submitted for your consideration.
+ 4 - 5 | § ¶
Suspicious Brush Fires Being Investigated in Cary
As another WRAL story reports, investigators are investigating 15 suspicious small fires within the Cary Parkway loop within the last week. All but one involved burning brush and pine straw in isolated, open areas. Got tips? Call the Cary Police Department at 919-469-4324 or Crime Stoppers at 919-226-2746. There's a $2,500 reward for information leading to an arrest.
+ 1 - 4 | § ¶
Wet Down of Wake Forest's New Ladder
Lee Wilson has posted photos of yesterday's wet-down ceremony at Wake Forest Fire Station 1, celebrating their new ladder truck, a 2011 Pierce Arrow XT rear-mounted platform. The truck was delivered on February 2 and will be placed in service on March 7. Rear prior posting about the apparatus and reader discussion therein.



Lee Wilson photo
+ 9 - 3 | § ¶
Raleigh's First Fire Hydrants
The 1888 annual report of the city of Raleigh contained a Report of Water Works Committee listing locations of the 120 fire hydrants installed as part of the new water system. The first hydrants in the Capitol City were "Mathew double-opening" models. See pictures of Mathews hydrants. The mains were manufactured by R. D. Wood of Philadelphia and ranged between 14 and 4 inches. They totaled 3,498,285 pounds worth of iron, delivered between December 4, 1886, and May 21, 1887. Click once or twice to view the entire list of hydrant locations:



Acceptance Tests
As noted in a prior posting, the acceptance tests were conducted in September 1887. Water tower pressure was tested with three hydrants suppling three streams about 60 feet high and with a pressure of 40 pounds. The test was conducted again with eight hydrants and eight streams. (These were hoses connected directly to the hydrants. The city's hand and steam engines were no longer needed for fighting most fires.) Next was pumping station pressure (also called "direct pressure") using eight hydrants supplying eight streams through 50 feet of 2 1/2-inch rubber hose, with a one-inch ring nozzle. These pressures were recorded:
64 pounds, 100 feet vertical/130 feet horizontal streams, 144

GPM

at nozzle
75 pounds, 111 feet vertical/141 feet horizontal streams, 156

GPM

at nozzle
80 pounds, 116 feet vertical/148 feet horizontal streams, 161

GPM

at nozzle
READ MORE
+ 7 - 2 | § ¶
Durham Fire Department Vintage Badge
And another item found for sale on Ebay. Vintage badge of the Durham Fire Department, circa 1910s or 1920s. Hallmarked C.G. Braxmar Co. of New York.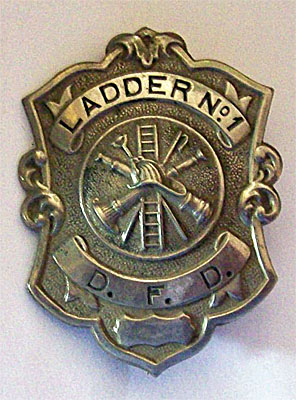 + 4 - 3 | § ¶
Vintage Postcard of Fort Bragg FD
Found for sale on eBay. Undated postcard showing a Fort Bragg Fire Department American LaFrance pumper, probably mid-1930s or later. Click to enlarge:


+ 6 - 8 | § ¶
Tactical Fire Fighting Truck Up Close
Our friends at Western Wake share these shots from last week, when this eight-wheel, multi-ton monster came a-callin' at their station on District Drive. That's one of two Oshkosh/Pierce Tactical Fire Fighting Trucks that the National Guard has here. It's is built on an Oshkosh HEMTT chassis. Some specs, from a brochure on the official site: 210-inch wheelbase, all-wheel drive, 445-HP engine, 400-mile cruising range, 48-inch fording clearance, six-person capacity, five with SCBA, 1,000-gallon tank, 2,000-feet of hose, 1,000-GPM bump, roof and bumper remote-controlled turrets, numerous compartments and many tools, including hydraulic rescue equipment. (If that description looks familiar, it's 'cause it's lifted from this prior posting.) Click to enlarge: