+ 18 - 12 | § ¶
Day Trip / Carteret Apparatus
Mike is going to the coast for the day. The last time he took a midweek Morehead trip, and was absent from his workplace that is but five minutes from the airport, a military jet exploded on the runway. What will today's absence bring? Yeah, yeah, hopefully nothing. Update, next morning. Here are three new or newer pieces of apparatus from Morehead (top two) and Atlantic Beach (bottom):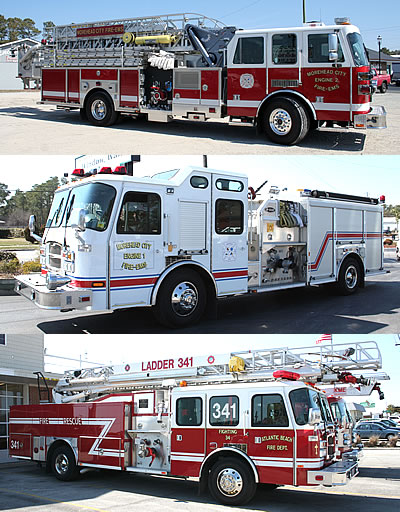 + 14 - 9 | § ¶
Yarborough House and Square Footage
Happened upon this postcard on eBay, which makes a keen visual aid to the following figures posted earlier as a comment: the average square footage of the Big Fire homes was/is 1,428.75. Each two-story, four-unit building measured 5,715 square-feet, with twelve buildings burned, partially burned, or had to be protected. 68,580 square-feet total. When Raleigh's Yarborough House on Fayetteville Street burned in 1928, and tied up the entire fire department plus engines from Durham and Smithfield, the three-story building measured some 46,500 square-feet (from insurance maps). Fifteen lines, 7,200 feet of hose, and 30 engine hours on that one.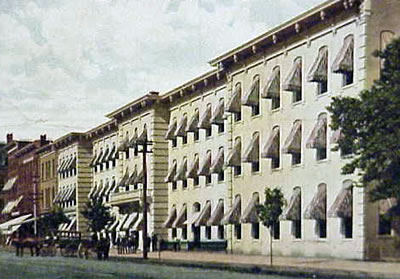 + 16 - 12 | § ¶
"Raleigh"
Sounds like some dispatch changes have happened, or are being tested, with "Raleigh" now named as the department when dispatched with county units on the county talkgroup.
+ 13 - 16 | § ¶
Heard on Scanner
Unit to dispatch: "Patient is GOA." Dispatch: "Patient is dead?" Unit: "Patient is gone on arrival."
+ 15 - 11 | § ¶
Keeping Your Rear in the Clear
News & Observer feature on operating the a$$ end of Ladder 1. Speaking from experience training on the old tiller, that's a blast and then some. Here's a bonus montage for Ezzell and the "C" shift crew. Left to right, top to bottom: 1939/1916 ALF, 1958 ALF, 1979 Mack/1958 ALF, 2004 Pierce. Click to slightly enlarge:


+ 12 - 12 | § ¶
Friday Night's Fire
For night photographers, this was shot in the rear of 335 Sherwee Drive early Friday evening. Very dark alley, with minimal street lighting. ISO at 1600 and camera held as still as possible. Tripod was sitting in trunk. D'oh! Auto-leveling and other post-processing rendered the funky colors.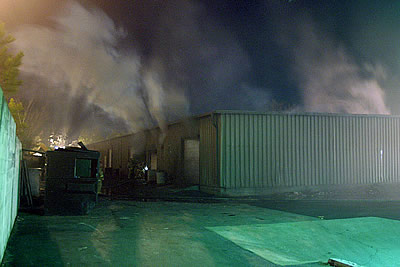 + 11 - 14 | § ¶
State Saves St. Mary's
On January 9, 1903, the infirmary at St. Mary's School burned. The incident was recounted some nine decades later by alumni Peter Valaer, class of 1906, in the Agromeck: Once we were lined up to be marched into the mess hall for supper [and] we saw dense smoke rising in the vicinity of Saint Mary's and we heard a rumor that Saint Mary's was on fire. We broke ranks and headed there as fast as possible, being quite fleet of foot in those days. I was one of the first to get there. The Saint Mary's Hospital was on fire-- from top to bottom-- and their rooms were filled with sick girls. READ MORE
+ 15 - 7 | § ¶
Japanese Hydrant Covers
From a reader, pictures of a pair of in-street hydrant covers from Hamamatsu, Japan. How cool are these?


+ 14 - 13 | § ¶
2007 Battle of the Badges
On Sunday, March 25 at the RBC Center, the Leatherheads (pictured) and the Blueliners will battle on ice to raise money for fallen and sick public safety workers. The event is FREE to the public, so bring the family and help raise money. Donations will be accepted at the event. Proceeds will benefit the 200 club of Wake County, the NC Fallen Firefighter's Foundation, the family of fallen Durham Police Officer Charles Callemyn, and Raleigh Firefighter Morgan McLamb who is courageously and bravely battling brain cancer. For more information contact: Raleigh Firefighter Kevin Ellsworth (919) 368-2884 or Raleigh Police Officer Bob Hoyle (919) 255-8081. Click this PDF icon to view the event flyer:
+ 13 - 13 | § ¶
Oral History Update
So far, so slow. Eleven retiring or retired firefighters have been interviewed. Digitally recorded, with audio files archived for future use. No immediate plans, beyond transcription at some point. Great information exchange, with so many details about recruiting, training, and operations over the decades. Still trying to interview one a week, but communication and scheduling is a challenge. Anyone who knows anyone who knows anyone can pass along Mike's name, number (in the book), and mail address. He'll be doing this for months to come. READ MORE
+ 11 - 14 | § ¶
Future Raleigh Fire Facilities
Reprinting an entry on a Watch Desk thread, here are Raleigh's future facilities as listed in the 2007 Capital Improvements Plan. They included three fire stations, a regional training facility, and the long-planned Public Safety Center. READ MORE
+ 14 - 11 | § ¶
Two Days Later
Here are a pair of panoramic views from Oneonta Court on Saturday afternoon:


+ 18 - 11 | § ¶
More Photos
Lee has posted his photos from the Big Fire. Excellent color, contrast, and lighting.


+ 17 - 13 | § ¶
Big Fire Summary, 1926
By way of comparison, here's an informal narrative recounting one of Raleigh's largest early-era fires, at Dorothea Dix hospital.
+ 21 - 10 | § ¶
Big Fire Summary
Here's a summary of Thursday's incident, drawn from media reports and personal observations. Text to be used with Mike's and maybe Lee's photos, and possible firehouse.com photo story submission. Feel free to add or correct as desired. READ MORE
+ 13 - 13 | § ¶
Big Fire Resources
The News & Observer continues their coverage of the Pine Knoll fire. This morning's article notes the number of resources used. 150 firefighters including 29 recruits. Thirty-one pieces of apparatus. Etcetera. There's also some video footage on their site, a slideshow of photos, and some 911 calls from Thursday.
+ 15 - 11 | § ¶
Open Friday Closed
For about five hours this evening, in a thread titled Open Friday, readers were invited to comment on anything. The thread would end at a specific time and all comments would be deleted and subsequently summarized. Grand experiment? Big mistake? READ MORE
+ 15 - 11 | § ¶
Raleigh's Biggest Fires, By Numbers
How did yesterday's fire compare to historic losses suffered by the city? Below are some of the largest blazes from back in the day. Maybe we can compare some stats from the incident. Note that totals are not available past 1950. Mike hasn't done that research (yet). READ MORE
+ 13 - 13 | § ¶
Big Views
Here are three panoramic views of the big fire. First view facing north. Second view facing east. Third view facing north, but later. Click to enlarge:


+ 10 - 11 | § ¶
Heard on Scanner
"Motorcycle that is under a car, and the car is on fire." Yikes!
+ 17 - 8 | § ¶
The Big Fire
Mike has posted some preliminary photos. He still has some 600+ to process. Lee has 200+ or more. Watch this space.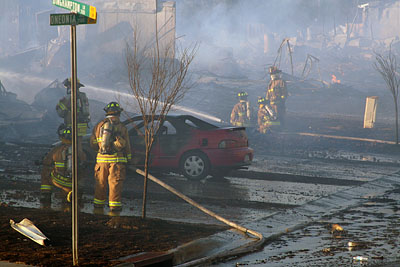 + 13 - 10 | § ¶
Make Some Money
This announcement is making the rounds: "Fire Apparatus & Emergency Equipment magazine is now paying $200 for photos of recently delivered new apparatus fighting at fire scenes. Photos selected will appear on the cover with full credit to the photographer. Complete information as to apparatus designation, name of department, contact phone number for department and for photographer as well a scene description must accompany all submissions. READ MORE
+ 11 - 11 | § ¶
Why We Play Nice
Because the fire service is ultimately about relationships. Tools, training, etc. are key components, but they all require people. And those people have to get along to work effectively. This is why we censor comments, as well as ourselves. There are plenty of things WE talk about but don't blog about. Feel free to comment about anything and everything on this blog. Play nice and no editing will be required. Play rough and editing may happen. Play rough and without signing your name, and editing probably will happen. Firefighters are there own worst enemies, it is said, and that is certainly true on the communications front. Thus why we "help" these conversations and the folks conversing therein. Because at the end of the day, we all have to work together and therefore have to get along with each other. That said, come to the blog dinner and we'll chew the unexpurgated fat. Mike'll buy the first round of fifty-cent words.
+ 15 - 14 | § ¶
Station Renovations
Wake County EMS Station 1 at the Public Safety Center in downtown Raleigh was recently renovated to improve bay flooring, update living quarters, and better accommodate citizens with disabilities. The apparatus floor was coated with a material that was not available when the structure was built in 1991, a composite coating that prevents slips, hides dirt, and maintains a shine. A new set of ADA-compliant cabinets and sinks were installed to replace the aging originals. New kitchen appliances with greater capacity were also installed. Sleeping quarters now include divider walls for greater privacy. The exhaust vacuums were replaced with the Plymovent System in the bays, and ramps were added for easier access to the living quarters. The entire station received a fresh coat of paint. Pics forthcoming.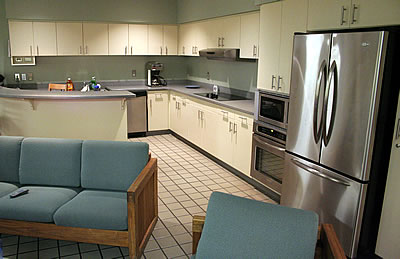 + 8 - 14 | § ¶
Air 12
Bay Leaf's new mobile air unit has arrived. It's also a rehab unit and is designated Air 12. Here's more information, plus the following photo.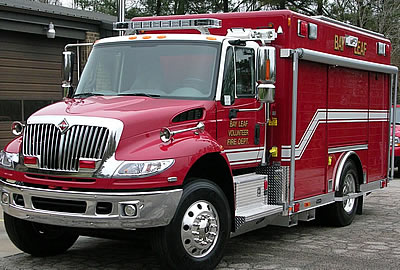 + 13 - 10 | § ¶
Monitoring RDU / Heard on Scanner
Having trouble receiving RDU talkgroups lately? We're told the airport has moved their system site from Apex to RDU, the first step in the migration to the Wake County radio system. They're still on the air, you just have to be close to the airport to tune in. Also, heard this for the first time this afternoon: Lie-gone Middle School. Another Locution classic.
+ 11 - 9 | § ¶
This Afternoon's Fire
Turned out to be a good day for grass and woods fires, sunny and windy and dry. Raleigh and New Hope contained a couple acres off Louisburg Road a little while ago: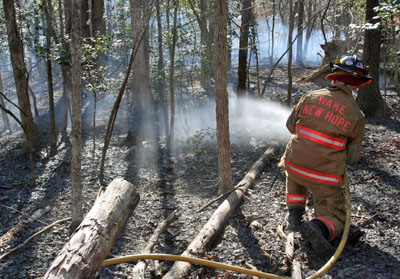 + 15 - 14 | § ¶
Station 28
Still slated to open in April...


+ 14 - 9 | § ¶
Disaster Control and UFOs
Then there's this, the famous/infamous thirteenth chapter from FEMA's Fire Officer's Guide to Disaster Control, 2nd Edition, June 1992: Enemy Attack and UFO Potential. Google has plenty of links to transcribed content, such as this excerpt. There are plenty of strange and unidentified things on this planet, of course. And just as soon as they cause stress or alarm, somebody invariably summons the fire department.
+ 11 - 6 | § ¶
Fatalities
Such a curious collage of fatal incidents in the last couple days. Two killed in the three-truck collision on I-85 yesterday morning. Two killed in apparent carbon monoxide poisoning in Wilson this afternoon. Durham police officer killed in vehicle accident overnight. Wonder what Sunday will bring?
+ 14 - 11 | § ¶
Holly Springs Platform / Used Apparatus
Holly Springs has nixed their plans to purchase a custom rear-mount platform and has bought a 1999 ALF/LTI mid-mount 93-foot platform with a 2000 GPM Hale pump that served Pattonville, MO. Asking price was $345,000, which is, what, half or a third the cost of a new one? We're told it'll be back from being lettered this week. More information as it is known. Used apparatus are somewhat of a rarity around here. Holly Springs purchased their squirt from elsewhere, as did Morrisville with their platform and two rescues. Knightdale bought both their squirt and their squad used. Refresh our memory on others.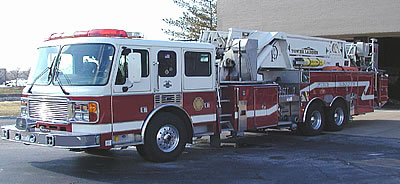 + 10 - 12 | § ¶
Survey: County-Wide Newsletter
The Wake County Fire/Rescue Division is looking at ways to increase information sharing among our fire departments and fire protection agencies. One option is a newsletter. What would readers request of such a thing? Please respond to the following as desired. Feel free to post a response, or respond by private e-mail. If you respond via private-email, your identity will NOT be shared unless you advise otherwise. We'll compile and pass along to the Powers That Be.



How frequently should a Wake County Fire-Rescue newsletter appear? Monthly | Quarterly | Other

How should the newsletter be distributed? E-mail | Print | Web | Combination | Other

What content should the newsletter contain?

What would compel YOU to read the newsletter?

For responders, what information do YOU want or need on a regular basis?

For non-responders (citizens, buffs, etc.), what information do YOU want?

What agencies should be included or excluded in the content and distribution of the newsletter?

Do you have any additional comments about a Wake County Fire-Rescue newsletter?

Thanks for participating.
+ 7 - 10 | § ¶
On-Job Napping Good For Heart
Or so says some newly released research reported this week. Best spot for discrete dozing? Tiller seat, in the back of a darkened bay.
+ 9 - 13 | § ¶
Other Dinners?
Just how many different groups have regular dinners around here, anyway? The Wake County Firefighter's Association meets quarterly, each time at a different station. Retired Raleigh firefighters meet the second Tuesday of each month at Pam's on Western Boulevard, starting around 7.30 a.m. Others?
+ 14 - 10 | § ¶
Blog Dinner - March 14 - Hideaway BBQ - 2210 Capital Boulevard
Let's try Hideaway BBQ at 2210 Capital Boulevard for the first blog dinner. Wednesday, March 14. "A" shift. Start at 7:00 p.m., though Mike may get there as early as 6:45. The calendar says no live music, so talking should be fine. Pass through, stay and eat, whatever you like. Plan for an hour or longer as desired. RSVP if you like. In-service units invited as well.
+ 11 - 7 | § ¶
Spell-Checking / Firefox 2
Download the latest version of the Firefox Web browser and it automatically checks spelling in Web page forms, such as used in this blog. How cool this that? And it's free!



+ 12 - 9 | § ¶
Spelled Backwards
Yrac is Cary spelled backwards, which took this smart guy some years to figure out. Noted by a reader, Renrag is Garner spelled backwards, and was the name of the Garner High School newspaper in the late 1960s. Any other notable reverse spellings?
+ 13 - 10 | § ¶
Early Indicators
Three stories. Our family vacationed in Pompano Beach every year. We spent three long days driving from Minnesota to Florida and stayed at my mother's parent's apartment. They managed an apartment building two or three blocks from the beach. Mother tells of Mike as a two- or three- year old, being watched by his grandmother. There was a siren outside and a fire truck passing by. Grandma turned around and Mike was out the door and tearing down the street. READ MORE
+ 10 - 14 | § ¶
Night Photography and Exposures
Answering a reader question, here's a tip on capturing the correct exposure when shooting at night. When you point and shoot at the brightest thing in the frame-- flames, lights, etc.-- the camera (in automatic or semi-automatic mode) adjusts the exposure and likely renders everything else in the frame too dark. To compensate for this, first frame the shot. Next, aim the camera at something in the frame that is darker than the brightest object in the frame. Press the shutter trigger halfway to lock the focus and exposure settings. Then recompose the picture with the desired framing. Try that a couple times and check the LCD viewer after each shot. You'll get the hang of it. Additional options include (a.) using a flash, which doesn't always work very well and (b.) changing some of the manual camera settings for shutter speed, exposure, etc. And, don't forget to change the ISO setting to a higher or the highest possible setting.



+ 14 - 11 | § ¶
15 or 16
Locution says "sixteen" but it sure sounds like "fifteen." Then the siren across the street starts and the call is confirmed for Engine 16. Do they sound the same to anybody else?
+ 9 - 5 | § ¶
Backs, Brains, and Underwater Basket Weaving
Drawing upon a user comment, let's open this can of worms... For centuries, the fire service has drawn upon "strong backs" as the foundation for its service delivery. Times change, of course, and the need for "strong minds" has become increasingly important. Can the two coexist in the same universe? Should they coexist? Is the fire service best-served by the... sliding scale that exists right now? That is, the higher you want to be, the more educated you need/may need to be? How do degree requirements come into play? And what does the future hold? Is there a model in the armed forces, perhaps, such as an ROTC for officers who want to start their fire service careers on such a track? Let's see where this leads...
+ 9 - 5 | § ¶
Backs, Brains, and Underwater Basket Weaving
Drawing upon a user comment, let's open this can of worms... For centuries, the fire service has drawn upon "strong backs" as the foundation for its service delivery. Times change, of course, and the need for "strong minds" has become increasingly important. Can the two coexist in the same universe? Should they coexist? Is the fire service best-served by the... sliding scale that exists right now? That is, the higher you want to be, the more educated you need/may need to be? How do degree requirements come into play? And what does the future hold? Is there a model in the armed forces, perhaps, such as an ROTC for officers who want to start their fire service careers on such a track? Let's see where this leads...
+ 11 - 8 | § ¶
Heard on Scanner
Quote: "Patient is 400 pounds and combative." Context: Engine company requesting PD officers.
+ 8 - 13 | § ¶
Catholic Orphanage, 1905
On October 29, 1905, the dormitory at the Catholic Orphanage burned. The building housed priests and students of the priesthood. Three people were injured leaping from the roof (!), one of whom later died. Several decades later, the story inspired the legend of "Cry Baby Lane," where visitors to the site purportedly heard screaming children and smelled smoke. The orphanage was located in the Nazareth Community west of Raleigh, around the present-day Centennial Campus. This newspaper photo was taken some time later, for a feature on local institutions.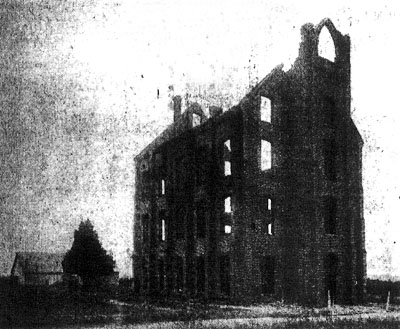 + 6 - 10 | § ¶
Garner's Fire
There's quite a bit of activity on Tac 14 and Central at this time, with a working fire on Crowder Road, requests for additional tankers, requests for move-ups, some POVs in the way, and a single-vehicle MVA involving a Deputy who is apparently shaken but not injured.
+ 7 - 11 | § ¶
Beacon Lake Drive...
...has two sections, Mike discovered this morning while en route to the working fire that Engine 21 reported. Here's the accurate Google aerial map, versus the one consulted in the car. Few things are as annoying as a split-second of road.
+ 7 - 9 | § ¶
Towns Outgrowing Their Fire Service
Wake Forest and Garner fire departments and the towns talking of taking over. More coverage of this issue in today's News & Observer. And with pictures:


+ 13 - 8 | § ¶
This Afternoon's Fire
Four engines from Raleigh and a tanker and a brush truck from Garner at Hammond Road and I-40. The burned landscape adds an artsy effect: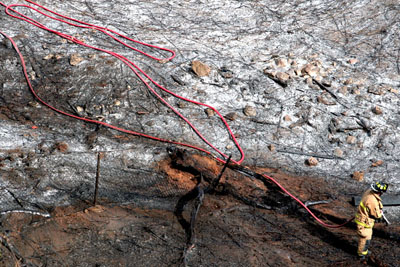 + 10 - 8 | § ¶
"Terrible Flames"
Dramatic language on display in this the March 20, 1905 edition of the News & Observer: READ MORE
+ 12 - 12 | § ¶
Wake County EMS Trivia Quiz #1
Courtesy of DJ, here's his first Wake County EMS trivia quiz. READ MORE
+ 12 - 10 | § ¶
Clinton Water Supply 25
Though we tend to keep our passion for miniature fire apparatus separate from our pursuit of the real things, a recent release from First Gear warrants mention. The Clinton Fire Department in Maryland has produced a splendid scale replica of their Kenworth/Pierce water supply unit. It's a tricked-out monster pumper that's stunning both in person and in miniature. The piece is also a rare one-off tooling. The 1:34 scale replica runs $80.00, ouch, and is available only from CFD. See their web site for details.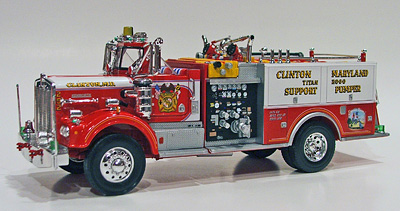 + 9 - 9 | § ¶
Steamer Arrives
From the July 7, 1905 edition of the News & Observer: "The new steam fire engine reached the city yesterday. It cost the city $5,000, weighs 6,800 pounds, and is a substantial looking machine. A test will be made as soon as the representative of the manufacturers reaches Raleigh, and it is expected this will be made this afternoon, corner of Fayetteville and Martin streets." Here's the article about the test.
+ 9 - 8 | § ¶
Collapse at Warehouse Fire
WATE-TV in Knoxville has stunning footage of a building collapse and what appears to be the utter absence of a collapse zone. Check the box in the upper right corner for the particular film clip. Has it been a couple decades since a building that size has burned that bad in Raleigh, e.g. the Mangel's Building in 1981?


+ 10 - 8 | § ¶
Station Dedications, 1975
Random artifact. On June 22, 1975, three Raleigh fire stations were dedicated. Here's the program for the ceremonies at Stations 12, 14, and 15. The Boy Scouts and Girl Scouts provided the presentation of colors. Click to enlarge:


+ 11 - 9 | § ¶
Cary Station 7
Occupancy of the new Cary/Morrisville facility is expected Friday, February 9, we're told.
+ 9 - 11 | § ¶
USAR and Haz-Mat Updates
On the USAR front, Task Force 8 some new equipment. Look for a new tractor-drawn USAR-1 with some additional rescue equipment, and a tractor-drawn "Base of Operations" unit(s). Each TF8 department-- Raleigh, Durham, Chapel Hill, and Cary-- is also receiving a cache of water rescue equipment and vehicles. e.g., boats, trailers, and trucks. Each department will store their new equipment within their departments. On the haz-mat front, CFD, Morrisville FD, and Parkwood FD are negotiating to form a tri-agency hazardous materials team. More information on that as it is known.
+ 11 - 9 | § ¶
Knightdale Discusses Fastest Station Response
Article in today's Eastern Wake News: http://www.easternwakenews.com/114/story/829.html. On a related note, see the latest entries in this Watch Desk thread. The most recent postings offer an interesting perspective on the public and the name they see on the side of a fire truck.
+ 10 - 9 | § ¶
April 1, 1980
That's the date the Raleigh Fire Department First Responder program was expanded city-wide. The program was started on a trial basis at Station 3 earlier in the year. The Raleigh Times article reported this familiar exchange: "Exactly one minute after his wife called for an ambulance, a red pumper truck pulled in front of the Edwards home. 'I called for an ambulance, not the fire department!' a distraught Mrs. Edwards told firefighters as they rushed past her into the house."
+ 13 - 10 | § ¶
Need Fire Engine?
This article appeared in the March 10, 1905 edition of the News & Observer. The steamer was soon purchased, and is still on Raleigh's roster as an antique. It was also needed to prevent the city's insurance rating from dropping. All told, some 35 or more steamers were acquired in North Carolina between the 1860s and the 1900s. Click to enlarge:


+ 12 - 8 | § ¶
Sunday Morning's Fire
Cary had an interesting commercial structure fire on Sunday morning. Originally reported as a burglar alarm, PD reporting smoke showing when they arrived. Quick containment, we're told, as most of the fire had burned itself out. Near total loss on the second floor. Arson suspected and multiple agencies on scene Sunday and today, including ATF, SBI, CCBI, and WCFM.
+ 12 - 11 | § ¶
Wake County Firefighter's Association Meeting
Public service announcement. The quarterly meeting of the Wake County Firefighter's Association will be held Tuesday, February 13, at 6:30 p.m., at Morrisville Station 2. All members are encouraged to attend. Apex Fire Chief Mark Haraway will be speaking and hopefully showing some cool photos from the EQ fire.
+ 7 - 10 | § ¶
The Motorcycle Story
Saturday night on South Wilmington Street. Southbound, just south of the Beltline. This guy on a motorcycle is weaving between lanes, and slowing down and speeding up. He stops for the light and has trouble staying upright. Then he's moving again, with more weaving and slowing and starting. And Mike and his bride are right behind him. READ MORE
+ 6 - 11 | § ¶
Unusual Incidents?
What are some of the more unusual or atypical incidents that have occurred around here, in years or decades past? READ MORE
+ 10 - 10 | § ¶
Something in the Water
Thursday night, a car collides with an EMS unit on New Bern Avenue. Driver flees. Then a couple hours later, a motorcycle runs into the back of Engine 10. Driver arrested. Saturday night, a car collides with the Apex EMS building. Driver transported. What's next!?!
+ 10 - 10 | § ¶
This Morning's Fire
Private message from Lee to Mike at 2:00 a.m. "Slow week." Structure fire dispatch at 4:09 a.m. Vacant house fully involved. Private message from Mike to Lee at 6:22 a.m. "Famous last words."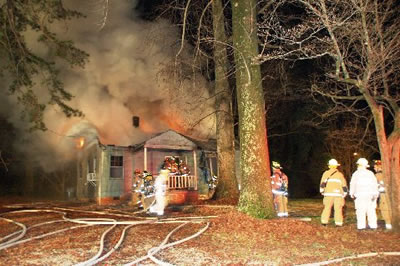 + 11 - 11 | § ¶
Snow
Here's a reader-submitted photo of Holly Springs Station 1 shot during the morning snowfall: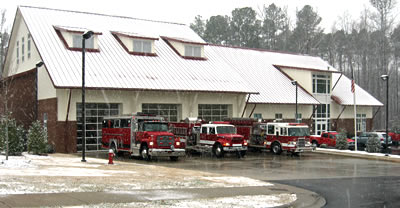 + 9 - 10 | § ¶
Books
Answering a reader question, Mike's made two books on local fire departments. Raleigh and Wake County Firefighting and Raleigh and Wake County Firefighting, Volume II. They were published in 2003 and 2004. They each have 128 pages, about 210 photographs, and are priced at $19.99. They are available in local bookstores. Volume II is also available through the publisher, Arcadia Publishing. The first volume is out of print, so the store copies are the remaining copies. That is, unless 600 people want to pool their money and another print run can be ordered. More information about the books.