+ 9 - 8 | § ¶
Whatever Happened to my Transylvania Twist?
Four versions of videos to the classic song, including the original singer Bobby "Boris" Pickett, singing or lip-synching his 1962 novelty hit. Backing vocals by the Crypt-Kicker Five. Happy Halloween.


+ 10 - 7 | § ¶
Caption This Photo / Haunted Fire Station
The gang at the Antioch Fire Department in Granville County produced one of the funnest fundraisers in some time, a haunted fire station that they operated over three weekends in October. They converted their original fire station building-- replaced in recent years by a modern structure on the same property-- into a haunted house attraction. The lines were long on Saturday night, when Mrs. Blogger was one of several screaming as she took he twists and turns through the thing. Great fun. See some pictures, which don't do the thing justice. Mark your calendar for next year. It's worth the drive. Here's one of the creepers that awaits inside: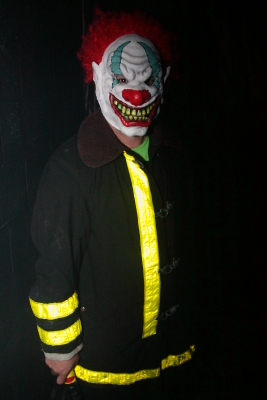 + 8 - 6 | § ¶
Bring Out Your Buffs!
Saw this the other week as posted on Statter911. Not a problem we encounter around Raleigh, that's for sure. Though there have been occasional joint sightings of Lee Wilson, Mike Legeros, and Jeff Harkey at the same incident. Video from David Psenechnuk at DMP Productions/FireBuffVideo.com.



+ 4 - 7 | § ¶
Morning Reading - October 29, 2011
Good rainy morning Raleigh. Perfect day to stay inside and eat chicken and rice. That'll be breakfast over here at Blog Central, from a pot made on Sunday. Boil two or three large chicken breasts. Add two cans cream of mushroom (one low-fat). Add two cans cream of chicken (one low-fat). Add one cup Uncle Ben's converted white rice. And one-half cup brown rice. Half stick of butter. Consume slowly.
Hillsborough Street traffic circle sees 84 crashes

-

News & Observer

story about the Hillsborough Street roundabout and number (and severity) of accidents therein. Traffic engineers are watching and may alter the thing, if the frequency continues. More interesting-- to me at least-- is the number of comments in the story, totaling 150 today. When did that happen? When did

N&O

stories start exploding with reader comments? For years, it was WRAL that seemed the prime destination for discussion. Does the

N&O

allow comments 24/7, versus WRAL's business hours limit? That might be a factor.

Thursday's two alarms on South Blount Street - That's a prior blog posting, with links to Legeros and Lee photos, as well as media coverage. Full incident description posted (so far) in the Legeros photos. Sources for those details numbered four: media release from RFD, radio traffic heard prior to arriving, incident reports from Carolinas Fire Page, and what was seen on scene. Haven't had a chance to talk to those who were there, so some inaccuracies may be present. (But probably or hopefully better than mainstream new summaries?) As always, send me e-mail if and when incident details in posted photos are slightly or grossly wrong.

Jacksonville apartment fire video - WITN story and footage of Thursday's apartment fire in Jacksonville, NC. Fire started in the attic of the three-story building that was under construction and spread to a half-dozen units. Both mutual aid departments and a second-shift of Jacksonville firefighters were called to the scene. Be sure to click the "Jacksonville Apartment Complex Fire" link on the page, for a short clip of good raw video.

Whitakers house fire photos - Rocky Mount Telegram story with Bob Bartosz photos of a house fire on Watson Seed Farm Road (good rural street name there!) in Whitakers, NC. Battleboro and Salem fire departments aided WFD. Thanks Scott, for that submission."

Elm City, Hot Springs buildings - If you missed them, here are a pair of blog postings about fire station buildings in Elm City (found by Lee) and Hot Springs (found by Legeros). Here's a secret: my favorite pastime is research. Blogging is a hoot, photography is a blast, but I hope my historical efforts are cream of my crop. We'll see how it all looks with another decade or so behind us. Time for breakfast. End of posting.
+ 12 - 7 | § ¶
High ISO Expansion Testing / Garner Rescue 1
Here's a test of the high ISO expansion mode of my new Canon 50D camera. Activating same raises the camera's ISO upper limit from 3200 to 12800. This was taken at a reported house fire on Hay River Street last night, as one of several test shots. Small fire in kitchen, units quickly cleared. Other shots at this setting produced heavy noise. This one's close to acceptable, and probably because the camera was pointed straight at bright lights.
The good news: shots at 1600 and 3200 look pretty good. The less-than-good news: shooting at 6400 should be limited, and shooting at 12800 should be a rare thing. And really, they're there just for the very low-light shots. Like a fire scene at night, without a lot of scene lighting or vehicle lights. Included are three variations in white balance, for collective amusement. Guess the second shot is closest to what my brain remembers my eye seeing. Click to enlarge:


+ 6 - 6 | § ¶
Fuquay-Varina's New Rescue
The Fuquay-Varina Fire Department has received a new rescue truck, a 2011 International TerraStar/KME medium-duty rescue. It was delivered on October 28 and will be placed in service as Rescue 3 at Station 3 in a few weeks. See more photos from Lee Wilson.



Lee Wilson photo
+ 6 - 3 | § ¶
When Cameras Die
Why was Mikey carrying only one camera at yesterday's two-alarm fire downtown? Or, rather, one camera body but two lenses? That's 'cause my other body's in the shop. Last week, while conveniently on vacation, my Canon 40D DSLR stopped working. The problem, based on the error message and subsequent research, is likely the shutter mechanism. DSLR cameras have a limited shutter life. Mine is rated at 100,000. My actual number of clicks is just over 60,000. That was found via this nifty third-party program called EOSInfo. (Other brands indicate same right inside the camera!)
Did my shutter really die at just 60,000? According to this third-party database site, that's close to what they've recorded as "average number of actuations after which shutter died." Next commenced the mental acrobatics of decision-making. Repair the camera? Replace it? Upgrade? This took a solid day of solid thinking. Below are the results. (One person read somewhere put the per-click cost at two cents, given the current cost of Canon DSLR shutter repairs.)
First, took the 40D to the camera shop. Repair cost estimated around $250. (Conveniently, the prize award of my second place IAFF Media Award, learned about two days later.) Next, promptly (hastily?) bought another body, a gently used 50D found on eBay. That latter has a higher ISO setting than my 40D, which will help with night shots. Hopefully, will help greatly. And they use the same batteries! The 50D arrived yesterday afternoon. Finally, my third body-- a well-used Rebel XT-- will be relegated to reserve status slash camera for the Missus. My fourth body, another Rebel XT, died in December and was replaced by the 40D being repaired. Got that? What a pain... but still a less-expensive hobby than some others.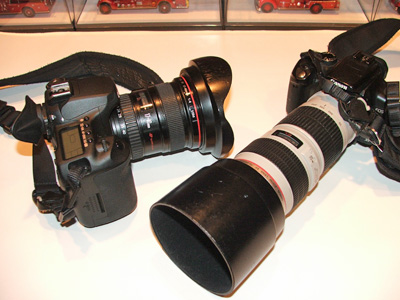 + 7 - 4 | § ¶
Old Hot Springs Fire Station?
Here's another building that looked like it might've been a fire station.This one's right off the main drag in Hot Springs, North Carolina. That's way out in Madison County, North Carolina. Click to enlarge:


Clues were considerably more obvious regarding this one's origins: big bay door with a no parking sign on same, hydrant right in front of the building, and a North Carolina State Fireman's Association sticker on the front door.


Walking around to the rear of the structure and we found windows with bars. Looks like the building one also held a jail. Conclusion: This was once a city hall building, that held the fire station and jail and probably also the police station and mayor's office. The current fire station is a block away, and an EMS crew at that location confirmed our findings.


In fact, the building still serves the fire department. They use same as office space, and store a rescue truck there. (The other half of the building is a community center.) They also passed along the second-hand story of a jail fire at that location that killed two prisoners who set fire to their mattress(es). Happened some decades ago. Google finds no references, however. That one might require in-person digging. How old is the structure? Unknown, but the fire department dates to the 1910s. The building looks many decades old. Time to dig out tax records!
+ 6 - 6 | § ¶
Author Interview, 2004
Here's a flashback to my author days, when the second volume of Raleigh & Wake County Firefighting was being published by Arcadia Publishing as part of their Images of America series. This short set of questions, if memory serves, accompanied promotional information about the book. Have seven years really passed since that project wrapped? Egad. Enjoy.
Q: How did you come up with the idea for the book?
A: Well, I had more [local fire history] photos to share. And not just leftovers from the first book, but pictures newly uncovered at the [North Carolina] State Archives, at local fire departments, and in personal collections. I also had an edge on this second go-around as folks were now familiar with what I was working on. I didn't have to pull nearly as many teeth. Additionally, I wanted to produce a second volume to spotlight people, places, and things that weren't in the first book. Pictures of Durham Highway, Falls, Morrisville, and Six Forks fire departments, for example, all of which were underrepresented in Volume I. And more group pictures of county firefighters, such as a rare shot of the Western Boulevard Fire Department. And, of course, more old fire trucks.

Q: How long did the project take?
A: Raleigh and Wake County Firefighting was released the first week of June 2003. I resumed researching photographs in August, submitted a proposal for Volume II in September, and signed a contract that same month. The finished product was delivered on January 30, 2004. Most of the leg work, running around the county to various fire stations, was done on the weekend or while taking vacation days from work. My holiday break in December was spent in a similar fashion, tracking down last-minute photo leads and fact-checking at the local history library. The captions were written in January, and the introduction drafted during a three-day stay in New Orleans, also in January.
READ MORE
+ 5 - 5 | § ¶
Crossnore Fire Department Shuttle Bus
Came across this vintage Ford school bus last week while cruising through the community of Crossnore, a wee town in Avery County, North Carolina. Same is labeled as a fire department shuttle bus. For those inclined toward light bars and strobes, take a few deep breaths. It's okay for some things to be unadorned. Click to enlarge:


+ 3 - 9 | § ¶
Two Alarms on South Blount Street
Arriving units found heavy fire venting from a one-story duplex in downtown Raleigh this morning. Flames spread to a second residence in the 600 block of South Blount Street, igniting the roof and attic area. Both of the structures were over 100 years old, and located very close to each other. Defensive operations were started for the first structure, and master streams were deployed.
Dispatched at 8:37 a.m., the second alarm was requested about ten minutes later. The fire was placed under control at 9:49 a.m. There were no injuries and the cause was determined as accidental. Both Mike Legeros (see photos) and Lee Wilson (see photos) responded. See their posted photos for incident details. Numerous news crews were also on scene. See coverage from the News & Observer, NBC 17 (includes video), WRAL, WTVD (includes video and aerial images).



WTVD photo

Mike Legeros photo
+ 4 - 8 | § ¶
Raleigh Fire Department Newsletter, Fall 2011
The fall 2011 edition of the Raleigh Fire Department Newsletter has been posted to to the web site raleighfirenews.org. The contents include: New Portable Personal Monitors; Injury at Arson Fire on Kent Road; Firefighters Compete at World Games in New York; Grant Awarded to Burn Fund; Raleigh's Finest 5K Pays Tribute; Historical Society News; Centennial Coins For Sale; Retiree Christmas Party. See the web site for back issues. Edited by department historian Mike Legeros, the Raleigh Fire Department Newsletter is a quarterly publication for personnel, retirees, and citizens. Read the issue
, or click to access:

+ 4 - 7 | § ¶
1975 Mack CF Aerial Ladder
Recognize this familiar rig? The Sharpsburg Fire Department in Nash County operates this 1975 Mack CF 85-foot aerial ladder with a 1000 GPM pump and a 325-gallon water tank. It last served with Eastern Wake Fire Department in Wake County. The original department is believed name Misty Beach. Perhaps readers can clarify, along with service dates for the truck. Lee Wilson photographed. See more shots.



Lee Wilson photo
+ 6 - 3 | § ¶
Piedmont Triad International Airport Fire Department
Haven't paid a visit to the Greensboro airport in some time, e.g Piedmont Triad International. Random Google search finds this photo on the airport's web site. Looks like the fire department's had some upgrades in recent years, including a new station (built with stimulus money, announced in 2009) and a new Oshkosh Striker crash truck (also from stimulus). Here's a News 14 story showing the station, which opened in September 2010. Wonder what became of the old building? Recall this blog posting, with a picture of a tractor-drawn foamer from 1971-72. The airport fire station opened in 1965. Click to enlarge:


+ 2 - 4 | § ¶
Old Elm City Fire Station?
Who hasn't looked at an old building like the top picture, photographed by Lee Wilson, and thought "that looks like an old fire station." Same is located at 107 S. Railroad Street in Elm City. That's Wilson County. The present fire station is shown in the second picture, beside the present EMS station. Let's see what the Great Internet Oracle can tell us. Elm City had a population in 2007 of 1,209 people, and an area of 0.7 square-miles. Thus the fire department probably also protects a substantially larger unincorporated area. When was ECFD formed? North Carolina Secretary of State corporation records list 1983 as the year Elm City Emergency Services Inc. was incorporated. Is that the same entity as the fire department?
The corporation records list a different mailing address as the fire station, 106 W. Main Street versus 102 W. Main Street. Sounds like ECES is the EMS agency. Google finds this Wilson County web page that tells more. ECFD is actually named Elm City-Toisnot Volunteer Fire Department, and they were incorporated in 1971. They serve the Toisnot Rural Fire District as well as the town of Elm City. Returning to the state corporation records, there's a Toisnot Rural Fire Department listed with an incorporation year of 1971.
Does that mean that two entities at one time existed, Elm City FD and Toisnot Rural FD? Could be. Maybe. There's no corporate record of the former, which would make sense if a city-run fire department had existed. Or maybe the town had a fire engine and some equipment that it funded, and a loose group of volunteers, but one that never pursued private incorporation. Our readers to the east can certainly tell more. Alternately, the current fire department might be the only fire department that ever existed, and they took their name from a pair of differently rated insurance districts.



Lee Wilson photos


But what about the building in question? The thing looks several decades old, and could have started its life as a garage or stable. But it seems too old to have been built as a fire station, unless the town itself is really old. Let's see what the Wilson County property records say. Lo and behold, the building at 107 S. Railroad Street is listed as owned by the Town of Elm City Fire Department. Well, that answers a couple questions right there! The records say the structure was built in 1900. But was it built as a fire station? We need some information on Elm City itself, which we find from this page.
Elm City was originally named Toisnot, and renamed in 1913. It was railroad town and looks like its grown period was the 1910s and 1920s. Thus the number of turn-of-the-century buildings that are present, and the reason that town's historic district is listed on the National Register of Historic Places. Here's an inventory of the district (map and inventory document on another link).
Alas, the old fire station is not included in the inventory. But in general, a bustling town in the 1910s probably did have a fire department. Maybe a hand-pulled chemical cart. Maybe a hose reel or two, if a water system was present. Maybe even a fire engine, say an early triple-combination. Looks like we still need some reader input. Or a random phone call to the local history library there. Anyway, here are Lee's photos from his visit. And thus concludes our early morning history lesson. We'll find out soon enough if this blogger-historian knows what the heck he's talking about!
+ 6 - 3 | § ¶
The Venerable Step Van
We're following photographer Lee Wilson's adventures this week east of Wake County. He's cruised into Rocky Mount and photographed this step van parked outside what looks like Station 1. The venerable step van. Do departments still buy the things? Or have they gone the way of either smaller sport utility vehicles or larger equipment trucks? But bet there are plenty older ones, still serving in support or reserve roles. See more photos, including their 2000 GPM big-water Ladder 10.



Lee Wilson photo
+ 4 - 5 | § ¶
More Media Awards: Best News Story, Best Photo
Two more awards to announce, again from this year's International Association of Fire Fighters (IAFF) Media Awards for 2011. We already proudly announced the awarding of Honorable Mention for Best Blog in a posting on October 13. Well, with great humility and rapidly expanding ego, I am pleased to announce two additional wins for myself: Second Place for Best News Story on Web-Based Site, and Honorable Mention for [Best] Photo on News-Based Site.
The former is a FireNews.net story about the mass-casualty incident at the Raleigh Sheraton hotel on February 13, 2010. The latter is the FireNews.net photograph of a commercial structure fire on April 22, 2010. That was the dentist office on West Millbrook Road, just up the road from Blog Central. All three of the winning entries were submitted on behalf of IAFF Local 548, the Raleigh Professional Fire Fighters Association.
Congratulations to all the winners in all the categories. Thank you again for everyone's support. It remains my pleasure and privilege to serve our local emergency services in written, recorded, and photographic form. And winning contests is pretty cool, too. Maybe we'll start one on this blog. Annual award, for something or another. We'll call it the Mikey.

+ 3 - 5 | § ¶
Wake & District CD Release Party, Saturday, November 5
Celtic news release: Get your arse down to Tir Na nOG at 218 S. Blount Street in Raleigh on Saturday, November 5, 2011 from 7:00 p.m. to midnight, and join Wake & District Pipes & Drums for an evening of Celtic fellowship hosted by their friends at Tir Na nOg. The event features the skirl of the pipes and drums, Inis Cairde School of Irish Dance, kilts and more. All celebrating the release of Wake & District's first EP For Our Fallen. Admission is free. Pint glasses will be on sale one for $20 or two for $30, and each pint glass comes with two free refills. Copies of the EP will be on sale for only $10! For more information, or to buy yours early, see this web page.


+ 3 - 6 | § ¶
Red Oak Squad 12
Here's a neat specialty unit, a 1992 International/Saulsbury air and light unit that serves as Squad 12 for the Red Oak Fire Department in Nash County. Double towers and triple sirens! What other interesting or unusual rigs come to mind, in that neck of woods? Photo credit to Lee Wilson, who has been wandering neighboring counties on these cool, sunny afternoons. See more photos from ROFD, as well as some shots from inside the Rocky Mount Fire Museum.



Lee Wilson photo
+ 3 - 4 | § ¶
River Water Supply?
Saw these in Spruce Pine. They're located a stone's throw from the North Toe River, which sits on the other side of the railroad tracks that carry CSX coal trains through town about once an hour. The old depot's to the right of the photo, and this is all along Locust Street. That's the town's "lower" main street. What do you think, preconnected pipes for drafting from the river? In case of emergency water needs?


+ 4 - 6 | § ¶
Morning Reading - October 23, 2011
Good morning, Raleigh. Still reporting from the road. Wrapping a long weekend in Spruce Pine. It's our annual trip to see the leaves. Destinations vary, based on Mrs. Blogger's lodging preferences. We happened upon two incidents on the trip, a fatal MVA in Forsyth County and a medical airlift in Avery County. Back to the "big city" today. Raleigh, where Barney Fife goes to party.
Dash Cam Footage of South Carolina Close Call - Statter911 posting with dash cam footage from the October 18 incident where two firefighters from Goose Creek, SC, were struck at the scene of an overnight MVA. There's a bit of interesting reader conversation as well, including one idea for improving scene safety on roadways at night: turn off apparatus headlights, and raise all light towers, with the spots pointing either straight down or away from traffic. What are your thoughts on the best ways to be seen on scene?

New Hanover Engine Blows Tire, Gets Stuck - Short Star-News story about New Hanover County Fire Department Engine 41 that blew a tire on Interstate 40. Expert handling by the driver-operator brought the rig to a safe stop, albeit on a muddy shoulder. Found that story via FireTruckBlog.com, via Statter911.com. No secrets which web sites that we read, no?

Star-News Answers Reader Questions - Check out the "more information" links from the New Hanover County story, which link to a separate site called MyReporter.com. It's a blog-like feature where reader questions about the community are answered by reporters, who contact the right person to provide a response. Neat. Maybe we should be offer such a service on this blog. It's always good to go straight to the source.

+ 5 - 6 | § ¶
Fayetteville's New Aerial Ladder
Found this photo on the Pierce Flickr page. Fayetteville's new aerial ladder, a 2011 Pierce Arrow XT 105-foot rear-mount with a 2000 (!) GPM pump and 500 gallon tank. (How common are 2000 GPM pumps in these parts, anyway?) Specs and drawings on this web page. Looking at the Fayetteville Fire Department's web site (www.bravethefire.com!), they have 16 stations and five truck companies (T1, T6, T7, T9, T11). One platform and the rest are straight sticks, as shown on the web site. Readers can advise of more updated information.

+ 7 - 3 | § ¶
Tennessee Tanker
Found this truck parked on Highway 19, west of Spruce Pine, North Carolina. Lettered for Roan Mountain Fire Department in Tennessee. Looks like the ultimate in bare-bones apparatus. There were a couple outlets on the rear of the tank, plus some lettering. Is that a simple ladder rack on the side? Probably worked just fine for hauling water. Click to enlarge:

+ 2 - 5 | § ¶
Mystery Vehicle / Miner Forty-Niner
Speaking of history, here's an interesting vehicle(s) as photographed at a mine museum in Western North Carolina. Very special purpose, very necessary purpose.


+ 2 - 3 | § ¶
500-Pound, Cold War-Era Bomb Found in Gaston County
Here's an interesting story out of Gaston County, about a Vietnam War-era bomb found in a creek bed in Ranlo. Some guys were searching for scrap metal and came across the six-foot long, 500-pound device. They called the police, who called the requisite bomb squads, and which included demolition experts from Fort Bragg. The device has been removed. This WSCO-TV story has photos and aerial footage, while this Gaston Gazette story has some interesting history behind the find.


WSCO-TV image

Some of the town's long-time residents recall that a Nike missile plant was located near the wooded area in the 1950s. The plant, they recall, produced outer cases for the missiles. Two such casings were found in the same area in 1986 by another resident. He reported his find, but "they acted like it was no big deal." (The creek bomb looks more like fixed-wing ordnance, than something inside a missile, what do you think?) Anyway, the Gazette story tells more of that interesting history.
Project Nike, as many of you may know, was a Cold War initiative that established missile launchers in protective rings around a number of locations including several major cities. Here's one of the sites that encircled Baltimore, and that has been visited by Yours Truly. (Need to dig out those film prints some time, though one of which is included in the prior link.)
Next question, what are some of the former military sites around the Triangle? Be they operations, manufacturing, command-control, whatever? And not including National Guard sites. Here are a few that come to mind: Camp Butner, of course, in Granville County, Army air base Raleigh-Durham airport during WWII, Army air base at Raleigh Municipal Airport during WWII, aircraft plant and training field in Burlington during WWII, and some sort of top-secret communications facility in Chatham County. What are some others that others know about?
+ 2 - 4 | § ¶
New Antiques Around Town
There are a couple new pieces of antique fire apparatus around town, and they've been photographed by Lee Wilson in recent days and weeks. Below is a 1985 American LaFrance Century? that previously served Garden City FD in Long Island, NY. It's privately owned and operated by the commercial enterprise First in Fire Company. See more photos of the truck.


Lee Wilson photograph

Below is a 1946 Mack that's also from somewhere up north. It's privately owned by members of the Dragon Slayers Motorcycle Club. See more photos of the truck.


Lee Wilson photograph

This ladder truck was delivered this summer, a 1974 American LaFrance Century? 100-foot midmount that originally served Midland FD in Pennsylvania. It's privately owned by a member of the Wake-New Hope FD. See more photos of the truck (scroll down the linked page).


Lee Wilson photograph

Next question, how many antiques total reside in Raleigh and Wake County? Let's attempt a starter list...
READ MORE
+ 5 - 2 | § ¶
1983 Planters Oil Mill Fire in Rocky Mount
In August, the OSFM online news channel Fire & Rescue Journal published this historical article on the 1983 Planters Oil Mill fire in Rocky Mount. The article's author, Shannon Orndorff, provides a nice overview of the incident. Three vintage images are also included, including the below shot of Platform 10 in action. The early Wednesday evening explosion and fire brought seven engines, one platform, and approximately 145 firefighters to 1004 Cokey Road. Crews were on scene from Rocky Mount, Stony Creek, and West Edgecombe fire departments.
Complications included fires fed by Hexane, a gas used in extracting oil from cotton seeds. By the time the incident terminated 21 hours later, five firemen had been transported with injuries including smoke inhalation and bruised ribs. Read the entire story, which is also available as a PDF document. Please keep those historical articles coming! (And see this prior blog posting, with links to historical articles in the Journal's former print-based format.)



Fire & Rescue Journal photo
+ 6 - 2 | § ¶
Service Department
Seen in south Raleigh. Did double double-takes passing that place, as a piece of fire apparatus was also there and parked on the other side of the building.


+ 2 - 2 | § ¶
Morning Reading - October 19, 2011
Good morning Raleigh. Fire Prevention Week has passed, and it was fun seeing folks at the various events around town(s). Fall is in full bloom, and the State Fair beckons. Time for a mountain trip as well.
+ 3 - 3 | § ¶
Caption This Photo / Crash Crew
This curious character was photographed the other week at the airport fire station. Appears to be dressed a few weeks too early for Halloween. And talk about bright clothing! Hawaiian shirts have nothing on reflective proximity gear...


+ 0 - 3 | § ¶
Unusual Fire Apparatus
Couple Google finds for your Monday morning amusement. First is a 1951 Crosley built by Overland Amusements as an entertainment vehicle. The fifth-wheel trailer was designed with benches on both sides and safety restraints shaped like ladders. It was restored by a St. Louis fire equipment dealer, who added some details. The engine is a four-cylinder Jeep with an automatic transmission. It was recently (?) auctioned by Barrett-Jackson and sold for $110,000. See the auction listing with more photos.


Barrett-Jackson photo

Next is a vehicle called Draco, a 1979 Oshkosh crash truck converted into an all-terrain recreation vehicle in the early 2000s. The monster measures 28-feet in length, eight-feet and four-inches in width, and 12-feet and two-inches high. The 34,000-pound creation was a two-year project for world traveler and wildlife photographer V. Ross Johnson and her husband. She would soon be wheelchair-dependent, so they built the rig to meet her needs while enable them to continue to travel. It was subsequent offered for sale, after they planned to move to Arizona. See more photos of Draco.


+ 1 - 4 | § ¶
Mystery Demolition
What are we looking at here? Out with the old, in with the new and multi-story. Click to enlarge:


+ 1 - 3 | § ¶
New Falls of Neuse Bridge Opens
Bridges actually, plural. Two two-lane spans that connect Falls of Neuse and New Falls of Neuse roads. Here's a News & Observer story about this morning's opening, which is the first of two phase to remake Falls of Neuse Road. The next phase in the $25 million project will widen the two-lane road from Raven Ridge Road north to Wakefield. Completion is planned in May 2013. Also in the mix is the planned closure of the older Falls of Neuse Road bridge, just west of the new bridge. It was built in the 1920s. (The dam came decades later, by the way.) The new bridges will shorten travel times for emergency units. Here are some fire station-to-fire station estimates, based on Google Maps. Of course, some routes will also take longer...
| | | | | |
| --- | --- | --- | --- | --- |
| | | Old Bridge | | New Bridge |
| Station 22 to Station 25 (via Falls of Neuse) | | 6.7 mi. | | ~6.2 mi |
| Station 15 to Station 25 (via Litchford, Falls of Neuse) | | 8.8 mi. | | ~7.5 mi. |
| Falls FD to Station 25 | | 2.5 mi. | | ~1.6 mi |
| Falls FD to Wake Forest Station 2 | | 4.6 mi | | ~3.8 mi. |
| Falls FD to Wake Forest Station 1 | | 6.4 mi. | | ~5.6 mi. |
| Falls FD to Stony Hill Station 1 | | 6.6 mi. | | ~7.2 mi |
Other recent roadway changes have included the alignment of Falls of Neuse Road with New Falls of Neuse Road. This closed a section of Falls of Neuse Road that passed in front of the Falls Fire Department, so a special access road has been built beside the station. Here's a diagram showing everything. Will draw maps for food. Click once or twice to enlarge:
+ 4 - 1 | § ¶
Mystery Police Vehicle
Seen at the old police station (which is the old municipal building) on Hargett Street. What's the thing for? Pulls the bomb disposal trailer? Fifth-wheel hauling of top-secret special operations stuff? Or maybe something more mundane, like a vehicle for large-vehicle driving training?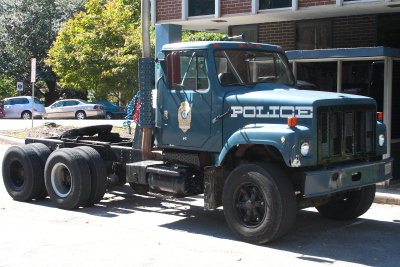 + 2 - 4 | § ¶
Historical Society Mall Display
Part of the Raleigh Fire Department's Fire Prevention Week presence at Crabtree Valley Mall. They'll be there today, the last of three days at the mall. Learn more about the Raleigh Fire Museum and the fire department historical society at www.raleighfirehistory.org. We're also on Facebook. See you on November 12, for the next regular scheduled opening of the museum. Click to enlarge:


+ 2 - 3 | § ¶
National Fallen Firefighters Memorial Weekend
Coverage of this year's memorial weekend event is available across multiple digital channels, including streaming video, photo slideshows, Twitter and Facebook, and a VueTOO page with consolidated content. Here's the official memorial weekend site with links to the above and more. The 30th Annual National Fallen Firefighters Memorial Weekend is being held at the National Fire Academy in Emmitsburg, MD. The names of 89 firefighters who died in the line of duty are being honored, and their names added to the memorial. They include 72 firefighters who died this year. The memorial, established in 1981, contains the names of over 3,500 firefighters.
The name of one North Carolina firefighter is being added to the memorial this year, Richard A. Miller of the Belmont Fire Department, who died after collapsing during physical fitness training on December 29, 2009. Miller was 24. Here's a FireNews.net story about him. The National Fallen Firefighters Foundation's (NFFF) Roll of Honor contains the names of 102 firefighters from North Carolina who have died in the line of duty since 1981. They also have a project underway to identify and honor fallen firefighters prior to the establishment of the memorial, called Project Roll Call.
North Carolina firefighters who have died in the line of duty are also honored by the North Carolina Fallen Firefighters Foundation. Their database has names and information for 201 line-of-duty deaths dating to 1902. Other web sources for more recent LODD information include this (outdated) page from the Office of the State Fire Marshal, as well as this web page from FireNews.net. For a historical perspective and historical data, here's an article of mine from some years ago, as well as my database of fallen firefighters. The latter was updated earlier this year. That data-- or, rather, the originating research-- has been forwarded to the NFFF, of course, for their Project Roll Call.
And for a local perspective on our fallen members, from Cary, Eastern Wake, Fairgrounds, Garner, and Raleigh fire departments, see this web page of mine, as well as our prior posting from yesterday.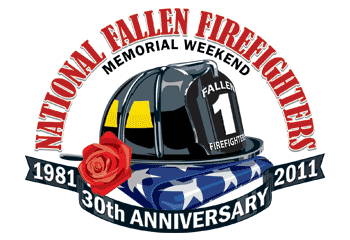 + 4 - 1 | § ¶
Remembering Our Fallen Firefighters
As we turn our thoughts this weekend to the fallen members of the fire service and their families and peers for the National Fallen Firefighters Memorial Weekend, let's look back at those who gave all in Raleigh and Wake County. We've lost eight firefighters from five departments from five departments since 1956, in ranks from Firefighter to Asst. Chief, and from causes ranging from motor-vehicle accidents to heart attacks. Learn more about them.
Herman S. Jones
Raleigh Fire Department
January 22, 2008
Norwood C. Massengill
Fairgrounds Fire Department
February 10, 1971
Larry W. Fanning
Garner Fire Department
August 2, 2006
Paul. A. Mimms
Raleigh Fire Department
April 20, 1965
Todd A. Blanchard
Eastern Wake Fire Department
July 14, 2005
Vernon L. Thompson
Cary Fire Department
June 16, 1960
Patrick J. Daughtery
Garner Fire Department
April 7, 1993
Vernon J. Smith
Raleigh Fire Department
March 10, 1956
+ 2 - 4 | § ¶
Smooth Operator
The big pour was underway today at the Keeter Training Center, as contractors were laying the last of the new drill pads. The project to replace nearly 40 percent of the concrete on the upper parking lot and training area has been underway since late September. See more photos.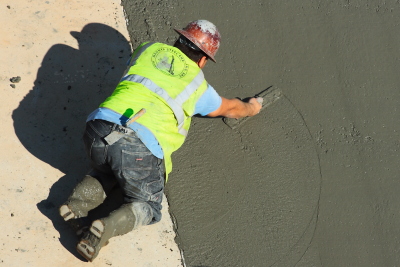 + 0 - 3 | § ¶
Mystery Road
Recognize this small section of old road? Hint number one: it's connected to a current road. Hint number two: it's very close to another current road.


+ 1 - 2 | § ¶
Video Fuego Inestable
For your Friday morning enjoyment, here's an extended video clip of truck work from a three-alarm fire Prince George's County, MD. See this Statter911 posting for more information, including reader comments which are uniformly positive. Interesting observation by one reader about side-mounted versus through-body ladder storage. It does make a difference in access, when other vehicles or objects are parked close! Happy Friday, and remember to leave room for the truck at the building.



+ 6 - 4 | § ¶
Honorable Mention: Best Blog, IAFF 2011 Media Awards
We are pleased to announce that the International Association of Fire Fighters (IAFF) awarded this site Honorable Mention in Best Blog category of the 2011 Media Awards.They received 234 entries in this year's contest, now in its eleventh year. The winners will also be published in the September-October 2011 issue of International Fire Firefighter magazine.
First place was awarded to LAFD News and Information, published by the Los Angeles Fire Department. Three sites were awarded honorable mention, Sophomoritis in the Fire Service published by Fire Chief Magazine, Firegeezer - The Digital Day Room published by our good friend Bill Shrumm and Company, and Raleigh/Wake County Firefighting Blog (now named Legeros Fire Blog) published by moi.
Our entry was submitted on behalf of IAFF Local 548, the Raleigh Professional Fire Fighters Association. Thanks for their support. Congratulations to all the winners, and thank you to our readers. It's your participation that has kept both the conversations and the creative juices flowing.
This is the third IAFF media award for fire service historian, author, and photographer Mike Legeros. He won Honorable Mention for a Best Story on a Web-Based News Site in 2007, and Honorable Mention for Best Fire Service Photo Published on a Web Site in 2008.
October 26 update. Two more awards were won by Mike Legeros. See this posting.
+ 6 - 4 | § ¶
Car Versus Home - Falls of Neuse Road
Happened overnight in the 1100 block of Falls of Neuse Road. Single-vehicle accident. Story from WRAL. Seems like this is becoming a trend. Remember our Charlotte readers a year or two ago, noting that they had these a few times a week? That was hard to believe then. Maybe not so now.



WRAL photo
+ 3 - 3 | § ¶
Early History of Fuquay-Varina Fire Department
Postscript to my posting about Fuquay Springs Engine 1, here are some excerpts from materials found in my records. Let's just call the man cave the Hall of History, shall with? Fred A. Olds would be proud.
News & Observer
August 9, 1931 - Fire protection equipment described as "A chemical truck, 500 feet of hose, and other apparatus."
Fuquay Springs town minutes
December 6, 1937 - "...the Town Manager was unanimously authorized to purchase 500 feet of Underwriters hose from the lowest bidder.
March 7, 1938 - "The committee of Com. Clark and the Town Manager reported the purchase of a 1936 Chevrolet truck chassis for $207.73 as the basis of a fire truck. Prices had been requested on rebuilt siren. The city of Durham Fire Dept. offered a used fire truck body for $75.00. However, the town manager reported that he thought that he could obtain a better price through the City Manager of Durham."
April 4, 1938 - The Town Manager reported on the purchase of the fire truck body from the City of Durham for $40 and the purchase of a reconditioned 5 HP siren of $180."
May 9, 1938 - The Town Manager was authorized to investigate the cost of installing switches to Varina and the central office for turning in fire alarms at those points."
READ MORE
+ 6 - 1 | § ¶
Ford Not Chevy
This is a reminder to update my records and web pages, to reflect that the airport's 1952 pick-up truck with a skid-mounted, dual-agent system was a Ford and not a Chevy. Thanks Chad, for catching. Bet that was a beautiful shade of red... Click to enlarge:


+ 3 - 3 | § ¶
National Fire Heritage Center Dedication, October 14
In additional to the National Fallen Firefighters Memorial events this weekend in Emmitsburg, Maryland, another important event is also happening in town: the dedication ceremony of the National Fire Heritage Center. The date and time is Friday, October 14, at 1:00 p.m. The location is 300 South Seton Avenue, Emmitsburg, MD. That's the rear of the building that houses the Frederick County Fire/Rescue Museum and Preservation Society, where the NFHC is currently co-located.
This Firefighter Nation article tells more: "Modeled after the U.S. Army Heritage and Education Center in Carlisle, PA, the NFHC will original important work by writers; published literature on the fire service, the insurance industry and research laboratories; seminal publications; recorded oral histories of individuals; and historic artifacts." Both scholars and the general public will have access to the "only institution that collects and archives the institutional history of the fire service and allied professions."
The National Fire Heritage Center will be open to the public every Saturday, from 10:00 a.m. to 2:00 p.m. Except holidays, that is. Their web site tells more, at http://www.nationalfireheritagecenter.org. This Hawaiian shirt-wearing historian is absolutely looking forward to both a visit, and future participation. They're doing big-time what we're doing small-time. Preserving history, one memory at a time. Give me another decade at least and I will have made a decent dent.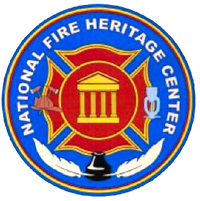 + 2 - 4 | § ¶
Wilmington Engine 4 in Action, Circa 1910
Seen for sale on eBay, here's a colorized postcard showing a circa 1910 photo of the Wilmington Fire Department in action. That is, demonstrating its capabilities. What's the make and model of that steamer? Let me think on that one. Wilmington operated eight of them, over the course of their history.


As for context, here's a Sanborn Insurance Map summary of the department in 1915, as compiled for my Then & Now series of some years ago:
Paid. Three officers. 32 men. Seven horses. Three stations, storage building, and fireboat.
Headquarters Fire Station, 16 South 4th Street: Chief and 18 men. Two combination hose and chemical automobile wagons with 1,200-feet 2 1/2-inch cotton rubber-lined hose each. One first-class Knott steam fire engine. One third-class Button steam fire engine. One hook and ladder truck. One chief's buggy.

Station No. 2, corner South 6th and Castle Streets: 6 men. 2 horses. One two-horse hose wagon with 1000-feet 2 1/2-inch hose.
Station No. 3, 602 North 4th Street: 6 men. 2 horses. One two-horse combination hose wagon with 1200-feet 2 1/2-hose and two three-gallon chemical extinguishers. One third-class Silsby steam fire engine.
General storage, 320 Princess Street: Two hose wagons in reserve. One double-tank chemical engine in reserve, 50 gallons each.

Fireboat Atlantic, Chestnut Street: 3 men. Speed 10 miles per hour. American LaFrance pump, capacity 1,400 gallons per minute and driven by 125 HP gasoline engine. 600-feet 2 1/2-inch hose.

Gamewell fire alarm system, 57 boxes. Population 32,000.
+ 4 - 1 | § ¶
Updated: Draw Your Own Runway for RDU, 1977
Here's another look at the roads around the airport, from the Raleigh Times on August 17, 1977. It reads "The long-range planning committee of Raleigh-Durham Airport wants to know where citizens would like to see a new runway and terminal building built. Airport Engineer Thomas H. McDowell said citizens should draw their design and send it to him, in care of Raleigh-Durham Airport, P.O. Box 27284, Raleigh, N.C., 27611." Neato.
Evening update. Here's a second version of this diagram, with additional graphics noting which roads have since been closed, changed, or added. Things were moved around after the third runway was built, then really rearranged after Interstate 540 was built. Mind you, the engineers still botched the Lumley / Westgate / Highway 70 / Interstate 540 exchange. Who thought that one up, requiring a stoplight between exiting 70 and entering 540? Thanks to the gang at the airport fire station for clarifying a few details. Click once or twice to enlarge:


+ 5 - 5 | § ¶
Bay Leaf Fire Department Coming Soon
This architectural rendering was displayed Sunday during Bay Leaf Fire Department's open house at Station 1. That's the planned reconstruction of their 28-year old station. The architect is Stewart Cooper Newell. The architect's web site notes that building will include an outdoor deck that doubles as a training platform, six individual sleeping rooms, and four apparatus bays.
Groundbreaking for the $3.6 million facility is planned for the spring, as was noted in the last Fire Commission meeting, with a one-year construction period. Get ready for that rarest of animals in Wake County, a fire station with fire poles! (The others are Raleigh 1, 3, 6; Apex 3, 4; planned Cary 8. Did we miss any?) See more photos from the Sunday open house. Click to enlarge:


+ 6 - 0 | § ¶
Garner's New Engine 3
The Garner Fire Department took delivery yesterday of a 2011 Pierce Saber pumper and top-mounted no less! How many top-mounts are serving in Wake County currently? (But will we ever see enclosed top-mounts, like they use in Minnesota? Talk about high cabs! Anyway...) The truck replaces a 2007 Pierce Contender, which will replace Engine 4 at Station 4. Lee Wilson has already shot some shots. See his photos.



Lee Wilson photo
+ 3 - 5 | § ¶
Raleigh-Durham Airport Fire Department, 1977
And we can't talk about the airport's history without also talking about the airport fire department's history. Here's a nifty picture from June 1, 1977, from the Raleigh Times. The fire station is the twice-prior location from today, since moved into airport multi-purpose building #3 (in 1980) and then into the present location on Rescue Court (in 1986).
The siren on the station summoned the firefighters, who worked part-time with other duties that included working as ramp personnel. The department was revamped that year, with the first full-time staffing starting in the fall of 1997. That's Fire Chief Terry Edmundson pictured, formerly Fire Chief of the Cary Fire Department. Read that history.
The trucks from left to right: 1973 Walter CB3000 as (3000/500, dual 750 GPM pumps), 1959 Walter Class 1500 (see close-shots of a 1958 model used in Minneapolis), 1969 International/Ansul Magnum 480 (1350 pounds Purple-K, 200 gallons light water), 1946 International/Bean pumper (500 GPM, ex-military crash truck from the airport's Army airfield days). Wonder where they are today! See photos of those trucks. And Walter trucks are singular, not plural. Need to correct the labels on my web pages. Memo to self: Do that. Click to enlarge:

+ 4 - 3 | § ¶
What Did The Airport Area Look Like Back When?
In particular, what was the configuration of the roads and highways around Raleigh-Durham Airport, back before Interstate 40 was built? Here's a stab at answering that question. Here are two maps, one from 1953 (via North Carolina Maps) and one from 2011 (via Google maps). Four layers, with two levels of overlay. Kinda sorta works for now. Maybe someone has a map of the airport area from back in the day? Or can recall what the roads were, or even some of the buildings that were there? Click once or twice to enlarge:


+ 3 - 2 | § ¶
Zebulon Night Out - Canceled
Tomorrow night's event-- Zebulon Night Out at the Municipal Complex on Tuesday, October 11-- has been canceled. Be advised. There is no word on any rescheduling, or if we'll be waiting until next year. Our blog schedule of events has been updated.
+ 2 - 4 | § ¶
Greensboro Fire Captain Dies After Marathon (updated)
From this WRAL report and this WXII story and this Chicago Sun-Times story, Greensboro Fire Department Captain William Caviness, 35, died today after collapsing during the Chicago Marathon. He was running with his brother to raise money to help burn victims, and collapsed on the course about 500 yards from the finish line. Medical personnel were able to restore his pulse, report the reports, but he died one hour and 45 minutes later. He collapsed at 10:39 a.m. at 1200 S. Indiana Avenue, and was pronounced dead at 12:03 p.m. at Mercy Hospital and Medical Center. The cause of death has not been determined.
Monday update: The Greensboro News & Record this morning provides more information. Caviness, described as a skilled distance runner, was running for the International Association of Fire Fighters (IAFF) Burn Foundation. He had raised more than $2,400 for the cause. He was a captain on Engine 14. His brother Sean is also a firefighter. Capt. Caviness leaves behind a wife and two children.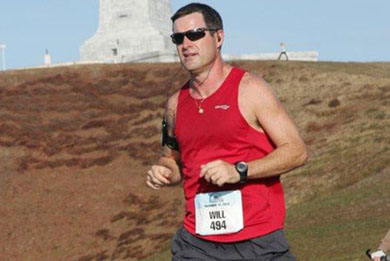 + 3 - 4 | § ¶
UPDATED: Upcoming Events
National Fire Prevention Week is observed in the United States and Canada during the week that October 9 falls. It commemorates the Great Chicago Fire that burned from October 8 to October 10, killing 200-300 people and destroying about four square miles. The first Presidential proclamation of Fire Prevention Week was made in 1925 by President Calvin Coolidge.
Oct 11, Tue - Zebulon Night Out 2011, Municipal Complex, 1003 N. Arendell Avenue, Zebluon, 6:00 p.m. to 9:00 p.m. Blog posting. CANCELED

Oct 11, Tue - Raleigh FD Fire Prevention Week event, Chick-fil-A, 4621 Capital Boulevard, Raleigh, 5:30 p.m. to 7:30 p.m. More info.
Oct 13, Thu - Raleigh FD Fire Prevention display at Crabtree Valley Mall, 10:00 a.m. to 9:00 p.m. More info.
Oct 14, Fri - Raleigh FD Fire Prevention display at Crabtree Valley Mall, 10:00 a.m. to 9:00 p.m. More info.
Oct 14, Fri - Antioch FD Haunted Fire Station, 5065 Antioch Road, Oxford

Oct 15, Sat - Raleigh FD Fire Prevention display at Crabtree Valley Mall, 10:00 a.m. to 9:00 p.m. More info.
Oct 15, Sat - Antioch FD Haunted Fire Station, 5065 Antioch Road, Oxford
Oct 16, Sun - Clayton FD Open House, Station 1, 325 W. Horne Street, 2:00 p.m. to 4:00 p.m.
Oct 16, Sun - Morrisville FD Open House, Station 2, 10632 Chapel Hill Road, 1:00 p.m. to 4:00 p.m.
READ MORE
+ 3 - 4 | § ¶
Weekend Photo Update
Here are the photos posted or pending from Legeros and Lee, from the assorted events we attended on Saturday or Sunday. More events this week and next weekend. See that list.
Bay Leaf FD Open House - pending
Creedmoor FD Parade (Lee)
Creedmoor FD Parade (Legeros) - pending
+ 2 - 3 | § ¶
Vehicle Versus Coffee Shop
One of the day's more unusual incidents occurred about 9:45 a.m. at 6282 Glenwood Avenue, when a sport utility vehicle crashed through the front door of a Starbucks store. As this WRAL story notes, the vehicle crushed an outdoor table before entering the store. The vehicle was occupied by one person. There were no injuries. (The building, though, was... beaned.) Ladder 3 and EMS 6 were the first units on scene. We'll post a few photos later.
The WRAL story also notes that a city committee was recently approached, asking for more safety measures for curbside restaurant seating. It was initiated by friends of the victims of the September 4 vehicle-versus-building accident at Cameron Village. The committee declined to take action. Wonder what the stats are city- and county-wide, for vehicles and buildings? Click to enlarge:


+ 0 - 4 | § ¶
Stop, Drop, and Roll
'Tis a good weekend for community involvement, with Fire Prevention Week starting today. Among yesterday's events was Safety Day in Cary, at Bond Park, and with activities that included a kid's firefighter combat challenge. Below is the "stop, drop, and roll" phase of same. And the entry form that the assisting firefighter is holding doesn't even get bent! See more photos from the event.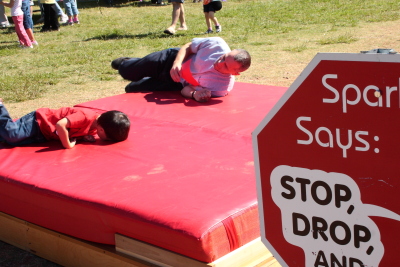 + 6 - 0 | § ¶
Fuquay Springs Engine 1
This vintage beauty was parked in front of the Fuquay-Varina Fire Department yesterday for the occasion of their open house. That was held at Station 1, located smack downtown. The building was recently renovated, though is still lettered on one side "Fuquay-Varina Fire Departments," plural. That's a reference to when both a town and rural fire department operated from the same building. Heck, maybe they're still separate entities on paper.
Fuquay-Varina was once two towns: Fuquay Springs, renamed from Sippihaw in 1902 and incorporated in 1909, and Varina, which opened a post office in 1880. Can't find an incorporation date for the latter, however. The towns maintained separate identities and post offices until 1963, when a great group hug created the town as named today.
Fuquay Springs had a fire department, and the pictured engine, a 1945 Mack Type 45 pumper, was purchased in 1946. This followed a major fire on March 7 of that year that burned the town's main block. Angier, Apex, Dunn, Lillington, and Raleigh came to assist with that one. Town officials ordered an immediate upgrade of their firefighting capabilities.
What about the early history of both Fuquay Springs FD and Varina FD? That one's a toughie, and some years past the point that Yours Truly was conducting his research in that area. My documented data is contained in this timeline, but it's missing information for the 1920s. The department's history page cites 1925 as the origin year. More research is definitely needed.1 Maybe it's already been done. Meanwhile, click to enlarge the below photos, or see more shots from yesterday's event.


READ MORE
+ 0 - 3 | § ¶
Holly Springs Station 2 - Photos, Demolition Video
Yesterday's wanderings included a short stop at Holly Springs Fire Station 2, presently occupying a pair of temporary structures at 1140 Avent Ferry Road. The original 1972 building was damaged beyond repair by the severe weather and tornado of April 16. Here's a blog post about that. The station was demolished, land beside the lot was rented, and two temporary structures were added. A permanent replacement station should be ready by the spring, notes this Holly Springs news page. Station 2 houses an engine and a brush truck. Below is a picture of the station today-- well, yesterday-- as well as a video of the demolition from April. See more photos from yesterday, or click to watch the video:


+ 2 - 2 | § ¶
Old Orange County Rescue Unit
Saw this truck today in Creedmoor, sitting behind the fire station. Chassis is International, wonder who built the body? Formerly served Orange County Rescue Squad, and now owned by CFD. And that's the town's fire siren on the water town base, in the background. Click to enlarge:


+ 3 - 8 | § ¶
New Morrisville Fire Station 1
Looks like the new fire station is nearing completion. Location is 200 block of Town Hall Drive. Building is three-bays with 13,000 square-feet. Groundbreaking was 13 months ago. Here's some earlier information. Click to enlarge:


+ 6 - 2 | § ¶
Rent Old Station 4
Raleigh's second Fire Station 4 at 2913 Wake Forest Road is available for leasing. Mikels and Jones Properties lists the structure as an office building with 3,984 square-feet. The rent is $12.00 per square feet, which means $47,808 per lease period. What's that, monthly?
Station 4 opened at that location on April 12, 1963. It had relocated from 505 Jefferson Street, where Engine 4 had operated since June 15, 1926. The Wake Forest Road station cost $63,000 to build. It was one of three new stations opened that spring. Among the unique features was a sign and warning lights strung across Six Forks Road.
It was relocated to 121 Northway Court on June 24, 1993. The building was then used as a Career Development Center, and included an office for the Haz-Mat Coordinator. Those closed/were moved on April 1, 1997. Read more history of Station 4.
The building was occupied by a software company from 1997 until maybe late last year. Signs for leasing have been posted for several months now. And for a number of months, a dumpster was parked outside. Below is a floor plan, from a flyer advertising the property. If only those renovated walls could talk. Imagine the stories they'd tell... Click to enlarge, or click to view the PDF flyer:


+ 3 - 3 | § ¶
Public Education / Looking Inside MFD
Was watching these two videos this week, which had me thinking about public education. This being the week before Fire Prevention Week, most departments are preparing for a wave of visitors. They'll be conducting safety days, open houses, store events, mall displays, and more. Fire safety is of course the primary message.
But there's also the need to educate about the role of the fire service. What does your fire department do? Why do they do what they do? What tools and resources are used to save lives, and why are those important?
In these turbulent economic times, such communication and education is probably paramount. But the business of fire service marketing is, it seems in general, a pretty low priority on the totem pole. Heck, many probably confusing marketing (e.g. promotion) with boasting (e.g. glorifying). Very different animals. Very different purposes.
Food for thought. Consider that a preliminary pontification. Meanwhile, check out a pair of videos produced by Milwaukee University that showcase the Milwaukee Fire Department. The two clips total about 26 minutes. They take viewers inside the station, for a tour of apparatus, equipment, and facilities. The intended audience appears to be college students, or perhaps both students and faculty. Very interesting. (As for historic Milwaukee engine houses, see Mr. Blogger's photos from last month.)

+ 3 - 0 | § ¶
Falls Fire Department Truck or Treat, Saturday, Oct. 29
Here's the second Halloween-themed fire department event that we've come across, after Antioch's haunted fire station in Granville County. The Falls Fire Department Ladies Auxiliary is sponsoring a "Truck or Treat" on Saturday, October 29, from 1:00 p.m. to 4:00 p.m. The location is Falls Baptist Church at 9700 Fonville Road, Wake Forest.
They've planned a variety of activities: games, face painting, arts and crafts, a bake sale, a cup cake walk, and a raffle. Come learn about fire safety, or have your picture taken on a fire truck. There's also "truck or treating" with fire trucks. Come dressed in a costume! This is a free event. See more information on their Facebook event page. Boo.
+ 0 - 4 | § ¶
Origins of Rural Fire District Names?
As suggested by a reader, what's the history of Wake County's rural fire district names? Specifically, those rural districts outside municipalities, which are named differently than the town. Such as Zebulon (municipal) and Wakelon (rural) fire districts. Why are they named differently? That's because the municipal and rural districts are separately graded, and thus listed on insurance documents as separate districts. Below are the municipal/rural districts in/around the towns of Wake County. Perhaps readers can fill in the blanks. Readers are also welcome to tell about such differences in surrounding counties.
Apex
Rural district named Hipex
Origin: ?

Cary
Rural district named Yrac
Origin: Yrac is Cary spelled backwards. District recently renamed Cary Suburban.

Fuquay-Varina
Rural district named Furina.
Origin: Shortened version of both names.

Garner
Rural districts named St. Marys (Station 1), Panther Branch (Station 2)
Origin: Named for the townships they resided within. Districts recently merged and renamed Garner Suburban.

Holly Springs
Rural district named Holly Springs Rural.

Knightdale
Rural district named Alert.
Origin: ?

Morrisville
Rural district named Morrisville Rural.

Rolesville
Rural district named Rolesville Rural.

Wake Forest
Rural district named Wakette.
Origin: ?

Wendell
Rural district named Wendell-Holmes
Origin: Named after Oliver Wendell Holmes, for whom the town was named.

Zebulon
Rural district named Wakelon.
Origin: Shortened version of Zebulon and Wakefield, the latter a community north of Zebulon. Wakelon is the name of a historic school building north of town, built in 1908.
+ 5 - 1 | § ¶
Mystery History
This one should easy enough to identify. Where's the camera pointed, are those buildings still there, and what are some stories of that era? Click to enlarge:


+ 2 - 3 | § ¶
North Carolina EMS News, Vol. 1, No. 1, April 1974
Here's an interesting artifact, the first issue of North Carolina EMS News, the original newsletter published by the North Carolina Office of Emergency Medical Services. Dated April 1974, a mere three years after the North Carolina General Assembly directed a research commission to study the problems of emergency medical care in our state. That beget the Emergency Medical Services Act of 1973, and the state OEMS agency therein. Click to read this PDF document:


+ 4 - 2 | § ¶
Cleveland's 1961 Ford/America LaFrance
Lee Wilson has posted a set of apparatus photos from Wilson's Mills and Cleveland fire departments in Johnston County. See those shots. He also attended the Thanksgiving Fire Department's 50th Anniversary Celebration on Sunday, and has posted those photos. Below is Cleveland's original Engine 1, a 1961 Ford/American LaFrance that was recently refurbished. Sure looks nice sitting in the sun.



Lee Wilson photo
+ 3 - 3 | § ¶
Morning Reading - October 4, 2011
Good morning Raleigh. Cooler weather has arrived. Now awaiting the color changes. State Fair in a couple more weeks. Didn't enter the photography competition this year. Slipped my mind. Didn't even review the past year's pictures, to see if anything seemed stunning enough. And I am niche photographer anyway.
+ 2 - 1 | § ¶
Chapel Hill Public Safety Patch
Found one of these for sale on eBay, though the auction's scan was pretty poor. Google found the below version on PatchGallery.com, which has been rotated and enhanced. The site contains a whopping 600 patches for fire department and fire protection agencies in our state. As for Chapel Hill, the town's police officers and firefighters operated as a combined public safety department from 1971 to 1993. Beyond those dates, details in my files are next to nothing. Maybe readers can share some stories.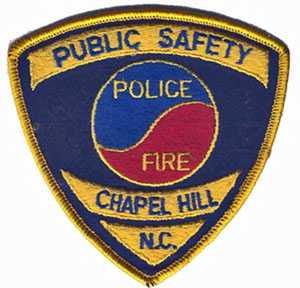 + 3 - 4 | § ¶
Texas Chemical Fire From Afar
NBC Dallas-Fort Worth has posted an interesting gallery of reader photos, notably dozens of shots of the distant smoke plume of this morning's chemical plant fire in Waxahacie, TX. Wonder how far away it could be viewed? Check various news or fire news sites for more, including a Sutphen aerial platform that burned during the blaze.



NBC Dallas-Fort Worth photo
+ 2 - 1 | § ¶
Really High Sticks?
While reading Statter911's Sunday coverage of a San Diego structure fire, and two video clips including raw footage therein, noticed these two sticks deployed. Wow, they look really high!. Is that a trick of the camera, or just... how it usually looks? Guess I have been seeing too much big-city fire footage lately, and am used to seeing skyscrapers or other tall buildings in the background. Happy Monday.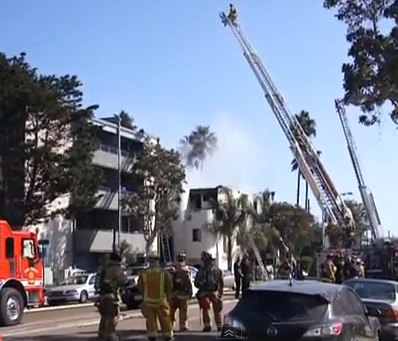 + 3 - 0 | § ¶
Cleaning Your Camera Sensor
Own a digital SLR camera and you'll see these spots sooner or later. What's that, water on the lens? Nope, those are dust particles on the sensor. (Water spots are huge by comparison, and translucent.) My first line of defense is a dust blower. Little round rubber thing that expels a burst of air. Works pretty good. Then check the camera sensor, to see if it worked. Still seeing spots? Next line of defense is a wet cleaning, using these products from Photographic Solutions. Works like a charm. What about spots on photos already taken? That one's easy. Digital post-processing and they're gone. Click to enlarge. And five points extra credit if you can identify the shot:


+ 4 - 1 | § ¶
Rescue-Medic Rules of Conduct, 1976
Here's a historical gem for your Sunday enjoyment. These are the General Rules of Conduct contained in a 1976 proposal for a Raleigh/Wake County Rescue-Medic program. The idea added four two-person emergency medical units at four Raleigh fire stations. They would augment the department's two rescue squads. The six units would respond both inside Raleigh and within some territory outside the city. The proposal was not adopted, and instead the organization named Wake County EMS was created. Read an earlier blog post about this proposal, or read the full proposal document
. Click to read this three-page excerpt:


+ 4 - 1 | § ¶
Rescue-Medic Rules of Conduct, 1976
Here's a historical gem for your Sunday enjoyment. These are the General Rules of Conduct contained in a 1976 proposal for a Raleigh/Wake County Rescue-Medic program. The idea added four two-person emergency medical units at four Raleigh fire stations. They would augment the department's two rescue squads. The six units would respond both inside Raleigh and within some territory outside the city. The proposal was not adopted, and instead the organization named Wake County EMS was created. Read an earlier blog post about this proposal, or read the full proposal document
. Click to read this three-page excerpt:


+ 5 - 2 | § ¶
Fifty-Five Years Later
On September 3, 1956, the first Garner Fireman's Day was held. The festivities include a 40-minute parade that originated at the high school, wound down Main Street, and stopped at the fire station. Led by Miss Polly Lynn of Raleigh, the parade included apparatus from Wake Forest, Wendell, Cary, Clayton, Apex, Knightdale, and, of course, Garner. There was a live firefighting demonstration (shown below), an all-star Little Baseball baseball game, and a street dance featuring Red Rose and his Carolina Mountaineers. Click to enlarge:

Two Volunteer Fire Queens were named, chosen from sixteen applicants. Prizes were awarded for best decorated bicycles in the parade. During the fish fry, pots of hot grease full of hush puppies and fish caught fire. Flames leapt from pots to the roof of cooking shed. Firefighters doused flames using hand lines after cooks using fire extinguishers failed. The crowd attending event was estimated at 7,000 people. The Garner Fire Department was four years old, with a new station at 110 Pearl Street, and three pieces of fire apparatus including a 1941 Ford mini pumper and a 1948 Chevrolet tanker.
Looking back county-wide, what else was happening in September 1956? Rural fire protection was a growing movement, with departments forming or having been formed since the Garner Fire Department organized in 1952. Many were formed to protect towns, or the rural districts outside of towns. Departments were also forming to protect Raleigh's suburbs, with Six Forks and New Hope already formed and Western Boulevard another year away. The Wake County Fireman's Association had also formed a year earlier in 1955. Here are some highlights of histories, drawn from my web site.
The Raleigh Fire Department had six stations, with seven engine companies, one aerial ladder company, and two service ladder companies. They answered 956 calls in the prior year. Their authorized positions numbered 112. Fire Chief Jack Keeter was one year into his tenure, after Chief Alvin Lloyd died off-duty in February 1955. The department had experienced its first line-of-duty death, when Driver Vernon Smith passed away from injuries sustained at an apparatus accident four years earlier. Radios had been installed in all apparatus, though base stations at fire stations were still some months away. Radio dispatching of county fire departments was a couple years away.

The Cary Fire Department had the largest fleet of any town or town-related fire department. They had replaced their 1931 Chevrolet pumper three years ago, and expanded their fleet to include two tankers and a rescue truck. They held their fourth Fireman's Day in May 1956, which attracted 5,000 people. The volunteer department hired its first paid member that year, and announced plans to build a $75,000 fire station on the southeast corner of Cedar and Academy streets. Construction would start a couple years later. Click to enlarge:


Courtesy Cary Fire Department
READ MORE
+ 2 - 4 | § ¶
Firefighting Lingo
For your Saturday enjoyment, here's a starter list of fire service acronyms, lingo, and idioms (expressions). What would you add? What are your favorites? Let's just keep the more morbid ones to ourselves...
Bagger - Working fire that requires multiple alarms, such as "three-bagger." Originated in days of steam engines, referring to bags of coal required to operating the pumping engine.
Barn Burner - Working fire at a building and that's fully involved or with a lot of fire, and fought from the outside.
Bus - Ambulance.
Can - See Water Can.
Chock - Wheel chock, a wedge-shaped object placed between the wheel of an apparatus and the road. Helps prevent excessive quantities of paperwork.
Drop Tank - Portable water tank, supplied by a shuttle of tankers/tenders, and used at fires far from water sources.
Grab - Or making a grab. See Make a rescue.
Hand Jack - Manually pull or stretch supply hose.
Hurst Tool - Brand of Jaws of Life. Named after person who adapted the things from their origins in the racing industry.
IC - Incident Command or Incident Commander.
Irons - Halligan bar and a flat-head axe. Also the name of a riding position of Raleigh ladder companies.
Jake - Firefighter or ladder/truck company member.
Jaws of Life - Or just jaws. Hydraulically powered spreaders or similar tools for extrication at motor-vehicle accidents and other emergencies.
Job - Working fire.
Lid - Helmet.
Make a rescue - When a firefighter or firefighters remove someone from a burning building.
Nob - The nozzle of a hand line.
PPE - Personal Protective Equipment, e.g. the helmet, coat, pants, and boots. Can refer to the entire assembly, which includes gloves, Nomex hood, SCBA, etc.
RIT - Rapid Intervention Team. Also called RIT team, albeit redundantly. Group of firefighters at a working fire, assigned task of being ready to rescue a downed firefighter.
SCBA - Self-Contained Breathing Apparatus. Pressured tank of breathing air, plus mask, and assembly.
Stick - Ladder truck with an aerial ladder (but not a platform or bucket). Can also refer to the aerial itself.
Tanker - Tanker truck on the East Coast; aircraft on the West Coast.
Taxpayer - Small structure with a business on the lower floor and a residence on the second floor. Don't hear that one around here, much.
Tender - Tanker truck on the West Coast.
TIC - Thermal Imaging Camera.
Tiller - Tractor-drawn aerial ladder. Can also mean the steering mechanism of the trailer, or the Driver/Operator's position.
Truck - Ladder truck with aerial apparatus. In past eras, included service trucks, which only carried ground ladders. Typically also refers to the function of the company at fire scenes, in addition to the features of the apparatus.
Truckie - Member of a ladder/truck company.
Turnout Gear - See PPE.
Walking the Dog - Working fire, where the fire's really getting going.
Water Can - Two-and-a-half gallon water extinguisher.
Whacker - Playful/sarcastic term for someone with too many red lights on their POV, too many pagers on their belt, too many statements to others about "I am a firefighter", etc.
Worker - Working fire.
Working Fire - Fire where all of the companies dispatched on the first alarm are involved in fighting the fire.
Sources