+ 14 - 15 | § ¶
easternwakefire.com
Eastern Wake Fire & Rescue has a new web site, easternwakefire.com. The site includes photos, links, a roster, and a memorial to Todd Allen Blanchard.
+ 22 - 11 | § ¶
This Morning's Fire in Carrboro
WRAL has a slideshow showing some of the damage of this morning's fast-moving and fatal apartment fire in Carrboro. Fourteen units at 180 BPW Club Road were destroyed. Carrboro, Chapel Hill, Durham, New Hope, and North Chatham on scene, reports FireNews. The News & Observer also has the story.


+ 15 - 15 | § ¶
Blogs, Comments, and Fame
Today's New York Times features an amusing article about people who become famous through blog comments.
+ 11 - 15 | § ¶
New Online Scanner Feed Service From Carolinas Fire Page
News release. Carolinas Fire Page has paired with a new service that allows easy broadcasting of fire/rescue radio traffic on the internet. They currently are broadcasting Raleigh and Wake County Fire and EMS using this new service. READ MORE
+ 14 - 13 | § ¶
Public Safety Day
Nice day for a public safety day in Knightdale. Participating at the Public Safety Center at 967 Steeple Square Court from 11:00 a.m. to 3:00 p.m. today were Knightdale Fire, Knightdale Police, Eastern Wake EMS, Eastern Wake Fire, Wake County EMS with Truck 1, North Carolina Urban Search and Rescue Task Force 8 with USAR 1 from Raleigh, Wendell Police, Zebulon Police, Clayton Police, Wake County Sheriff, Wake County CCBI, North Carolina Highway Patrol, and probably a couple others.


+ 16 - 14 | § ¶
Wake Forest Fire Department Grows
NBC17 reported yesterday on the growth of Wake Forest Fire Department. The context was yesterday morning's house fire at 829 South Main Street. The single-story dwelling had heavy fire on arrival. Stony Hill and Falls also responded. WRAL also briefly covered the fire and included this viewer photo taken with a cell phone:


+ 14 - 11 | § ¶
The Effects of Sleep Deprivation on Fire Fighters and EMS Responders
As this Firehouse.com article reports, the International Association of Fire Chiefs (IAFC) and the U.S. Fire Administration (USFA) has released a fascinating (and seemingly well-researched) study on the effects of sleep deprivation on fire and EMS personnel. The document is also very visually appealing. No boring white paper here. It's also up for discussion on this Watch Desk thread.


+ 13 - 19 | § ¶
Fire Safety Days This Saturday
Noted as comments in another thread, the following events are taking place this Saturday, September 29:

Durham Highway Fire Department Public Safety Day, Leesville Road High School, 8409 Leesville Road Canceled

Knightdale Public Safety Day, Knightdale Public Safety Center, 967 Steeple Square Court, 11:00 to 3:00 p.m.
+ 13 - 14 | § ¶
Fire Prevention Week
What's happening around here for Fire Prevention Week? READ MORE
+ 14 - 10 | § ¶
Chevrons
Jeff Silver shares some chevron styles recently seen in New Jersey. That flag design is certainly something else. Click to enlarge:


+ 10 - 16 | § ¶
Barbecue
WTVD has posted some viewer photos of this morning's Smithfield's BBQ fire in Fayetteville. Click the i-WITNESS link on the right side of the story. The structure at 9515 Cliffdale Road was reported ablaze about 7 a.m., says WRAL.



+ 13 - 14 | § ¶
Wake County Area EMS Trivia Test #2
Dale Johnson presents his second EMS trivia test, this time expanded beyond the borders of Wake County. Answers later.

1. The Cary Area Rescue Squad had the first Hurst power tool in the county, other than the Raleigh Fire Department. On which truck did they initially carry it?
a. Their first rescue truck
b. Their first ambulance
c. Their second ambulance
d. It was carried by the Cary Fire Department

. READ MORE
+ 12 - 17 | § ¶
Raleigh Urban Search and Rescue Team to Drill Downtown on Saturday
News release. The City of Raleigh Fire Department, Wake County EMS and Hardin Construction are partnering on a unique training session on Saturday, Sept. 22 beginning at 8:30 a.m. at the RBC Plaza. The goal is to have a better prepared rescue team, which will benefit all construction workers in the Triangle as the area continues to see its skyline grow. The 33-story RBC Plaza is under construction in downtown Raleigh on Martin Street between Fayetteville and Wilmington streets. Read the entire news release. Pics forthcoming.


+ 15 - 15 | § ¶
Clayton Plane Crash
WRAL has a good slideshow of on-ground scene pics from Clayton. That's Johnston County's foam unit right in front of the building. It's stationed in Selma. Incident time about 10:15 a.m. Single-engine aircraft into McCall's BBQ & Seafood Restaurant at 10365 Highway 70. One fatality, believed pilot. Minor injuries on ground. Mutual aid from Selma, Smithfield, and Garner. NC USAR Task Force 8 dispatched. Raleigh sent USAR 1, USAR 2, Rescue 7, and Car 5. Other coverage: WRAL main story, News & Observer, and WMPM radio news.
+ 21 - 10 | § ¶
Wake County Fire Commission Meeting Agenda
The agenda for tonight's Wake County Fire Commission meeting, released yesterday. The meeting starts at 7:00 PM, at the Wake EMS Training Facility, located in the lower level of the Wake County Commons Building on Carya Drive near I-440 and Poole Road.
Call meeting to order
Invocation
Roll of members present
Approval of Agenda
Minutes
Adoption of Minutes for July 19, 2007, Regular Meeting
Regular Agenda
Fire Station Closure Criteria and Evaluation

Update on Western Wake Fire Station #2 Service Replacement
Consideration of Next Fire Station for Evaluation

Facility Committee

Consideration of Project Plan for Fire Station in Southeastern Wake County
Bay Leaf Fire Station #1 Reconstruction

Information Agenda

Staffing Committee
Apparatus Committee
Chair Report
Fire/Rescue Services Director Report

Other Business
Public Comments

30 minutes maximum time allotted, Maximum 3 minutes per person

Adjournment
+ 15 - 15 | § ¶
Wake EMS Promotion Ceremony, 9/21
News release. Wake County Emergency Medical Services (EMS) will promote 20 paramedics to Field Training Officer (FTO) status and four FTOs to Senior FTOs on Friday, September 21 at 7:30 p.m. at the Wake County Commons Building (4011 Carya Drive) in Raleigh. "To work as a paramedic in Wake County's system takes a lot of dedication and professionalism," said EMS Chief Skip Kirkwood. READ MORE
+ 13 - 17 | § ¶
Cary Fire Academy Graduation Ceremony, 9/28
News release. The Cary Fire Department Recruit Academy #14 graduation ceremony will be held Friday September 28, at 7:30 p.m., at the Cary Academy Fine Arts Center, 1500 North Harrison Avenue. Fifteen recruits, plus pipes, drums, pomp, and circumstance. Cue Edward Elgar.
+ 14 - 13 | § ¶
This Evening's Fire
Three alarms at 1201 Trillium Circle. Dispatched about 10:40 p.m. Heavy fire in rear of three-story, wood-frame apartment building. Engine 8 first arriving. Command by Battalion 3 in front of structure. Aerial stream by Ladder 20 in front right of structure. Six units heavily damaged. No injuries reported and 21 residents displaced. Units on scene included E1, E2, E3, E5, E6, E8, E10, E13, E14, L1, L16, L20, R7, R14, B3, B4, C5, C71, C198, A8, EMS 4, 7, 8, 13, 203, 572, 602, T1.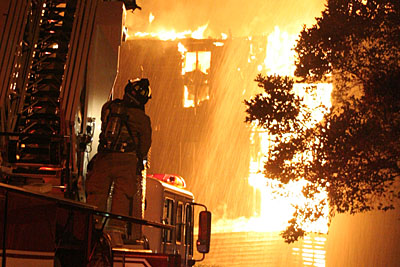 + 13 - 15 | § ¶
Old Engine 13
Recently found this nicely posed photo in a scrapbook. Raleigh's only Pirsch, delivered in 1985 and original bundled with a ladder. See this blog entry for that story. Also the last pre-light bar engine. The pumper served four years as Engine 13, and seven years as Engine 4. It also served as Engine 22 and Engine 27. Presently a reserve engine, it was refurbished in 1999.


+ 11 - 14 | § ¶
searchCrystal
Here's a neat new search site that compares other search sites, and displays a visual representation of results. Try both the Web and Images tabs.


+ 19 - 6 | § ¶
Steam Fire Engines in Action
Here are a couple cool videos from YouTube, found by way of Firegeezer's blog. The first video shows a horse-drawn steamer in action at a muster, as well as hand hose reel working. READ MORE
+ 9 - 11 | § ¶
This Evening's Storms
Sounds like the Fuquay-Varina area bore the brunt of this evening's severe weather, at least in Wake County. Numerous trees down. Electric (and phone?) service out. Nursing home evacuation on Sunset Drive. At least one working fire, Sanford Drive, among a number reported earlier. Fire command on Ops 10, dispatching and managing area units. Mutual aid and coverage including Angier, Apex, Bay Leaf, Cary, Fairview, Garner, Holly Springs, Swift Creek, and Western Wake fire departments. EMS agencies on Sunset Drive included Apex, Buies Creek, Cary, Garner, Harnett, and Wake. WRAL posted this stunning photo of a funnel cloud in the area of Old Stage Road and Highway 42:


+ 12 - 11 | § ¶
More Meetings
When is the next WCFC meeting? Check the Wake County Calendar of Events, which lists both the Fire Commission meetings and Board of Directors meetings for several fire departments. All are public meetings.


+ 13 - 12 | § ¶
Wake County Fire Commission Meeting, 9/20
The next Wake County Fire Commission meeting is scheduled for Thursday, September 20, at 7:00 PM, at the Wake EMS Training Facility, located in the lower level of the Wake County Commons Building on Carya Drive near I-440 and Poole Road.
+ 14 - 12 | § ¶
Fire Map
Here's an annotated aerial photo of the scene of Tuesday's major brush fire, first draft. Additions and corrections welcome. Click to enlarge:


+ 11 - 10 | § ¶
Big Fires
Lots burning around the state in the last 24 hours. Flea market in Dunn. Theater buildings in Manteo. Multi-alarm woods fires in Wake, Orange, and Duplin counties. Nine+ departments in Dunn, including aerials from Fuquay-Varina and Holly Springs. That was this morning. Mutual aid was again rendered this afternoon in Cary, off Green Level Church Road. FDs included Cary, Apex, Morrisville, Parkwood, Western Wake, Durham Highway, Swift Creek, Holly Springs, Fuquay-Varina, and North Chatham. Plus Forest Service. What were some of the move-ups? Pics coming.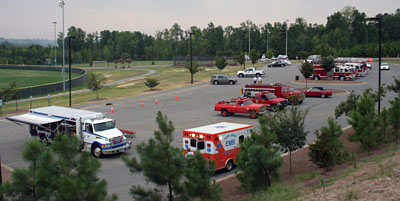 + 7 - 14 | § ¶
This Afternoon's Fire
FireNews via CFP reports on this afternoon's fire on Bay Harbor Drive. Engine 21 arriving at a two-story townhouse, heavily involved. Two extra engines. Four extra EMS units. Ladder 11 flowing. One resident transported to burn center. No apparent coverage on other media sites, yet.


+ 10 - 14 | § ¶
September 11 Memorial Events
NBC 17 reports that Gov. Easley has ordered flags at state facilities to be lowered Tuesday in honor of Patriot Day, a federal holiday to honor victims and survivors of the terror attacks. The president has also asked all Americans to observe a moment of silence at 8:46 a.m., the time the first plane struck the World Trade Center. Other local September 11 events:

Speech by historian and author Matthew Warshauer, McKimmon Center at North Carolina State University, 12:00 p.m., $15

Ceremony to dedicate UNC memorial to 9/11 victims, University of North Carolina, 11:30 a.m.

Flag and Chapel chimes ceremony to honor six Duke alumni who died during the attacks, Duke University, 5:00 p.m.

National September 11 Memorial Museum, in front of Raleigh Municipal Building, September 15, 10:00 a.m. to 6:00 p.m.

See the
NBC 17 story for more information
.
+ 16 - 13 | § ¶
History Presentation, October 9
Mark your calendar for the evening of Tuesday, October 9. Mike Legeros will present a short history of the Raleigh Fire Department at the Cameron Village Public Library, 1930 Clark Avenue. The 7:00 p.m. event will feature a 45-minute presentation about both the volunteer and fully-paid periods of the Raleigh Fire Department. There will also be a demonstration of a vintage alarm box and station gong, and other odd surprises. Expect alarming fun.


+ 10 - 15 | § ¶
Embryo Fireman Refuses to Jump
Raleigh Times, May 6, 1933. Fifteen-Foot Leap Into Fire Net Balked At By Young Man. One young Raleigh man probably lost his chance Saturday of getting on the local force of fireman when he balked at taking a 15-foot leap from a window into a fire net at No. 1 Fire Station as part of the test given prospective firemen. Fire Chief W. E. Holland gave trials to six aspirants for two vacancies on the force of firemen, the vacancies arising out of the recent city election. Asked if there was any chance of the young man making the grade after he refused to take the required leap into the fire net, Chief Holland grinned and said "That just lets him out." The examination prospective firemen have to undergo is no cinch.
+ 12 - 10 | § ¶
'Silent Disasters' Drain Red Cross
The News & Observer reporting on the Red Cross and the impact of residential fires on their local chapter.
+ 12 - 11 | § ¶
Cherry Point Building Burns
FireNews via CFP and WITN-TV reported today that the Headquarters Building at Cherry Point Marine Corps Air Station was heavily damaged by fire overnight. The incident started around 11:00 p.m., with flames through the second floor of the structure. (Where is that building? Drawing a blank here.) Every Craven FD and all Carteret FDs west of Beaufort were called for mutual aid. Companies staged at HFD. Still surfing for additional info.


+ 12 - 12 | § ¶
Apex
Random station shot. Apex Station 3 on Saturday night.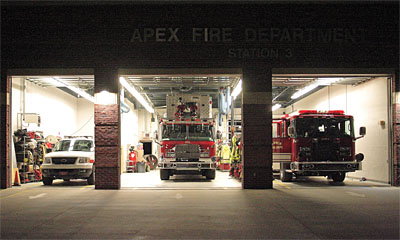 + 12 - 13 | § ¶
Firefighter Tattooes
Here's a different kind of photography site: www.strikethebox.com. Dedicated to the art of firefighter tattoos, reads the description. Appears appropriate for all ages. About the art form itself, this Wikipedia entry enlightens. Wonder how many tats are awaiting discovery around here?
+ 9 - 14 | § ¶
Wake Forest Fire Department Announces New Numbering Scheme
FireNews reports on new numbering in Wake Forest. Expected to be fully operational by September 25, the system is based on WFFD Station 1's county designation of Station 6. Apparatus will have three digit numbers, starting with the new station numbers of 61 through 67 (which includes future station designations). Chief officers will have three-digit numbers, starting with 600. Personnel will have four-digit numbers, starting with 6000. See the above article for full information. Numbering schemes are also still being discussed on the FireNews forums.
+ 15 - 14 | § ¶
Statewide Radio System a Work in Progress
WRAL story about the VIPER radio system. Says the reporter, 39 out of 100 counties are represented in the system. Here's the official VIPER site, and the RadioReference.com VIPER page. Can you ever have too many radios?


+ 11 - 10 | § ¶
New Apparatus at Station 16
Here's a pretty sight. The 2007 Pierce Enforcer pumper was placed in service today. The 2007 Pierce Arrow XT 105-foot aerial ladder was placed in service Tuesday. They replaced a 1997 Pierce Saber pumper and a 1995 Simon-Duplex / LTI 100-foot aerial platform, both of which will become reserve units. Is this the first time for an engine and ladder to be placed in service at the same station, at the same time? Welcome to the neighborhood. Click to enlarge:


+ 6 - 12 | § ¶
Picture Boards Speak in Health Crisis
Nifty concept, using pictures to bridge language barriers in emergency rooms. It's being done in Jersey. Hospitals, rescue squads, and public health clinics. These people make 'em.


+ 10 - 12 | § ¶
Double Doubles
Two-alarms twice today. 4708 Fargo Court, above Crabtree Valley. Alarm time about 4:10 p.m. Single-story, wood-frame duplex. 2,278 square-feet. Heavy fire through roof of structure on arrival of Engine 16. Smoke visible across the city. Primarily exterior attack, due to unstable roof conditions. Second alarm requested for manpower. Second second alarm, 1249 Quincy Court, just off Walnut Street. Alarm time around/after 8:00 p.m. Two-story, wood-frame apartments (town homes?). 7,200 square-feet. Heavy fire from second floor on arrival of Battalion 1, who requested second alarm on arrival. Engine 2 first engine. Quickly controlled. Pics forthcoming for Fargo.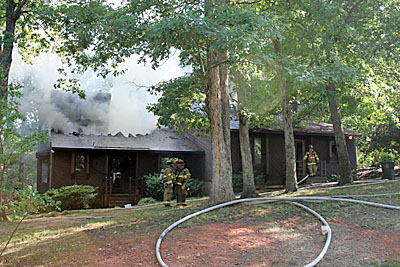 + 18 - 7 | § ¶
Cary Still Down One Ambulance
NBC17 reporting on Cary EMS and the status of the ambulance involved in last month's accident.
+ 13 - 10 | § ¶
Education
Great quote, found elsewhere. "Education is the ability to listen to almost anything without losing your temper or your self-confidence." Robert Frost said it.
+ 16 - 10 | § ¶
photoattorney.com
Here's an interesting blog about photography and the law, from attorney whose practice concentrates on the law for photographers. The postings appear to be mostly about copyright and contracts, and some information about photographer's rights. There's also this nifty posting from August 20 about adding a copyright notice inside Canon digital cameras. Very cool.
+ 12 - 10 | § ¶
Raleigh Firefighters Seek Relief From Heat And Jump In Productivity
Also announced by the Public Affairs department, Raleigh firefighters have switched from full-length trousers to shorts. The announcement also cites studies from Toronto and New York City, showing reduced heat strain and decreased heat exhaustion with wearing shorts, but without increased numbers of burns. To paraphrase.
+ 13 - 5 | § ¶
Pine Knoll Townhouse Fire Report Available For Download
The Inspections Departmentís report on the Pine Knoll Townhouse fire of February 22 is now available on the City's Web site. The PDF report runs 189 pages, and includes 158 pages of appendices including fire photos, post-fire photos, the fire department report, weather reports, firewall details, a site schematic, and tools for assessing and mitigating wildfire vulnerability. Cover photo by Lee Wilson, but of course. The Public Affairs announcement notes the report will be presented to the City Council on September 5.


+ 9 - 13 | § ¶
Magazines and Journals
Several fire service journals and publications are available via NC LIVE, free access to which is provided to Wake County Library patrons. Titles include Fire Chief, Fire Engineering, and Fire Management Today. Here's information on remote access to library resources.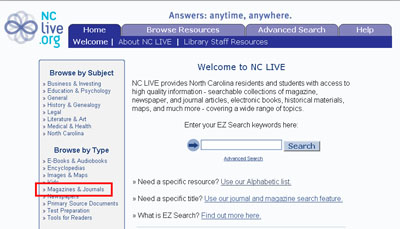 Once you have accessed NC LIVE, click
Magazines & Journals
on the left-side navigation area. The Magazines & Journals list displays.
READ MORE
+ 16 - 11 | § ¶
Applause
Emerging from the halogen-cast shadows of Ketley Court and headed to rehab, the men and women of the engine, ladder, and rescue companies were greeted by applause. Their audience had gathered at the edge of the cul-de-sac. Dozens who watched and listened and waited. And when the procession of Raleigh firefighters appeared, everyone clapped. Heroes welcome.



+ 12 - 10 | § ¶
Cool Camera Accessory
Cheap, cool accessory for Canon digital SLR cameras. Search "canon eyecup" on eBay. Cost < $10, shipped. Blocks light, buffers eyeglasses. Buy two, just in case. The rubber cup can easily detach. Bit o' glue helps.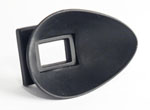 + 13 - 10 | § ¶
Feds to Restrict Volunteers at Disasters
Found on the CFP discussion list, here's the story of a federal program to help responders getting into disaster scenes. Seems sensible.
+ 8 - 13 | § ¶
Firefighting in Charlotte
Charlotte Fire Department Captain Shawn Royall has written a photo history. Firefighting in Charlotte will be published by Arcadia Publishing on September 10. "Fire trucks, firehouses, and the firefighters are depicted in images obtained from personal collections, newspapers, archives, and museums." Order from Amazon.


Arcadia has published nearly 70 photo histories of public safety agencies. Search by theme on their
Catalog Page
to see all titles. Big city FD histories include:
Chicago's Engine 78
,
DCFD
,
FDNY (1901-2001)
,
FDNY (fire patrol)
,
FDNY (historic fires)
,
Milwaukee
,
Portland
,
San Francisco
,
Seattle
, and
St. Louis
. Plus, ahem, Raleigh and Wake County
Volume 1
and
Volume 2
.

+ 8 - 12 | § ¶
Mystery Medic Unit
From a reader, a mystery medical unit seen at a car fire on I-40 in Orange County. The door seal says Medical Emergency. The windshield bears an NC inspection sticker. Who can identify same?


+ 15 - 6 | § ¶
Fill the Boot
Raleigh firefighters are again raising money for the Muscular Dystrophy Association. They're out and about the city this weekend, boots in hand. Stop and drop some dough. This NBC17 story notes that RFD has raised $300 million for MDA since 1954.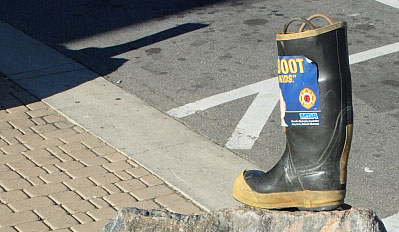 + 13 - 11 | § ¶
Smokey Bear Says...
He even has his own web site.


+ 13 - 13 | § ¶
Jordan Lake Educational State Forest
Located in Chatham County off of Highway 64, the Jordan Lake Educational State Forest features a fire control exhibit with a helicopter and a tractor with plow. No climbing allowed, alas. Neat, but not quite the same as when old pumpers were parked in city parks for kids (and adults) to climb on. Those were the days.


+ 8 - 12 | § ¶
Evolution
Readers may notice that less scuttlebutt is being posted as topics. This is intentional and represents the ongoing "tuning" of this blog. Though "we've heard" information has been posted in the past, it didn't quite feel right. Wasn't passing the sniff test. Is insider info interesting? You betcha. Does it add value? Not necessarily. Reflection and reader reaction has helped in this regard. The blog remains an experiment-- 21 months and counting!-- and its direction has been evolving. Ergo, less grapevine. Sorry. There isn't enough value either for readers or the guy behind the computer. Big, exciting things will always be easily visible once they're executed. And this blog will cheerfully share "we've observed" information, where appropriate. It's the backroom news that's going bye-bye.