+ 10 - 7 | § ¶
Charlotte Fleet Listing - 1980s and 1990s
Here's the second part of our Charlotte project, compiling a historical fleet list of all fire apparatus. This is based on research by reader Micah Bodford, plus other inputs that we're able to locate. Such as active or retired CFD members who have been super-helpful. Reader input is appreciated!
The Project
Part I - 1910s to 1970s
Part II - 1980s and 1990s (see below)
Part III - 2000s and 2010s (coming soon)
Part IV - Airport apparatus (coming soon)
The Data
[ This historical fleet listing has been moved to www.legeros.com/history/fleets ]
+ 11 - 6 | § ¶
Aerial Video of Brotherhood Bash
Here's another notable video from the South Atlantic Fire Rescue Expo. This one's nearly six minutes of aerial footage that was filmed by Matt Cross at the Brotherhood Bash on Friday night. The location was Napper Tandy's on Glenwood Avenue. The performers were the Brotherhood Pipes & Drums, which made their entrance escorted by Raleigh Engine 13. The event was sponsored by the Capital Area FOOLS. The organization raised $4,500 for the North Carolina Fallen Firefighters Foundation. See photos from the event by Mike Legeros and Lee Wilson.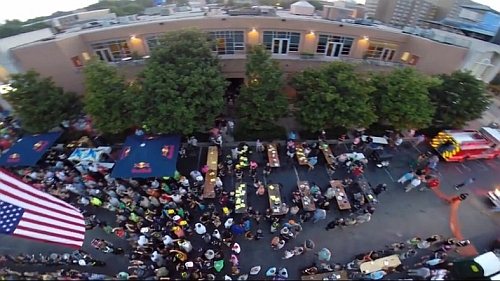 + 8 - 2 | § ¶
Aerial Video of Fire Expo Parade
The Wake Forest News has posted this nice compilation of aerial and ground video of Saturday's fire apparatus parade at the South Atlantic Fire Rescue Expo. They were one of two entities operating "drones" during the event. We'll be watching for more videos. Meanwhile, enjoy this footage. And see accompanying WFN story.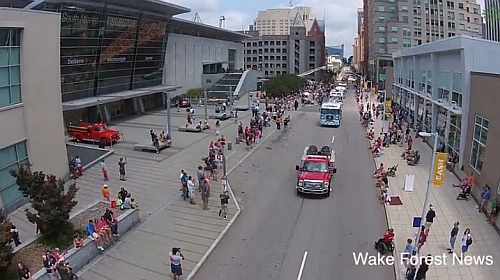 + 8 - 4 | § ¶
Helmet Footage From Onslow County
Found via this Statter911 story, here's some helmet cam footage from the Hubert Fire Department in Onslow County. The nealrly ten-minute clip captures the response and arrival of Hubert Engine 804 a structure fire on Pine Picket Court. They were the first arriving unit to a reported vehicle fire threatening a structure. Other departments on scene were Piney Green FD, Pumpkin Center FD, White Oak FD, Onslow County EMS, and Onslow County Fire Marshal.



+ 9 - 7 | § ¶
Charlotte Old Squad 1, Old Station 1
From the Facebook page of The One House, here's a vintage photo of Squad 1. Photo circa mid-1980s. Squad 1 was a manpower unit. It was stationed at Station 1 and operated multiple models of Ford Econoline passenger vans. Any reader memories of the unit, and ideas on makes/model years? And the years the squad operated? Next question, how many other departments around our state have operated manpower units? Click to enlarge:



The building is old Station 1, which was located at the intersection of South Davidson Street and East 4th Street. It was addressed 125 S. Davidson Street, and located on the west end of the City Hall Annex building. (The police department was on the east end, and the Health Department was in the middle.) Here's a picture of the engine house in action,


Terry Lacy photo


Built in 1925, the fire station also housed the first maintenance shop, on the apparatus floor. Communications was located on the second floor. Units housed at old Station 1 have included:
Engine 1 - Models included 1935 Mack (closed cab, first in United States), 1948 Mack, 1960s Seagrave.
Second engine, named Engine 20 in the 1950s and 1960s. What about other decades?
Truck 1/Platform 1/Ladder 1 - Models included 1917 ALF tiller, 1969 ALF AeroChief, 1984 Duplex/Grumman snorkel.
Rescue 1 - First version was a utility body truck.
Squad 1 - Manpower unit noted, various Ford Econoline passenger vans. Operated circa 1970s and 1980s.
Seachlight truck - Models included a 1940 White.
Hose tender - Utility body truck with large hose bed in rear. Carried 3000 feet of five-inch supply line and a manifold. Unmanned. Operated circa 1970s and 1980s.
Civil Defense rescue truck - 1950s IHC "Calamity Jane" heavy rescue. Out of service by 1979. Still researching this one.
Chief cars - Fire Chief, Assistant Fire Chief, etc.
Reader input welcome!
Sources:
Charlotte Fire Department history book, published 1999.
Fleet research by Micah Bodford. See prior blog posting. Reader help wanted!
Oral histories, notably Terry Lacy.
+ 9 - 3 | § ¶
History Show at the Fire Show
Coming to the South Atlantic Fire Rescue Expo this week? Sure hope see. Swing by the Raleigh Fire Museum booth on Friday and Saturday and you'll see a slideshow of old photos and vintage rigs and houses from around North Carolina. We'll be located on the mezzanine level, beside the escalators. Yours Truly will be staffing for some of Saturday, and around at other times. See you there. Click to enlarge:


+ 8 - 6 | § ¶
My Schedule For The Show
Here's where I will be this week at the South Atlantic Fire Rescue Expo. Plus some first-thing/last-thing drive-bys earlier in the week, as the trucks are loaded into the convention center. That's always fun to watch. Need to find me during the show? Look for a large guy in a Hawaiian shirt. Typically with a couple large cameras. Or visit the Raleigh Fire Museum booth on the mezzanine level. We're right beside the escaltors.
Thursday - July 24
Late afternoon - Check-in as exhibitor (Raleigh Fire Museum), help with booth set-up.
Early afternoon - Behold BBQ teams as they start their cooking. Take some pictures.
Friday - July 25
Before 10:00 a.m. - Check-in as a presenter (social media). Help get our booth ready.
10:00 a.m. to 3:00 p.m. - Attend Expo, see folks, snap shots, loiter at our booth, lunch somewhere on the Mall.
3:15 p.m - 4:45 p.m. - Conduct social media workshop with Jeff Hammerstein, The World Is Watching Your Department. Who Will Tell Your Story, You or Them?
Late afternoon - Run home, eat dinner, take nap?
Early evening - Attend Brotherbood Bash at Napper Tandy's. Starts at 7:00 p.m. Old Man Legeros will probably arrive early and leave early.
Saturday - July 26
8:00 a.m. to 9:00 a.m. - Prepare booth for the day.
9:00 a.m. to 11:30 a.m. - Staff our booth.
11:30 a.m. to 2:30 p.m. - Head outside for photos of the parade, the trucks, the games, et al. Plus lunch on the Mall.
2:30 p.m. to 4:00 p.m. - Staff our booth.
Later afternoon - Shut down the booth. Take things to car. Say goodbyes. See you next year.
+ 11 - 2 | § ¶
Video of Yesteday's House Fire in Youngsville
Wake Forest News has posted this three-minute-and-change YouTube video of a heavily-involved house fire in Youngsville yesterday. The address is 1425 Moores Pond Road. The departments on scene were Youngsville, Bunn, Wake Forest, and Franklinton. Plus Franklin County EMS and Youngsville Rescue & EMS. Read the accompanying story.


+ 15 - 11 | § ¶
Wilmington's New Tiller
The Wilmington Fire Department will soon be taking delivery of a new Truck 1, a 2014 Pierce Velocity PUC, 1500/300/100-foot. Here's a factory photo from the Pierce Flickr page. This is the city's third tiller, after a 1917 American LaFrance Type 17-4 (#1493, 75-foot) and a 1963 Seagrave seen in this prior posting. (Model? Number? Full historical fleet listing?)
This also makes the fourth (correct?) tiller in service in our state, after High Point (2004 Pierce), Raleigh (2010 Pierce), and Cornelius-Lemley in Mecklenburg County (1989 Seagrave, ex-Richmond, ex-Bedford, VA). There are also two tillers operating in SoutH Carolina, in Charleston (2013 Pierce) and Hilton Head (Crimson).
See larger versions of this factory photo or or drawings of the rig from this prior posting.


The rig arrived at Atlantic Emergency Solutions in Fayetteville on Wednesday, and Lee Wilson took a trip to take some photos. The 63 foot-long (!) truck will be appearing on the show floor at the South Atlantic Fire Rescue Expo in Raleigh next week. See more photos from Lee, including shots of that cool pump panel behind a compartment door.


Lee Wilson photo
+ 13 - 5 | § ¶
Mystery Spur
Haven't posted one of these in a while. Found this this week. Somewhere inside the Beltline. Hint, it's near railroad tracks.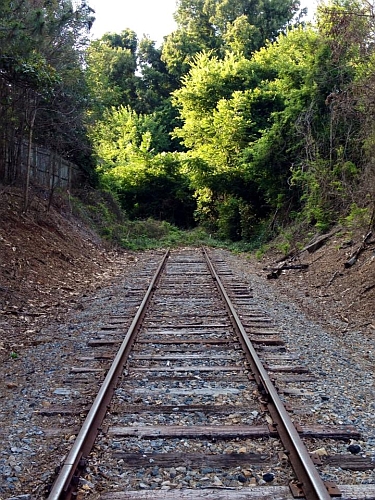 + 10 - 3 | § ¶
PowerPoint is Your Friend
Why is Mr. Blogger in Raleigh this week, you ask? Instead of making rounds round Baltimore for the Firehouse Expo? (Have traveled to those parts for fifteen consecutive years. Yikes.) That's 'cause I'm cooking slides for my workshop next week at SAFRE. The subject is social media and reputation management. Mike Legeros joins Jeff Hammerstein, the Wake County EMS PIO. The ninety-minute workshop is titled The World is Watching Your Department. Who Will Tell Your Story, You or Them? (Though we tried to win the prize for longest title, we only scored second place.) Workshop's on Friday, July 25, at 3:15 p.m. Here's one of the slides you'll see, partially revealed. Hint: It's about social media.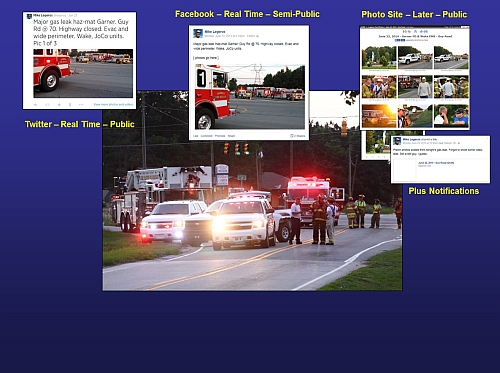 + 8 - 6 | § ¶
Show Program for South Atlantic Fire Rescue Expo
Here's the show program for next week's South Atlantic Fire Rescue Expo at the convention center in downtown Raleigh. It contains the full conference and expo schedule, along with a list of exhibitors and maps to the rooms and halls. View the document (4.6MB PDF). And what a handsome crew on the cover! Love them Squad companies.


+ 8 - 0 | § ¶
Raleigh Fire Department Newsletter, Summer 2014
The Summer 2014 edition of the Raleigh Fire Department Newsletter has been posted to www.raleighfirenews.org. This issue's contents include a feature on the fire department's new SCBA, as well as new helmets and gear. Other stories include Haz-Mat to Clayton, Butner; Divisional News; Retirements and Promotions; and a couple photo galleries. The newsletter is produced quarterly by Editor Mike Legeros. It's a quarterly publication for personnel, retirees, and citizens. And in its eighth year of publication, no less! Read the new issue (PDF), which is posted to the web site www.raleighfirenews.org.


+ 6 - 4 | § ¶
Would You Believe a Fire in a Rock Quarry?
Here's something you don't see every day. That's West Edgecombe and Rocky Mount firefighters at a rock quarry, where a large drilling machine caught fire. The photos are fromBob Bartosz, who submitted same to the Rocky Mount Telegram. (His first rock quarry fire in sixty plus years of fire photography, he confides.) As for the incident, the machine was fully involved on arrival of WEFD. Crews requested mutual aid from RMFD, and Engine 5 was dispatched. The fire took almost an hour to control. Read the story and see a couple more photos. Next question, what's the most unusual vehicle fires that you have fought?


Bob Bartosz/Rocky Mount Telegram photos
+ 8 - 4 | § ¶
Wake County Fire Commission Meeting - Thursday, July 17, 2014
The next meeting of the Wake County Fire Commission is Thursday, July 17, at 7:00 p.m. The location is the Wake County EMS Training Facility, in the lower level of the Wake County Commons Building, 4011 Carya Drive. The documents for the meeting are linked below.

Agenda
Meeting Called to Order: Chairman Lucius Jones

Invocation
Roll of Members Present

Items of Business

Approval of Agenda
Adoption of Minutes for March 20, 2014 Regular Meeting
Adoption of Minutes for May 1, 2014 Regular Meeting

Regular Agenda

Consider Approval of Recommended Fire Commission Standing Committee Realignment
Consider Approval of Recommended Firefighter first response and EMS Cooperative Patient Care Policy

Consider Approval of Facilities Committee FY 2015 Recommendation for Planned Facility
Maintenance, Repairs, and Renovation Projects
Consider Revision to the Wake County Apparatus Committee Policies and Procedures
Consider Request for Replacement of DHFD Station 2 Apparatus

Information Agenda

Apparatus Committee Update
Compensation and Staffing Committee Update (Stony Hill Fire Department Reorganization Proposal)
Equipment Committee Update
Post Incident Review Update
Fire Tax Budget and Financial Report
Cost Share Study Update
Chair Report
Fire Services Director Report

Other Business
Public Comments:

Comments from the public will be received at the time appointed by the Chairman of the Fire Commission for 30 minutes maximum time allotted, with a maximum of 3 minutes per person. A signup sheet for those who wish to speak during the public comments section of the meeting is located at the entrance of the meeting room.

Adjournment - Next Meeting September 18, 2014
Documents
Agenda packet (PDF)
+ 10 - 8 | § ¶
Charlotte Fleet Listing - 1910s to 1970s
Apparatus fans, here's our historical fleet project. Reader Micah Bodford has been compiling a roster of past 'n' present Charlotte rigs. Here's his data for the first seven decades of motor rigs, with a few inputs merged from myself. Note that the list excludes North Carolina Air National Guard rigs, for now. Ditto for chief cars and most utility vehicles. There are a couple special units listed: searchlight, high-pressure unit. Lots of room for input! Readers, can you help with the bullet-nosed Seagraves and their histories? Any and all feedback is greatly appreciated!
The Project
Part I - 1910s to 1970s (see below)
Part II - 1980s and 1990s (coming soon)
Part III - 2000s and 2010s (coming soon)
Part IV - Airport apparatus (coming soon)
The Data
[ This historical fleet listing has been moved to www.legeros.com/history/fleets ]
+ 8 - 3 | § ¶
Durham County Ambulances
Lee Wilson yesterday photographed some Durham County ambulances parked at the Fleet Services facility. They include one of the recently acquired Parkwood Fire Department ambulances. The county took over EMS services in Parkwood on July 1. (We've blogged about Parkwood developments in such postings as this one.) There's also a Bahama Fire Department ambulance in the mix, another former EMS provider.
See the photos, which also include other explorations of Lee's in Durham yesterday. He has pictures of the recently returned 1949 American LaFrance ladder that's parked at the fire department training center, and photos of Station 9 under construction on Midland Terrace.



Lee Wilson photos
+ 8 - 6 | § ¶
Two Weeks Away
Won't see you in Baltimore next year. Taking my first break in a decade or more. The South Atlantic Fire Rescue Expo is the following week, and Yours Truly has two things cooking in addition to his regular rounds and photo taking (see pics from last year and prior years):
Social media workshop on Friday
Raleigh Fire Museum booth on Friday and Saturday.
This is the first year that the museum has its own booth. The theme is "learn about other fire museums and fire attractions." We will have materials (both physical and virtual) showcasing both the Raleigh Fire Museum and others in North Carolina and nearby states. And space permitting, maybe a second slideshow with something historical. Please pay a visit and introduce yourself. Mr. Blogger will be around on both days, and staffing the booth for much of Saturday.
As for the workshop, here's a prior posting on that. It's a workshop on social media and reputation management, as presented by myself and Wake County EMS PIO Jeff Hammstein. He's a veteran responder with nearly thirty years of experience, and he'll share his perspectives through both personal experience and local and national examples. As for Legeros, he's going to talk about digital imagery (photos) and information sharing (blog, Twitter, Facebook). He'll have a lot of talk, and a handful (or more) of visuals.
More later. Maybe a sneak peek of a slide or two. Contain your enthusiasm. See you there.
+ 12 - 6 | § ¶
UPDATED: Notes on Wilmington's Fire Station Restructuring Plan
July 9
The Star News reported yesterday that Wilmington Fire Chief Buddy Martinette briefed City Council on the fire station restructuring plan on Tuesday. His presentation can be viewed here in an audio and video recording of yesterday's meeting. His segment starts at 00:14:26. His slides include these high-level points about the plan:
Deployment plan is a new system with nine stations instead of eleven.
Ten engines, four trucks, one rescue.
No reduction in staffing.
He also notes other objectives have already been completed: automatic aid agreement with New Hanover County FD, participation in a regional incident management system and regional tactical guidelines, and a programmed fleet replacement schedule for every piece of apparatus.
His presentation also includes an update on the new Station 3, and the bids they've received on the project. There are some options for council to consider, such as building the station minus one of the four bays. Or, minus two of the sleeping areas. Or, minus both. Plus a bid option of adding a security fence to the employee parking.
The Star-News story includes this partial image of the Station 3 design rendering: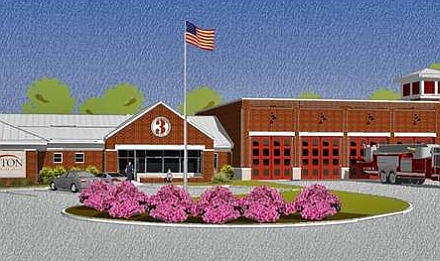 July 8
Firefighters for a Safer Wilmington is a Facebook group, and a social media movement in response to the fire department's fire station plan. They oppose the closures and their position is noted in this handout, which is posted on the site (in the photos gallery).
Reminds me of a letter to the editor of the News & Observer written by myself a double decade ago (in collaboration with firefighters), when the Raleigh Fire Chief at the time was proposing closing Station 5 and 6, and Station 1 and 3, and building a pair of replacement, consolidated stations. The plan was later rejected by City Council.

June 16
FireNews.net yesterday posted a story originating with WECT, that the Wilmington Fire Department is planning the restructuring of its fire stations. The plans, which have been cooking for some years, include the closure of four stations and the construction of two new stations. (Guessing that the "closure" aspect will be the prominent or first-appearing detail in subsequent headlines and stories.) Here's a hastily constructed overview of the story and the details gleaned thus far. Still have some to add. Still need some validation, such as... does WFD have just two ladder companies? But other aerial apparatus, with some engines operating quints, correct? And what are the ages of the stations planned for closure?
More later. Watch this space.
Department statistics:
Serves population of 109,922 (2012).
Serves areaof 1,849.8 square miles.
Eleven fire stations.
Twelve engine companies.
Two ladder companies.
One rescue company.
207 uniformed personnel, 189 who respond to calls.
Four stations planned for closure:
Station 4 at 310 Wallace Drive - Engine 4
Station 3 at 3933 Princess Place Drive - Engine 3
Station 5 at 1502 Wellington Avenue - Engine 5
Station 6 at 3939 Carolina Beach Road - Engine 6
Two stations planned for construction, and one company relocated:
Station 3 moved to Cinema Drive.
Engine 4 personnel combined with crew at Station 8.
Station 5 and Station 6 combined to new station on Shipyard Drive.
Closure planning:
Station changes presented to City Council on June 6, 2011.
Based on/influenced by facility study conducted in 2008 by Stewart-Cooper-Newell, that examined Stations 2, 3, 4, 5, 6, and three divisions (Logistics, Training, Fire Prevention)
Savings of over $6 million, plus ongoing operational costs of running four stations. Cost compared to $15 million to replace all of the stations, which included recently rebuilt Station 2.
Construction planning:
Budget for each new station between $2.5 and $3 million.
Station 3 on Cinema Drive, planned 10,000 square-feet, city soliciting bids.
Station 5 at 680 Shipyard Boulevard, smaller than Station 3.
READ MORE
+ 7 - 4 | § ¶
Don't Miss My Social Media Workshop in Raleigh on July 25
In just under three weeks, Wake County Community Outreach Chief Jeff Hammerstein and local fire blogger/photographer Mike Legeros will present a workshop on Friday, July 25, at the South Atlantic Fire Rescue Expo in Raleigh. The topic is social media and reputation management:

The World Is Watching Your Department. Who Will Tell Your Story, You or Them?
Friday, July 25
3:15 p.m. to 4:45 p.m.
What happens when someone observes or records your department's actions, and then takes to the social media airwaves to discuss, dissect, debate, or denigrate? (And for that matter, how should you or your department respond or react to such activities? Both on scene and later.) Not everyone with a camera is a Legeros, who tries his best to put responders in their best light. And then, my images and/or information hasn't always worked to maximum positive effect. (With great media comes great responsibility... and on both sides of the computer.)
Come to the workshop and hear some of what I've learned over the years, through scene photography, and social media sharing via blog, Facebook, Twitter, and more. Plus a detailed look at people looking at emergency services, through the eyes (and analysis of) veteran responder and current EMS PIO Chief Hammerstein.
+ 6 - 3 | § ¶
Wilson Fire Department Special Operations Squad
Found this colorful rig while viewing Lee Wilson's album of Wilson fire apparatus. He shot same at Station 4 on January 18, 2012. Our favorite apparatus photographer was in town yesterday, and posted pictures of Wilson's new ladder and other rigs. What's the make, model, and purpose of this truck? We'll look to readers to tell. From Lee's photos, looks like a box truck was also stationed there, perhaps supplementary equipment to the squad? Let's hear from our friends to the east!



Lee Wilson photos
+ 7 - 4 | § ¶
Durham County Fire & Rescue - Emblem, Facebook Page
Check out the emblem for Durham County Fire & Rescue, as posted to their new Facebook page. Here's the agency's description from the site:
Durham County Fire & Rescue provides emergency response services, incident prevention and public education ensuring protection to life, and property in the Bethesda Community and Research Triangle Park (RTP) 24 hours a day, 365 days a year.

Durham County Fire & Rescue provides fire protection, advanced life support at the EMT-I level, certified confined space rescue, and child passenger safety inspections. DCFR operates from two fire stations, serving a primary area of 19.41 square miles. The district serves a large portion of Research Triangle Park, 7,550 residents, and property with an estimated value of $1.7 billion.

The department proudly holds an ISO rating of 4/9S resulting in low insurance premiums for its customers in this primary district. In addition DCFR provides mutual aid response alongside City of Durham Fire Department as well as other mutual aid partners.

Durham County Fire & Rescue is staffed by 31 full-time employees and 12 volunteers. These men and women staff two engines, a 110 foot aerial platform and other fire apparatus as necessary.

In the fiscal year of 2013 DCFR trained for over 12,750 hours and responded to 1,477 emergencies with an average response time of less than 5:45 minutes.

+ 8 - 4 | § ¶
Cary Historical Fleet Listing
Continuing down the roster road. See more details on this rigs in this Wake County apparatus registry (PDF) that I've lately updated.
Engines:
2014 Pierce Velocity pumper
2010 Pierce Velocity pumper
2009 Pierce Velocity pumper #2 of 2
2009 Pierce Velocity pumper #1 of 2
2006 Pierce Dash pumper
2003 Pierce Dash pumper #2 of 2
2003 Pierce Dash pumper #1 of 2
2002 Pierce Dash pumper
2000 KME pumper
1997 Pierce Lance pumper #2 of 2
1997 Pierce Lance pumper #1 of 2
1996 Pierce Lance pumper
1994 Seagrave pumper
1987 Pierce Arrow pumper
1987 Pierce Arrow pumper
1982 Ford / Pierce pumper
1976 Ford pumper
1971 ALF Series 1000 pumper
1965 ALF Series 900 pumper
1953 Seagrave pumper (now antique, built from either part of the original, or replaced with non-Cary antique)
1931 Chevy / Pirsch pumper
1926? Nash pumper
1923? Ford Model T / ALF chemical car
READ MORE
+ 7 - 2 | § ¶
Raleigh Historical Fleet Listing
Since we're on the subject of fleet listings, here's all past 'n' present motor rigs in Raleigh. We've blogged about Fayetteville last week, Durham in a prior month, Chapel Hill recently, and had a thread of yore, where we invited people to post their current rosters. Plus this posting from May on the subject of historical fleet rosters.
Engines
2014 Pierce Arrow XT Rescue Engine #2
2014 Pierce Arrow XT Rescue Engine #1
2014 Pierce Arrow XT
2010 Pierce Arrow XT #2
2010 Pierce Arrow XT #1
2009 Pierce Arrow XT #2
2009 Pierce Arrow XT #1
2008 Pierce Arrow XT
2007 Pierce Arrow XT
2006 Pierce Enforcer #4
2006 Pierce Enforcer #3
2006 Pierce Enforcer #2
2006 Pierce Enforcer #1
2005 Pierce Enforcer #2
2005 Pierce Enforcer #1
2004 ALF Metropolitan #4
2004 ALF Metropolitan #3
2004 ALF Metropolitan #2
2004 ALF Metropolitan #1
2002 Quality/Spartan MetroStar #4
2002 Quality/Spartan MetroStar #3
2002 Quality/Spartan MetroStar #2
2002 Quality/Spartan MetroStar #1
2001 Quality/Spartan MetroStar
2000 Quality/Spartan MetroStar #2
2000 Quality/Spartan MetroStar #1
READ MORE
+ 10 - 7 | § ¶
The Asheville Fire Department and Changes Since The Death of Capt. Jeff Bowen
The Asheville Citizen-Times today published a good story by John Boyle on the changes implemented by the Asheville Fire Department since the death of Capt. Jeff Bowen at a commercial structure fire on July 28, 2011. The intentional fire also critically injured firefighter Jay Bettencourt. Here's a blog posting that compiled news stories and reports at the time.
After the death, sixty firefighters began studying sixteen areas that could pose problems at a fire. They "studied best practices from around the country," and crafted a list of 155 areas of improvement. From there, they focused on six changes they felt were the most important and "required the most innovative change."
The six areas of improvement:
Proactive rapid intervention teams - Enacted February 1, four teams of RIT firefighters totally fifteen or sixteen members are assigned those duties. They are also tasked with "softening the building," by removing barriers to potential exits and/or placing ladders on second-story or higher windows and exits.

Expanded incident management - Enacted fall 2012, incident commanders are now assisted by a "command technician." This person duties includes tracking the location of every firefighter inside a burning building, monitoring their air supply, and acting a "second set of ears."

Air management changes - Enacted December 2011, with new procedures including mandatory notification of command by firefighters, when their five-minute air alarm sounds. If they haven't exited within sixty seconds, firefighters enter the structure to remove them.

Mayday training - Enacted fall 2011, this is thorough training simulating such scenarios as wall or ceiling collapses and wire entanglements. As the story notes, upon reviewing the data they collected during this training, they found that fifteen or sixteen firefighters were required to rescue one downed member. Thus the changes to the above RIT procedures.

Staffing [and training] - Enacted January 2012, with smaller groups of firefighters undergoing training on any exercise, to "better simulate the real event."

Health and Wellness Changes - Enacted February 2014, the requirement that firefighters must engage in fitness activities for one hour each shift [day?]. Peer fitness trainers will be added later this year.
Our friends to the west are welcome to add additional points, or tell stories behind the story.
+ 8 - 2 | § ¶
Pictures of Older Charlotte Rigs
There's a mess of Charlotte Fire Department apparatus slides for sale on eBay at present. Search and you'll find:
1973 Hendrickson/Pierce - Engine 3
1973 Hendrickson/Pierce - Engine 10
1976 Ford/Howe - Engine 23
1975 Mack CF telesquirt - Engine 13
1979 Sutphen 100-foot mid-mount platform - Ladder 2
1977 Seagrave/LTI 85-foot rear-mount platform - Ladder 18
1990 E-One - Engine 4
1980 Ford/Howe/Boardman 50-foot telesquirt - Engine 11
1989 Spartan/LTI 100-foot rear-mount platform - Ladder 24
Gets you thinking about other older CFD apparatus. Wonder if anyone has compiled a fleet listing going all the way back? Click to enlarge: