+ 14 - 17 | § ¶
Thus Ends The Thread
Thus ends the great master stream thread which was originated when Yours Truly incorrectly described this picture as showing Truck 1 flowing an elevated master stream:


Nearly four-dozen comments later, a participant at the fire noted that the seeming downward spraying stream actually originated from ground level. A close-up confirms what we missed in our haste to explain, complain, justify, criticize, attack, or defend: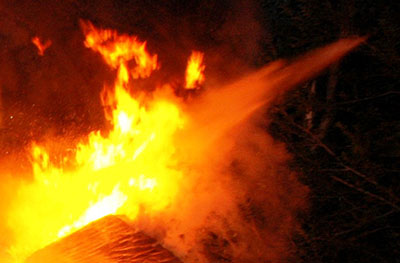 The original thread and its comments are there for the time being. Read, react, and learn before they're trimmed or deleted outright.
There's an excellent lesson in here and not just about the fireground tactics depicted therein.
+ 14 - 16 | § ¶
Truck 16
Raleigh's Truck 16, a 1995 Simon-Duplex platform ladder, has returned to service after several weeks of repairs. The boom looks nice 'n' white, and the lettering's been updated. The truck is scheduled for replacement this budget year. Though there was talk of a second tiller (plus structural modifications to fit the thing), it appears that another straight stick a la Truck 26 is coming:


+ 20 - 14 | § ¶
Expo Pics
Uploading a mess of ho-hum Expo pictures at the moment. This was Mike's eighth or ninth consecutive visit. Walked the exhibit floor for a few hours both Friday and Saturday. Climbed on a bunch of apparatus. Played with a few cool toys, including an apparatus driving simulator that I'll be buying right after the lottery winnings arrive. Walked away from Sunday's flea market $200 poorer but with a restored Gamewell gong, a couple rare books, and a DVD of 35mm footage of Portland, Maine's horse-drawn rigs. Saw some folks from here and around NC, including at least one Blog reader (from Cary). Between the heat and the driving, however, the Misery Factor (MF) nearly topped the Fun Factor (FF). Also visited the B&O Railroad Museum, which was quite neat.


+ 18 - 14 | § ¶
Origin of Buff Clubs
Heard an excellent explanation for the origins of the northeasteran buff clubs while at the Baltimore Fire Expo this weekend. While talking to someone from a New England fire museum, he traced their origins to the steam era. When steamers replaced hand pumpers, the dozens of men who were displaced formed "retirement clubs." They scooped up the old hand tubs, as well as other memorabilia, and thus began the preservation of the region's early firefighting heritage. So why is that absent or largely absent in the south, or at least around the Carolinas? That one remains a mystery. Perhaps Civil War conflicts upended or transformed what firefighting clubs might have existed into other types of social organizations. Perhaps the hand-powered fire companies were too few and far between, between the major cities which were spread across two very large states versus the more crowded urban areas of the northeast.
+ 15 - 13 | § ¶
Heard on Scanner
"EMS 5 is in service. He was just in the dumpster reading a magazine."
+ 15 - 12 | § ¶
Job Security (EMS)
Seen on a Maryland highway today while returning to Raleigh from the Baltimore Fire Expo... Estimated speed of standing rider was 30 or 40 mph.


+ 10 - 13 | § ¶
Dirty Look
Definition: Facial expression as seen on wife while dining at Italian restaurant in Mini City on a "date night," when, halfway through the meal, husband holds a pager to his ear and mumbles "major working fire on Poole Road, wanna to go?"
+ 16 - 13 | § ¶
Heard on Scanner
County fire unit, "I have a Secret Service agent on scene with a suspect in custody." Huh?
+ 10 - 11 | § ¶
Cary Battalion 1 Relocated
Cary's Battalion 1 is now at Station 3, reports at Cary contact. That's an interesting facility, if you've never visited same. Though a bit blocky on the architectural front, it's quite a bit bigger on the inside that it appears from the street. (Wake tax records say 8,750 square-feet, basically double the size of most of Raleigh's single-story stations.) It also houses (at last visit at least) the department's maintenance facility. Someone else can elaborate and extoll further.
+ 12 - 10 | § ¶
Knightdale PS Center Update
Here's a slight update regarding Knightdale's Public Safety Center, from the town's e-news page: "Work is underway to convert the building for use by police, fire and EMS. The brick used in the original construction can no longer be purchased although we can get the same color brick from another source. The brick is holding up the completion of the building." Can anyone else advise more, or even details on the layout of the building?
+ 16 - 11 | § ¶
Raleigh's First Apparatus Bids
Found in a newspaper article from 1912, the city's first motor apparatus bids were opened in September 1912 for a pair of chemical hose cars: READ MORE
+ 14 - 9 | § ¶
Readership and Numbers
How many people are reading this blog? This month, the page has received 2,475 hits so far, which is slightly less than half the number of hits that the photo site has received. Last month, the blog logged 3,483 hits. From January 1 to June 30, the blog has logged 13,856 hits. And just about every one of them was a person named Guest. LOL...
+ 20 - 12 | § ¶
Fixed the Time Stamp, Again
Thought the time stamp was fixed, but it wasn't. Going forward, all postings should be time-stamped EST instead of GMT.
+ 8 - 17 | § ¶
Double-Dipping
The term "double-dipping" is appearing in local headlines these days, in the context of some business involving the Raleigh Police Department. For some, the expression might evoke, say, memories of a classic Seinfeld episode. For anyone who has ever worked with firemen, however, it's the mental picture of a big, ol', nasty spit cup.
+ 13 - 12 | § ¶
Station 28 Update
From the City Council agenda, here's the latest on Raleigh Fire Station 28 and the construction bids therein: READ MORE
+ 16 - 10 | § ¶
Raleigh's Last Macks
As photographed last week by Lee, five Mack pumpers await their final fates at the Support Services Center on New Bern Avenue. Three will be auctioned, one will be saved as an antique, and one will be used for parts: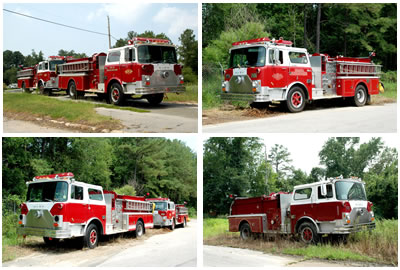 + 15 - 13 | § ¶
Raleigh Station Planning in 1958 and 1971
Here are excerpts of a couple interesting newspaper articles from 1958 and 1971, noting Raleigh's fire station planning at those times. READ MORE
+ 12 - 13 | § ¶
USAR Pics Posted
Lee's pictures from last week's USAR exercises have been posted to the photo site . I bet the participants lost weight working in that heat. Phew!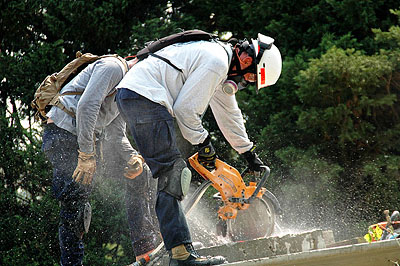 + 8 - 18 | § ¶
RFD's Volunteer Era, Chapter 2
Since we're riding the history train this morning, attached is the second chapter of Raleigh Fire Department: 1880-1910, a "mini book" that Mike is still (slowly) finishing. The first chapter was posted here in February. Will the third chapter appear five months forward? Time will tell, though the entire document has already been drafted. Click this icon to download:
+ 13 - 13 | § ¶
Another Drawing / Old Station 3
During a similar period of boredom and/or extreme free time, this drawing of old Station 3 on East Hargett Street (built 1898) was recently attempted. As only a couple pictures of the building have been located, there's some extrapolation at work: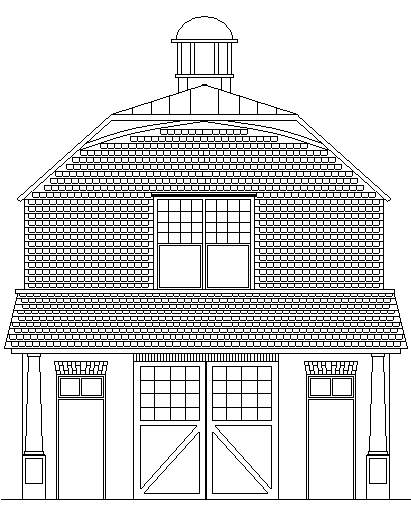 + 15 - 12 | § ¶
Detective Work / Old Station 1
Every now and then, a panoramic photo appears on eBay. It's a rooftop view of downtown Raleigh, showing the Capitol and buildings along Salisbury Street and other stuff. The picture also shows the tower of old Station 1 on West Morgan Street (built 1896). As it happens, no pictures have been found showing the top of the tower from that time period. Now, with that bit of photographic information, Mike's drawing of the old station can be updated to more accurate reflect what the top of the combination bell, hose, and training tower likely looked like: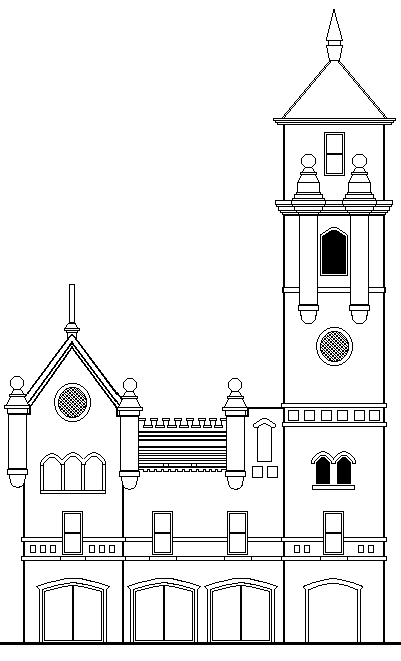 + 14 - 14 | § ¶
Heard on Scanner
MVA on I-40 in Raleigh with subject pinned, truck travelling wrong way (!) with one pinned, one ejected. At 6:30 on a Sunday morning, I guess traffic could be light enough that a driver doesn't realize their mistake until too late...
+ 12 - 11 | § ¶
Broken Trucks / The More Things Change
In May 1988, a News & Observer article titled "Raleigh seeks more aerial fire trucks" noted that two of the city's four aerials were out of service, Truck 11 (1986 Seagrave) being broken and Truck 16 (1961 American LaFrance) being refurbished. A fifth aerial was due that September. In July 2006, four of the city's ten aerials are out of service. Truck 16 (1995 Simon-Duplex) is still undergoing several weeks of long-overdue maintenance and repairs, Truck 20 (1999 American LaFrance) is broken and awaiting parts, Truck 110 (1988 Pierce) is serving as a service truck as its articulating platform is broken, and Truck 112 (1990 Spartan) is out of service with a variety of mechanical problems. A new aerial, however, will be ordered this budget year.
+ 13 - 14 | § ¶
New Fire Chiefs
Fairview has a new chief, former Swift Creek chief (and recently Durham FD official) Ed Brinson. Also, and as noted here I believe, Wake Forest hired Gastonia Captain Jerry Swift as their Fire Chief. He started July 1.
+ 12 - 16 | § ¶
Wake County Fire Commission
Every third Thursday night of every other month, the Wake County Fire Commission meets in the basement of the Wake County Commons Building on Carya Drive. The meetings make for an excellent, if sometimes dry perspective on the processes and politics involved in county fire administration. And there are few things more colorful than a room full of fire chiefs. Here's a view from the parking lot:


+ 14 - 14 | § ¶
Wake Apparatus Updates
Seven Pierce Contender pumper-tankers, spec'ed the same as last year's deliveries, have been ordered for Eastern Wake, Fuquay-Varina, Garner, Falls, Holly Springs, Swift Creek, and Zebulon. No new International/KME tankers have been ordered, however. Some five or six brush trucks are still being bid. Specs are still being written for a service truck. Might be custom, might be commercial. On the EMS front, their mass-casualty vehicle is due in January. Ditto for a county command post unit, a three-axle commercial-chassis vehicle that may serve as a multi-agency/any-agency unit.
+ 14 - 15 | § ¶
See You in Baltimore
Mike is headed to Baltimore for the Fire Expo next week. Watch for a tall guy in a tropical shirt wandering the exhibit floor on Friday (late, maybe) and Saturday, and at Sunday's flea market. Gotta buy some more Gamewell goodies...
+ 10 - 10 | § ¶
Made the Switch
Mike has made the switch to a DSLR camera. Watch for growing pains and probably some lesser quality scene pics until the learning curve is surmounted.
+ 12 - 10 | § ¶
Tarzan Couldn't Take This Kind of Hot
Heard EMS was sent to KTC for someone overheated at the USAR training. You guys (and gals) earn you pay and then some on days like today...
+ 14 - 10 | § ¶
How To Photograph a Wreck
Posted to our the photo site are some well-composed wreck photos from Lee:


+ 12 - 11 | § ¶
Do You Know Any Former Raleigh FFs?
No, not retirees, but anyone who left the department early, after a few or maybe many years? Mike is again updating his master list of all RFD members, uniformed and civilian, since 1912. Want to contribute? Even a last name plus initials is useful, though a rough range of when they were a member is also helpful. Mail mikey at legeros dot com. Any help is appreciated!
+ 10 - 12 | § ¶
Raleigh's First Fire Chief
Found this in an 1891 newspaper, an early adventure of the person who would become Raleigh's first full-time Fire Chief: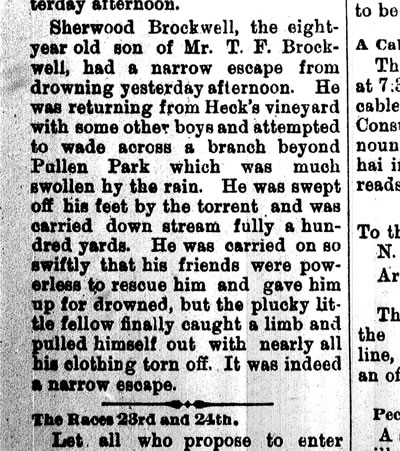 + 10 - 12 | § ¶
Something You Don't Hear Every Day...
...two house fire calls in northwest Raleigh, one a well-involved working fire, plus an Alert 1 at the airport moments later. Even HQ had to ask what was what.
+ 10 - 10 | § ¶
Raleigh Engine 8
Here's a shot from Lee of Engine 8's new engine: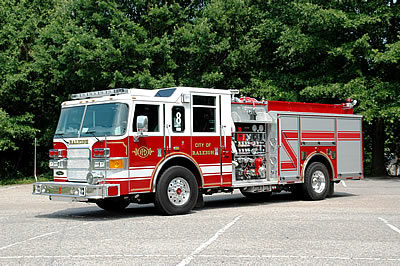 + 17 - 12 | § ¶
Wendell's Tiller as Raleigh's Tiller
Here are a couple pictures of Wendell's tiller when it was Raleigh's tiller, first with the original 1958 American LaFrance cab, and later with the 1979 Mack cab. Note the evolution of the Mack cab, which had a rear cover added. And having done some driving training on the thing, I can attest that it was an absolutely blast to be on the back wheel.
+ 13 - 15 | § ¶
Police Segways and Fire Bicycles
Raleigh police are now using Segways around town, says this NBC 17 story. On a related note, the Raleigh Fire Department recently obtained two bicycles for first responder use at special events. They're red, of course, with black equipment bags. We'll get pictures at some point.
+ 12 - 12 | § ¶
Stanley Cup at Station 14
The Stanley Cup recently made the rounds. Here's Lee's picture of the cup with Station 14 and C-shift:


+ 15 - 12 | § ¶
Another Locution Howler
Heard over the weekend, the very funny sound of a female computer-generated voice saying the words "Hoot Owl Court."
+ 11 - 13 | § ¶
Speaking of Tests...
...here's an appropriate old photo, showing Raleigh fire and police department applicants taking tests at Memorial Auditorium in the 1940s: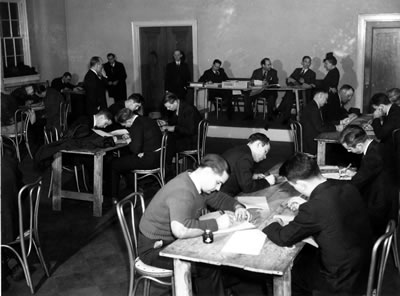 + 14 - 10 | § ¶
Station 22
If you haven't been by Station 22 lately, they've built a parking area for their haz-mat equipment:


+ 10 - 17 | § ¶
Wendell's Ladder
Here's a picture from Lee of Wendell's new ladder: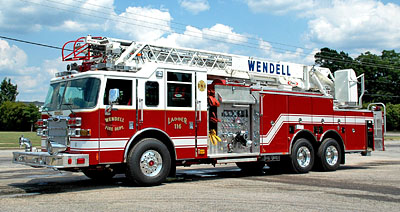 + 12 - 12 | § ¶
RFD Station Plaque Photos Added
Photos of most Raleigh Fire Station plaques have been added to the stations site. There are aerial photos there, too! It doesn't get more exciting than that, does it?
+ 10 - 13 | § ¶
Military Air Crashes
Military air crashes have occurred for decades around Wake County, ranging from the Army Air Corps B-17 that crashed in the woods in Garner, killing two of the ten crew members on May 9, 1944, to the Navy F/A-18 that exploded on take-off at Raleigh-Durham International Airport on March 26, 2004. However, nothing's come close to the scope of this incident near Goldsboro on January 24, 1961, the story of which I stumbled across on the web.
+ 16 - 9 | § ¶
High Point Former Firehouses
Here's the latest former firehouses article, this time on the subject of High Point former firehouses. Same has also been submitted to FireNews for inclusion in a future update. Greenville, Goldsboro, and Fayetteville are forthcoming. Alas, Fayetteville only has one former firehouse still standing, but it'll still make for an interesting if shorter article. Asheville is still in queue. It'll come later, maybe this fall, when we can finally vacation that way. The rest of these places are easy day trips.
+ 10 - 16 | § ¶
Raleigh's Upcoming Academy
Per this news story, the next Raleigh Fire Academy starts in September. Thirty recruits will be hired. Some 700 people expressed interest in the positions after the recent recruiting drive, but only 400 or so returned for the written test.
+ 13 - 9 | § ¶
Wendell's Ladder Delivered
Wendell's ladder was delivered this week, a 2006 Pierce rear-mount aerial ladder. It replaces their ex-RFD 1979 Mack / 1958 American LaFrance tiller that's been sold to a fire department in Brunswick County. Pics forthcoming.
+ 13 - 9 | § ¶
Tell Me About Raleigh's Stations
I'm researching Raleigh fire stations built between 1959 and 1998, basically all stations with the same, single-story brick design. What can anyone tell me about the differences between Stations 2, 4, 5, 7, 8, 9, 10, 11, 12, 14, 15, 16, 17, 18, 19, 20, and 21, as they were originally built? READ MORE
+ 13 - 10 | § ¶
Cordova Court in Cary
Difficult house fire in Cary this morning, and with equally challenging rehab requirements. Pics coming shortly: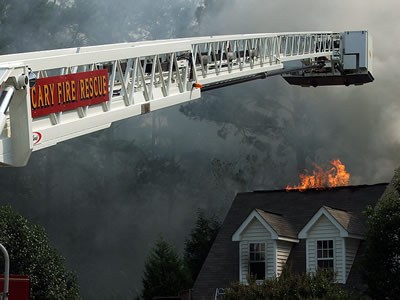 + 10 - 12 | § ¶
Raleigh Fire Academies, 1971 to 1977
Can anyone assist with information about Raleigh fire academies between 1971, believed to be the year of the first formal academy, and 1977? Any old-timers reading this blog? READ MORE
+ 9 - 13 | § ¶
Wake County Aerials Past and Present
Just how many aerials has the county seen? Here's my best list:

Apex - 1989 Simon Duplex / LTI 75' aerial ladder (sold)
Apex - 2004 E-One 75' aerial ladder
Apex - 2006 E-One 95' aerial platform
Bay Leaf - 1999 or 2000 Pierce 105' aerial ladder
Cary - 1988 Pierce Arrow aerial platform (sold)
Cary - 1999 Pierce Dash Sky Arm aerial platform (sold/returned/? after mechanical failure of ladder at fire)
Cary - 2001-2002 Pierce aerial platform (temp loaner)
Cary - 2002 Pierce Dash Sky Arm aerial platform (returned)
Cary - 2003 Pierce Dash 100' aerial platform
Cary - 2003 Pierce Dash 100' aerial platform
Cary - 2005 Pierce Dash 100' aerial platform
Eastern Wake / Knightdale - 1978 Mack CF 85' aerial ladder (sold)
Fuquay-Varina - 2001 Pierce 100' aerial platform
Garner - 2001 Pierce 100' aerial platform
Holly Springs - 1986 GMC Kodiak bucket truck (not really a conventional aerial..., sold)
Holly Springs - 1986 Pemfab / Boardman 55' telesquirt
Knightdale - 1991 E-One Protector 75' aerial ladder (sold)
Knightdale PS - 1973 Ford / Pierce 50' Telesquirt
Morrisville - 1999 / 1985 KME / Grumman AerialCat 95' aerial platform
Wake Forest - 2006 Pierce Dash 95' aerial platform
Wendell - 1979 Mack MC / 1958 ALF 100' aerial ladder (to be sold)
Wendell - 2006 Pierce Dash 105' aerial ladder (to be delivered)
Zebulon - 1987 Grumman AerialCat 102' aerial platform

There are also some service trucks that have served in the county, notably (and exclusively?) in Cary.
+ 11 - 12 | § ¶
NCSFA Conference Schedule
The schedule for next month's North Carolina State Firefighter's Association conference can be found at http://www.ncfireconference.com/. Click Classes to see the seminar schedule, including the Saturday morning session on "Researching Fire Department Histories" by one Mike Legeros.
+ 15 - 12 | § ¶
Raleigh Engine 3
Here's a nice picture from Lee of Raleigh's new Engine 3: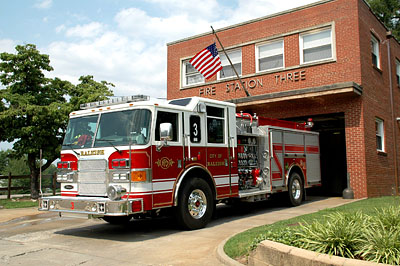 + 14 - 9 | § ¶
Pitt County Former Firehouses
Some Sunday explorations around Farmville and Greenville: READ MORE
+ 12 - 12 | § ¶
Knightdale Public Safety Center
Here's what Knightdale's Public Safety Center is looking like, as of today (Sunday):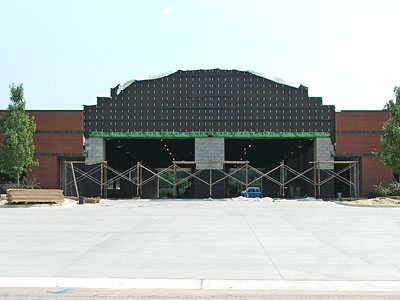 READ MORE
+ 7 - 22 | § ¶
Still More Former Firehouses
Few more former firehouses from Wayne and Johnston County: READ MORE